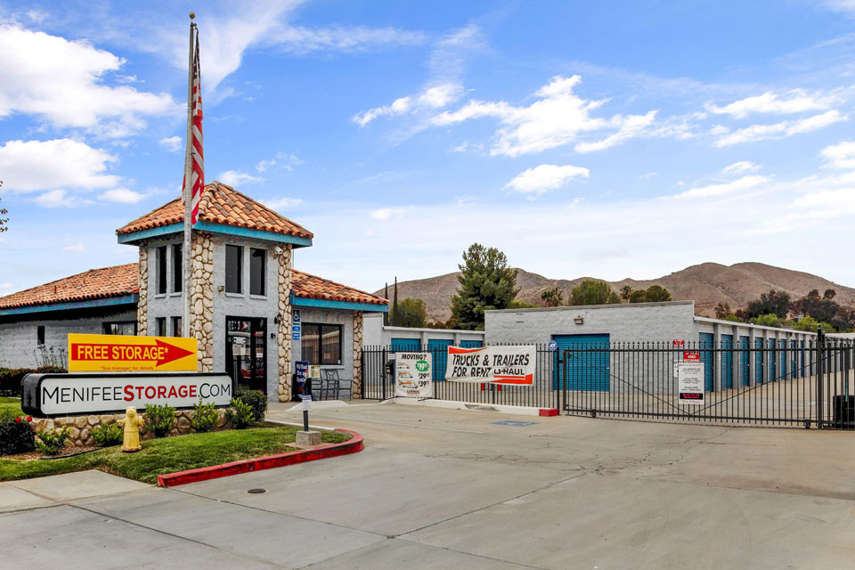 Sun City RV and Storage Units
Logout
We're Open During Normal Hours. Easy, Contact-Free Rentals
Location Details
ACCESS HOURS
Mon

6:00am - 10:00pm

Tue

6:00am - 10:00pm

Wed

6:00am - 10:00pm

Thu

6:00am - 10:00pm

Fri

6:00am - 10:00pm

Sat

6:00am - 10:00pm

Sun

6:00am - 10:00pm
OFFICE HOURS
Mon

8:30am - 5:00pm

Tue

8:30am - 5:00pm

Wed

8:30am - 5:00pm

Thu

8:30am - 5:00pm

Fri

8:30am - 5:00pm

Sat

8:30am - 5:00pm

Sun

Closed
FEATURES AND AMENITIES
Drive Up Access
RV Parking
Electronic Gated Access
Video Recording
Moving Carts
ABOUT THIS LOCATION
Move Your Son Out of Your House a Little at a Time with a Sun City Storage Unit.
Read More
Photos
About this Location
Facility Description

Our self storage facility is close to the residents here in Sun City, and it's easy to get to our location. Our sandstone brick fence, red, tile roofed office and blue storage unit doors are easy to spot from the street. We're located at the intersection of Murrieta Road, and Chambers Avenue, just east of Interstate 215. We're close to Sun Ranch Community Park, and near North Golf Course. The Sun City shopping center is to the east of us. Many of our customers come from not just Sun City, but from the surrounding communities of Menifee, Quail Valley, Romoland, Pinacate, and Perris.
Contact-Free Rentals – Easy Online and Phone Rental Options 
 Online Rental
 Select your unit and enter your info and payment
 Sign the lease online
 A manager will reach out to you with your access code, a map of the property, and they'll have you email a copy of your valid government picture ID
 Once these steps are complete, the manager will prepare your unit so it's ready when you arrive
 Phone Rental
Simply call the number listed at the top of this page, and a member of our staff will work with you over the phone to complete a rental
The manager will email a lease to sign
Once the lease is signed, a manager will reach out to you with your access code, a map of the property, and they'll have you email a copy of your valid government picture ID
Once these steps are complete, the manager will prepare your unit so it's ready when you arrive
Storage Units

Our storage units have convenient drive-up access and they range in sizes from 5' x 5' (about the size of a small bathroom) up to 20' x 20' (more than large enough to hold the contents of a 5-7 bedroom house).

RV and Boat Storage

We offer 30', 40', and 50' spaces for storing your RV or Boat. Parking space width may vary from spot to spot. Please call the property manager for more details on Parking Space sizes.  

Professional Managers

Our friendly team of professional managers has years of experience in the self storage industry and they can assist customers with any questions they have about storage units. We're willing to go that extra mile for our customer, such as offering cold water when it's hot outside. There are many seniors here in Sun City, and we often walk the property to make sure all of our tenants are doing well, especially if they are alone in their storage units.

When we introduce ourselves to a new potential customer, we listen to their needs. We also make an effort to point out a common interest or topic. The result is always a friendly and positive experience for all.

Customers often share a brief story about their current situation, and as we listen, we're able to take them on a tour of the storage units that would be the best solution for their needs.

Security Features

Making sure your items are secure is one of our top priorities. We have 24-hour video recording at our property, gated access, and onsite managers.

Payment Options

Taking care of your payment is easy. We offer several payment options including: MasterCard, Visa, cash, check, and money order. Online payments are also available.

Our Community

Sun City, California is a master-planned community for seniors over the age of 55. After living in various, less weather-friendly places in the world, seniors flock to this beautiful, peaceful town to live out the rest of their days with ease. With a lifetime of hard work, why wouldn't you want to live in the perfect climate in a city totally catering to people your age?

Sun City has two public golf courses, recreation centers, pools, and several attractive shopping centers. The Motte Historical Museum is full of spectacular collections of cars and antique automobiles from the 1910's to the 1960's, all housed in a rustic barn. Several documentaries and films are available to watch depicting the old days when cars were a luxury and novelty item.

The community hit a booming growth in the 80's and 90's and is still growing today as the town continues to attract those ready for the good life. Whether hitting your hole-in-one on the Menifee Lakes Golf Course or enjoying a delicious dinner at the Ponderosa Steak House, Sun City has everything you need to relax and enjoy living.

Products

We carry boxes ranging in sizes small, medium, large, and x-large.

Boxes specifically for packing glasses and dishes are available—the box includes a partition for added protection.

We sell mattress covers, chair and sofa covers, and storage bags for various items that can be completely enclosed for your peace of mind.

A moving kit is also available at a discounted rate and it contains boxes (various sizes), packing tape, bubble wrap and additional supplies.


Customer Reviews
overall rating, 279 total testimonials
May 4, 2021
Great! Front desk staff was awesome! So far so good!
May 1, 2021
Easy to deal with, space for our RV is great. Manager was very nice.
April 29, 2021
So far so good.
April 9, 2021
The young man that works there is Very friendly and makes you feel welcome.
April 6, 2021
Kevin was great! Very professional and personable!
March 6, 2021
excellent office staff, great smiles and prices!
February 24, 2021
Awesome.
February 22, 2021
Professional and affordable
February 19, 2021
I liked the way I was treated end informed about the storage facility by the person name Kevin he was so polite an professional Thank you
February 16, 2021
One of the best places I've ever been to....awesome and thoughtful staff....would recommend to anyone 🙂
January 24, 2021
Very friendly and accomidating staff.
January 20, 2021
Good service
December 17, 2020
friendly
December 15, 2020
Clean facility and staff was very curtious and helpful
December 7, 2020
No complaints.
December 4, 2020
Very helpful and courteous. Unit was clean.
November 26, 2020
Very pleasant experience.
November 23, 2020
It was good. Kevin was very nice. He didn't really listen to what we were trying to convey to him concerning our wants and needs but he was nice and very helpful.
November 22, 2020
Friendly employee makes booking a breeze. Clean unit and convenient to access.
November 20, 2020
Excellent service
November 17, 2020
The two people I dealt with were awesome Allison and Kevin. On point with information and had everything set up and feeds to go. Thank you for a positive experience.
October 15, 2020
So far it has been excellent! Staff was extremely helpful even though we were out of state.
October 14, 2020
very good
October 7, 2020
I spoke with site manager, Kevin, a few times over the phone and he was always super helpful and professional. Overall great experience. I needed to see my new unit(s) and unload a U-Haul the same day, and the process went very well. They took the U-Haul off my hands with minimal work to myself.
October 6, 2020
Everyone there are so Nice and helpful. They have made the experience of moving so much better. Thank You To Them for that.. <3
September 30, 2020
Great , except your access hours aren't very convenient
September 1, 2020
Great and very helpful
August 19, 2020
I felt like I was talking to a frind
August 18, 2020
It was great!!! Excellent service
August 5, 2020
Great. Mia was very helpful and knowledgeable.
July 14, 2020
I feel like they run a tight ship and I like that. People were friendly and I feel like my things are safe. Perfect
July 10, 2020
Great the young man at the desk was very professional, friendly and had a great attitude. He made my choice between your storage area and one down the street very easy with his professionalism.
June 29, 2020
Kevin was very respectful, knowledgeable, Great customer service.
June 24, 2020
very nice experience. knowledgeable efficient.
June 22, 2020
Wonderful experience. Great customer service. Moving and opening storage is not fun. But my visit was pleasant. Five stars.
June 18, 2020
Good customer service 👍 👌 👏 love it. The guy was really helpful and helped with the best options. Thank you.
June 7, 2020
Kevin, manager, was great. Extremely helpful!
June 5, 2020
There young attractive women who help me was very nice and helpful . I think all have to make up some problems . Just to have her help me . Renting a storage unit was the best part of my day 🎈🙏🌮
June 4, 2020
Satisfactory!
May 28, 2020
Good customer service good employees
May 22, 2020
Overall great service. Unfortunate how customers are directed by a computer. Very sad. No customer service.
April 29, 2020
Great customer service, and Kevin is very friendly.
March 20, 2020
Positive. Always willing to help.
March 18, 2020
Great experience. Affordable,and helpful staff. Highly recommend.
March 12, 2020
Quick and easy, Kevin was amazing!
March 5, 2020
Very Satisfied, exceeded all my expectation,Staff made me feel like the were there to help with all my needs.
March 4, 2020
Very satisfied, reasonably priced, very helpful. Feel good about leaving our coach here.
March 3, 2020
Kevin was very friendly and informative I would recommend my friends and family
February 11, 2020
Had a very pleasant experience and would totally recommended it to others.
January 22, 2020
Very professional staff. Place is clean and secure. I would definitely be a repeat customer if needed.
January 17, 2020
It was very professional
January 7, 2020
Yes you're a representative Kevin awesome individual very friendly and I Donely towards me but to every client that would happen to be there while he manage several clients at the same time very poised extremely respectable very likable guy thank you
December 25, 2019
This is my second time renting a storage from this location. They are the best and always so nice and helpful.
December 24, 2019
Very patient and understanding staff
December 22, 2019
Great service ! Kevin was very friendly and helpful. Highly recommend!
December 17, 2019
Super great , friendly service ! Highly recommended . Best deal in town !
December 10, 2019
Great experience Kevin was amazing
December 6, 2019
I just answered a question wrong I thought I had to hit 1 + 0 to get a 10, we are very satisfied with the experience that we have had so far.
December 3, 2019
It was very quick and easy to rent a storage unit. The on-line capabilities holding a storage unit and the people at the office we're wonderful.
November 24, 2019
Great Staff Love Kevin very nice and polite. This is our 3rd time renting from your storage.
November 19, 2019
all questions / concerns answered, the staff was friendly & very helpful, enjoyed doing business with menifee storage
November 5, 2019
Really easy to do Buisness with. Thank You!!
October 30, 2019
Wonderful experience and super friendly staff.
October 8, 2019
The customer service I received from Kevin was helpful and putting my mind at ease. One less thing to worry about:) Great Customer. Thank You Maggie V
October 1, 2019
My experience was great! Kevin and Haley are amazingly helpful and knowledgeable. I will recommend this storage facility.
September 26, 2019
Kevin and hailee are super nice and helpful.
August 28, 2019
Everyone was very friendly and helpful.
August 27, 2019
The girl in the office was great
August 22, 2019
Great customer service highly recommend your location thank you
August 21, 2019
You guys were awesome
August 21, 2019
Great! Lost some cash, call the storage office and they went out to where my unit was and found it! Was all there, thanks
August 21, 2019
Very nice and professional service, clean storage.
August 6, 2019
Very good 😊staff were friendly and helpful. Thank you
July 26, 2019
Quick to greet with smile,very helpful with sale
July 21, 2019
Very friendly and hard working staff on my visit to organize my unit after sunset to avoid the heat I was disappointed to find a very dimly if at all lite facility the lighting should be of prime importance to security and tenant convenience
July 19, 2019
Ashley and Christina were excellent. They are super friendly and helpful. Very happy with my my decision to store my items here.
June 26, 2019
Everything was quick and easy. Easy access and very clean
June 10, 2019
I rented a small storage and was out with 20 minutes.
June 3, 2019
Excellent...
May 24, 2019
Ashley and Joey were very helpful. I really appreciate your 1/2 off 2 month promotion! Please extend pull rope on #180 and let me know if you have any more 10x15 spaces available. Ashley said #242 might be available and I'm interested. As a single woman I feel safe on your property.
May 12, 2019
The location is convenient and the facility clean. We were able move items into storage without any extra cleaning. The office made completing the contract easy and quick.
April 18, 2019
Joey was very informative, polite and friendly. The process was easy and quick. We are glad that we stopped by and highly recommend your facility.
April 1, 2019
Awesome! Joey and Hailey(?) were extremely professional and friendly!
March 31, 2019
Very professional yet very friendly orientation.l am happy that I decided to go with you.
March 12, 2019
Very professional and polite. Easy to get along with.
December 19, 2018
Very good service....no complaints at all and office staff gentleman was knowledge and polite as well as being very courteous
November 1, 2018
Good but price seems high
October 31, 2018
Great customer satisfaction. The gentlemen was very polite, he took time to completely explain the process, and he will attentive to any questions we had.
October 11, 2018
Very professional, I was happy with the service I received.😊
September 23, 2018
I'm very pleased with the clean storage unit and nice way I've been treated.
September 13, 2018
Good for now
September 13, 2018
Easy sign up and great people. Prices are too high.
September 12, 2018
Very accommodating and polite. I notice that the door sweeps are all worn and due to be replaced, thus helping to keep out any rodents. Is this something that will be addressed soon? Thank you.
August 18, 2018
Very good
August 8, 2018
Excellent and professional
August 7, 2018
John & Hailey were super helpful and professional. ..I would definitely go back!!
July 11, 2018
Service was great. They took care of me right away. Joe
June 30, 2018
All of the personnel that helped us are really great. This is the second time I have ued you. You could stand to update your computers though.
June 19, 2018
Helpful, personable service.
June 8, 2018
The experience was good
June 6, 2018
Have said in the past, great service
May 28, 2018
Easy to work with, Very friendly staff. So far no problems.
May 28, 2018
Staff was very knowledge and friendly. Can't remember the young lady working the desk when I came in to pay. She was really polite and nice. Great employee
May 26, 2018
It was very easy and efforless.got a good spot for my trailer. So far so good.
April 28, 2018
Very nice to deal with and good price.......
April 11, 2018
Very friendly office staff. Gave us information on renting trailer and moving information
April 10, 2018
Always friendly and helpful
April 10, 2018
Excellence
April 6, 2018
very nice place and very nice people I give you a 10
March 19, 2018
Ladies are helpful. Even tho the power was down they did what they could.
March 11, 2018
They were very informative, and more than willing to show me to different sizes of each storage unit to help me decide.
March 10, 2018
Your customer service is outstanding.
March 7, 2018
Great Customer Service... Ms. Katrina is very professional and helpful.
February 28, 2018
I felt welcomed from the moment I walked in.The Manager was very helpful and walked me through all my options
February 9, 2018
It was a pleasure to rent here. Katrina is very friendly and efficient. The space I chose for my RV was easy to park in with plenty of room. The only problem is accessing the vehicle area. It is a tight turn for a large vehicle.
February 8, 2018
The service and staff was friendly. A very good place to use.
February 2, 2018
The storage unit worked perfectly for us. The location worked very well for us and the staff was very nice and provided excellent customer service.
February 2, 2018
front ofc. folks were great have moved out plesse remove me as a contact
February 1, 2018
Great Service!!
January 30, 2018
Very helpful, and friendly
January 11, 2018
Very good
January 3, 2018
It Was Beautiful Very Friendly & Fast
January 3, 2018
I absolutely loved it. I felt safe leaving my belongings there, because I knew I'd a problem were to arose the staff would take care of everything. Katrina was such a blessing and I enjoyed being able to converse with her. She is a great person and I will truly miss her. Time for my family's next chapter in life and if I ever need another storage unit I already know where I'll be going. Thank you for storing my bekongings for the past year and a half.
December 29, 2017
We were in a bit of a bind from buying our boat, getting all required paperwork and dealing with our HOA on having boat in front of house. We had called SEVERAL storage places and they either didn't store boats, had a "waiting list" or didn't have a spot big enough. Our first call to Menifee Storage was beyond our expectations. They recommended coming to check out the spot to see if it met what we were looking for. After doing just that, my husband dealt with Katrina in the office and he came out with a smile on his face and said, "we just found our place, what a great experience as well as a relief!" Highly recommend for all your storage needs. VERY professional and the grounds are EXTREMELY well kept!
December 27, 2017
Thanks so much for providing a safe place for us to store our things. We had a great experience.
December 21, 2017
Relaxed. The lady who helped me was informative, but not at all demanding or pressuring. Options were presented to me prior to my making a decision on what size Storage would best suit my needs. I would 100% sure to recommend this business to friends, coworkers or family.
December 14, 2017
Rep was very helpful and pleasant.
December 14, 2017
All good staff kicks ass!
December 13, 2017
I was very impressed with the help I received.
December 12, 2017
Katrina is a very competent and professional on-site manager. Very helpful and willing to go the extra mile. Also very clean and well kept facility.
December 3, 2017
Katrina is very nice and helpful
November 19, 2017
Very close to home and convenient.
November 8, 2017
My experience with the staff was very enjoyable.They made me feel like family.Very nice.Im happy to rent from Menifee Storage and will tell my friends to rent from them.
November 8, 2017
Great rates! We felt our household was safe and if we are needing storage again Menifee Storage is where we'll go.
November 6, 2017
Katrina was very helpful as well as friendly, we will recommend her without hesitation.
November 3, 2017
My overall experience was good.
October 31, 2017
Simply the best office manager in the business (Menifee)
October 31, 2017
Nice people, easy transaction
October 26, 2017
staff was nice and helpful and all areas were kept clean
October 26, 2017
I vacated my unit only because I moved over 90 minutes away. My experience was very positive. The staff was extremely helpful, friendly and efficient. After a rocky start, where my unit was flooded with rainwater, I was nicely moved into a dry section and never had a problem since. If I could make a minor suggestion it would be to keep the restroom open. A lot of times it was locked and the office would be closed or on rounds.... Thanks!
October 25, 2017
treaded very well, i would recomended always. david john
October 8, 2017
Very professional very welcoming . Very well organized
October 3, 2017
Your staff handled my requests/needs in a very professional, friendly manner. I would recommend Menifee Storage to anyone. A little pricesy but good. Thank You
September 30, 2017
The associate who helped us out was courteous and knowledgeable. She helped us pick the right storage for what we need. Thank you!
September 24, 2017
Great,. I got there tight at closing and she helped me get started , lot is big and clean and easy to pull in/out of.
September 22, 2017
My overall experience that day was great.
September 21, 2017
Great, Katerina was a pleasure to work with. We would recommend your store with no hesitation!!!
September 20, 2017
very helpful and very pleasent. overall visit was strong.
September 14, 2017
Great service. Katrina very helpful in getting me set up for an Rv space at your facility. 1/2 price on first month rental is a good drawing card. Great follow up. Thanks for your help. Gerry Thacker
September 7, 2017
Excellent Service very helpful!
September 6, 2017
Everything went very smoothly and the lady (I can't remember her name, unfortunately) was very helpful and kind.
August 30, 2017
It was great, your manager knew her property the process was fast and easy
August 12, 2017
Extremely satisfied . Katrina Mathews was very kind and helpful. She went out of her way to help me get set up over email since we were not able to make it in on a Sat afternoon before she closed.
August 12, 2017
Awsome customer Service.
August 5, 2017
The manager, Katrina, who assisted me was awesome! Being a new customer, she made me feel welcomed and explained the fees and documents I was signing. She was easy going and took time to ensure my needs were met. She even gave me the opportunity to choose my own access code. Asked questions to see if I would qualify for a discount. I was VERY pleased with her service. The facility itself is small compare to my previous storage place, and the office is not open on Sundays. Also, the storage is not temperature controlled, and with triple digit degree weather during the summer, who knows if some of my furniture have already melted in the storage. The only lighting they have is around the office area but the aisles where the storage are, it's very dark and need to use either flashlight or car headlights to load/unload. I'm also concern if water gets in the storage units when it's raining as the foundation is ground level.
August 2, 2017
So far so good! The girls where very nice and helpful
July 29, 2017
The young lady on staff (Katrina) is very professional and knowledgeable. She enjoys helping people and it shows in her manners. I hope to meet more people like her in my move back to California. I would hope you acknowledge staff such as her in someway.
July 27, 2017
Katrina was awesome. She worked with me to make sure I could get the right size of storage for all my items that we moved from Anchorage Alaska. She was polite, helpful and cared about and my family. Way above what I would expect at a storage unit rental. Thank you Jared Barraclough
July 26, 2017
Very friendly. Nice clean facility. Easy access
July 25, 2017
OFFICE STAFF VERY FRIENDLY, KNOWLEDGEABLE AND HELPFUL.
July 11, 2017
had a little mix up to start but back on track
July 9, 2017
Friendly service, clean and safe.
July 7, 2017
Excellent Service and very courtesy
July 2, 2017
It was awesome. Maggie provided the Best customer service! She had patience and listened to everything. Then, figured out a solution with ease, that showed wisdom, skill and compassion. She is very friendly, kind and relatable. Katrina, the manager, that I only spoke with over the phone thus far, but she has been great too. She honored the company brand from a customer stand point and I would definitely recommend this storage place.....Customer Service is Everything!!!!!
June 26, 2017
Staffing not available on a Friday. Restrooms were locked. Need a better way for customers to key in with a key pad just like the main gate.
June 15, 2017
Very positive, clean and courtesy
June 15, 2017
Great customer service
June 7, 2017
Nothing but good experience.
June 4, 2017
Katrina, was very helpful. Site is clean and safe.
June 1, 2017
Katrina was awesome and really took the time to be helpful and make sure what I was renting was what I needed.
May 30, 2017
Our experience with Menifee storage has always been nothing but excellent. We would highly recommend this company.
May 29, 2017
We found the customer service friendly and professional.
May 24, 2017
katrina was so helpful and great to help me in everyway that I needed. She's just great to work with.
May 21, 2017
Excellent customer care by the on-site manager, Katrina!
May 21, 2017
Friendly staff, pricing is competitive and the location is convenient
May 17, 2017
Professional, Helpful, and Uplifting personalities at a time of our stress in moving. PS- This is our second move with you guys!!!
May 11, 2017
I just started
May 9, 2017
We love the staff, they took the time to talk to us, and gavr us any promotions that were currently running. We love that there are cameras all around the facility, and the RV spaces are nice.
May 5, 2017
Ashley was very nice in greeting us at the door and showing our RV spot to park our trailer.
May 3, 2017
Very pleased with the service and consideration shown during our difficult move.
May 2, 2017
I'm very pleased. They are so helpful specially the desk lady in Menifee
April 29, 2017
So far so good.
April 19, 2017
She was knowledgeable and helpful. Felt good about renting their plus the smell if fresh bacon cooked sold me
April 15, 2017
I had a pleasant time getting a unit
April 6, 2017
My experience was very goo.
April 6, 2017
Very good and helpful. Thank you for your time with helping me with my move.
April 6, 2017
Wonderful, great! Excellent service !!! I love it!!
March 13, 2017
Outstanding staff, clean site, a little expensive.
March 8, 2017
Rented another three car space, all went well Thank you
March 7, 2017
The manager was very kind, efficient, helpful and gave me all the info I needed to rent the unit. She is a great representative of your company - what an asset!
March 6, 2017
You're the best friend a man could ever ask for... Thank You Mr.Silbaugh
March 2, 2017
Everyone there has been great. Very helpful.
March 1, 2017
Very nice and friendly. Clean.
February 20, 2017
Very respectful kind and a professional!
January 23, 2017
My Experience was great, Katrina was awesome and I got a really good deal on a 20x15 unit. Best deal in town I checked around. Thank you!
January 18, 2017
Katrina was very helpful and friendly. She answered all my questions and finalizing all the paperwork for my company went well.
January 4, 2017
A most favorable experience. I have rented a unit before so I knew the facility to be clean, safe and well run. The staff that assisted me, especially Ashley, was very helpful, courteous and most efficient. Thanks a lot!
December 28, 2016
Felt good, it was just to hard to move my 5th wheel in and out through the storage cubes.
December 23, 2016
The manager, Kate in a was wonderful! All staff is always very helpful, too.
December 21, 2016
Just felt like rental unit was alittle on the expensive side. Other than that all good
December 12, 2016
Very Professional explain the whole contract and rules felt Comfortable with the whole Process
December 11, 2016
Easy going and friendly
December 9, 2016
The employee and office manager were extremely friendly and helpful. They were both very accommodating to our needs.
December 3, 2016
Had a great experience dealing with staff catrina was so helpful and nice always would recommend this storage place to everyone