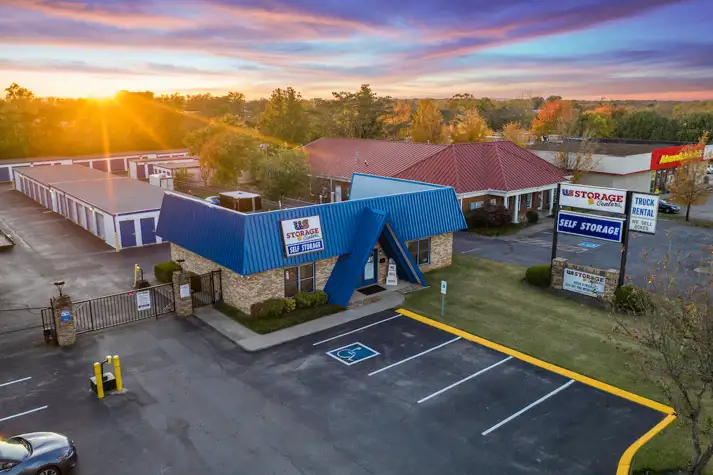 Free Move-in Truck Available.
Location Details
ACCESS HOURS
Mon

6:00am - 10:00pm

Tue

6:00am - 10:00pm

Wed

6:00am - 10:00pm

Thu

6:00am - 10:00pm

Fri

6:00am - 10:00pm

Sat

6:00am - 10:00pm

Sun

6:00am - 10:00pm
OFFICE HOURS
Mon

9:30am - 6:00pm

Tue

9:30am - 6:00pm

Wed

9:30am - 6:00pm

Thu

9:30am - 6:00pm

Fri

9:30am - 6:00pm

Sat

8:00am - 5:00pm

Sun

11:00am - 4:00pm
FEATURES AND AMENITIES
Free Move-In Truck
Drive Up Access
RV Parking
Electronic Gated Access
Video Recording
Moving Carts
Kure It Certified Location
ABOUT THIS LOCATION
Learn more about the features and amenities we offer at our storage facility in Murfreesboro, TN!
Read More
Photos
About this Location
Storage in Murfreesboro, TN
US Storage Centers in Murfreesboro, TN is proud to bring you the best self-storage experience in town. From the moment you walk into our office to the last day you need a storage unit, you will enjoy excellent customer service, a clean storage facility, and everything you need to make your moving day easier.

If you're looking for a variety of storage units in Murfreesboro, TN, our storage facility has got you covered. Our facility uses electronic gated access and features 24-hour video recording. You can choose the perfect unit with sizes between 5x5 and 20x20 and both drive-up and indoor units. We also offer storage spaces for recreational vehicles like boats and RVs. Our property is large enough to allow semi-truck access, so even the largest of moving vans will be able to maneuver just fine. (Parking space width may vary from spot to spot. Please call the property manager for more details on Parking Space sizes.)
We offer a variety of moving supplies on site to help get you moved in and keep your storage unit neat and organized. We offer regular boxes, wardrobe boxes, packing tape, tape dispensers, mattress covers, bubble wrap, picture moving kits, and locks. 
Easy Rental Options
Rent your storage unit online or over the phone for a quick move in. 
Not ready to rent? No worries! Reserve your unit now to lock in today's special discount.
Month-to-month rentals
No credit card required for reservations
No deposit required
Storage Units Near You

We know that finding Murfreesboro self storage that's convenient it access from your home or business is important. We're conveniently located at the end of Monte Hale Drive, right on Murfreesboro Road and close to West Fork Stones River. In other words, we are in a great spot for residents who are looking for local Murfreesboro storage. Look for us down the road from Stone River Golf Club—you'll be glad you stopped by.

Forms of Payment

It's easy to pay your bill! We accept cash, checks, money orders, Visa, and MasterCard. You can also pay online through our client login.

The Community

Murfreesboro, Tennessee used to be the state's best-kept secret—but these days the secret is getting out. Our city is now one of the fastest growing in the entire country. More and more people are realizing how wonderful our community really is.

You'll never be bored with everything to do in Murfreesboro. Spend a day in Cannonsburgh Village, a reproduction of a working pioneer village, where you can catch a glimpse of what life used to be like in our town. If you're more of a hiker or biker, you can enjoy Old Fort Park and Barfield Crescent Park, just a couple of the many beautiful parks that dot our city.
Customer Reviews
overall rating, 438 total testimonials
September 18, 2023
WOnderful. got in and out quickly and with the prefect size unit I needed at a wonderful price.
August 24, 2023
Janessa is AWESOME! 👏 LOVED HER!!! 100/10 Recommend
August 17, 2023
Janessa is awesome 💯 she is so good at people there I felt like I was at home
August 14, 2023
Property looks secure the property manager went above and beyond to be helpful
August 11, 2023
The experience I had was good. The man in the office was very helpful and got us our unit
August 5, 2023
It was great and amazing. Staff is super sweet and friendly!!!
August 1, 2023
Experience was good. I was able to get the unit I was looking for and at the affordable price.
August 1, 2023
The experience was very good. The
July 25, 2023
The lady that works in the office is the best!!!
July 25, 2023
Great service
July 18, 2023
My storage unit was filthy inside and outside. If it weren't for me having to move abruptly, I would have went elsewhere. I probably won't even keep my sectional I put in there, due to how nasty it was with insects and cobb webbs. But you get what you pay for
July 18, 2023
Awesome I had great customer service and MS.Ray went above and beyond to meet my needs as a customer and I appreciate it as I'm new to town and she was one of my first encounters. Thank you
July 4, 2023
At every point during this process, I felt well-informed and welcomed. All questions were answered and I didn't feel "dumb" for asking very self-explanatory questions (especially since this was my first storage unit).
July 1, 2023
My experience was awesome The manager at this branch was a tremendous help to me and my family and our time of need when my brother passed and we required storage for his things out of state she was able to help us 10 out of 10. She deserves a raise as a 15-year military veteran thank you so much!!!
May 18, 2023
My initial experience was that of inconvenience. When I arrived I had to wait 30 minutes because the attendant was out. I understood that. When the time expired for her to come back, she went to lunch--another 30 minutes. The store smelled like smoke so that was a turn off for me. I was told that US Storage had the best prices in town but I found cheaper. I was trying to decide between using US Storage and another center because at US storage Centers, there is no climate control or no dollies or carts for use like other storage centers. I went with you because the other one didn't have space., but you won me over with your patient and helpful response to my accident.. Janessa was very skilled, patient and helpful during the entire process and I'm very grateful for that.
May 9, 2023
We had a great experience! Had to move my daughters items into storage after completing her semester in school.. Staff was pleasant and knowledgeable and the price could not be beat! Thank you!
May 5, 2023
Absolutely fantastic! Staff is wonderful and location is perfect.
April 27, 2023
Very friendly, helpful staff. I would recommend them to anyone needing a storage unit!
April 17, 2023
She was amazing, understanding, and helpful!
April 16, 2023
Very great and easy going experience
April 10, 2023
Great experience!
March 28, 2023
It was easy going , understandable , and very easy people to work with. Awesome place to do business, and they have reasonable prices. and I would recommend to people 1000/1000%
March 11, 2023
This was very easy, and the service was exceptional.
February 14, 2023
Super easy, Janessa gave us a great deal, and we had storage there previously. So it was easy to find and navigate.
February 11, 2023
Very easy to understand and pleasant was the experience.
February 8, 2023
Janessa is Amazing. You should have her in commercials or a spokesman because she made me feel like all the anxiety from my move disappeared.
January 30, 2023
I was searching for a storage along the area of my husband's house so I can store his stuff and I found this storage online, when I book a reservation and went personally to the area the property manager/owner was very helpful and very considerate knowing that I'm not from this country. She was suggesting which unit best suited for my needs and give me a good deal for the price. The area is secured and clean as well. Amazing lady. Very sympathetic of my situation and emotions. I highly recommend this company if you're looking for storage facility.
January 20, 2023
Excellent service and great promotions
January 4, 2023
The property manager was very friendly and respectful.
November 12, 2022
Great everything was quick and straight forward!! Most was done over the phone and ready when I got that!! Definitely would recommend.
November 2, 2022
Great very helpful nice people And they work hard around here to keep everyone happy
September 14, 2022
Great experience!
September 10, 2022
All very good
August 23, 2022
Very good she is so nice, she did a good job helping me with what I needed at the day!..
August 23, 2022
I love how I was able to do my whole getting the unit process online and do payment .
August 7, 2022
We was taking care of and will continue to use you when needed
August 2, 2022
Good person managing the place, but when ya rent a 10x20, it's 9.5 x 19.5. Kinda false advertising
July 13, 2022
Great people skills. Good explanation of terms contract
July 12, 2022
The manager on site is absolutely amazing. When I signed up for a new unit online the process was easy, except for the signature part. I pulled into the parking lot as the manager was getting back to the office and immediately knew who I was. That's a great feeling to know she cares about her facility.
July 10, 2022
Great service
June 30, 2022
It was great. Office staff was very nice. The office smelled like someone smoked in there so it was hard to stay in there long.
June 21, 2022
Janessa Ray was very informative explaining features of property, available units with my needs & pricing. She was professional, and confirmed my understanding agreements. Janessa was Caring as explained security features & patrol of property. She took time & patience to answer my questions and clarify any forgotten information later on the following week. Great ambassador for your storage facility. Thank you!
June 1, 2022
Highly recommend. Staff was friendly and helpful. Janessa was fantastic to work with. If I ever find myself in need of a storage facility again I will be returning.
May 26, 2022
I really liked Janessa she was nice and understanding
May 11, 2022
Its always a pleasure to do business with us storage. They have competitive prices and great customer service.
April 9, 2022
Amazing. Fast and easy.. very please Janessa ray was very helpful and understanding. Amazing personality
March 29, 2022
Everything worked out very well I had a rush move and I got the first two months half off deal which really helped me! The young man was very nice and so far so good!
March 18, 2022
Property manager was friendly and very helpful. She took the time to assist me in finding the perfect storage to fit my needs.
March 8, 2022
Every aspect of this rental experience has been perfect. Especially your office worker.
March 8, 2022
Professional, courteous, informative agent on staff. Very good experience.
March 1, 2022
Great place to be there are plenty of cameras to go around great staff and great space
February 19, 2022
Genuineness, professionalism, and communication were the three things that stuck out. Janessa's service was the best I've seen from any business in years. She was outstanding! I will recommend everyone to do business with US Storage. Especially at that location. (1 note worthy thing) This woman took up learning sign language so she could communicate with one of her tenants that was deaf. You can tell she cared about the people who came to her building and would make sure everything was clearly explained and that they truly had a 5 star experience! I was one of those people! Well done👏
January 28, 2022
Awesome!
January 23, 2022
very polite
December 16, 2021
Great so far but we are out of state so have not been to the facility
December 1, 2021
Very helpful staff member
November 23, 2021
Staff was friendly and professional. The storage was very clean. Highly recommended.
November 21, 2021
Satisfied. Simple Great experience
November 13, 2021
Manager was very nice
November 10, 2021
Friendly staff, clean spacious units.
October 30, 2021
Rates are good and space is big enough for my items
October 30, 2021
Great Thanks
October 26, 2021
excellent customer service! shout out 2 property manager janessa in Murfreesboro for helping me out. she made the process very easy.
October 24, 2021
Very good
October 17, 2021
It's was great!
September 30, 2021
Super friendly knowledgeable on what I would need gated the lot and unit is clean
September 25, 2021
Very friendly and easy to deal with.
September 8, 2021
The manager was warm, friendly and super helpful
August 31, 2021
My experience with the company has been nice and professional.
August 23, 2021
So far it's been great no complaints and no problems
July 5, 2021
It was fine but these incessant bids for survey answers is annoying.
July 1, 2021
Excellent Ms Ray was very polite and made it for easy and she was very friendly that is what made me knew I was in the right place .I have rent here before and so I decided to come and try it again and you have the right person in the right place .
June 24, 2021
Customer service was awesome. Process was very simple. Property very clean.
June 8, 2021
We are very excited about doing business with USStorage! The Agent was Super Awesome! Highly recommend USStorage.
June 7, 2021
Will rent again
June 2, 2021
Good experience.
May 26, 2021
Very good Janessa Ray was very nice and awesome to work with
May 11, 2021
Janessa was very friendly. She took pride in her job making sure I understand my items were secured and safe there.
May 7, 2021
Great so far👍
May 5, 2021
Very appreciated. Friendly and nice.
April 29, 2021
So far I'm very happy. Janessa was great. She was very informative and helpful.
April 27, 2021
Felt very comfortable w/ my experience. Quick and easy process. I like the fact that I can pull right up to my storage unit. Saves a ton of time.
April 8, 2021
Very professional. Friendly service. Nice clean and convenient location. 👍🏻
March 26, 2021
Only talked to you on phone, he was very nice.
March 19, 2021
You have given us great deals and been very helpful. Thank you for the good service.
March 4, 2021
It was very nice the manager was very helpful and polite. I would recommend this place to all of my friends the best place I've ever had.
February 9, 2021
I felt great was real nice took time out to explain to me about late fees how its works
February 9, 2021
Great! Very helpful and really easy process.
February 7, 2021
I had a great experience with your company. My representative Rodney Peska at the Murfreesboro TN location was very accommodating when I had a need for services. I will definitely recommend US storage to anyone in need of storage. Thank. You Rodney.
February 6, 2021
It was an easy and smooth process to rent a unit. Staff were friendly and helpful.
February 4, 2021
Rodney from US Storage Murfreesboro Tn was very helpful. Great Experience.
February 2, 2021
Rod, custom service was very exceptional good, he is very knowledgeable of the product he represents. I will be sending customers to him indefinitely. He made me a proud customer.
February 1, 2021
Great! I was very happy with the customer service and that it was so easy to get the storage size I needed and the first three months discount was a very nice surprise. Thank you.
January 27, 2021
Very easy process and friendly manager at location. Facility is secure and clean. Thank you
January 26, 2021
Rodney did a fantastic job getting us checked in quickly and even coordinated a change in rental units when we realized the one I initially rented online would be too small. Great location and friendly staff. Grateful to have found them!
January 26, 2021
Very well, manager outstanding. I feel my personal belongings are very secure
December 19, 2020
Rod, has just been amazing!!!! I've been a customer for years but he's been a great addition! Went up and beyond! Great person! Cares and takes takes the extra step!👍👏
November 23, 2020
Little disappointed at first and wish I would have know the two units I had were together and rented out as one. Moved out of one and then had to move again to another! In the end it all worked out! Lady at desk was polite and explained she was new and had to go out of town why she didn't get back with me.
November 20, 2020
Satisfied. Was able to obtain and use a storage unit.
November 19, 2020
Very nice young lady
November 3, 2020
I'm very happy with the overall experience and great service
October 26, 2020
Good service Rear friendly And good attitude
October 22, 2020
I had an amazing experience renting my storage space. Nakayla London made my experience great. She was courteous, professional, well knowledgeable of her job and most of all, kind and polite. I will recommend my friends, colleagues and anyone looking for storage to the Murfreesboro,Tn location.😃
October 14, 2020
Got there 10 minutes to close and was taken to my unit brought a lock for it and the employee was really kind. Nakayla on nw broad thank you
October 6, 2020
It was really great. Great costumer service. I got all the help I needed!
September 29, 2020
Super easy and clean and friendly staff
September 25, 2020
Great ppl n great pricing
September 23, 2020
It was great, no problems or hassles and I didn't expect any. Thank you
September 17, 2020
Fantastic service by Ashley
September 15, 2020
Everything went well no problems
September 13, 2020
Positive and affirmed my initial uninformed decision to give your company a try
September 9, 2020
It was fine.
September 5, 2020
Very well pleased
September 2, 2020
I was very impressed.
September 2, 2020
Very good experience
August 28, 2020
It was great!! I was taken care of over the phone and then was shown the unit, given the pass code, and shown how to leave as well! Everything went smoothly and was very happy with location of unit will start moving in thing shortly would have already started but have been very sick my inner ear is acting up that is why I've been so sick anyway I'll get better and then I'll get things moved in tha
August 12, 2020
Great. Friendly staff!
August 9, 2020
Has been a good experience so far, even with pandemic we have worked with Reggie at our location who has been awesome. The whole complex seems to be clean as can be expected for an outdoor storage facility , very happy so far
August 6, 2020
Great place to store your things friendly
July 21, 2020
Reggie was the man that helped us at this location and he was awesome. The place is spotless and feels safe.
June 24, 2020
It was great he was very helpful
June 10, 2020
Tiffany was very helpful with the process and even offered things I would have never thought of. When I did get to the facility I was impressed with the security of the gate code and the directions she gave me to find my unit.
June 10, 2020
Amazing! Reggie and his staff are terrific. Excellent customer service! I very glad I chose here.
June 9, 2020
Really enjoyed it! Very helpful and friendly staff (Reggie) he took the stress out of my move!!
May 30, 2020
Was very friendly. Even though there was a no contact order the guy was very professional. Wish I could remember his name.
May 27, 2020
Employees were friendly and very helpful
May 25, 2020
Great customer service!
May 12, 2020
Very friendly and helpful
May 5, 2020
It was pleasant
April 30, 2020
Reggie was great. He showed us our options on units and he made sure we could get in with the access code.
April 23, 2020
I feel valued and as a second- time customer received quality, courteous interaction...
April 15, 2020
Very helpful and so organized!!
April 14, 2020
I called to inquire on getting a unit as I was not sure of the size i would need. I visited the facility the next day and even with the policies in place due to Covid-19 From the minute I pushed the button Reggie was very helpful He took me to the unit answered my questions and following the protcalm in place he had me signed up in no time.
April 7, 2020
so far so good staff is nice and friendly
March 18, 2020
Very positive experience. Quick sign up. Friendly staff. Very helpful.
March 17, 2020
Great...Chris at the desk was super helpful and was on top of things he had me in a storage building ready to start moving stuff in 30mins. Second time I have used your company and I will always come back and recommend to others
March 12, 2020
Was simple, fast and easy. Nice people, convenient. A little expensive but practically right beside me, so its worth it :)
March 5, 2020
I liked the help I gotta when I came in the young was very helpful and polite and respectful
March 1, 2020
very efficient and pleasant staff
February 7, 2020
Fast, easy and the office attendant was friendly and attentive
January 30, 2020
The experience was amazing. Me. Chris was very patient and helpful with my situation and he helped me find what I needed. You guys are awesome
January 21, 2020
Very courteous and helpful with the rental. We love this place!
January 14, 2020
Very helpful an courteous an explained everything
January 7, 2020
Chris was.very helpful, efficient & courteous; I Appreciate it!
January 7, 2020
It was really convenient for us, considering the location. If no climate control is an issue for you, then that would be about the only downside to choosing US Storage. I like the passcode system. Price was very reasonable after shopping around.
January 1, 2020
Fast and easy
December 10, 2019
Everything was great. This is our second time renting a space - and would recommend to anyone.
December 5, 2019
I was very pleased with the level of service I received in booking a storage unit. When the website failed, I was able to call and reserve a unit and they gave me two months at half off.
November 20, 2019
Best place to go.
October 31, 2019
Enjoyed the lady that assisted me
September 29, 2019
Great experience. Reggie was awesome and great at explaining everything.
September 25, 2019
Ok. No issues. Good customer service
September 23, 2019
Very helpful to us and polite!
September 18, 2019
Great! Magda and Reggie are wonderful people! They showed me around last minute and I LOVE the whole 2 month 50% off deal. The storages are pretty pricey, but that's anywhere.
September 16, 2019
Everything has been great. No spiders.
September 14, 2019
Reggie was Great to work with! He made it simple and easy to get a storage unit and provided use of a moving truck for Free! I highly recommend US Storage and really Appreciate the Amazing Customer Service! :)
August 29, 2019
Good customer service.
August 15, 2019
Your staff was very nice and informative
August 13, 2019
Website and actual prices did not match - misleading.
August 5, 2019
It was good
July 31, 2019
They were very helpful !
July 30, 2019
Reggie at US Storage went above and beyond with customer service. The usage of the truck for free was absolutely great
July 28, 2019
The process was easy. I reserved my storage online and needed to change my move in date. They worked with me and I was able to move in no problem. I like that they had videos to show how big the storage was so I could pick the right one. I like that it is gated but I don't like I can't have access 24 hours at least when I'm first moving in. My husband and I are very busy so making late night drops are a must for us. Other then that everything was good plus being able to use the moving truck will cut down on our late night drops just need my husband to slow down on working.
July 28, 2019
Very nice and helpful people. I Would recommend this storage facility to anyone
July 24, 2019
The manager was great and helpful
July 10, 2019
Service was awesome!!!! Prices are great!!!!
June 26, 2019
Excellent personnel! Readily available. Quality storage space - safe and sound.
June 25, 2019
111111111112111111111111111111111111111111111111111111111111111111111111111111111
June 21, 2019
The service was really good.The Associate made sure I was taken care of.
April 24, 2019
Excellent customer service!😃
April 13, 2019
Great! No issues here!!!!
March 30, 2019
Great customer service and employees take pride in their work.
March 20, 2019
I would highly recommend this place to everyone. Logan was very polite and knowledgeable about the amount of space we needed.
March 14, 2019
Awesome customer service! Extremely clean storage unit upon arrival. Secure location. I wish it was 24 hour access, but the hours are very flexible.
March 6, 2019
Good service, kind, made us feel welcome. Took time to show us the space, access gate operation, setting combination lock, going over rules and regs. Your people had personalities!
March 5, 2019
Very good! Logan was very nice and helped me quickly and efficiently.
March 4, 2019
Logan was super sweet attentive and even worked 1 hour past close for my mom and I!!!
October 20, 2018
Everything was quick and easy from start to finish Angela made sure we were well taken care of.
October 19, 2018
The lady that waited on us was very professional and had a very nice attitude.
September 23, 2018
Very accommodating. We appreciated how helpful the staff was in getting us leased. Thank you.
September 11, 2018
Karen was wonderful to work with. She was so helpful and accommodating. Great location and easy in and out.
August 31, 2018
The men at the front desk were very helpful and friendly!
August 27, 2018
Very good Karen did a fantastic job! Thank you
August 26, 2018
Very nice folks to do business with. Units are clean and well maintained! I would highly recommend using US Storage Centers!
August 4, 2018
The young lady in the front office is very nice she walked you to your storage and tell you everything that you need to know storage units are nice kept cleaned and I do appreciate that so much the old lady at the front desk is very helpful have any problems or any issues with your storage she is the one to contact I was very pleased and happy our recommend this to my family and friends
August 4, 2018
Karen is the most friendly person I've dealt with. I called one of the other stores on Broad St and the girl there rushed me and instead of giving me prices on units told me to come in and check them??? Karen told me the prices and showed me the units to make sure I liked them.
July 3, 2018
Called nearest to our home
June 30, 2018
Friendly and helpful staff!
June 20, 2018
Karen was very helpful before we rented and during our process. She allowed us to park our truck and dolly overnight so we could take our car and go to eat and hotel. The unit was clean and access able. Price was fair. Good all around.
June 9, 2018
Very good customer service... The only issue that I have is when the monthly fee went up but I did not receive notification prior to change
May 25, 2018
Staff was great.
April 20, 2018
Great customer service, answered all my questions and helped to find me the right size unit.
April 20, 2018
Both employees that assisted me were very helpful and courteous.
April 18, 2018
It was great
April 8, 2018
Awesome Ms. Angela was an amazing help and gave us great info along with actually communicating with us instead of treating us just like most yesterday do judging and what not. She told us stuff about herself just like she knew us and that to me means a lot and I couldn't ask for more when it comes to investing money in anything. I do greatly appreciate your help again dear and would highly recommend this storage facility along with Ms. Angela as your assistant/friendly renter. Awesome quality and can't for your buck so go on in and start renting today!!!
April 7, 2018
Angela was amazing. VERY Friendly, professional and went above and beyond to ensure my spots were able to be acsessed by big moving company's semi. Were in California and did this over phone. Great employee. A+++++
April 7, 2018
I love the experience with your company and I love the customer service that the young lady gave us.
April 6, 2018
Angela was very informative and helpful. Awesome customer service!
April 5, 2018
It was outstanding
April 5, 2018
very helpful at front desk especially when i was checking out of the storage unit
April 5, 2018
Angela Crawford was awesome. Helped me get the unit I needed, locks and answered all my questions. It was a great experience, since I am in Colorado and moving to Tennessee.
March 23, 2018
The administrative service was excellent.
March 23, 2018
Angela was great, very friendly and professional. The location was clean and well maintained. I would use you guys again.
March 19, 2018
Angela's hospitality and customer service was awesome. She treated me so very nice. The office was so cleaned and smelled so nice. She is an extraordinary woman.
March 15, 2018
Working with us storage has been great! The staff is friendly and and the rates are unbeatable. The fact that they let you use a nicely sized moving truck for free should be more than enough to attract your business. Also, Angela was very sweet and knowledgeable. She talked me out of getting too small of a unit and I'm glad she did!!!
March 14, 2018
Angela Crawford was very helpful and friendly
March 10, 2018
This is the only storage facility I'll use in Murfreesboro. Super professional and friendly staff; Angela was incredibly helpful! If you need a storage unit, the prices and service here can't be beat.
March 8, 2018
So very polite and helpful. We moved here from Cleveland Ohio and our sales clerk was so friendly that we immediately felt welcome and home . Thanks Angie!!!
March 5, 2018
They were very helpful to get us taken care of for our cookie season.
March 4, 2018
Had an issue but got it resolved— Thank you
March 4, 2018
We would definitely use US Storage again. Angela was awesome as the property manager. I would really like to be able to rent from her again
February 28, 2018
We were recommended to your storage facility by our future apartment manager. Getting to the facility was relatively easy and the process to get a room was quick and efficient.
February 24, 2018
My experience was great! Angela was very helpful in helping me with what I needed!
February 24, 2018
My experience at your Murfreesboro location was a pleasant one. Angela was very helpful. The only thing that put me off was the 13 dollar a month mandatory insurance. I was not made aware of this fee when I received my quote over the phone.
February 16, 2018
Great. I am pleased with the service. Ashton helped me find a unit suitable for backing our Uhaul up to on a rainy day. He was polite and professional. Thank you!
February 5, 2018
All good
February 2, 2018
Very helpful staff.
February 2, 2018
Angela was amazing! She is so sweet and kind!
January 27, 2018
We have used you before and would do it again if needed
January 24, 2018
It was great
January 21, 2018
I Have always been taken really good care of at this location. Even Since new management has come on board. Ms Angela is wonderful😀. Ms M. Nichols
January 18, 2018
very professional and Curtis Angela knows her job
January 18, 2018
The lady at the front desk was fantastic! She was so helpful and kind. We purchased a lock and forgot it at the desk and she's holding it for us until we move our items in. 5 stars! Thank you ma'am whose name is cannot remember!
January 17, 2018
Everything went smooth!
January 15, 2018
Good customer service and very helpful.
January 6, 2018
Very professional and helpful...made it easy to get our unit....
January 5, 2018
The clerk was very helpful and helped me get the perfect size storage. Awesome
January 3, 2018
Great experience, easy. Ashton was very helpful and nice.
December 21, 2017
It was great Angela hooked us up very nicely!
December 17, 2017
Very nice and spacious storage very helpful staff
December 14, 2017
Awesome
December 13, 2017
management very professional,and kind ,
December 12, 2017
Very Good
December 12, 2017
Amanda the facility mgr was so nice, the facility was clean and secure. Will tell all my friends about this business.
December 3, 2017
I've been doing service with them for years and they've always been friendly.
December 1, 2017
US storage employee was very helpful,kind,and very professional.
November 24, 2017
Great experience. Good customer service.
November 14, 2017
Ms Angela and the staff are the best to work with. HANDS DOWN,US STORAGE ON Broad St. In Murfreesboro has it going on. Plus You get a Truck to MOVE YOUR STUFF IN!.!.!.! MIND BLOWN, THE MORE YOU KNOW!
November 14, 2017
good experience, knowledgeable, and quick
November 5, 2017
Quick and easy application process and helpful employees
October 25, 2017
I loved it I will always use y'all storage
October 7, 2017
I worked with Adel who was very welcoming her service was great place very clean I'm now a customer.
October 3, 2017
I had the best experience working with Adele and Ashton. They were very patient, informative, helpful and both have above average customer service. I will definitely recommend US Storage because of them!
September 30, 2017
Great customer service. Very convenient location.
September 15, 2017
Oh I know your rules and have always loved your customer service and the clerk and I spent time really talking about how well the company is and it was such and enjoyable moment! I hated to leave...she is a joy....
September 14, 2017
Great I am going to rent another unit
September 12, 2017
This was a wonderful experience, very friendly front desk personnel, and the process did not take long at all.
September 6, 2017
It was great, I walked in not feeling so good about the situation I was in and came out smiling and laughing. Ms Andi was phenomenal. I'm glad I chose US Storage.
September 5, 2017
It was simple and painless. Andie was helpful and friendly.
August 31, 2017
I just moved here from North Carolina and I received exceptional service from Andie Weiler. She made it a very pleasant experience.
August 29, 2017
The gentleman there was very helpful
August 10, 2017
Excellent customer service. Very helpful. Loved the 50% off and would be nice to get again :)
August 10, 2017
Miss Andi was an absolute please to deal with. She explained EVERYTHING in full detail and went out of her way just to make sure everything ran completely smooth. Thank you again Miss Andi.
August 10, 2017
I have been very pleased with US Storage
July 28, 2017
Great experience the staff was very helpful and professional
July 25, 2017
The main reason I rent from you is the local management. As a storage auction buyer, having a good relationship with on site managers is very important. Andi is absolutely wonderful. Without her and past managers, I would not be here,because, frankly you are the most expensive place around.
July 5, 2017
andy was extremely helpful and really made my life easier that day.
June 29, 2017
I am moving to the area from out of state. At the last minute I realized I needed a storage unit for a short period of time so I called US Storage after finding them via a Google search. I experience exceptional customer service on the phone. When I arrived in the area, I again received great customer service.
June 6, 2017
It has been wonderful. On our initial visit, we talked with Andi (who is amazing), - she walked us thru the procedures, showed us a unit and easied our worry of "storing" our possessions. The facility is very near our house, so it is quite handy, as well.
June 3, 2017
Very convenient
May 24, 2017
I had a great experience. I booked through a third party, but my reservation didn't show up. The manager was very helpful and understanding. I was lucky that there was one storage unit left in the size I needed.
May 24, 2017
I was very impressed with the manager at the Murfreesboro office on Broad! She was very informative, helpful and friendly with any and all questions!!! I would highly recommend you all to friends and family! Sincerely, Tracyann Benefield
May 24, 2017
It was great and a life-saver for our family as we were in between moves and needed a temporary storage unit!
May 18, 2017
I can't remember the ladys name that helped me. She was very helpful she went beyond what I had a very good experience. Thanks very much!
May 17, 2017
I had a wonderful experience. Andie was wonderful, she helped me during a very stressful time. She took the time to explain everything to me, about my unit. She is always so friendly and willing to help. I would highly recommend US storage to all my family and friends.
May 17, 2017
Loved the facility. Both workers i interacted it with were extremely friendly and extremely helpful.
May 15, 2017
Andie was great! She was very professional, courteous, and got me a heck of a good deal. I am glad that I stopped in to see her and you need more employees like this at your company. Keep up the good work, Andie and thank you, once again!
May 13, 2017
She was so nice and explained things very accurately..by far the best customer service I've been around. She was very nice and caring.
May 13, 2017
Fantastic experience,extremely clean units and wonderful customer service.
May 11, 2017
It's very good
May 5, 2017
Great facility, and Andie is the best!
April 29, 2017
Great, fast service
April 18, 2017
Great storage facility and excellent customer service.
April 14, 2017
THE LADY I SPOKE WITH WAS SO VERY NICE. I HAD BEEN THERE BEFORE, BUT THIS EXPERIENCE WAS BY FAR THE BEST EVER!!!
April 11, 2017
Very good. Staff was nice and very helpful.
April 6, 2017
Great customer service and the use of the moving truck for a day was a very nice added touch! Thanks!!
April 6, 2017
Excellent customer service.
April 6, 2017
The experience I had was very professional, and met all my expectations.
March 16, 2017
It was very positive. She was very informative and kind
March 14, 2017
The staff you have at US storage was great very helpful and fast she got us everything we needed thanks for everything Andy
March 14, 2017
We are first time storage unit renters and Andy is amazing!!!!!! Her above and beyond customer service and support is priceless!!
March 10, 2017
Management there is very friendly, and great to work with. The grounds are clean, and the storage units are easy to access.
March 7, 2017
Andie th manager goes out of her way to make it a great experience. She really cares about the customer.
March 1, 2017
Awesome , great and very professional
March 1, 2017
Great. I felt really comfortable about placing my things in storage there. Nice and clean.
March 1, 2017
Very enjoyable!!!
March 1, 2017
Good, very informative.
February 23, 2017
Saleslady was wonderful. Very friendly and thorough. Excellent care as a customer.
February 22, 2017
The manager Andi was very helpful and nice. She explained everything perfectly and I'm very confident I made a great choice with the Murfreesboro location!
February 22, 2017
Andie was very helpful.. She took the time to give me lots of tips about packing my things. She also walked me over to my unit, and gave me ideas on how to pack my furniture into the storage unit. So far it looks like I've made a terrific choice on how and where to store all my things.
February 18, 2017
Very professional and informative
February 15, 2017
I had an amazing experience. Your representative was very professional explained everything clearly. Great employee helpful.
February 15, 2017
Absolutely a breeze to work with. And super friendly. I could not have asked for a easier person to work with. Thank you.
February 12, 2017
Nice to have a on site manager.
February 3, 2017
The experience was great! Fast friendly service from site manager!
January 27, 2017
Great service and Andis is wonderful.
January 25, 2017
Great experience. Andie was great and took care of me.
January 23, 2017
Staff is great.
January 22, 2017
Loved it! Great location and amazing service from staff. Super Friendly and helpful through out the whole process!
January 20, 2017
Office manager is superb!
January 12, 2017
The service was fantastic and it was a quick and easy process. Thoroughly discussed my needs beforehand and got me the storage space I needed!
January 4, 2017
Ms. Andie was a joy. Very knowledgeable and courteous.
December 28, 2016
We felt welcomed an it was done quickly
December 27, 2016
Very accomidating, Andie Weller was amazing and very helpful.
December 21, 2016
A great experience!. Very Friendly, caring and helpful staff. I have used this facility a couple of times now and would use again if the need arose.
December 21, 2016
The manager that lives on site goes above and beyond is super helpful, informative and kind beyond what is required. she really cares about the renters.
December 16, 2016
I believe her name was Andie but very helpful and what was best fit and time for me. Very pleased
December 16, 2016
Great experience excellent customer service
December 11, 2016
Everything has gone well for us. The property manager has be great
December 5, 2016
The guy who helped me when I was renting the unit was extremely professional & helpful!
December 5, 2016
Andie is the absolute best! We feel that our belongings are very safe in our storage unit.