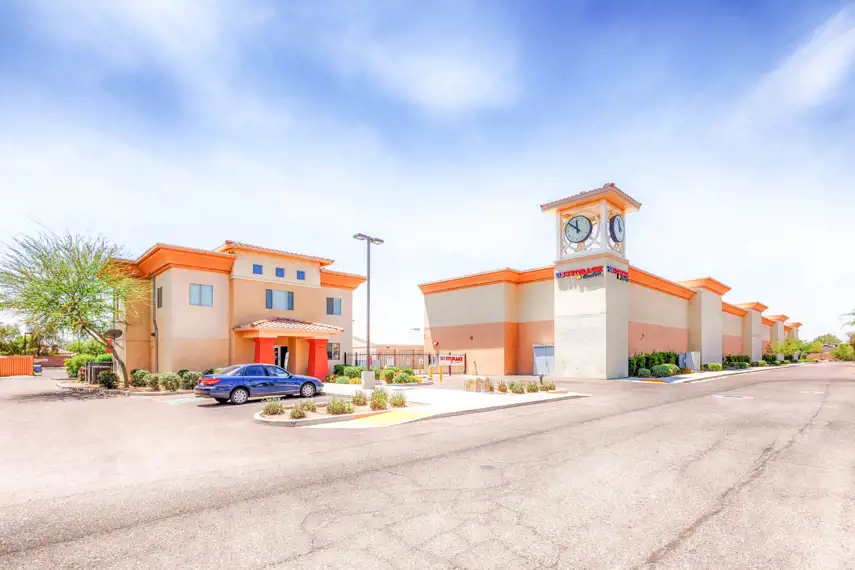 Rent or Hold Your Storage Unit in Minutes. Easy, Contact-Free Rentals.
Location Details
ACCESS HOURS
Mon

6:00am - 10:00pm

Tue

6:00am - 10:00pm

Wed

6:00am - 10:00pm

Thu

6:00am - 10:00pm

Fri

6:00am - 10:00pm

Sat

6:00am - 10:00pm

Sun

6:00am - 10:00pm
OFFICE HOURS
Mon

9:00am - 6:00pm

Tue

9:00am - 6:00pm

Wed

9:00am - 6:00pm

Thu

9:00am - 6:00pm

Fri

9:00am - 6:00pm

Sat

9:00am - 6:00pm

Sun

9:00am - 2:00pm
FEATURES AND AMENITIES
Drive Up Access
Climate Control
Passenger Elevators
Electronic Gated Access
Video Recording
Employee(s) Speak Spanish
Moving Carts
Kure It Certified Location
ABOUT THIS LOCATION
The Best Self Storage in West Phoenix
Read More
Photos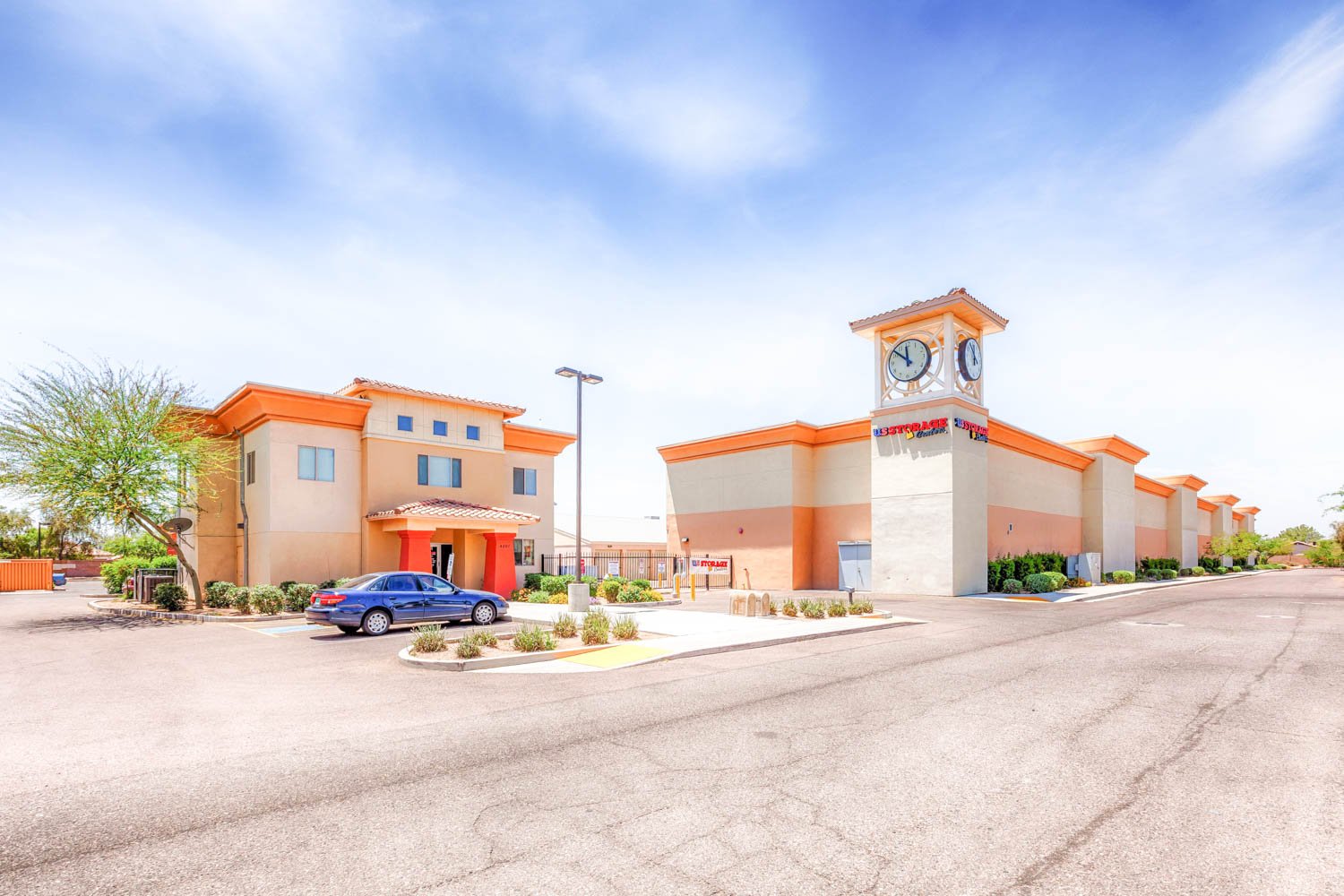 About this Location
Self Storage Facility Features

Our self storage facility offers the best storage units and climate controlled storage units in western Phoenix, Arizona--a great feature when the scorching summer heat hits. This facility also has convenient drive-up storage units, perfect for personal and business storage needs, and extra wide drive aisles for easy access. Covering over 82,432 square feet of rentable storage space, there are 729 storage units ranging in size from 5' x 5' up to 10' x 30'.

Many of our customers are renting self storage for the first time. With years of self storage experience under our belts, we'll be able to answer all of your storage questions. We enjoy listening to our customer's needs and we use that information to identify the best options. From there we invite our customers on tours of the property so they can get a better idea of the size options available to rent. In fact, we're confident that you'll have a positive and productive experience when you visit our location.

Secure Storage Units

Computerized gate access, 24-hour video recording, and an advanced security system are all part of our security features. Our friendly and professional resident managers also keep a close eye on the property.
Contact-Free Rentals – Easy Online and Phone Rental Options 
 Online Rental
 Select your unit and enter your info and payment
 Sign the lease online
 A manager will reach out to you with your access code, a map of the property, and they'll have you email a copy of your valid government picture ID
 Once these steps are complete, the manager will prepare your unit so it's ready when you arrive
 Phone Rental
Simply call the number listed at the top of this page, and a member of our staff will work with you over the phone to complete a rental
The manager will email a lease to sign
Once the lease is signed, a manager will reach out to you with your access code, a map of the property, and they'll have you email a copy of your valid government picture ID
Once these steps are complete, the manager will prepare your unit so it's ready when you arrive
Conveniently Located

We're located on the south west corner of West Camelback Road and North 83rd Avenue in the same shopping center as AutoZone, JPMorgan Chase bank, and Papa John's Pizza. The Safeway grocery store and Circle K gas station are across the street from us on the south east corner of North 83rd avenue and Camelback Road.

Customers using Interstate 10 can exit onto North 83rd Avenue and head north just past West Indian School Road. Those using the Agua Fria (highway 101) can easily access our property by exiting onto West Camelback road and then heading west a few blocks past North 91st Avenue, passing by the Walmart Supercenter and Copper Canyon High School.

Many of our customers also come from the neighborhoods just north of us near Grand Canal Linear Park, Glendale Heroes Regional Park. And a lot of our customers also live in the neighborhoods to the east of us surrounding Tomahawk Elementary School.

Community

As the largest city in Arizona and the 6th largest in the nation, Phoenix is a growing, diverse, and entertaining place. Situated perfectly in the desert, Phoenix is the gateway to the Grand Canyon with a rich history of miners, cowboys, Native American heritage and puebloans. Among this ancient history is an aura of sophistication however, with resorts and spas aplenty for those wishing for peaceful relaxation. A diverse cuisine and many upscale shopping areas, boutiques, charming vintage shops, and bargain outlets, make a night on the town enjoyable and full of possibilities.

Phoenix also has a wide variety of outdoor sports with several wildlife parks, a zoo, beautiful mountains, and parks galore. Hiking, biking, climbing, water recreation, and so much more are at your fingertips when you live and stay in Phoenix. For the sports enthusiast, there's always a game going on. As home to the Arizona Diamondbacks, Phoenix Suns, and the Arizona Cardinals, just to name a few, attending a professional sports game is easy to do. If golf is your game, the courses in Phoenix are unlike any you've seen with the exotic desert background, breathtaking views and picturesque landscape. Improving your game is easy among such beauty.

Convenient Office and Access Hours

Office Hours

Monday – Saturday: 9:00 am to 6:00 pm

Sunday: 9:00 am to 5:00 pm

Access Hours

Monday – Sunday: 6:00 am to 9:00 pm

Forms of Payment

It's easy to pay your bill! We accept cash, checks, money orders, Visa, and MasterCard. You can also pay online through our secure client login.

Kure It Participating Facility

As part of our philanthropic efforts, we are an active member of Kure It Round up for Research. Kure It, founded by US Storage Centers chairman Barry Hoeven, raises money for underfunded cancer research.

Facility Products

To help with your move, we sell boxes (sized small - x-large). Wardrobe boxes, packing tape, tape dispensers, mattress covers, bubble wrap, picture moving kits, disc locks, and brass padlocks.


Customer Reviews
overall rating, 429 total testimonials
June 29, 2022
Yolanda was very helpful, friendly, Show us the unit and around the lot . We have zero complaints. Thank you Yolanda !
June 28, 2022
Great service
June 27, 2022
Front desk lady very nice.
June 7, 2022
Fast, convient, friendly. Excellent customer service.
June 4, 2022
I've been a customer for awhile now and I everytime I had questions or needed help Yolanda was always willing to help and answer me. I appreciate this place.
June 1, 2022
The experience was okay no issues the only problem is is the pricing but overall she did help me out but still at the end of the day I'm the person who is giving money to protect my stuff I looked everywhere else and their price was still low than what yours were only issue was they did not have the unit size I was looking for but they said if they had that size the price is a lot less than what I'm paying for with you guys but I went ahead and stayed with you guys only because the unit that they had was not air-cooled and a few accommodations that were helpful but there accommodation was not helpful at the other storage facility so your prices a little too high but their prices was just fair but a few other units not cooled down like what you have either way it's still good that I'm still with you the sad part is I just don't like how the pricing is for how you guys keep raising the price is very much unfair so no matter what you tell me that you have to raise the price or rent I should say is still considered unfair but like I said you guys had air cool you had the only unit I was happy but still if he with the price either way that's why I gave a nine that it's a possibility
May 24, 2022
I love my experience the people were very friendly and helpful
May 21, 2022
Tyana had a Friendly greeting, and very personable Helpful in showing how to work gate and opening my storage unit. Clean, well kept
May 21, 2022
Jay gave me an offer l couldn't refuse and I enjoyed his customer service.
See All 429 Reviews
See All 429 Reviews