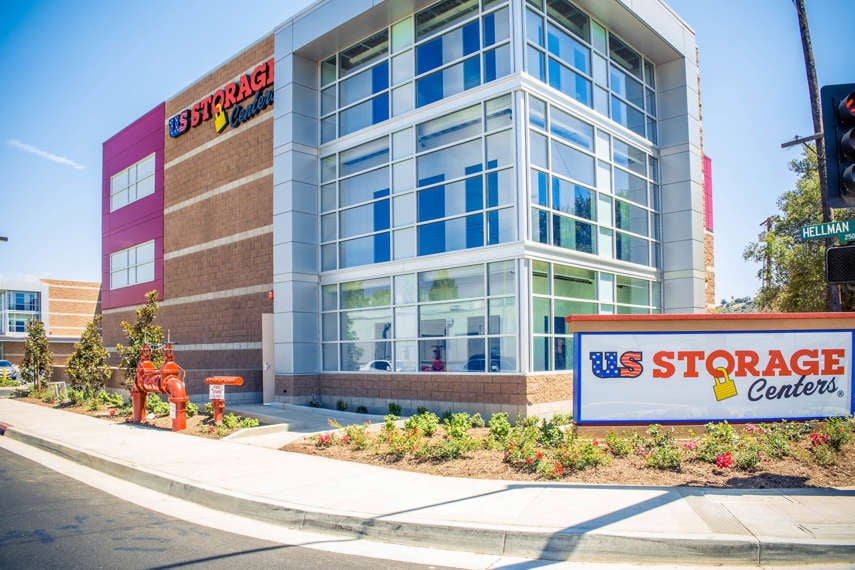 We're Open During Normal Hours. Easy, Contact-Free Rentals
Location Details
ACCESS HOURS
Mon

6:00am - 9:00pm

Tue

6:00am - 9:00pm

Wed

6:00am - 9:00pm

Thu

6:00am - 9:00pm

Fri

6:00am - 9:00pm

Sat

6:00am - 9:00pm

Sun

6:00am - 9:00pm
OFFICE HOURS
Mon

9:00am - 6:00pm

Tue

9:00am - 6:00pm

Wed

9:00am - 6:00pm

Thu

9:00am - 6:00pm

Fri

9:00am - 6:00pm

Sat

9:00am - 6:00pm

Sun

9:00am - 2:00pm
FEATURES AND AMENITIES
Climate Control
Passenger Elevators
Electronic Gated Access
Video Recording
Employee(s) Speak Spanish
Moving Carts
Alarmed Unit
Kure It Certified Location
ABOUT THIS LOCATION
The Best Storage Facility in Alhambra, CA
Read More
Photos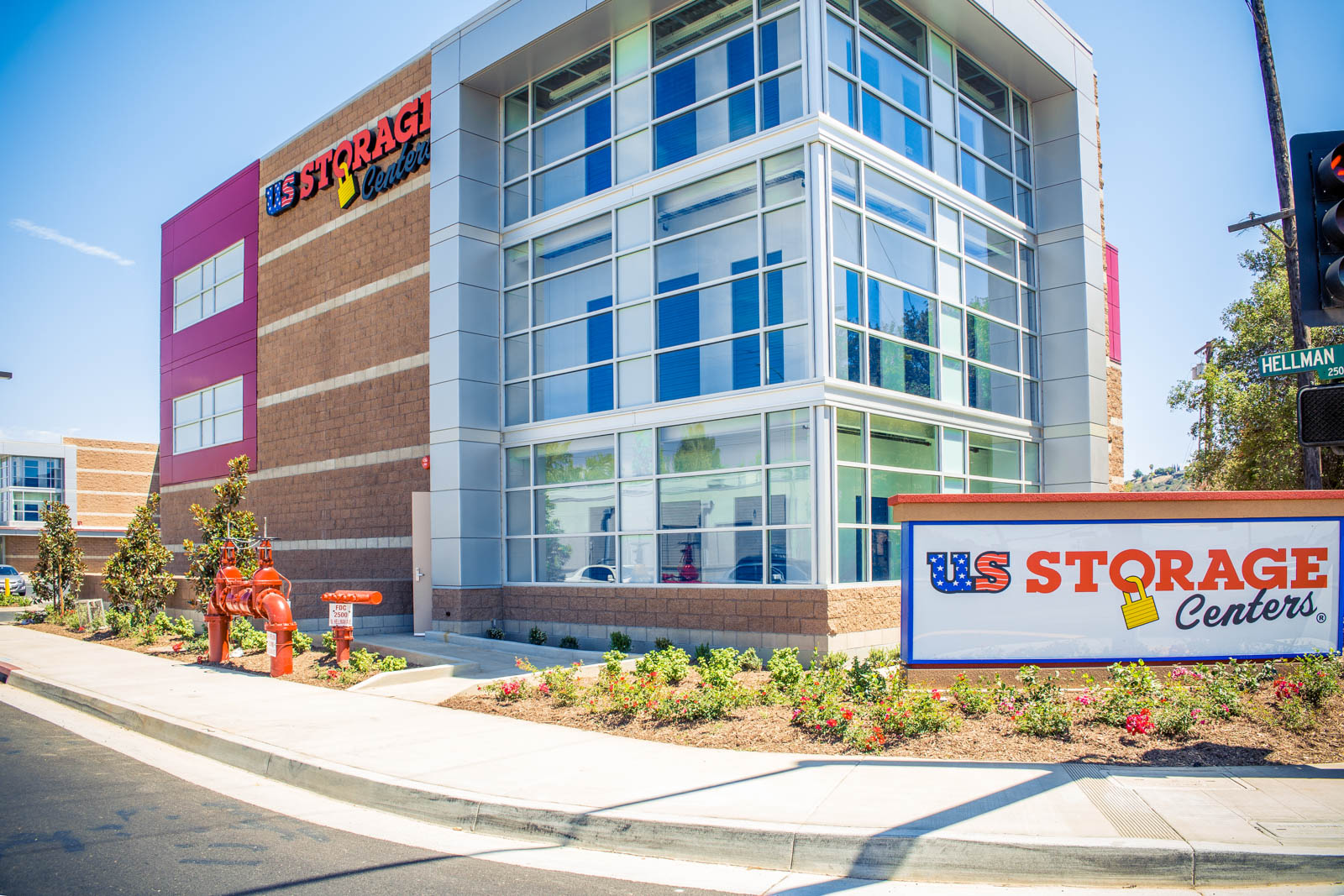 About this Location
Facility Description

US Storage Centers of Alhambra, California is the best, cleanest, and most professionally managed self-storage facility in the area. It's also the most conveniently located self storage facility in Alhambra because we are directly off the 10 freeway at Elm Street and Hellman Avenue. There are 876 self storage units comprising 86,996 sq. feet of rentable space. The units range in sizes from 5' x 5' - 10' x 30', and climate controlled storage units are available to rent.
Contact-Free Rentals – Easy Online and Phone Rental Options 
 Online Rental
 Select your unit and enter your info and payment
 Sign the lease online
 A manager will reach out to you with your access code, a map of the property, and they'll have you email a copy of your valid government picture ID
 Once these steps are complete, the manager will prepare your unit so it's ready when you arrive
 Phone Rental
Simply call the number listed at the top of this page, and a member of our staff will work with you over the phone to complete a rental
The manager will email a lease to sign
Once the lease is signed, a manager will reach out to you with your access code, a map of the property, and they'll have you email a copy of your valid government picture ID
Once these steps are complete, the manager will prepare your unit so it's ready when you arrive
Conveniently Located
Fremont Elementary School is to the north of us, directly across the street. If you're on the 10 (Interstate 10), you can't miss seeing our beautiful facility which is bordered by the freeway. For people travelling east on the 10, take the South Freemont Avenue Exit. Those on the westbound 10 freeway take the Freemont Avenue exit, our facility is next to the Freemont Avenue on and off-ramp. The cross streets closest to our storage facility are South Freemont Avenue and Hellman; and the intersection of Elm St. and Hellman. This conveniently located position is also between the cities of Monterey Park, San Gabriel, Rosemead, San Marino, Pasadena, and the Los Angeles districts of El Sereno and Monterey Hills.
Designed for Security and Convenience
This brand new flagship self-storage property opened in July 2014, and it was developed from the ground up with the focus placed on our customer's needs. The architects and engineers who worked on this building implemented the best practices in security and convenience for our customers and aesthetics. Right from the start, our architect honed in on a design that resulted in the most beautiful commercial building in the area. The well-lit exterior is highlighted by tall panes of glass, sandstone, colored bricks, and red accents. Inside, the halls are extra wide to accommodate the moving process. Large and conveniently placed loading bays allow tenants to back their trucks up to the building for loading and unloading. Huge parking lots, also a rarity at storage facilities, were included as part of the design to make it as easy as possible for tenants to enter and exit the property. Large hand-carts are also free for tenants to use while loading or unloading their belongings.

Additional security and convenience features include, cylinder locks, individually alarmed storage units, and bright lighting throughout the property. Our managers have big screen TVs connected to video cameras and we have 24-hour video recording as part of our security package. The building is secured with coded access only. Tenants must enter their unique PIN to enter the storage property, and to move from floor to floor on the elevators.

Professionally Managed

Cleo J, our property manager for this location, has worked in the self-storage industry for over sixteen years. Her friendly and professional management style is ingrained in her team so as to ensure the best possible storage experience for each tenant. And, if you're new to the world of self-storage, Cleo and her team are able to help you find the correct storage unit size, depending on your needs. Such professional customer service and wise advice are only possible because of the deep knowledge and self-storage experience that Cleo and her team possess.

Kure It Certified

Our Alhambra storage facility is also a Kure It certified location, actively participating in efforts to raise money for cancer research. Kure It, established in 2007 by US Storage Centers Chairman Barry Hoeven, was founded with the purpose of raising money for innovative research directed at types of cancer that receive little or no funding for research. As of July 2014, Kure It has raised over $2.7 million dollars.

Languages Spoken by Managers

English, Spanish, Mandarin, Cantonese, Wencunese, Taishanse, Jiangmenese, and Nahuatl.

Forms of Payment

Auto Pay, Cash, Check, Money Order, Visa, MasterCard.

Community

The city of Alhambra, California boasts a rich history beginning with its founding in 1903. To this day the city is highly residential, filled with families and beautiful homes. A variety of restaurants and shopping centers pepper the community and make for a fun place to live. Locals like to eat at The Hat, a delightful outdoor restaurant that began serving hot pastrami sandwiches in 1951. The famous Alhambra landmark has since gone on to open several chains in Southern California. But, if cured meat doesn't interest you, Main St. boasts several new restaurants, retail stores, and other fun establishments to explore.

Products

At this facility we sell small to large boxes, wardrobe boxes, packing tape, tape dispensers, mattress covers, bubble wrap, picture moving kits, disc locks, and brass padlocks.


Customer Reviews
overall rating, 173 total testimonials
February 24, 2021
I feel really great about my experience during my duration at US Storage. Chloe, Mengjie, and Raymond always answered my questions or concerns. Keep up the great customer service!
February 20, 2021
Staffs are friendly and helpful,storage area are always clean.
February 2, 2021
Fantastic!
January 27, 2021
Good experience however pricing is high and wish that it would be prorated for actual time used
January 20, 2021
Ok. I feel secure and safety leaving my boxes there and the attendants were very courteous.
January 19, 2021
Pretty good. No real problems other than it seems there could be more dollies and a little cheaper
December 12, 2020
Very professional assistance in getting the unit I needed thanks
December 4, 2020
The customer service and storage is top notch. The pricing, however, is not as competitive as I would prefer.
December 1, 2020
Friendly and helpful staff who are always available.
October 1, 2020
The staff was very friendly and helpful. Made things very easy.
September 22, 2020
Customer service is friendly and provides good information.
October 28, 2019
great customer service, friendly & reliable staff, and overall a company that listens & tries to help out in their best abilities....
July 30, 2019
Nichole provided excellent customer service and handled all concerns with clear and concise information.
July 19, 2019
Loved the moving truck perk! Love the well maintained facilities! Really appreciate Mengjie's superb customer service.
July 11, 2019
Very satisfied
July 9, 2019
My experience was very positive. Nicole was friendly and professional. She took the time to show my husband and I our options and ensured that we were able to use the moving truck within the date/time that we needed it.
June 10, 2019
It was a great experience. The staff was so friendly and informative. The place is impeccably clean and safe. The whole process was easy thanks to Nichole.
June 10, 2019
Awesome deal at 50% off on the first month even with if you only rent for a month. The place is exceptionally clean. Mengjie, the guy in charge is friendly and efficient and very thorough in explaining and answering questions. Highly recommended.
May 31, 2019
Have loved it!
May 29, 2019
I rented online and the location manager contacted us right away and was extremely helpful. When we arrived, manager had all the paperwork in order. She showed us the room and gave us key to rental truck. When we returned we had to wait a bit since she was helping 3 other customers. She was very attentive and kept apologizing to us for waiting. US Storage Centers should consider hiring other people to help manager on site on the weekends. She never lost her cool and was extremely friendly with all the customers. This is the customer service you hardly see anymore. I would recommend you consider giving this manager a bonus. I have no relation to her but I am in the customer service field and can recognize great employees since they are rare.
May 21, 2019
Great and easy process to get the unit i wanted. Nicole was a great help with it all.
May 18, 2019
Nichole was great, even though the price was much more than we were expecting.
May 17, 2019
The clerk was very thorough with his explanations and very approachable.
May 13, 2019
Super friendly staff, patient and answer all questions and concerns clearly and in a respectful manor
April 22, 2019
I had a great experience here. All of my questions were answered and the employees were extremely helpful and polite. This location is very convenient for me, so I can drop by whenever I need. The hours work really well for me.
April 14, 2019
Wonderful staff
April 1, 2019
Nichole was great. Finally at a storage facility where I feel like they actually care about the customers.
March 5, 2019
Incredible. Nicole, the assistant manager, was incredibly helpful and informative on my move in date. She made sure I was aware of all the conditions and my options and took my situation into consider when offering advice. She did not try to up sell me on anything, however I did upgrade my reservation based on her feedback. She provided me with her business co tact information without having to ask. The facilities as well are above par and exceeded my expectations.
March 1, 2019
Great service and very clean facility! Assistant Manager Mengjie Chen very attentive and helpful. Mengjie knows how to treat his customers.
February 27, 2019
I had a great experience with Nichole. The only thing that I was bothered with was they no longer had the moving truck available which would have been really helpful but it wasn't Nichole's fault but still would highly recommend US Storage.
January 25, 2019
Ms.Cleo was very helpful and kind She made my storage renting easy
October 23, 2018
Outstanding, beyond expectations. Very courteous, extremely helpful, very sensitive to my needs, helped me select what I needed.walked me through.both ladies super!ery clean, Thank you
October 22, 2018
Oh my goodness!! This has been the best customer service experience i have ever encountered! Cleo and Nichole were so great to me and my partner, super helpful and informative and made us feel so comfortable. They are so funny and full of positive energy it was great!. Highly recommend this location to store your items also very protected and cautious! Tell your friends! Your family! Tell everyone! You won't regret it pricing is super affordable and the specials are definatly a plus!! Bravo!!
October 21, 2018
My experience was great. Miss Lydia was very helpful and very nice.
October 10, 2018
Cleo was wonderfully helpful with the whole process of selecting a storage. She even stayed past closing to assist us with everything, it was a pleasure to work with her.
October 10, 2018
Cleo was wonderful. She was thorough and very helpful in finding the right size unit for our needs. Cleo was very professional and personable it was much appreciated.
October 9, 2018
The staff were very friendly, accommodating, and, of course, helpful. The staff seemed sincerely interested in making sure that my needs were met and they were engaging and neighborly.
October 1, 2018
The front desk manager is wonderful. So patient and kind and accommodating.
September 13, 2018
It went very smooth. Even when my storage was charged twice, your company refunded the overpaid amount quickly.
September 6, 2018
Richard was great, informative and helpful. Would recommend the company to a friend.
August 8, 2018
All good. Speedy. Friendly. Location clean
July 26, 2018
Great customer service! Very helpful staff. Assisted throughout every step of the process.
July 24, 2018
What i like about is the customer service. Always polite and friendly and very helpful. I would recommend it. I love it.thank you for your help.
July 12, 2018
Good friendly people. Facility is too hot inside storage units.
July 12, 2018
The assistant manager Mengjie Chen was very nice. It was my first time to rent a storage space, he explained everything in details and made me understand and feel comfortable to do business with him. Nice personality and professional!!
July 8, 2018
Awesome! Lightning Fast Customer Service!, Highly Recommended! 5 Stars🌟🌟🌟🌟🌟on every category. Thank You! 😊👍
July 6, 2018
I'm been customer here for long time and I'm still happy with the customer service . Cleo and Menuhin still taking care of the office and facility . I recommend this place to everybody
July 3, 2018
The staffs are very friendly and helpful. The whole storage complex is very clean.
June 30, 2018
Nice friendly employees clean & organized
June 12, 2018
Just started, but so far so good. When I signed, staff were very informative and helpful. Time will tell if this experience holds, but for now, it has all been "gravy."
June 12, 2018
Staff was polite they were very helpful truck rental was great would recommend to friends and family
June 11, 2018
I have a frig and washer /dryer that I decided not to keep , your sales person said they usaully take and arrange for donation ,you can put at first level , and check with our manager The manager came and say sorry no I was very disappointed If you have a way to do why not ? If will help the tenant s solve a issue
June 1, 2018
Great staff. Very friendly and accommodating.
May 27, 2018
I thought the whole process was very simple and easy. Very friendly workers. The storage is perfect.
May 24, 2018
great service, thank you
May 2, 2018
I had trouble finding my unit when I came back alone. If I had looked at an overview map of the units on my floor when renting it I may not have wandered down as many aisles trying to find the right one. I found the numbering system non-intuitive
April 24, 2018
Nice experience. Very clean and secure storage.
April 18, 2018
Always Pleasant and always employees trying to be helpful if all your Outlets are the same I would recommend all year storage facilities but I know on Hellman Avenue they do an excellent job
April 10, 2018
Your facility is immaculate and I felt really good about storing my belongings with you. Mengjie Chen, the assistant manager, was very helpful and has great customer service. Your rates are affordable and very competitive to the other storage units around you.
April 9, 2018
Friendly and professional.
April 7, 2018
Mangee was awesome! Made renting easy to understand & quick. he's the best!
April 6, 2018
no comments.
March 22, 2018
This was my first experience renting a storage unit. I think I am now spoiled by the fantastic clean, secure and well constructed units. All the personnel has been very professional and friendly which makes any business a success. Highly recommend this place.
March 21, 2018
Friendly service except wish you guys had two people at the front desk instead of just one. Great facilities otherwise!
March 20, 2018
Very positive, everything is secure and clean.
March 5, 2018
Very fast and efficient!
March 2, 2018
Clean, open, but wasn't able to use the moving truck the first day because it was Sunday. I wasn't informed of this prior to then so that was frustrating. Besides that, it was a great experience.
February 26, 2018
Enjoyed my experience with your company. The location was centrally located next to the fwy. Your facility was immpecible and clean. The rep's were also very pleasant to work with. Should I need to store items in the future? I will return. Thanks, Vidal Herrera
February 23, 2018
A-1 customer service, A-1 location, A-1 ultra Clean
February 14, 2018
very good staff i think you should not raise the rent on long time customers as much ad you do or offer thd m deals for their longevity with all the deals out there it encourages long time customers to shop around
February 13, 2018
The person at the front desk was helpful, friendly and very informative. I believe her name was Gabby, but not exactly sure. I was happy with the unit and pricing as well, but her customer service was exceptional. thank you!
February 7, 2018
My experience is very good. I liked you provide the truck and I feel my storage is secure. Thank you for your service.
February 3, 2018
I had an excellent experience with both Liz and Menhage. Both went out of their way to assist me in every way. This is the Alhambra location. We need to have more employees who take this much care of customers in all locations.
February 2, 2018
Very nice and safe! Would rent there again! Good customer service!
January 29, 2018
Thank you for the great service all staff were very helpful and courteous. The facility was always clean. Keep up the excellent work. The greatest thing was no contract was a month to month this surely worked for me.
January 11, 2018
Very good very clean no problems would rent again if needed
January 5, 2018
Dear US Storage, Thank you for providing your services. I had a great and smooth time while renting a storage space at your Alhambra facility. The manager was very friendly and forthcoming. I had no issues with the facilities which were kept clean and accessible. All my stored things are in good shape due to the circulating air and no overheating during the summers. Thank you! Regards, Wilton
January 2, 2018
Friendly service and always very clean.
December 25, 2017
Very wonderful experience. I loved the customer service, the cleanliness of the facility, and the ease of ending my service. I would definitely recommend this facility to friends and would certainly lease again if I needed storage space in the future.
December 24, 2017
Very good I'm professional
December 24, 2017
Like the local phone number to call.
December 21, 2017
I was very pleased with the attention I was given by Gabby. The size and storage units we're not only verbalized they were shown to me personally and that made a big difference. Even though I calculated correctly I am going ahead and integrating other storage that I have into one at your location thanks again to Gabby I'm at the present time I'm looking into it hopeful to be done with all my moving and Storage needs by the end of the month. Thanks again us storage it's been a great experience.
December 17, 2017
Staff is friendly and helpful, facility is new and clean, good location.
December 15, 2017
Excellent customer service, polite, professional , units are very well kept with easy acces.
December 9, 2017
Our initial experience was not very good at all. But the manager stepped up and made it worth staying. If not for the manager of this particular location, we would not have stayed. The office hours are not very reliable.
December 2, 2017
Your employee explained everything well and was very helpful.
November 13, 2017
Outstanding. The facility is clean and secure.
November 13, 2017
Awesome place and prices . Worker was very professional. 5 stars
November 11, 2017
Great staff they listened and helped with my needs. Thank you for no contract and unnecessary paper work.
November 10, 2017
Thanks for keeping the areas clean. For allowing us to donate furniture. And thanks for friendliest customer service
November 2, 2017
great, I would use this storage place if I ever need a place for my belonging.
November 2, 2017
Friendly and helpful.
October 9, 2017
The staff is very friendly, professional, and knowledgeable.
October 6, 2017
Wonderful! Cleo and benji were so helpful and patient with me. I went to two other facilities and chose this one because Cleo and Benji were so great!!
September 25, 2017
great and helpful staff. Very clean and dust free facility.
September 21, 2017
This is my first time renting a storage I shopped around and you guys beat the price location, and cleanliness I love it and I will defenely recommend to anyone.
September 19, 2017
Great location very clean a bit pricey. Instead of lowering fee, it goes up seems like every 6 months
September 11, 2017
Quick service and addressed my questions before I could ask them. Staff was helpful with my movers, overall a good experience.
September 9, 2017
It was a pleasant experience. The person who helped us gave us different options to chose from and answered all of our questions. She was very knowledgeable and professional.
September 8, 2017
This place is beautiful clean reliable I highly recommend it
September 2, 2017
Modern, very safe, friendly and helpffull attendants. I highly Recommend this facility.
August 24, 2017
People were very courteous and friendly...very accommodating and pleasant...thank you.
August 3, 2017
outstanding service
July 30, 2017
Absolutely a wow experience!
July 28, 2017
The staff is very helpful and I like the facilities. Just hope to get a little more discount as the price is more expensive than other facilities.
July 27, 2017
Elsie gave me a tour of the available storage unit and was very friendly and professional when going over the details. There was a misquote from what was told to me by what I assume was the call center when I made the initial reservation. The representative on the phone told me the Free Moving Truck special came with 50 complimentary miles. However, when I arrived the day of, I was told by Cleo that it was actually only 25 miles. It put me a little bind because I ended up having to rent another truck from U-Haul, since the price per mile would have exceeded the price of renting another truck. Cleo was nice enough to give me some recommendations and maintain a good attitude while completing my reservation. I feel they were both a pleasure to deal with and had it not been the misquote from the call center, this would've been a flawless experience.
July 25, 2017
The staff is friendly, helpful, and knowledgable, which is a clear reflection of management.
July 12, 2017
Quick and professional.
July 1, 2017
Staff are very help full and friendly. Facility nice and clean and good prices.I will recommend to all my friend.
July 1, 2017
I was greeted with respect and welcoming. I was refreshing to see smiles for employees. Mengjie was the reason I am renting here
June 22, 2017
The place is very secure clean and would come back to rent in the near future and would recommend to family and friends..thank you for your services..
June 22, 2017
The. Nices. People on. Earth.
June 19, 2017
Great customer service. Pleasant workers and very accommodating.
June 12, 2017
Daytime manager, Cleo was such a delight to work with. She explained all the details of the various available storage units, walked us through the security doors and provided us with names of possible help for our move-in.
June 10, 2017
Very positive...in fact we were knocked out by how well things are run
June 3, 2017
We have been Very Impressed with the facility and with your people. The facility is well thought out, with details like a light in the unit, the extended access hours and being spotlessly clean very much appreciated! Cleo and Mengjie have been Fantastic! They have a Great attitude and have been very helpful and patient... Like when Mengjie took the time to help me with synchronizing the number code and the elevator or explaining your security system. Moving can be a very hard time to deal with and Cleo has made sure that we felt welcomed and at home here. I have been lucky enough to have dealt with her before, many years ago at a different facility... I can't tell you how Happy it has made me to find her again!!! It has been a real surprise to realize how much of a Pleasure it can be to put things in storage. THANK YOU VERY MUCH!!!
June 3, 2017
Very happy Excellent service
June 2, 2017
Lowest price around. Amazing staff, very helpful and professional. Menenjie even went walking through the property picking up trash to keep it immaculate. I'm happy I came here. :)
May 31, 2017
Very nice customer focused
May 28, 2017
you guys r awesome when it comes to customer service! u remembered all our names just after 1 visit! truly made us feel welcome!!
May 19, 2017
Cleo Jauregui was very helpful. It's a very nice facility.
May 19, 2017
My name is Eduardo Diaz. I just got accepted to Cal State University Long Beach and Los Angeles. #3127 . Mengjie and Cleo, the manager, went above and beyond. Cleo made me feel like I was moving my things back to mom's. I felt welcome, safe, and at home. I was unfortunate to have gone through some technical issues with the elevator near 9pm closing time. My things got locked in the entry area. Naturally I was worried and upset that I couldn't get to my things nor could I lock the door to my unit upstairs. In the morning the next day I still couldn't access the elevator in the entry area. My belongings were cared for and after speaking to Cleo I felt relieved and grateful to have gotten the special attention. To my personal things that had been left out Lloyd night in the entry way. Cleo is an asset to your company and I will recommend your storage facility to all my University friends. Perhaps you should consider promoting her to train other managers. Thankle you Cleo!!
May 12, 2017
Extremely helpful,
May 7, 2017
Awesome. Super helpful. Mengjie was friendly, courteous, professional and informative.
May 3, 2017
Staff is friendly, helpful and efficient.
April 29, 2017
very good service
April 27, 2017
Very pleasant, everyone was very friendly and knowledgeable about there services and products.
April 25, 2017
Very nice person and friendly at that office
April 20, 2017
Very satisfied with our decision to make the move to US Storage. Staff very friendly and professional. Nice units and very well lighted. Best choice is US Storage. Oh, did I mention the 50 percent off for 2 months. See Yelp reviews..5 stars.
April 17, 2017
very nice and Good great job
April 6, 2017
It's was great . Staff was helpful. Simple and straightforward
March 25, 2017
I was very impressed by the extensive and professional courtesy that Cleo showed us. She was extremely helpful in explaining all the details in how things work. And helped us get a unit. The prices beat the other places in the area and I feel comfort in the security and the cameras all over the place. Your facility is kept very clean and organized. Thank you for the great service.
March 7, 2017
Excellent customer service from Mengjie and Cleo at the Alhambra location.
March 4, 2017
awesome staff
February 23, 2017
Mengjie is so helpful. I came to visit several days before my reservation. Surprisingly I finished all paperwork which gives me more flexibility at the day I move in. And the process time is much shorter than I think. He first showed me how big the unit is and then showed me how to enter the unit with my password and explained all of the rules. Everything is clear and good.
February 23, 2017
Great storage and people.
February 23, 2017
Excellent experience
February 16, 2017
Everything was done quick and fast! I was able to move in same day with no hassle! Awesome job!!
January 27, 2017
Excellent decision to go with US Storage. Facility is very clean, spacious, staff is both friendly and efficient, parking is spacious, carts are almost always available for customer use, no problems with elevator use, very happy that we chose this location.....oh, yes, the option to pay month-month was very helpful as this rental agreement is only temporary while we undergo a physical remodeling of our home. Thank you, US Storage and for your wonderful and hard working staff.
January 24, 2017
The most helpful and very understanding good good customer care very friendly and great discounts at this location
January 16, 2017
Staff quick and knowledgeable
January 12, 2017
Everything was fast and easy. Thanks Elsa!!
January 11, 2017
Very friendly staff, clean and safe facility.
January 11, 2017
Cleo was helpful and knowledgeable. She answered all my questions and walked me through the whole process. The facility was clean and well maintained.
January 6, 2017
Mengjie is Great!
January 3, 2017
Excelent service.
December 17, 2016
Very helpful 🤗 Thank You very much. Merry Christmas & Happy New Year everyone 🎄🍷
December 12, 2016
Staff was nice and seemed to know what to do. Had a little problem setting up the gate code. Eventually it worked.
December 10, 2016
Es un excelente lugar muy limpio agradable muy buen servicio conveniente en el horario fácil acceso y siempre hay carritos para poder mover nuestras cosas
December 9, 2016
I have been with the US Storage of Alhambra for almost two years. I've never had a negative experience with the level of customer service that I have received. You need a CLEAN and SAFE place for storing; this is the place to go! It's brand new and the stuff never gets dusty. If you get a hold of the manager of the place, Cleo, you are in luck. She knows how to assist and will do her absolute best to help you with any questions. She is an extremely reliable person with the emails and all the paperwork. She has saved me a few trips to the storage by assisting me patiently on the phone taking care of my concerns. I would strongly recommend this facility. Thank you Cleo.