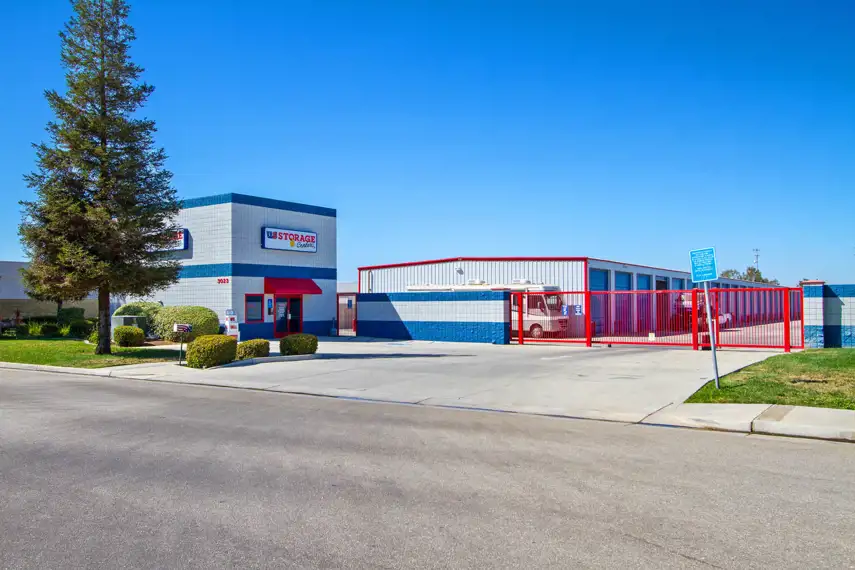 Rent or Hold Your Storage Unit in Minutes.
Location Details
ACCESS HOURS
Mon

5:00am - 10:00pm

Tue

5:00am - 10:00pm

Wed

5:00am - 10:00pm

Thu

5:00am - 10:00pm

Fri

5:00am - 10:00pm

Sat

5:00am - 10:00pm

Sun

5:00am - 10:00pm
OFFICE HOURS
Mon

9:00am - 6:00pm

Tue

9:00am - 6:00pm

Wed

9:00am - 6:00pm

Thu

9:00am - 6:00pm

Fri

9:00am - 6:00pm

Sat

9:00am - 6:00pm

Sun

Closed
FEATURES AND AMENITIES
Drive Up Access
RV Parking
Electronic Gated Access
Video Recording
Employee(s) Speak Spanish
Kure It Certified Location
ABOUT THIS LOCATION
The Best Indoor RV and Self Storage Units in Bakersfield, CA
Read More
Photos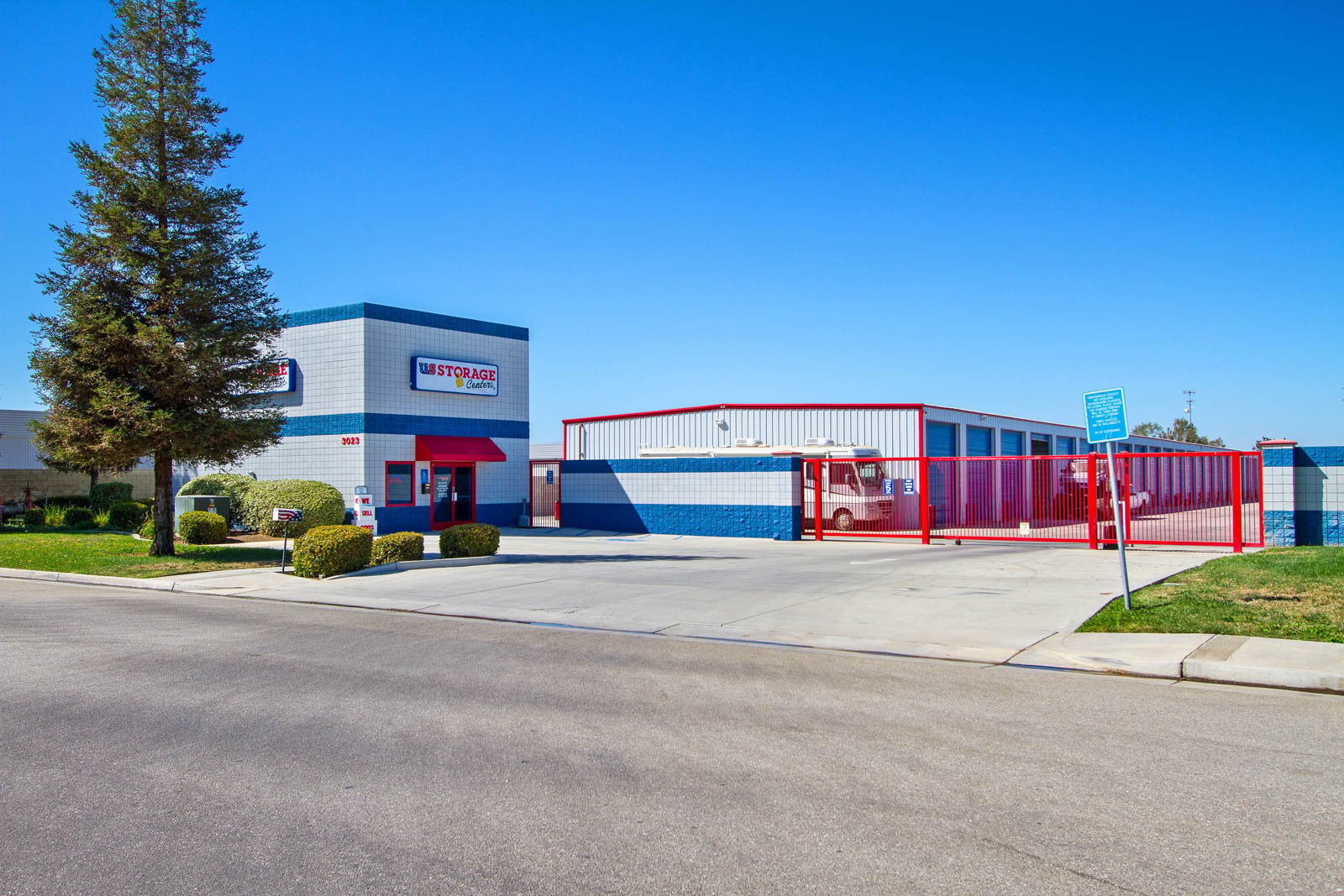 About this Location
Storage Units in Bakersfield
US Storage Centers is here to provide storage units to residents and businesses in Bakersfield, CA and beyond. To accommodate your storage needs, our storage units come with a variety of features and amenities. The entire storage facility has 24/7 video recording and there is an electronic access door that can only be accessed by current storage tenants during access hours. All our indoor RV storage and storage units have roll-up doors that are 12' wide by 14' tall to accommodate even the largest RV's and the interior dimensions have an additional 3' of width with 16' of clearance on the inside of the unit. These large storage units are perfect for servicing your commercial storage needs. We offer easy month-to-month plans and automatic bill-pay, a service island with dump site, filtered water, and air compressor; and extra wide 50' drive aisles between buildings, making your decision as easy as choosing whether you want 20, 25, 30, 35, 40, 60 feet of storage or one of our unique drive-thru units. Parking Space width may vary from spot to spot. Please call the property manager for more details on Parking Space sizes. 
Easy Rental Options
Rent your storage unit online or over the phone for a quick move in. 
Not ready to rent? No worries! Reserve your unit now to lock in today's special discount.
Month-to-month rentals
No credit card required for reservations
No deposit required
Location with Convenient Access to the Freeway 

We're located just a few minutes off of Highway 99, also known as the Golden State Highway, near Meadows Field Airport, Bakersfield Harley-Davidson, the RV Peddler, TCi Tire Centers, and the Kern Law Enforcement Association. There are more than a few choices to re-charge if you've worked up an appetite after storing your belongings that are nearby, such as: Denny's, Starbucks, Champs BBQ, McDonald's, and Del Taco. Customers driving north on Highway 99 will take exit 30, then go right on Merle Haggard Drive; if you're driving south on Highway 99 take exit 31, then a left onto Merle Haggard Drive. Turn onto Pegasus Drive, Unicorn Road is the first road on the right; you can't miss us.Our location is easily accessible from Porterville/All American City highway from the north; and by following 7th Standard Rd west or Manor Street north until it changes into Merle Haggard Drive, then turning onto Pegasus Road.

Community
Bakersfield is a quiet area, mostly agricultural and industrial, and California State University-Bakersfield college, which offers a variety of degree programs, is nearby. Hot summers and mild winters provide a nice environment for the hiking trails found at The Bluffs and the Kern River. It is a nice place to run a business with the lower cost of living compared to Los Angeles; offering a lower than average commute time, a good economy, and desirable access to southern California's bustling trade routes.

Forms of Payment
We make it easy to pay with auto bill-pay, but we also accept cash, checks, money orders, and credit cards; or you can register to pay your bill online through our secure online checkout.
Customer Reviews
overall rating, 108 total testimonials
February 10, 2023
This is a very nice location and clean
January 29, 2023
Very easy process to rent my unit online. Just a short visit to the office to finalize paperwork and sign. Everything from reserving to paying for the unit was all done online with ease.
January 24, 2023
Good service, very efficient, friendly. They storage space you get is unmatched by anybody in the area. Highly recommend them to all my friends and coworkers.
October 21, 2022
Great pricing!, Good Locations, Quality Facility, very helpful staff,
August 22, 2022
Great experience thank you
August 8, 2022
Excellent customer service. Antonio and staff always assured us that they would do the best to accommodate us with 2 units we inquired on. They were always pleasant and calm.
July 19, 2022
Awesome facility, manager was very friendly and helpful.
June 2, 2022
So far everything is great, the facility is clean and the staff are friendly and haven't had one problem
March 18, 2022
Friendly and helpful staff. Great facility.
February 18, 2022
Nice people. Very clean.
October 8, 2021
The storage units are clean and the grounds are well taken care of. Antonio was extremely helpful with accurate information and made the rental process smooth.
October 5, 2021
Antonio the manager there is awesome, Very helpful. Awnsered all my questions.
August 31, 2021
The process was fast and easy. The staff there were very nice and helpful and showed us where the unit was and how to find it.
August 5, 2021
Not in the best location
July 1, 2021
Great experience. Helpful and friendly. Highly recommend.
June 29, 2021
I had an excellent experience the site manager was competent friendly professional and it was very streamlined the professionalism was next to none.
May 26, 2021
Facility is very clean, Sofia was very friendly, knowledgeable and polite. I also met Antonio, a new employee, the day I brought my padlock to put on the rented unit, was very polite and helpful.
May 19, 2021
It was an amazing experience! I will definitely recommend to anyone! This facility is way better than U-Hal and other storage facilities! Thank you so much to Sophia great customer service!
April 29, 2021
I was very pleased with how smoothly everything went. Sophia was just a pleasure to work with. I also was very impressed with the cleanliness of the facility.
April 12, 2021
It was a great experience Sofia is very accommodating and with good customer service
April 1, 2021
Terrific! Sofia did a terrific job. The unit was spotless!
March 9, 2021
Very satisfied, she was informative and kind.
December 24, 2020
Very helpful and friendly
December 12, 2020
Sophia is great
November 19, 2020
I had a positive experience being helped by Sofia. She was very professional.
November 3, 2020
Fantastic
September 14, 2020
Excellent service and quality the only thing is that we all will miss Sofia :(
August 24, 2020
Very easy to get a unit and staff was great to work with. Very clean complex and units.
July 28, 2020
Excellent Service! Thank you!
July 17, 2020
Awesome customer service ⭐⭐⭐⭐⭐
July 6, 2020
Good accept debit card was not charg for complete billing was locked out of main unit !
July 3, 2020
Extremely helpful and the clerk, Sofia, was friendly and helpful.
June 18, 2020
Reasonable prices I like the storage facility space easy access very
June 14, 2020
Great overall experience! The move in process was simple and Sofia the manager is awsome, she was a big help in making everything easy.
May 22, 2020
My wife and had a very pleasant experience with your employee, Sofia was very helpful in helping us choose the unit that met our needs. Very friendly and patient due to my disability.
May 14, 2020
Great to deal with.
May 8, 2020
Great customer service The manager was on top of everything even tho it was her day off super helpful with everything
April 30, 2020
Every thing went fine. I would recommend
March 26, 2020
It was great.
February 27, 2020
God. The servís all is ok. Clean. Tks.
February 26, 2020
U.s. storage was a blessing right size unit for what I needed to store Sophia was wonderful great company to deal with
February 26, 2020
Everything was great. Fast, friendly service setting up the paperwork. I would recommend US storage centers to friends in the future.
February 17, 2020
The manager was very helpful, polite and eager to earn my business.
January 22, 2020
Very good And secure
January 20, 2020
Experience was great and the facility looks to be perfect for what we need.
January 9, 2020
The lady in the office was very nice, gave me discounted price for max 2 months I dont mind making a donation as long as it helps good cause. Very friendly staff
November 29, 2019
The customer service was great the price is great, the units and facilities are very nice and clean
October 6, 2019
Very nice and helpful sight manager
August 28, 2019
I would refer anyone that was interested in looking for storage space and the personal service is above the norm!
August 21, 2019
It was a quick and easy process
July 18, 2019
Very nice people. They are willing to go above and beyond to help out a potential Customer. We have done business with them for a few years now and I can't complain in the slightest.
June 6, 2019
Sofia and the staff were very helpful informative and professional. I would definitely recommend your storage facility
May 24, 2019
I dealt with Jackie, who is a super nice person and an excellent sales person. She showed me the unit I was interested in and gave me a couple other options on bigger units in the event I need to upgrade at a later date. I rented the 15 x 30 unit which will suit my needs for the present. Jackie's personality is out standing as well as her disposition, it was a pleasure dealing with her and talking with her about the facility. I will most likely stop in to say hi when I am there.
April 11, 2019
Completely satisfied
January 6, 2019
very happy and sophie always help full.
November 30, 2018
The manager was great again. I needed an outside space and was notified as one became available. I'm confident and satisfied in storing my vehicles at this location.
October 24, 2018
Sophia was very helpful and friendly with getting me helped out and into a storage unit with no problems. Thank you again for your services and I will recommend anyone that I know who's looking or needing a place for storage. Thank you again for everything
September 25, 2018
We had a wonderful experience with US Storage Centre. Allowing us to store 2 motorcycles for 4 days. Every thing was easy, and close to the air port. Thank you very much.
August 26, 2018
I am happy I chose US Storage they have been so helpful to us, they seemed to anticipate our questions and had the answers to assure us!
August 6, 2018
very nice people (sophie).
August 4, 2018
Clean and business friendly.
August 4, 2018
We just rented a space the other day in preparation for a move. The staff were courteous, communicative and informative and answered every question The facilities were very clean and look to be secure. So far very happy.
June 21, 2018
Great management. They cearly view their customers as more than a $.
June 6, 2018
Sofia, the staff member is awesome. She is very helpful and kind. She is there when you need her and she protects the property like it is her own home. I enjoy working with her.
May 30, 2018
Sophia is the best and was extremely helpful with the reservation and setting up our account... She also saved me with copy of my drivers license when my wallet was stolen at hotel next day... Super thanks, Michelle Rizvanovic
May 24, 2018
Great service,friendly staff,reasonable rates Very secure
May 21, 2018
Both ladies I dealt with were professional and friendly. Couldn't ask for better service!
April 9, 2018
Love the location. Friendly Staff. Clean
March 21, 2018
Everything was great. Sofia was wonderful to work with.
March 8, 2018
Friendly staff Clean place Safe location
February 3, 2018
I looked the way the two ladies in the office gave me information and show me around and explain everything to me . Those 2 ladies where awesome 👏.
January 26, 2018
Good customer service, answered all my questions and made it quick and easy to get a unit. AIso like that it's clean and secure
March 16, 2017
Amanda was awesome
January 12, 2017
I have a very unfortunate circumstance and your staff was very compassionate and accommodating. I have already shared my experience with many of my friends. The only thing I see is that your outside vehicle/trailer storage spaces are small in width and hard to get in and out of.
December 29, 2016
Fast friendly service. Could be a little more knowledgeable about what units are available. Other than that I give it a 10.