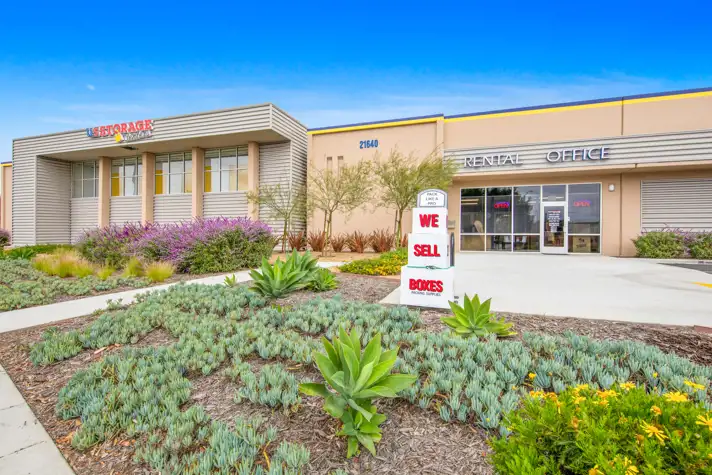 Rent or Hold Your Storage Unit in Minutes.
Location Details
ACCESS HOURS
Mon

6:00am - 9:00pm

Tue

6:00am - 9:00pm

Wed

6:00am - 9:00pm

Thu

6:00am - 9:00pm

Fri

6:00am - 9:00pm

Sat

6:00am - 9:00pm

Sun

6:00am - 9:00pm
OFFICE HOURS
Mon

9:00am - 6:00pm

Tue

9:00am - 6:00pm

Wed

9:00am - 6:00pm

Thu

9:00am - 6:00pm

Fri

9:00am - 6:00pm

Sat

9:00am - 6:00pm

Sun

9:00am - 2:00pm
FEATURES AND AMENITIES
Free Move-In Truck
Climate Control
RV Parking
Passenger Elevators
Electronic Gated Access
Video Recording
Boxes & Moving Supplies
Moving Carts
Kure It Certified Location
ABOUT THIS LOCATION
US Storage Centers is here to provide convenient and affordable self storage solutions in Carson, CA. Learn more about the features and amenities offered at our storage facility. 
Read More
Photos
About this Location
Self Storage in Carson and Wilmington
If you're looking for Carson storage near you, our storage facility offers a variety of self-storage units that can accommodate your belongings. We also offer storage solutions for those who want to store an RV, boat or extra automobile. Our outdoor spots are easily accessible for parking and backing out. Parking Space width may vary from spot to spot. Please call the property manager for more details on Parking Space sizes.
We have climate controlled storage units that help keep your items protected from both hot and cold weather. Our storage facility also features an electronic access gate and 24/7 video recording. We have a free move-in truck available for first-time customers to help make the move into your storage unit as easy as possible. Passenger elevators, moving carts, and moving supplies are also available to provide a hassle-free experience.
Easy Rental Options
Rent your storage unit online or over the phone for a quick move in. 
Not ready to rent? No worries! Reserve your unit now to lock in today's special discount.
Month-to-month rentals
No credit card required for reservations
No deposit required
Carson Storage Near You
Our Carson self-storage facility is located on South Wilmington Ave, near the 405 freeway. If you're looking for self-storage in Wilmington, our facility is a convenient local option. Many of our tenants live in the surrounding cities of Carson, Los Angeles, Compton, Santa Monica, Lawndale, Long Beach, Lakewood, and Torrance. If you live within or near the zip codes of 90262, 90746, 90745, 90305, 90802, or 90806, then our self-storage facility is conveniently located nearby!
Tenants from Carson live in the West Carson, Arlington, and Lincoln Village neighborhoods. Those from Long Beach live in the neighborhoods of Alamitos Beach, Rose Park South, Carroll Park, Poly High, Los Cerritos, and Sunrise. To the North, our tenants from Compton live in the Rancho Dominguez neighborhood. Tenants just west of our location in Torrance live in the Old Town Torrance, Southeast Torrance, Madrona, and Harbor Gateway South neighborhoods. 
FAQs
Q. Am I locked into a long-term lease at US Storage Centers?
A. You're never locked into a long-term lease. We conveniently rent storage units on a month-to-month basis. 
Q. Are there special discounts you offer on storage units?
A. We offer special discounts to new customers such as "50% off 1 month" on your storage rental. The discounts vary by unit. You can find the discounts by searching our unit selection above. Each promotion can be found next to the unit pricing and amenities.
Q. How do I rent or reserve a unit online?
A. Renting or reserving a unit online is easy. Simply choose the unit 
Q. Do I need a credit card to rent?
A. We accept cash, checks, Visa, and Mastercard.
Q. Can I place shelving inside my storage unit?
A. Definitely! Tenants place shelving in their units to help keep their space organized. We also offer boxes and moving supplies for purchase on site to help with organizing and decluttering your space.
Q. When can I access my unit?
A. Our facility as special access hours, which can be found towards the top of this page above our office hours. You may also call our facility to confirm our access hours.
Q. Can I view all the units before renting?
A. Absolutely! Stop by during office hours and our professional storage team can give a complimentary tour of the facility and answer any questions you may have about our units. Our team is more than happy to assist you in choosing the perfect storage unit!
Top Storage Tips From Our Manager
1. If you have a sofa that is flat on the end, you may want to stand it up on the end to free up more space.
2. When stacking items, make sure you place heavy items on the bottom to reduce the risk of the stack being crushed or tipping over.
3. If you have removable legs on a table, try removing them to create more space. But, if the legs don't come off, utilize that space under the table by placing boxes or other items underneath.
4. Place items you may need to retrieve frequently toward the front of your unit – this is especially helpful for people utilizing storage during a remodel. 
Customer Reviews
overall rating, 311 total testimonials
September 12, 2023
Management at this facility is top notch. They went the extra mile to help find solutions to our compa issues storage needs. Very customer centric.
September 12, 2023
My experience was great. The staff was so awesome, knowledgeable, patient and they really cared about their customers, and they really love what they do. I am so glad I found this place.
August 24, 2023
Johnny had excellent customer service! Made our experience smooth and welcoming.
August 9, 2023
So far, so good.
July 22, 2023
Great, they were knowledgeable & helpful. Helped me get everything I needed taken care of.
July 13, 2023
the staff are very professional and friendly to us.i strongly recommend this place to my friends…
July 4, 2023
I am a long time customer. I have great experiences with US storage.
June 16, 2023
Excellent customer service.
June 10, 2023
I am very disappointed with the customer service, I've been doing business when you company since they open the stories center. But Johnny The manager you had. Dose not know how to do business with the clients and companies has been as customer for long time For Johnny, Doing business, it's very bad.he force me to sing a 10 days moving out of the premises, I belive that was a illegal move what he did, my attorney say that was a illegal eviction, since we paid the rent on time. We really need to talk to the district manager or someone who responds to this matter as soon as possible. Call me I need to tell you what is wrong. Thank you. Sincerely, Joeeph Morales 4242220047
May 22, 2023
Absolutely professional, highly attentive! The staff is wonderful! I would definitely refer to family and friends!
May 6, 2023
Great experience very knowledgeable
May 4, 2023
Excellent service
May 2, 2023
The customer service I received from Johnny was absolutely fantastic . He has a very pleasant attitude and was a great help from the moment I meet him. Thanks Johnny hope to do business with you soon again.
April 20, 2023
Tatiana was real helpful into getting me the right size unit
March 30, 2023
Real helpful and really good service by Johnny nice person
March 21, 2023
Staff was so kind and helpful. Already recommended to a co-worker.
March 16, 2023
Welcomed! My customer experience was welcoming from the start. Very nice and accommodating staff and clean environment. Thank you!
February 8, 2023
Very professional
February 1, 2023
Excellent
January 22, 2023
excellent!
January 5, 2023
I am still getting use to everything
December 11, 2022
It was great! The unit is clean and in a convenient location. I was greeted with a kind and knowledgeable rep; and she was proficient and accurate in her performance.
November 2, 2022
The experience was great. Johnny made it very comfortable. I ran through the door at 5:45pm feeling like I had to rush and he told me to relax he would take care of everything. He did and it was a little after 6 when we finished and it was awesome to see he tended to everything I needed. I have already told all my friends and family how great IS storage is. I was referred by a friend who always talked about how great you guys are. The reasonable prices, hours to pick up your belongings and the cleanliness. Definitely 5 stars ⭐️⭐️⭐️⭐️⭐️
November 2, 2022
It was easy and the place Is clean and everything is okay
October 21, 2022
Great. I like that the storage is not too far from my home and the prices are lower than the other storages around in my area.
September 4, 2022
yes u always have great staff love johnnie he is so kind and the rest is great thank u for your service
August 6, 2022
very professional.
August 5, 2022
Liz was so patient during my visit and showed me all the vacant units. She explained how US Storage facilities differ and that made me decide to rent the right unit based on her inputs. Her Manager was also a factor, they work great as a Team.
August 3, 2022
Johnny, Property Manager, had been very helpful. Great/excellent service.
July 29, 2022
Excellent customer service great rental options for my rental needs.
July 28, 2022
My experience was great! Johnny was beyond helpful from the moment I called. He was professional and informative yet very friendly. His facility is very clean and very well kept (the best storage facility I have seen so far). If I have to, I feel completely safe going alone at night.
July 27, 2022
Tatiana had a very welcoming energy, very informative of contract & rules, she helped me pretty quick but professionally with my move in.
July 14, 2022
Our first exposure to the company and the facility was with Johnny. He showed us around and we were impressed with the cleanliness both inside and outside. I think we were as impressed with the facility as we were with Johnny. Two days later, we were back to sign a contract.
July 8, 2022
Quick and reliable and secure
June 30, 2022
Wonderful place with excellent staff. Couldnt be happier. Johnny and Tatiana are both kind, professional and a pleasure to deal with.
June 2, 2022
The facility is awesome! Both Tatiana and Johnny are great staff...welcoming, personable and then some! Keep it up!
May 9, 2022
Tatiana and Jonni they are the best
May 4, 2022
Very good! The employees are super helpful
April 12, 2022
Highly recommended
April 10, 2022
Very pleased with the customer service team. The place is super clean and you have access to entry ways with no problems. Place is under surveillance at all times, so I have that peace of mind and not worry about my stuff. I definitely and highly recommend this storage place to anyone looking for a safe place for their personal belongings.
March 24, 2022
Great experience and excellent service.
March 14, 2022
It has always been a pleasant experience. Your manager's (Johnny) hospitality and sincere willingness to accommodate and assist is very commendable. He makes you feel like family instead of a client or customer. We are very happy to use US Storage, and would recommend it to others. The building is always clean and well maintained.
March 13, 2022
The clerk was very helpful and the facilities are neat & clean. Appreciate the availability of the moving van as well.
March 10, 2022
Staff was very nice and friendly. Storage extra clean. Always available parking, easy access.
March 9, 2022
Johnny and Tiatana are the best they friendly and kind to call the customers .This team get you what you need
February 12, 2022
Johnny was great and very personable!
February 6, 2022
It is sefty place
February 3, 2022
Very pleasant experience renting unit. Thank you Johnny
January 25, 2022
its been fine. my parents are letting me keep the moped in the backyard for now. and im planning on signing up for one of those food delivery jobs and would like to use the moped. that way i can get the vehicle into more active rotation and maintain it and storage off the proceeds. but for now its in the backyard. shes worried mostly of theft keeping it in the front of the house
January 19, 2022
I had great service from Tatanna.
January 7, 2022
Wonderful
December 24, 2021
Service was excellent..and friendly The place is so clean and neat I reaalllyyyy recommended this place
December 17, 2021
Friendly and very helpful
December 16, 2021
The experience was straightforward. Johnny actually made the experience worthwhile. He was very friendly, helpful, informative, and overall a great employee.
December 15, 2021
Johnny was fantastic to deal with from start to finish. Super friendly and helpful. The facility is well kept and spotless. The complimentary move-in truck is also a great bonus.
December 7, 2021
Excellent service, great staff highly recommend them for your moving necessities.
December 6, 2021
I would most definitely use and refer this place. Customer service is very important to me and service here is outstanding!
November 28, 2021
Is very friendly, professional and i love the way you work with us
November 26, 2021
Excellent
November 16, 2021
Experience very positive, no hassle or problems here.
November 11, 2021
Great location, clean, friendly staff, would definitely recommend to friends and family!
October 31, 2021
I like the experience with your company it helps me keep all our mom's valuable stuff safe in your storage. Thank you so much. It really helps us. I would recommend my friends to come to your company.
October 24, 2021
Excellent experience by all staff employees. Very professional, helpful, and accommodating.
October 19, 2021
It's been a good experience. The only drawback I see is that you are leasing out parking spaces for storage, and sometimes there is not a convenient place to park to load and unload when going into my unit. Other than that, I am happy. The personnel are really nice and the buillding is always very clean.
September 24, 2021
Robyn was super helpful and friendly. I made a mistake when I made the reservation. She was on it.
September 16, 2021
I realy appreciate the service, the employees are amazing . I love how they welcome you and offer water when they see one is busy sorting things out. I appreciate the friendly reminders on the payments. I'm just a happy customer all together
August 19, 2021
Excellent service and the staff is vary friendly..
August 6, 2021
Personality of staff is friendly, Courteous, and helps you find your way.
July 25, 2021
No complaints ! Robin is great!! All the staff is good actually .
July 19, 2021
Very good so far.
July 8, 2021
Very friendly people.
July 2, 2021
I had a positive experience with US Storage Centers Carson. I used their storage center for approximately 1 month in 2021 while I was in the process of moving. I appreciated that the staff was so friendly and welcoming, especially Robin! From the start, I knew I was in good hands by how thorough she was when she explained the policies and procedures to me. The team as a whole was very responsive to questions and they were easy to reach by phone or email. The facility was clean and well kept and secured by a large gate that required code access for both entrance and exit. Overall, I had a great experience storing my items here. I would definitely recommend the US Storage Centers Carson site to others for their storage needs.
June 28, 2021
The customer service we've received at the location where we go is amazing! Always very helpful and friendly.
June 24, 2021
I'm very satisfied with your company, the customer service is the best.
June 16, 2021
Very professional
June 4, 2021
Very easy to set up and great customer service. All of my questions are always answered. Thank you.
May 19, 2021
Johnny is great! He is very attentive to all my needs and welcoming. Excellent service! I would definitely recommend this storage location.
May 8, 2021
I love the personal
May 2, 2021
I enjoyed the overall experience the staff was helpful and friendly and I like the security of the place ..
April 29, 2021
Very nice and Professional
April 20, 2021
from customer service staff to overall cleanliness of the facility is very outstanding.
April 12, 2021
Robbin and Johnny are two of the most professional people, I have ever had the pleasure of working with!!! They are both definitely a great asset to US Storage!!! Your company should be very proud to have them representing your business!!!
March 24, 2021
I feel that the customer service is excellent. I love the space and convenience of location at the storage. Always easy and accessible.
March 23, 2021
I like US Storage. It's easy to move things in and out. Safe environment. No issues.
March 19, 2021
Good. The gentleman was very professional and explained in detail about the unit I was getting and also explained the larger units avail should I decide to go larger. Overall very nice customer service experience.
October 25, 2020
Excellent. I was helped by a very professional employee named Johnny, and he went above and beyond his job and hooked me up, no problems
October 18, 2020
Today was such a workout loading and unloading boxes Thank you Johnny for making our day smoother with your wonderful customer service👍🏻
October 17, 2020
Experience was excellent. Johnny and Robin displayed above and beyond customer service.
October 11, 2020
Staff was very helpful and polite. Facility is clean and safe environment. I have returned back for a second time and shared my experience with friend and family who have also used this facility for personal storage
October 9, 2020
everyone so nice make sure customer very happy i love that
September 7, 2020
My experience was great! Robin was professional and welcoming. She went the extra mile by cutting the lock off my uHaul truck since I misplace my keys. I will definitely recommend US Storage to anyone.
September 3, 2020
Excellent Thank you for keep clean and safe the storage.
August 30, 2020
I feel welcome. The place is clean and plenty of lights. Unit# sign at each corner to show you where you are.
August 24, 2020
So far, our experience has been extremely good. You came recommended and it and was accurate.
August 23, 2020
The staff are courteous and helpful , but I felt like the inside temperature on the storage during summer is not cool enough.
August 20, 2020
My experience was great. The young man that helped me was very professional and kind. It was a wonderful experience I will definitely refer my friends.
August 8, 2020
Robyn was an absolute pleasure to deal with!! She had such a great attitude and was very thorough. We would gladly send anyone over to deal with her, she is just a breath of fresh air!!
August 1, 2020
Your Senior Property Manager, Robyn, was knowledgeable and very helpful. She was responsive and setup me up with just under 1000 sq. ft. of clean, bright, secure and well maintained storage in just under 24 hours. Whatever you are paying her, give her a raise as she is a great ambassador for your company. Keep up the great work!!!
June 25, 2020
Super nice staff. Robyn was very nice
June 21, 2020
The staff was very friendly and helpful. I can't thank them enough. The storage facility is very clean and secure. The parking is spacious and accomodating. I'm glad I chose to use to use US Storage!
June 18, 2020
Robyn, the manager of the location, is an absolutely tremendous person to work with. She is intelligent, organized and extremely friendly. Robyn made the experience of acquiring a storage space at your location incredibly easy and an enjoyable experience. She is the type of person who can make your day because of her positive energy. Her customer service skills are second to none.
June 3, 2020
Great people to work with, they accommodated me with everything i needed. Thank you
May 31, 2020
The customer service rep. Robyn was very professional and kind thorolly explained everything. I am very pleased and thankful. The facility is very clean and organized. I would recommend anyone to store there goods there. Thanks for being helpful and understanding!!
May 27, 2020
Great experience. Staff is very helpful.
May 25, 2020
I was extremely happy. Robyn was able to answer all my questions and her great personality made my whole experience AWESOME!!
May 21, 2020
Very satisfied and well informed.. the mgr explain everything to me in detail. She was patient and understanding I'm 70 this is my first time renting a space. The grounds and areas are very clean and safe
April 26, 2020
I like so much and better service I'm really happy with the people working in this place tanks for help me
April 17, 2020
So far I have had a great experience with the customer service and overall aesthetic of the building/units.
April 9, 2020
The staff was very friendly and very informative. They helped me get the right size I needed. I am very satisfied with there service and would highly recommend us storage.
April 8, 2020
This was my first time needing a storage unit. Nicole was there to help me and make me feel comfortable.
March 31, 2020
Very happy nice employees very clean
March 13, 2020
The ladies at the front desk are very friendly and well organized.
March 3, 2020
No problems. The staff was very helpful, professional and courteous!
March 2, 2020
Great! Robyn and her staff are always friendly and welcoming. They make it easy to want to recommend to others and even easier to stay.
March 1, 2020
So far so good and the facility are clean and can can't complain about it..
February 26, 2020
Customer service is awesome. Free rental truck to move your belongings in was a blessing.
February 25, 2020
It's been great. It was a last minute move and the girls made it so easy.I could have gotten one closer but I'm glad I chose the one on Wilmington and Carson. Robin and Lydia were great to work with.
February 20, 2020
Great. Prices were much more competitive than the storage facility I had previously been with for nearly 20 years. The staff was very friendly and great to work with.
February 19, 2020
I parked my camper van during one month there and I am really satisfied. Parking is safe with a lot of security cameras. You need a digicode to enter in the parking. There are fences all around. Price is good for the location. Staff members are nice and professional. I recommend.
January 28, 2020
The staff were very helpful and friendly. They also had a free truck rental for move in, which I was really grateful for!
January 1, 2020
pleasant.
December 8, 2019
Generally a good experience. Having to continuously punch in my code to keep the roll down door open so I could load my space up, was a pain in the butt. Otherwise, a good experience.
November 26, 2019
Very,Very,GOOD!!!
November 25, 2019
every one that works there is very nice and take care of your needs right away.So yes your the best and i been around a long long long time lol
November 20, 2019
I had a very positive experience with US Storage. The site is clean, the staff is friendly and extremely professional, and it's close to the fwy.
November 9, 2019
I've had a great experience at this facility on Wilmington in Carson. The gals in the office were very helpful and friendly. This facility is very clean and easy to get around.
November 4, 2019
Very professional and family feel.
October 26, 2019
Great Customer Service. Great Company.
October 17, 2019
The Customer service person was so helpful.also the yard staff.The prices are fair I will be receiving a 20 dollar Gift card I think after a couple month's renting .which was an added bonus.Place in a great location
October 10, 2019
Always very accommodating and professional. I'd give the Wilmington Ave. location 10 out of 10.
September 26, 2019
I love the great customer service I receive from the ladies at the office. The place is very clean. Great experience every time I go.
September 23, 2019
It's always a pleasant visit coming to the Carson location.
September 21, 2019
The service received from Robin was excellent! Every detail was explained and my questions were answered professionally.
September 8, 2019
Excellent staff. Knowledgeable and friendly
September 7, 2019
My experience was great, Robyn was wonderful.
September 4, 2019
Loved it. Customer service was excellent, very helpful. Love your competitive rates.
August 9, 2019
Great the Team at the Office are great
August 8, 2019
Easy move in process and paper work. Only down fall is access to the carts after office hours and Sunday the office closes early, which weekends are often moving, cleaning days.
August 7, 2019
It was very pleasant.
July 28, 2019
The environment is very inviting and accommodating to be in.
July 22, 2019
Everything is made easy. I love the ability to pay online. The facility is always neat and clean and the price is affordable.
July 16, 2019
Exceptionally clean facility. Very friendly staff. Convenient location close to 405.
July 5, 2019
Lydia was extremely helpful with setting up an account and a new storage space.
July 5, 2019
We absolutely received the best customer service! Robin is awesome, she made our stressful situation so much better with her kindness and patience.
June 22, 2019
Great customer service
May 31, 2019
Fast, professional, clean and well organized. Are just a few words to describe Robyn and the property as a whole. It was great experience and I feel good about having my things stored there.
April 22, 2019
I had a good experience going to us storage in Carson the employee was very helpful and friendly I would recommend to all my friends and family.