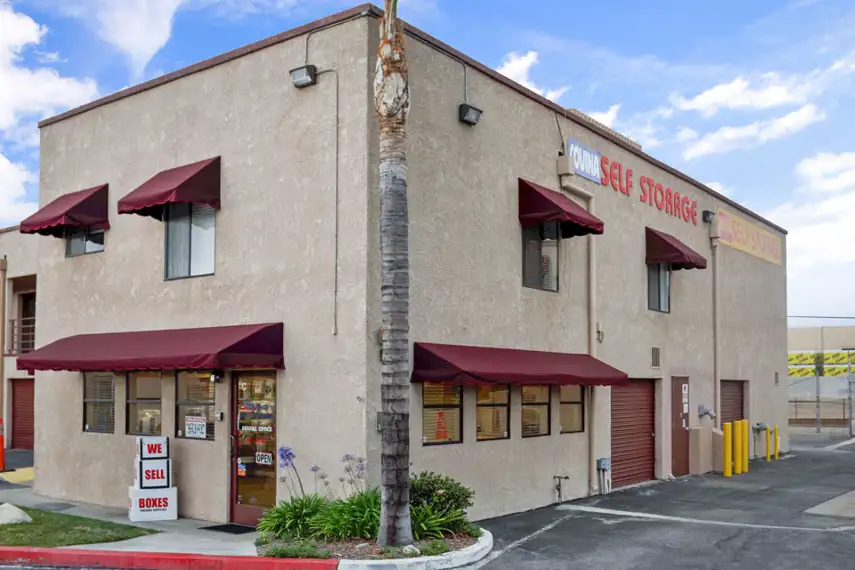 Rent or Hold Your Storage Unit in Minutes. Easy, Contact-Free Rentals.
Location Details
ACCESS HOURS
Mon

7:00am - 7:00pm

Tue

7:00am - 7:00pm

Wed

7:00am - 7:00pm

Thu

7:00am - 7:00pm

Fri

7:00am - 7:00pm

Sat

7:00am - 7:00pm

Sun

7:00am - 7:00pm
OFFICE HOURS
Mon

9:00am - 6:00pm

Tue

9:00am - 6:00pm

Wed

9:00am - 6:00pm

Thu

9:00am - 6:00pm

Fri

9:00am - 6:00pm

Sat

9:00am - 6:00pm

Sun

9:00am - 5:00pm
FEATURES AND AMENITIES
Drive Up Access
RV Parking
Electronic Gated Access
Video Recording
Employee(s) Speak Spanish
Moving Carts
Kure It Certified Location
ABOUT THIS LOCATION
Stuffed House? Get Unstuffed with Covina RV Storage or a Self Storage Unit.
Read More
Photos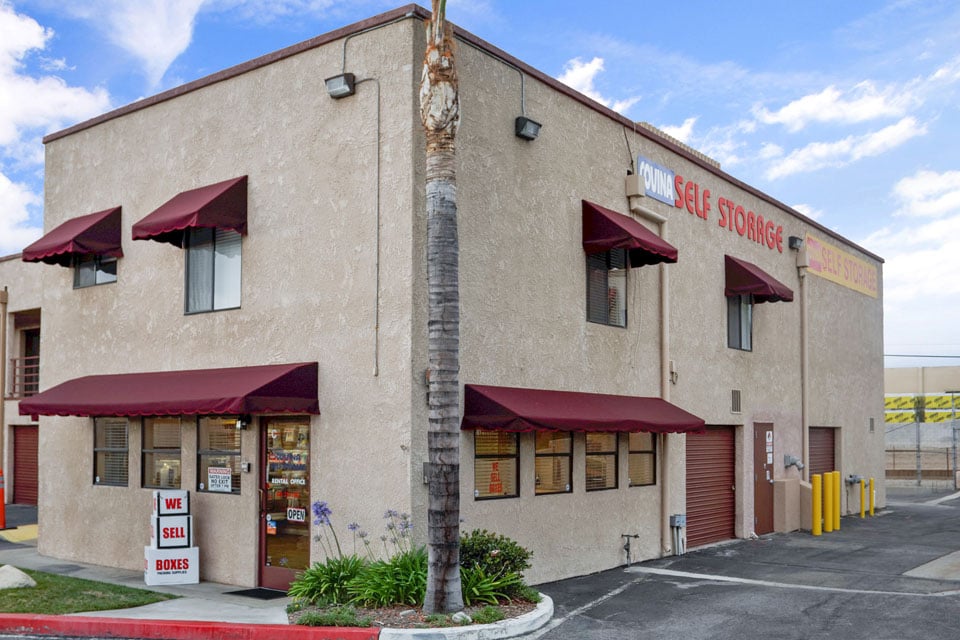 About this Location
Facility Description
Covina Self Storage offers a variety of storage units, and our managers are courteous, knowledgeable, and professional. Customer care and satisfaction is our main priority. Our friendly staff is always here to answer all your storage questions and can assist in finding the right storage unit for you. Our Covina Storage units vary in size from 5' x 5' up to enormous 10' x 23' spaces. We have drive-up access units, and indoor and outdoor units. The drive-up units are fantastic for unloading in our wide drive-aisles. We also provide push carts and dollies if you choose to rent an indoor storage unit. The upstairs units also have large lifts with a capacity of 2,000 lbs., and great loading space.
Contact-Free Rentals – Easy Online and Phone Rental Options 
 Online Rental
 Select your unit and enter your info and payment
 Sign the lease online
 A manager will reach out to you with your access code, a map of the property, and they'll have you email a copy of your valid government picture ID
 Once these steps are complete, the manager will prepare your unit so it's ready when you arrive
 Phone Rental
Simply call the number listed at the top of this page, and a member of our staff will work with you over the phone to complete a rental
The manager will email a lease to sign
Once the lease is signed, a manager will reach out to you with your access code, a map of the property, and they'll have you email a copy of your valid government picture ID
Once these steps are complete, the manager will prepare your unit so it's ready when you arrive
Your Local Storage Facility
Our beautiful property is on the corner of Azusa Avenue and Covina Boulevard. The major intersection near us is Azusa Highway and Cypress Street. It's also easy to find us because we're right by Rent-A Wheel. Other landmarks near us include McDonalds, Jack-In-The-Box, Wal-Mart, and the well-known restaurant Ray's Tepeyac.

RV Storage
Indoor RV Storage is available in addition to outdoor options, 10' X 25' and 10' X 40' spaces are available. Parking space width may vary from spot to spot. Please call the property manager for more details on Parking Space sizes. 

Boat Storage
Boats fit in our storage units, and we have space outdoors for larger vessels.

Security
Gated code entry and exiting help to ensure that only authorized tenants have access to the property. A courteous and friendly on-site manager also monitors the property, and security cameras are located throughout the facility. We do not require a specific type of lock for our customers—you may bring in your own lock if you choose—but we highly recommend disc locks because they are more efficient and convenient. Knowing that your items are securely stored provides valuable peace of mind, and our managers are more than happy to take you on a tour of the secure property.

Languages Spoken by Our Managers Fluent in both English and Spanish.

Payment Options: Visa, MasterCard, Auto Pay, Cash, Check, Money Order.

You can also take care of your bill using our secure online system, or by using the automated phone system, by mailing your check to us, or you may stop by the office.

The Community
We give back to the community by offering great programs such as E-Waste drop off. Our storage facility is also an active member and donator to Kure It, a wonderful charity that raises money for underfunded cancer research. Covina, California is a beautiful place to live and we're proud of our ability to help people get organized.

And when it's time to relax, Covina is a great place to catch a movie at our local multiplex theatre which has 30 screens showing a variety of new release movies. There are also fun places to eat, and an indoor trampoline park in the same shopping center as the theatre.

Moving Supplies
We sell all sorts of moving supplies including small, medium, and large boxes. Peanut packs help, if you're moving fragile items. Packing tape, locks, regular or disc (recommended), foam wrap, bubble wrap, and dust covers for all kinds of home items are also available. For those special photos, we also sell picture moving kits.
Customer Reviews
overall rating, 233 total testimonials
August 9, 2022
Very nice Dave Garcia is a great asset to your staff.
July 19, 2022
We love it. Evelyn the person helping us went out of her way to find us what we needed.
July 16, 2022
The manager was very helpful, friendly and made getting a second storage so fast and easy. I will highly recommend to my friends and family on getting storage here. Sorry I couldn't remember the mangers name lol 👍
June 7, 2022
My first experience was super pleasant.. I belive I was assisted by Dave Garcia, who made me feel very comfortable and trustful. He was very detailed in the hours and gave detailed information.
May 26, 2022
Dave Garcia really helped me out a lot and made it very clear about what he needed from me.
April 20, 2022
Great experience
March 17, 2022
Ms. Yesenia provided us with the best customer service and answered all of our questions very professional. She was very attentive to us and very accommodating. She is the reason why we decided to stay with Covina self storage. Ms. Yesenia is really knowledgeable in her work and went beyond to assist us in our needs.My family and I are very impressed with the great knowledge and great service that Ms. Yesenia provided us. Thank you so much Ms. Yesenia for your pleasant attitude, patience and your great service!
March 16, 2022
Very friendly and helpful
March 15, 2022
First time I rented a storage unit Yesenia was very very helpful and polite you have a valuable employee she treats customers very good I would highly recommend family and friends to this storage company ty have a good day
February 28, 2022
I felt appreciated and vauled and will recommend to everyone. Valerie has excellent customer service skills, everything was explained clear and i loved the 20% discount from website.
February 13, 2022
Friendly and safe place
January 19, 2022
Great up to now
December 31, 2021
It was awesome!! Yesenia was extremely helpful and had excellent customer service.
December 11, 2021
I had few choices before I signed up with Sandra and I'm very happy that I did. She was very helpful in many ways and provided excellent service. Very grateful, thank you!
November 4, 2021
Its a great place to store your personal belongings. Great staff and great prices.
November 3, 2021
Always professional,helpful and courteous service from employees.
October 24, 2021
Very satisfied
October 19, 2021
It was quick and easy to rent a unit. And affordable. I would recommend renting from here.
August 30, 2021
Very good , friendly. The whole staff was awesome, specially Sandra the manager. 100%
August 23, 2021
It was as good as As it possibly could.. The gentleman that helped I believe was from Orange County and hadn't worked there is there for quite a while. I'm sorry I don't remember his name name because he was over the top professional and helpful.
August 21, 2021
The person that helped me was very professional and very informative. She showed me how to work everything and where my storage was. Equipment worked well and facilities were very clean. Very pleased with my experience.
August 3, 2021
First I would like to say Yasenia was very polite and helpful. I give her a 10 😊. I am happy with my unit. Also I would like to say your prices are the best in town, and I am born and raised in Covina. So it's a pleasure to be here with u all. Only thing is the Bathroom situation, I truly hope this is takin into consideration and is fixed As soon as possible. That is not very convenient at all. That is something every one of your customers need to have access to…. But over all I will recommend Covina self storage to anyone I come across looking for a storage. Thank you.
August 2, 2021
Was good in general. I was supposed to receive a gate code after I signed up online, I never did. I had to sit outside of the gate until someone entered the facility.
July 17, 2021
Management is very friendly and helpful. Place is kept clean.
July 11, 2021
It was amazing. The property manager was so helpful and was able to assist me with my needs. She knew the perfect size unit I needed and showed me around the property. She even assisted with selling us a lock for the unit. Thank you so much!!
July 3, 2021
I recommend this place! The workers are very friendly and the process was fast and easy!
June 29, 2021
I liked the experience and am happy with the storage site
June 18, 2021
I dont remember her name but the lady was very helpful me and my mom had gone to 4 storages before going to covina storage they did let us see the storage but in covina they showed it to us and she was helpful and nice i would totally recommend them to everyone.
June 18, 2021
What a great and easy experience ever . No hassle plus I did everything online . Very happy with my experience there.
June 8, 2021
Received excellent service so far!.
May 29, 2021
I was smooth and eazy. However I have lost the gate access code and can't seem to pay online.
[email protected]
May 28, 2021
Easy, fast & all questions answered
May 3, 2021
I was very pleased with the help I received. Sandra was very helpful and showed me different units to see what unit would be best.
May 1, 2021
Very professional experience
April 22, 2021
Daniel was very friendly and super helpful
April 21, 2021
Good customer service 👍 its my second time coming here and I would highly recommend it
April 3, 2021
The staff was awesome and they even let me get my storage unit before the cut off time. I had all my stuff in the car and they cmon let's do it! Thank you so much.
March 28, 2021
Very good, thanks
March 3, 2021
Sandra was really nice and professional and easy to talk to her and understanding
February 23, 2021
Perfect thanks
February 20, 2021
It was great, very clean big space. Nice staff 👍
February 7, 2021
Wast great
February 1, 2021
Friendly and helpful.
February 1, 2021
Very helpful thank you sandra
January 19, 2021
Muy bien me han tratado como cliente excelente
January 7, 2021
Great customer service from Sandra the Property Manager. I would recommend to my family & friends!!
December 28, 2020
Very nice staff .
November 14, 2020
It's been great so far
October 4, 2020
Awesome service!!
October 1, 2020
Very professional and very helpful!
September 27, 2020
Good very nice customer service, I guess the only thing would be small parking space.
September 17, 2020
Pleasant , professional , personal concern
August 28, 2020
The team at Covina Storage is very friendly and knowledegable. Tony helped me rent my unit with no friction and in no time! I like the ability to drive up and drop off my belongings, and I got a great deal on my unit! Thanks again CS Team! Jonathan
August 13, 2020
It was excellent the staff is real helpful. I got the unit I need it and save money
August 3, 2020
Customer service was excellent. The process was quick and storage was available right away. Thanks!!
July 28, 2020
It was easy and quick! Really appreciate Tony! explaining everything and getting us the storage we need!
July 10, 2020
Tony was great and made the process very easy. I will recommend this place to all my friends and family.
May 21, 2020
You guys were very helpful and reliable. Appreciate the help. Thank you.
May 21, 2020
Great customer service and detailed info. Very polite and courteous. I would recommend to family and friends.
April 22, 2020
Great, confident I could trust my belongings would be safe. Appreciated the honesty and customer service
April 21, 2020
It was good. I just think the renters insurance does not really cover anything and is a waste of money.
March 31, 2020
Good experience easy and friendly staff member
March 30, 2020
Great customer service, and explained everything thoroughly.
March 27, 2020
We were floored my Tony's willingness to answer every question, give detailed information and even walk us around the property to see our potential new unit. He spent time making us feel like valued clients when we were actually just a couple girls asking for a quote. We were so impressed by the courteous level of service provided, we signed up and paid our first month's rent on the spot!
January 15, 2020
Very professional good job staff did a great job keep up the good work you'll have more clients. Coming to rent your storage
December 24, 2019
Great customer service. Fast registration process.
December 21, 2019
Good experience, quick, easy and covered all my questions. Location is hidden and secure as well, adding to a peace of mind when I have my belongings stored here.
December 18, 2019
Very pleasant
November 22, 2019
It was quick and easy to get the unit and the staff was very helpful. I enjoy the cleanliness of the property as wel.
November 19, 2019
I had a good experience
November 5, 2019
The personal is high profesiomal, the place is very clean. , I'm satisfied with the attention and service. Thank you very much.
October 23, 2019
It. Was. Very. Good
October 8, 2019
Yes I would refer your Storage to my friends and family.. Tony the Manager is very kind n gives me super Customer Service..
October 8, 2019
Polite and knowledgeable. Staff answered all my questions before I could even ask them.
September 28, 2019
Nice professional but comfortable experience.
September 25, 2019
It's been great
September 7, 2019
They answers your questions, they will call you when reserve space online. Great service and not bad price for space.
September 6, 2019
The agent was very friendly helpful and knowledgeable. He treated me like I was very important. I was impressed
September 6, 2019
The best to the west! 💯
September 5, 2019
Very nice. Better than my experience in the other place I've been before.
August 27, 2019
It was great. John was informative and professional. He was the reason I signed a lease the same day.
August 22, 2019
Excelente , me gusto mucho como me explico todo el contrato y póliza de la compañía también me enseño 2 medidas de Storage que yo estaba interesada , amable cordial y respetuoso , la expectación fue la mejor . Excelente gracias
August 21, 2019
I loved how helpful you guys are. And are willing to work with our budget and needs.
August 6, 2019
Excellent service!!
July 18, 2019
Great service
June 17, 2019
Really impressed with service; Tony is the best! Super helpful-
June 3, 2019
Great place. John was great and very helpful for all my needs.
May 26, 2019
I received the most cordial attention the day I rented a apace from your company and so, was very happy that I found your company. I had a very pleasant time with the representative, to such extent that I made him aware of my satisfaction with the way he responded to my jokes. He was very jovial and so, we joked at length. I hope such cordial relationship continues, so that I will definitely recommend your company to all of my friends and colleagues. Ti's very healthy and pleasurable to find a friendly company with friendly representatives who love to be nine and friendly thereby, promote a healthy image of the company they represent. Thank you very much. Kanayo
May 23, 2019
Mr. Tony provided excellent customer service. He was able to locate a unit at a great price. I've been a previous customer, I'm glad to know you still have excellent staff!
May 20, 2019
Great pleasant staff
April 22, 2019
Super service! I really appreciate the manager taking good care of setting my account up. It was a pleasure.
April 20, 2019
They were both very special people , I enjoy dealing with both of them , wish it was an apartment complex they managed because there definitely the type iof people you want to live around...
April 11, 2019
I felt very comfortable renting this storage space because they have a cool employee named Tony who explained everything very well and very generous and polite with customers.
March 13, 2019
John was AMAZING!!!! Answered all our questions, got me into the unit the same day ( and was IMPERATIVE I got the storage that same day )!!! Had the lock I needed on premises plus tape, boxes and packing materials I needed. He as well set me up on auto pay so I don't need to worry about remembering to call in and make my payments. Great experience, great price, great terms, clean premises.... have already recommended them to 2 people and they will be getting units as well and will recommend them to anyone and everyone that needs a storage!!!! Can't say enough good things about this experience.... was there the next day moving our stuff in and Jose helped me with an additional purchase and I just have to say I've never been to a storage unit that really has "phenomenal" personnel working on the premises. ( not to mention when my cousin and I came back for our last drop off, Jose was sweeping the outside premises, which is another reason we know we made the right choice as the employees take pride in their job, are friendly and helpful as can be )!!!! Too bad all companies can't have employees like this establishment does!!!!
March 13, 2019
Manager service awesome
March 12, 2019
My experience was great. Tony was very helpful with what I was looking for as far as size of storage and the price couldn't be beat.
March 1, 2019
Great customer service and amazing pricing.
February 11, 2019
Tony gives great customer service
November 22, 2018
I had a few different encounters with staff and the best was with Tony. He was very helpful and polite. He helped with different errors that other staff made. My experience overall was positive and I appreciate the help with storing my belongings.
October 3, 2018
Very very kind to me. And very accommodating very professional we tell everyone about them
September 27, 2018
Me trataron muy bien y fueron muy amables conmigo
August 23, 2018
i was overwhelmed by the courtesy and professionalism of your manager tony, once i walked through the door he made me feel rught at home and i realizes ny personal belongings wiuld be secure here, and the deal i received seemed to good to be true compared to other storages. generally i wouldnt bother with surveys, but your guy went above and beyond. thanks
August 16, 2018
Very professional. Great assistance. Very happy with my unit. Thank you Covina self storage
August 7, 2018
Everyone was very friendly and helpful
July 30, 2018
Good experience well treated with knowledge.
July 25, 2018
I had a very good experience dealing with the crew when I rented my storage. I needed to update my phone # to send me a text before my bill was due and that also went very well.
July 23, 2018
Very Professional office employee
July 13, 2018
Smooth transition to storage area, and staff Tony super friendly, and explained everything to rules and answered all my questions, satisfied customer.
June 17, 2018
Very comfortable and informed.
June 14, 2018
Very efficient, made my experience easy prices were als very competitive
May 24, 2018
Great customer service
May 24, 2018
I love it! Clean friendly easy
May 19, 2018
I live in the area and called around for prices and sizes avail. Talked to Tony, and I liked him right away.
April 30, 2018
Excellent customer service Tony has always been attentive to my storage needs able to suggest and coordinate upgrades etc. I would definitely recommend other to this storage.
April 26, 2018
Front desk is very friendly. Knowledgeable and able to properly guide me as 1st time storage user into process of storing. No pressure sales talk. Contacted me after noticing that my storage was not locked properly. Also returned my driver's licensed left in their office. Covina Self Storage made my moving easier and will definitely store again if needed withing the neighborhood. Definitely recommended.
April 22, 2018
The man that helped us with our storage was very friendly
April 18, 2018
great service
April 9, 2018
Carlos or Oscar? Sorry can't remember his name, was very kind and caring and found the unit to meet our needs.
April 5, 2018
My second time renting a space from this location and both times I was helped by Oscar. Would not have come back if it wasn't for him. He is extremely professional, sensitive to your needs and just goes above and beyond, makes you feel like family. He's the best!!! He deserves employee of the year
April 5, 2018
The manager was very professional and helpful with giving me the information I needed.
April 5, 2018
Everything went very smoothly. Oscar was extremely helpfull with our storage problem during a complicated move to Portland OR.
April 5, 2018
I think staff is friendly and very professional。
March 10, 2018
Tony was very nice and explained everything
February 24, 2018
Oscar was very helpful..I would recommend to all my friends to come here!
February 23, 2018
I had a great experience. Oscar was very helpful and upfront about everything so there would be no surprises later on.
February 14, 2018
Very good, you have very knowledgable, friendly staff, theyre always ready to help you
February 3, 2018
I had a very good experience wiht Covina Self Storage, specifically Oscar. Not only was he clear and concise when explaining things, he was a very nice guy overall and a pleasure to do business with.
February 1, 2018
Great customer service. My wife and I didn't know what we needed and Oscar patiently walked us through all our options. He helped us find the storage solution we needed and provided us with a 2 month discount. Honest and friendly service. We were happy.
January 24, 2018
Excellent service received from Oscar
January 15, 2018
Very helpful and very accommodating would recommend the storage
January 12, 2018
Very helpfull Oscar always makes sure everything goes good for me very helpfully will recommend to my my friends and family
December 7, 2017
U guys were awesome
November 13, 2017
Wonderful staff & costumer service. If I ever need to store anything again, I will definitely be going back.
November 2, 2017
Great customer service
October 28, 2017
had good experience and love the staff will rent storage from covina self storage again.
October 28, 2017
Excellent
October 25, 2017
Tony was great to work with. The units are clean and well-built. Great experience
September 30, 2017
Great customer service! I got my quote and reserved it online. It was quick and easy! I got a call shortly after by Tony and he was super pleasant and informative. When I arrived, Tony got my info and gave me a tour around the facilities. They were clean and well kept. Everything went smoothly and I would definitely recommend this place!
September 19, 2017
I felt comfortable about renting with your company. Tony made the process easy & was very professional with introducing me to your facility. I will definitely recommend your storage units to my family & friends.
September 9, 2017
The experience was great oscar helped me out good and was very knowledgeable
August 24, 2017
Very good
August 20, 2017
Great. Nice friendly customer service. Great system with email receipts. Always clean inside & neat. Wonderful customer service.
August 17, 2017
This isn't "Storage Wars", unit is clean and I feel comfortable storing my items here short term. All the charges were completely explained and with the automated payment option I will not see my belongings on a episode of "Storage Wars".
August 11, 2017
The gentleman in the front that assisted with the the entire process was extremely helpful, courteous, and very professional. The office was clean , smelled good, great presentation. The storage units and the grounds looked well taken care and safe, very happy with Covina self storage
August 10, 2017
Tony was extremely helpful and knowledgeable. He walked me through everything and was available when my son and I brought all my stuff over. Would absolutely recommend your facility.
August 5, 2017
Friendly staff and good prices
August 1, 2017
Your company representative provided knowledgeable service and options that me me feel well informed and good about my Choices !
July 28, 2017
It was so easy to got my space storage. And I got a good discount
July 11, 2017
Love this place
July 7, 2017
Great experience and Tony the manager was always pleasant and helpfully
June 29, 2017
Very good, the service and information provided was very good.e
June 21, 2017
Customer service was very very good I felt very comfortable and I felt welcome like service with a smile
June 20, 2017
The guys there are great!! Extremely helpful, they were able to work with us, getting us a discount and a bigger storage unit!! Other places we visited weren't as helpful and didn't show much interest in our needs. This place is awesome and I definitely recommend them to anyone!!
June 20, 2017
I had a great experience/ Tony was helpful and explained everything in detail
June 15, 2017
Everything was great! Staff was awesome and very helpful... facility was very clean and elevators and carts made move in a breeze!
June 6, 2017
Attention and service was simply Excellent.
May 31, 2017
Great service, Tony was awesome explained everything and a nice guy
May 31, 2017
Very friendly customer service,that makes you feel very comfortable.
May 11, 2017
i felt good.. helpful and knowledgeable employees..thanks
May 6, 2017
Absolutely wonderful. Covina Self Storage was so helpful and efficient. Wouldn't ever use anywhere else!
May 5, 2017
Tony was great. The pricing was great. Will tell my friends.
April 16, 2017
Tony is a real 'people person'.
April 12, 2017
It was a great experience. Very simple and everything was done so quickly. Love this place
April 6, 2017
Very satisfied. Very professional
March 25, 2017
Oscar was great
March 20, 2017
Very good staff made me feel really comfertable and went over and beyond what was asked
March 18, 2017
It was great, Oscar made us feel at home. Friendly and fast service.
March 1, 2017
The man that signed me up was plenty thorough, and extremely but genuinely friendly. Facility is clean and secure. Lastly, gotta love the seclusion that this storage company has.
February 27, 2017
It was a great fast and efficient experience.
February 23, 2017
Tony, the property manager, was awesome. Very courteous, knowledgeable and most pleasant to work with!
February 17, 2017
Very professional and provided answered to all questions.
February 15, 2017
Tony was Great, very personable and very helpful. I would do business with him anytime! He went out of his way to help us find our unit when we came back after renting it. He came out of his office to show us where to park and unload our truck and made sure there was nothing else we needed.
January 15, 2017
I was very satisfied with everything about my experience.The guy running the office was excellent.
January 9, 2017
Thanks for making my experience in renting a storage a pleasant one. You had a very pleasant and professional staff. They were able to show me different size storage units and made my selection very painless. I will defiantly return here and refer people to Covina Storage. I would like thank Tony for being a true professional, thanks for all your help.
January 4, 2017
Great experience
December 30, 2016
Very satisfied Tony customer service skills and etiquette. Has always been helpful and professional
December 29, 2016
My contact person was Chris, who did a clear and concise job of explaining the rental and storage agreement. I was impressed with the cleanliness and orderly fashion of the facility. My storage needs are temporary but would be happy to recommend it to others.
December 24, 2016
I love it so helpful and friendly.
December 11, 2016
Tony and Oscar are really helpful and really professional. Awesome customer service.
December 9, 2016
Overall it was very good. Tony took the time to explain everything and was very knowledgeable. We were only looking at the time, but because of Tony's presentation we decided to rent at that time. Only wish you opened earlier.