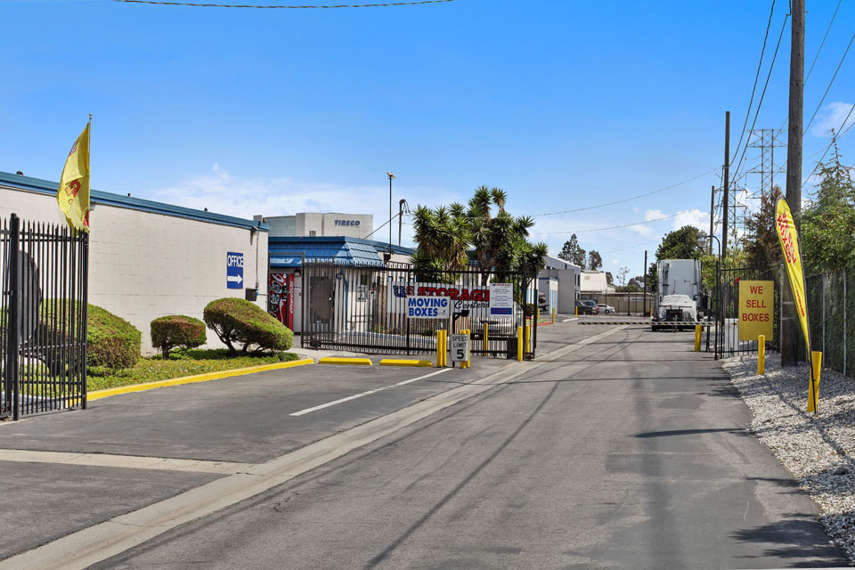 We're Open During Normal Hours. Easy, Contact-Free Rentals
Location Details
ACCESS HOURS
Mon

6:00am - 9:00pm

Tue

6:00am - 9:00pm

Wed

6:00am - 9:00pm

Thu

6:00am - 9:00pm

Fri

6:00am - 9:00pm

Sat

6:00am - 9:00pm

Sun

6:00am - 9:00pm
OFFICE HOURS
Mon

9:00am - 6:00pm

Tue

9:00am - 6:00pm

Wed

9:00am - 6:00pm

Thu

9:00am - 6:00pm

Fri

9:00am - 6:00pm

Sat

9:00am - 6:00pm

Sun

Closed
FEATURES AND AMENITIES
Drive Up Access
RV Parking
Electronic Gated Access
Video Recording
Employee(s) Speak Spanish
Moving Carts
Kure It Certified Location
Photos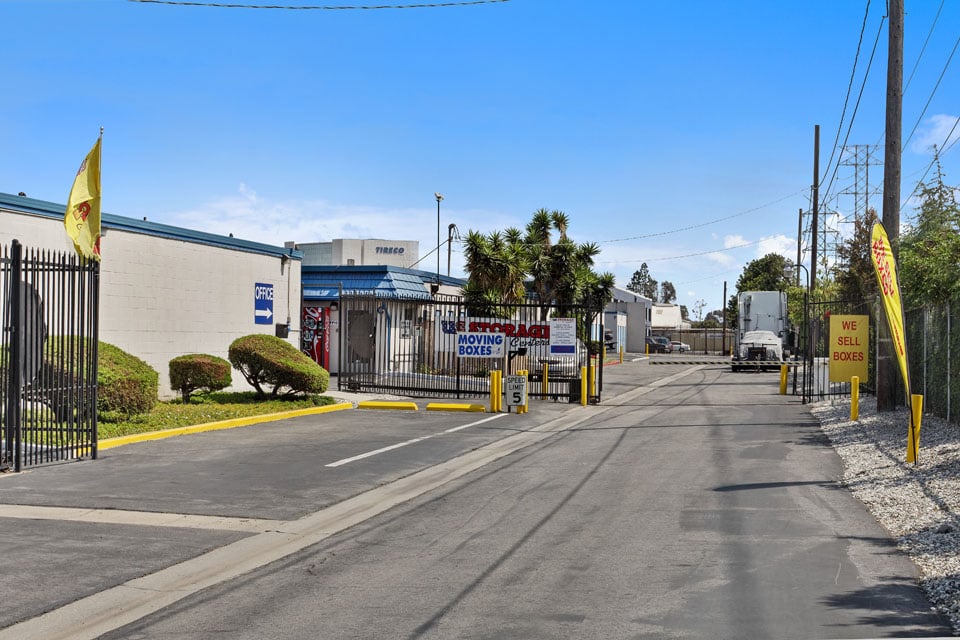 About this Location
Facility Description
Storing with us is as safe, smooth, and simple as it gets in Gardena. All of our self storage units are on the ground level and offer drive-up access whether you select a 5x5 size or a 20x30 size, so there's no need to worry about elevators or stairs. You can also opt for a convenient indoor hallway unit.

To make the move-in easy, we provide moving carts for you to use. All you need to do is ask our friendly, professional staff for help, and they'll do all they can to assist you. Our clean, wide aisles are large enough for your moving truck; we can even fit a semi-truck on the property if necessary.
Contact-Free Rentals – Easy Online and Phone Rental Options 
 Online Rental
 Select your unit and enter your info and payment
 Sign the lease online
 A manager will reach out to you with your access code, a map of the property, and they'll have you email a copy of your valid government picture ID
 Once these steps are complete, the manager will prepare your unit so it's ready when you arrive
 Phone Rental
Simply call the number listed at the top of this page, and a member of our staff will work with you over the phone to complete a rental
The manager will email a lease to sign
Once the lease is signed, a manager will reach out to you with your access code, a map of the property, and they'll have you email a copy of your valid government picture ID
Once these steps are complete, the manager will prepare your unit so it's ready when you arrive
Secure Storage Units

To keep your unit secure at all times, we use an electronic gate as well as 24 hour video recording. On top of these basic features, the property manager of our Gardena self storage facility lives on site. That means a faster response in case of a problem or emergency. All of our customers use their own locks on their units so they have individual access. For the safest possible storage experience, we recommend using disc locks which you can buy right here in the office.

Conveniently Located

When you rent with us in Gardena, your self storage unit will be in an easy and convenient location, close to the Harbor Freeway. You will find us near the Harbor Gateway Transit Center (or the Artesia Transit Center as it used to be called) and the Gardena Unified School Maintenance Department. Come stop by today.

RV and Boat Parking

We offer convenient 20ft parking spaces for your RV, boat or automobiles. Parking space width may vary from spot to spot. Please call the property manager for more details on Parking Space sizes. 

Languages Spoken by Managers

English and Spanish

Forms of Payment

It's easy to pay your bill! We accept cash, checks, money orders, Visa, and MasterCard. You can also pay online through our secure client login.

The Community

Gardena, California is located in the South Bay region of Los Angeles County and has the highest percentage of Japanese American citizens in the country. As a result, the people of Gardena enjoy a wide variety of Japanese restaurants, markets, festivals, and more. In 1988, the Japanese Cultural Institute was founded to facilitate and preserve the rich culture of the city.

When you've finished enjoying some great food at one of the many Japanese eateries, you can get your blood pumping at the K1 Speed Torrance race track or the Skyzone Indoor Trampoline Park. All in all, Gardena is a small, quiet community with a lot to offer. Everyone could find something to love here.

Facility Products

We offer boxes (sized small - x-large). We also have wardrobe boxes, packing tape, tape dispensers, mattress covers, bubble wrap, picture moving kits, disc locks, and brass padlocks.
Customer Reviews
overall rating, 82 total testimonials
April 3, 2021
So far so good👍
February 19, 2021
Very pleasant
January 22, 2021
I was very pleased with my visit the clerk was knowledgeable about his facility very pleasant I will recommend US Storage to my friends 👍
December 8, 2020
Very good
November 22, 2020
VERY GOOD. VERY NICE. THE LADY WHO WORKS IN THERE IS VERY GENTLE AND KIND. SHE MADE ME FEEL VERY CONFORTABLE AND WITH CONFIDENCE TO LEAVE MY BELONGINS WITH YOU.
November 18, 2020
It been a pleasure dealing with the staff at US Storage Center. They are always so friendly.
November 10, 2020
Rosie was super helpful
October 7, 2020
Always a pleasure, Rosie is very helpful
September 11, 2020
Had a good experience so far. Rose was great, pleasant and professional.
August 26, 2020
Rosie was absolutely amazing! She made the move in experience very easy.
August 20, 2020
Exelente Servicio y muy amables Y te tratan como familia La persona de la oficinas yo lo recomendaría mis amigos y familiares us storage centers
June 13, 2020
I had a great experience. Rosie contacted me to help me figure out what was more convenient for me and was very professional. I would definitely recommend to a friend or family member.
June 11, 2020
I feel very good about my my experience with the customer service there they really help me thank you guys so much
May 27, 2020
Nice and friendly
May 24, 2020
Rosie was so helpful and efficient! Such an easy process and she was so nice!!! I would definitely recommend to everyone!! The location is clean and feels safe!
May 4, 2020
Me centi bien grasias
April 20, 2020
It was a great experience, they held the unit I wanted for a couple of weeks while I got ready. Excellent customer service.
February 16, 2020
The sweet young lady that help me was Rosie. I loved her personality. She was very thorough . I hardly had to ask any questions she explain everything. I'm very happy. The spaces are Immaculate and Convenient. Which was very important to me. I would recommend this place to everybody. And please ask for Rosie. She's the best.
December 19, 2019
It was great! Rosie was very helpful and made the process really smooth.
November 12, 2019
Rosie is the best allways a pleasure would highly recommend..
October 18, 2019
very good
October 12, 2019
ROSIE IS VERY NICE. VERY PROFESSIONAL
September 12, 2019
I felt great, Rosie gave me beyond expectation customer service, the facility is clean and safe
August 23, 2019
Staff was very pleasant and accommodating when assisting me with what I needed.
August 21, 2019
A great!!! Experience will recommend my friends and family...
August 14, 2019
Very good experience. Ben went above and beyond to satisfy our need w/ excellent customer service.
July 29, 2019
Rosie had no problem setting me up with whst i had 6found
July 15, 2019
Great experience, and great customer service Rosie always looks after my needs that I have more than 10 units with her
May 30, 2019
The customer service is beyond professional, Rosie always takes care of her customers needs.
May 29, 2019
The personal greeting was warm and genuine. I was shown units prior to renting. The whole process was fast and efficient. I like how they make it look easy.
May 24, 2019
It is the cleanest facility I have seen
May 17, 2019
Very safe and confortable
April 26, 2019
Rosie Is the best! She is professional and courteous. It was a hot day when we were moving into our storage room and she offered my movers water. Please give her a raise and a vacation to Hawaii 😊
March 28, 2019
Place is clean, Rosie is great
January 4, 2019
I have been a regular tenant on and off at the same facility and It's because of the manager Rosie... she is excellent in customer service
October 9, 2018
Excellent customer service great location ..
October 4, 2018
This was a very favorable experience - the manager was very helpful, the facilities are good as well.
September 22, 2018
great custimer setvice
September 11, 2018
Great customer service!
August 29, 2018
Got the space I needed with no BS. Rosie took good care on me. This is my second time at this facility and I will continue me back again
August 23, 2018
The experience was excellent thanks to the customer service we received from Rosie.
August 10, 2018
Rosie is a true professional. She answered all of my questions and went out of her way to make sure that I was taken cared of. I would definitely recommend this location to all of my friends and acquaintances. Steve
August 5, 2018
Extremely happy staff was very helpful
July 16, 2018
Thank-you Craig!!! You were awesome!!! Great experience! I would definitely recommend US Storage Center!!!
June 9, 2018
I have rented before at the same location and glad to see the same people who is very helpful and friendly. This makes it easier to find a storage facility. THANKS
April 26, 2018
Very friendly staff and good price
April 5, 2018
Everybody was very nice, knowledgeable and helpful. It was a real pleasure dealing with them.
April 5, 2018
Thanks for everything. You all were awesome. Service was convenient and friendly.
March 4, 2018
Great was a smooth ride IN and OUT.Thanks
February 27, 2018
Always great and very helpful. My husband and i had alot of things and got alot of stuff put away.
December 6, 2017
The facility was nice and clean and the Manager Rosie was very Helpful and Friendly. Yes I would recommend.
December 1, 2017
Cool place great staff
November 13, 2017
GREAT JOB BY THE OFFICE, MADE IT EASY AS PIE!!!
November 12, 2017
Very good place and very clean I like I recommended to my friends % 100 than you
October 9, 2017
1000000000000000000000000000000000000000000000000000000000000000000000000000000000000000000000000000000""000000000
October 5, 2017
The two employees that helped me were fast and efficient.
September 27, 2017
This is my second time to rent I returned thanks
August 10, 2017
Very nice and clean property service is really good
June 16, 2017
The staff were very helpful in getting the best deal for me. Super Fast contract write up. Answered all my questions, gave me a few moving tips and were quite friendly and professional. I already told a friend about these guys and they may have another tenant shortly.
June 7, 2017
I felt like a family member great
April 28, 2017
Helpful personal and very clean storage
April 18, 2017
Awsome everyone was polite and courteous.
April 6, 2017
I feel good
March 1, 2017
Rosie and Craig are very accomodating and make a difficult time much easier. This is my second time at this partucular location and u would highly recommend this gardena us storage to anyone needing short or long time storage
February 19, 2017
I had to come in a few times to get my unit as the place wasn't open on weekends and at lunch time.