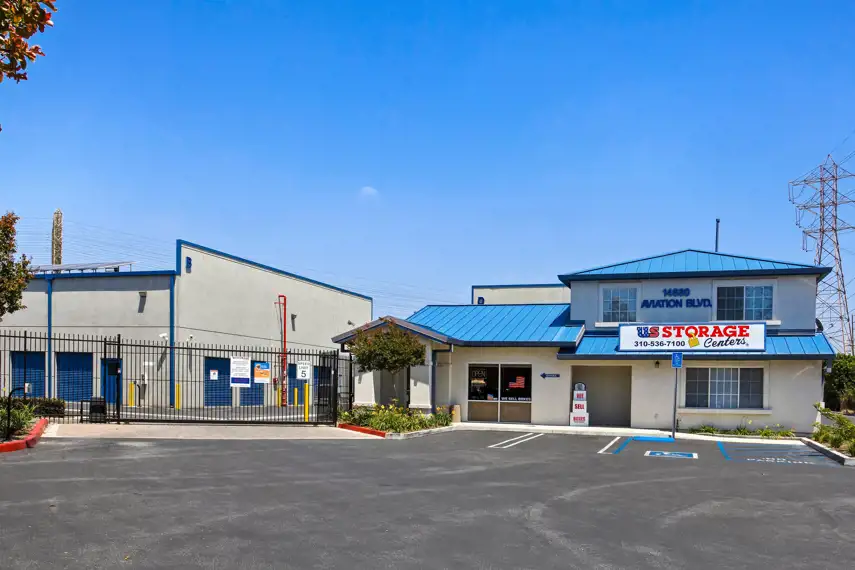 Rent or Hold Your Storage Unit in Minutes.
Location Details
ACCESS HOURS
Mon

6:00am - 9:00pm

Tue

6:00am - 9:00pm

Wed

6:00am - 9:00pm

Thu

6:00am - 9:00pm

Fri

6:00am - 9:00pm

Sat

6:00am - 9:00pm

Sun

6:00am - 9:00pm
OFFICE HOURS
Mon

9:00am - 6:00pm

Tue

9:00am - 6:00pm

Wed

9:00am - 6:00pm

Thu

9:00am - 6:00pm

Fri

9:00am - 6:00pm

Sat

9:00am - 6:00pm

Sun

10:00am - 5:00pm
FEATURES AND AMENITIES
Drive Up Access
Climate Control
RV Parking
Passenger Elevators
Electronic Gated Access
Video Recording
Employee(s) Speak Spanish
Moving Carts
Alarmed Unit
Kure It Certified Location
ABOUT THIS LOCATION
Self Storage Units for Rent: Hawthorne, California
Read More
Photos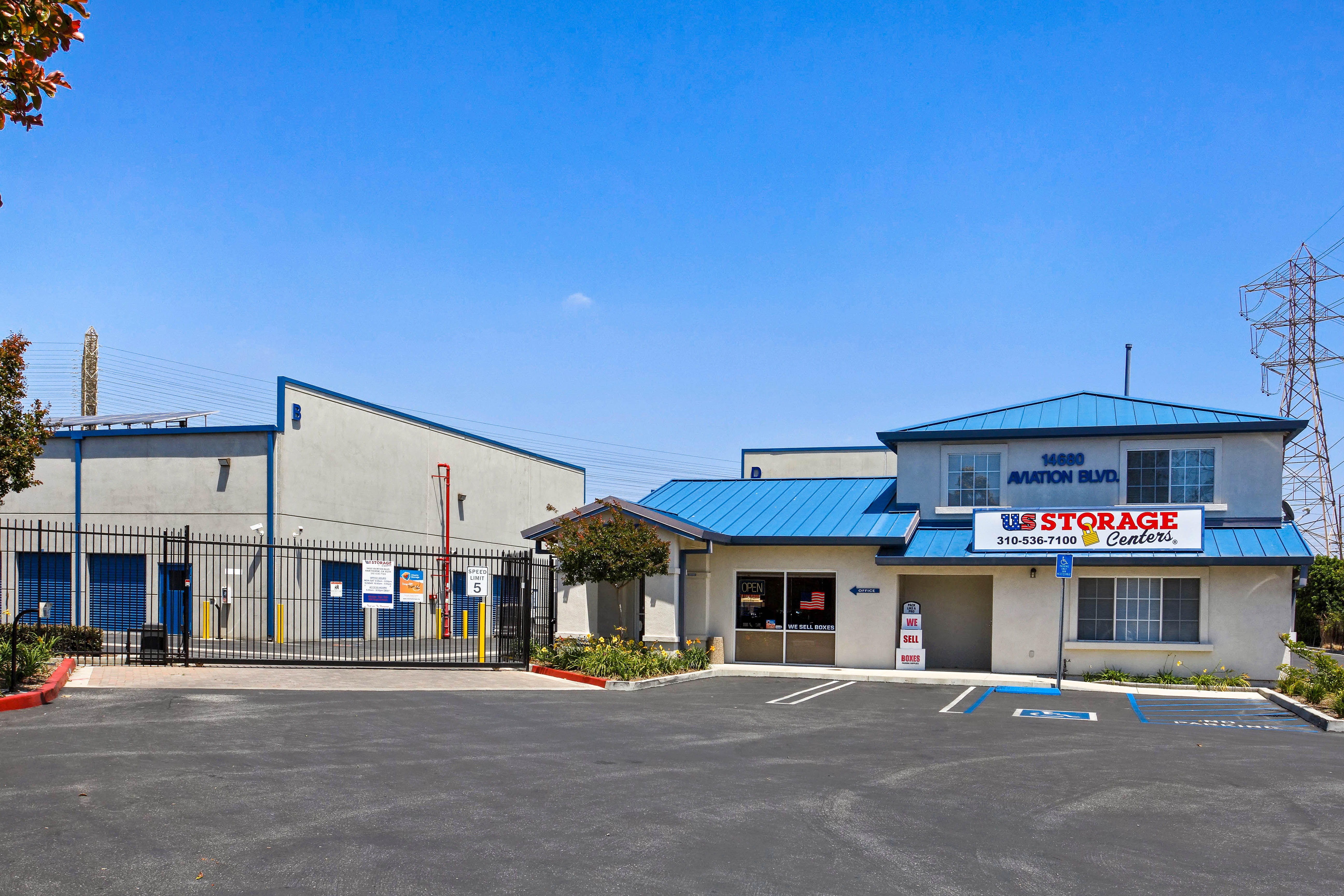 About this Location
Facility Description

At US Storage Centers of Hawthorne, we take great care of our clean self-storage facility, and we maintain daily upkeep because we want you to have the best storage experience possible.

Located in Hawthorne, CA, near the intersections of Aviation Blvd. and 33rd St., between Rosecrans Ave. and Marine St., our facility is near the Metro tracks off Aviation Blvd., and we're next to the Marriott Hotel Town Suites. When you get to the Marriot parking lot, follow the yellow storage signs on your right, we are located at the end of the driveway on your left. This convenient location is one reason we're the best local storage solution for Manhattan Beach and South Bay residents.

We offer storage units in sizes ranging from a 5' x 5' (large enough for boxes and totes), to a 10' x 30' (big enough to fit the contents of a four bedroom house). Our larger units are drive-ups—it's like having a personal garage. Additional units, in a variety of sizes, are located on the first and second floor.

Drive-up and inside storage units are available to rent at this facility. There is also a climate controlled building. If you are a pharmaceutical rep looking to store your samples, or if you have other special belongings, like books and antiques that may suffer in the heat, then our climate controlled storage units are the best option.
Easy Rental Options
Rent your storage unit online or over the phone for a quick move in. 
Not ready to rent? No worries! Reserve your unit now to lock in today's special discount.
Month-to-month rentals
No credit card required for reservations
No deposit required
RV Parking

RV parking is also available at our facility. Our sizes range from 16' to 25', and we have a few large 35' to 40' spaces for bigger RVs. We just ask that you have registration and insurance on any vehicle you store with us. Parking space width may vary from spot to spot. Please call the property manager for more details on Parking Space sizes. 

Boat Storage

Uncovered boat parking is also available ranging in sizes from 16' to 25'. There are also a few large 35' to 40' spaces for large boats. Our large drive up units would also be able to house a small boat.

Facility Features

This property features video recording 24 hours a day. At our gated entrance, tenants must enter their personal code when accessing the property.

You'll also notice we have wide driveways between storage units to make loading and unloading as easy as possible. Competent truck drivers are able to maneuver a semi-truck onto our property. If you know you will be receiving large deliveries such as pallets then we'll do our best to locate you in a building that works best—our managers also accept deliveries for your convenience.

Our storage facility is also equipped with large elevators and flat carts for your convenience.

We have professional managers available to assist you with any questions you may have when you arrive, and they would love to take you on a golf cart tour of the property.


Languages Spoken by Our Managers Fluent in both English and Spanish.

Forms of Payment Auto Pay, Cash, Check, Money Order, Visa, MasterCard.

The Community

The majority of tenants renting storage units at our facility reside in Los Angeles, El Segundo, Hawthorne, Hermosa Beach, Manhattan Beach, Lawndale, Redondo Beach, and Marina del Rey.

Our tenants live close to Manhattan Beach Pier, a spectacular place to sightsee, dine, shop, and surf.

Manhattan Beach (South Bay Area) is also famous for being famous. Less than a mile from our facility is Manhattan Beach Studios, where they have filmed many shows like, CSI: Miami and Revenge. It's also the new home to Marvel Studios, where movies like Thor and The Avengers were shot.

You never know who you'll run into in beautiful South Bay, California.

Facility Products

Packing supplies are sold at our facility so you don't have to waste valuable time bouncing around town in traffic. We carry small, medium, large, and extra-large boxes, and file boxes. Also, we have wardrobe boxes, dish packing boxes and partition kits. Picture moving kits, mirror boxes, blankets, paper pads, and jumbo storage bags are also available. At this location we also have large rolls of bubble wrap as well as individual bubble wrap bags. Additional packing supplies include: wrapping paper and stretch wrap, mattress bags (all sizes), dust covers, packing noodles and rope, plus tape dispensers and more. In store, we also have flyers and business cards of local packers and movers that come well referred.
Customer Reviews
overall rating, 432 total testimonials
May 31, 2023
Great 👍 excellent, wonderful
May 16, 2023
Very positive
May 6, 2023
nice customer services👌
May 1, 2023
Very easy to get checked in. Very clean facility!
May 1, 2023
I have been with US Storage in Manhattan beach for a couple of years I'm very pleased . I started out with 4 small units then went to one large unit , now have signed up for the second large unit near my existing unit . The price is staggering I must admit . $970 on each unit a month . Benson and I'm sorry I forgot the wonderful woman's name who is in the office as well are both kind, gracious, business minded and they are one of the reasons I have stayed and now getting a second 12x30 unit . I do feel it would be fabulous if I could get a discount , I am never late on payments nor do I have any problems . Please consider a consideration on discount for renting two 12x30 units .
April 28, 2023
My rep was excellent. Her intake answered any questions I could have possibly asked
April 13, 2023
Everyone very nice
April 3, 2023
Amazing and lucky that I have found this place
March 21, 2023
Very friendly and easy paperwork. And fast. Open storage units
March 16, 2023
Great experience, the customer service was quick and polite. I felt taken care of.
March 7, 2023
I'm satisfied with the promotional discount and price of my unit. And the hours for access..
March 3, 2023
Great. Benson and Ana couldn't have been more helpful. great management team.
March 1, 2023
Great customer service
February 23, 2023
Very good experience
February 20, 2023
Always a great experience. My third time!
December 31, 2022
It's been a wonderful experience we think we made the right choice for our storage needs. Thank you for your good service.
December 30, 2022
Great customer service. The property manager Was very efficient and gave me all the info I needed to get in and out of the facility and explained the terms very well. He talks fast so caffeine up.
December 6, 2022
Great Friendly Easy Convenient
December 1, 2022
Good, neat, secure facility.
November 23, 2022
Attendant was very helpful and stayed after hours to check us in. Thank you very much
November 18, 2022
Great service Great customer service Easy access
November 13, 2022
I have had nothing but very positive experiences with the man and women who work in the office there. They have been extremely kind to me and my entire family. I see the negative reviews online but I don't totally agree with them. What comes around, goes around. I approach every situation with kindness and understanding. The folks working there don't make any rules and when they enforce even the least offensive rule handed down to them you will always have some jacka$$ that will end up slamming them. I'm telling you, the man and woman at my place couldn't work any harder. They are kind and even engage in personal conversations with me and my family. As far as I have seen they are dedicated to their job and def drink the koolaide as they should!!!
November 7, 2022
Very well organized, a positive experience....
September 2, 2022
Polite, helpful, and friendly. Call center Robin was super helpful and was met by Ana and Benson at facility and also super friendly and helpful made sure I was all set up with everything. Couldn't have asked for better service. A+++
September 1, 2022
Our experience was great! Walter and Benson were awesome! They made sure we understood everything! Explained every line! We appreciated such attention!
August 20, 2022
This is my third time using a storage unit here. Very clean, safe and Benson is wonderful! He has actually been the one to check me in each time over last 2 years:Knowledgeable, friendly and very easy to work with. Thank you for all your help! I will probably need you again:)
August 16, 2022
I like them the Service you gave me and I would Recommend you guys to my friends
August 12, 2022
The service was great and friendly! Clean area and storage area well kept!
August 8, 2022
Ana was professional, polite, pleasant and efficient.
July 11, 2022
Fantastic! Ana was wonderful and provided 5 star service!
July 10, 2022
Found it on the internet.
June 7, 2022
Loved the service would recommend the place.
April 30, 2022
Easy, convenient and run in a very professional manner. Found out about it from a friend
April 22, 2022
Benson was very helpful.
April 20, 2022
Super nice folks!
April 11, 2022
I previously completed this, I believe, last month.
March 31, 2022
You guys are super just great and very professional thank you so much for your service
March 20, 2022
It was easy and the employees were extremely helpful and informative.
March 17, 2022
love the young lady that help me that day very knolegeble
March 15, 2022
Benson and Ana have been very helpful. Very welcoming and A++ customer service. Definitely recommended!!!
March 14, 2022
Benson & Ana were wonderful…. I am Exhausted from doing this move by myself… sorry this is short.
March 5, 2022
Excellent customer service.
February 14, 2022
They do a great job,and help you out with all your needs
January 18, 2022
It's always a pleasant, friendly experience. Benson and Anna are great! The facility is always clean and easy to access.
January 17, 2022
Very helpful!
January 13, 2022
Great experience.
December 22, 2021
Keith and Dana Lupton
December 14, 2021
My experience was efficient, accurate, and my time was valued by Anna.
December 3, 2021
It was a good experience.
November 21, 2021
Very good! Very professional.
October 31, 2021
The property manager was really nice and helpful in helping me get sorted
October 25, 2021
Clean, accessible, and professional
October 25, 2021
Super helpful and fast service.
October 13, 2021
Awesome service. Clean facility. Felt very secure.
October 9, 2021
Super easy access. Friendly and helpful staff. Truck rental is amazing :)
October 4, 2021
I found the storage center employees to be welcoming & helpful. The office and storage units are clean & tidy. I appreciate having access to carts for use on the grounds. I also enjoy the music playing around the actual storage units...it's a nice touch.
September 30, 2021
AWESOME
September 26, 2021
After a very unpleasant experience with U-Haul, we decided to search elsewhere. We came across US Storage on Yelp and decided to give them a try due to the positive Yelp reviews - and they did not disappoint. I called one of their locations, and the man there, I believe his name is Jason, was very nice and helpful. His location didn't have what we were looking for, but he was able to reserve a unit at another location for us. Once I called the other location, the woman who answered the phone, (I'm blanking on her name), was also very nice and helpful. We were able to come in within an hour and everything was handled efficiently and smoothly. We did end up paying more than we wanted to, but I guess it's true what they say - you get what you pay for.
September 25, 2021
Great job 👍👍
September 21, 2021
Great experience for this first time renter. Quick and easy. 5 min. Online and 5 in the office and I was accessing the unit.
September 15, 2021
Very good experience! Helpful knowledgeable personnel on-site (friendly too!). Nice facility, easy to access. Many options on available storage.
September 12, 2021
Excellent. The person helping me was helpful and work efficiently.
September 10, 2021
Benson was fantastic and very helpful.
August 29, 2021
Great! Very kind and helpful staff. Decent prices.
August 26, 2021
Customer service was excellent. Premises clean and well maintained.
August 21, 2021
Benson was super helpful! We finally got our office sublet and needed to get setup with storage quickly to clear out the office. Benson understood our predicament and worked with us to find the best fit for our storage needs.
August 12, 2021
Easy, professional experience. Particularly appreciated Benson's customer service.
August 10, 2021
It was quick and efficient and easy. And Anna was extremely kind and helpful.
July 15, 2021
This is the second time I have rented a storage unit there. I came back because I had a positive experience the first time. Benson is very helpful, both times helping me to secure the perfect unit for our needs.
July 15, 2021
Great! The meeting was friendly and informative. All the info was useful and important .
July 8, 2021
So far so good! The office staff were very nice and sign up was easy.
July 5, 2021
Very friendly and courteous front desk, clean and safe facility.
June 25, 2021
Excellent experience, really grateful for Bensons kindness and help!! Will definitely recommend to anyone I know looking for a safe, convenient, clean and fair storage!!!!
June 18, 2021
It was great. Benson was very knowledgable and helpful!
June 17, 2021
Positively. Ana was helpful and welcoming. An all-around effortless experience.
June 8, 2021
Ana was very professional and pleasant in arranging my storage unit. The process was seamless due to her knowledge and kind manner. She answered all of my questions and I did not hesitate to sign my contract after meeting with her.
June 7, 2021
great! Ana was terrific and very professional. Really enjoyed my initial experience
June 5, 2021
Benson is great, and very nice and helpful! Thank you.
June 2, 2021
Overall, a great experience. Benson managed my emergency well and got me out of a pinch. Definitely recommend.
May 29, 2021
Benson was very helpful very very helpful
May 27, 2021
I Inti ally lived it because Ana was sooooo great. Then I received two invoices. One for a unit I rented online and one for the one I upgraded to when I got to the office. No one has resolved this unit problem with me. I only want the one 10x10 I upgraded to. And signed an agreement for
May 17, 2021
Us Storage Centers. Is one of the best in the South Bay. Clean facility and safe. They treat you right and always work with your budget. Many Thanks to Benson W.
May 10, 2021
The experience with William was very helpful.. he was professional, very knowledgeable, and answered all questions asked. I recommend it to family friends or anyone.
April 30, 2021
Very friendly staff.
April 17, 2021
Excelent customer service, knowledgeable crew and very courteos people.
March 29, 2021
Everyone in the office is super friendly, accomodating, and they are always willing to compromise to make things fair. Thank you for everything you do we appreciate you.
March 27, 2021
Fantastic. We looked at several storage spaces in the area and this was our best experience by far. Mostly do to how informative and helpful the manager, Benson, was.
March 25, 2021
The U.S. storage personnel were great. I set everything up over the telephone and just had to stop by the office to pick up keys and lock. They were professional and very helpful. I would highly recommend anyone looking for a storage unit to check here first. They also have good deals.
March 19, 2021
Benson was professional and very helpful. Unit was clean and easy to access. My second time using US Sorage😊 Safe location😊
March 9, 2021
Nice very well welcomed
March 6, 2021
The manager was extremely helpful in helping us with everything that we needed.
February 26, 2021
good thank you professional staff that made the process quick and efficient
February 21, 2021
Great customer service, got what I needed. Would love to get a survey at the end instead of the beginning. BUT THANKS
February 19, 2021
My experience so far with US storage has been awesome! The employee who helped me was Benson, and he was super courteous and very friendly! I thought attaining a storage unit would have been quite stressful, but it was totally painless. Great customer service!
January 31, 2021
Benson was great. I was looking for a unit and remembered reading the electrical meter there. I was working for So Cal Edison. So went there first. Benson hooked me up. Great service and prices
January 28, 2021
Had a great experience moving from another storage facility to US Storage.
January 14, 2021
Benson was very helpful even though you could tell he was super busy. He also did a great job working through the fact he had no internet, which was largely complicating getting a new user set up.
January 8, 2021
Excellent. Great rates. Hawthorne manager Benson Williams was very helpful in reviewing all of the options, explained all the property features, did a great tour and gave me confidence that I was making the right move coming to this storage facility. I would recommend this location to others.
January 6, 2021
Excellent Benson was super helpful clean and accessible nice safe location good oarking
January 3, 2021
Good experience, the staff was friendly and very informative. They were also very patient.
December 31, 2020
I'm pretty happy with the service. The place was clean and the operation was efficient.
December 29, 2020
Fantastic. Ana and Benson were great and the place is terrific
December 17, 2020
Wonderful experience from first phone call to meeting the manager.
December 16, 2020
Great. Benson was very professional, helpful and welcoming. The facility was well maintained and clean.
December 16, 2020
Great service and fair pricing.
December 9, 2020
All the associates at the Hawthorne site were very nice and knowledgeable. They were very helpful and answered all my questions.
November 30, 2020
Great and friendly service. The day I stored my furniture they found me a better storage unit very close to the entrance. Unexpected surprise!
November 28, 2020
Great experience and helpful staff
November 25, 2020
Great services and kind staff
November 9, 2020
Manager was friendly and very helpful. This kind of service is very rare and special.
October 31, 2020
Everything was smooth! Easy process to sign everything. I would definitely recommend!
October 28, 2020
Very good
October 23, 2020
Very professional staff. Clean facility. 👍
October 11, 2020
Very helpful and professional
October 6, 2020
Our guide was awesome, super helpful and thorough.
October 2, 2020
everything was great.
October 1, 2020
The only downside is the special lock needed for the unit. Everything else so far has been perfect.
September 25, 2020
Benson was very helpful
September 23, 2020
Great, everyone was very helpful.
September 14, 2020
My experience was conducted in a professional and friendly manner
September 4, 2020
Benson did an excellent job, quick friendly service, easy to use systems- thanks!
September 3, 2020
It was great
September 3, 2020
I had a great experience with the Staff. Benson and Kyle were very professional. Benson explained everything very clearly. I will definitely recommend this storage center to my friends and family.
August 31, 2020
Wonderful!
August 27, 2020
Fast and easy, Benson was polite and helpful.
August 26, 2020
It was a great experience
August 26, 2020
My experience was stress free. I was able to quickly get my parking space.
August 15, 2020
The manager was quite helpful. He showed me around the facilities and helped me feel confident about their security system.
August 12, 2020
Benson was great.
August 1, 2020
Benson was great!
July 24, 2020
Benson was amazing Great customer service Truly professional, personable, easy to work with and very friendly. Would highly recommend!
July 21, 2020
The experience I had was quick and easy and very successful.
July 19, 2020
Benson was great. Answered all of my many questions with skill and courtesy!
July 19, 2020
Good people, clean storage area.
July 7, 2020
Kyle was helpful and polite
July 3, 2020
professional and courteous
June 30, 2020
So far, I am very satisfied. The online application process and social distancing measures taken onsite were very efficient. I like the location of the facility; it's convenient to home, seems safe, and clean.
June 26, 2020
Very responsive and positive customer service.
June 21, 2020
My first day was really disappointing due to my lack of time management with the truck. I ended up getting my $1200 professional laser printer, an antique desk and three flat screen TVs broken because I didn't have them off of the truck right at 6pm. I wasn't expecting all that damage and loss of my most important items that were going into storage.
June 14, 2020
Great response time, clean facility and carts always queued near the main building entrances. Location is convenient and slightly hidden so it's not obvious. Super helpful manager and team members.
May 11, 2020
Nice and friendly
April 17, 2020
Customer service was excellent. The gentleman in attendance was respectful and informative.
April 17, 2020
Benson was great. Made the experience seamless and easy. Really appreciate all his help and would absolutely recommend US Storage Center because of Benson!
April 16, 2020
Benson was very helpful!
April 5, 2020
they made the move easy, benson was great with working with me over the phone and with whatever I needed!
April 3, 2020
Very professional and personal, took time to make sure that all understood and clear. Thanks
April 1, 2020
The process was easy from start to finish because of Anna. I found her to be incredibly professional and hardworking. I am completely satisfied with my experience and would gladly refer anyone to US Storage.
March 15, 2020
Benson Williams II was the representative that met with us to explain the service & gave us a tour of the available unit meeting our needs. He worked with us to establish when we would take over the unit and instructed us at the actual unit on how to use the lock, which avoided our making any missteps. The same care was given on how to enter our code to the faculty and how to roll up and down the unit's and main access doors. Benson knowledge & personal touch are welcome changes to that found at other storage centers that we considered.
March 4, 2020
All wonderful
February 26, 2020
Benson was awesome
February 11, 2020
The staff was so nice and attentive!
February 1, 2020
It was a good experience. Benson was very helpful.
February 1, 2020
Gr8 customer service was provided Prompt courtesy and helpful
January 28, 2020
I am impressed with this location. Ana is very friendly and accommodating. Move in went smooth
January 18, 2020
Benson is fantastic
January 7, 2020
Benson was on site and hugely helpful and accommodating.
December 29, 2019
Convenient location, friendly front desk showed me around and explained to me terms of the contract. Would prefer more clarity on how pricing increases work
December 20, 2019
the staff was very helpful and friendly
December 10, 2019
Great and professional and clean and feel safe there
November 1, 2019
Well said, comfortable, safe , friendly , environment was clean , mus and satisfied
October 31, 2019
Ana was fantastic... very professional and extremely knowledgeable and helpful... and all of it with a smile.
October 25, 2019
Very good.
October 25, 2019
Everything was positive. I walked out, with a big smile
October 18, 2019
I was able to get my stuff in on same day I signed up.
October 17, 2019
Since I just rented the space I'm not sure of the long term. However, the experience of renting and choosing the space was easy and pleasant. Benson the manager was informative and very pleasant to deal with.
October 15, 2019
great service, fast, friendly and professional.
October 7, 2019
My experience was very pleasant. Anna is extremely personable and professional.
October 1, 2019
Thank You
September 29, 2019
Benson was helpful and patient.
September 20, 2019
Good, the service agent was very helpful.
September 19, 2019
Excellent and easy. Exactly what I needed.
August 27, 2019
Even near the end of the day Benson, the US Storage rep at my local site, was friendly and efficient. He helped me to find the right storage room and set me up so that I could begin moving stuff in that very evening. I also appreciate the early-late access hours, provides more opportunities in the busy day to store and access belongings.
August 27, 2019
It's all about Benson. I was on the fence but his customer service is great. I'll likely keep the unit longer because of him.
August 21, 2019
Bennet was very informed, prepared and professional. I couldn't really ask for more.
August 20, 2019
Excellent customer service.
August 7, 2019
Very easy, straight forward process. No hidden additional costs. Helpful and friendly front desk.
July 26, 2019
Everyone did a great job and I would love to take this time to say Well done!No pressure and they were welling to help with all my questions and beyond!
July 25, 2019
Excellent customer service
July 23, 2019
I really liked the place really clean and I know my stuff is secured. thanks
July 9, 2019
Location is easy access. Front office personnel are helpful and friendly. The only downside is: the wheels on dollies require service, the are hard to handle.
June 28, 2019
Great customer service
June 21, 2019
I was very happy with the service here/she was very nice and professional and very energized good to meet people like that.
June 20, 2019
It was great. Benson was very helpful and friendly.
June 18, 2019
Great so far. Easy to use and your staff was very friendly and helpful.
June 17, 2019
I am happy with the service. We were taken care of after the client ahead of us. The Manager is efficient and knowledgeable. Renting a storage unit is a lengthy process and I was surprised there was only one person on site when we were there.
June 7, 2019
Benson and team at this location are friendly, competent, and professional.
June 3, 2019
I felt very comfortable and glad I made the decision to choose US Storage because the property is very clean and close to my home.Benson did a GREAT JOB at explaining everything to me. Thank you!
May 24, 2019
Great experience! Fast and easy. The storage unit was exactly what I was looking for. Glad I found it.
May 23, 2019
Ana was the best!!! So knowledgeable , answered all our questions and was very understanding about our concerns. I give this employee a PLUS 5*****!!!
May 18, 2019
Excellent experience. The manager was knowledgeable efficient and professional. I have shared my thoughts with family and friends.
May 17, 2019
Great friendly know what's up very helpful
May 1, 2019
It was great. Benson explained many options and moved quickly to help me get the unit that fit my needs. It was happy and quick. thanks
April 30, 2019
US storage in Hawthorne Ca. was a great experience. Property mgr. Benson was awesome. Highly recommend.
April 20, 2019
Great! Staff was very helpful.
April 19, 2019
Benson was fabulous! He was extremely professional and helpful. He made the experience painless and easy!
April 18, 2019
Helpful immediately, courteous, friendly. Took time to show possible units available,
April 16, 2019
I have rented space from 2 different locations and the US Storage on Aviation is the very BEST . Benson was so helpful , efficient . The staff makes everyone feel comfortable . I was on a waiting list and though well maybe I will get it , maybe not , well they kept their word. The minute one of the units I was waiting for they called me . I am so impressed I have already taken others that have business nearby to view my beautiful storage unit . Thank You Benson Your the Best ..
April 10, 2019
The staff was extremely helpful especially Anna who managed my start up.
March 7, 2019
Excellent service, well kept facility.
February 27, 2019
Smooth and clear proces that was well handle by the rep ahime. Thank you
October 22, 2018
Excellent so far.
October 18, 2018
Alan was a great help in picking out and getting my unit ready very fast. Make my trip down to Arizona a lot less hectic.
September 19, 2018
Ben assisted us with renting another unit. He was very courteous and helpful. He was also very concise and efficient at setting things up for us.
September 19, 2018
Benson is great!
September 15, 2018
The manager was very helpful and I like the location of the storage unit. So far things are going well.
September 15, 2018
Benson made everything very eazy and did it with a smile.
August 19, 2018
Very nice,friendly and polite always explain things very well and they always have a smile on their face. Thank You
August 16, 2018
Excellent service
August 7, 2018
For starters the facility is always kept immaculate by the staff. And speaking of staff let me take special notice of the manager Benson Williams. He was exceptionaly helpful and very knowledgeable about everything. Without him I would have been feeling lost.
August 6, 2018
Great. Ana who works in the office was very helpful and explained everything very well
August 3, 2018
:) Love the service
July 16, 2018
You were very kind and explained everything clearly.
June 30, 2018
I was very Impressed with the Customer Service. Facility is very clean and safe. You guys are lucky to have a Emily on your staff she knows her stuff. Thanks
June 17, 2018
Excellent customer service!
June 13, 2018
I really like the experience I've had with the associates at US storage Hawthorne/Manhattan Beach. The service was fully explained and any issues were addressed. I'm fully confident in having my belongings stored here.
May 30, 2018
Both site managers (Benson and Emily) were friendly, courteous and very helpful. Benson showed us a few options and we ended up with a nice size unit at a good value based on comparison to other facilities in our immediate area. The facilities are clean and well cared for. The location and operating hours make it ideal for us.
May 27, 2018
Units are very clean Benson very courteous & fast knowing we were in a rush.
May 19, 2018
Benson and staff were very customer service oriented.
April 19, 2018
keep up the good work
April 19, 2018
Had used this storage facility for many years and was very satisfied with it.
April 18, 2018
I had a great experience with US storage.Benson was very helpful and knowledgeable about everything I needed to know. When I wasn't able to pay and almost lost all of my precious possessions, he kept in contact with me and stayed on top of everything.
March 21, 2018
Great service. Very clean. Convenient access. Only complaint. They raise the rents too often and too quickly after move in.
March 12, 2018
Great storage facility. Clean. Convenient. Secure.
March 9, 2018
Very friendly and very professiona. Very good overall experience
March 8, 2018
Great customer service.
March 7, 2018
Good service and good facility. Especially like the easy access for my vehicle.
March 5, 2018
The staff (Benson) was extremely nice and helpful! The property was also clean and quiet! I would highly recommend US Storage Centers (Aviation Bl) to anyone is looking for storage space!!
March 2, 2018
Great Customer experience. I will definitely recommend this facility to anyone. Manager is awesome best customer service I had.
February 25, 2018
Great facility, great access! Thank You!
February 23, 2018
My experience with US STORAGE has been "GREAT". This is my first time renting a storage unit and when I had spoke to Benson the property manager at the Hawthorne location on the phone he was friendly,very knowledgeable and thorough in answering my questions that I asked him about US Storage and renting a storage unit. When I came in to rent the storage unit Benson made me feel welcomed. The office was very clean and smelled good as well. The storage unit was clean and well secured. I would recommend friends and family if you ever in need of a storage facility to try US STORAGE in Hawthorne. Thank you US STORAGE and Benson."GREAT JOB"
February 19, 2018
Great experience
February 9, 2018
What a great experience... easy and quick! Benson was extremely helpful, and a true professional.
February 7, 2018
I appreciated how well organized and the cleanliness of the facility. The security and rules are all for the protection of the clients. I found some of the staff rather "stiff" in relating to the client but everything was done very properly.
February 6, 2018
perfect. very welcome. goid service
February 5, 2018
With the exception of the annual rent increases my experience was very positive.
January 31, 2018
Fine staff. But the office was locked too often and I often had trouble finding carts.
January 26, 2018
During a stressful moving period the staff made storing my belongings easy and reassuring. The storage is secure and I feel safe and am at ease coming and going to my unit. Keep up the great work!
January 18, 2018
Your company was very professional. The facility was clean and secure. I had a great experience and would recommend US Storage to other customers.
January 16, 2018
Great service
January 15, 2018
Manager and employees were very helpful and professional thank you very much
January 12, 2018
Good customer service
January 9, 2018
First time using a storage unit. The site is very clean & orderly. Very secure. The contract was explained throughly to me. Staff was helpful & friendly.
December 20, 2017
Excellent
December 19, 2017
Excellent, very professional
December 19, 2017
Benson very helpful Place clean/safe/well lit Would rent here again
December 14, 2017
Mr. Benson was always helpful and friendly at every turn. I would also like to comment on the clean and well lighted facilities, always felt very safe.
December 13, 2017
My experience has been great! Easy and quick sign up process and facility is immaculate and always easy in and out when ever I come to our storage. Could not ask for a better place!
December 12, 2017
It was very easy and affordable to rent this space. Staff was super helpful and when I was ready to move out it was quick and painless. Would definitely use again!
December 5, 2017
Very nice facility, and close to my neighborhood. Clean and secure.
December 5, 2017
very professional
December 5, 2017
My overall experience was very high, although I was disappointed with a misunderstanding that costs me $55.60. Upon expiration of the term of 2 of my 3 units, I vacated the units but left the locks on as I mistakenly thought US Storage owned the locks. When I spoke to my wife (who had leased the units and bought the locks) that evening I realized my mistake and arrived at 9am the next morning to make sure the units were vacated properly and took off the locks. Despite my mistake only resulting in an hour or two when the units couldn't be accessed, I was charged a full days rent for both units. I thought that was harsh considering I have been renting 3 units for months on end and just didn't realize the proper vacate procedure causing a few hours of delay.
December 4, 2017
Both employees were very helpful and nice. I went in and got exactly what I wanted.
December 2, 2017
Always nice and accommodating to my needs. Thank you!
December 1, 2017
Very clean place:) Thank you for my storage Best wishes on 2018 please get a new location in Silicon Valley:)
November 22, 2017
US Storage is a great place for storage everyone is so courteous and kind.
November 8, 2017
Excellent service!
November 6, 2017
Fantastic and Amazing service! Thanks for making it a great experience!! Jon K
November 4, 2017
Benson was great. Answered all my questions, and told me how to avoid the "gotcha" surprises that puss off people who rent storage units.
November 2, 2017
We've been renting from US Storage for years, mostly at this center. We really like the staff, and the hours are very convenient. It's always clean and well-run. Mr. Williams is a pleasure to work with, and very efficient.
October 31, 2017
Nothing but great service. Benson is very helpful and knowledgeable.
October 28, 2017
Our experience was very good. The management was very patient and helpful. The facility was clean and everything was in working order. We are very pleased!
September 28, 2017
Great the manager was very helpful and cordial, he was very informative as well.
September 24, 2017
The staff is always friendly, knowledgeable and helpful.
September 21, 2017
Super! Very professional. No waiting. Storage unit clean & ready for use. Joelene was a great help
September 13, 2017
Great. Easy.
September 8, 2017
As always, Benson was nice and helpful!
September 3, 2017
The process was very efficient and Benson was extremely professional in which made the overall process painless. Thank you.
August 31, 2017
It was great! Benson is incredible and was of great help
August 15, 2017
Good so far
August 11, 2017
I was treated in a courteous, friendly and professional manner by the office personnel Ms. Joeline. She made the experience to sign-up quite easy when moving and storing items is usually a stressful and unhappy experience because of the circumstances surrounding the need for storage space. The facility is clean and well-maintained. Thanks!
August 10, 2017
Friendly and knowledgeable staff. All my questions and then some that I didn't think to ask.
August 7, 2017
great customer service, friendly and professional.
August 4, 2017
very helpful and polite staff
July 11, 2017
The size unit I needed was available right away when I requested it! I love the fact that the building is climate controlled too. And Jolene at the front desk was so nice and helpful making sure I knew all that I needed to know. I especially like the rule of nobody is allowed to loiter around as the other storage unit I used had people living there. The security is good too as I feel it is a safely secured location.
July 7, 2017
Great experience - Benson is awesome and helpful with all of my storage needs. He even lent me his phone charger when I needed it during a large move :) The facility is clean and provides carts for loading and unloading. I am sure I will be using them for more storage needs for my clients - Thumbs up
July 3, 2017
Nice clean storage area. Very competent staff. Joline was very helpful when I called to get information and Benson expedited the set-up process for my storage unit. He was so friendly and he went out of his way to help.
June 30, 2017
Very professional and accommodating staff at US Storage in Hawthorne. Jolene and Benson are both very nice and easy to work with.
June 29, 2017
Very professional phone support prior to my selecting this location. When I arrived, I was guided through the pr ocess and required data by Benson, who was thruogh, attentive and knowlegable. Even when I returned to my unit later, Benson was there to welcome me and even flagged for me while I backed up the truck. I recommend this location to everyone.
June 14, 2017
We had a great experience.
June 12, 2017
Fantastic, Benson is terrific, truly A+ representative of your company.
May 26, 2017
I like your facility. It is close to where I live, it is clean and it is easy to navigate. Your onsight manager is very professional, explaines things well, and is heipful in the use of your facility.
May 25, 2017
I was assisted by Ms Shaw. She was courteous and quick on showing me the 2 spaces she had available for my needs. I ended feeling I had made a good choice comimg in to US Storage. Center
May 20, 2017
The associate on Duty was extremely courteous and efficient.
May 14, 2017
Benson was on the desk and handled three customers at once, without missing a beat. Really excellent service in a great facility.
May 12, 2017
Jolene made the whole process of renting a storage area very easy for us. She called us before we arrived to see if we had any questions. The paperwork was seamless and she was efficient in every way. Explained everything clearly and brought us right to my son's storage unit to show it to us. Thank you for the great service!
May 11, 2017
I love this place! The experience was positive, and judgement free. The prices are reasonable. The location is practical. The reason I give this organization 10 stars is because of Mr. Benson and his infectious, positive demeanor, even during mishaps. I dropped my microwave and made a spectacular mess. It was handled seamlessly and with professional discretion. He never made me feel bad about the situation or the mess. I really appreciate him and the service that you provide! Thank you so much!!
April 27, 2017
Great and clean facility. Jolene was very friendly and helpful. Very patient and able to answer all my questions.
April 15, 2017
Just registered for 2 month stay. Easy process with welcoming manager
April 6, 2017
Convenient and accommodating!
April 6, 2017
Very accommodating. Always a pleasure doing business with.
April 6, 2017
Jolene was the best! Thank you so much!!!
March 29, 2017
Jolene was amazing and very professional. I would highly recommend this facility to all of my friends.
March 24, 2017
Wonderful! Benson was incredibly helpful and efficient. He got me set up very quickly and made it east
March 24, 2017
Jolene was great and very helpful!
March 17, 2017
US Storage in Hawthorne CA is very clean and accessible. Benson and Jolene made the move-in seamless!
March 16, 2017
It was terrific--professional and pleasant.
March 14, 2017
Very nice and helpful clerk. We feel that we got a great deal.
March 3, 2017
Professional
February 7, 2017
Both Benson and Jolene made our rental experience easy. The facility appears well maintained and very secure. Thank You
February 6, 2017
Pleasant front office. Quick and easy rental process. Clean and secure property. The price was the best in the area. Plenty of carts available to assist transporting your storage.
January 4, 2017
It was great on every level.
December 23, 2016
Great service :)
December 17, 2016
Benson was great, he explained everything clearly and we were out of there in no time at all. He also was friendly and entertaining with my kids which helped me get my documents signed quicker.