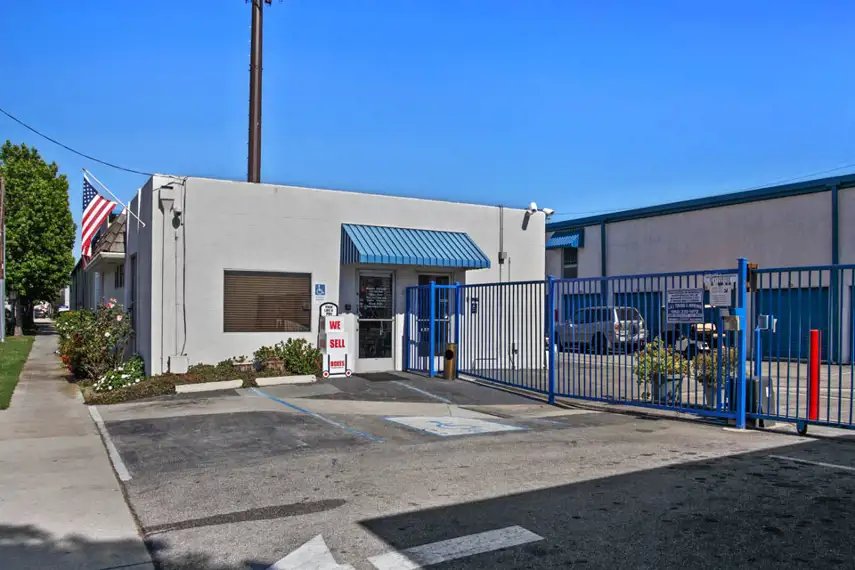 Rent or Hold Your Storage Unit in Minutes. Easy, Contact-Free Rentals.
Location Details
ACCESS HOURS
Mon

7:00am - 7:00pm

Tue

7:00am - 7:00pm

Wed

7:00am - 7:00pm

Thu

7:00am - 7:00pm

Fri

7:00am - 7:00pm

Sat

7:00am - 7:00pm

Sun

7:00am - 7:00pm
OFFICE HOURS
Mon

9:00am - 6:00pm

Tue

9:00am - 6:00pm

Wed

9:00am - 6:00pm

Thu

9:00am - 6:00pm

Fri

9:00am - 6:00pm

Sat

9:00am - 6:00pm

Sun

9:00am - 6:00pm
FEATURES AND AMENITIES
Drive Up Access
Electronic Gated Access
Video Recording
ABOUT THIS LOCATION
Take The Fast Track To Easy Storage.
Read More
Photos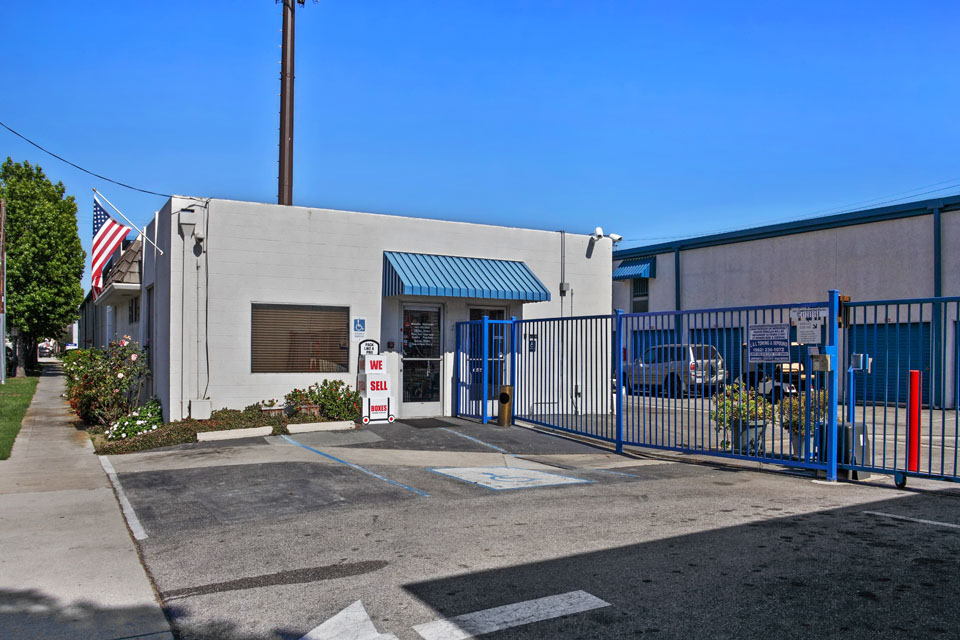 About this Location
Facility Description
Every year you impatiently wait for the Long Beach Grand Prix to take place in April. The speeding cars, the strategy—it is everything you want out of your life. You watch in awe as the cars fly through the turns in almost perfect symmetry and ease.

You want to take life on the fast track—to be free and unencumbered. But your model Indycar collection fills about every corner of your home. No matter how you shuffle your things, you can't seem to properly display your collection.

Store your excess collection in a storage unit. Besides, you always wanted a place where you could conduct tours. Whenever you please, you can go to the storage unit and impress your friends with the vastness of your collection. And at home, your more priceless pieces could be properly displayed in their glass cases to impress your father-in-law, boss, and other guests.
Contact-Free Rentals – Easy Online and Phone Rental Options 
 Online Rental
 Select your unit and enter your info and payment
 Sign the lease online
 A manager will reach out to you with your access code, a map of the property, and they'll have you email a copy of your valid government picture ID
 Once these steps are complete, the manager will prepare your unit so it's ready when you arrive
 Phone Rental
Simply call the number listed at the top of this page, and a member of our staff will work with you over the phone to complete a rental
The manager will email a lease to sign
Once the lease is signed, a manager will reach out to you with your access code, a map of the property, and they'll have you email a copy of your valid government picture ID
Once these steps are complete, the manager will prepare your unit so it's ready when you arrive
Call our Long Beach self storage facility at (562) 344-5988 or reserve a storage unit below.
Customer Reviews
overall rating, 227 total testimonials
September 15, 2021
It was wonderful the lady that help me was new. But handle me. Very very good. Got me in and out with a A+ Customer servers thanks
September 15, 2021
The girl on the customer service was really helpful
July 20, 2021
My family and I currently share a small 5x5 storage that we've had now for almost 2yrs and the rate has been great. My sister did thorough research when trying to find a safe, clean and affordable storage place and she did good. So good that I needed a larger storage space and I needed it fast so I called them hoping they would have one and they did! I needed a 10x10 but they had a slightly bigger one still at an affordable rate and I was sold. Juan was super helpful, he got me setup quick in their air conditioned office area. When I first called I left a msg and he returned my call within a few hours. Overall customer service was great. Luckily I had my own lock but if you don't they have one for purchase and other items that come in handy. I would definitely recommend this place!
June 30, 2021
so far so good , no problem at all to go in and out , very clean place thank you ..
June 8, 2021
It was great
May 27, 2021
Great no problem
May 25, 2021
Juan was amazing, very professional, welcoming and overall excellent
May 17, 2021
Availability and check in was pretty efficient. I was happy to get the unit I preferred. Plus it was close to the house we were leaving.
May 11, 2021
Everything was great. Took advantage of a sale and was shown several options before deciding and signing the contract. Overall easy and pleasant process with the associate in the front office.
April 27, 2021
Great people working hard for great people thanks for your service
April 24, 2021
El servicio es muy bueno para todos los que necesitan de el yo lo recomiendo
April 19, 2021
excellante'
April 16, 2021
So far so good.
April 15, 2021
Super nice Staff and very convenient location for anyone in the downtown L.B.C. area. And also really good rates and awesome move in specials.
April 8, 2021
Overall, positive. It was what I had expected.
April 1, 2021
Both the attendants I encountered when rented the place were fantastic! The lot is very clean and secure and have heard nothing but amazing things from you guys!
March 25, 2021
Very good!
March 18, 2021
confusing at first until Juan was called and straightened things out.
March 16, 2021
Felt Great About It. Fast Service Warm Greeting And A Few Laughs.
February 26, 2021
Great experience all around. Staff especially friendly and helpful. Facility always clean.
February 2, 2021
Thank you .. for making storage easy
December 10, 2020
I will use/ recommend it anytime I or anyone I know needs storage. #Customer4life
November 14, 2020
My encounter with staff both on the phone and in person, was very pleasant and informative. They are all very knowledgeable about all policies and any information needed regarding renting a storage unit at Ready storage. It took only 20 minutes to complete everything for texting a unit and I was given a very nice discount. My unit is a great size, clean and well situated. I am happy that I chose this storage facility!
October 27, 2020
It's great. They exceeded my expectations.
October 6, 2020
Very helpful and understand I feel safe leaving my iteam in. The storage I was given
September 24, 2020
Atención excelente del manager y su asistente Leslie, quede complacido y los recomiendo ampliamente Gracias
September 20, 2020
So far so great! The space is excellent and the staff has been very helpful with getting me set up. Juan was extremely helpful the first day I met him. Thanks Juan!
September 5, 2020
GREAT SERVICE!
August 4, 2020
I forget his name at tge desk,but he was very nice and helpful.
July 31, 2020
Juan was extremely helpful and attentive, location is clean and safe. I appreciate your attention to our needs.
July 25, 2020
Fast friendly service
July 18, 2020
Excellent , friendly and very helpfull. Good communication. Great attitude
June 20, 2020
I feel happy that I found a place to put my stuff in. I love that I have a place of my own. It looks secure. I love the customer service representative.
May 28, 2020
I truly appreciate the care and resourcefulness of the staff. I always feel appreciated by the staff at ready storage for giving them my business. I was referenced by a friend to use your storage and I certainly will tell others. Best expirence with a storage space yet. Thanks.
May 7, 2020
Very Friendly people, very clean ,fast service . Perfect area . Love the monthly rates.
May 6, 2020
Just moved in. Dave was very nice and helpful. Place looked clean.
April 29, 2020
It was great and Juan did a great job helping and guiding me to find my best option. Prices are reasonable
April 19, 2020
I was quite pleased with my experience, as I had inquired about obtaining a second storage space for short duration and the representative informed me that I could rent a space for $45 per month for 2 months, which was a bit of welcome good news on an otherwise not so good day.
April 9, 2020
The employee was very knowledgeable . I like that she was able to help me out with questions and steps that I need to take to rent a unit.
March 15, 2020
It was nice and nice worker's clean and good for the space for your stuff and thanks for having us there to thanks from Antonio and Alma
March 12, 2020
Polite, friendly and informative staff. Clean facility.
March 5, 2020
Good I don't like the fact thsty people hang out there n cars parked in too long
February 28, 2020
Amazing service! Needed a last minute place to store my belongings and Ready Storage was able to accommodate everything I needed very quickly!
February 19, 2020
So far so good, the facilities are fine but there are a bunch of sketchy people hanging out there. I haven't spent enough time there to know if this was an isolated incident or the regular crowd...
February 2, 2020
Excellent service and help. Staff is very helpful and courteous. Storage is clean and well kept.
February 1, 2020
I've just signed a lease there, and moving in was super easy. i wish i had gotten his name, but can't remember now. He's a terrific employee. When i call to ask questions, the person answering the phone was super helpful.
January 31, 2020
Staff is very friendly. They made me feel right at home! I am a return customer. Hours and location are very convenient. My experience with Ready Storage..definatly a 10/10 !!!!
January 23, 2020
Very good and Juan is very Nice!
January 4, 2020
Your man behind the counter was very Professional I was very pleased, he made me very confirmable. That your company is very safe. Thanks for your Company that helps us store our stuff.
December 29, 2019
Joe and Juan are Awesome. Great customer service, fast, easy to communicate with and most of all friendly. This is my second time coming back and the first 2 months are 50% off if you are using a yelp or website deal. Awesome price you cant pass up. You also get insurance and the storage does have security cameras on site as well as locks you can buy for your unit. Convenient storage place close to Downtown LongBeach.
December 3, 2019
Very helpful with everything. Much appreciated !
December 3, 2019
Went great quick, easy , friendly, 4 star ⭐️
November 21, 2019
Awesome experience very helpful and Friendly
November 3, 2019
No issues, I would Recommend this storage unit.
October 8, 2019
Good service got a great deal on the space
October 6, 2019
The young man that helped me was awesome very professional very thorough he explained everything he read the contract he told me what to expect the rules just awesome young man
October 1, 2019
The service was exelent Juan employee was very attentive and helpful no complaints no regrets so far thank you for your help I'm looking forward to stay on business with you for some time.
September 28, 2019
Very helpful quick & easy process, was looking for a storage ASAP read the reviews about Ready Storage, nothing but great reviews! Took a chance & was glad we chose this place! Thanks to Leslie
September 27, 2019
your staff is very helpful, I hope they credit Mr. Billy Pham for recommending your place.
September 26, 2019
Great experience, great service
September 19, 2019
I feel that it was satisfactory.
September 5, 2019
Awesome customer service! Quick and easy to get a storage unit!
August 24, 2019
Need more customers service
August 9, 2019
It was very efficient and i like how clean the premises are
August 8, 2019
Very helpful and good prices,they explain everything very well thanks alot.
August 6, 2019
Excellent service
July 17, 2019
Everyone was super helpful and made using the storage space super easy.
July 16, 2019
Excellent. Very friendly and helpful.
July 7, 2019
Very straight to the point making decision making easy.
June 28, 2019
From the moment I clicked on the website the experience has just gotten batter and better. The service has been excellent and the storage facility works great for my needs. Thanks!!
June 2, 2019
Very good plight curtious services
May 21, 2019
Great. Very satisfied of the answers we gathered from the staff during inquiries, until we got the space storage on the same day after talking with the admin/office staff.
May 13, 2019
Courteous clean good service
May 11, 2019
Daniel was THE BEST!
May 9, 2019
Well everything's going good.
May 5, 2019
Very helpful and professsional
May 4, 2019
The service is always excellent the agents are always so helpful and I always recommend it always clean and it's just a good environment
May 1, 2019
I absolutely love the staff - they are sweet, nice, and thorough in explaining and giving all the details that were necessary for us to know. I am glad that the place is getting a makeover though because the storage units look a little run-down.
April 20, 2019
Juan and Daniel were very helpful and accommodating. I would recommend this Self-Storage facility to anyone at anytime!
April 12, 2019
They are so nice people, make so easy for you and smiles Thank you so much Leila
April 3, 2019
My experience with ready storage is great!! Friendly staff, clean units, and the hours of operation are convenient for my schedule. Thank you for everything!!!
April 1, 2019
Good customer services
March 17, 2019
....leslie was very professional, helpful, patient and took time to explain the various options available in detail. one drawback is that the facilities should have power for electric lighting in upstair units and make sure elevator is in good mechanical condition for safe use.
March 4, 2019
Good company
March 1, 2019
Juan is nice. They let you do your business without delays.
February 17, 2019
This is my third space I have rented from you and I couldn't be happier. The prices are always on point as well as your on site people (especially Juan and Leslie) are always helpful and friendly. I like that the location is convenient to my current residence. I will continue to recommend them to anyone who might be looking for a storage unit. I sincerely hope that when and if I move I will find some place as good as this one for my storage needs.
December 11, 2018
Leslie is the grandest!!!
October 16, 2018
Muy buena experiencia
October 15, 2018
I was given a very thorough explanation of your services and facilities and got a good rate. Thanks for your help.
October 11, 2018
Leslie did an excellent job showing available unit and guiding us through the paperwork.
October 8, 2018
I was pleased with my experience. The man in the office was very helpful and easy to work with.
October 3, 2018
I really liked that there were items in the lobby for sale that I needed but the prices were fair and did not gouge (i.e. Locks).
September 30, 2018
They were very nice and answer all my questions, nice facility.. highly recommended
September 14, 2018
The customer service was Great! The staff was vdry, very, helpful
July 12, 2018
Good service thanks
July 5, 2018
Great service.
April 10, 2018
I really appreciated getting a call from a manager to resolve my issue. That is very different. Customer service lately has been so bad, it is great that someone actually took the time to address customer concerns in a way that is satisfactory. Thank you, and yes I would recommend the company.
April 7, 2018
wonderful people and management helping me feel that my items were safe despite often suspicious activity at the location the employees did fantastic job of guarding the storage facility with great care i highly recommend the place to any one seeking affordable secure place
April 6, 2018
My experience was great. The staff was very friendly and helpful.
March 20, 2018
I have used Ready Storage for several years now and was very pleased with the service and location and if I had a problem, it was seen to and taken care of right a way. Should I ever find a need to use a storage facility again I will be back as a satisfied customer once again. Thanks, William
March 15, 2018
Great! Loved it.
March 12, 2018
We had a wonderful experience when we stopped in your center to get a storage unit. Juan was a huge help and so friendly!! It was a great experience and we will recommend Ready Storage to all our friends. Keep up the great job!! Bob and Patti
March 5, 2018
The staff is very professional and always willing to help. The facility is a little older but it is well secured and is the cheapest choice around.I recommend it.
March 1, 2018
Easy move in process. Great service. Highly recommend.
February 18, 2018
Excellent service,they was so nice friendly service they make sure they show you the space available ***** 🌟🌟🌟🌟🌟
February 14, 2018
I had my belongings in this storage for a year. Everything was easy peasy. Easy to take care of billing, easy to go in and out with the lift for my heavy things and easy to part ways when I was ready. The only thing I didn't like was my storage cost going up after a few months, but I got used to it. Thanks
February 7, 2018
Not even a month yet but no problems so far.
February 7, 2018
Staff was great and my drive up 10x10 was awesome. No bug and no rodents. A friend has a store unit at another building in Long Beach and he has an issue with rodents coming into his unit from the panels (mesh) in the ceiling. These units are sealed tight, and after 2 years of storage, I had zero issues.
February 6, 2018
Ur staff is very professional & accommodating, I'm glad & feel safe I choose ur place , always clean👍
February 1, 2018
Affordable, convenient, easy to load and unload, friendly staff.
January 24, 2018
Loved the employees there. Very helpful and friendly. They offered great deals and the storage unit was secure, easy to get to and offered a variety of storage spaces to accommodate my belongings.
January 20, 2018
Really good satisfied.
January 19, 2018
Great place
January 16, 2018
Muy buen servicio, y sus istalaciones son muy seguras gracias a su manger juan por su atencion y su paciencia. Gracias ready storge
January 14, 2018
The staff was excellent!
January 8, 2018
Juan is amazing! From day 1 he did everything he could to help me and my boyfriend get a storage unit. We moved from Long Beach to Hawaii and put everything in storage for 4 months while we were in escrow. We had items delivered to the storage by accident and he was so kind to call me and update me since we were living in Mexico for the Summer. Any little thing we needed Juan was there for us every step of the way. We had our Container delivered about 2 months ago and it was a nightmare, Juan was there to direct Matson on where to put the container until the day we arrived. He helped us move a few items and even helped me open a 3rd storage unit last minute. This guy went through a lot with us and trust me, we were not exactly easy to deal with. Juan made things so much easier for the two of us and I feel like I owe him the world. Juan we cant Thank-you and your Team enough for being there for us every step of the way. You are amazing. We wish you a Happy New year and Thanks for helping us get to Hawaii. All the Best!!
January 2, 2018
Easy and affordable. Great staff.
December 31, 2017
Very good customer service
December 28, 2017
Friendly informative and helpful
December 27, 2017
Fue muy buena Y todo esta bin Resguardado exelente
December 27, 2017
I'm very happy with the my storage.ready self storage has a very nice personal,very helpful, friendly and exellent service,thanks so much for your help guys. Thanks Warm regards Hector Alarcon
December 22, 2017
I have done business with your site several times and they were all very nice.. Your staff is very polite and accomadating. They are a joy to work with.. Thank you...
December 13, 2017
Great job
December 10, 2017
I loved it .. My spaces was always taken care of .. Thank you
December 5, 2017
It was a very nice experience the customer service that I got with Leslie was pretty awesome she knew she was talking about and she help me out and gave me a lot of options it has been a while since someone had very good customer service
December 4, 2017
I felt staff were will knowledgeable, and friendly atmosphere, faculty clean.
November 26, 2017
The attendant was very helpful with all the papers and showing off the space. The price very reasonable, which is hard to find these days.
November 13, 2017
I highly recommed this storage coz the manager Juan is very friendly and kind the way he talk explain to the costumer.the place is nice and clean.
November 10, 2017
We got what we needed. Great price, safe storage, easy access.
October 31, 2017
Customer service was top notch. Condition of unit, average
October 31, 2017
I'm TOTALLY satisfied with RSS presently.
October 27, 2017
reception lady is so nice‼︎
October 5, 2017
Everything is good. Only issue is that i work and 7pm is too early to cut access. I get off work 5pm and makes it impossible to access the unit during thw week an 8pm close would really help
September 30, 2017
I found you at Ready Storage to be efficient, knowledgeable, and helpful as needed. I am satisfied to be at this facility.
September 28, 2017
Ready storage was my first Storage Company I've ever used and it was an awesome experience I was very pleased and comfortable with the customer service and the cleanliness of the site
September 12, 2017
The young lady working Sunday, believe her name was Leslie, was very professional and informative. Really appreciated her customer service and would refer a friend to this business because of her outstanding service. Also, the facility is clean and feels secure so I have no issues.
August 7, 2017
Leslie and Juan were very friendly, helpful, and professional. I was extremely impressed, too, with the cleanliness of the facility. I'm very happy with my decision to use this facility for the storage of my things, and I will recommend it to others in the future.
August 6, 2017
Give Juan a raise! Good guy and a good deal.
July 29, 2017
Excellent experience .... fast service and fair pricing.
July 27, 2017
Well its ok I guess the only thing is that you guys need to stay open later cuz people work .
July 27, 2017
Fast a courteous customer service. They were also the cheapest in town as I compared about ten other companies in the area. This was what originally led me here and the staff made it all the better.
July 26, 2017
Muy agusto y seguro muchas gracias
July 23, 2017
Nos sentimos muy agusto con el lugar el servicio excelente yo lo recomendo
July 17, 2017
So far so good!!!!😀
July 12, 2017
Very friendly and helpful! Clean unit and decent prices.
July 1, 2017
Amazing hidden Gem! The receptionist was really Friendly and super effective and explained everything throughly. She was really patient but she also was super quick getting all the paperwork and showing us the unit. I don't remember her name but she was great. Accommodated last min changes we had and was super friendly. My only complaint is that the storage place had no cameras on the hallway of the storage units. Made me feel unsafe because of the location break ins aren't surprising and mugging isn't either. But overall it was super inexpensive and accommodating for last min reservations. Thank you!!!😁
June 29, 2017
It was great. Amazing people and units were clean and easy to get to.
June 29, 2017
Got in & out in no time. The hispanic associate i forgot her name that helped me on June 26,2017 was very friendly, helpful, & nice.
June 21, 2017
It was quick and easy. Great prices and no hidden costs. The people who work in the office are friendly and helpful. I will definitely be staying with Ready Storage even if I get a bigger unit.
June 14, 2017
MS.Leslie was very help it.thanks.
June 9, 2017
Good service an love my storage .. All my belongings fit perfect an not expensive like it seems to be ..
June 4, 2017
Very pleasant and easy
May 27, 2017
Great service
April 21, 2017
The customer service was great . The property is very clean. My experience was great with both representive I when prior and viewed units ,place a deposit down to hold the unit both gentlemen were professional excellent customer service .
April 18, 2017
Very professional.....the staff was very helpful and true to the offers made over the phone.I feel safe I leaving my belonging at the facility. Thanks
April 17, 2017
They Have Good Customer Service ! And The Lady that Helped US was nice thanks for helping us out.
April 6, 2017
excellent. The self storage personnel is really kind and professional.
March 23, 2017
MUY BIEN , LESLIE ME ATENDIO MUY BIEN , ME EXPLICO MUY BIEN , LESLIE ES MUY ATENTA Y SERVICIAL ME AGRADO MUCHO , GRACIAS LESLIE .
March 3, 2017
Like friends.very comfortable
February 7, 2017
Very friendly and helpful staff
February 3, 2017
The ppl are very cordial and polite.
December 17, 2016
It was very good and helpful at the time.
December 12, 2016
Absolutely the best storage ever, good price and always clean and what makes it more awesome are the people who run it, so peacefull, polite and nice people, thumbs up and I advice to check it out if u are looking for a safe place to store ur valuables.
December 10, 2016
for a true beginner, I found the team of staff fabulous, helpful, charming, and a pure delight. cheers. ten plus. wonderful professionalism.