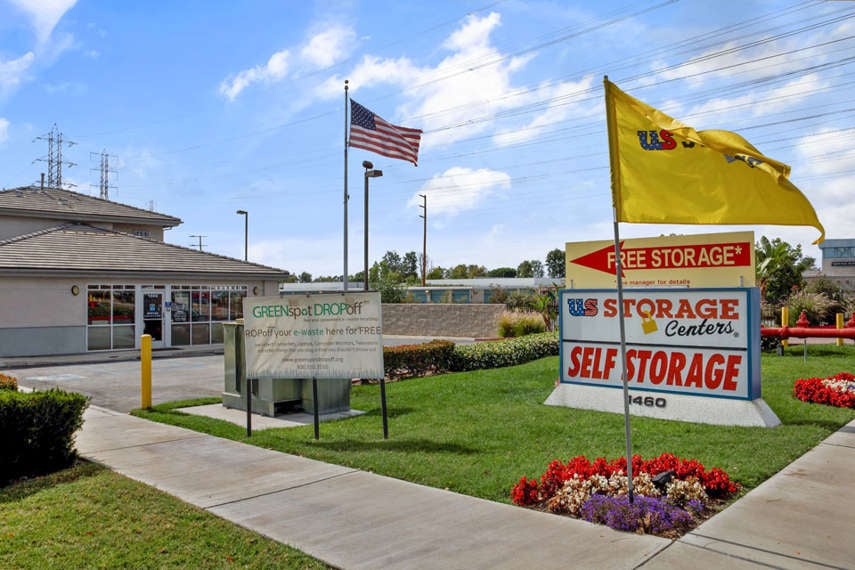 Orange Self Storage Units
Logout
We're Open During Normal Hours. Easy, Contact-Free Rentals
Location Details
ACCESS HOURS
Mon

6:00am - 9:00pm

Tue

6:00am - 9:00pm

Wed

6:00am - 9:00pm

Thu

6:00am - 9:00pm

Fri

6:00am - 9:00pm

Sat

6:00am - 9:00pm

Sun

6:00am - 9:00pm
OFFICE HOURS
Mon

9:00am - 6:00pm

Tue

9:00am - 6:00pm

Wed

9:00am - 6:00pm

Thu

9:00am - 6:00pm

Fri

9:00am - 6:00pm

Sat

9:00am - 6:00pm

Sun

10:00am - 5:00pm
FEATURES AND AMENITIES
Drive Up Access
Climate Control
Passenger Elevators
Electronic Gated Access
Video Recording
Employee(s) Speak Spanish
Moving Carts
Alarmed Unit
Kure It Certified Location
ABOUT THIS LOCATION
Orange Self Storage Units
Read More
Photos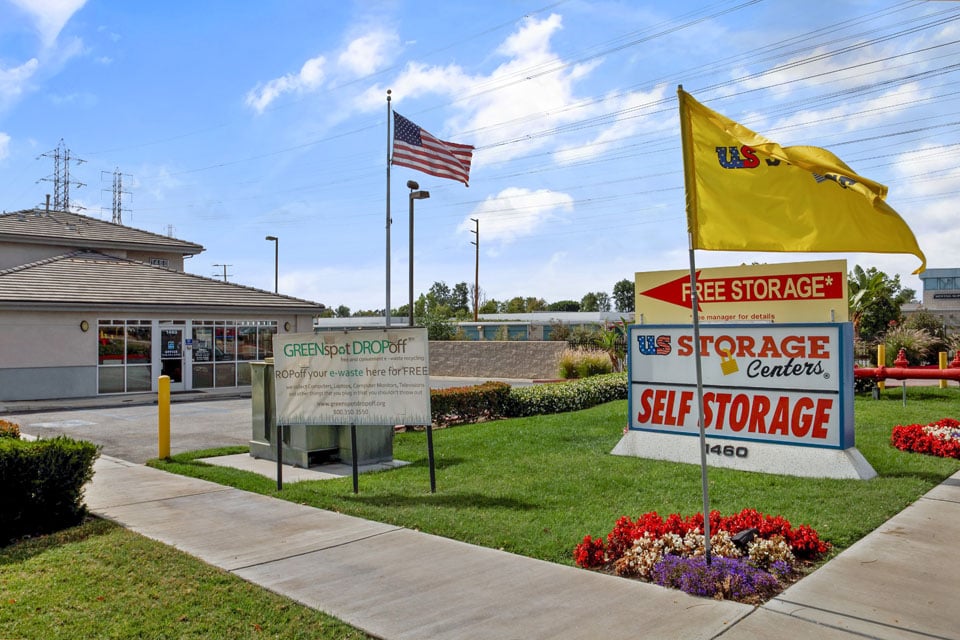 About this Location
Facility Description 

We make it our mission to give you the best self storage experience in all of Orange, California. Our managers live on site to keep the facility clean and safe at all times. To make your move easier, we offer drive-up access units on the ground floor in a wide array of sizes, plus complimentary moving carts. Our aisles are large enough for your moving van. For those items that are a bit more fragile or sensitive, we have climate-controlled units on the second floor in many sizes. You're sure to find exactly the right unit for your self storage needs at our facility in the city of Orange.
Contact-Free Rentals – Easy Online and Phone Rental Options 
 Online Rental
 Select your unit and enter your info and payment
 Sign the lease online
 A manager will reach out to you with your access code, a map of the property, and they'll have you email a copy of your valid government picture ID
 Once these steps are complete, the manager will prepare your unit so it's ready when you arrive
 Phone Rental
Simply call the number listed at the top of this page, and a member of our staff will work with you over the phone to complete a rental
The manager will email a lease to sign
Once the lease is signed, a manager will reach out to you with your access code, a map of the property, and they'll have you email a copy of your valid government picture ID
Once these steps are complete, the manager will prepare your unit so it's ready when you arrive
Secure Storage Units

Part of giving you the best possible storage experience is giving you the best possible storage security. We maintain good lighting and video surveillance across the property at all times. Each unit is equipped with an individual alarm, and our cylinder locks rest inside the doors instead of hanging on the outside. We take no shortcuts when it comes to security, so you can trust US Storage Centers to keep your property safe.

Conveniently Located

We are in a good location for all of our clients in Orange and surrounding areas like Villa Park, Anaheim Hills, Tustin, and others. With our facility just minutes from the freeway, you can access your storage unit easily whenever you need it. You can find us two miles from Chapman University, on Main Street, and north of Katella. Taking a left hand turn before the railroad tracks will put you right in our parking lot. Come check out our Orange self storage facility today.

Forms of Payment

It's easy to pay your bill! We accept cash, checks, money orders, Visa, and MasterCard. You can also pay online through our secure client login.

Professionally Managed

It just takes one look around our facility to see that providing clean and safe self storage for you in Orange is our top priority. Our property managers have been in the storage industry for over 13 years, so they know what they're doing. They have smiles and handshakes that will make you feel right at home in our office. You can ask all the questions you want—we've got answers. And once you get a taste of our great customer service and high quality facilities, you'll know you've come to the right place.

The Community

Orange, California appreciates its past. The city is one of only a few towns in California that doesn't automatically demolish homes built prior to 1960; instead they retain and celebrate them. Because of this tradition, Old Town Orange has become one of the most beloved attractions in our city. You can catch a glimpse of the history and culture of the area. And if you're craving a snack, join the Old Town Orange Walking Food Tour.

The Outlets in Orange are a must-see for any shopper. You'll find all of your favorite shops and brands among the 120 outlets in the area. When you're finished hunting for bargains, you can take a break at one of the two dozen nearby eateries—you can enjoy everything from burgers and fries to steak and fine wine.

Orange takes pride in its past and builds up a bright future. Experience our city for yourself, and you'll know there's no better place to live.

Facility Products

We offer boxes (sized small - x-large). We also have wardrobe boxes, packing tape, tape dispensers, mattress covers, bubble wrap, and picture moving kits.
Customer Reviews
overall rating, 197 total testimonials
December 10, 2020
The experience was fast, easy and friendly. The staff was excellent and the space we rented was clean and ready for us to occupy.
November 1, 2020
I had a good experience renting a storage unit during a stressful time. Jenny was very helpful in showing me different units, and explaining the lease. the facility had all the features and benefits i was looking for long gate hours, security cameras, and alarmed units.
October 5, 2020
We felt great and we're treated with respect, professionalism, and knowledge. Thank you!
September 29, 2020
Great! Your Property Manager, Jenny, is probably the best point of contact person I've met for any business.
September 12, 2020
Very professional and easy to work with
September 3, 2020
Friendly customer service. I highly recommend.
September 2, 2020
Great experience
August 31, 2020
I always get exceptional service at this location. Jenny is awesome, sweet as can be! She's really helpful, the storage area's are well kept and clean.
August 4, 2020
So far I am very happy with my experience with your company. The woman helping me was wonderful. She was very knowledgeable and was sure to answer all of my questions. I could tell that she cared and wanted me to have the best experience possible.
August 2, 2020
Great experience, very helpful and reassuring.
July 23, 2020
Excellent experience. Such great customer service and it seems like the company does good things with charities and such. I was very happy to come across this business.
June 19, 2020
Very professional
June 19, 2020
The process was seem less and well executed. The staff was helpful and courteous. Raul and Jenny were so friendly and knowledgeable. The signup was fast and incredibly easy.
June 14, 2020
Great. Jenny the manager was very nice & helpful, made the process easy.
May 30, 2020
Great experience.
May 27, 2020
Jenny was super friendly and helpful. She worked all details and made this stressful transaction super smooth.
May 2, 2020
Very satisfied, great customer service, Raul is the best.
April 29, 2020
You all did a great job!
April 29, 2020
Quick, easy and friendly!
April 14, 2020
Jenny did a great job in placing a storage unit that is convenience to my needs. Check in was very painless process. Jenny understands customer satisfaction is number one priority.
April 9, 2020
It has been a pleasant & satisfactory experience.
April 1, 2020
great experience, your employee was outstanding
March 30, 2020
Nice, friendly. Good service.
March 27, 2020
As I commented on Yelp.. I am Feel VERY HAPPY to be moving personal items into US Storage and was VERY SATISFIED with the MGR. Jenny and her friendly professionalism and feel she was truly the encouragement that I can trust being a tenant of this storage facility and that my "stuff" will be safe and secure here.
March 17, 2020
Very good. Jenny and Raul were very helpful.
March 10, 2020
Jennifer was very helpful. Caused me to pick US storage over public storage
February 23, 2020
Very attentive employees great customer service and wonderful experience
February 10, 2020
It was quick and easy. I was able to get the exact unit that I wanted in an efficient amount of time. The staff was very friendly and helpful.
February 9, 2020
Front desk is awesome with her customer service. Can't explain enough. She's great
February 5, 2020
Everything went smoothly! Thank you
January 22, 2020
It was wonderful
January 21, 2020
Friendly staff and helpful
January 19, 2020
Really good there very friendly big smiles on these face that makes a big difference
January 8, 2020
I am a repeat renter :C31/C35/ & C/60 NOW. I HAVE GONE THRU 3 managers & assits.. ......so far : Jenny & Raul are ☆☆☆☆☆ 'top drawer' !!! Thx, Lynda Schultz 05/27/1941 1/714/5990832
[email protected]
December 28, 2019
The staff was friendly and the process of renting a unit was easy. :)
December 21, 2019
Clean and friendly
December 10, 2019
Excellent!!
December 3, 2019
The staff was very friendly and helpful it was a pleasure dealing with her.
November 25, 2019
Awesome. Great customer service skills, attitude, and got every question answered by Raul! Thank you!
November 24, 2019
Perfect!
October 31, 2019
Like the facilities; security, cameras, option of climate control. Staff that has helped me first and second times storing here have been top-notch - Jenny, Matthew, Raul. Extremely professional, helpful, knowledgeable, thorough and very pleasant. Only negative is rates def higher than a facility I have been storing at for 8 straight years in Lake Forest, Ca.
October 30, 2019
Jenny is great. I have already told like 4 people to rent there.
September 28, 2019
Used this facility many times. I used to keep customer project cars here for years. Now that I can 't do that it is inconvenient for me. But its close and rates are reasonable so I am happy with that.
September 17, 2019
Its was great! Staff is very friendly and helpful.Looked at many but this was it!
September 5, 2019
Your employees made our experience excellent.
September 4, 2019
IT WAS JUST FINE DONT HAVE ANYTHING NEGATIVE TO SAY AT ALL MORE THEN HELPFULL I APPECIATE JENNY THANK U
August 24, 2019
It was awesome, Jenny was very helpful and very kind and very professional. Love this location
August 23, 2019
It was good, handled very professionally
August 6, 2019
It was a great experience, the staff was very professional and helpful.
August 6, 2019
Great customer service and quick reliable service. My family and I will be retruning. THANK YOU!
August 3, 2019
I got the best deal in town. Literally.
August 3, 2019
Very good,Jenny was super!
July 27, 2019
It was great. Jenny was so friendly and addressed all my questions. Plus, I loved the price for our 10x10.
July 11, 2019
Very professional and pleasant
July 11, 2019
Feel completely satisfied in my purchase of the rental unit and the service was top quality service
July 11, 2019
Manager was very nice. Simple process, nice place. Please don't call me by my first AND middle name.
July 8, 2019
I would have to say. If it wasnt for jenny the office manager. I would have went else where. The customer service from her was very welcoming.
July 3, 2019
Jenny was great. Very helpful
June 19, 2019
Jenny was very helpful and clearly answered all my questions. She looked into my needs and found a better unit that fit my situation and was easier on me to access. I am very satisfied with the whole experience.
June 16, 2019
Jenny is the best! Thank you!
June 9, 2019
Awesome assistance, clean facility. Extremley compettitive prices. Was recommended by a friend and I was not the least bit dissapointed. More than likely to store here for a good while.
June 8, 2019
Jenny located at the Orange location was helpful, considerate and provided exceptional customer service, which is hard to come by these days. Due to her ability to provide discounts and be flexible, my wife and I choose US storage because of Jenny.
May 27, 2019
Felix was very helpful and nice.
May 1, 2019
Jenny is the best. She was not only knowledgable and helpful, but friendly. And, the rates were better than our prior storage facility.
April 27, 2019
every nice lady who works here by the name Jenny really did a great job helping me find what I needed also went out her way to help me find movers !!
April 21, 2019
Staff is friendly & knowledgeable. Jenny took the time to show us the units and show us around the facility. She explained all the details and knew exactly what size I would need to store my belongings.
April 13, 2019
Jenny was amazing ,it was her day off and she was so kind and helpful ,she keep a smile on her face and treated all her customers with dignify and respect.
April 12, 2019
Jenny was very helpful in for getting me the best storage unit for my needs.The facility is very clean and conveniently located.
March 28, 2019
Excellent! I instantly felt comfortable bringing items by my self to storage. That was important for my husband and I. Jenny is super nice and efficient!
March 12, 2019
Amazing peoples and very professional, Jeny processed my paperwork and she did a great job on it. She is Awesome! Thank you very much!
March 5, 2019
It was fine with the acception of some miscommunication related to pricing and storage size.
March 1, 2019
Very helpful staff, good overall experience.
November 21, 2018
Very smooth transaction. Employees went above and beyond to ensure the space and price points were accomodating. Thank you!
November 5, 2018
This is my 4th dije using your business.
October 24, 2018
Jenny was great. Very helpful and very professional. I wasn't very happy with the $22.00 processing fee thats why i would give it a 9 not 10. As far as customer service i would have put an 11.
October 23, 2018
Very positive. Jenny Christian was very welcoming, helpful and informative. First time at your facility.
October 18, 2018
Very pleased
October 17, 2018
The experience was fantastic. Many thanks to the Assistant Manager, Jenny. She was tremendously professional and very kind. She followed up the next day. Renting a unit was simple and fast. The prices are amazing. I highly recommend US Storage in Orange. Thank you!!
October 3, 2018
very nice and helpful
August 29, 2018
Matt was very helpful in attending our storage needs he was very informative in the rules and regulations of the company.He was very nice and patience dealing with us and yes we would gladly recommend this storage facility to anyone who is looking for storage . MARY and David Gomez
August 17, 2018
Jenny was super polite, nice, and helpful.
August 17, 2018
Everybody there was amazing and a pleasure to deal with. Thanks for making the process sooooo easy!!
August 16, 2018
Excellent, manager Ana is very professional, and friendly.
July 17, 2018
Renting from US storage and Ana has been the best experience ive ever had in many years of renting units. Thanks Ana, Great job.
June 30, 2018
MATT: EXCELLENT COMMUNICATOR SKILL, AND COURTIOUS.
June 13, 2018
Great customer service :-) Good quality storage units and price :-)
June 9, 2018
We needed a storage facility for our daughter's furniture who was studying abroad in the Spring from Chapman University. U.S. Storage on N. Main in Orange Ca. was the spot. Very clean, digital security system throughout property and each individual unit, AC-climate controlled units available, 24hr. staff on-sight. We needed something small, first floor and close to the entry of the building. The team of Anna and Mike at U.S. Storage on Main St. in Orange, CA. took very good care of us. if you need a safe, clean, professionally staffed storage facility for your items, I encourage you to leave your things with them. Very nice, and helpful at all stages of our time with them.
June 9, 2018
Ana was absolutely the best She was nice explained everything and was very pleasant can't say enough about her she was great
June 7, 2018
Us storage is great and affordable! I love my unit.
June 1, 2018
Customer service was great, storage units are clean and in good condition.
May 31, 2018
Anna was very helpful and easy to work with. Many thanks for a great experience!
May 28, 2018
Ana was very professional and the storage unit was clean and ready for us. A+
May 26, 2018
Quick, friendly, helpful, and convenient
May 26, 2018
Everyone I met Wednesday to rent a unit were friendly. Past managers Jim and Barbra weren't there anymore but US Storage is still great with it's units clean as ever, that's a plus!
May 21, 2018
Awesome storage company!!
May 19, 2018
Mandy and Kathy were great. They were very helpful and got us a unit big enough for us!
May 14, 2018
We needed a small storage space to deal with some extra furniture from an uncle who had to move suddenly. The staff were very helpful and friendly throughout the process.
April 30, 2018
Fast and easy employee was very knowledgeable
April 20, 2018
Good service, clean units. Got my last name incorrect. It is Michael J. Ray
April 5, 2018
Great and outstanding new management with new young lady and gentleman thanks a lot
March 27, 2018
I feel my items are very protected. Expectations are clear. Area is clean.
March 18, 2018
I am very Happy with all the assistance and advice received! Thank you Lynda Schultz
March 8, 2018
I have had a GREAT experience so far! It is clean and well managed. Seems very secure.
March 8, 2018
Great. Staff were always helpful and the space always clean, which was truly appreciated.
March 2, 2018
Great facility, great people.
February 4, 2018
Ana is great to work with and she made the process easy.
February 3, 2018
I had a great experience. It was easy and fast. Matt was very knowledgeable and answered all my questions!
February 2, 2018
The property was clean, Ana, our salesperson was pleasant and had good knowledge of the rules and was very pleasant. She was able to show us the site and get us signed up and on our way in a very short time. Over many years, I have rented before and found this to be a very smooth and professional rental. Thank you.
January 22, 2018
Had a very pleasant experience with Matt. Made the selection process very easy. He was knowledgable, friendly, and not pushy. I would definitely recommend this location to friends and family.
January 18, 2018
previous to the arrival of Anna and Matt great team. Barb and Jim were so helpful and knowledgeable Anna does such a great job. it's the managers that keeps us where we are!
January 6, 2018
Staff was very friendly. Explained everything I needed to know. Glad to be there.
January 4, 2018
I am very comfortable with the facility; including the professionalism of the staff and the ample access hours.
December 10, 2017
Friendly staff great service
December 7, 2017
MY REP WAS VERY KIND AND HELPFUL
December 5, 2017
I CAN NOT stand for your automatic call service to remind customers of the due bill,This is HARASSMENT,I would receive 2-3 automatic calls a day. By law you can ONLY call once a day. Text and calls, You need to STOP before you get sued by FTC or attorney, Fair collect act,
December 2, 2017
Ana is excellent! She goes over and above and very knowledgeable. Matt was very helpful too.
November 23, 2017
Barbara and Jim are AWESOME!!!! Love them !
November 14, 2017
Barbara and Jim were like my family. They were the best...if they ever left I would never recommend this location. They've been a blessing in my life. Aside from the homeless people who frequent the property - it has been a great place. The homeless traffic and filth is horrible.
November 9, 2017
Overall new customer orientation was good.
November 9, 2017
Extremely happy barbara n her husband were very helpful n great to work with.
November 5, 2017
Hello, I found my experience to be comfortable, thorough in its tour of the property and the variety of storage units. The office staff herd and listened to what my needs were and offered suggestions,included information I wasn't even aware of. Patience was my key to choosing US STORAGE and becoming a client because these people made it possible to making my life a little better. Yes, I share where I store my extra, a lot of stuff cause US STORAGE of ORANGE has a place in my life that I trust. Signed a Client, Lisa Sanchez
November 3, 2017
It was fine the storage are seemed good and a revitively safe area to keep my stuff
October 28, 2017
I have been a customer for a couple years and this is the 2nd unit I rented. The place is always very clean. The management couple is great. Jim even helped me cool down with cold water and a fan. It was 103 that day and I was feeling over heated.
October 24, 2017
It was awesome, very friendly people's and very professional as well. Thanks
September 6, 2017
very nice management at this facility. willing to answer any questions we had and gave us an amazing deal for being first time renters.
September 6, 2017
You are straight forward about your facility. Very personable and go out of your way to maintain the facility inside and out. I feel extremely safe with my items being stored at this facility. The security here is first rate.
August 25, 2017
Excellent
August 22, 2017
I found my experience very pleasant, not pressured for time. detailed so to make my visits welcomed. I would and I do share the Storage US Storage Center location when my friends mention their need to store their property. The hours also work alongside my schedule as well.
June 29, 2017
Your phone reps need to explain all fees up front. I was unprepared for these additional fees, lock etc. The gentleman at the facility was courteous and helpful.
June 28, 2017
The managers were the nicest people. Also their employee chris was kind, informative and competent. Great price!
May 25, 2017
You made it so easy for us. Thank you
May 23, 2017
Barbara was extremely helpful and pleasant to work with. We moved from out of state and they accomadated our needs and short timeline.
May 21, 2017
Great employees. Pleasure to work we with
May 17, 2017
Really nice easy to work with people makes ur hard times easier
April 11, 2017
Barbara friendly and informative
April 10, 2017
It was good. Good customer service
March 28, 2017
BarBara and husband were great! Went through all details and made us feel like family..100% trust and a great experience
March 2, 2017
Your company is friendly and helpful they go the extra mile for the client. Happy to do business with you. Barbara and mike were able to help us even though they had just closed. Thank you for being there for us.
January 26, 2017
The husband and wife at the one in Orange on Main St. are truly the nicest of people. There was an older man in there while I was there and he was very confused and your employees were very patient and very nice to this man. makes me feel like there are still great humans in this world.
December 11, 2016
Good customer service, they answer all questions clearly and they very helpful
December 10, 2016
Very good experience overall. I was able to downsize and move to an US Storage Center closer to where I now live.
December 9, 2016
It was great, very friendly and always willing to help out and the best is telling us about how to can save money by telling a friend to store there items with them.