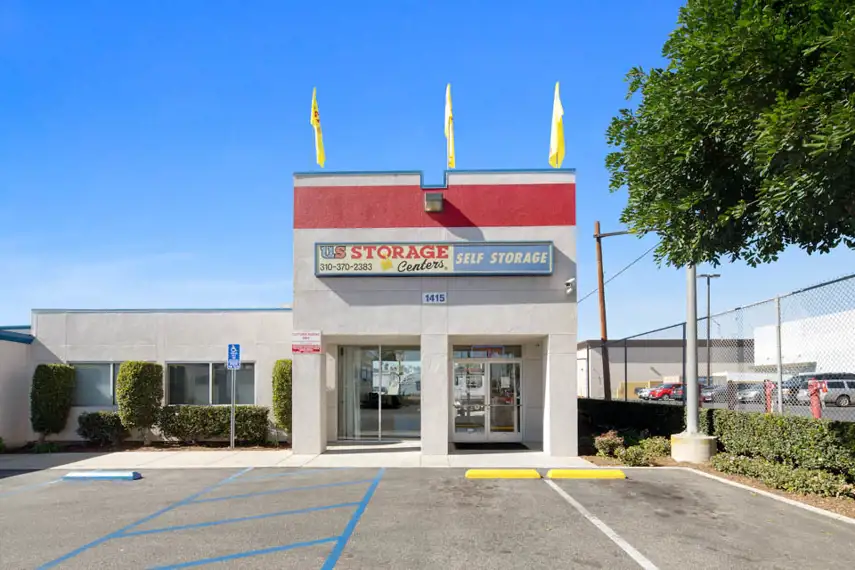 Rent or Hold Your Storage Unit in Minutes.
Location Details
ACCESS HOURS
Mon

6:00am - 10:00pm

Tue

6:00am - 10:00pm

Wed

6:00am - 10:00pm

Thu

6:00am - 10:00pm

Fri

6:00am - 10:00pm

Sat

6:00am - 10:00pm

Sun

6:00am - 10:00pm
OFFICE HOURS
Mon

9:00am - 6:00pm

Tue

9:00am - 6:00pm

Wed

9:00am - 6:00pm

Thu

9:00am - 6:00pm

Fri

9:00am - 6:00pm

Sat

9:00am - 6:00pm

Sun

10:00am - 5:00pm
FEATURES AND AMENITIES
Drive Up Access
RV Parking
Electronic Gated Access
Video Recording
Moving Carts
Alarmed Unit
ABOUT THIS LOCATION
Learn more about the features and amenities offered at our Redondo Beach storage facility. 
Read More
Photos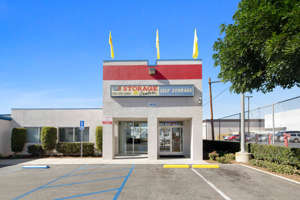 About this Location
Facility Description

At US Storage Centers you can find the perfect unit for your self storage needs in Redondo Beach. We offer storage spaces in every size from 5x5 to 10x30 to fit all of your valuables. Each storage unit is drive-up accessible and individually alarmed. You can also park your RV or boat with us in the off-season. We have an electronic access gate and 24-hour surveillance video recording. To make every move easier, we provide complimentary moving carts to all of our clients 
Easy Rental Options
Rent your storage unit online or over the phone for a quick move in. 
Not ready to rent? No worries! Reserve your unit now to lock in today's special discount.
Month-to-month rentals
No credit card required for reservations
No deposit required
RV & Boat Storage
We also offer storage solutions for those who want to store an RV, boat or extra automobile. Our outdoor spots are easily accessible for parking and backing out. Parking Space width may vary from spot to spot. Please call the property manager for more details on Parking Space sizes.

Conveniently Located

Look for our self storage site in Redondo Beach along Hawthorne Boulevard, just north of 182nd Street. We are right next door to the Galleria Shopping Center and a block east from the Pacific Crest Cemetery. Thanks to our convenient location, you can access your storage unit whenever you need it.

Forms of Payment

It's easy to pay your bill online or in person! We accept cash, checks, money orders, Visa, and MasterCard.

The Community

Redondo Beach, California was dubbed "the gem of the continent" in the Los Angeles Herald thanks to our beautiful sandy shores. In our city, you can find some of the best beaches in Los Angeles County—and the world.

If you're not here to visit the beaches, you can at least walk along The Strand. This popular paved path draws hundreds of cyclists, skateboarders, rollerbladers, joggers, and walkers every single day. You can get your dose of exercise and fresh air while enjoying the gorgeous view of the nearby ocean.

So, while you shop and eat in the Riviera Village or wander around the grand Marina Harbor and Pier, you will never have to worry about your valuables stored in your US Storage Centers self-storage unit.

Facility Products

We offer boxes (sized small - x-large). We also have wardrobe boxes, packing tape, tape dispensers, mattress covers, bubble wrap, picture moving kits, disc locks, and brass padlocks.
Customer Reviews
overall rating, 462 total testimonials
November 21, 2023
Amazing. Very knowledgeable and helpful team. Made the process very smooth and simple
November 1, 2023
Amazing! Already left a review 😉 Joan is super professional and patient beyond the norm! So so grateful US STORAGE doesn't raise our rents as high as the others do every 4-6 months. I know lots of renters here and I'm glad to be returning myself, to US Storage. Greedy and bad business .. the competition, they'll never win like that, right?
November 1, 2023
It was a very positive experience
October 25, 2023
Very happy. Melissa was very helpful and polite
October 11, 2023
Employees were very helpful and professional
September 30, 2023
Loved it!
September 20, 2023
Storage is dark. Should have lights, besides can't see, it can be dangerous someone getting hurt.
September 1, 2023
Nice fella, very friendly. Very knowledgeable and informative.Now don't raise my rent so quickly like you did last time
August 16, 2023
Very comfortable. I've used this location multiple times. Staff and customer service is great. I miss Stephanie though but happy she's doing well
August 5, 2023
Great costumer service, clear explanation, the only issue was the digital system connection, that took to long to finish the application and automatic monthly payment.
July 25, 2023
So far so good I haven't had any problems Melissa's friendly and there's never nobody camped out there cooking breakfast so I like it
July 19, 2023
Joan was amazing to explain the process as well as answering my questions. Very professional!
June 15, 2023
It was great. Fast and easy. Joan was extremely helpful. Let me know about the fees and anything important I should be aware of.
June 7, 2023
I forgot the man's named who helped me. However, his customer service was excellent.
June 6, 2023
Great 👍 Christina is very helpful
June 2, 2023
I have used your center up in Marina Del Rey twice, really liked the people there. This was my first time at the Redondo Beach location, and I have to say, was just as impressed with my experience at this local.
May 15, 2023
Great very friendly
April 28, 2023
positive at both locations - Redondo and Hawthorne. Good onsite teams
April 24, 2023
I had a Pleasant experience with US Storage.
April 8, 2023
Paul and everyone I worked with was great to work with.
April 3, 2023
Evaluation is my experience years ago and I expect it to be the same. Paul has been very helpful.
March 10, 2023
I wish the agent had a better understanding of your product and process / pricing better. I had to ask several questions to determine my best course of action
March 3, 2023
Great! Quick and painless!
January 23, 2023
Staff is great everything is great the only problem really is the fact that the gates have been a problem because probably of the weather
January 12, 2023
Very much appreciated Paul and his help getting my storage unit. He was knowledgeable and helpful Definitely recommend.
December 23, 2022
Joan is nice and efficient. Unit are clean. Security seems good.
December 22, 2022
It was quick easy and good!
November 18, 2022
All are nice!
November 2, 2022
Ana was really professional and efficient
October 28, 2022
Christina was wonderful!! She was very through and had an answer and explanation to everything I wanted to know. Christina was also very kind, friendly and very positive. Christina is definitely the reason I will be recommending US Storage. Thank you Christina for making the process so smooth and positive!!
October 22, 2022
Very helpful , very kind , associates answers all questions,
September 29, 2022
Thank you so much Joan and everyone that has helped me during a very challenging time. You all are amazing and am truly thankful for the incredible care and guidance you've given me. Going through a long distance move is daunting, and you guys made it easier for me. The facility is fantastic and local, very secure and felt safe making trips to my car to the elevator and back. Thank you so much!
September 22, 2022
Excellent been coming here for years always taken care of.
September 17, 2022
It's ok I was lied to by call center
September 15, 2022
Great.
September 12, 2022
Christine was very friendly with outstanding professional customer service. She took care of our needs very well.
September 1, 2022
Great service, Joan is very responsive.
July 23, 2022
Great service
July 22, 2022
I felt that Joan did an amazing job explaining everything to us clearly. He has a very friendly demeanor and made us feel at ease with the entire experience. He was knowledgeable and answered all our questions. He even allowed us to see units so we could choose the best size for our needs. We left feeling very confident in our choice and feeling that our items would be very safe.
July 19, 2022
We feel in VERY good hands and getting set-up with our unit was an extremely positive experience. The office and facility seem extremely well run, a huge relief when leaving personal belongings there.
July 18, 2022
I've rented with you in previous years. I was hoping for more of a discount as a return customer
July 15, 2022
Thanks to my cousin's referral, we encountered great customer service from Joan and Stephanie. They were helpful in guiding us with our options. US Storage Redondo on Hawthorne has helped welcomed us into our neighborhood allowing us to feel like we are part of a great community. - DL & E
July 15, 2022
Stephanie is the bomb.com! Funny, knowledgeable, friendly, huge help to us! Thank you!
July 14, 2022
All went great. Steffanie and the staff were very helpful.
July 14, 2022
Well run stablisment. Provides peace of mind that personal belongings are well secure. Courteous and knowledgeable staff. Provides with latest offers and discounts.
July 9, 2022
Very nice professional staff Stephanie is the best! Her first impression was the best when I signed up with US Storage over 2 years ago. The new lady Cristina was very nice and helpful. She was in training the days I came in. I am sure the nice young man Jaquan who was also helpful to me; will move up to a management position.
July 7, 2022
Stephanie is a gem, courteous,helpful,and just a pleasure to deal with!!!
June 27, 2022
It is great! Stephanie made me feel welcomed and showed me our unit right away and explained everything.
June 12, 2022
Stephanie is so helpful , very good service.
June 5, 2022
Easy and friendly.
June 2, 2022
Stephanie was amazing! This is our second unit and we had our 2 year old with us which I thought would make it a bit tough. However, Stephanie was quick and efficient! We were in and out just like that! Amazing staff!
May 30, 2022
Stephanie and Joan were fantastic and truly made the customer experience perfect
May 28, 2022
Stephanie is awesome. Have never met someone so passionate about storage lol. Give her a raise!
May 24, 2022
Excellent, it's my second time I need storage space and I satisfied with the customer service and facilities I got.
May 20, 2022
Customer service was a great experience.
May 1, 2022
Always a pleasure doing business with Stephanie!
April 30, 2022
Really like the manager!
April 26, 2022
It's was a very fast, friendly, experience. Stephanie provides exceptional customer service. Made us feel very welcome and fully explained all the ins and outs. We are very happy and satisfied customers. Joan also helped us with our move in providing carts and answering any questions we had and provided anything we needed. We Move US Storage Redondo Beach.
April 26, 2022
Very helpful, honest and great people to work with. Stephanie, the manager even took the time to research the quote we were given on the phone from another location and honored it. Highly recommend
April 24, 2022
My experience at US Storage has been pleasant, do to Stephanie the Manager who is very helpful.
April 20, 2022
Stephanie was very very nice I enjoy talking to her she makes me want to stay and makes me know that my RV is going to be safe
April 15, 2022
My experience was wonderful thanks to Stephanie, was very helpful, kind and mostly understanding, thanks Stephanie J.
March 22, 2022
I felt safe and comfortable
March 8, 2022
Very good Friendly Funny
February 24, 2022
Quick and easy. Stephanie was very pleasant and thorough.
February 23, 2022
Joan was very helpful to provide the service I needed and I rent a unit in your property
February 21, 2022
quick and easy
February 12, 2022
I have had a great experience up to this point. The sales person, Joan was kind and helpful. I would recommend this storage service and location to friends and family for sure! Thank you!
February 11, 2022
Stephanie was amazing for me! She gave me excellent service. I was very happy.
February 8, 2022
Excellent service
February 3, 2022
Stephanie was amazing Joan was really friendly and informative
February 2, 2022
Great experience with Stephanie, answered all of my questions and was prompt and profssional.
February 2, 2022
Stephanie. And Joan were amazing and so helpful - they really made the difference in why I chose your location
February 1, 2022
Good! Stephanie has always been very helpful.
January 30, 2022
Your staff is really friendly and helpful! The place is very clean and well maintained.
January 23, 2022
very comfortable
January 20, 2022
Steph is awesome, kindest soul and super friendly. ♥️ Made things easier.
January 20, 2022
Joan was extremely friendly and helpful. The setup process was very easy.
January 17, 2022
Great customer service from Joan.
January 15, 2022
Hands down, Manager Stephanie and Joan deliver the best guest experience for not only storage, but most service focused businesses out there. I hope US Storage leadership realize the quality delivered at the Redondo location by the team.
January 6, 2022
The property manager, Stephanie, made me feel very comfortable and set my account up, explained everything. I would recommend this location.
December 30, 2021
I'm very glad to have chosen US Storage centers. They are friendly, professional and knowledgeable. The experience exceeded my expectations... Thank you guys!!!!!
December 27, 2021
Staff was very helpful and friendly
December 14, 2021
I loved it. Joan explained everything very clearly and the rest was so great as well.
December 10, 2021
I loved the service I received! Very professional and helpful.
December 7, 2021
Amazing customer service with helpful and positive employees! Thank you!
December 5, 2021
I was welcomed right away upon greeting. I was given the perfect unit
December 4, 2021
The US Storage facility in Redondo is managed by the best Property Manager I have ever had pleasure of doing business with. Stephanie Blumenthal runs a great operation in every respect! She insures the property is clean and safe. And she tends to details in the rental agreement saying that I am eligible for a senior rate which I appreciate. Thank you!😊
December 2, 2021
Very friendly and helpful staff. Great storage!
November 30, 2021
I called with a question and Stephanie delivered such exceptional service, I wanted to rent with US. The entire process was outstanding!!!!
November 25, 2021
Stephanie is a terrific manager! She made the process straightforward and pleasant. The unit is allegedly a 10x7.5, but the actual dimensions are 10' 4" by 6' 6", which is probably large enough for me but threw my calculations off.
November 23, 2021
Great. Steph is the best
November 17, 2021
Facility was clean and secure. Joan, the person on staff was helpful and friendly.
November 16, 2021
Very good
November 15, 2021
I was taken care of right away
November 9, 2021
Stephanie was at the redondo beach location is awesome
November 4, 2021
Very polite and professional
November 4, 2021
The whole process was smooth and super easy. Very cost effective, too. Joan and Stephanie are a pleasure to work with, and they made the move-in of my items seamless, from the speedy front desk sign-up to providing a dolly, I had my things stored within half an hour's time.
November 4, 2021
Good service although my code did not work early am the next day which cost me storage at another place since I could not get out in time
October 30, 2021
Awesome customer service Joan that helped us get our unit was very friendly, knowledgeable made the process so simple and fast! He deserves a raise, a good raise not some 2 dollar raise either!! He's servicing your customers with the highest quality of customer service, providing his precious time and one life he has to work his ass off for your customers and deserves to have a comfortable happy life not living pay check to pay check.
October 12, 2021
Very helpful staff. Stephanie is superb.
October 7, 2021
Very nice and very very good service and safe place and super clean , and your team are amazing
September 27, 2021
We were very impressed by Stephanie's prompt and thorough follow up to our initial inquiry. We had called several locations looking for a place to temporarily store our car hauler and only Stephanie contacted us personally to review the location's layout and appropriateness for our needs. After an on-site visit (guided by Stephanie) ) Joan ably assisted us with the paperwork and we confirmed the rental on the spot. Excellent good old fashioned customer service delivered with a cheery smile. 5 stars!
September 26, 2021
I walked in and was welcomed by Stephanie. She was wonderful! To be fully honest with you, I was having a rough day and her joyful spirit definitely made my day better. I had never rented a storage unit before and I have no doubt that I came to the right place.
September 17, 2021
Friendly and helpful
September 10, 2021
The young man who helped me was outstanding all the way through checking in
September 3, 2021
Good Costumer service
September 2, 2021
Stephanie and Joan were very helpful. When I first came 10 days ago she showed me spot that was too tight for my motorhome to fit in, so she told me she would let me know when the next spot was going to be available and she did. I have a good spot now. Thanks!
August 29, 2021
Fantastic your staff is excellent
August 16, 2021
I feel great, safe and most important the service
August 12, 2021
Stephanie was awesome. Made the experience easy and simple. Did not feel pressured at all.
August 7, 2021
Everything went perfectly fine loved the lady working the office. We have used this storage center before. Never had any issues here.
July 19, 2021
I Love US Storage, It was Soo Accomidating. And the Staff know what they are Doing❤
July 19, 2021
Stephanie was great! It is refreshing to deal with someone who loves their job and genuinely wants to help people. She is the best!
July 12, 2021
I have used US Storage for years ! Always professional / friendly /helpful! Mrs Stephanie is very helpful , a pleasure to work with !!
July 11, 2021
Stephanie really knows what she is doing, she's an expert. Friendly just loved her help, other young lady was also a big help.
July 10, 2021
The property manager was very helpful and friendly!!
July 3, 2021
There was a small mistake, But Stephanie was on it and took very good care of me , She's the best .
June 29, 2021
Super nice people that work there "Joan" really nice and professional
June 25, 2021
Great service's thanks
June 21, 2021
Very pleased. My family have used US Storage couple of years ago and were very satisfied.
June 16, 2021
Great service
June 15, 2021
Very friendly and helpful! Great attitudes and proficient
June 10, 2021
Stephanie has excellent customer service skills. She is very pleasant and informative
June 1, 2021
Stephanie and Joan were very helpful. They are very knowledgeable and professional.
May 28, 2021
Steph is fabulous 😊
May 27, 2021
Wonderful staff and supportive environment. Appreciate all of the helpful information and positive attitude!
May 27, 2021
I had the best experience ever, very professional friendly staff and knowledgeable on what is available and what to expect when using a storage facility manager Miguel and supervisor Stephanie were awesome and helping us find stress relief when storing our precious items. Thank you
May 21, 2021
Very good Stephanie was very helpful
May 18, 2021
I just have to say Stephanie is amazing at what she does. She made us feel so welcome and comfortable. There needs to be more employees like her.
May 14, 2021
Stephanie is very knowledgeable and helpful.
May 14, 2021
Good experience so far. I like convenience of where my storage is located.
May 13, 2021
My experience with us storage was great! Stephanie is the best. She is so knowledgeable and a big help.
May 9, 2021
Our sales rep Stephanie went above and beyond for us, everything was great
April 27, 2021
Steph is a true professional. She was punctual, helpful and knowledgeable. She even helped me with purchasing supplies. This is my first time getting a storage unit so I was intimidated by the process but Steph walked me through each step and even loaded my car with my supplies. She is a super star in my book. 😊
April 26, 2021
We had a wonderful experience starting with the renting of the box over the phone. We were given a great price and the operator was very thorough and explained the process to us. She also told us we were in good hands with Stephanie. She was correct. We arrived after a four day road trip, exhausted and overwhelmed. Stephanie finished our paperwork, was extremely helpful in showing us around and made sure we knew how to access anything we would need to make the unloading easier. It was a GREAT experience and I can not recommend them enough. Stephanie also said great things about the company she worked for which was so refreshing to hear. I have never cared for people putting down their employers to cozy up to you. It always has the opposite effect for me. Stephanie said wonderful things about her employer and explained how they take care of us the client and her. Again, a really positive experience.
April 25, 2021
Great customer service! Stephanie really helped us get a good deal and a great storage unit and she was also very friendly. Will definitely recommend this storage facility
April 17, 2021
This place is WONDERFUL!!! Stephanie and Joan were SUPER friendly and helpful!! Thanks to both of you!! I highly recommend using this storage facility!! Also, I'll be putting in my application soon. I look forward to working with u two!!
April 10, 2021
Great experience! Stephanie was very helpful and great to work with. Will recommend
April 4, 2021
Going there was convenient and the staff was excellent as well, which was a bonus
April 3, 2021
It has been great! Stephanie is friendly, professional, and incredibly helpful!! I would recommend her facility to anyone looking for storage!
March 27, 2021
Personal attention and professional in every way...I would hire Stephanie away from you in a second if I thought I could. She is the best!
March 9, 2021
Great. Steph was extremely friendly and helpful. Was pleased with storage are and facilities.
March 3, 2021
Great excellent customer service from Rain explain everything about the locations and I went from short term to a long term rental
February 27, 2021
Everythings all right
February 26, 2021
Nicole was helpful in securing me a storage spot. Stephanie is very helpful showing me my unit, offering dollies and hand truck and bringing them to my unit on my first visit. Very helpful.
February 16, 2021
Behind other buildings off Hawthorne Blvd, US Storage has convenient hours, with a wide code-driven gate. But the best feature is Stephanie and Rain, who were friendly and completed paper work efficiently. They had held the unit as promised and identified a discount. And then, when we discovered the first unit was too small, Stephanie found a larger unit, quickly arranged new paperwork, and switched locks. She is a master manager, who simultaneously handled two clients and a third with a bathroom request. Units are approx 12 ft high. The unit was clean and ready to move in.
February 8, 2021
Everyone was polite and helpful. Very friendly
January 28, 2021
It is great, I am still with you.
January 27, 2021
Great customer service and competitive rate. The initial process can be quite time consuming but in the end it was worth it
January 19, 2021
STEPHANIE IS THE REASON WHY I AGAIN CHOSE TO STAY WITH US STOR SHE IS JUST THE BEST AT WHAT SHE DOES IN HER JOB AIM TO GO IBE CUSTOMER ABSOLUTE ATTENTION SATISFACTION I HAVE TALKED WITH OTHER US STOR Associates and other companies and the lack.of skill and knowledge of their property she is hands down the best and why spend more to stor THANK YOU STEPH YOUR THE BEST
January 10, 2021
Stephanie was great! Her knowledge and execution could not have been better.
January 10, 2021
outstanding
January 9, 2021
It was easy, and Stephany was amazing to me, super helpful. I must indicate US Storage for everybody.
December 26, 2020
Great customer service!! Very attentive!
December 21, 2020
Very helpful and very friendly. Stephanie was terrific
December 19, 2020
They made me feel very comfortable and was very nice about everything
December 14, 2020
Stephanie was very nice,and helpful.US Storage should be your choice.
December 3, 2020
Wonderful! I worked with Stephanie who is a whirlwind of joy and happiness! I have no doubt that I have received exemplary service and am in trusted hands.
November 22, 2020
My entire experience has been awesome! From the initial contact to the person on the phone to meeting Stephanie Blumenthal to the exceptionally cleanliness of the facility; I couldn't have picked a better storage place for my belongings. I purchased a lock from the facility to secure my storage and feel additional security knowing each customer has their own entrance and exit code which is a unique combination to each. I have encountered other staff who were also helpful and attentive during out move in. Stephanie gave of a tour of the facility and discussed in detail about the facility, payment, and notification; as well as contact information. Exceptional customer service.
November 20, 2020
pleasurable
November 10, 2020
You guys are awesome. The women in the front desk is a great help. And thank you for letting me store with you guys . Your prices are good too.
November 4, 2020
Great place. I walked into a great deal, and excellent service. I didn't realize I could actually be so satisfied/happy with a storage place/service. All good
November 2, 2020
Pleasant. easy;
October 30, 2020
Really got a lot of help to overcome my movers problems. You made everything work out.
October 16, 2020
I am very satisfied with your service. It's my second time coming to this place to rent. Stephany is one of a kind, very very helpful. I definitely recommend it. Thank you!!
October 9, 2020
The manager is super awesome
October 6, 2020
Very easy to get a storage unit with the online process. Employees there were very helpful and knowledgeable. Great experience so far.
October 2, 2020
It was pleasent
October 1, 2020
Very helpful
September 24, 2020
Excellent. Stephanie was amazing and helped me reserve a spot for my RV. Was in a need of a spot urgently and she was the only storage place that cared and helped. US storage looks to have a very good security level with 24/7 monitoring which I like and feel comfortable with.
September 22, 2020
Stephanie is a great asset for the customer. She has wisdom and understands the needs of the client. She was extremely helpful to and solved my storage issues.
September 21, 2020
Customer service at the Redondo beach location is amazing. Not only did they make sure I was taken care of, but the service is very personable and well informed. I definitely would recommend this space to other folks.
September 20, 2020
Friendly and professional
September 16, 2020
Great!! Stephanie was amazing helping us with everything
September 1, 2020
It is always a great experience with Stephanie helping us out
August 31, 2020
Stephanie gave superb service. She was friendly, funny, thorough and efficient- overall excellent customer service. It was a smooth transaction.
August 27, 2020
The lady at the counter was helpful and had excellent customer service. Very easy to work with this location.
August 27, 2020
Amazing service!
August 27, 2020
It was phenomenal! The service was excellent and I would definitely recommend this to anyone looking for storage solutions!
August 26, 2020
Great customer service.
August 10, 2020
Excellent! Stephanie was so helpful and great to work with! Rates can't be beat! Stephanie introduced us to hard working packers that made our move smoothly! Many, many thanks!
August 6, 2020
Very professional and friendly.
August 6, 2020
My sister was the one who needed the storage. Unfortunately, she didn't have her identification with her and I offered mine.
August 4, 2020
Awesome! Excellent experience, staff was knowledgeable and helpful!
August 1, 2020
I just want to tell everyone about my phone conversations with Stephanie. She is a joy to deal with helping me with my space rental from US Storage. She talked me through every step sending me everything that I needed to rent a parking space over the phone. I just wanted to let everyone know about my experience with her, she was a great help to set up my rental. Eddie H
July 28, 2020
I was very pleased with the services I received. I was given and shown many options and I was able to choose what best met my needs. The property manager, Stephanie, was great and made the process painless. I feel comfortable that my items will be safe at the facility.
July 24, 2020
It was great. Customer service was top notch.
July 23, 2020
Stephanie was extremely knowledgeable & helpful. She sold me on your facility.
July 22, 2020
Wonderful! Stephanie is always friendly and helpful!!
July 20, 2020
It was amazing I was welcomed in with a smile. All the information was given to me correctly. I was able to find exactly what I was looking for.
July 11, 2020
Always excellent service and they care how you as a customer! I'm back for my 4 th time . Stephanie is awesome!
July 10, 2020
Stephanie is awesome
July 3, 2020
Stephanie was so knowledgeable and personable I decided not to even look anywhere else. She has been a lot of help answering any questions I have and she's always on top of things.
July 3, 2020
I love it ! After looking a spot to park my truck here and there and didn't find anything! I called us storage and Stephanie helps with her knowledge to find the perfect place and the perfect storage room! Very very happy With the service I would recommend US STORAGE
June 20, 2020
It was great Stephanie was more than helpful this whole process could not have gone any better. Very relieved and satisfied.
June 19, 2020
Stephanie is knowledgeable and gives superior customer service I will refer people to US Storage because of her
June 7, 2020
Awesome experience! Stephanie specially provided outstanding customer service!
June 5, 2020
Stephanie was amazing! She toured the facility with me and made me feel so comfortable!
June 4, 2020
My experience with US Storage was exceptional this time and the last. Stephanie is the best, personal, professional and takes care of the facility and customers like we were family Without a doubt, would recommend the US Storage on Hawthorne, in back of Ralph's
June 4, 2020
Very nice and informative. Friendly and a little pushy with the call backs. I don't like being pushed after one phone call I made. This feedback is silly too, after one phone call. You guys were higher in price, and further away from the one I picked. Now leave me alone!
May 27, 2020
It was very easy to secure a unit with you I had looked online to see what was in my neighborhood and there you were! And you were offering a 50% off the first 2 months deal that I was able to take advantage of I like the fact that the unit is upstairs in a climate controlled building with security The 2 employees that I have encountered so far have been very helpful I would definitely recommend your business to anyone that I know who needs storage Thanks!
May 21, 2020
it was very welcoming and an easy process
May 8, 2020
It was pleasant.
May 8, 2020
Great Experience! Leslie helped me get the mission accomplished Successfully !!!!
May 3, 2020
very good, no problems at all , very friendly and quick service .
May 2, 2020
Goes through a very professional way of dealing to custumer...Stephany knows very well of what shes doing..well impressed...thanks...
May 2, 2020
Stephanie was terrific she loves her job
April 30, 2020
My experience is OUTSTANDING & that is a direct reflection on Ms. Stephanie who works there. I was hesitant at first due to the homeless & litter near the entrance but her professionalism & personality sold me on utilizing this facility.
April 30, 2020
Stephanie was great, fast and swiped helpful
April 30, 2020
I highly recommend this storage location to anyone! which I already have been doing. Our experience with Stephanie, the property manager was amazing! And she helped us pick the best storage for our needs and couldn't be happier! If there's a way to give her 7 out of 5 stars I will. and also let her know thank you, even though I already did
April 14, 2020
It was a great experience. It was an easy Process.
April 13, 2020
Stephanie and team are great to work with! This is the second time that I have rented a storage space from US Storage Centers in Redondo Beach and I have had a good experience both times. I would recommend others to use them!
April 6, 2020
Well I will have to say it was great. Stephanie was friendly, professional, and well invested in making my experience painless. I was very impressed with her demeanor and her level of commitment to customer satisfaction.
April 3, 2020
The leadership running the Redondo Beach facility made this transaction very clear cut and smooth.
March 22, 2020
Everyone was great and helpful and our move in was seamless.
March 19, 2020
Dee was very accommodating and helpful and pleasant and the check in and out process was easy!
March 13, 2020
Excellent experience, Stephanie was extremely accommodating and helpful, can't say enough good things about her and the great service she provided. 5 Stars.
March 10, 2020
Stephanie is an exceptional person who has always treated us so well. She is professional, efficient, kind, and very personable. She is an asset to your company.
March 10, 2020
Stephaine is AMAZING! As a storage unit owner for years too many, you know a good, safe, clean & secure space. They were professional,eager to assist, & super friendly. No rushed sale or forced decision with these ladies!! Thank you Stephanie & D for all your time & help!!!
March 10, 2020
Great experience, D and Stephanie are amazing people and made me feel like I can be there forever. Great services clean and friendly.
March 6, 2020
I felt very comfortable
March 6, 2020
Extremely smooth process & Stephanie was really great to work with.
March 4, 2020
Treated very professionally and warm by staff Delicia Dunn. She was very knowledgeable of my needs and answered all my questions and concerns.
March 1, 2020
Top-of-the line customer service. The BEST ever.
February 27, 2020
Excellent
February 27, 2020
Great Stephaine was the greatest she explained everything to my mom and took her time
February 26, 2020
Always pleasant and professional
February 15, 2020
Steph at the front was awesome. Made the entire check in process...... actually fun? Haha I 100% recommend this location.
February 5, 2020
Loved it. stephanie is the best she stayed late, after hours just too sign us up when everyone else wouldn't help us because it was after hours.. She went above and beyond to help us and I can't thank her enough. I will highly recommend us storage. And thank you again stephanie love ya your the best
February 4, 2020
Excellent
January 31, 2020
Great. Stephanie was very friendly and helpful.
January 28, 2020
It was very good, Delicia Dunn did a fantastic job. Very friendly and professional
January 25, 2020
Very friendly and helpful staff. Stephanie goes out of her way to help you. Very clean building. Quick and easy process. Thank you.
January 21, 2020
I was pleasantly surprised by the amazing service Stephanie (I believe that was her name) provided. She gave me several options of what your location had available and I was able to get a unit that will definitely fit my needs. She is definitely a great asset to your company. I will definitely refer others to your location.
January 16, 2020
This storage is the only one I'll use. Because of Stephie how had always gone above and beyond for myself as well as my father. Anytime anyone is looking for storage I recommend this place and to talk to her. She is what makes this experience always next leve pleasant and while, even across the world. I'd only work with her and this specific storage.
January 16, 2020
Needed a place for our RV for two months while we were redoing our backyard. City restricts RV parking so the search begins. After checking a half dozen possibilities, I hit the US Storage website and low and behold, one 10 X 30 spot is available. I go to the reviews and seems legit. In fact, the reviews were amazing. They kept going on and on about a "Stephanie" the worked there. I give them a call and arrange a visit. Well, the reviews were correct - Stephanie (and Dee) in the office were friendly and made the process quick and easy. Side note: the spot I was assigned was not an easy back in due to the two RV's stored next to my spot. Stephanie flowed with the punches and let me park "temporarily" in another location and worked with the two RV's make room for me. Thanks Stephanie and Dee
December 29, 2019
Good experience I would recommend to everyone who needs space to store stuff
December 24, 2019
The ladies in the office were very helpful and lovely. This was our first time renting a storage unit and it could not have been simpler.
December 15, 2019
Stephanie is awesome. Great support, friendly and customer first attitude.
December 6, 2019
both wlladies who helped my were very nice and helpful! storage un was very clean as well!
December 5, 2019
Everybody is so kind and helpful. Thank you!
December 3, 2019
Stephanie really helped with the whole process. She is an awesome asset to your company
December 3, 2019
My experience was very positive. The only thing in missing is the invoice to my email.
[email protected]
Thank you
November 28, 2019
it was great! Stephanie was super helpful :)
November 23, 2019
They are very helpful and protect all those who rent storage there.
November 12, 2019
Great customer service
November 2, 2019
Stephanie and Dee were very easy to work with and felt real comfortable with both of them.
October 27, 2019
Stephanie is amazing , the process was smooth, and the storage is above expectation
October 25, 2019
Steph was amazing and provided a great experience after we purchased our unit online. Showing us around was a lot of fun and made us feel comfortable about getting this unit.
October 23, 2019
If I was guaranteed that Mark Johnson would be the one in charge of my move I would give this an unconditional 10 star review. We have had four corporate moves. I have never had such a good experience. Mark handled our precious cargo and emotional baggage like it was his own. Give that man a raise because you do not want to lose him. I can't say enough great things about him. This was not an easy move. There was a lot of thinking involved because our belongings were going to two separate locations. It was so easy working with Mark because he put his self in our shoes and with his common sense and experience was able to make the complicated transition effortless. He also brought in his team of movers in Connecticut and in California who were top-notch professionals. I have nothing negative to say!
October 15, 2019
Excellent Stephanie was very accomodating.
October 13, 2019
Stephanie the manager in Redondo Beach is the best, she is accommodating and gives the best customer service experience.
October 4, 2019
stephanie is awesome
October 2, 2019
A very positive experience. Employees were very friendly and knowledgeable . Storage units nice & clean. Feel safe with my belongings at this unit. Lots of cameras for safety purposes. Well worth the price .
October 2, 2019
Stephanie and Delicia rock...?
October 1, 2019
It is always quick and personal.
September 28, 2019
Everything was great. The staff member who assisted me (I forgot her name) was terrific and very helpful
September 24, 2019
Great sustainer service. Stephanie is very resourceful. Her and the other young lady were very pleasant and provided help all of my questions.
September 12, 2019
Stephanie is great. She cares about her customers, and is very professional.
September 10, 2019
Stephanie and her crew at the Redondo Beach storage facility are awesome... they are super friendly and very helpful. They have made the storage rental process very easy for us.
August 29, 2019
Very pleasant and professional,Steph was a joy!
August 25, 2019
I would like to have had handicapped on the 1st floor, without paying extra.
August 24, 2019
I feel very positive about the experience I have had with US storage. This positive feeling is based primarily on your employee Stephanie. She did an outstanding job explaining the different options to me showed me the various storage units and work with me to select the right unit. There is not a lot of differences between storage facilities so personnel really makes a big difference. Having said that I guess there is actually some differences because the property is very well-maintained clean and appears very secure. I Would recommend US Storage
August 22, 2019
Excellent. Easy and smooth. Had a hiccup that was quickly resolved
August 22, 2019
Great!!!!!!
August 14, 2019
Felicia Dunn helped me and did a great job. She was professional, very pleasant, and handled every detail. She's the reason I would recommend You guys. Thank you
August 8, 2019
My experience with Redondo Beach location is great. I am a returning customer and primarily return because of my experience with Stephanie the manager of that location. She is helpful, knowledgeable and wonderful to deal with. I wish these spaces were a little wider, but other than that I am very pleased with my experience.
August 6, 2019
Amazing experience. Great customer service. Highly recommend!
August 6, 2019
Stephanie was great of explaining everything to me
August 4, 2019
It was perfect. Thank you
July 30, 2019
excelent reception. Very good!
July 4, 2019
Easy process. Excellent Representative named Delicia. Straight forward costs.
June 25, 2019
Outstanding service. Friendly, informative, and helpful.
June 23, 2019
The staff at US storage is very welcoming and knowledgeable about the business.
June 21, 2019
Stephanie and Delicia were tremendous. Made our experience wonderful. They are great brand ambassadors.
June 20, 2019
The incredible customer service of Stephanie really makes one feel safe and cared for there. My Mom and I store everything there.
June 16, 2019
Wow! Stephanie was fantastic!
June 13, 2019
Steph was great. She delivered what she promised.
June 9, 2019
The service received from start to finish of the rental process was informative, and very customer service friendly. I enjoyed the simple check in after making my selection. Stephanie provided all of the above and more. She made our very hectic day In to a lot less stressful and more into making us feel safe and happy with choosing US storage. Thank you Stephanie, for helping us during our transition and your excellent Customer service. Faith
June 5, 2019
Both Stephanie and Delicia were very helpful and courteous. All of life is about our experiences, it was a pleasure dealing with US Storage because these two ladies are there and making it an enjoyable experience. I was offered a competitive rate and quickly shown a unit and a tour of the facility. I would definitely recommend Us Storage Redondo Beach to my friends and family.
June 2, 2019
Very easy check in. Convenient online reservation process. Stephanie is great
May 26, 2019
It was very pleasant experience I Was feeling like I came to my extended home and family
May 26, 2019
Stephanie was amazing, super nice and very helpful. Thank you!
May 24, 2019
The facility appears to be clean and well maintained.
May 21, 2019
Very personable and efficient service, Stephanie was great !!
May 19, 2019
Very positive personal connections, great customer service.
May 18, 2019
Awesome service. Stephanie was really friendly, helpful and professional.
May 15, 2019
The process was smooth and easy. I would highly recommend your facilities!
May 13, 2019
Steph was pretty cool, she gave me a ton of insight on the storage industry.
May 13, 2019
I had a great experience. Reserved a unit online and everything was very easy and straightforward. Stephanie is a delight and very helpful. Thank you!
May 4, 2019
The girl that showed me the available units and signed me up was very professional and polite. She does a great job!
May 2, 2019
Dee and Stephanie went above and beyond to provide an exceptional customer service experience for me and my wife Maureen. We were looking for a safe and affordable storage solution close to home and the US Storage Center in North Redondo Beach is the answer for us. This is a clean, secure and well managed operation and we feel like we are in great hands. Thank you Stephanie and Dee for a job well-done!
April 30, 2019
We were very pleased with our experience. From Kelly, who helped us on the phone, to Delicia, who helped is at the location. I would recommend US Storage to my friends and family.
April 30, 2019
I moved in yesterday and it was very pleasant. Not too many other customers around (2 or 3 during the day) so it was easy to get around without traffic. The storage units were clean and well-designed. It was a physically wornout experience, moving is no fund. But the nice surrounding of the storage unit made the move tolerable.
April 28, 2019
Stephanie was fantastic
April 28, 2019
Always a pleasant experience. Stephanie is terrific...always fulfills the needs of her customers. Her property is always clean. She never rushes you, listens to your needs and treats you like an old friend.
April 22, 2019
Amazing customer service, went above and beyond answering all my questions, answering questions I didn't even ask and gave me some very important information, was very impressed with how easy the process was ans how polite the staff was.
April 21, 2019
Hello all, it has been a pleasure to work Stephany.she has been more than a site manager,closer than so call friends always willing to take the time to assist you with your concerns. She is the manager of manager's.
April 18, 2019
What a great experience! The property manager, Stephanie was professional, friendly and just a pleasure to work with. I highly recommend US Storage in Redondo Beach!!
April 12, 2019
Stephany aka the stephanator is amazing. We are all so lucky to have such a kind and caring person around! She has the best attitude!
April 10, 2019
I felt like my valuables would be safe and I felt a homey atmosphere.
April 2, 2019
The storage site, hallways and elevators are always clean and well lighted. The site mgr. (Stephanie) is professional and keeps a close eye on all arrivals An departures.
April 1, 2019
Stephanie is amazing and a genuine nice person that makes you feel at home and ensuring that your pricesless valuable will be in a safe and clean place. Thank you Stephanie at the Redondo Beach Location. GK
April 1, 2019
Well it's almost the happiest place on Earth. Why? Why do I say that? Cuz there's a beautiful-hearted lady at the front desk, her name is Stephanie. And I felt happy and secure there with her professionalism. She sold me with her bright shinny face and welcome. I met the district manager as well. They're all wonderful people there. Stephanie she'll make you feel family, she's very professional, and she's very down-to-earth. I love her demeanor and her pizazz. I'd recommend this place to anyone (if they they have any spaces left! that's how popular they are. You can go to anyone one of them. They have dozens) and just because of their reputation. I got another quote from a different storage around town and "US STORAGE" matched my price even better than the quote I got. So I went with US STORAGE. I received a 5X10 and stuck a small living room and a bedroom in there and boxes. Also, the place is very clean and secure. A friend referred me and she received a referral fee as well. So give them a call and talked to Stephanie in the Redondo Beach facility. Perfect. You won't have to shop no longer..... you found your storage spot, well I did anyway and so will you. Done and done.
March 25, 2019
It was easy and fast! Stephanie was very patient and thorough going over all the information and answering all my questions to make sure I understood everything, and that I got what I needed at the best price available. Most of all she made sure that I was happy and satisfied I did the right thing by renting the next larger space available. I especially love how clean & organized this facility is compared to others I have visited while shopping around. I feel confident my belongings are in a clean and secure storage facility.
March 14, 2019
Very courteous customer service from Stephanie.