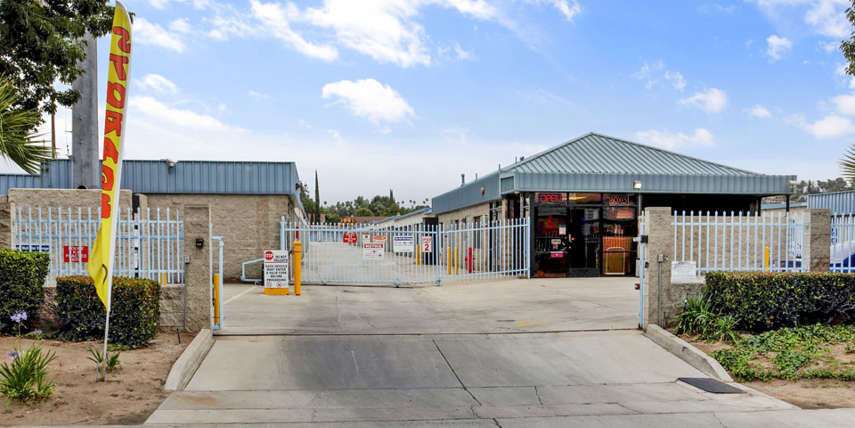 Rent or Hold Your Storage Unit in Minutes.
Location Details
ACCESS HOURS
Mon

7:30am - 7:00pm

Tue

7:30am - 7:00pm

Wed

7:30am - 7:00pm

Thu

7:30am - 7:00pm

Fri

7:30am - 7:00pm

Sat

7:30am - 7:00pm

Sun

7:30am - 7:00pm
OFFICE HOURS
Mon

9:00am - 6:00pm

Tue

9:00am - 6:00pm

Wed

9:00am - 6:00pm

Thu

9:00am - 6:00pm

Fri

9:00am - 6:00pm

Sat

9:00am - 6:00pm

Sun

9:00am - 6:00pm
FEATURES AND AMENITIES
Free Move-In Truck
Drive Up Access
Electronic Gated Access
Video Recording
Moving Carts
ABOUT THIS LOCATION
Come Visit our Self Storage Facility in Riverside, CA!
Read More
Photos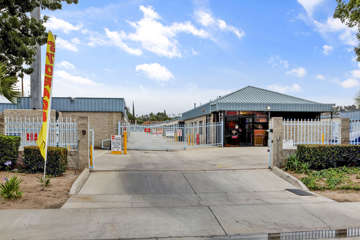 About this Location
Riverside Storage Units
Our Riverside self storage units are designed to make things easy on you. Every unit is on the ground floor with drive-up access. You don't have to worry about lugging heavy boxes up stairs or through hallways, and our wide aisles can fit nearly any vehicle. If you're coming with a big load, we offer a free move-in truck and on-site moving carts to take some of the weight off your shoulders—literally. We have spaces in every size from 5x5 personal units to large 40x25 warehouse-sized units. We also have an electronic gate and maintain 24 hour video recording and sufficient lighting around the entire location. As many happy customers can tell you, once you store with us, you'll never want to go anywhere else.
Easy Rental Options
Rent your storage unit online or over the phone for a quick move in. 
Not ready to rent? No worries! Reserve your unit now to lock in today's special discount.
Month-to-month rentals
No credit card required for reservations
No deposit required
The Community
We are easy to find if you know where the Galleria at Tyler Mall is—we're just across the freeway between Tyler and Harrison Streets. Being so close to the freeway, our facility is convenient for you to store and retrieve items at any time. Forget driving through back streets to get to the outskirts of civilization. You can keep your valuables close to the roads you drive along every day; they'll be that much easier to access when you need them.
As a city that prides itself on art and education, there are well over a dozen museums where you could spend a day learning and exploring. The Mission Inn Museum, The Heritage House, and the Riverside Metropolitan Museum are among the most popular with their engaging exhibits and lively tours.
We haven't even covered half of what there is to do here in Riverside. For the rest, you'll have to come visit and find out for yourself.


Customer Reviews
overall rating, 426 total testimonials
September 4, 2023
Great Customer service
September 4, 2023
Amazing, the lady that helped me was so nice and helpful with all the paperwork
August 31, 2023
It's very good location and great customer service
August 29, 2023
It was great. They were very helpful.
August 9, 2023
Sign up process was very simple. Alma was amazing and friendly.
July 17, 2023
It was a great experience, the employees made it an easy transaction and were so polite, and made me feel like I was a special customer, I would definitely recommend this place.
July 5, 2023
Muy buen servicio muy amable y con toda la atención estoy muy contenta estár con ustedes y ser su cliente por qué se que mis cosas van a estar muy seguras con ustedes muchas gracias por su atención
July 5, 2023
The office girls are very nice and they explained everything very well. Very satisfied with Tyler many storage.
June 16, 2023
Everything went great agent who rented to us made sure we had all the information we needed…
May 27, 2023
So far, very good.
May 24, 2023
It was very bad at first. I had reserved a truck for Sunday and noone showed up to give it to me so I had to go rent one elsewhere. Also when I got to the unit the gate said my code wouldn't work. Totally bad day. On Monday I got everything straightened out but still had to keep the truck overnight and pay extra. Hopefully will be reimbursed.
May 15, 2023
The staff was easy to work with. The pricing was reasonable. Clean facility.
May 8, 2023
It was an easy transaction to get the storage unit. Customer service was very nice
May 2, 2023
The receptionist was friendly and informative. I felt welcomed appreciated and was reassured that my belongings were safe. Thank you. 😊
April 26, 2023
Experience was good! Staff was very friendly and helpful.
April 25, 2023
Great service
April 22, 2023
Our server did a wonderful job at explaining everything to us. She showed us the unit first . We appreciated all of her help.
April 10, 2023
Excellentl service from the entire team.
March 1, 2023
The experience was amazing. The girl in the office, I'm sorry I forgot her name, was very helpful and took her time to help us. Thank you Tyler mall mini storage.
February 27, 2023
It was good
February 23, 2023
Very customer oriented. Alma helped us in getting the right size we needed.
February 8, 2023
Experience was wonderful. Alma has great customer service and really cares about what we as customers need from a storage facility. Very friendly and accommodating!
February 4, 2023
Pricing is good. Customer service is great and the location is right for me. There's not always someone in the office but it's understandable and the manager is very helpful that made up for it.
February 2, 2023
I loved it, the staff was extremely helpful and friendly
January 30, 2023
It was fair. Until I had to arrange to use your FREE truck and was told only a one time use. . really?? maybe you might want to ADVERTISE that so others dont have to go through the hassle / extra discussion (and being told its POLICY, then when asked to email me. . the policy actually didnt exist). I would think customer satisfaction would be your #1 goal, and the main reason I chose this location was because of the FREE TRUCK. I guess I may use it 2-3 times a year, if needed. So you can do 1000 things right and one thing wrong, and what does the client remember right?? Next time, figure out how to make it work for the client instead of preaching all the reasons something CANT BE DONE
January 5, 2023
Very good experience representative was nice kind and helpful
November 18, 2022
I felt really good. Everything was explained with detail and I understood everything. Very helpful.
November 12, 2022
La verdad fue una muy buena extraña experiencia la dela persona ke me atendió y muy amable muy dedicada a su trabajo
November 2, 2022
Excelente
November 2, 2022
Alma and staff are professional and very helpful! I continue to use the services because of this fact!
September 28, 2022
I was very satisfied.
September 24, 2022
It was very professional and friendly.
September 21, 2022
I had a great experience with Tyler Mall Mini Storage on the very first day I met Alma and every single day I've been to back to my unit since then. The facility is always clean and I never have any problems whatsoever entering or exiting. I'm very glad I chose this location and this trustworthy business to store my belongings. Thank You.
September 20, 2022
Great, everything was explained clearly and Amanda was very helpful
September 4, 2022
My experience was well special thank you to Alma from riverside mini storage she took care of business thank you Alma
August 23, 2022
Wonderful experience. I believe her name was alma that helped me. We were able to same day get a unit and borrow the moving truck. Everything went smoothly. Alma even delayed her lunch break to help us out, amazing! Thank you!
August 3, 2022
As stated Alma, great salesperson. Identified with me and address any concerns...very knowledgeable. I am in sales and she sold me. She should be promoted.
August 2, 2022
Very professional and nice.. Had a positive experience with Ana and Erick when I came in to rent my storage unit.. They work great as a team! I will definitely recommend this place.. one reason I decided to rent here was the use of their moving truck. Very convenient!
July 21, 2022
I was very pleased with the entire process from making a reservation on line to meeting in person with Melanie. I appreciate the efficiency and professionalism I experienced.
June 23, 2022
It was a great and Fast experience, employee by the name of melanie had great customer service, was super helpful and sweet.
May 26, 2022
okay jobs good
May 23, 2022
It was smooth and easy
May 20, 2022
Experience was great, I got a tour of the facility. Process went by extremely quick and smoothly. Reasonably priced for the size I got for my unit.
May 20, 2022
Great, I liked the service.
May 2, 2022
Great experience, Alma was so friendly and helpful. She made me feel very at ease.
May 1, 2022
Easy and convenient
April 27, 2022
Alma showed us some great customer service. She was very helpful. Very convenient location. Prices a little bit high but affordable.
April 13, 2022
Just absolutely gorgeous
April 12, 2022
I'm happy with your guys services and the lady's at office very professionals and helpful thank you very munch.
April 12, 2022
The experience was Excellent!!!! Alma was very professional and helpful…. Very Satisfied customer
April 5, 2022
It was great! I tented units in the past and came back again.
March 4, 2022
I couldn't have asked for better customer service. Alma was awesome. She was polite, friendly, accommodating and professional. She made me feel at ease right away. In fact I had made reservations at two other storage company's but chose yours because of the pleasant experience I had with Alma the n the telephone. Carra couldn't have been nicer. She was eager to assist and also made me feel like I had made the right choice. Both of these ladies deserve raises or some type of bonus in my opinion.!
March 3, 2022
Service was excellent.
March 1, 2022
It was a good one
March 1, 2022
Alma provided excellent customer service. She was professional, friendly, and efficient.
February 26, 2022
Our experience was great. Ashley was extremely helpful and friendly In helping us reserve our unit and a truck to use. Alma also returned my call very quickly the following week to confirm our reservation for the truck. Would definitely recommend!
February 17, 2022
Great staff. Very easy to rent
February 7, 2022
It was great I thought alma Neri was fantastic and helped me out very much. I'd definitely recommend to a friend
February 4, 2022
pleasant, the office manager was very helpful and accomodating relieving some of the stress I was having about the move. She made the paperwork simple as well as the instructions on how to contact if any concerns arises
January 22, 2022
Very happy staff well organized And informative, made the process smooth and simple
January 19, 2022
Absolutely wonderful. Employee was very friendly yet professional. She went above and beyond to help us with our situation.
January 18, 2022
Everyone was extremely helpful and nice. I would recommend the location to family and friends.
December 31, 2021
Alma was great, professional and good to see excellent customer service still exists!!
December 7, 2021
Elma was great she helped me with everything
November 25, 2021
Súper helpful and quick process thank you!!
November 23, 2021
Friendly service willing to help above and beyond and show you around the property genuinely friendly highly recommend them prices are very reasonable
November 22, 2021
Helpful associates, especially Oscar , reasonable, truck is a plus, I've already referred one customer
November 15, 2021
Helpful and courteous
October 12, 2021
Safe secured 100 %
October 9, 2021
Customer service was wonderful very Knowledgeable
September 25, 2021
convenient and safe
September 17, 2021
Great service.
September 17, 2021
Like the service, quick and efficient the office lady very good on her customer service I was very satisfied.
September 3, 2021
I would recommend them to all my friends
August 18, 2021
Very friendly service. Easy process
July 22, 2021
Great fantastic superb perfect thank you y'all are the best very clean storage are
July 17, 2021
Very satisfied.
July 17, 2021
It was great. Customer service was awesome and quick! No hassle just great!!!!!!!!!
July 9, 2021
Manager was helpful
July 3, 2021
Great customer service.
June 29, 2021
My experience was great from the beginning. Leilani was so friendly and gave me all the information that I asked. This was the best experience I've ever had in a storage place because everywhere else everyone is rude. Number one reason I went with the storage unit place was because of the great customer service and friendliness of the staff. Leilani was great kudos to her
June 21, 2021
Excellent !!
June 16, 2021
Very friendly and professional service.
June 7, 2021
Very nice personnel.
June 5, 2021
Professional, very knowledgeable and answered all of questions
May 31, 2021
Good,and friendly personal clean storage unit.I love having moving truck free of expense
May 31, 2021
face mask policy is stupid..daniel was very helpful and a good guy
May 25, 2021
Applied and rented storage unit online which was very easy. Staff was very friendly when I went to get code. Unit was clean and ready when I arrived.
May 21, 2021
Very professional people and easy to go to storage
May 17, 2021
Happy with dtorage
May 11, 2021
The lady that assist me at the time, was very informative and helpful. I received great customer service from her. Why i didn't come here sooner, i don't know. But hope for a pleasant stay.
April 11, 2021
Fast and pleasant
April 7, 2021
Excelente.buen trato y cordiales me gusta
April 5, 2021
I am very happy because i did get the storage fast and the manager was very helpful and kind.
April 3, 2021
Kept me informed about availability, friendly and professional.
April 3, 2021
Alma was extremely professional and helpful—courteous, knowledgeable, and friendly. She turned a stressful, last-minute change of plans into a smooth, simple transaction. If it were my company, I'd be looking to promote people such as Alma. I'll be doing word-of-mouth advertising for Tyler mini-space storage!
March 23, 2021
Yep now here's what you want me to praise you for a spectacular customer service scale name Alma and a wonderful experience so far and I think everything should be OK moving forward
March 18, 2021
The sales person Andrea was very accommodating, pleasant and helpful for our needs. Thank you
March 16, 2021
I ended up not needing your storage due to the hours of operation. I needed to move in right at the moment and I couldn't because your gate was closed. I've asked for a refund but have not received any call back or nothing.
March 11, 2021
I am completely satisfied with the service and product at Tyler Mall Mini Storage! I am very pleased with my introduction and sign up session with Alma, she is very congenial, helpful, and knowledgeable about the company. My subsequent move-in days were made much easier with Andrea's help! I can see why everyone at Tyler Mall Mini Storage receive great reviews!
March 1, 2021
Good customer service
February 28, 2021
Friendly customers service
February 25, 2021
Great so far
February 24, 2021
Good experience. Alma took me around and showed me the space and how to exit when I'm done.
February 24, 2021
Alma was excellent!
February 11, 2021
My experience has always been good...i like this place.
February 3, 2021
Adel was very knowledgeable, very helpful and friendly! My family and I will be recommending Tyler Mall Mini Storage. In the interim, we look forward to seeing Adel!
February 2, 2021
Friendly service! We appreciated with their service for the rental truck with 50 free miles. Suggest you to change the time to 6:30 pm to return the truck to your business office. Give customers more time to finish up moving without hurry or stress to limit time from 9-5 pm. Should be from 8 am to 6:30 pm which would be better. Still a FIVE stars to your service! Thank you!
February 2, 2021
I loved the customer service she was informative warm and friendly . I had seamless experience TOTALLY SATISFIED Thank you SONJA ALLALA
January 22, 2021
Very affordable! Great customer service! Great storage place!
January 4, 2021
I had a pleasant experience. I got a nice unit for the price and it's easy access.
December 20, 2020
Alma helped us, she was very kind and sweet. Super helpful and walked us through the process. I definitely recommend
December 15, 2020
Excelente!
December 2, 2020
Great.very informative..the person that helped me was very nice.
December 1, 2020
Is gorgeous, very helping people
November 14, 2020
Very friendly staff. I didn't like the hidden extra fees. I almost went elsewhere.
November 9, 2020
Very comfortable
November 6, 2020
Great customer service Glad I came here first for my storage unit
November 5, 2020
FINE- NO PROBLEMS ANF FRIENDLY STAFF.
September 11, 2020
Andrea was very helpful and friendly. I turned down other storage places because of the front desk customer service and felt Andrea was super friendly and welcoming
August 28, 2020
It was great. Daniel was very helpful and polite. Made it painless with my online application.
August 25, 2020
Great! easy transaction and unit was nice and clean.
August 19, 2020
Professional, courteous and friendly.
August 15, 2020
The front desk employee was very friendly and made of visit very easy. He has alot of experience in the storage units, sizes and pricing. Very nice
August 12, 2020
Daniel was very friendly and pleasant to talk with. Explain the costs and details.
August 12, 2020
Awesome experience. Unfortunately I do not remember the mans name who helped me, but being my first experience with a storage facility, he made it easy, quick, personable, and informative. I would recommend this businesses to my friends and family based on his service alone.
August 5, 2020
great service, very friendly and fast! I was in and out in no time!
August 4, 2020
Daniel was really nice and very helpful.
July 28, 2020
It was great. Bryan was very helpful and kind. It was an easy, quick process.
July 28, 2020
Daniel was awesome and helpful! I appreciate all his help.
July 27, 2020
my first experience with using storage, dealing with the stress of an eviction right now and it was great easy and straightforward thanks so much :)
July 24, 2020
The process of leasing a storage unit was incredibly easy and smooth.
July 24, 2020
Daniel was very helpful and courteous. Never having rented a storage space other than for our RV, I was surprised at the cost but appreciative of the reduced price for 2 months.
July 14, 2020
Really good. I forgot his name but person at front desk was very helpful and got us setup quickly.
July 5, 2020
fast friendly and expedited service. lowest cost and great intro deal for 2 months. thank you very much.
July 1, 2020
Very good service and they gave me diferente choices to chose from which I was very happy
June 30, 2020
Great customer service. Met all expectations.
June 30, 2020
Everything was well informed, staff took their time to explain and show storage. Very friendly and professional
June 27, 2020
Overall my experience was great. Alma was very helpful and provided great customer service. She secured the moving truck for me and made everything so much easier. Everything fit in one load and I was done. The unit is a good size, was clean and everything from my house fit in there.
June 23, 2020
Friendly and knowledgeable. Danny was very helpful. This place has great prices too!
June 21, 2020
Excellent customer service
June 11, 2020
My experience was very good. Both Alma and Daniel were very profession, explained everything so I understood the contract and obligations connected with renting the storage unit.
June 9, 2020
Very welcoming.First time getting a storage unit. They showed me a couple different option and help me find what was best for me. Super easy transaction. Did receive a promotion offer as well
June 5, 2020
Alma was very polite & helpful! She went above and beyond.
May 29, 2020
Daniel went above and beyond. His customer service was amazing. I was on a serious time crunch and needed my stuff stored asap but I needed a truck as well. He kept in communication with me and I was able to get the truck and unit within 30mins.
May 14, 2020
Great! Very helpful. Thank you.
May 3, 2020
Alma was so great and helpful! Thank you
April 25, 2020
Had a very good experience very well trained employees very happy with their service Thank you
April 21, 2020
Great. Wonderful customer service. Fast and easy process. Very professional.
April 11, 2020
It was a good experience. The price was reasonable and I like the place. Good customer service.
April 1, 2020
Fast Friendly Service
February 28, 2020
Excellent service
December 19, 2019
Very nice experience. Staff was helpful, informative, and patient.
December 17, 2019
Even though it was a little process finding the size of storage ,I wanna thank Kristina for all her help and patience. She had a great attitude and was very helpful. Thank you so much!
November 29, 2019
The person that helped me was amazing I was really stressed out she definitely made me feel so welcome
November 22, 2019
Great experience
November 20, 2019
thanks for the help
November 7, 2019
They're very helpful and made everything's easy
November 6, 2019
Tienen exelente servisio atienden muy bien al cliente
November 1, 2019
Very pleasant experience. Staff was professional and very helpful.
October 31, 2019
Very nice
October 24, 2019
Greg was awesome in helping me choose a space, the deal was fantastic and a smooth process. Thank you
October 16, 2019
It was good the office gal was great. Professional yet friendly.
October 15, 2019
Best i have ever had
October 13, 2019
Superb jdjdjdjjdjdjdhdhdhdhdhhdhdhdhdhdhdhhdhdhdhdhdhdhdhdhhdhdhdhdhdhdhhdhdhdhdhdhdhdhhdhdhdhdhdhdhdhdhhdhdhdhdhd SUPERB
October 8, 2019
Would refer anyone to your facility..good customer service
October 7, 2019
Very friendly and willing to help
October 1, 2019
Alma was very customer focused and answered all my questions. She has great customer service.
September 29, 2019
professional friendly staff.
September 25, 2019
It was wonderful friendly service
September 24, 2019
Very good thank you,wish gate can open half hour earlier, but very good so far,thank you
September 15, 2019
The employee worked hard to give me the best deal.
September 13, 2019
Very helpful
September 5, 2019
Very fair pricing. Good customer service. Clean storage
August 31, 2019
Alma was very helpful. The process was very easy.
August 21, 2019
Good and bad.
July 27, 2019
Very at ease and comfortable Alma was very helpful and honest. Honesty goes a long way.
June 28, 2019
Me gusto mucho el trato q resivimos mi espoza y yo
June 27, 2019
Everything about the facility is great! The people working there are helpful and both young men that I dealt with went the extra mile and I appreciate it! There is only one drawback - it closes at 7:00 pm but we were told to be out by 6:45 so we do not get locked in and have to pay for someone to come and unlock the gate. Most of the time my son works until 6:00 pm.
June 26, 2019
Great experience
June 23, 2019
Great staff and service!! Exceeded my expectations.
June 2, 2019
Alma is very good. She's very professional.
May 30, 2019
Very good service and good price. Clean
April 30, 2019
Excellent experience. Lady in the office was very professional and experienced. I would recommend this facility to anyone.
April 29, 2019
I had a great experience here. And feel very comfortable storing my items here for a long term. All the staff was helpful especially Craig on the day of move in.
April 18, 2019
You guys are super sweet. Thank you. I appreciate you taking time to help me get situated. After loading my belongings in to the unit, I discovered I didn't need as much space as I thought. I might need to downsize to a 10x10 from a 10x15. Thanks again for the great customer service.
April 3, 2019
The storeage space was clean the staff is great
April 1, 2019
Alma was very helpful & very nice. She recommended the perfect size storage. She made it all so quick & easy
October 17, 2018
Personnel are friendly and helpful
October 13, 2018
Tyler mall mini storage really exceeded my expectations its staff extended the extra Mile to ensure our experience was a great one, I had the pleasure of working with staff member Alma, who made me feel confident and assured my personal belongings are being stored in the right facility. Thank you Tyler Mall Mini Storage
September 22, 2018
Great customer service very helpful.
September 17, 2018
Great! They showed me the unor to make sure it was big enough for my stuff. Bery friendly and helpful!
September 12, 2018
Very professional, Friendly and informative.
September 6, 2018
You guys have been awesome from day one! Everybody I have dealt with here has been extremely professional and a pleasure to work with!
August 25, 2018
Best place to rent a storage unit , costumer service is great always trying to help !
August 23, 2018
ALMA was great!! She is a big asset to your property, she is very knowledgeable in renting storage units.
August 23, 2018
We were assisted by Alma Neri. She was very helpful and polite. She was a pleasure to talk to and went out of her way to show us the different options we had in renting a storage unit. She is a real asset to your business. Thank you.
August 17, 2018
I love you guys!
August 10, 2018
Great staff, really helpful
August 8, 2018
The customer service rep who assisted us with getting a unit Lauren, was informative,articulate, polite and helped to make the transaction a smooth experience.
August 7, 2018
Alma was so helpful with us trying to figure out our needs. She was very patient and gave us the information that we needed.
August 6, 2018
Great! The staff was outstanding and courteous.
August 6, 2018
Very helpful
August 5, 2018
Alma, and Lauren are great! They always get back to me and go out of there way to get me any helpful resource I need above and beyond Tyler Mini storage.thanks you Hall's your the best!
August 4, 2018
Professional and helpful.
August 4, 2018
I was great
July 20, 2018
I felt very relax and a feeling of knowing my stuff is in a safe place, that makes me feel very good. An great customer service too.
July 12, 2018
Everyone was very accommodating and professional and very pleasant. Good people! :-)
June 30, 2018
John is a fantastic asset to your company. He was extremely helpful and knowledgeable. You just don't see that kind of customer service anymore. Thanks!
June 21, 2018
The person is nice and very cooperated with my situation
June 11, 2018
Very friendly service. Alma was working in the office when we stopped by and she was very helpful. She took us around and showed us all the available units in the size we were looking for so we could pick one. She was very nice and talked to my wife and I like we had known each other for years. Thank you
May 31, 2018
Rep was friendly & very knowlwdgeable.Office was clean & comfortable.
May 26, 2018
It was great. Very helpful. Great price. Staff explained everything professionally.
May 26, 2018
Great experience. Really friendly staff and very clean facility
April 22, 2018
Very clean, secure and staff is very professional
April 20, 2018
Quick and easy.
April 10, 2018
Alma is awsome. She was so helpful when I moved out of my unit. If I need another storage unit any time, or know someone who needs one, I would definitely reccomend to Alma!!! She is the best! Thank you Alma
April 9, 2018
Alma was very nice and accommodating !
April 8, 2018
Staff was friendly. I just wish the access hours were little bit longer especially on weekends or Friday & Saturday because most of us work and the only available or best time for us to go to storage are during those days.
April 6, 2018
I was very please with the helpful service I received..
April 5, 2018
Very nice property and friendly staff. The price was raised on me I didn't really care for that much but I can understand. All in all I had no issues.
April 5, 2018
John was extremely helpful and kind! Thank you for the great customer service!
April 3, 2018
Very helpful manager!
March 10, 2018
Comfortable I really like the service Alma explain everything I needed to know, like the affordable price. Thank you once again
March 9, 2018
Good experience. Knowledgeable and courteous attendant. Got what I needed for good price.
March 8, 2018
Service was great! Storage unit is very clean and convenient. Although the monthly fee is more pricey than other places, the location is good.
March 2, 2018
The manager Daniel was very courteous and helpful, I have recommended would recommend to your storage.
February 25, 2018
Good experience
February 18, 2018
The guy that was in the office was very helpful.
February 13, 2018
Everything was smooth and trouble free.
February 13, 2018
I love your office manager — he is a sweet young man who tries his best to help out and get things done ! We have 3 sheds and he is working to accommodate us on location and cleanliness .
February 8, 2018
Daniel is so friendly and knowledgeable it is a pleasure dealing with him.
February 2, 2018
The staff was very friendly and attentive to my needs. The only downfall was my rent increased each year.
January 26, 2018
Second time renting from you guys...as always, easy process, friendly and professional staff, and clean grounds...
January 18, 2018
I am impressed how quick I got a storage I need. Same day and right on spot. I am very happy.
January 8, 2018
Over all very pleasant and easy. Good deals and love having the free truck to help move my stuff in my storage.
January 4, 2018
Everything was taken care of to my satisfaction. Service was excellent
December 17, 2017
Is a really good place , clean, and the people hu works there are great , and the best is safe , my experience
December 12, 2017
Daniel was and is very attentive, kind, and was able to answer all of our questions/concerns. He seems to take security seriously and the grounds always feel safe and clean. Thank you!
November 30, 2017
It was a good experience. Never had any issues. The staff was always pleasant to talk with.
November 9, 2017
Overall the experience was a good one.
November 8, 2017
I was very satisfied with the service I received.
November 7, 2017
I had a good experience with you. Everyone I met and interacted with was friendly.
November 6, 2017
Such a friendly group of employees. Considerate, knowledgable and kind. I have already told friends to go there. So other storage facilities close to you were not knowledgeable or seemed to care, but your service was great.
November 5, 2017
Very nice clean place..with great people...Heather is amazing.
November 2, 2017
Good customer service; very professional and friendly employees. I never had a problem.
October 28, 2017
It was covienient and simple the staff was very helpful thank you
October 24, 2017
Very quick and helpful got exactly what I came for I highly recommend this, place.
October 24, 2017
Daniel was great and full of knowledge and a huge help during a very stressful time!
October 19, 2017
Check in was fantastic, Daniel has a great attitude and is very helpful and knowledgeable
September 22, 2017
Daniel is a responsible and kind person to treat his clients as his friends.
September 21, 2017
Maggie was very helpful, professional and knowledgeable. I had been doing some shopping oround and Maggie's knowledge and great customer service, is what convinced me that Tyler Mini Storage was the right place for me. I would must definitely recommend friends and family. Thank you Maggie😊
September 7, 2017
Everything was great. Maggie was very professional and polite and knowledgeable about the units.
August 31, 2017
I am satisfied with my experience so far. Maggie answered all my questions,provided clear details and was pleasant.
August 28, 2017
friendly customers service and your storage can feel safe
August 24, 2017
Very good service this is our second time using this plan and as always very professional, friendly and the facility is clean
August 22, 2017
Good place to store your stuff at.Maggie is cool and a good worker !!
August 18, 2017
Easy friendly staff
August 7, 2017
The lady I worked with was friendly and helpful.
August 5, 2017
VERY GOOD AND HEATHER IS VERY PROFESIONAL AND KIND. GOOD JOB HEATHER!!!
July 31, 2017
Getting my unit and the service I received was AMAZING! Maggie was a great help and we couldn't believe how affordable their prices are. We whole heartedly recommend Tyler Mall Mini Storage to everyone looking for a safe space to store their belongings!
July 29, 2017
The woman who worked at the front desk, Gabbie, was super friendly, professional, knowledgable and accomodating. It is so refreshing to walk out of a place of business with a smile simply from having a good experience. I would highly recommend this place to people!
July 5, 2017
The process was easy and she helped me get the best deal for what I needed. A bigger space wasn't pushed and I never felt pressured.
June 29, 2017
The girls in the office are wonderful very accomadating. Good service.
June 29, 2017
Excellent, friendly,I checked out 2 storage companies before visiting your facility, you facility best fit my needs, the service is well above the others. Your prices, and availability were accommodating. Maggie and Heather were /are a pleasure
June 17, 2017
Awesome customer service! Very knowledgeable and has a "warm and friendly" vibe! Will be recommending Tyler Mini to all my friends and family
June 13, 2017
Heather is the best, very friendly and provided us with excellent customer service . Facilities are well kept .
June 8, 2017
Both ladies in the office were very helpful. All my questions were answered satisfactorily. The facility is laid out well (plenty of room to maneuver a truck). The whole facility is kept very clean. No one 'enjoys' putting things in storage but this place makes it a little easier.
May 23, 2017
VERY NICE STAFF/SIGNING UP WAS EASY...BUT UNIT WAS NOT CLEANED OUT PRIOR TO MOVE-IN AND THE LIGHT DID NOT WORK.
May 21, 2017
Excellent customer service!
May 20, 2017
I do have a great experience with Tyler mini mall management at very professional and helping me answer my questions with very good attitude!!!
May 20, 2017
Customer service was fantastic. No complaints whatsoever! Valuable employee that you should hang on to for dear life.
May 18, 2017
Very good Great customer service
May 8, 2017
It was great, staff were very informative and helpful. Clean facility.
April 29, 2017
Great always helpful and friendly. All my questions were answered and the amounamount of space I needed available.
April 27, 2017
Our 2nd go-round. Job well done, keep it up.
April 26, 2017
Heather was very friendly and helpful.
April 26, 2017
No hassle at all in getting a storage unit. My wife and i were very happy on how we were treated. Recommend for everyone!
April 20, 2017
I actually already have recommended your storage company to my Mom. She now has a storage unit with you all as well. I have had 2 storages with you guys and Heather was more than helpful on both occasions! Give her a raise. Lol
April 17, 2017
Heather and Maggie were fantastic. The facility is clean and safe. The prices are great. I am glad I chose Tyler Mall Mini Storage.
April 16, 2017
Very pleasant experience. Heather is great.
April 13, 2017
So far great experience.
April 12, 2017
Great really helpful
April 6, 2017
Great service Highly recommended
April 6, 2017
Experience was great. Heather is so helpful. I needed to upgrade my storage size and it was done absolutely hassle free.
March 28, 2017
Very good the lady Heather is very helpful Yes I would recommend to a friend Thank you so much
March 27, 2017
We were referred to this place via a friend and were glad they did. I spoke with Maggie on a couple occasions, as I had many questions and she was super honest and extremely knowledgeable. I appreciated her eager to please attitude as well. She was smiling through the whole process as well. We ended up getting a second unit, as our house just sold and we ran out of room, and also dealt with Heather. She was also very personable and knowledgeable. I will be recommending this place to others as I felt like they treated us like we were important from the start. Thank you !! Summer & Family.
March 26, 2017
Very professional. .enjoyed the service I received.
March 21, 2017
Grate Maguie was awesome
March 21, 2017
Experience was great. The young lady at the counter was very friendly. I would recommend your storage facility to others.
March 19, 2017
The front desk worker was really nice and helpful. People like her make a company great.
March 14, 2017
I've had very good experience doing business with this company. The girl at the front desk I forgot her name is very nice and helpful.
March 9, 2017
Smooth n reassuring
March 9, 2017
Muy buen servicio y excelentes personas y te tratan con respeto y amabilidad y son muy profesionales. Muchas gracias y estoy muy contento de tener mis cosas ahí con ustedes.
March 4, 2017
Maggie was very helpful and friendly. She gave 100% customer service. Thank you
February 25, 2017
Heather and Maggie gave us Awesome Service
February 24, 2017
I was in need of a storage unit to move my whole apartment and came into Tyler Mall Self Storage, I was greeted by Maggie who helped me get the unit I needed. She explained everything to me and showed me around the lot and also showed me the unit before I signed or bought anything. There was also a lady named Heather in the office who was super sweet! The lot was super clean and easy to get around. I would totally recommend this place to everyone.
February 23, 2017
Very friendly and helpful. I've rented a few times over the past ten or so years.
February 9, 2017
I HAVE BEEN RENTING AT THIS LOCATION ON AND OFF FOR THE PAST 7 YRS.. I HIGHLY RECOMMEND THIS LOCATION.. GREAT CUSTOMER SERVICE
February 3, 2017
Smooth friendly experience.
January 30, 2017
I love it everytime i go in there. Heather is always so kind and proffesional. We have been with you guys on and off through and just love you guys!
January 18, 2017
Never having rented a storage space before I felt very comfortable with the staff there. Heather and Maggie were very informative, personable and helpful.
January 10, 2017
Awesome MV 100% helpful very ? Had my answer meet every need for my emergency
January 3, 2017
It felt amazing. Made me feel real Comfortable. Like family. I don't even need a storage. I just like seeing her. I forgot her name.. she has braces though. 😅
December 22, 2016
My mother passed away and Heather and Maggie went over and beyond to help our family with a very difficult time. I cannot thank them enough.
December 21, 2016
I have been there for a while now. Never have I ever had a bad experience. They are all very nice (: I highly recommend this place if you want to keep your belonging safe !! Very clean also (: I have moved from storage to keep upgrading it! And I'm super happy that I picked this place! Thank you Tyler Mini Storage, and thank you Heather ( she's the very best )
December 13, 2016
We have been very happy with our experience with your company. The rates are good, and the personnel have been very nice and professional.
December 10, 2016
This place is great but need more parking spaces for customers.
December 9, 2016
They have awesome customer service. They are extremely helpful and they never make you feel uncomfortable.