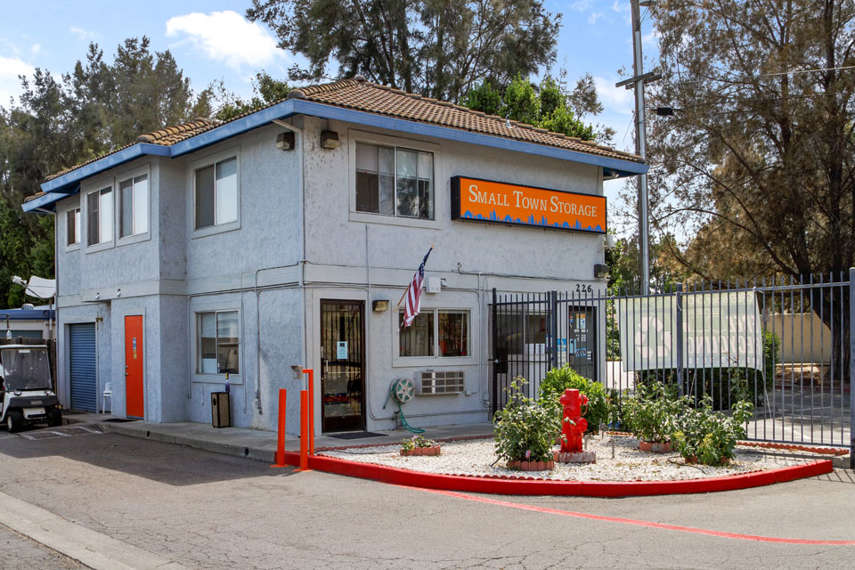 Vacaville RV and Storage Units
Logout
We're Open During Normal Hours. Easy, Contact-Free Rentals
Location Details
ACCESS HOURS
Mon

6:00am - 10:00pm

Tue

6:00am - 10:00pm

Wed

6:00am - 10:00pm

Thu

6:00am - 10:00pm

Fri

6:00am - 10:00pm

Sat

6:00am - 10:00pm

Sun

6:00am - 10:00pm
OFFICE HOURS
Mon

9:30am - 6:00pm

Tue

9:30am - 6:00pm

Wed

9:30am - 6:00pm

Thu

9:30am - 6:00pm

Fri

9:30am - 6:00pm

Sat

8:00am - 4:00pm

Sun

11:00am - 3:00pm
FEATURES AND AMENITIES
Drive Up Access
RV Parking
Electronic Gated Access
Video Recording
Employee(s) Speak Spanish
Moving Carts
Photos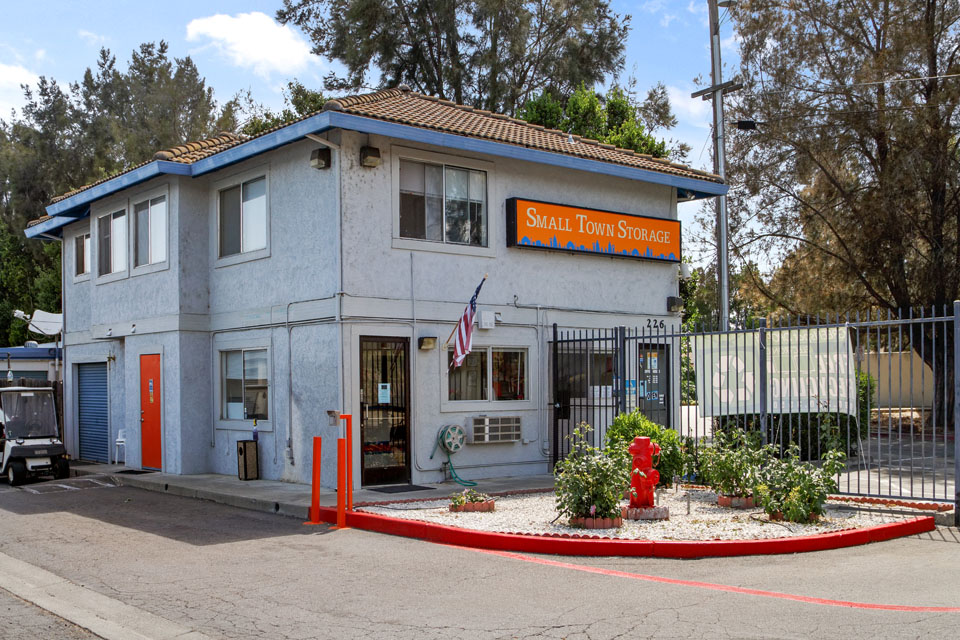 About this Location
Facility Description

Moving is already a stressful job, so we have made the process as easy as possible here in Vacaville. All of our units, ranging in size from 5x5 to 20x20, are on the ground level. That means no lugging heavy boxes up stairs or into elevators. The wide aisles of our facility in Vacaville allow you to drive right up to your self storage unit and unload with our complementary dollies and carts, even with a large 24' moving truck.

If you ever need assistance, our professional staff are here to help. Our company priority is great customer service, and it shows. Talk to any one of our friendly personnel and they will provide you with the assistance and information you need.
Contact-Free Rentals – Easy Online and Phone Rental Options 
 Online Rental
 Select your unit and enter your info and payment
 Sign the lease online
 A manager will reach out to you with your access code, a map of the property, and they'll have you email a copy of your valid government picture ID
 Once these steps are complete, the manager will prepare your unit so it's ready when you arrive
 Phone Rental
Simply call the number listed at the top of this page, and a member of our staff will work with you over the phone to complete a rental
The manager will email a lease to sign
Once the lease is signed, a manager will reach out to you with your access code, a map of the property, and they'll have you email a copy of your valid government picture ID
Once these steps are complete, the manager will prepare your unit so it's ready when you arrive
Storage Units

When you store with us, you can trust that your items will be secure on and off the clock. Our entrance gate is electronic and only accessible with a code. For added security, we also maintain good lighting along every aisle, and 24-hour video recording. You never have to worry about your self storage unit in Vacaville.

Conveniently Located

You can see our Vacaville self storage facility just off I-80 near the Davis Street exit by Sonic Drive-In. Take Bella Vista toward Bishop Drive and you'll be at your destination in no time. We are located in the middle of Vacaville to be as convenient to you as possible. You don't have to drive to the middle of nowhere to store or retrieve your items; just hop on the interstate and you'll be here in a matter of minutes. Or if you live in the surrounding neighborhoods, just drive around the corner.

RV and Boat Storage

Our facility offers RV, Boat & Parking storage from 10x10 to 10x40. Parking space width may vary from spot to spot. Please call the property manager for more details on Parking Space sizes.  

Languages Spoken by Managers

English and Spanish

Convenient Office and Access Hours

Access Hours

Mon - Sun 06:00am - 10:00pm

Office Hours

Mon - Fri 09:30am - 06:00pm

Sat 08:00am - 04:00pm

Sun 11:00am - 03:00pm

Forms of Payment

It's easy to pay your bill! We accept cash, checks, money orders, Visa, and MasterCard. You can also pay online through our secure client login.

The Community

Vacaville, California sits nearly halfway between Sacramento and San Francisco. The farming industry thrives in the area thanks to the rich soil, producing healthy crops year after year. Add great soil with the famous California weather and you get a city that could hold its own next to the Garden of Eden.

With all of the farms in the community, Vacaville offers quite an array of family-owned produce stands where you can find fresh, delicious fruits and vegetables by the season. What started as one such fruit stand along I-80 has now become one of the top tourist stops in Vacaville: The Nut Tree. The Power Family opened up their stands in 1921 and built them into a haven of shops, restaurants, an amusement park, and even a small airport. With such a convenient location, the Nut Tree is the perfect place to stop for a few hours of fun or an entire day of entertainment.

Each year, as word spreads about Vacaville's many benefits, the population grows larger. And it's no wonder why—with a great location, perfect weather, and a family-friendly environment, Vacaville is one city that people love to live in.

Facility Products

Your time is limited, so to make your transition easier, we sell boxes (sized small - x-large). We also have wardrobe boxes, packing tape, tape dispensers, mattress covers, bubble wrap, picture moving kits, disc locks, and brass padlocks.
Customer Reviews
overall rating, 247 total testimonials
April 13, 2021
They were very helpful and very polite
April 5, 2021
Good. Quick enrollment. Easy entry and exit with code.
April 2, 2021
Very nice and informative staff
March 23, 2021
Everyone was very helpful, especially since I kept changing my storage unit choice.
March 6, 2021
Great place. Good people. Clean unit and property. Easy access. Has trucks , trailers , vans , packing equipment and supplies all on site.
February 15, 2021
The value of the size and drive up access is incredibly just. Best price out there. Staff is extremely nice and helpful. Best customer experience I've experienced. Definitely recommend.
February 14, 2021
Even though I didn't stay long my experience was great the people where great and I would come back when I need or if I need another storage
February 10, 2021
It was awesome the Mgr and Asst Mgr were great. I traveled from Florida and they were so helpful with my move. Definitely a loyal customer for sure.
February 5, 2021
She was very nice and she provide excellent costumer service Thank you
January 30, 2021
Appreciate the service and the respect.
January 20, 2021
The office lady was very kind and courteous and I appreciate that communication is so important so thank you
December 22, 2020
Trish is the bomb! She is helpful and a pleasure to work with.
December 16, 2020
Small Town storage helped me with all of my storage needs. Trish was very helpful, accommodating and professional. I like it that the storage unit is very near my house and I would recommend to anyone needing storage space to go to Small Town storage.
December 10, 2020
Very friendly service and helpful. Was quick and easy and able to move our stuff in quickly.
December 1, 2020
Small Town Storage has made storing items absolutely wonderful. I was able to complete the entire process over the phone. When I arrived with my items, it took less than five minutes to get my unit. My unit was exceptionally clean. The office even called me the next day to let me know they put another lock on to secure my unit best! These people are wonderful, kind, friendly and Great at their jobs. This is my third visit to Small Town Storage and couldn't be happier!
November 20, 2020
Service at this location was amazing. I was in a tight spot with relocating my family and they were able to step in and help me above and beyond what I could ask for. The attendant was very kind and professional the facility extremely clean and well managed. Would highly recommend for anybody to use this location.
November 6, 2020
Very good
October 24, 2020
Trish in vacaville, Ca. was helpful, knowledgeable and listened to my storage needs on our short term one month rental unit there. Paperwork (docusign) did not arrive right away but did appear next day to start the rental unit process. Then met with Trish at office to discuss procedures for understanding the guidelines for storage unit company and went well. Really pleased in/ out security gate worked well because some checkins were around dinnertime or later in dark. Only thing that bothered me was a lady in a unit at end of my row who was there alot and looked very disshelved and I was concerned about my security. Trish was delightful to work with and everything she said about company worked for my one month rental term. Thanks
October 11, 2020
Madison provided excellent service. The charges seemed to be higher than other places. Wish STS prorated more willingly.
October 6, 2020
It was a pleasure working with the staff at Vacaville Small Town Storage. Very accommodating. I highly recommend the storage facility.
October 3, 2020
Staff was very helpful and kind
October 3, 2020
works well been cutomer off and on for 30 years
September 23, 2020
The customer service here at small town storage was phenomenal. I really appreciated the extra help the lady in the office gave me. She very kind and informative in person as well. I am glad to have stumbled a crossed this storage place.
September 18, 2020
Fast great customer service manager just made the move in experience run so smooth.
September 14, 2020
Space for 33 foot 5th wheel was too small. There is an old truck next to us that has all 4 tires flat and it is way to over and close to our space; it also makeS the place look like a junk yard. Customer service was great.
September 11, 2020
It went fine, Trish was very nice & personable & explained everything to us.
August 18, 2020
Everything went very smoothly! Trish was very accommodating, and helped me in accomplishing a logistically challenging move from Pittsburgh to Santa Rosa area. We chose Vacaville for the delivery of our vehicle - which was stored here at this facility - because it was very close to the interstate with easy access. Trish was willing to accept delivery of the vehicle without us being there and charged a reasonable price for the storage until we could arrive. Thank you all!
August 15, 2020
Staff very friendly
August 13, 2020
Friendly. Affordable. I can't complain :)
August 4, 2020
I appreciated the excellent customer service the other day. The young lady (I forget her name) was quick in getting me signed up, but very polite and made me feel welcome!! The unit was very clean and everything looked very tidy on the grounds.
August 1, 2020
it went well n was pretty quick
June 21, 2020
Awesome. Great service
June 20, 2020
I didn't feel pressured to buy something I did not want.
June 20, 2020
Excellent service very efficient and professional and fast. Would highly recommend to friends
May 28, 2020
I picked up a Uhaul from Trish initially and had intentions of getting a storage space from one of their neighbors (my family had a unit there) but they didn't open up at their posted hours leaving me hanging. I called up Trish to see if she had a spot open — she did. Timing was of the essence and she hooked me up quick to get me on the road and begin my move. Much love
May 5, 2020
Just one thing... need copy of the lease contract... if she could have printed one out after detailing it. I'm sure she sent it via email but printers don't always work. Thx
May 2, 2020
Trish went above the call of duty and was very clear and articulate when explaining my options. It's very important that I support small businesses. I made arrangements to move out of my current nationally owned storage facility and into a small, independent storage facility.
April 21, 2020
Trisha was very nice and made the whole process very simple! I inquired, rented and moved into the unit all within 24 hours. 5 star service!
April 21, 2020
I was looking for a storage close to my house and there weren't many that are renting right now during the Covid 19 pandemic. But you guys were open and I was able to get a unit quickly. The unit is very clean and the app that opens the gate is awesome!
April 10, 2020
Great service and great price. Very helpful setting up our rental. Thank you very much
April 7, 2020
I was happy with the experience I had with Small Town Storage. I reserved Unit on-line and quickly began receiving notices that my unit was reserved. I also received telephone call from Trish, who was very friendly and arranged a time to meet with her. I met Trish at the appointed time and she was very helpful.
March 22, 2020
The staff was very helpful in explaining and showing me the storage space for my travel trailer.
March 19, 2020
Satisfecho
March 7, 2020
Great I'm been there for a couple years already the staff is very friendly and they provide a great service all time
March 3, 2020
Trish provided me with great customer service! She was very thorough with explaining how everything worked (insurance, when payment was due, etc.) and took the time to answer all my questions. She also pointed out that they do UHAUL rentals at their location, which I thought was very helpful.
February 11, 2020
Very fulfilling. Trish did an awesome job with her customer service skills.
February 2, 2020
Had to wait too long for approval of rate quoted to me. Also, it would be nice to be able to perform online transactions, i.e., changing the credit card on file for auto payments.
January 30, 2020
They were friendly and helpful plus good price. Can
January 18, 2020
We received outstanding customer service. Professional, polite, and knowledgeable.
January 15, 2020
Madison was very helpful, professional and made getting a storage unit easy.
January 9, 2020
It was great
January 7, 2020
Madison was awesome.
December 31, 2019
Trish is sweet. Excellent service. Great price. No complaints at all!
December 27, 2019
At first, a lady stepped in and got help before me when I was there before her because her request was a shorter process (it wasn't that short). Then a new customer comes in after her and I was told his process is short also so he was getting offered to be helped before me since my request was longer; I stepped outside for a second to let my ride know to leave me there since I'd be getting a U-Haul so the guy thought I left. I immediately said no, I've been in line and it shouldn't matter the length of the process. I let the guy know he stepped in front of me and he apologized because he thought I left. Madison was understanding and helped me with my request, was super helpful and provided all the information I needed and answered every question I asked. She was great and still very helpful. I explained I chose this place because of the five star rating I saw; I see why. Thank you!
December 20, 2019
The staff especially Madison is very cordial and helpful. I first talked to a call center representative who gave me misinformation. Madison called me to answer any questions that I had. I requested a 10 by 10 unit. When I came into the office I was told you only had two 10 by 5's. After looking them over, I went ahead and signed up for that.
December 18, 2019
Very good. Trish was very helpful and professional.
December 17, 2019
It was wonderful! The lady at the front desk was amazing!
December 17, 2019
very pleasant and friendly.
December 3, 2019
Patricia and Madison were responsive to our needs. Madison even came out to help us park the trailer our 1st time.
November 29, 2019
The employee was amazing and extremely polite and helpful. She is an asset.
November 29, 2019
I was treated by a competent, friendly employee. She answered all my questions and I will be looking forward to doing business with you all in the future. She also swept my unit before I moved in. Thanx
November 10, 2019
The person helping me was very courteous and professional. When I had trouble with the lock on my unit, she came right away and helped me solve the problem.
October 26, 2019
I was not too happy the first day of moving in, I paid for two 5x5 storage sheds and one had a lock on it when I got there to unload, I called and called could not locate anyone to unlock, Luckily I didnt need the 2nd storage got all to fit in one 5x5, the young lady come out to unlock it when I was done. I have been a customer in the passed and enjoyed this location and had no issues, i was happy you had storage sheds available for me. Other than that i do feel safe about my items being housed with you. Thank you.
October 23, 2019
I have rented storage units and parking spaces for my RV trailers on and off for over the past several years. I'm always treated with the same personal care for my belongings and Trish the Manager makes sure my experience is most pleasurable. Already have and will recommend to family and friends!
October 22, 2019
Trish was great in helping me. Everything went very smoothly.
October 18, 2019
Nice, helpful employees. The spot we're assigned to park our motorhome is tight and very hard to get into but otherwise fine.
October 17, 2019
Wonderful place it's just right for me I will recommend this to anyone that is looking for storage space
October 13, 2019
I feel great, everyone there treated me and my family like family. Madison is just amazing! This is the only storage unit ill ever be using.
October 10, 2019
It was great! Super friendly, helpful and great prices! I'm excited to use their facilities!
October 8, 2019
I felt great about it. Trish was warm and friendly and very helpful. I didnt reserve the correct size of storage unit and she helped me get into what i needed with ease. she has a great attitude and she was fun to talk too. even then she solved everyother question or issue i had with no worries. its always nice to work with good folks like her. I want to thank her and self storage for helping me out
October 5, 2019
Very nice person good personality explain to me what the policy was really good preciate it she helped me out lot..
October 1, 2019
Great so far
September 17, 2019
Great.Madison was very help ful,and met my needs.
September 4, 2019
It was ok but i didn't get a deal on the first month i paid the full amount for only a part of the month. I do like the hours .just wish i could afford a bigger unit. Lol
August 28, 2019
She was great and very helpful and professional explaining everything
August 12, 2019
Very nice they was very helpful very clean place I would recommend it to anybody
August 8, 2019
Trish is great and I the property is well run, clean and safe. Thank you for a job well done.
August 7, 2019
Always a pleasure!
July 24, 2019
The two ladies working up front we're very pleasant and accommodating. The facility is clean and their prices are fair. I would definitely recommend them to anyone looking to store their valuables.
July 17, 2019
Trish was extremely helpful in obtaining a small storage unit for me. She explained all the rules and procedures clearly and answered my questions in a very courteous manner. The unit was just the right size, but a little dusty and Trish was right on it and cleaned it out for me, so nice! Thank you Trish for making this a smooth transaction.
June 30, 2019
The lady in the office was very kind and extra patient. Thank you so much!
June 24, 2019
They super nice took car of all my need in a professional manner I recomend to any one looking for storage
June 11, 2019
Thank you to Madison for quick and easy process
June 2, 2019
Every thing was great. Was able to rent on short notice and "move in" right away" No issues!
June 2, 2019
Very friendly and helpful. Rates are lower than most other places. Very accommodating
May 29, 2019
Madison was very helpful. She explained everything step by step . I enjoyed talking to her and felt comfortable asking any questions. They have my recommendation.
May 21, 2019
everything was great.. Except for I rented a storage unit on Saturday and came to put stuff in it on Sunday and there was still a company lock on the door.. not a huge deal but pretty inconvenient
May 11, 2019
The young lady at the counter was very resourceful I believe her name was Trish got me the locker that I was looking for. Thanks for a great job
May 5, 2019
It was pretty cool . the front desk person was very funny and pleasant.
April 23, 2019
Very happy
April 22, 2019
Great. Easy online set up. Quick and friendly check.in upon arrival to facility.
April 21, 2019
Wonderful customer service. Very helpful and sympathetic to my needs. I will recommend this storage place to all my friends.
April 18, 2019
Great deals and customer service
April 11, 2019
The staff was great gave me everything i wanted.
April 1, 2019
Every step of the way was a positive experience. From calling and asking questions to being helped in the office. Everyone I dealt with was very helpful and explained all the details I needed to know.
March 24, 2019
You are convenient, reasonably priced, and have a very helpful staff! Thank you!
January 4, 2019
Madison was very friendly & professional Very satisfied
October 26, 2018
Great experience so far.
October 12, 2018
it went very smooth and easy to rent. The person was very knowledgeable and easy to understand. Thank you, Bob Hausler
October 4, 2018
I have been using this storage facility for a month now. The staff (Trish) was very helpful in getting set up initially. Everything has been easy with a smooth transition. I'm very satisfied so far.
October 3, 2018
Easy peasy.
September 30, 2018
So far my experience has been wonderful! The young lady on Wednesday Night you lives on sight was very courteous, helpful, and friendly> The only complaint is their is no ceiling light in the unit and to get out off storage place there is not key p[ad right at gate. So you have to get out of your car and walk over to the key pad. Plus it would be nice if we could create our own pass code.
September 28, 2018
It was great. I was able to get the storage space I needed the same day. I didn't have to wait. Would definitely recommend this storage facility.
September 14, 2018
I felt I had a good experience with small town storage. I could come and go fast and easy through the facility with ease. Made lots of trips with no problems. Thanks
August 29, 2018
awesome!!!!!!!!!!!!!!!!!!!!!!!!!!!!!!!!!!!!!!!!!!!!!!!!!!!!!!!!!!!!!!!!!!!!!!!!!
August 22, 2018
It was pretty easy to sign up and people who work there are very helpful and friendly. I have used storage not even a month yet so i can't say too much yet. So far, so good!
August 16, 2018
Great service and very helpful
August 14, 2018
Very knowledgeable staff. Friendly. Eager to show me the unit. Quick and smooth process. Good price.
August 7, 2018
Very professional, and friendly.
July 31, 2018
The woman who greeted us was very pleasant. We were unsure of the exact size unit we needed, she was able to show us 3 options that might match our needs. She was kind enough to sweep out some collected leaves and dirt from the unit we selected. The office is clean and fully stocked with packing items you might need.
July 21, 2018
Small town storage was there for me when I needed storage, Thank You
July 6, 2018
Trish was very helpful. The complex was very clean.
June 30, 2018
Had to apply & secure shed on phone due to distance I live from there. Trish & Madison were both very helpful & patient with me in getting all the forms filled out etc. I haven't actually been on site yet so I can't quite give you a Rating of 10, until I experience that. Looking forward to meeting both of you and getting our belongings stored.
June 30, 2018
I was very happy with my expièrience at small town self storage, Trish was very nice and helpful with eveything.I will recommend Small Town self storge to everyone I know.
June 24, 2018
very competent employees. Thank you Patricia.
June 1, 2018
Very easy to rent a storage unit. Staff at the front office was very helpful! The size of our unit is perfect at an affordable price.
June 1, 2018
Friendly professional staff, clean facility.
May 31, 2018
Friendly and informative service, all questions answered. Unit as described, clean and secure. Very satisfied!
May 24, 2018
The people are very friendly!😊😊😊😊
May 24, 2018
Very good job by the client very clean storage place had to buy lock was available very good service
May 8, 2018
Loved the entire experience
May 4, 2018
Amazing.trish is perfect.
May 1, 2018
Great place if you need storage I would recommend this place to anyone
April 18, 2018
I'm happy with the service and the staff is very helpful.
April 7, 2018
Working with Trish was quick and efficient. HAPPY with the fees and even brought my Travel trailer to be stored here as well
April 7, 2018
Fantastic!! I love your reps, your facility... It has always been a great company for us!!The prices are reasonable... And the biggest bonus for us as sailors, sometimes gone for a few months at a time... Your staff would always call me if I was in danger of getting my lock cut off. That really was a bonus for us!!! Thank you small town storage, we really do appreciate the care you took with us. If it weren't for the fact that we are going to Mexico long term, you would still be our storage place!!
April 7, 2018
I think the staff is great! Especially Trisha she is very welcoming and sweet which is hard to find these days.
April 6, 2018
Great!! Everything was clearly explained
April 6, 2018
Trish is a really nice manager. Nice facility.
March 15, 2018
No comment.
March 7, 2018
Renting the Locker was quick and easy.very helpful staff.
March 7, 2018
I feel that my husband is very respectful they also treated me made me feel welcome so for that experience I will pass it on at this is my storage place
March 5, 2018
Friendly , helpful, and coerteous people!
March 3, 2018
Very friendly, caring and clean
March 3, 2018
Excited my expectation very happy
March 2, 2018
I was told one price for the smaller unit then was charged a different price higher than quoted. Not really pleased but hopefully I won't be here much longer. Love Trish though! she's a character .
February 10, 2018
Experience was great! Trish at the front desk was very nice and personable.
February 9, 2018
Trish is amazing. She is professional, personable and runs a great facility. The facility is clean, well kept and secure.
January 26, 2018
I felt it was pretty easy to set up a storage and the girl was able to answer my questions.
January 26, 2018
Quick and easy.
January 24, 2018
Great! Trish was awesome. I had originally reserved a 10x10 and when I arrived with my huge moving truck she enlightened me on the fact that I would need a much bigger space and I did! She knows her stuff!
January 21, 2018
Everything was made very simple and straight forward. Trish was great to work with and really nice to us. She helped get us what we needed and get started! It was all so easy.
January 19, 2018
Friendly staff. Storage units seem smaller than measurements given. There isn't a discount for multiple units which is disappointing.
January 13, 2018
Everything was made easy
January 10, 2018
Trish did a great job explaining everything and was very pleasant to deal with.
January 10, 2018
It was good!
December 13, 2017
I've used your company a couple times and everything was great.
December 1, 2017
Staff was professional and helpful. The space I rented was shown to me before I made my decision no pressure to rent. Experience was well appreciated.
November 24, 2017
We received excellent service from Trish hep loving with renting a unit and also a truck
November 11, 2017
Trisha was awesome!
November 11, 2017
great. very freindly get you in and out quick
November 5, 2017
At first I thought I'd have a problem because the computers were down. Louis (may misspell) went above his job that day. He got me into a unit that day. Called a coworker to help get me into a unit. Fir the first few days be had to add my gate code manually. I had to get in and out. He made sure I was always able to get in and out. He made my experience less stressful.
November 2, 2017
Hassle free and the manager on site was great to work with very attentive and there when she is supposed to be thanks again if I need to I would use you again
October 24, 2017
Great experience … friendly, helpful, knowledgeable staff!! 👌
October 9, 2017
The staff that I encountered were very friendly, courteous, and informative. This was my first experience with a storage facility and the staff explained and visually showed me how the system works. The facility is very well maintained. I would recommended this to anyone wanting to stored personal property for short or long term
September 11, 2017
They were very helpful for me I needed a moving truck and thank god they had one for me to use. I appreciate that so very muck thank you again
September 8, 2017
Trudy was very helpful and efficient!
July 28, 2017
Always have had a great experience with this company. The manager and workers are always professional and provide sterling service, with a smile.
June 13, 2017
I like the manager louis he seems to be on his job keeping the storage safe and very clean.
June 10, 2017
Absolutely the most helpful man that manages this place. Helped with a very emotional time for all of us thank you so much
June 9, 2017
Great got the size I wanted right away very good customer service
May 24, 2017
Customer service was awesome, very friendly and helpful, made it so much easier in a difficult situation.
May 17, 2017
Very pleasant
May 15, 2017
I am so pleased with Small Town Self Storage until I've requested to be notified for available Units so that my family, friends, and business cohorts who are in need of storage units can become clients too.
May 11, 2017
Extremely helpful and accommodating! I was very pleased as I had to move items into storage immediately.
May 9, 2017
Very professional and very nice
May 3, 2017
I met with Luis for storing my travel trailer. Luis was friendly and knowledgeable about their facility. The facility looked clean and well organized. The prices were reasonable.
April 24, 2017
Very friendly and professional.
April 17, 2017
The managers where Great in making me feel welcome and explain very well the rules and took there time showing how to get in code!
April 12, 2017
Great service. Would recommend to friends and family
April 6, 2017
Very helpful, informational & clean.
April 1, 2017
The gentlemen that assisted me was very helpful and nice. He went out his way to make sure my transition went well.
March 21, 2017
Luis was very helpful. Great customer service!
March 17, 2017
The place is very good I like the hours
March 15, 2017
Trish knows how to run that place. She's heard it all before. Efficient and friendly.
March 11, 2017
Customer service was great. I went there got what I needed and I'm highly satisfied.
March 9, 2017
Trish the on site manager is very sweet. Place is pretty clean.
March 8, 2017
Very nice , coustomer service was amazing , very friendly and helpful .
March 6, 2017
Very personable & professional.
March 1, 2017
Manager has good customer service. The process of the application to rent the unit on point. The unit itself- everything fit and I still left enough space to whenever we need to go in there we can grab it easily. The price was right on point. I am very happy.
March 1, 2017
i was very happy will the customer service it made me feel welcome good team work.
February 19, 2017
The office people are great. But you could put more lights on the storage units so when its dark you can see.
February 12, 2017
Well this is the third review I'm doing for you guys. You were great, fast and easy. Just maybe stop asking for all of these reviews
February 5, 2017
Excellent customer service
January 25, 2017
I have no complaints. Very nice lady
January 4, 2017
The lady in the office was very nice, and I had no problems . It was refreshing to come across someone that was actually helpful and kind. Not too many people in this town are like that anymore. This place is great!
December 24, 2016
It's always been a very nice warm a courtesy experience
December 10, 2016
You guys are some really awesome folks and happy holidays and may god bless you