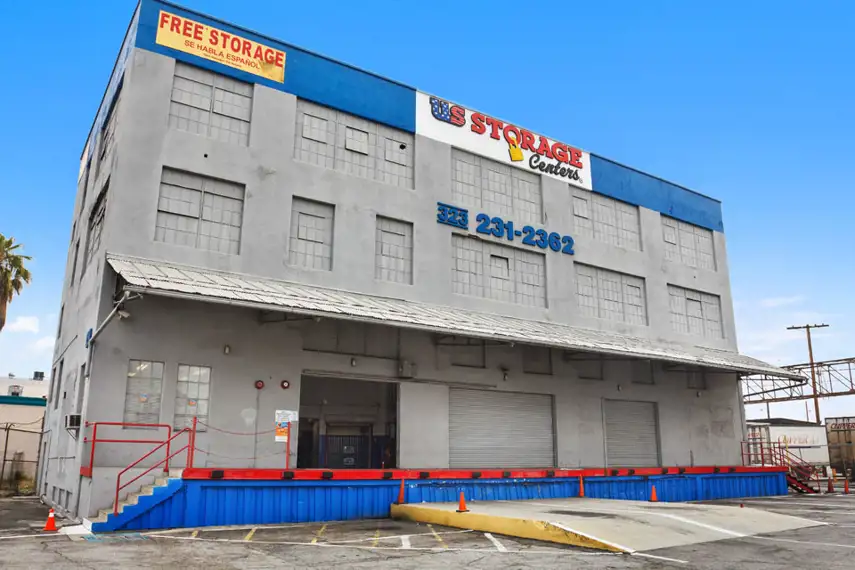 Rent or Hold Your Storage Unit in Minutes. Easy, Contact-Free Rentals.
Location Details
ACCESS HOURS
Mon

8:00am - 5:00pm

Tue

8:00am - 5:00pm

Wed

8:00am - 5:00pm

Thu

8:00am - 5:00pm

Fri

8:00am - 5:00pm

Sat

8:00am - 5:00pm

Sun

9:00am - 5:00pm
OFFICE HOURS
Mon

8:00am - 5:00pm

Tue

8:00am - 5:00pm

Wed

8:00am - 5:00pm

Thu

8:00am - 5:00pm

Fri

8:00am - 5:00pm

Sat

8:00am - 5:00pm

Sun

9:00am - 5:00pm
FEATURES AND AMENITIES
Passenger Elevators
Video Recording
Employee(s) Speak Spanish
Moving Carts
Kure It Certified Location
ABOUT THIS LOCATION
Vernon Self Storage Units
Read More
Photos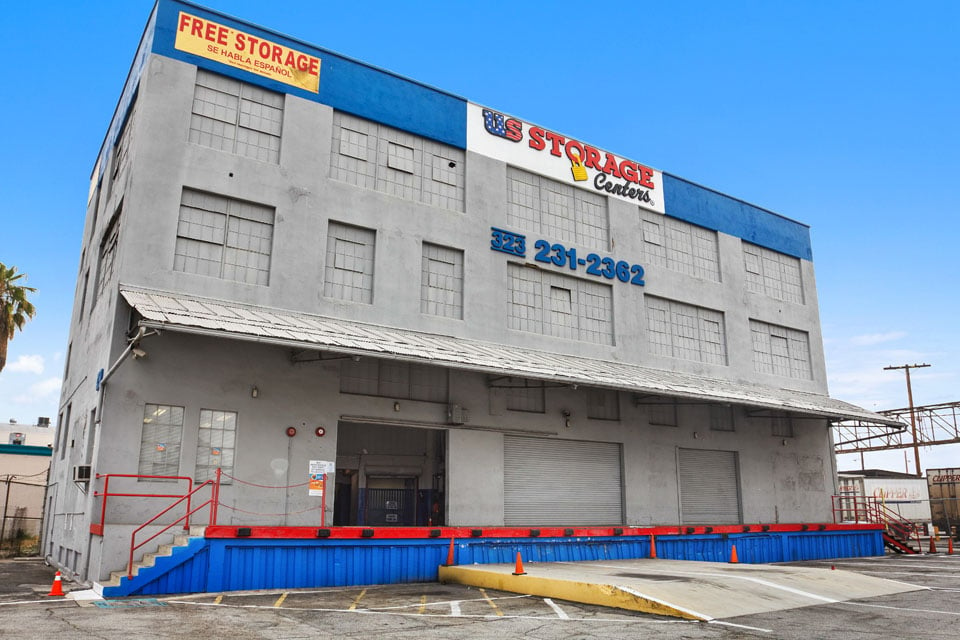 About this Location
Storage Units in Vernon
US Storage Centers in Vernon, CA offer storage units that come in a wide variety of sizes. We have self storage units that come in sizes from a 5' x 5' to a 30' x 30'. Our passenger elevators make it easy for our tenants to get to their storage unit no matter what floor it's located on. Moving carts are available on-site to assist maneuver your belongings around the facility. There's also enough space for a 52' semi-truck to easily maneuver around the property.
All of our storage units in Vernon are located indoors. Our storage facility is well-lit and has a gated entry. Beyond those security features, we also have 24-hour video recording across the facility to ensure that your belongings are kept safe.
Our professional staff, who speak English and Spanish, are here to assist our local residents and businesses find the right Vernon storage units. Visit us today and ask for a complimentary tour of our Vernon storage facility.
We have boxes available for purchase in various sizes and moving supplies that include boxes, tape, markers, and bubble wrap to help you pack your belongings. We also offer locks, packing tape, picture moving kits, dust covers, and mattress bags to provide a super convenient one-stop-storage-shop experience to make your move as easy as possible.
Contact-Free Rentals – Easy Online and Phone Rental Options 
 Online Rental
 Select your unit and enter your info and payment
 Sign the lease online
 A manager will reach out to you with your access code, a map of the property, and they'll have you email a copy of your valid government picture ID
 Once these steps are complete, the manager will prepare your unit so it's ready when you arrive
 Phone Rental
Simply call the number listed at the top of this page, and a member of our staff will work with you over the phone to complete a rental
The manager will email a lease to sign
Once the lease is signed, a manager will reach out to you with your access code, a map of the property, and they'll have you email a copy of your valid government picture ID
Once these steps are complete, the manager will prepare your unit so it's ready when you arrive
Vernon Storage Units Conveniently Located Near You

We are located on Alameda Street just past the intersection of Vernon Avenue and Long Beach Avenue. We are just down from the bus stop on Vernon and Alameda and located right next to the True World Foods Inc of LA.
Whether you're looking for storage units in Alameda, CA or Huntington Park self storage, our Vernon storage facility can provide safe and convenient storage near you. Many of our tenants live in the neighboring communities of Central Alameda, Nevin, South Park, Historic South Central, Fashion District, Aliso Village, Chinatown, Ramona Gardens, Van Ness, Park Mesa Heights, Jefferson Park
Kure It Participating Facility

Philanthropy is a big part of the US Storage Centers family. Our facility is a proud member of Kure It Round up for Research. Kure It, founded by US Storage Centers chairman Barry Hoeven, raises money for innovative research into many types of cancer that receive little or no funding.
FAQs
Q. Do I need a credit card to rent?
A. We accept cash, checks, Visa and Mastercard.
Q. How long do I need to rent a storage unit?
A. We offer storage rental on a month-to-month basis. You are never locked into a long-term lease agreement.
Q. How do I make my monthly payment?
A. You can choose to pay in person, online, over the phone, or through mail. We also have automatic payments available.
Q. Do you offer discounts or promotions?
A. Yes! We offer special pricing and promotions for new storage customers such as one month 50% off. You can find our promotions by searching our unit selection above. Each promotion can be found next to the unit pricing and amenities.
Q. Do I need to bring my own lock?
A. Customers are required to have a compatible lock if they choose to purchase their own. Locks are also available for purchase at our facility. 
Q. Can I stop by the facility to view the storage units?
A. Come by our facility during office hours and our professional staff will be more than happy to give you a complimentary tour of the facility and answer any questions you may have about our units.
Customer Reviews
overall rating, 119 total testimonials
September 16, 2021
Great!! Very Highly to recommend to anyone in need of a storage space. Great experience by far.
September 14, 2021
Wonderful your staff awesome and friendly and very clean safe location
August 16, 2021
So far so good! I had a great experience here with the manager and staff. And phone reps. They saved a laundry basket for me for 2 days that I somehow didn't see when I drove away from the loading dock. Appreciate how they didn't throw in trash because inside I had medical supplies and essential oils that I had just bought! Thanks us storage!!! :)
August 15, 2021
Employees were incredibly helpful and friendly. They answered all of my questions respectfully and patiently!
July 29, 2021
Nice locations. Everything neat and organized. Staff very friendly and professional.
July 13, 2021
Buena atención
July 13, 2021
The manager was a really nice person, the facility was clean and safe, thanks for your services.
June 19, 2021
Great customer service. Batun (I hope I am spelling his name correctly) explained everything well and allowed to view the store space before making a decision. He was super helpful and made this process a breeze!!
June 9, 2021
This has always been my favorite storage center the hours are not so long located on Vernon and alameda very peaceful and mostly quiet place the employees for the most part are pretty cool laid back get you in and out .
May 18, 2021
It was a pleasure, both Adien and Ben were supposed and made me feel so comfortable they are awesome a huge hand of assistance. Thank you
May 4, 2021
My experience was amazing and very professional
April 27, 2021
Really helpful easy to get a storage very nice and friendly
April 22, 2021
I Definitely would recommend this place , The two gentlemen that work their are very professional and helpful Adin and Ben, the place is clean, and the prices are reasonable thank you!!
April 18, 2021
Property Manager, Adin Martinez, was very pleasant, knowledgeable, and helpful with completing the in person sign up for my unit. My unit is very clean and so is the facility. I definitely recommend US Storage - Alameda location.
April 15, 2021
Extremely satisfied
April 8, 2021
Ben did a great job!
April 7, 2021
The staff were very helpful and accommodating.
April 3, 2021
The staff are very nice and very helpful. They show me the storage before I buy it
March 17, 2021
Ben was an awesome help to me in showing me what I needed for the things I needed to store as far as space. Great customer service.
March 16, 2021
Estoy muy contenta con su servicio
March 16, 2021
Everything was great ben is a great employee and ive been treated very nice by all the staff
February 16, 2021
The service is pretty good I cannot complain.
December 29, 2020
I have very exellente experience been one of your customers,good spaces for rent,good prices,good taking care of you!!
December 7, 2020
It was a easy process to get a storage. The storage worker was helpful polite. It was my first time getting a storage and I was happy to go to this storage.
November 17, 2020
Very pleased
November 12, 2020
Great. Very clean facility and great prices
October 12, 2020
The staff there was very friendly informative and fast they gave me all the information that I asked for and they major that my experience fit what I needed for nothing more nothing less and made my transactions what sound cheaper and simple I would definitely refer my friends and family to this company and location I was completely satisfied with my experience with my new storage family
October 2, 2020
It was great! Bayani was super helpful and answered all my questions.
August 21, 2020
Very friendly service
August 12, 2020
Staff was nice and helpful.
May 1, 2020
I am very happy for the good treatment
March 24, 2020
Excellent customer service.
March 13, 2020
Good experience
March 13, 2020
Very comfortable and welcoming
February 22, 2020
It's a cool place to put your stuff, I would totally recommend this place. Very professional.
January 19, 2020
Very good
January 13, 2020
Great experience
November 20, 2019
Very good
September 27, 2019
Great place friendly service very helpful with filling paperwork and helping move into storage space
September 25, 2019
Good alot of help and everyone is friendly good company
September 3, 2019
Great costumer service, especially Daniel at front desk
August 7, 2019
I felt welcome at the place, and the crew is caring nd very professional.
July 25, 2019
I had an emergency and got a good deal from them. If you ever need storage ask for Chris he is very helpful and respectful and will show you around and make you feel comfortable. They have carts and all types of dolly's to help you out.
July 14, 2019
Well I want to say Adin is a good worker help find a storage adequate to my budget.
June 11, 2019
It was ok the employees are helpful and they made sure I understood the process
May 7, 2019
El lugar es limpio los managers super amables, son considerados y sienpre puestos a ayudar!!
March 13, 2019
The workers are very nice and helpful
March 5, 2019
Your are cool
October 18, 2018
Iam pleased with the service I received in renting the storage to me The overall staff is very professional,and effecient in doing the paperwork. Ms. Lewis
September 18, 2018
Everything was great, I already recommend a friend Maximiliano España
August 10, 2018
The price was okay but the corner storage is dark and smells like mold very strongly and I'm afraid to store my stuff there for fear of the mold, also there were multiple Latino men holding beers in their hands in the basement and seemingly having a get together there. I also fell and scraped myself on the loading dock, it is very dangerous and I'm always scared my child will fall off of it. The guy that signed me up with my storage the Filipino guy srry I can't remember his name at the moment but he is beyond nice and friendly he made the experience good but everything else is questionable like the fact that you have to go up or down a few flights of stairs to retrieve an elevator that's very ridiculous specially if you have health problems or are elderly there should at the least be a function/button on the elevator to send/call the elevator back to your floor.
August 4, 2018
The staff was helpful in getting the most economical price possible at much space! They are friendly and curteous.i would definitely recommend to everyone.
June 1, 2018
Theirs nothing much to say, you guys are the best in town!!!!! Two Big tums up!!! Keep up the great work ..
May 8, 2018
I enjoy renting with you guys personal adin is a very honest guy caring for his customers in the future I will come back for a room again and also would recommend .
May 4, 2018
The person who helped was very friendly and flexible.
April 11, 2018
Bayani and Aiden were very nice to work with. We like this location because it is convenient and easy access. These men always tried to find the best deal for us and kept us informed of specials.
April 5, 2018
They have good customer service. There are very respectful
March 5, 2018
The persons working there are very helpful and attentive. The prices are not bad.
February 28, 2018
Very airy....very clean.....amable everyone at the facility.
February 24, 2018
Adin and team are great...very helpful, professional. Thank you.
February 15, 2018
I had a great experience place was very clean customer service rep was very nice and answered all my questions
February 9, 2018
The info was provided quickly, follow up was as promised, and staff was friendly and we'll trained. I rent many units at many storages all over LA and it's was a positive surprise. I was simply treated with professionalism and respect. Respectfully, Tobias Schopf
December 27, 2017
Very friendly and respectful and nice they person show you were is the storage you are going to rent they tell you step by step.
December 16, 2017
for the pass month, Great service.
December 5, 2017
My online account is not working at all. ho do I submit payment?
December 1, 2017
Very helpful
November 7, 2017
Bayani is a Stone Cold Self-Storage Master. He delivered on all points. Keep him, he'll be worth it.
November 1, 2017
Yo les recomiendo que si buscan un stores vaya a us storage tiene buena gente que ayuda en todo amo me trataron muy bien
October 27, 2017
Very comfortable
September 28, 2017
This US Storage center is great. Adin and Bayani are always a pleasure to work with. We are repeat customers to the Alameda facility. This is largely due to the location and the convenience it allows. However, the reason we returned is the fact that Adin and Bayani are there. They work with our needs and get us into a unit that is cost effective and fits our needs. The facility is well lit and clean and the restroom is clean (with soap) and in good working order. As a woman, I feel safe at this facility, being that I can be alone here at times, and do not feel threatened or unsafe at ant time. This is very important! We are happy to be repeat customers to this US Storage on Alameda.
September 26, 2017
Overall a great experience!
August 31, 2017
Us storage help me a lot
July 26, 2017
The customer service was exeptional and the place is realy clean
June 21, 2017
Very great service
June 21, 2017
Your staff was very helpful and friendly! Thank you so much
June 4, 2017
very helpful and accommodating.... clean property
May 24, 2017
Thank you for the help
May 21, 2017
Very professional staff and service. Very friendly and helpful.
May 11, 2017
Bayoni was really nice and helpfull
May 9, 2017
Fantastic operation. Very clean and professional.
April 10, 2017
Aden was easy and pleasant to work with, and the facility was clean and accessible.
March 1, 2017
Very, happy. I always return every year as I need to put stuff away. Great service & good prices & availabilitu
January 18, 2017
Great Experience and Bayani was extra helpfull finding uš the right space and supporting our unloading the items. Overall- great