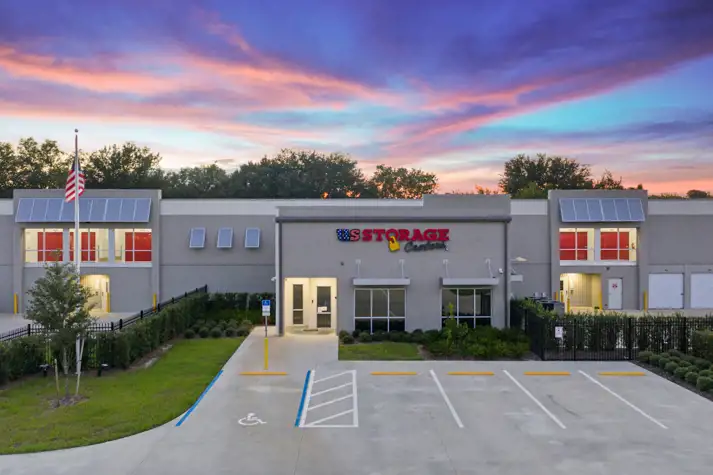 Rent or Hold Your Storage Unit in Minutes.
Location Details
ACCESS HOURS
Mon

6:00am - 10:00pm

Tue

6:00am - 10:00pm

Wed

6:00am - 10:00pm

Thu

6:00am - 10:00pm

Fri

6:00am - 10:00pm

Sat

6:00am - 10:00pm

Sun

6:00am - 10:00pm
OFFICE HOURS
Mon

9:30am - 6:00pm

Tue

9:30am - 6:00pm

Wed

9:30am - 6:00pm

Thu

9:30am - 6:00pm

Fri

9:30am - 6:00pm

Sat

8:00am - 4:00pm

Sun

10:00am - 2:00pm
FEATURES AND AMENITIES
Drive Up Access
Climate Control
Electronic Gated Access
Video Recording
Employee(s) Speak Spanish
Boxes & Moving Supplies
Moving Carts
Kure It Certified Location
ABOUT THIS LOCATION
Find out what our storage facility in Clermont, FL has to offer local residents and businesses!
Read More
Photos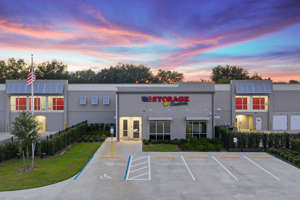 About this Location
Clermont Storage Units
US Storage Centers in Clermont, FL offers storage units that come in a variety of sizes, ensuring that tenants will find the right storage unit that best fits their needs. All storage units are climate controlled, which means your belongings will be kept in top condition all year long, no matter the weather. We offer drive-up units that allow you to easily access your storage unit straight from your vehicle and we also offer convenient indoor storage units that can be easily accessed with the bay doors found throughout the whole facility.
We have 24/7 video recording and an electronic access gate that can only be accessed by current tenants who have a specific PIN code. To help make your move as easy as possible, we offer moving carts on-site and we have boxes and moving supplies for sale to help keep your storage unit neat and organized. Our professional staff speak both English and Spanish and are here to help make your storage experience with us easy, convenient, and stress-free.
Easy Rental Options
Rent your storage unit online or over the phone for a quick move in. 
Not ready to rent? No worries! Reserve your unit now to lock in today's special discount.
Month-to-month rentals
No credit card required for reservations
No deposit required
Clermont Storage Located Near You
Our Clermont storage facility is conveniently located on Highway 27, near the intersection where Citrus Tower Blvd and Hammock Ridge Road meet. Many of our tenants reside in the neighboring communities of Minneola, South Clermont, Orange Mountain, Castle Hill, Roan, Skytop, and Reavills Corner. If you're a local resident or business looking for storage that can be easily accessed, our storage facility is a great option.
Kure It Cancer Research
Our in-house charity, Kure It, offers tenants the perfect opportunity to make a difference when it comes to cancer research. This facility participates in our Round Up For Cancer Research program, where current tenants can choose to add $0.50 to their monthly rent, and then US Storage Centers will match that 100%.
FAQs
Q. Do I need a credit card to rent?
A. We accept cash, checks, Visa and Mastercard.
Q. How long do I need to rent a storage unit?
A. We offer storage rental on a month-to-month basis. You are never locked into a long-term lease agreement.
Q. How do I make my monthly payment?
A. You can choose to pay in person, online, over the phone, or through mail. We also have automatic payments available.
Q. Do you offer discounts or promotions?
A. Yes! We offer special pricing and promotions for new storage customers such as one month 50% off. You can find our promotions by searching our unit selection above. Each promotion can be found next to the unit pricing and amenities.
Q. Do I need to bring my own lock?
A. Customers are required to have a compatible lock if they choose to purchase their own. Locks are also available for purchase at our facility. 
Q. Can I stop by the facility to view the storage units?
A. Come by our facility during office hours and our professional staff will be more than happy to give you a complimentary tour of the facility and answer any questions you may have about our units.
Customer Reviews
overall rating, 117 total testimonials
November 25, 2023
Good customer service was provided all the way. The staff was always attentive to our questions and concerns. The company let us use the truck which was also a plus. I could not be more contempt US Storage. We now stored our goods in our garage so it was nice being provided quick storage service by USA.
November 14, 2023
I received excellent assistance when I was trying to get a unit; Your team members really came through for me when I was in a pinch d/t to my moving company. The facility was clean and I felt safe when accessing my unit.
November 9, 2023
Easy process to set up storage unit rental. Clean and safe building. Convenient location.
October 9, 2023
Great experience. Ladies in the office were always very helpful.
September 16, 2023
Never ever again will ever do business with us storage centers
August 16, 2023
I felt very good about using your facility.
August 6, 2023
Awesome storage place.
June 30, 2023
Easy process, great customer service.
June 29, 2023
Great location, access and security. Very happy with US Storage.
June 24, 2023
My experience was horrible ! I would never recommend this place the front desk staff was so rude and nasty didn't keep their promises and I'm an office manager and I wouldn't have a job if I treated people that way !!
June 10, 2023
Friendly and clean.
June 3, 2023
The US Storage staff is always friendly and helpful. They are professional and happy to answer any questions you have. The facility is clean and secure. I would recommend US Storeage to anyone who needs to store their stuff whether for your household or business.....you can be confident that it will be in good hands! Thanks!
June 1, 2023
Price quoted was not received and also confirmed reservation was not honored.
May 31, 2023
Very helpful and respectful staff. Always there to help. $$price a little high but if you have to put your stuff somewhere it's always safe here.
May 26, 2023
I used your facilities ..and even though it was clean...I could never get someone at front desk...they always had a sign stating they would be back in an hour.. I closed my account and left in timely manner..BUT never got full amount of Monthly charge Refunded back... Called and emailed..still haven't received ...please address this issue as I will put on social media if it is not resolved. Thank you...
May 6, 2023
You have a very simple process , very clean installations and you are accessible.
April 25, 2023
Was a little disappointed in the climate control as our clothing that we had stored smelled musty when we unpacked. Other than that we had a good experience.
April 18, 2023
Great customer service
April 17, 2023
Everyone was great!
March 27, 2023
Other than having issues with the door keypads sometimes not working I could not be happier. The staff at the Clermont location is extremely courteous and helpful.
March 26, 2023
Our experience has been very good. All of our questions answered and always met with a positive attitude.
March 17, 2023
Is there a reason to use past tense about our rental? We are not totally impressed with the facility as 1st appearance showed us. Going to the storage only to find out that hours for opening at 6am were really "whenever". I waited to get in to pick up a few items for work and left 45 minutes after opening time for gate and had nothing for my meeting. Gate would not work. OR when we had to deal with door closest to our unit to enter building being non-functioning for weeks OR knowing that the security we pay for as well as the trust in such we had, was broken by allowing a non-functioning gate to stay open with a mere chain swagging from the 1/2 open gate to the other end post. Thank you for letting me get this off my chest! It doesn't mean a whole lot but maybe something will be done about the property management. Ok, one thing this facility is good at is charging my credit card the $200+ each month.
March 16, 2023
Lots of issues. Doors, gates, trash, bugs, and ever increasing rents.
January 9, 2023
disappointed broken entry gate entry door #2 also broken ...you can do better than this.
December 31, 2022
Easy to setup. Paying online was a challenge at times. Security wasn't good. Gate was open a lot and so was door to inside.
December 11, 2022
I have been with this storage company for almost a year and I have been pleased since day one! Always willing to help.
November 16, 2022
Amazing
November 7, 2022
The office staff was very pleasant and helpful. The property is clean and, obviously, very secure.
November 3, 2022
It's been a pleasant day I like the new lighting in the hallways use an access to my unit is good
October 14, 2022
Unsatisfactory, the facility is poorly kept. Aside from cleanliness the locks on the building arent working for several months, the gates always broken and the ac works at its leisure.
September 19, 2022
Good so far
September 13, 2022
Clean, different size options, friendly staff.
September 6, 2022
So far my experience has been great with you all. Very easy and quick process to secure a unit snd the area is well lit and safe.
July 16, 2022
The intake process, the tour and all the financing set up was amazing excellent service in the Claremont office
July 14, 2022
I enjoyed the whole process of renting a storage space from your company. The staff is polite and informative. The unit itself is a great size for the price. I will definitely recommend your storage site to my family and friends.
June 27, 2022
Very friendly staff and helpful
June 22, 2022
Excellent. Place was clean. Service was good and location was great.
June 20, 2022
My rent was prorated going in so I didn't get a month free and it was not prorated when I left. This was unfair in my opinion.Everything else was ok. Just policy was not customer friendly. I would be sure to advise anyone wanting to rent. Beware! I ended up paying for an entire month that I didn't use the storage. Left a bitter taste so I did not stay.
June 20, 2022
Friendly people and always clean. I would use it again.
June 2, 2022
It's the only storage place in town I'd use.
April 24, 2022
Very expensive
April 9, 2022
It is a great place to store your belongings for three very important reasons, great customer service, place always clean and the most important is security, thanks
March 20, 2022
Everyone is kind, and very helpful. I noticed when we got our unit, that the place was very clean.
March 7, 2022
Clean and organized place. Friendly service
February 6, 2022
Your place is clean and looks secure. When we first signed up we were given a smaller spot (by +2 feet) and was told this was normal. Did not start good!!
January 18, 2022
Clean, nice, good service
January 18, 2022
So far so good
January 7, 2022
Went in on short notice to do switch for an up size, Jean was very responsive and helpful. Great experience everytime!
January 6, 2022
Was very easy to deal with - from inquiry to moving in to using the truck and auto pay.
January 4, 2022
You were a life saver when I needed temporary storage
December 28, 2021
Easy and far
December 10, 2021
They are Great 👍👍 we have no complaints
November 11, 2021
The experience has been very smooth and pleasant from the start. The facility is always clean and the staff is friendly.
October 31, 2021
Definitely the best storage center I've used, and I've used quite a few!
October 16, 2021
Excellent
October 16, 2021
Great service, the place is super clean and the associates are extremely helpful as very knowledgeable, I highly recommend this place for anyone that is looking for storage short term or long term!!!
October 3, 2021
Awesome! The staff are friendly and the location is always clean when we have to drop by. My questions are always easily answered.
September 23, 2021
Very satisfied with facility and helpful staff when they are available.
September 12, 2021
very good
September 9, 2021
It was a very smooth transaction. Very happy with Customer service and facilities were spotless, very clean. No Bugs...
September 5, 2021
Excellent
September 4, 2021
employees are helpful and friendly, but when it rains and thunder and the weather was rough the doors to enter building by my unit would not open.
August 26, 2021
The clermont staff is amazing from the manager all the way down thank you
August 1, 2021
Very convenient and nice facility, as well manager was very helpful
July 14, 2021
Great customer service, really clean and up kept building. Dont like the 8 digit pin they make you use though.
July 7, 2021
Great. Nice person and professional.
July 3, 2021
Great service amazing how well the unit was and ease of access helped me greatly my agent was amazing
June 25, 2021
It has been good.
June 20, 2021
It was a top notch experience, folks were helpful and fast.
June 8, 2021
Excellent Service! Great experience.
June 6, 2021
Great, it was easy and efficient.
May 29, 2021
We had a good experience with everyone that we worked with especially Jean, he was extremely accommodating to us!
May 13, 2021
Jean was very pleasant and the space is clean.
May 4, 2021
Jean was outstanding! Very helpful and accommodating. He listened and got us just the space we needed at a fair price. My daughter has already gotten a unit after hearing about our experience.