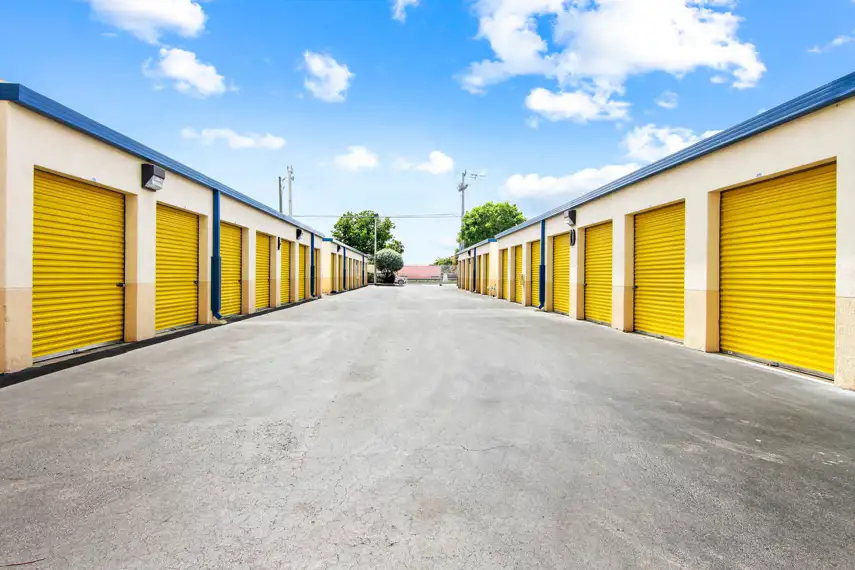 Rent or Hold Your Storage Unit in Minutes. Easy, Contact-Free Rentals.
Location Details
ACCESS HOURS
Mon

6:00am - 10:00pm

Tue

6:00am - 10:00pm

Wed

6:00am - 10:00pm

Thu

6:00am - 10:00pm

Fri

6:00am - 10:00pm

Sat

6:00am - 10:00pm

Sun

6:00am - 10:00pm
OFFICE HOURS
Mon

9:00am - 6:00pm

Tue

9:00am - 6:00pm

Wed

9:00am - 6:00pm

Thu

9:00am - 6:00pm

Fri

9:00am - 6:00pm

Sat

9:00am - 6:00pm

Sun

10:00am - 3:00pm
FEATURES AND AMENITIES
Drive Up Access
Climate Control
RV Parking
Passenger Elevators
Electronic Gated Access
Video Recording
Employee(s) Speak Spanish
Moving Carts
Alarmed Unit
Kure It Certified Location
ABOUT THIS LOCATION
Hialeah Rv and Self Storage: Store Your Blessings For Years To Come.
Read More
Photos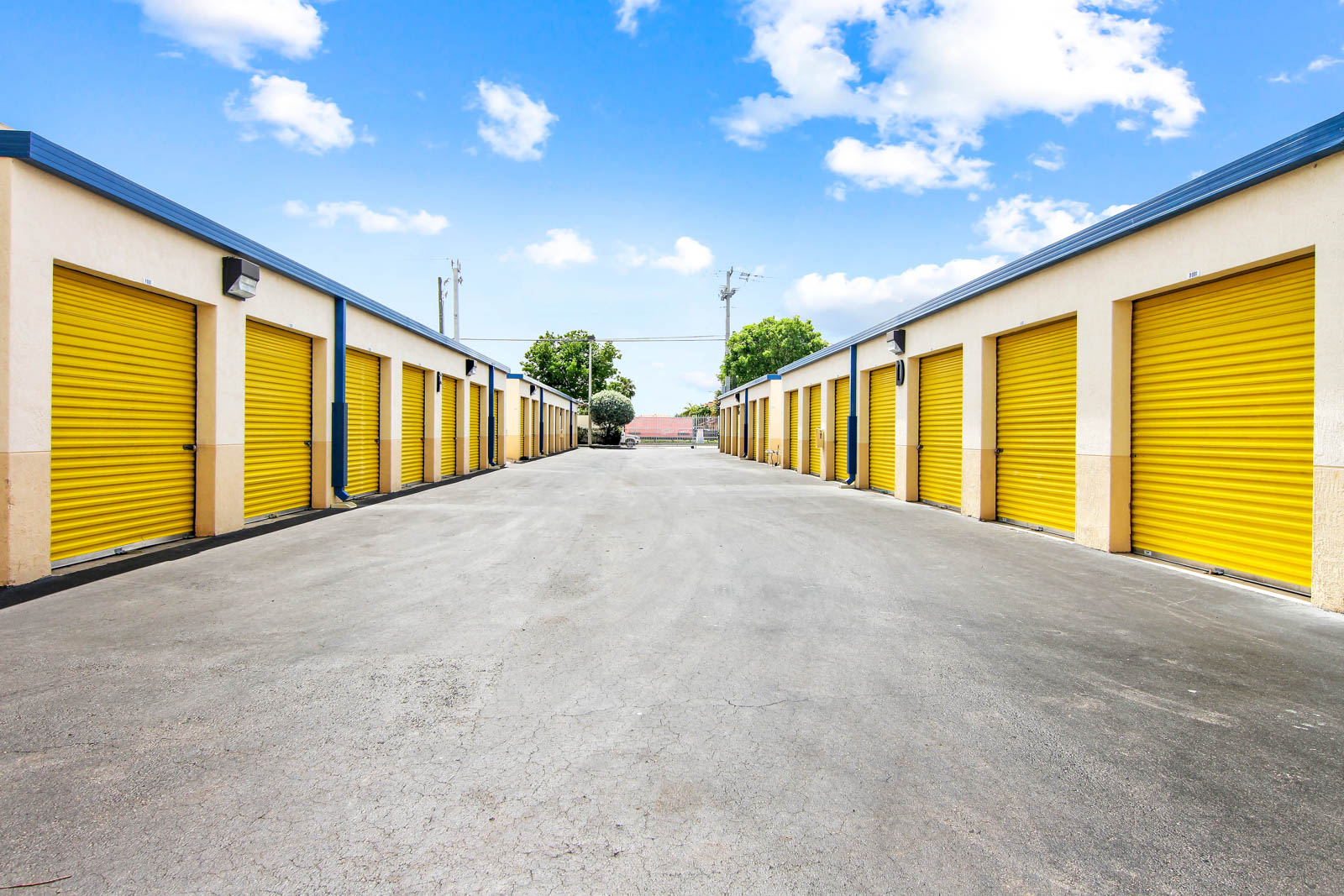 About this Location
Self Storage Facility Features

You won't find a self-storage facility in Hialeah with a greater variety of options than us. We offer drive-up units as small as 10x10 and as large at 60x15. You will also find all different sizes of indoor units from 5x5 to 20x10. Some of our indoor units are equipped with climate control technology to protect your valuables from moisture and temperature.

No matter what size you choose, we want the move to be as easy as possible. You are welcome to use our hand trucks, carts, and stepladders to transfer your items to and from your unit. Or skip the self-storage unit and rent a parking space for your RV.
Contact-Free Rentals – Easy Online and Phone Rental Options 
 Online Rental
 Select your unit and enter your info and payment
 Sign the lease online
 A manager will reach out to you with your access code, a map of the property, and they'll have you email a copy of your valid government picture ID
 Once these steps are complete, the manager will prepare your unit so it's ready when you arrive
 Phone Rental
Simply call the number listed at the top of this page, and a member of our staff will work with you over the phone to complete a rental
The manager will email a lease to sign
Once the lease is signed, a manager will reach out to you with your access code, a map of the property, and they'll have you email a copy of your valid government picture ID
Once these steps are complete, the manager will prepare your unit so it's ready when you arrive
Secure Storage Units

To keep your property safe, we have equipped our site with electronic gated access and 24-hour video recording. You'll never have to worry about your unit in Hialeah with U.S. Storage.
RV & Boat Storage
We also offer storage solutions for those who want to store an RV, boat or extra automobile. Our outdoor spots are easily accessible for parking and backing out. Parking Space width may vary from spot to spot. Please call the property manager for more details on Parking Space sizes.

Conveniently Located

Located near Palmetto Expressway and Highway 75, we are in a great spot for residents of Hialeah who are looking for a local self-storage option. We are easy to find at the intersection of NW 87th and W 76th. If you're familiar with Villaverde Shopping Center or Palmetto General Hospital, we are near both, ready and waiting to give you a great self-storage experience in Hialeah.

Languages Spoken by Managers

Fluent in English and Spanish

Forms of Payment

It's easy to pay your bill! We accept cash, checks, money orders, Visa, and MasterCard. You can also pay online through our secure client login.

The Community

Hialeah is a history-rich city. The Hialeah Park Race Track is a well-known site in the community, as it's been a project of restoration for years. In the last five years alone it has seen 50 million dollars of renovations. And for good reason—the race track and surrounding buildings date back to the 1920's. Citizens of Hialeah are still in the process of bringing the track back to its former state of glory.

Another important piece of Hialeah's history is the Amelia Earhart Park. The city served as the takeoff point of Earhart's final flight in 1937. The park has plenty of trails for bikers, joggers, and walkers. And for the kids, there is a great petting zoo.

With such a rich history, Hialeah is looking ahead to a bright future. Visit our shining community today.

Facility Products

We offer boxes (sized small - x-large). We also have wardrobe boxes, packing tape, tape dispensers, mattress covers, bubble wrap, picture moving kits, disc locks, and brass padlocks.
Customer Reviews
overall rating, 294 total testimonials
September 18, 2021
Hi we need more pallet Jacks and more carts in the Hialeah facility every time I go there is not enough equipment to move the objects in and out of storage I have to wait till someone finishes with the equipment to use it. Customer service at this facility excellent!!!
August 25, 2021
Great service representative
August 25, 2021
Very pleasant. Manager was respectful and took genuine interest in helping us resolve our needs.
July 30, 2021
Buen servicio
July 17, 2021
buena atencion
July 14, 2021
So far, very pleased.
June 11, 2021
Was amazing
June 9, 2021
Very nice and friendly, was super helpful the person and the front desk
June 5, 2021
Excelente magnífico
May 7, 2021
Fue magnífica desde que entre por la puerta muy buena atención estoy complacido
May 1, 2021
Estoy satisfecha con el trato del personal Agustín y de la limpieza de este Storage de la 76 st de Hialeah lo recomiendo 100x 100.
April 24, 2021
My experience at your facility was just great. Angie, the salesperson was extremely helpful and made the transaction very smooth.
April 23, 2021
God atention
April 3, 2021
I am very happy. The customer service is outstanding. I'm truly feel confident that if I have any issues that they will be resolved immediately.
March 25, 2021
Excellent service
March 6, 2021
Good extra service and in good priceI love the service and it's good person and a good qualityExcellent service
March 4, 2021
Really good
March 4, 2021
Excellent services
February 19, 2021
Hola muy buena la atención del personal
January 22, 2021
La atención es muy especial y el lugar muy bien resguardado y a mi me han ayudado mucho
January 14, 2021
Excellent service and good installations.
January 10, 2021
Easy to sign up and get started.
January 4, 2021
Excellent
December 7, 2020
I had an excellent experience overall, specially with Mary the customer service who show me the place and completed my paperwork, my only complaint is the lack of parking to load and unload inside the property.
November 27, 2020
It's been a wonderful experience. Great customer service. Very nice people.
November 17, 2020
So good! Appreciate their patience, effort and efficient with our questions and needs!
November 3, 2020
They are very friendly, professional and make you feel like Family.Thank you
October 20, 2020
I'm a returning customer , service hasn't change since first time . Excellent in my opinion.
October 14, 2020
Very nice, very helpful and knowledgeable
October 13, 2020
I have had a great experience since ive joined, the Hialeah location is well maintained and well managed. With friendly and helpful staff that makes you feel like your not alone in the moving process. Very grateful and happy with this company.
October 13, 2020
Very helpful.
October 7, 2020
Friendly and welcoming when we first arrived. Explained and answered all our questions. Facility well kept and clean.
October 6, 2020
Yes very good staff
September 13, 2020
They are the BEST!! THAK YOU AGUSTIN Y MARÍA ELENA
September 10, 2020
Excellent
September 9, 2020
Wonderful experience
September 5, 2020
The price perfect and the customer service is fantastic l am very happy
September 4, 2020
Very good.
September 1, 2020
Excelente customer service, de primera
August 18, 2020
Manager at the place was very helpfull
August 10, 2020
personal muy amable
August 9, 2020
Smoothly process!
August 9, 2020
The staff were very helpful and explained everything I need to know
August 4, 2020
Awesome, smooth searching and signing up, informative and I felt like I was getting the most bang for my buck! Thank you!
July 29, 2020
Muy segura de que mis cosas están resguardadas, muy profesionales y atentos, los recomiendo 100%, gracias
July 29, 2020
Great customer service I would recommend to all my friends
July 25, 2020
The Hialeah center is excellent. Great staff Maria, Luis and Agustin are wonderful!!
July 21, 2020
Experience was great!
July 14, 2020
Great customer service
July 9, 2020
Very good help ! Very clean & secure. And exelent hours !
July 1, 2020
Very comfortable. The procedure to lease was very easy and fast. I highly satisfied with everything. Thanks USA Storage 👍
June 2, 2020
IS TOO EARLY TO TELL, SO FAR IS GOOD
May 1, 2020
They are the best storage around
April 30, 2020
Great service from the time I walked in, visited others and nothing like US Storage
April 29, 2020
Súper bien y complacido por es servicio que me ofrecieron y felicitaciones a la persona que me atendio
April 28, 2020
You are responsible when you make an agreement with new customer thanks
April 17, 2020
El joven que me atendió muy excelente
March 31, 2020
Muy satisfecho
March 20, 2020
Bueno yo fui muy bien atendida, fueron muy amable, me explicaron todo, el lugar es limpio. totalmente satisfecha, y lo recomendaría a todas mis amistades. Excelente trabajo!!!!! Bendiciones.
March 6, 2020
Good customer service
February 25, 2020
Excelent so friendly and fast
February 25, 2020
Great service - very efficient - great person to interact with
February 16, 2020
This is an excellent place. The customer service is excellent. Very clean an outstanding flexibility.
February 7, 2020
Great Service and attention. Highly recommend them!
January 31, 2020
Simply very helpful, happy staff , willing to answer questions, Secured and Clean I'm happy to have chosen US Storage!👍
January 30, 2020
I feel comfortable talking to the manager explaining my needs and they anyways find the best solution.
January 28, 2020
Very good
January 14, 2020
Great guy
December 29, 2019
Excelent!
December 29, 2019
The best place
November 3, 2019
Mi experiencia con el personal de US Storage ha sido satisfactoria . La sra Maria Elena Molina es una persona muy atenta y eficiente y con mucha paciencia y te ofrece todas las alternativas posibles que llenen tus expectativas y pone todo su esfuerzo para que el cliente se vaya satisfecho incluso si ellos no disponen de las unidades en el centro donde opera se da a la tarea de llamar a otros centros para ubicar la unidad ideal para el cliente..prestan atención a los mensajes y devuelven las llamadas al cliente. Los recomiendo 100%.
November 2, 2019
I'm very impressed whit the customer service, Jose was super friendly and respectful, , and super clean and organized place ,
October 29, 2019
Everything good
October 26, 2019
I like all and the person the front desk. Excellence tkank
October 25, 2019
My experience was very good very nice and clean area the staff take care of me as suppose to be very happy with this company
October 19, 2019
Good and easygoing experience without leaving out the professionalism by the property manager Mr. Augie.
October 11, 2019
So far so good! Felt right at home! A+++++++++
October 8, 2019
Thanks guys You were really amazing! You did your job very well and help me get my goals as planned
October 1, 2019
Everything is good , just need to focus on pesticides. There's visible signs of rodeno
October 1, 2019
best service.
September 24, 2019
Excellent costumer service
September 24, 2019
Very cordial and helpful. Great customer service!!!
September 21, 2019
Gracias por si ayuda
September 20, 2019
Loved it, very quick and efficient. Was well informed of the policy and payments. Clean environment. Pretty good experience overall.
September 14, 2019
Augie was nice and very helpful.
September 13, 2019
Perfect storage and Mr. Agustine was very frendly and helpful.
August 19, 2019
US Storage comes through every time definitely worth it
August 18, 2019
Buen trato
August 6, 2019
Excelente trato gracias
August 5, 2019
Good. The manager was very helpful
July 19, 2019
Clerk was very helpful. She showed the spaces, provide necessary information, showed me how to work the gate, answered my questions and concerns. Attentive and patient with my first time experience.
July 10, 2019
Service person was attentive to my needs, helpful. i give him a 10
July 6, 2019
Yo soy una clienta de por mucho tiempo agustin las veses que nos ha atendido lo hase de mucho cariño y muy profesional
June 5, 2019
Tienen una muy buena atención al cliente y todo está como nuevo y en buenas condiciones
June 4, 2019
Excelent service
May 2, 2019
el lugar estaba limpio, seguro y organizado, la persona que nos atendio fue amable, profesional en su trato, nos mostro los locales para decidir cual seria mejor a nuestras necesidades, explico bien como usar las facilidades, hacer los pagos, etc.
April 22, 2019
very good service and attention.
April 12, 2019
Very good service the staff were great
March 14, 2019
Muy buen trato pero alto precio. Te venden un precio en internet pero al llegar sube bastante. Hay un seguro del que no te hablaron, un candado que tienes que comprar...
January 30, 2019
personal muy amable.
November 3, 2018
You guys are great! Staff is friendly and professional. Would highly recommend to everyone!
November 2, 2018
Very y good,people
October 16, 2018
excellent all around No complaints
October 13, 2018
The lady on the front desk was very attentive and friendly
October 7, 2018
Great service, friendly staff. I'm a newbie at this and they were patient, knowledgeable and helped me choose the option best suited for my needs
October 1, 2018
Excellent service
September 16, 2018
Excellent
September 1, 2018
Very nice service
August 17, 2018
Magnífica atención la muchacha muy agradable excelente profesional gracias estoy muy satisfecho con los servicios
August 13, 2018
The staff at us storage center are extremely courteous, and professional Amd great price , i have three storage units and I'm a returning customer , I have rented storage here before and since I had a great experience before I didn't even look dat any other storage places. I recommend USA storage center
August 5, 2018
We are very happy whit this services , and we also recived a donation to use this space. THANKS THANKS THANKS for your help to Venezuela. Liliana Malave Communitas Dei Association
August 4, 2018
excellent trato I have words to describe it I felt at home thanks
August 4, 2018
Great customer service
August 4, 2018
Great, awesome! you're employees Agustin and specially Maria went above and beyond during this difficult situation. they are great. and your company is fortunate to have people like them representing your company. thank you Albert
July 18, 2018
Excellent customer service and very helpful
July 13, 2018
The attendant Audie was very informative he answered all my questions to my satisfaction. He was very plesent to work with and helped me rent the proper storage unit I needed. Over all an awsome experience.
June 30, 2018
En los pocos días que tengo en este Storage puedo expresar que La atención al cliente es excelente.
June 21, 2018
tienen un muy buen trato con los clientes a mi me atendieron muy bien
June 6, 2018
Excellent customer service
June 3, 2018
Great costumer service would definitely recommend to a friend
May 30, 2018
Excelen atention. The person who work there are very educated and always their face look happy and friendly. They do good job. Congratulations!!!
May 24, 2018
Excelente atencion, un lugar muy limpio, El personal esta dispuesto a ayudarte. Muchas gracias!
May 24, 2018
Very clean facility,friendly staff and great prices
May 24, 2018
I allways come back to us storage specially the one in hialeah 76Street west hialeah because allway is. clean and Agustin and maria are excelent with the customer they are the best thanks janet
April 30, 2018
Staff is very helpful and accommodating
April 18, 2018
I felt pleased.
April 6, 2018
Great Experience, professional personnel, clean environment, good location, good service; already recommended to several people...
April 5, 2018
Very good attention and very good customer service
March 12, 2018
Great service very helpful when you need them
March 9, 2018
muy buena atencion y muy tratable por parte del personal yo siempre estoy recomendando el lugar por la atencion y la seguridad que siempre nos han brindado grasias
March 4, 2018
Nice service, nice place and very nice people
March 3, 2018
Thanks to all of the staff of 76street location. Great customer service.
March 2, 2018
Muy buena atención
February 25, 2018
Great service and good security. Thank you
February 23, 2018
Great service. Very attentive staff. Felt welcomed as soon as i entered the door at US storage.
February 15, 2018
Impressed, clean location.
February 7, 2018
Great survice
February 7, 2018
I WAS VERY SATISFIED AND CUSTOMER SERVICE WAS GREAT!
February 1, 2018
Great customer service Agustin and Mary in the store in Hialeah There are great I really recommended
January 22, 2018
Muy bien
January 19, 2018
Fast service, excellent customer service,
January 9, 2018
Was good and friendly
January 7, 2018
Exselant service were nice people.
January 3, 2018
Sus empleados demuestran manejar y resolver las necesidades de cada cliente, me siento muy satisfecho por la atención tan acertada brindada a mi persona.
December 30, 2017
Excellent service great communications great people I truly recommend this company to everyone
December 20, 2017
The employees and support received at the site are excellent. I honesty didn't want to leave. Unfortunately, the rates just continued to rise year after year. You would think that they would value their long-term customers by giving them discounts and incentives to stay, or at the very least, not raising their monthly rates. But they don't, they just raise the rates across the board, and so I had no choice but to go elsewhere.
December 17, 2017
I felt that our stuff was very safe and secure at this site.
December 11, 2017
I had a very good experience but I did notice several people complaining at the front desk. They should have been brought to a closed area in order to discuss their issues.
December 5, 2017
Es uno de los mejores storage que yo he Rentado el único problema es que en menos de 6 meses Lo subieron mucho,Gracias
December 1, 2017
Driving by on my way home disappointed in another storage facility that gave me one price over the phone and then another once there. Quickly pulled into your location and was warmly greeted by Maria Elena ,she gave me a tour and the cleanliness of your facility and warm welcome along with the way I was treated and the pricing 50.00 less.Who can argue when you conquer your clients in such fashion. I will highly recommend this facility to family and friends. Happy customer
November 30, 2017
Very professional and informative.
November 19, 2017
Excellent customer service. Maria and the entire staff was always very amicable
November 10, 2017
Buena presencia, atención y limpieza.Muy comodo para mover los objetos
November 9, 2017
good customer service
November 1, 2017
Deberian tener mas dollies al servicio del cliente y cambiar el cesto de basura el lado del refrigerador, por uno mas grande, siempre esta ocupado y sucio. Muy buena la atencion y muy ambles los enpleados
October 31, 2017
Sercices good
October 28, 2017
It was a good choice becouse customer service was always avaible to answer all our quetions and our goods were very secured.
October 26, 2017
Nice place with nice people
October 24, 2017
The manager Maria was very helpful.
September 3, 2017
Great customer service from Maria Elena and Tony
August 24, 2017
Excelente el trato y la cortesia que me brindo Agustin.que bueno que tienen ese manager.
August 16, 2017
Excelente atención
August 9, 2017
I kill my experience with this location in Hialeah FL. Thank you. for excellent service
August 7, 2017
great costumer service
August 5, 2017
Augie and Sandra are great. ..
July 25, 2017
Súper excelente el servicio me dieron una promoción espectacular la señora María
July 25, 2017
Very good service and very professional staff
July 17, 2017
Excellent customer service, clean facility. Not to mention very good prices compared to other storage places in the area.
July 11, 2017
Office manager was very helpful in helping me select the unit size that I need. Building is clean and well maintained.
June 28, 2017
The person in charge of this facility was very attentive, nice, I would highly recommend to all my friends.
June 2, 2017
Por ahora todo bien
May 11, 2017
👍 was great everything was good
April 28, 2017
Un lugar muy bueno y fácil absceso lo recomiendo y algunas unidades en especial a mitad de precio
April 24, 2017
Exellent,thanks
April 2, 2017
Everything that's good
March 5, 2017
Excellent service.
February 16, 2017
Excellent service. Nice place. Very clean location. Need more wheels to move furniture, there are busy all the time.
February 15, 2017
Great very professional quick service
January 13, 2017
100 % Good
December 31, 2016
It was a great experience and great service
December 21, 2016
Very nice
December 19, 2016
It was very good. Your employees are very helpful and professional
December 12, 2016
very nice customer relations
December 10, 2016
Very satisfied