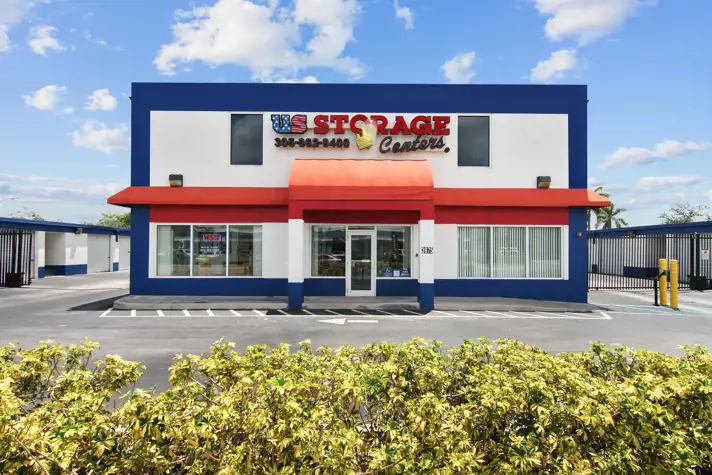 Rent or Hold Your Storage Unit in Minutes.
Location Details
ACCESS HOURS
Mon

6:00am - 10:00pm

Tue

6:00am - 10:00pm

Wed

6:00am - 10:00pm

Thu

6:00am - 10:00pm

Fri

6:00am - 10:00pm

Sat

6:00am - 10:00pm

Sun

6:00am - 10:00pm
OFFICE HOURS
Mon

9:00am - 6:00pm

Tue

9:00am - 6:00pm

Wed

9:00am - 6:00pm

Thu

9:00am - 6:00pm

Fri

9:00am - 6:00pm

Sat

9:00am - 6:00pm

Sun

10:00am - 3:00pm
FEATURES AND AMENITIES
Drive Up Access
Climate Control
Electronic Gated Access
Employee(s) Speak Spanish
Alarmed Unit
Kure It Certified Location
ABOUT THIS LOCATION
Hialeah Self Storage Units
Read More
Photos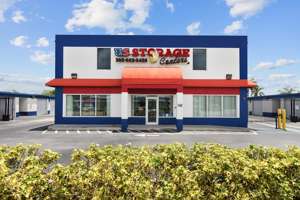 About this Location
Self Storage Facility Features

Here at US Storage Centers in Hialeah we strive to meet every customer's individual self storage needs, whether you're looking for short term storage or long term storage. Our Hialeah storage units come in many sizes and features. Drive-up units make it easy for you to move your items in and out of your unit with a vehicle. Our storage facility has units inside a climate controlled building for your more fragile or sensitive items. You can also keep your recreational vehicles here with us in dedicated spaces, both indoors and outdoors.
Facility Features and Products
Moving is easy with our wide driveways and aisles, as well as our large elevators and hallways. We have the best access hours in Hialeah for your convenience. Each unit is monitored with 24-hour video surveillance and individual door alarms. 

We offer boxes (sized small - x-large). We also have wardrobe boxes, packing tape, tape dispensers, mattress covers, bubble wrap, picture moving kits, disc locks, and brass padlocks.
Easy Rental Options
Rent your storage unit online or over the phone for a quick move in. 
Not ready to rent? No worries! Reserve your unit now to lock in today's special discount.
Month-to-month rentals
No credit card required for reservations
No deposit required
Vehicle Storage Available

We offered inside and outside uncovered spaces for regular size vehicles or small trucks (up to 20 feet).

Conveniently Located

We are in a great location for the locals in Hialeah, Hialeah Gardens, and Miami Lakes. Look for us near Palmetto General Hospital, just off of W 28th Avenue and W 76th Street. When your self-storage facility is right in your Hialeah neighborhood, you can stop by your unit anytime you like.

Languages Spoken by Managers

Fluent in English and Spanish

Forms of Payment

It's easy to pay your bill! We accept cash, checks, money orders, Visa, and MasterCard. You can also pay online through our client login.

The Community

Hialeah is a wonderful place to live. Our city boasts more than 14 public parks for the community to use—that means plenty of room for biking, jogging, barbecuing, picnicking, and other outdoor fun. The Amelia Earheart Park, in particular, offers eight miles of bike trails, an insect museum, a dog park, and replica farm with demonstrations of cow-milking, sheep-shearing, and more.

We are also famous for the Hialeah Park Race Track, first opened in 1922, restored in 2009, and now hosting live horse races. The Hialeah Park and Casino is also a popular site in the community. It plays host to countless events every year like concerts, weddings, conferences, festivals, and more.

With all the fun things to do in Hialeah, the last thing you'll have to worry about is your US Storage Centers self-storage unit.
Customer Reviews
overall rating, 403 total testimonials
December 3, 2023
Overall great experience .... Johnny was very helpful and gave great recommendations .
November 8, 2023
Muy calido,amable,considerados,super eficientes,me ayudaron mucho estoy muy contenta y agradecida especialmente con la senora Martha,Johnn; muchas gracias por sus servicios.Att.Mercy Valerio.
October 23, 2023
This place is clean, quiet, and the lady that helped me was very friendly..
September 29, 2023
very good
September 26, 2023
The person who asssisted me was very professional
September 20, 2023
Excelente 10 puntos
August 29, 2023
Execelente servicio y limpio pero no vi cámaras seguridad adentro
August 27, 2023
Muy buena antencion por parte de la trabajadora Rita ,muy amable y muy buen carácter ,está es la tercera vez ,y volverá ser una cuarta si es necesario,
August 5, 2023
Buen excelente La señora te trata como se debe tratar a las personas correctamente
August 4, 2023
Rita was amazing! Great customer service very helpful.
August 2, 2023
Johnny was super helpful and knowledgeable. He assisted us in getting the right size and climate based on what we were storing. He granted sale prices that were offered in the storage website.
July 15, 2023
Good service, clean units cost effective
May 30, 2023
Great costumer service
May 2, 2023
Muy buena atención, los lugares de almacenamiento estupendos y empleados muy eficientes
April 25, 2023
Good place to store you things and safe
April 7, 2023
Excellent service hospitality
March 7, 2023
Everything is good, but prices are getting too high. Premises are kept in excellent condition. Rita is very helpful for customer assistance. Thank you Rita and US storage stuff.
March 1, 2023
I am confident that my time at US Storage will be a pleasant one
February 18, 2023
Rita was great and made the process very quick easy and simple. She even got us a better unit than we expected. I recommend anybody to come see her for any storage needs !
February 11, 2023
Excellent
January 26, 2023
Llevo mucho tiempo en el estoras y hasta hoy gracias a Dios todo me ayudó de lo más bien buen trato siempre tienen cuando no llama todo bien
January 11, 2023
Rita es una persona maravillosa, muy profesional, polite y estoy muy contenta de pertencer a esta compañía. Aquí me siento segura qué mis articulos están debidamente protegidos. Y Rita es encantadora, profesional y de una gran calidad humana. Yo le doy un #10 very likely ya que el rating anterior no está funcionando. Maria Castro
January 11, 2023
Very good service, i would recommend!
January 9, 2023
They are excellent
January 7, 2023
The experience was unique , super happy with choose you guys. Personal very friendly and explain everything super clear. Recommended 1,000%
December 31, 2022
Good attencion happy.new year
December 22, 2022
Very satisfied Thank you
December 21, 2022
Muy bien, muy buen servicio, encantadora la señora Rita, los recomiendo al 100%
December 15, 2022
Hasta ahora ha sido muy buena y positiva mi experiencia con uds.gracias
December 10, 2022
Buena atención
November 18, 2022
Good, very clean and great service
October 28, 2022
Excellent
October 23, 2022
Excelent
October 22, 2022
Excelente servicio.!!!
October 21, 2022
It was great. Good people working there. Very helpful and accommodating. Rates are good. Clean place. And the people made me feel very welcomed. Also helped me in other ways not having to do with the storage. Currently unemployed and they gave me information. On the company to work from home. Unfortunately they are not hiring at moment. Or so I believe. Anyways point is....US Storage is a great company with the best people working for them. I will be recommending it to anyone in need.
September 26, 2022
Very good
September 15, 2022
Great! The customer service was excelent!
August 13, 2022
Very happy with your service
August 7, 2022
El trato es amable. La limpieza es buena exigen cumplir las normas y la seguridad mediante las cámaras es muy buena.
August 3, 2022
Good,calm friendly staff I like deals and staff explanations are clear there always around to help
July 20, 2022
Excelente trato y muy profesional. Gracias
July 2, 2022
Muy buena experiencia, lo recomiendo muy amable el trato Rita García es una profesional. Gracias
June 30, 2022
Excelente , muy buen servicio y calidad total
June 14, 2022
Excellent 200% Rita the Manager is excellent
May 31, 2022
Muy buena una excelente atención
May 27, 2022
Muy buena atención pero tienen muy altos los costos deberían bajar un poco los precios
May 20, 2022
very good attention
April 28, 2022
Excelente 👌
April 20, 2022
Una especial atencion y lo recomiendo 100%.muy seguro y limpio ..economico
April 10, 2022
Very good .
March 29, 2022
Very good!!! Super clean and great costumer service.
March 23, 2022
Muy buen trato excelente la señora muy linda muy atenta y siempre con una sonrisa y un buen trato yo estoy muy contenta con ella a la verdad a ella yo la califico de excelente
March 14, 2022
Increíblemente bien un personal bien atento.
January 7, 2022
Great customer service
January 4, 2022
Awesome customer service rita explained it all very well and I had trust in her once she explained the details Definitely will recommend the facility
December 7, 2021
Rita was great. Friendly and knowledgeable and very helpful.
December 1, 2021
Very well. I congratulate for your business!
December 1, 2021
Excelente service and professionalism. I am elated with the treatment
October 22, 2021
Very nice and helpful staff they helped show me around the facility as well as how to get to my unit
October 7, 2021
Very good
September 27, 2021
Muy bien
September 11, 2021
Very good....
August 30, 2021
Great - very helpfull personal @ desk .
August 20, 2021
Excelente servicio 👍
August 13, 2021
Bien muy bien
August 12, 2021
Rita offered amazing service with care.
August 6, 2021
The process of book the storage was really easy, and the person that welcomed us was extremely helpful and nice. Everything is clean and very well organize.
July 5, 2021
Muy buena atencion . pero los precios muy altos
June 23, 2021
No experience, very good actuality storage, me happy y satisfaction con la Compañía and MÁNAGER
June 15, 2021
Rita Garcia was excellent. I booked online and then visited. Rita was helpful, welcoming and very efficient.
June 14, 2021
Awesome, I was helped thoroughly with everything I needed.
June 14, 2021
Todo muy bien muy atentos todo y lo explican todos muy bien agradecimiento muy especiar a Rita muy amable
June 4, 2021
No I make a mistake was 10
May 3, 2021
Everything was great, Rita explain and show me the units i think was easier than internet method Thanks
April 28, 2021
Good atention good peoples
April 27, 2021
Very Professional Had a very nice experience with Rita
April 20, 2021
It was very smooth, Rita Garcia was very helpful.
April 8, 2021
Una esperiencia muy bonita para mi primera ves rentar un local pa ra guadar mis propiedades y una muy buena segurida gracias por la a yuda.
March 30, 2021
It was wonderful, Mrs. Rita was very good. I recommend to many places to take an example of her for the good treatment of her.
March 25, 2021
Really great, clear everything and easy the lady Rita is very nice and professional
March 23, 2021
I really like the storage, you have an excellent employee at the office. (Rita) I felt like family. Not often we have a deal like I had in this storage.
March 10, 2021
Muy bien excelente 😊
February 23, 2021
Excellent customer service.The unit is perfect for my necesities.The storage is very near me.T-u.
February 22, 2021
Excellent.
February 10, 2021
Very very good
February 1, 2021
Me encanta muy buena atención lo recomendaría y el local muy limpio y seguro 🔐 y el personal excelente.
January 9, 2021
very nice
January 3, 2021
Excelente
December 24, 2020
I just recently rent a storage and yes it's a nice place and great customer service, recommend it to anyone.
December 21, 2020
Everithin good
December 15, 2020
Excellent service very good price tremendous attention very welcoming welcoming place.
November 20, 2020
Good service
November 12, 2020
Excelente trato de parte del Personal, amables y con experiencia. Gracias
October 13, 2020
Maria was excellent she was very nice and informative
October 1, 2020
Excelente y seguiré siempre contando con su buen servicio
September 29, 2020
Maria Elena and Rita are both very friendly, helpful and knowledgeable. Very good service and happy to have rented a storage there.
September 24, 2020
Good experience
September 18, 2020
Rita is wonderful
August 20, 2020
INCREDIBLE EXPERIENCE...VERY PROFECIONAL STAFF...REALLY NICE
August 19, 2020
The person that took care of me was amazing, very helpful and gave me the best product for my needs and budget. Great customer service.
August 13, 2020
Exelent, very clean and safe
August 8, 2020
135/5000 The place is central and easily accessible. It is clean and the person in charge listed us all the variants and he behaved very friendly.
July 31, 2020
I had a great experience. Your associate Rita was very helpful and professional.
July 29, 2020
The reservation rep was very friendly and helpful. The facility is well lit and very clean. I only wish the push carts were available until the storage closes at 10 (instead of only til 6 when office personnel leaves)
July 17, 2020
excellent service. The customer service the best I called few times and always professional and very courteous Very happy with all the staff thanks so much Outstanding service
July 17, 2020
Just fine. Friendly people and very helpful.
July 15, 2020
Maria Elena is a great employee, she is very helpful and kind.
July 14, 2020
They r very good honest..for a sample l left my lock open door open..and they call me let me know..k checked sll my milwakee tools where there..thats my bread and butter
July 12, 2020
YOU ARE VERY GOOD CONGRATULATIONS !!!!!
July 7, 2020
Great place and great customer service
June 18, 2020
very good experience and the excellent attention of costumer service. I recommend.
June 9, 2020
Buenas personas y muy familiares
June 9, 2020
I'm a returning former client. And has been very happy with rendered services, that's why I came back.
June 2, 2020
Maria is very professional and excellent customer services I recommend this place in Hialeah branch.
June 2, 2020
I feel great. 👍👍👍👍👍👍👍👍👍👍👍👍
May 24, 2020
Excelente servicio y atencion
May 21, 2020
Outstanding Experience! Rita and Mary were professional, friendly and patient during a complicated time in life, the Covid-19 Quarantine and trying to secure a storage unit. I am very thankful they are so experienced and patient with patrons. I highly recommend this US Storage!
April 29, 2020
It was Great
March 27, 2020
Lady at location was really helpful! I will recommend promoting her! She is and asset to your company! This doesn't have nothing to do with her! I noticed that hallways inside where storages rooms are do not have cameras! Cameras are only by main entrance sliding door! I own a Fire and Burglary company and all storage locations have cameras in main entrance and hallways! I will recommend you guys get cameras on hallways to be more vigilant! Understand and body can come in and once the get on those hallways they can really do anything inside there and no one will know! The other day I stop at the storage and one of your maintenance guy was cleaning out some emergency exit light someone had vandalized! I just got my storage unit and I do not feel safe for my things at my unit anymore! I am rethinking of changing to another storage company! My name is Rey and the location of your storage is the one at 16th Ave in Hialeah FL their number there is 305 547 8445. I strongly recommend setting up cameras on those hallways! Thank you! Sincerely, Reinerio Diaz Owner Ringside Fire Protection,LLC Office:305-925-3413 Cell:305-803-2304
March 20, 2020
My experience was very pleasant the staff is very helpful she took her time to explain everything very detail oriented...
March 10, 2020
Great experience excellent service. Thank you to Rita.
March 7, 2020
Excellent service was very helpful and delightful people had he me ready in no time.......
February 28, 2020
Exelente servicio y orientación. Boxes de primera calidad y estado.
February 28, 2020
Muy buena atención y muy Profecionales la limpieza excelente todo muy bien
February 10, 2020
Rita gave me a great service. Thanks
January 25, 2020
Siento que fue una bonita experiencia gracias a la Sra. Rita. Amable, atenta y preocupada por servir al cliente.
January 25, 2020
Rita is amazing and she was a lot of help. Thank you for your amazing services!
January 15, 2020
Mary is a wonderful person very helpful and will go out of her way to help and pleased you
December 31, 2019
Estoy muy satisfecha con la atención de Rita Muy Amable y Profecional Gracias
December 30, 2019
Muy a gusto.gracias
December 24, 2019
Very nice and cleand place.the worker very profecional and anser all my questions and wories about everithing and so nice person.
December 14, 2019
MUY BUEN SERVICIO TE ESPLICAN BIEN TODO MUY LIMPIO TODO TE ATIENDEN RÁPIDO K ENCANTO
November 14, 2019
Muy buen servicio
November 13, 2019
Excelente Storage y un servicio muy muy bueno ,lo recomiendo mucho
November 7, 2019
well trained employees good access good hours very clean
October 23, 2019
Very nice place. Rita is a wonderful person.
October 16, 2019
El atención al customer service fue excelente, gracias por tener personal muy capacitado y muy profesional. Gracias Sra, Rita
October 7, 2019
THAT A NICE PEAPLE AND GOOD SERVICES
October 5, 2019
Muy buena la atención de ambas !! Se lo recomendaría a amigos ,, muchas gracias
September 14, 2019
yo tengo muchos anos con ustedes nunca tuve ningun problema al contrario me siento como familia e\he estado muy contento y regrese de nuevo con ustrdes y siempre he enviado familiares y amigos y eelos tambie estan contento con ustedes sin mas que referime muchas gracias muy amables y gerosos con nosotros Dios los bendiga for ever
September 12, 2019
Very good place clean good airecondition.
September 10, 2019
Muy satisfecha
August 27, 2019
Customer service is great. Facility is very clean.
August 24, 2019
Muy bien, una excelente atencion de las personas que me atendieron
August 23, 2019
Veri good
August 23, 2019
It was great, Rita was very helpful and detailed. Gave us several options .
July 31, 2019
This place is awsome. The people work here are very nice.
July 17, 2019
I recommend highly, mary was the best
July 11, 2019
Excelente y muy buena atención de parte de los trabajadores. Súper seguro y acogedor el local
June 25, 2019
Excellent Place ! Clean ! And great pricing ! . Very attentive people. Always nice, and fast service!
June 6, 2019
I own a company in South Florida with 156 employees from Jacksonville to Key West. 86.5% of my employees and I use the services of US Storage 3975 W 16th Ave, Hialeah, FL 33012. We use the facilities at any time, so I know that when I need immediate space I get it through Rita Garcia. My experience in this The store was phenomenal ... !!!!! The management and the team were extremely helpful and empathetic with my situation. They gave me details about their promotions, their income policies and special offers at the most important moment, options to solve my problems. I am very happy with your skills and excellent experiences ..! Good job rita garcia   I will recommend to my friends clients and acquaintances when they need to change the provider and get a good service provided by US Storage to call Rita Garcia and request information in general. Thanks rita
June 3, 2019
Mary y Rita were fantastic
May 13, 2019
Súper bien buenos precios muy limpio el lugar y un trato súper amable de parte de la señora de la oficina su nombre Rita
May 11, 2019
Excelente servicio y costumer service sus empleadas son maravillosas y amables y no solo recomiendo sus servicios sino que los contrato siempre
May 9, 2019
Excelente Atención Muy satisfecha con el trato que Rita me Brindó Gracias
May 4, 2019
Very happy and satisfied
March 30, 2019
You guys Did Great if you have time would you please visit my Youtube channel http://www.youtube.com/pimporly Orlando
March 30, 2019
the best customer services so glad rent my unit here
March 8, 2019
Your team work is excellent and I am very grateful for the advice they gave me
February 28, 2019
Excellent costumer service and faster service.
February 28, 2019
The associates were very helpfull. The associates had a very positive attitude.
February 27, 2019
Muy buen servicio y muy amables,y sobre todo muy buen precio
February 3, 2019
Very good.
February 2, 2019
Rita the best customer service
October 2, 2018
Stephanie made everything so quick & easy, she answered all the questions before I could even ask. This place is always so clean, and the employees are very helpful. Keep up the great work!
September 11, 2018
The staff felt like family. The atmosphere was completely conducive to making the customer comfortable with doing with business with and storing their personal items in the facility.
August 14, 2018
I had the best experience with US storage. What i love about this place is that everything is clean compare to others storage i would give a 5 starts.
August 8, 2018
I'm glad the service, the store conditions, and the people. Thanks
July 6, 2018
Instalaciones siempre estan limpias y organizadas. Seguridad de tu unidad de almacenamiento. El equipo es muy atento y capaz
May 21, 2018
Love th eer service and storage.
May 19, 2018
Great experience with the facility. The staff were courteous and willing to help with any questions or issues.
May 1, 2018
Very combinient located and very nice people
April 26, 2018
Rita and Jorge have been very helpful. I have been unable to log in to your online system. The system doesn't recognize me. They've sent emails to your corporate office, but I'm as of yet to receive a response.
April 18, 2018
Friendly staff clean premises
April 18, 2018
Excellent!
April 18, 2018
I've been using US Storage for a long time and I am very happy with their facility and their employee's.
March 20, 2018
It was a pleasant experience, never had a problem. Rita made my life quite better and easier. She was always very helpful .
March 5, 2018
Great service, great price!! Rita is the best!!
March 3, 2018
Excellent Customer, I would like to thank Rita for her Excellent Customer Service and Professionalism. Thank You.
February 23, 2018
Amazing,,and Rita is really nice
February 23, 2018
Muy complacida, excelente atención por esa razón siempre vuelvo, Rita es Fantástica, muy atenta, perfecta atención al público.
February 9, 2018
Excellent attention to detail and customer service from Rita. Satisfied customer.
February 4, 2018
Very good
February 3, 2018
This was the easiest move in with paperwork and the easiest departure. The units are clean and very accessible. Highly recommended.
January 21, 2018
The experience was very good, Rita was very nice and helpful
January 17, 2018
Very nice staff,great location,good attention and resoveld problem.I recommend others peple to visit the place.
January 15, 2018
Clean facility Didn't like the methodical price increases and mandatory insurance. Seemed like when I didn't access space no price increase and when I started visiting it more often I was hit with an increase. Maybe just a ?coincidence
January 15, 2018
Todo muy bien.excelente comunicacion,trato y buen servicio.es una buena compañia
January 8, 2018
Exelent customer service
December 7, 2017
Excellent
December 7, 2017
Excelente la Atecion al Cliente Puedo recomendar a cualquier amigo Todo muy Limpio Gracias
December 2, 2017
Excelent place
November 26, 2017
The workers was very helpful
November 18, 2017
Excellent, Frank and the rest of the personal were very helpful answer our question.
November 14, 2017
THE Experience was great and Rita was amazing, very kind and knew what she was talking about.
November 8, 2017
Everything would have been exceptional except for 2 things. First, when offering a 5x10 unit you should mention there's no roll up door and that it should be stated the size of the door opening. I had to unexpectedly get another unit. Second, it should have been swept out better. Otherwise, its great.
October 25, 2017
Great! The attention we received was first class. We are very pleased.
October 14, 2017
Great service provided by Frank.
September 19, 2017
Really good
September 17, 2017
Rita is great custom service person very friendly place is very nice an clean I would let anyone about place the needs storage place
August 31, 2017
Excelente muy buen customer service En La Oficina el lugar bien limpio y todo está muy lindo Gracias por el servicio
August 26, 2017
Well and satisfy, good service, kindly workers, clean and secure facility. Very nice people.
August 1, 2017
Mi estancia en su storage fue y sigue siendo muy agradable!! Sobre todo, las señoritas que realizan un trabajo con mucha responsabilidad, gusto y cariño, me han hecho sentirme como en casa y en familia!!*****!! Muchas gracias!!
July 17, 2017
Una atención muy maravillosa la señora conoce muy bien su trabajo y muy servicial y siempre dispuesta a que estemos contenta con el lugar excelente
July 9, 2017
Excelente!!! 5 stars!!!
July 1, 2017
Very friendly staff I'll would recommend to come
June 21, 2017
I Would like to Thank Rita Garcia Assistant Property Manager for her Professionalism and Excellent Customer Service. She was very helpful in helping me pick the correct storage unit.I liked the fact the the property has CCTV Camera's and secured gates. Thank You.
May 27, 2017
Atentos,amables y profesionales
April 21, 2017
Rita,the employee who take care of us was very profesional and nice.
April 9, 2017
Every ting was perfect and grade serve
February 10, 2017
tiene un trato excelente y buenas condiciones el lugar a otra persona se lo voy a recomendar
December 21, 2016
Staff is extremely friendly and helpful.
December 21, 2016
Great. Friendly and helpful staff!
December 10, 2016
Excellent Service anda installations.