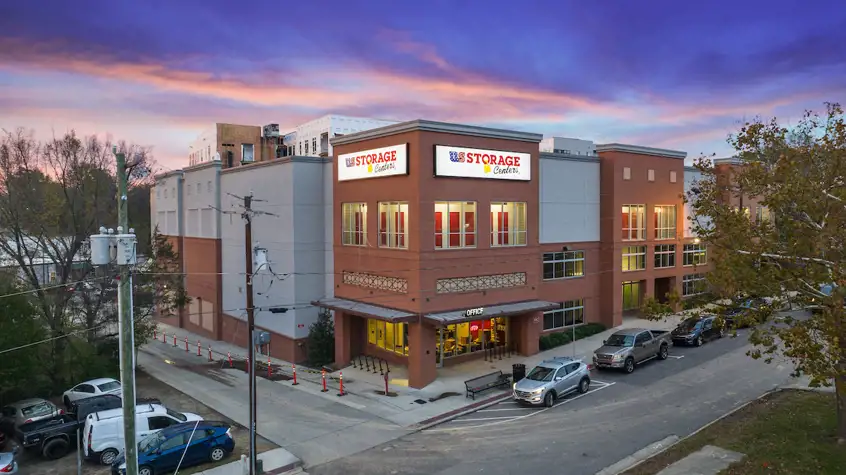 Rent or Hold Your Storage Unit in Minutes.
Location Details
ACCESS HOURS
Mon

6:00am - 10:00pm

Tue

6:00am - 10:00pm

Wed

6:00am - 10:00pm

Thu

6:00am - 10:00pm

Fri

6:00am - 10:00pm

Sat

6:00am - 10:00pm

Sun

6:00am - 10:00pm
OFFICE HOURS
Mon

9:00am - 5:30pm

Tue

9:00am - 5:30pm

Wed

9:00am - 5:30pm

Thu

9:00am - 5:30pm

Fri

9:00am - 5:30pm

Sat

9:00am - 4:30pm

Sun

Closed
FEATURES AND AMENITIES
Climate Control
Passenger Elevators
Video Recording
Boxes & Moving Supplies
Moving Carts
ABOUT THIS LOCATION
Looking for self storage in Durham? Learn more about how our storage facility can accommodate your storage needs!
Read More
Photos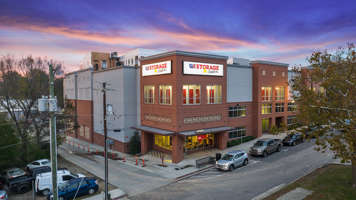 About this Location
Self Storage in Durham
Rent or reserve your storage unit online at our Durham, NC storage facility! We offer storage units that come in a wide variety of sizes that include features and amenities for a convenient storage experience. Our climate controlled storage units are ideal for items that are temperature sensitive. There's 24/7 video recording throughout the storage facility and an electronic access door that can only be accessed by current tenants. No matter which floor your storage unit is on, our passenger elevators make it easy to access your Durham storage unit, and our on-site moving carts allow you to maneuver your belongings to where they need to be. We sell boxes and moving supplies in our storage rental office to help keep your belongings organized in your storage unit. 
Easy Rental Options
Rent your storage unit online or over the phone for a quick move in. 
Not ready to rent? No worries! Reserve your unit now to lock in today's special discount.
Month-to-month rentals
No credit card required for reservations
No deposit required
Durham Storage Near You
Located in the heart of downtown Durham, our storage facility can be found on W Seminary Avenue between Rigsbee Avenue and N Mangum Street. If you live in the neighboring areas of Old Five Points, Old North Durham, Trinity Park, Trinity Heights, Old West Durham, Walltown, Burch Avenue, West End, Morehead Hill, Hillside Avenue/St. Teresa, Hayti District, Golden Belt, East Durham, Albright, or Wellons Village, our storage facility is a local and convenient option to store your belongings.
Customer Reviews
overall rating, 40 total testimonials
June 8, 2023
I've had a very positive experience so far. The storage area is always clean, and setting up and purchasing the space is easy.
May 25, 2023
Helpful and welcoming!
May 14, 2023
It was great. I have been renting a storage with u for the last 2 years, being that my daughter is a student at NCCU. Ur employees r very professional & nice & communicate well.
May 10, 2023
Everything was great! Great location and easy to find. Everything was very clean and we were treated spectacular!! Would definitely recommend to all
April 6, 2023
Checked into the office for the first time after booking online. Process seemed quick except after immediately unloading and bringing things up to the unit, I came to see the unit had a lock. When returning to the office within 5 mins of initially checking in, the office was empty and locked with a sign referenced being back at 10am when the current time was 1:10pm. I called the number on google and they said they would alert the person who was marked off property and they should be back within 15mins. I had to wait an additional 20mins for them to come back- even though they were in the building sitting in the employees only room the whole time. They were on their lunch break. I understand having a lunch break as I was on mine as well to check-in during office hours that are required. There was no way to alert them in a manner to pause their lunch break and complete the step they missed to check in? Even if I didn't immediately start unloading I could have come back after office hours and wasted a trip with a locked unit. Also unclear on payment dates and another payment due THE NEXT DAY. That feels like a fraudulent $20 taken for one day of storage.
March 15, 2023
Harassment while vacant at my storage unit. The hours say 24/7 online but are 6-10. Needs new management at this location
February 7, 2023
The prices just keep going up, for the exact same - if not worse - service. Kelvin is great but the structure of the company is based on maximizing profit and I would leave immediately if I didn't need it and it wasn't convenient to where I live.
February 4, 2023
wonderful. Kelvin was very helpful and his personality was great
January 15, 2023
Very professional!
January 14, 2023
Having a difficult experience. We have been customers since neighborhood storage and always had good experiences. I am renting a larger unit thst should have started yesterday and I came twice yesterday. The first time I was told the computer was down. I left and came back later in the day and waited outside as the door was locked. When the guy came I was told now the computer was closing out for the day and he couldn't get into it to get my unit. Now I am back on Saturday and the door was locked. The guy saw me and came to tell me he was taking someone on a tour and I had to wait 15 minutes for him to return. It's freezing out and I'm waiting for the third time and still don't have access to the unit.
January 8, 2023
I'm having a hard time right now . But Kelvin was amazing, you never know the day someone is having. It's refreshing to have people that truly understand customer service.
January 3, 2023
The manager was friendly, professional and explained everything clearly and concisely. Facility is really clean and well maintained.
November 26, 2022
It was a good experience.
November 22, 2022
Great place
November 9, 2022
Good so far.
October 27, 2022
Great staff, great location, nice space.
September 30, 2022
I felt very good about my experience. I had a very pleasant office experience and left feeling like a valued customer.
September 22, 2022
We've been dealing with a problem for several weeks. Our account was randomly closed after 5 years without our knowledge and we had to re-sign paperwork to set the account back up. We thought everything was fixed but the passcode on the door still doesn't work. We need to be to access our possessions when we go to the unit.
September 19, 2022
Kelvin made us feel so welcome and cared for! He was kind and professional on the phone, even taking the time to go physically measure the height of my unit to be sure my item would fit. We was warm and welcoming and made the whole experience very positive!
September 16, 2022
Super Easy and Kelvin is the best!
September 13, 2022
The location was good and so was the condition of the unit. The system for reserving a storage unit and actually getting it was awful and I was lied to multiple times. I intially asked if the first month off deal applied if we only rented for a month, was told yes. I also asked if a cylinder lock would work and was also told yes. I went to the actual location to get my reserved unit only to find that it was already given to someone else. I got a unit that was two floors higher an 20 dollars more per month. The deal apparently didnt apply and the lock wasn't usable. Very frustrating.
August 16, 2022
Kelvin was amazing. I walked in with so much on my mind but his personality made me forget everything I was going through for that moment. I'm a little nervous about bugs and spiders being on the first floor as I see that there will be plenty. Besides that, I have no complaints at all. Kelvin (I hope his name is Kelvin) was the meat and potatoes of my move and my stress that day. He deserves a raise or some sort of compensation. That's what customer service is all about
August 8, 2022
Very organized, friendly service.
July 28, 2022
Kelvin at the downtown Durham location was extremely pleasant and helpful. He provided amazing customer service!
June 7, 2022
Great, for now, but I will give feedback once I make sure my items in storage are safe and sound. I have computer screens in there and if the temperature exceeds a certain degrees Fahrenheit then will be ruined. So I would prefer to give feedback once I pay my last storage bill. I would reiterate this message to gatherup.
May 19, 2022
Great. Clean. Air Conditioned. Plenty of dollys.