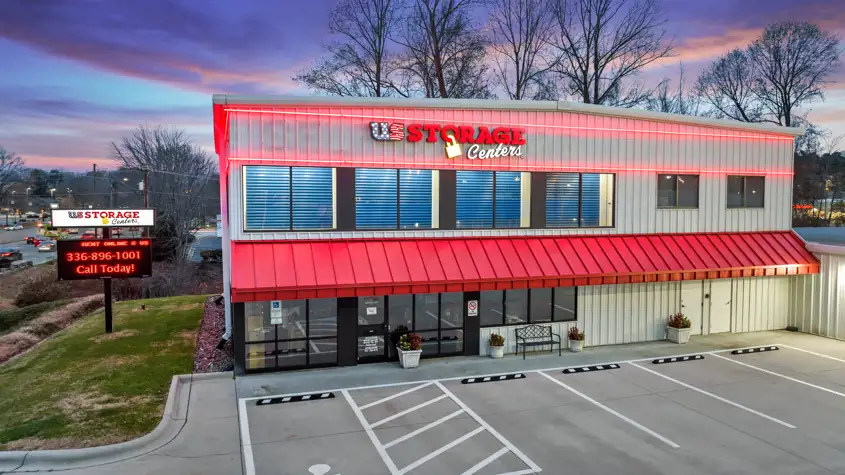 Rent or Hold Your Storage Unit in Minutes.
Location Details
ACCESS HOURS
Mon

6:00am - 10:00pm

Tue

6:00am - 10:00pm

Wed

6:00am - 10:00pm

Thu

6:00am - 10:00pm

Fri

6:00am - 10:00pm

Sat

6:00am - 10:00pm

Sun

6:00am - 10:00pm
OFFICE HOURS
Mon

9:00am - 6:00pm

Tue

9:00am - 6:00pm

Wed

9:00am - 6:00pm

Thu

9:00am - 6:00pm

Fri

9:00am - 6:00pm

Sat

9:00am - 3:00pm

Sun

Closed
FEATURES AND AMENITIES
Climate Control
Electronic Gated Access
Video Recording
Boxes & Moving Supplies
Moving Carts
ABOUT THIS LOCATION
Learn more about our Winston-Salem storage facility has to offer!
Read More
Photos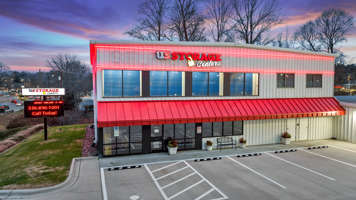 About this Location
Winston-Salem Storage Units
US Storage Centers in Winston-Salem, NC offers affordable storage units located near you. Our self storage units come in a variety of sizes and are all located indoors on the ground level. All storage units are climate controlled, which is ideal if you have personal belongings that are sensitive to the temperature. The storage facility has 24/7 video recording and electronic gated access, which only current tenants are able to access with their unique PIN code. We have moving carts available on-site to make it easy to maneuver your belongings to where they need to be and we have boxes and moving supplies available in our rental office for purchase. Our friendly and professional staff are ready to assist you and answer any questions you may have about which storage unit is best for your needs.
Easy Rental Options
Rent your storage unit online or over the phone for a quick move in. 
Not ready to rent? No worries! Reserve your unit now to lock in today's special discount.
Month-to-month rentals
No credit card required for reservations
No deposit required
Winston-Salem Storage Located Near You
Located on University Parkway, our storage facility is easy and convenient to access for local residents and businesses. If you live in the nearby areas of Oldtown, Oak Crest, Bethania, Bethania Station, Forest Hills, Montview, Ogburn Station, Reynolda Village, Reynolda Park, Mount Tabor, Fox Hall, Stanleyville, Temora Lake Estates, Buena Vista, Westview, North Winston, or Brookwood, we can accommodate your storage needs. If you're a student at Wake Forest University, our storage units are a great nearby option when you are in need of storage. 
Customer Reviews
overall rating, 41 total testimonials
October 18, 2023
Excellent
October 12, 2023
Easy to purchase, affordable when purchasing. Only thing I wish were access hours longer. Closes early sometimes when you are moving it can be time consuming.
September 6, 2023
Very good and Pennie was amazing
August 23, 2023
Pennie was great and very helpful! Thank you
August 5, 2023
Penny did an excellent job.
June 12, 2023
very good compared to the management that was there before!
June 6, 2023
It was my first time renting a storage locker, and the employees made it a very stress-free and informative process.
May 25, 2023
Fantastic! Very helpful, friendly people in the office!
May 18, 2023
The facility is nice and was in a convenient location, but getting everything set up at first was an issue. My code wasn't activated after I signed my lease, so when I came back to move in after hours, I was denied access and had to call customer support to send the property manager out. They rectified the situation fairly quickly though which was great.
May 12, 2023
Very friendly and accommodating. The facility is very clean and organized. I would definitely recommend this location to others in need of storage space.
May 8, 2023
Penny was great!
May 8, 2023
It was a pleasant experience. I like how the units are arranged and the easy access.
April 29, 2023
It was wonderful- team was very helpful
April 27, 2023
It was the worst customer experience I have has in quite awhile. When I signed up for the unit in person, the guy couldn't figure out how to do it in their system. He had to start over several times. Then he turned it over to his manager who also tried several times. Finally after about 90 minutes, they said it was good. I was supposed to get 2 months at 1/2 price as a sign up promo. I had them set up auto pay and they promised after all the mess ups it was set up correctly. When the first billing cycle came up (I paid for the first partial month up front), I was charged for the full amount. I called 3 times and never got the site, but an a Centralservice desk who said they couldnt fix it, but would have the on site people call. They never did. I called a 4th time and got someone at the site who said he was the manger and he fixed it. I'll see if that is true at the next billing cycle. So this has taken 4 or 5 hours of my time over 2 weeks to buy your product. Ridiculous!
March 24, 2023
Great service
February 11, 2023
Penny was very helpful. She explained the process and gave me the opportunity to ask any questions that I may have. She was very patient.
December 10, 2022
The customer service was phenomenal!
November 25, 2022
Great location, great climate control, and my storage unit was easy to find.
October 31, 2022
Excellent Customer Service, Great facility and location, I'll definitely use again when needed and tell others about US STORAGE! Thank You
October 26, 2022
Good Help and answers from the Rep.
October 22, 2022
The best. Excellent in every way.
September 14, 2022
From the moment I contacted on the web site, I've had a very pleasant, professional, and fulfilling Experience. I was walked through the facility, shown options to fulfill my needs. And so far follow through has been on point. I would recommend in a moment.
July 29, 2022
Never been better. Facility exceptionally clean. Matt and Husband extremely personable, friendly, patient, should I continue... Should it become necessary I will pass several other facilities to get to them. Thanks again.
July 20, 2022
Loved it. Matt was super helpful and the storage location is great!
July 15, 2022
I truly appreciate the customer service and ease of functionality at the site.
June 29, 2022
I loved it!
June 20, 2022
I am a new customer since this site was acquired, but have been extremely pleased with my service thus far.
June 7, 2022
They were great! Gave us water and were very helpful and had equipment to help move items inside to the storage unit😊😊
May 18, 2022
fast and easy. Associate was professional and helped me select the right size storage unit for my needs.
May 12, 2022
I was very pleased with the service and the facility. I appreciate the staff and management's efforts to assist me in obtaining a cylinder lock and helping to make my move seamless.
May 12, 2022
I was in and out it pretty much secure me that only deliver was I wanted a bigger unit but that was the biggest one they had other than that everything was great look clean new kept up