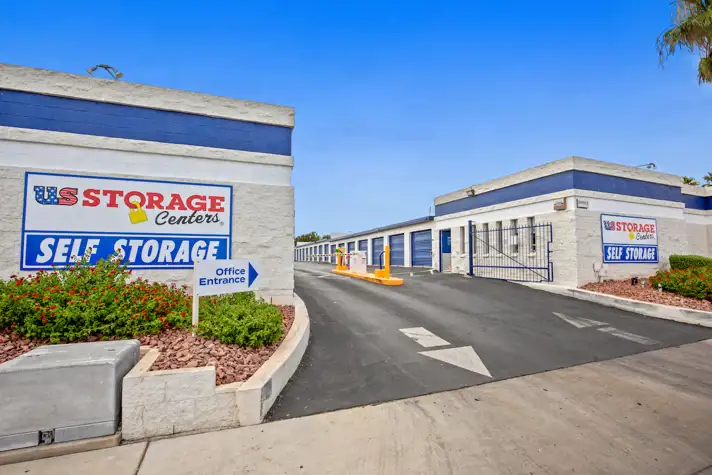 Rent or Hold Your Storage Unit in Minutes.
Location Details
ACCESS HOURS
Mon

7:00am - 7:00pm

Tue

7:00am - 7:00pm

Wed

7:00am - 7:00pm

Thu

7:00am - 7:00pm

Fri

7:00am - 7:00pm

Sat

7:00am - 7:00pm

Sun

7:00am - 7:00pm
OFFICE HOURS
Mon

9:00am - 6:00pm

Tue

9:00am - 6:00pm

Wed

9:00am - 6:00pm

Thu

9:00am - 6:00pm

Fri

9:00am - 6:00pm

Sat

9:00am - 6:00pm

Sun

Closed
FEATURES AND AMENITIES
Drive Up Access
Electronic Gated Access
Video Recording
Boxes & Moving Supplies
Kure It Certified Location
ABOUT THIS LOCATION
Our Las Vegas self storage facility is here to help with all your self storage needs - whether you want long-term storage or short-term storage. At US Storage Centers, we offer unit sizes that range in size and monthly rental prices. Our Las Vegas facility offers drive-up access, and we have boxes and moving supplies on-site to help you prepare for your storage experience with us.
Read More
Photos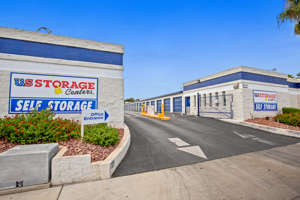 About this Location
Storage Units
Our Las Vegas self storage facility is here to help with all your self storage needs - whether you want long-term storage or short-term storage. At US Storage Centers, we offer unit sizes that range in size and monthly rental prices. Our Las Vegas facility offers drive-up access, and we have boxes and moving supplies on-site to help you prepare for your storage experience with us. Our Las Vegas self storage facility at 233 N Mojave Rd. is conveniently situated in a busy neighborhood, making access to the facility easy. 
Easy Rental Options
Rent your storage unit online or over the phone for a quick move in. 
Not ready to rent? No worries! Reserve your unit now to lock in today's special discount.
Month-to-month rentals
No credit card required for reservations
No deposit required
Your Local Neighborhood Facility
We often serve families who live in the surrounding neighborhoods, including Mi Casa en el Sol, Rulon Earl, Arthur McCants, and Church-Noblitt, but anyone throughout the city may take full advantage of the units we offer. This storage facility was formerly known as Sun Stone Mini Storage. 
Facility Features
We provide different forms of features on our premises, including electronic gated access (where users can only enter if they have an authorized keycode) and 24/7 video recording. We also advise our renters to purchase heavy-duty padlocks for their units..
Professionally Managed
Another high priority for us is your satisfaction as a customer. We strive to make your storage experience as easy and seamless as possible. Our trained staff members will always be available to provide you with help, answers to your questions, and an immediate response to any concerns you may have. In addition, we always clean our facility clean and in good condition.
Forms of Payment
You can pay for your self-storage unit online, in person, or even over the phone. We accept all major forms of payments, including credit card, debit card, cash, and check. Rental contracts are also based on a month-to-month contract, allowing you to rent your storage unit for as long or short as you need it.
The Community
Las Vegas is a vibrant community comprised of many working-class individuals and families who enjoy Las Vegas for its culture, mild weather, and many things the whole family can enjoy. There are many family-friendly shows, museums, mini golf, and outdoor recreational activities you can enjoy. Come check out our facility today to learn more about what we can offer you!
Customer Reviews
overall rating, 275 total testimonials
September 15, 2023
Overall it's good but I been late a couple of times n the late fees are too much
June 11, 2023
I did like it and I would recommend it to my friends and the price was really cheap thank you
June 11, 2023
The insurance rate is too high. No benefits to the consumer.
June 5, 2023
Very good experience. staff is very nice and curious and I would definitely recommend to others.
May 11, 2023
It is a safe place and very clean and friendly staff. Muchas Gracias.
March 30, 2023
I like my experience a lot. Very friendly and will work with staff members
March 29, 2023
Great customer service however, the time frame picking up things is kind of extreme and the cost has its over priced. I soon will be removing my things from that location because of the fact it seems that I'm getting overcharged for a small unit and I'm a senior citizen and my Social Security check is taking a chunk of money and I barely left off very little so it's hurting my pockets really bad. If you have any specials, please let me know. So that I can keep the storage unit. If not, I'll probably take it out during the summer.
March 23, 2023
Great service
March 16, 2023
It was the most terrible experience I could ever have the manager at the facility on Mojave is a terrible person I have made a complaint and no one has ever called me back because maybe y'all don't care either but I would like to address this situation because I was treated very poorly at us storage and I am very upset about it still to this day and I would like to take it to the next level so I would love for somebody to give me a call back 341-799-6574 and I did call a different us storage and leave a long message with a human regarding my problem with that facility and he said that someone would contact me back which never happened so us storage is the worst place that I've ever dealt with only because of the manager on Mojave she's terrible and I want to have the situation addressed
March 5, 2023
Everyone's always helpful whether on the phone or in person. Thanks! Great job guys!
February 20, 2023
Tiffany at the Mojave location is a total Karen, a pest, and made me and my girlfriend super uncomfortable the entire time I rented there. So glad to be away from her.
February 19, 2023
the prices were too high , bad communication
January 29, 2023
Bad .. started ok. But was terrible communication
December 14, 2022
Ty is very contagious. Her personality wins you over to let you know you belongings are safe.
December 5, 2022
the experience I have of this place is highly recommended
November 21, 2022
The manager and staff were very nice and courteous. I would recommend my friends.
October 15, 2022
Person that signed me up was very helpful and pleasant.
September 29, 2022
Very professional attitude
September 28, 2022
Great!!
September 7, 2022
Best storage place in Las Vegas the management is the best live it there !
June 2, 2022
Great company to rent from and Tiffany is very very helpful. I would highly recommend renting from them to anybody and I will be using again in the future if need be
April 21, 2022
I gave a 10 because everything was clear, and the staff was helpful, knowledgeable, and friendly. The price was highly competitive, and the storage was clean (although the light bulb didn't work).
April 20, 2022
Stafford friendly always willing to help I've had no problems being there at all forever I love my storage unit and I will definitely be staying with you guys even if I move and I happen to move my stuff out of storage I would definitely be coming back to the storage unit and I recommend it the storage unit to friends and family keep up the great job
April 19, 2022
Very nice place
February 27, 2022
U. S storage on Mojave is the best! Super friendly staff and really easy to sign up. I would definitely recommend any one to go there and rent a unit.
February 8, 2022
It was awesome the young lady at the counter was very friendly and helpful 🌸🌸🌸 She even offered us water it was very hot day when we moved in 🌸🌸🌸
January 9, 2022
I like the convenience of the location near where I live. I also like the idea that I was able to purchase a lock as well And I like how the whole facility is one level, making of easy.
December 6, 2021
Excellent Storage, I feel like my belogins are secured in that place.
November 29, 2021
It was quick and straight forward no hidden fees. Customer service was good and unit was ready to go.
November 2, 2021
Very considerate ilove this storage place . Come all the way from California for storage unit 🤞🏾🤞🏾🤞🏾
October 28, 2021
Mostly good but your online operations are not customer friendly.
October 22, 2021
good experience, good customer service
October 1, 2021
It was fast easy straight forward ,followed all covid guidelines made me feel welcome .great customer service .
September 26, 2021
Good and satisfied so far.
September 3, 2021
Very attend and help person very good customer service a like it and I recommend it to my friends 😀
August 6, 2021
Great service
August 3, 2021
Excellent, thanks
June 30, 2021
Everyone is really nice, and really helpful
June 15, 2021
I was welcomed with friendly service and I have had no problems
June 13, 2021
I love the service
June 11, 2021
Great interaction with office staff.
April 19, 2021
Good service and clean units
January 3, 2021
Affordable, staff are great
December 30, 2020
US Storage Centers is a great place to store whatever needs available. I recommend this place to go to, friendly staff across the board that I have dealt with which helps...
December 1, 2020
Working out well
November 9, 2020
I am extremely happy with the thorough, professional, friendly, and secure service you have given me. From sign up online, to signing for my unit and receiving a lock, your service has been hassle free and great. Thank you!
October 17, 2020
It was a good experience very professional
September 18, 2020
I had a very positive experience and would highly recommend you to my friends and family. Excellent service from your staff and very professional. Thank You
September 16, 2020
It's cool so far the staff are friendly and it seems they watch out for the customer
September 10, 2020
Efficiency with a comfortable touch of understanding.when all the world gets too busy it's nice to make new friends . Thanks
August 13, 2020
Everyone is extremely nice and courteous , and the unit is rented was very good and exactly what I needed. Security is very good and the entire experience has been quite nice . Would definitely recommend this company to others.
August 13, 2020
Good and recommend others to do business with you.
August 11, 2020
Great in communication and information
July 25, 2020
The two ladies that were there the day we road into town helped us above and behind cause we had major truck rental problem. So they made sure our storage unit trip was smooth and easy with no problems. My daughter and I can't thank them enough.
July 21, 2020
Very Professional friendly make you feel like family
July 17, 2020
Good customer service.
July 8, 2020
It was fine no problems .
June 24, 2020
Friendly, helpful, I am sure my belongings are safe
May 24, 2020
Staff is always helpful and polite. Premises is always clean. Prices are reasonable. The only thing I wish is that I had access 24/7. There are times when a customer needs to put something in or take something out of their unit but because they close early evening they have to wait for another time. I've never had a storage facility where the whole place closed at the end of the day. Others I've had in the past only the office closed up and the units were accessable 24/7. Other than that, everything else is great!
May 12, 2020
Tiffany was great very friendly and knowledgeable she is a great asset to your company
May 7, 2020
Tiffany and Charlene are both nice ladies. Very professional and great customer service skills.
May 4, 2020
Most helpful and courteous
April 17, 2020
It was great nice service will be back here soon. I loved how they got me the right room for my stuff thank you
March 23, 2020
Everything was clean and the management is awesome ! She is a genuine nice person.
March 7, 2020
Very friendly and help full an Don is Awsome an compassionate thank you all for everything
March 4, 2020
Staff was friendly. Establishment was clean. Offered great special
February 28, 2020
It was very pleasing.
February 27, 2020
I felt very welcomed by the staff. The facility is clean and accessible, 10/10 yay
February 24, 2020
My experience was great, Tiffany and Charlene were awesome and made it so easy to do business with.
February 16, 2020
Great service at the office! Very clean facility. Fair price as well!
February 16, 2020
I am still upset finding out that ive been over charged for unit 796. It should be $39 per month but ive been paying $51.50 for several months. I hope that i get a few free months on unit 303.
February 8, 2020
Very welcoming. Quick and to the point. Very transparent. My unit is perfect for my needs and was ready for move. Super clean.
February 3, 2020
Wonderful experience with the company. And I will suggest you to my friends and family.
January 25, 2020
The experience was very good. The property manager was outstanding and she provided the absolute best customer service. She made a very stressful time very easy for me. I would highly recommend U.S. Storage Centers based on my interaction with her.
January 15, 2020
Me gusto mucho el servicio !!!
January 10, 2020
Muy satisfecho con el servicio y especial recibida al realizar el contrato!!
December 29, 2019
It was good
December 9, 2019
Excellent friendly accommodating service!
December 7, 2019
Excellent customer services by Frank
November 26, 2019
Felt that I was taken care off, office staff was very professional
November 21, 2019
I was attended to very respectfully. Cherlene was very nice and helpful, making the experience meaningful and memorable. Thanks again US Storage Center
November 10, 2019
GREAT GREAT GREAT GREAT CHARLENE IS INCREDIBLE
November 1, 2019
Very comfortable and accessible
October 31, 2019
Amazing customer service friendly and fast
October 17, 2019
Excelent
October 11, 2019
Great place, and nice people at the office.
September 26, 2019
Excellent!
September 20, 2019
GREAT CUSTOMER SERVICE SKILLS I LOVE THE PLACE I WOULD RECOMMEND THIS TO ANY ONE ! THIS WILL ALWAYS BE MY GO TO WHEN NEEDED I WAS HIGHLY APPRECIATED. Looking forward to seeing the lady Charlene front desk when is needed I thank your company very much.
September 17, 2019
the two in the front were very informative great team. Personable nice people.
September 7, 2019
Charlene was most helpful. You have a very valuable employee in her. Very accommodating and a pleasure to deal with
September 4, 2019
Charlene was exceptional. She has a remarkable capacity for customer service.
August 27, 2019
Great service and facilities. Definitely would recommend this place to others
August 26, 2019
Tiffany was very professional and she helped me with no problem.
August 9, 2019
It was very nice experience very nice people and they make you feel so welcome and very clean place I am very happy I am renting here.
July 29, 2019
It was a great experience... I would sure use us storage for the future when ever i need storage
June 29, 2019
Very helpful i would recommend this location
June 7, 2019
VERY POSITIVE
May 17, 2019
Tiffany was a great! Easy rental with great service!
May 16, 2019
Outstanding customer service
May 13, 2019
Process went great. She was very helpful and understanding. A+ customer service
May 5, 2019
Really nice. Staff is as friendly and accommodating. The only thing i didn't like is it didn't stay open long enough. Extended hours and access to my items would have great improved this experience.
April 24, 2019
My daughter and I've rented with you before
April 23, 2019
Great service will be a good recommend. Thanks us storage
April 18, 2019
Great experience, very convenient and your staff is very helpful.
April 15, 2019
It was and is a a very good experience
March 31, 2019
Wonderful experience. The lady at the front was a pleasure to work with. Not sure if she was the owner or not but she had pretty red hair.
March 5, 2019
Tiffany is a marvelous person and makes renting from these storage units a pleasure. Keep her.
February 27, 2019
I enjoyed the customer service period.
November 14, 2018
I have been with Sunstone Storage for the past 9 months & have been really satisfied with the customer service that Sunstone has to offer due to the professionalism of Tiffany Carter - The Property Manager- Any concerns that I have had immediately were taken care of. She is always friendly, courteous, & will follow-up . I started with 1 unit & now I have 2 units at the Mojave road Sunstone facility. The Property is very well maintained in everyway. It is pleasure to walk into the leasing office when paying my monthly bill to be in such a clean & inviting environment..Thank You Tiffany....Lou Martinez
October 31, 2018
It was a vey cool experience! Everything went very smooth customer service was excellent.
October 30, 2018
It was great
October 26, 2018
Great service good people cheap storage
October 21, 2018
No problems,smooth move, would recomend.
October 18, 2018
Very satisfied. Clean and sufficient. Excellent employees. No hassle or outrageous late fees.
October 18, 2018
everyone was very helpful
October 10, 2018
I feel the pricing is fair and the service is outstanding. I believe that Ty is serving my company's best interests as well as handling business for Sunstone in a professional manner.
October 6, 2018
keep up the good
October 5, 2018
All went well.every one very helpful.
September 20, 2018
Its was good just kinda pricey.it should be open longer hrs.
September 17, 2018
great staff and very clean service
September 17, 2018
The manager was great she was really helpful and I found exactly what I needed she answered all my questions and even showed me the storage that I needed
September 6, 2018
Fast service
August 23, 2018
I LOVE YOUR PEOPLE. So outgoing! Tiffany loves her job so much, she is an angel of deep attention to everybody's needs:) Elly is SO AMAZING, I cannot describe! About recommending the storage - Not very much, only to those who have wood to store. I was almost killed by outside heat, but your fans are USELESS, and you might get a situation when someone may be deadly hurt by Vegas weather... What did you mean that storages have COOLING?! I forgot my meds there for overnight, and all capsules stick together. Trash... It is one of the most painful experiences for me, and I am a war reporter in past. It hurts me thinking that only furnitures & books cab be stored at your place, or I need to look for a normal one. WHY YOU WOULD NOT GIVE A CLEAR GUIDANCE NOT TO LIVE ANYTHING that we'd want to see «alive». Any cooking oil or hair color cannot be stored there! So I LOSE 100s of dollars on this choice of your «mini»<=> I am a lady, & have beauty products and plastic-alike clothes! I just cannot think about changing the storage because it might kill So I will lose everything that is not wood and paper. What covers my insurance, and how, it's a question
July 19, 2018
A excellent experience better than I expected I would recommend this storage to all my friends
July 8, 2018
I felt very welcome and appreciated
June 20, 2018
I liked every aspect of the process I have no complaints only one suggest could have longer gate hours maybe close at 8:00 or 9:00pm for those of us that work till 5 or 6 in the evening.but other than that everything is supra.
April 21, 2018
Very good experience. Much better than under previous management. Glad that they are back to allowing autopay.
April 21, 2018
They were very friendly and welcoming.and I was very assured my belongings would be safe at all times .and pricing is very good
April 14, 2018
Good friendly service
April 6, 2018
I had the opportunity of meeting Jeff after he followed up with me with questions I had. A concern with a latch on my unit was immediately taken care of by Jeff. Glad to see that the new Management is upgrading the facility..So far so good thx to Jeff.
March 18, 2018
Ok just wanted a 5x5 but had to take the next one.