Rent or Hold Your Storage Unit in Minutes.
Location Details
ACCESS HOURS
Mon

6:00am - 10:00pm

Tue

6:00am - 10:00pm

Wed

6:00am - 10:00pm

Thu

6:00am - 10:00pm

Fri

6:00am - 10:00pm

Sat

6:00am - 10:00pm

Sun

6:00am - 10:00pm
OFFICE HOURS
Mon

9:30am - 6:00pm

Tue

9:30am - 6:00pm

Wed

9:30am - 6:00pm

Thu

9:30am - 6:00pm

Fri

9:30am - 6:00pm

Sat

8:00am - 4:00pm

Sun

Closed
FEATURES AND AMENITIES
Drive Up Access
Climate Control
RV Parking
Passenger Elevators
Electronic Gated Access
Video Recording
Boxes & Moving Supplies
Moving Carts
Kure It Certified Location
ABOUT THIS LOCATION
Learn more about the features and amenities we offer at our Mohegan Lake, NY storage facility!
Read More
Photos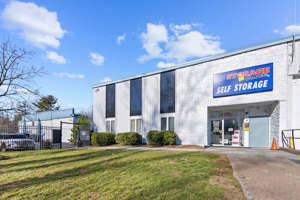 About this Location
Mohegan Lake Storage Units
US Storage Centers in Mohegan Lake, NY has storage units near you that include a variety of features and amenities for an easy and convenient storage experience. We have outdoor storage units that are drive up accessible and our indoor storage units can be easily accessed with our passenger elevators. Our climate controlled storage units help protect your sensitive items from extreme hot or cold weather. Our storage facility has an electronic access gate and 24/7 video recording. To access the indoor storage units, there's an electronic access door. We have moving carts available for use to help transport your belongings and boxes and moving supplies for sale to help organize your storage unit.
If you have an RV, boat, or automobile that needs to be storage during times they are not in use, we have spacious parking spaces available at our storage facility. Parking space width may vary from spot to spot. Please call the property manager for more details on Parking Space sizes.  
Easy Rental Options
Rent your storage unit online or over the phone for a quick move in. 
Not ready to rent? No worries! Reserve your unit now to lock in today's special discount.
Month-to-month rentals
No credit card required for reservations
No deposit required
Mohegan Lake Storage Located Near You
Located on the corner of Lexington Avenue and Storage Road, our storage facility can be found right across from Central Turf & Irrigation Supply and next to Yorktown Golf & Baseball Center. Our storage facility is a great nearby option for those who live in the nearby areas of Yorktown, Putnam Valley, Peekskill, Crompond, Toddville, Pleasantside, Furnace Woods, Woodybrook, Montrose, Roe Park, Lake Mohegan, Van Cortlandtville, Gallows Hill, Continental Village, Adams Corners, Oceola Lake, and Amawalk. 
Kure It Cancer Research
Our in-house charity, Kure It, offers tenants the perfect opportunity to make a difference when it comes to cancer research. This facility participates in our Round Up For Cancer Research program, where current tenants can choose to add $0.50 to their monthly rent, and then US Storage Centers will match that 100%.
Customer Reviews
overall rating, 76 total testimonials
November 27, 2023
I felt like family
November 16, 2023
Excellent service. The receptionist was very helpful even with a mistake that I made. Very pleased
November 14, 2023
Good experience very convenient for me
October 21, 2023
It has been so long I'm with you , and personally I appreciate your services. Your employees are the best .
October 13, 2023
It was easy and fast. The ladies in the front office were very nice and easy to speak too. They were very helpful and understanding. They move my room to a better location with no problems. Thank you!
September 29, 2023
Positive. Staff was extremely helpful in explaining how everything works. They were professional but friendly. I really felt good about the facility because of them.
September 21, 2023
Highly satisfied.
September 7, 2023
Quite disappointing. After the initial rental experience, it was all down hill as there was no access to the unit for 3 of the 4 days. Not what I was expecting which created problems in moving items over the weekend. Hopefully, this will not happen again.
August 29, 2023
Clean place and friendly workers.
August 25, 2023
Really good. The CSR's very professional and personable. Knowledgeable, helpful and pleasant. They explained everything very clearly, took extra time with Me to make sure I was clear about the questions I asked. I was very satisfied. I also observed the CSR handle a difficult customer and I was impressed.
August 19, 2023
The elevator is ridiculous. 2 doors?! The plastic hanging things in the doorway just knock things off the cart.
July 18, 2023
There are too many simple fixes that you are not making. You need a ramp in front of the freight elevator; you need some way to keep the freight elevator doors open; you need a real handle on the second flor freight elevator door; you need another cart for moving stuff; the main gate is always open; there is a piece missing from the inside of my unit. These are all simple, inexpensive fixes that would improve the customer experience.
July 16, 2023
The girls at the office were friendly and very helpful helping me find the perfect sized unit.
July 15, 2023
Very nice love the storage room just what I needed
July 12, 2023
I have had an excellent experience. The storage unit is climate controlled and secure. It is easy to come in and out. I love that you can drive your vehicle right into the building and load your belongings directly onto the cart.
May 29, 2023
Quick and professional to set up account.
May 23, 2023
Nice friendly service
May 10, 2023
Customer Service Representatives are the most important resource a company has to build a loyal customer base, repeat customers when the need arises, and anecdotal "word of mouth" recommendations to new prospective customers by satisfied current customers. A business model which prioritizes quality customer service and its employees is the best investment a company can make, often more important than the actual product itself. The excellent customer I have received at U.S. Storage is why I have turned to them whenever my storage needs arise. Complicated phone menus, robotic voices and artificial intelligence will never measure up to live, quality customer service.
May 6, 2023
The staff are knowledgeable and helpful - I look forward to seeing repairs completed on the premises.
April 25, 2023
Friendly folks working there that helped me get the right storage unit to fit my needs.
April 23, 2023
Very helpful and welcoming. Would definitely recommend.
April 12, 2023
All got worked out . Very helpful employees. Very friendly.
April 6, 2023
Jennifer Natal was amazing. I had reservations at the tarrytown facility but ended up at Mohegan lake. She took the time to get to know me personally, therefore having a better understanding of what I needed. She then showed me 3 different units and we found exactly what worked for me. She had to pull a few strings to make up for miscommunications of facilities but she certainly went above and beyond to accommodate me. Very professional.
April 5, 2023
Very smooth. The lady behind the desk,Jen, knew what to do and was very friendly.
February 23, 2023
Excelente customer service.
February 21, 2023
I wrote a beautiful review on this storage place where did it go? US storage is the best! Treatment through my trying time was made so much better Jennifer and Christian treated me so kindly words just can't describe it. Thank you US storage ❤️✨❤️✨ Oh I did a review on Google I believe....
February 17, 2023
My unit was not ready and available when I arrived. It was locked. I was told someone would be in touch with me about the inconvenience and have not been contacted yet.
February 6, 2023
Front of house staff was very friendly and helpful. They found just the right size unit for me and even got me a discount on my initial rental.
January 7, 2023
Unauthorized charges twice.
December 23, 2022
good, very well treated.
December 4, 2022
The people in the office are wonderful. They're understanding and work hard at helping the customer. I'm very pleased with the facility. We've been at this location for almost twenty years. The old management had a person that worked the desk who was miserable and rigid with customers. It's the most pleasant surprise of the new management.
December 3, 2022
Good so far
November 22, 2022
It was a great experience - very good customer service throughout the entire booking
November 16, 2022
Amazing experience. I will continue to use this facility and I will recommend it to anyone who is looking for storage.
October 27, 2022
Quick,smooth and pleasant.They gave me offer that was advertised
September 3, 2022
Crystal was amazing, patient, and friendly.
July 31, 2022
Great office administrator friendly and helpful. Storage units clean and a great deal. (I found them on internet) The plus was how close to home
July 15, 2022
Very comfortable Cristal is a very sweet person very helpful
July 13, 2022
Christian and Cheryl great people. Went out of the way to help us.
June 15, 2022
Great price - monthly rental and no BS! Crystal was great getting me set up!
June 1, 2022
very confident. Good customer service.
May 24, 2022
We have been using this facility for 20 yrs As long as the new owners keep it safe and well maintained, we will continue to. We do not like a mandatory insurance fee w the new management Our insurance covers these contents That is not warranted and if that becomes a must, we will move to a location that does not have this requirement
May 23, 2022
Good experience, space is clean, service is friendly.
May 14, 2022
I am very happy! Good price. Very Friendly staff! It is easy to access my unit at any time
April 17, 2022
Found crystal to be helpful and very pleasant. Made it easy to settled in
April 13, 2022
Staff was extremely personal and professional. I felt right at home.
April 9, 2022
Your manager and her assistant were very easy to work with making our renting of your storage space very easy.
March 31, 2022
I rented a 10'x15' inside unit. I found the price competitive, the facility accessible, clean, and secure. The staff at the facility was most helpful.
March 17, 2022
It was good. Crystal and Christian were were very nice and helpful.
March 9, 2022
Great! Super easy and super helpful.
February 17, 2022
Chritian is awesome
February 9, 2022
The experience was great and everyone is very helpful thanks so much
January 25, 2022
Excellent service. The property manager Crystal Natal was extremely nice to me as well.
January 11, 2022
All went well Thanks Dominico
December 20, 2021
Very helpful!!!
December 11, 2021
Crystal was fantastic. Kind and patient and made it feel like home.
December 6, 2021
Crystal, the customer service representative, gave 100% of her attention to every detail, question and concern I could possibly think of. She was a model of professionalism and efficiency, as well as patient and considerate. She has a personable character and, as the face and voice of the company, represents the company with excellence. For me, this makes all the difference when deciding which storage facility I would choose to do business with.
November 23, 2021
Great customer service