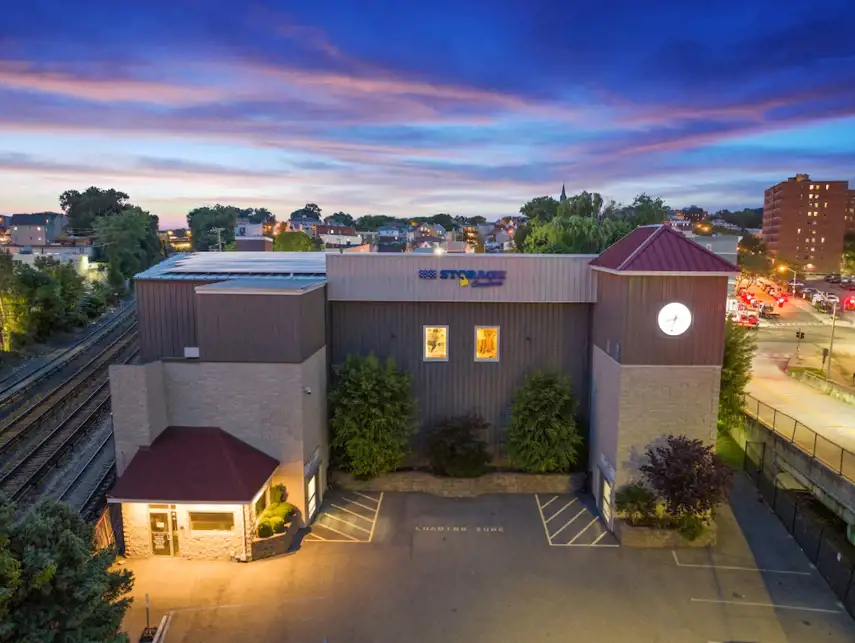 Rent or Hold Your Storage Unit in Minutes.
Location Details
ACCESS HOURS
Mon

6:00am - 10:00pm

Tue

6:00am - 10:00pm

Wed

6:00am - 10:00pm

Thu

6:00am - 10:00pm

Fri

6:00am - 10:00pm

Sat

6:00am - 10:00pm

Sun

6:00am - 10:00pm
OFFICE HOURS
Mon

9:30am - 6:00pm

Tue

9:30am - 6:00pm

Wed

9:30am - 6:00pm

Thu

9:30am - 6:00pm

Fri

9:30am - 6:00pm

Sat

8:00am - 4:00pm

Sun

Closed
FEATURES AND AMENITIES
Climate Control
RV Parking
Passenger Elevators
Electronic Gated Access
Video Recording
Boxes & Moving Supplies
Moving Carts
Kure It Certified Location
ABOUT THIS LOCATION
Learn more about what our Tarrytown storage units has to offer!
Read More
Photos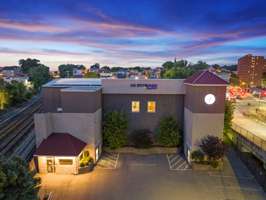 About this Location
Directions
The entrance to our storage facility can be found underneath the Division Street overpass off of Cortlandt Street, directly across the street from the Walgreens in the Tarrytown Station Center. The exterior of our storage building can be seen from the corner of Wildey Street and Cortlandt Street, next to the Hudson Line train tracks. Please call the front office if you have additional questions about accessing our Tarrytown self-storage facility. 
Tarrytown Storage Units
US Storage Centers in Tarrytown, NY has storage units conveniently located near you. Whether you are in need of a small storage unit or an extra-large storage unit, we have just the right size for your storage needs. Our climate-controlled storage units are great for storing your items that need to be protected from extremely hot or cold weather. The storage facility has an electronic access gate and 24/7 video recording. There are passenger elevators and moving carts available to make it easy for our tenants to maneuver throughout the facility. We have boxes and moving supplies available for purchase to help keep your storage unit organized.
If you're looking to store your RV, boat, or automobile, we have parking spaces available on-site. Our property manager will be happy to assist you in figuring out the best size for your recreational vehicle. (Parking space width may vary from spot to spot. Please call the property manager for more details on Parking Space sizes.)
Easy Rental Options
Rent your storage unit online or over the phone for a quick move in. 
Not ready to rent? No worries! Reserve your unit now to lock in today's special discount.
Month-to-month rentals
No credit card required for reservations
No deposit required
Tarrytown Storage Located Near You
Located on 160 Wildey Street, our storage facility can be accessed on Cortlandt Street, underneath the Division Street overpass. Here you will find the electronic access gate that will lead you to the storage facility and our rental office. Located within 3 minutes of both the Tarrytown Police Department and Sleepy Hollow Police Department, our facility is also secured with 24/7 video monitoring.
US Storage Centers in Tarrytown utilizes clean energy, through the use of solar panels on the roof of our facility. With several parks and lakes nearby, Tarrytown is a great community for outdoor activities. Store your bikes, kayaks, and outdoor gear at our facility to save space in your home! 
Commuting to the city? The Metro-North Train runs directly behind our storage facility on the Hudson Line along with the newly built Mario Cuomo Bridge, making it a great location to easily access your belongings. If you live in the nearby neighborhoods of Sleepy Hollow, Irvington, White Plains, Queens, or even Manhattan, then our storage facility is a convenient and local option for nearby residents or businesses.
FAQs
Q. Do I need a credit card to rent?
A. We accept cash, checks, Visa and Mastercard.
Q. How long do I need to rent a storage unit?
A. We offer storage rental on a month-to-month basis. You are never locked into a long-term lease agreement.
Q. How do I make my monthly payment?
A. You can choose to pay in person, online, over the phone, or through mail. We also have automatic payments available.
Q. Do you offer discounts or promotions?
A. Yes! We offer special pricing and promotions for new storage customers such as one month 50% off. You can find our promotions by searching our unit selection above. Each promotion can be found next to the unit pricing and amenities.
Q. Do I need to bring my own lock?
A. Customers are required to have a compatible lock if they choose to purchase their own. Locks are also available for purchase at our facility.
Customer Reviews
overall rating, 112 total testimonials
September 17, 2023
Great customer service and value!!!
September 16, 2023
My experience was extremely positive. Crystal welcomed me and walked me through the options - I highly recommend!
September 6, 2023
Very friendly and helped out a lot.
August 9, 2023
I met with Crystal to finalize everything. She was absolutely delightful and helpful with making the transition a smooth process. Very impressed and thankful. I had an opportunity on the Saturday just before I moved in to speak with Debra who was equally fantastic in assisting me with the process and answering questions about the facility. All I can say is bravo ladies for a great and super smooth process! Debra
August 5, 2023
Very good! Crystal in the Office was great, very knowledgeable of her job and very personable and courteous. I departed feeling my storage is in good hands. The storage unit assigned to me is very formidable. I just hope you fix the front entrance elevator soon.
July 21, 2023
The unit I had reserved was not available when I arrived with my movers. Much confusion and delay followed. Ultimately my items had to be stored in 2 smaller units that did not meet my needs nearly as well as the unit I had reserved. This never should have happened.
June 11, 2023
Muy buena atención.
June 8, 2023
Crystal is amazing...so helpful..so friendly
May 8, 2023
Very happy with your company, it helps us to have our belongings well guarded 10
May 7, 2023
So far, so good!
May 7, 2023
Perfect, the manager is a great human being and the storage is super clean
May 7, 2023
Very lovely. Quick and efficient service. Very clean and well kept
April 11, 2023
Fantastic and friendly customer service. Feliciano is great!
April 9, 2023
Everything was amazing. I called 3 different storage unit conspired es it was a clear decision to use your company. The staff was extremely friendly and accommodating to me need to access my unit at different hours
April 7, 2023
Excellent customer service, great clean location with great amenities.
March 24, 2023
Was very satisfied with everything. Crystal was great
February 24, 2023
Great customer Service. Crystal was excellent in answering my questions.
February 23, 2023
Great! The rep was lovely and patient with all our questions.
February 15, 2023
The location is very convenient for me, the facilities are clean and well lit, security is robust, the prices are reasonable, and Crystal—the manager—is a delight! With her warmth and humor she made everything easy and clear; there were very few of the proverbial "hoops to jump through" to obtain the storage unit that I now, happily, have!
February 5, 2023
The units are convenient and the building is kept very well lit and clean Parking is a consistent problem in the back. Nobody in management seems to care about commercial trucks often marking parking difficult.
January 28, 2023
Prompt and efficient.
January 28, 2023
Very good service
January 23, 2023
Very good Crystal in Tarrytown office is the sweetest person. She made sure my move in and everything went smoothly. She was able to keep everyone calm during a very stressful time. Very helpful! She's the best person you could have there. She also keeps it very clean.
January 13, 2023
Impressed with unit, and Ms. C. Natal. Ms. Natal was very helpful, and respectful of our needs.
January 13, 2023
very positive experience. nice well kept storage facility . friendly staff.
December 26, 2022
Very Good The lady who served me is very kind and very attentive
December 23, 2022
It started out as a nightmare, but the issue was promptly resolved. We got notice that our unit was moved out and our account was canceled. This was not by our doing, and I was afraid all our stuff was gone. We couldn't get into the facility with our entrance code. Manager Feliciano was on staff that day, and he found that our account was closed out in error, as we're on auto-pay. He was able to straighten everything out while we waited, and he did so with a calm, reassuring smile. While we're still a bit distressed about the glaring error, we're pleased that our belongings were safe and that Feliciano was able to fix everything while we were there.
December 22, 2022
Great customer service and very clean space. Easy to use storage space!
December 20, 2022
Staff was courteous and efficient.
December 11, 2022
Great !!!! The place is very nice a clean .
December 5, 2022
Helpful staff. We'll maintained facility.
November 13, 2022
Crystal was very good
November 11, 2022
So far so good, everything perfect, i would love to have a discount in January 50%
November 11, 2022
Very home-like comfortable atmosphere. You can feel safe about keeping your stuff there.
November 9, 2022
Secure Comfortable
October 27, 2022
Crystal at the Sleepy Hollow Location was wonderful -- very accommodating and very professional. This is our second time using your facility! We have recommended you to others in the past, and will continue to do so.
October 25, 2022
Friendly staff, clean spaces, elevator and wagons all work well.
October 13, 2022
Crystal is very knowledgeable and helpful!
October 4, 2022
Nice staff; great facility
September 27, 2022
I feel really good
September 26, 2022
Ok. The price was right even though office closed early the day I went. Wasn't able to get my unit. The next rime I went, they forgot to leave the unit open the day I went to mow in stuff.
September 24, 2022
Very good. Questions answered. All events satisfactory and exceeded expectations.
September 17, 2022
Communication very difficult!!!
September 13, 2022
Everything is great! It is very convenient and I don't have any worries about the security. Thank you!
September 13, 2022
Very professional and accommodating. The storage center is clean. I would recommend to everyone that needs storage
September 8, 2022
Very good. The manager (or actually substitute manager) was very helpful and friendly. He really made the whole process very painless. We actually ran into him at Home Depot a day later and he remembered us and said "hi" which is nice. Two minor suggestions: --I leased online. It would be great if the monthly autodebit setup was part of that process. --it would be helpful if there was a map of the location of each locker. The numbering system (which I suspect you inherited from the former owner) is not exactly intuitive.
September 4, 2022
Very professional! Quick and easy onboarding process - answered all my questions and process took 15 20 minutes
September 3, 2022
Elite movers
August 18, 2022
The hours for Access were terrific. The manager was very helpful.in finding me a unit.
July 20, 2022
Amazing! Dave was so friendly and helpful!
July 18, 2022
Great service
July 17, 2022
Easy, clean, 👍
June 12, 2022
Very welcoming and always willing to assist.
June 1, 2022
Fast efficient and good rates.
May 24, 2022
Clean convenient
May 13, 2022
Just got the unit but so far very smooth. The mgr was very nice and competent
April 28, 2022
David made our extremely difficult move from a house to an apartment go as smoothly as possible! We are very happy. Frank was very helpful as well!
April 10, 2022
Great service, fair prices
April 1, 2022
The men were on time , efficient and friendly. They answered our questions politely.
March 6, 2022
I have received first class customer service and I am extremely satisfied of the overall quality of the storage units that I have previously rented and am currently renting in the complex.
February 18, 2022
My experience with us storage it was excellent n good n they truly are friendly
February 15, 2022
Overall I am happy with the level of customer service that I received.
February 2, 2022
Excellent service
January 28, 2022
Very professional , always make sure I understand and provide clear details of what I'm paying for , the facility is clean and convenient. The staff are great !!
January 28, 2022
My experience was great, the storage company was very clean and they have lots of hand trucks and dollys to use. The staff was very friendly and helpful. Everything was explained in detail and I was taken on a tour to see my unit before renting. They also gave me a key pad training usage.
January 4, 2022
The man who completed my sign up, (Dave, I believe) was very professional and considerate. The facility was clean, bright, and the parking lot gave easy access. I haven't actually used the space yet but so far it seems just what I need.
December 15, 2021
Frank was very helpful and courteous !
December 11, 2021
Very helpful.
December 9, 2021
Aside from having a hard time finding the place everything was great! David was very nice and informative.
November 18, 2021
Great! Really helpful to have a clean place to store things while organizing after a big move
November 12, 2021
US Storage Centers recently purchased a storage facility in which I rent 10ish units for my business inventory. We had a good experience with the previous owner and that has continued with US Storage. The new property manager has been very active in developing a relationship with us and proposing a few solutions that might make our operations easier. Solid stuff.
October 30, 2021
I had an excellent experience touring the facility and selecting the proper size storage unit. We were treated with respect and the process was quick and efficient.
October 28, 2021
Accessible
October 25, 2021
Excellent