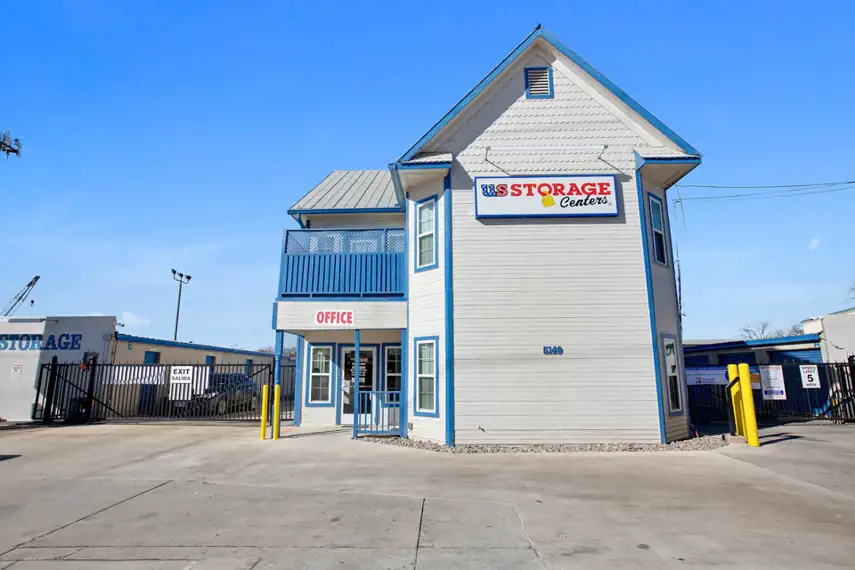 Rent or Hold Your Storage Unit in Minutes.
Location Details
ACCESS HOURS
Mon

6:00am - 10:00pm

Tue

6:00am - 10:00pm

Wed

6:00am - 10:00pm

Thu

6:00am - 10:00pm

Fri

6:00am - 10:00pm

Sat

6:00am - 10:00pm

Sun

6:00am - 10:00pm
OFFICE HOURS
Mon

9:30am - 6:00pm

Tue

9:30am - 6:00pm

Wed

9:30am - 6:00pm

Thu

9:30am - 6:00pm

Fri

9:30am - 6:00pm

Sat

8:00am - 5:00pm

Sun

11:00am - 3:00pm
FEATURES AND AMENITIES
Drive Up Access
Electronic Gated Access
Employee(s) Speak Spanish
Kure It Certified Location
ABOUT THIS LOCATION
Self Storage Units in San Antonio
Read More
Photos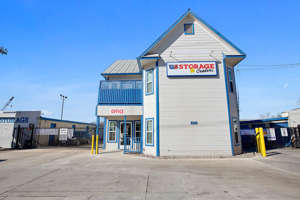 About this Location
San Antonio Storage Units
US Storage Centers offers convenient and affordable self-storage units for both personal and business use. Our San Antonio storage facility has unit sizes ranging from small 5'x5' units for a few boxes to large 20'x20' units, for bulky item storage including furniture sets, appliances, and more.
Whether you're moving homes or just clearing out some extra space, we have the right storage unit for your needs. Our local San Antonio location offers all of the necessary amenities including drive-up access, indoor units, electronic gated access, and packing/moving supplies. Our friendly, experienced property managers are here to assist you with any concerns you may have.
Easy Rental Options
Rent your storage unit online or over the phone for a quick move in. 
Not ready to rent? No worries! Reserve your unit now to lock in today's special discount.
Month-to-month rentals
No credit card required for reservations
No deposit required
Conveniently located
Our San Antonio facility is conveniently located in North Shearer Hills off Blanco Rd. Just south of the I-410, between Hwy 281 and the I-10. We serve the surrounding communities of Shearer Hills/Ridgeview, North Central, Dellview, Central los Angeles Heights, Norhmoor, and Olmos Park Terrace with all their storage needs.
 Surrounding Community
San Antonio is home to a very diverse community. The city provides an abundance of things to do from museums, historical landmarks such as The Alamo, North Star mall, restaurants, and recreational activities including golf at many of the local golf courses.
FAQs
Q. Do I need a credit card to rent?
A. Credit cards are not required to rent a unit at US Storage Centers. We accept payments in cash, checks, Visa and Mastercard.
Q. How long do I need to rent a storage unit?
A. We offer storage rental on a month-to-month basis making both short term and long term storage easy. You are never locked into a long-term lease agreement.
Q. How do I make my monthly payment?
A. Storage unit payments can easily be made in person, online, over the phone, or through mail.
For your convenience, we also offer automated payments.
Q. Do you offer discounts or promotions?
A. Yes! We offer special pricing and great deals for new storage customers such as one month 50% off. You can find our promotions by searching our unit selection above. Each promotion can be found next to the unit pricing and amenities.
Q. Do I need to bring my own lock?
A. Customers are required to have a compatible lock if they choose to purchase their own. Storage unit compatible locks are also available for purchase at our facility.
Q. Can I stop by the facility to view the storage units?
A. Come by our facility during office hours and our professional staff will be more than happy to give you a complimentary tour of the facility and answer any questions you may have about our units.
Customer Reviews
overall rating, 247 total testimonials
November 21, 2023
This is a awesome place for storage, very clean. Would recommend to all my friends. Barbara has great deals going on.
October 20, 2023
It was great and cheap the Mexican lady with the glasses I forgot her name but just wanted to say was really nice and friendly and the other lady with colored eyes....smiles
October 11, 2023
very nice customer service and easy set up. they have good prices too
October 6, 2023
The service was awesome Nathan had great customer service and he's very friendly I'd recommend others to this place of business. Thanks for all your help. And sorry for spilling the coffee.
September 9, 2023
Didn't know what he was talking about very unprofessional can someone call me 832-438-7885
August 22, 2023
We love it so far.
August 19, 2023
Comfortable with the staff Nate helped me get my storage unit he was very friendly and helpful US Storage on Blanco Rd
August 15, 2023
Very good
August 9, 2023
Really enjoyed the sign up process :)
August 4, 2023
Nice people
August 1, 2023
Great experience I was glad to down size my unit. It was easy fast and clean.
August 1, 2023
Great communication,great price it was easy and done within 10minutes.Thank you.
July 22, 2023
Great and affordable price, the staff was friendly and helpful. The overall experience was completely great 👍
July 12, 2023
My experience was not the best in the beginning. I was overcharged for my unit. I was not told about any additional fees. I had called and spoke with a call center rep who did not disclose how much she was charging me for and why. She ended up charging me for 2 months, in advance, with the admin fees I was unaware of and then made it very clear that I had to purchase a circle lock. Come to find out I didn't have to pay for 2 months in advance and in trying to get a refund was told it would take 2-4 weeks to get a check, even though I paid with my debit card. I also found out that I didn't have to get a circle lock, it could've been any kind of lock. I also had to pay more money because I didn't have specific renter insurance information readily available. I was not expecting this to be so expensive or difficult.
July 6, 2023
Great experience, friendly staff and clean property
June 3, 2023
Very helpful & kindness
May 15, 2023
Es lo que esperaba, tamaño y ubicación
May 2, 2023
It has been a great experience storing our items with US storage, everyone has been friendly, helpful and professional. The site is kept clean also. Thank you
April 26, 2023
Nobody told me I would be locked inside the gate if we weren't out by 10pm. Y'all also said you would charge $50 to give me a code to get out that didn't even work. If it weren't for the fire department I'd still be stuck inside the gate.
April 13, 2023
So far it's been fine, staff is friendly, the check in process was easy.
March 9, 2023
I've been having problems trying to get in to my unit and I can't go before they open or close bc I wrk between the hours of 9 to 7 and it's just frustrating I've called they leave me voicemails saying my code is working but it still won't let me in so it's been a hassle trying to complete my moving situation
February 14, 2023
Muy contenta con el servicio fácil y súper amables en el escritorio muy recomendable
December 2, 2022
Customer service was awesome.
December 1, 2022
Very good
November 24, 2022
Your workers were very helpful and friendly. They assisted me with my needs and made this experience less stressful for me and my son.
November 18, 2022
Friendly employees, great service.
October 28, 2022
Great customer service
September 23, 2022
Ms. Barbara was awesome.
August 3, 2022
Awesome quick and very respectful
July 10, 2022
I was so pleased with the outcome of me getting a storage with ur company...I had tried other storage company's and didn't like how they didn't care to treat a costumer. Especially the person that attended to my needs ...Her name is Jeanette and she didn't let me leave until I was satisfied 💯 on what I wanted and needed.
June 30, 2022
This is my 2nd time going to that storage because it always makes me feel at home the workers always make me feel welcome safe save that my stuff is going to be safe they're always so helpful this last experience I can't remember her name but she was phenomenal she was outstanding she did everything it everything to go above and beyond to help me This is why I continue to go there because of the way your staff makes me feel and my stuff I know that it's safe and I appreciate all the specials that you'll have F specially in a time like this I'm having to move you know for whatever reason you'll always have specials and they always come compliment me in my time of need and I'm very appreciative of that and my overall reading to you is at 10 I'm not very savvy when it comes to all these things online I meant to push a 10 and it seems that I pushed the one no the 1 no it's a 1000% percent you are just phenomenal
June 16, 2022
Great customer service
June 4, 2022
Barbara made it a smooth, easy-going experience to procure our storage unit.
June 3, 2022
Very professional and customer service was excellent
June 1, 2022
It was great they were very nice and helpful. I will recommend this place to anyone.ms Barbara was very helpful .I give it two thumbs up 👍👍
April 28, 2022
It was very quick and helpful, Jeanette really went out of her way and on a Sunday too, she made sure that my code worked and that I had a lock and put the lock on for me and showed me how it worked. I will be referring friends to her that are looking for a good and quick and easy process in renting a storage. Thank you Jeanette for all of your help!
April 26, 2022
Great no complaints what so ever jeanette gave me great customer service and got me a good deal on my storage she definetly needs a raise
April 23, 2022
It was great I love the way the people talk to me like I'm a normal person didn't talk down to me I also love that you got better security than public storage which had a bad experience with them I also love it that you had a small unit that I needed not one that was just there
March 13, 2022
Good worker very friendly no problems
January 22, 2022
Very good, person helping me was very nice, I forgot her name but she gave me very detailed instructions on how to get to my unit and was super helpful. Thank you!!
December 30, 2021
Awesome encounter with the ladies in the front. Very friendly!
December 17, 2021
The right storage 4 sho
December 9, 2021
Your employee was very helpful. My family has used your storages for many years.
December 1, 2021
Very good
November 18, 2021
I already recommended u.s. storage to some of my friends already, I was, an am very pleased with staff, an this facility, everything was clean, an very simple to get around, I'm grateful I found this storage.
October 5, 2021
Very Good everithing
September 28, 2021
It was amazing they help me alot was the best so far very easy process an easy going
September 22, 2021
Great. quick and easy
September 16, 2021
Great service Great Staff
September 15, 2021
Great people. Always helpful.great deals. Security is a plus never had damage to my belongings.. Thanks again. U.S. storage.
September 2, 2021
The lady was great no problems at all
August 17, 2021
Everyone was very helpful .very good customer service everything was very clean
August 8, 2021
Excellent service, easy and fast contactless process when renting online, property is very clean and well kept.
July 8, 2021
Muy limpios, espaciosos y muy amables al mono de dar información. Un servicio excelente lo recomiendo al 100%. Muy buen trato y el lugar muy limpio y todo muy ordenado 🥰
June 26, 2021
Muy bien muy trankilo y seguro
April 24, 2021
Awesome. Thank you & God Bless joan
April 21, 2021
good experience
April 16, 2021
I had an emergency move from dealing with that stress Mrs Barbara has been great! And made it very simple for me. One less thing to worry about. Shes great! Highly recommend.
April 13, 2021
The lady in the front desk was real professional I would recommend this place to all my friend and family
March 23, 2021
Great! She was very polite & informative. Prices were awesome too.
March 13, 2021
Very very satisfied wit BARBARA the manager at the Blanco location!!! Thx Barbara
January 24, 2021
Easy and fast and great service
January 19, 2021
Maritza was extremely helpful and very professional throughout the entire process. She answered all my questions and concerns and made me feel safe and secure during this process. It's never easy getting a storage and moving your belongings into them but I'm sure glad that I had her by my side because she made me feel welcome and easy. Thanks
January 6, 2021
Had a great experience. I was looking for something reasonable and central. US Storage had great pricing and was central. I would highly recommend for people who need a storage fast.
December 15, 2020
Excellent costumer service and especially the prices are very reasonable. Thank you Barbara excellent work !! I'll give them five stars
November 24, 2020
It was excellent and fast service
October 27, 2020
I felt very blessed I was able to get the right storage unit I was looking for. Barbara was so nice and explained everything very well to me, I was just happy with the customer service I received🙂
October 23, 2020
The employee was very helpful in filling out the application. There was only one problem the gate codes that she gave me did not work but she kept her cool and acted professionally. The employee escorted us to the designated storage unit and suggested that a bigger unit would be better. I am glad to say that the 5 x 10 unit was perfect for my needs. I'm a little hesitant about recommending this location because the employee was a little pushy in getting a bigger unit. I felt she should have suggested the smaller unit first and recommend that a bigger unit will be available in the future if the need arises. Otherwise everything went well.
September 10, 2020
It was fast, easy and excellent customer service both on the phone and in the lobby! We called ahead for pricing and availability. Everything was just as explained on the phone. We were advised of both specials running to make an informed decision which was best budget wise and time wise for our situation. I also want to commend your employee Barbara for making a notation on the account regarding the special needs of my roommate who's items are being stored at your facility. My roommate is blind and we wanted to make sure they were aware in case he needed help getting to his storage or if they saw him walking in the driveways to his storage that he was a customer there. My roommate is very independent and does not always have a seeing person with him to guide him so it would not be unlikely he would walk to the storage since we live in the neighborhood behind there, by himself if he just needed to get something out of the unit. Excellent service indeed! Sometimes the human touch, especially with special needs people really make a difference where you spend your money and choose to do business with! Thank again Barbara, you are a rock star!!!
August 12, 2020
The person was very polite and efficient. The prices are much more reasonable than other storage centers that I have used.
July 19, 2020
Great storage place easy to get to & inexpensive. Love this place.
July 15, 2020
Your employee was very helpful and friendly. I love the prices and the place is very clean.
June 27, 2020
It was awesome. Staff was very respectful, knowledgeable and fast.
June 10, 2020
It was great
June 4, 2020
The storages r in good condition everything i put in there fit perfectly
April 29, 2020
i feel good about renting a space there. It was just what I needed and the employees there were so helpful and friendly. The only thing I wish is that I could access my storage unit at any time of the day or night. Other than that it's great!
April 3, 2020
Staff was great. Even though with everything thatis going on, i was not treated any less. Provided great information, gave me good deals.
March 19, 2020
My experience with US storage center was very nice and friendly for it being my first experience with them very nice people.
March 10, 2020
It was very easy and quick
March 3, 2020
I was pleased with the experience!
January 30, 2020
The manager was very nice and informative. I would recommend it to everyone
January 25, 2020
The lady that help me out she was very helpful And really a nice person
December 20, 2019
The customer service was excellent. From moment I walked through the door. I was met and greeted professionally. All details for obtaining storage were discussed. The price of rental time were great. Storage area is properly secured. I will truly refer friends and family.
November 28, 2019
Excelente! The guy I talked was friendly and professional, explained what I was getting! reservmed the space for mr. The manager at the facility was also very nice and made sure that was what I wanted! It was fast and easy! Would definitely recommend it!
November 26, 2019
Rep was very nice very courteous and explained everything .... She did give her name but I have a bad memory when it comes to names.
November 15, 2019
Awesome place
October 17, 2019
Was given the wrong entry code by employee filling in for the regular employee, so I had to wait for office to open to begin my move in. It was frustrating. Recommend code is tested as part of leasing process.
October 15, 2019
Very friendly, great spot , easy to go in and easy to get out .
October 14, 2019
It's well keep
October 3, 2019
I was comfortable and everyone was pleasant and helpful. I'm so glad that I switch to your company
September 12, 2019
Excellent very nice people
August 28, 2019
The front desk lady was very polite. She gave me all my options plus discounts that were available for me. Everything was organized and neat. I very appreciate the love and care I have received by this lady I had just met the day I signed my lease. Shes so sweet 😘
August 6, 2019
Very good customer service I would recommend this place .
July 18, 2019
Great customer service!
July 17, 2019
Esta muy bien servicio bien
July 10, 2019
Very professional Very well inform and friendly
July 3, 2019
Really nice customer service
June 14, 2019
Very helpful and informed with the rental agreement.
June 11, 2019
The lady at the office was very helpful and friendly. Open late on Sunday helped a lot.
June 7, 2019
Great service. Quick, professional and complete.
June 6, 2019
You're done very good treating me right kind
June 3, 2019
Person setting account up was pleasant, polite and very helpful. He is an asset to your business
May 29, 2019
Barbara has always been so pleasant and awesome to work with.
May 23, 2019
Very quick check-in. They were happy to show me the storage space beforehand. They have security cameras all over the place so I feel my storage unit is in good hands. The rates were very reasonable as well.
May 17, 2019
We were very satisfied with our experience. Only two suggestions. Show us a map with our storage room location. Letnus know that we have to enter the code to "escape" the facility.
May 2, 2019
Manager was very helpful. Answered all my questions. I will recommend to my friend s.Thank you.
April 30, 2019
Mrs. Barbara was very knowledgeable, helpful, professional and very pleasant. I had many questions and she gave me options that helped me decide on what fit my needs. I'm very greatful, thank you.
April 23, 2019
Very easy process, great staff, fair prices, clean spaces!
April 2, 2019
Staff is very friendly and always ready to assist with anything
March 20, 2019
The lady was very kind and helpful we forgot her name and we love that y'all are open on Sunday's it really helped us. Thank You
March 12, 2019
Barbara gave us great deal on 10×20 storage unit. She was very helpful and explained us all the details of storage unit and payments. I highly recommend her if you are looking for storage unit at decent prices.
March 6, 2019
easy and quick to rent a unit, friendly staff, nice storage space with easy access.
November 1, 2018
The lady at the facility was so nice and helpful to me. I love the value for the storage space.Thanks!!!!
October 12, 2018
It was great I would recommend you to all. The help was great and informative Barbara was excellent in helping me with the right size unit that was perfect for my needs.
September 23, 2018
Very nice and friendly
September 13, 2018
the staff at this location is very enjoyable to work with at, as of now with have 5 units with her
August 23, 2018
Great customer service! Barbara was very helpful and explained everything in detail.
August 22, 2018
The woman that help us was wonderful. She explained everything well & was very helpful & polite.
August 17, 2018
I felt really special because I explained to Adel that I was moving but not sure on what size of storage room I needed and she was happy to show me several with a smile. And she gave me a deal I could not say no to. Then I went back a few days later to make my final decision and another lady was there and when I asked if I could see two of the storage rooms to make I make the right choice she was also was happy to show them both to me once more.
June 9, 2018
Getting my unit only took 10 minutes and I was able to being moving in almost instantly.The woman in the front were very friendly and helpful. Great service all around.
June 2, 2018
Very good. Good customer service. Helpful in the needs of the customer.
May 30, 2018
very satisfied with service and options given on units.
May 24, 2018
Barbara was great
April 23, 2018
Warm, straight to the point, professional! !
April 20, 2018
It was good.
April 20, 2018
It was very easy to reserve a storage unit online. The prices are affordable, and the staff is very nice and helpful. The process in renting the storage was quick and easy. No hassle at all!
April 18, 2018
It was good. They would always be kind when I was a little late because of how I was paid.
April 8, 2018
The lady in the office was great. She was very helpful and explained everything to me . I like this place mostly because of how she treated me.
April 7, 2018
Staff was always friendly even George and ready to assist. I love this location. Thank you Us Storage Centers Esmeralda Mendoza P.S I was there almost a year.
March 25, 2018
Very professional and appreciated the special that was offered.
March 19, 2018
Excellent!
March 8, 2018
Good. Commu citation was great, awesome customer service, and friendly atmosphere.
March 8, 2018
Great customer service, clean and safe. Have had several units here and never a problem.
March 4, 2018
Low fees to start, easy access, easy ways to pay your bill. Taken over by large storage conglomerate and Prices jumped almost $20 per month in the first year. Boo! Pushed me out.
February 24, 2018
Great service done 123 done taken care of simple as that.
February 17, 2018
Great service, made it very easy for us to move our things as soon as one day. Thank you for the help. (:
February 14, 2018
It was fine. It would be nice if there were lights inside the units that were on timers perhaps, so that it would convenient to go there in the evening to sort through things. The door on my unit had a plastic threshold that was cracked and as a result dust eventually covered all of my contents. Some mice feces was spotted in my things as well.
February 6, 2018
For my experience, at Blanco Road facility everyone is nice and friendly . Giving us five extra days does come in handy at time of need . So thank y'all !!
February 4, 2018
Very pleasant and informative lady helped me.
February 2, 2018
Customer service was very good happy with my service
January 27, 2018
Online reservation and returned my call in a timely manner. Very polite and explained contract thoroughly. I would recommend this facility to family and friends.
December 31, 2017
COURTEOUS STAFF, ALWAYS READY TO HELP.
December 16, 2017
Both ladies were very pleasant, accommodating, and answered all our questions. Excellent costumer service.
November 1, 2017
Adel was very helpful. The process was quick & easy!
October 28, 2017
Super easy and super quick and Barbara was great at explaining all the terms.
October 26, 2017
Great! The lady there eas very friendly and helpful. I hax 0 questions at the end , she was so efficient and thourough that there wS no need. Thanks guys
October 5, 2017
Barbara was awesome! She was such a big help. She made it fast and easy for my family
September 29, 2017
You all have the best receptionist ever. I'm glad that I decided to go with you all instead of someone else. The best customer service ever. Thank you.
September 29, 2017
great, barbara was very helpful and friendly. Made me feel like family. Liked the location and storage area was clean.
September 22, 2017
I like the place have been here awhile. Wish we had access to a trash can at site. The staff, one lady is great and very helpful.
September 18, 2017
Very good customer service everything explain very well
September 16, 2017
Mrs Barbra was very helpful from the minute we walked inside the building. She showed us different units to compare sizes and gave us her recommendation. She was very communicative and friendly and had a great attitude. She explained to us our entire rental policy in great detail. Was more than pleased with our experience.
September 3, 2017
Adel was Great! Greeted me as soon as I walked in and helped me with everything I needed.
August 17, 2017
My name is Rebecca Rios not Herrera that's my middle name I'm satisfified with my service office lady was very helpful and polite thank you
August 13, 2017
Sales rep was exceptional. Top of the Line. Give her "A". Hidden fees/ expenses... Very Disappointed !!
July 30, 2017
Friendly people. Quick transaction. 2 thumbs up
July 30, 2017
Great customer service
June 30, 2017
The lady that helped us is wonderful on helping us find out what size was a good size to get. The price is it unbeatable. She was quick and we were able to put in stuff right away. Thank you. You are great.
June 20, 2017
Great and pleasant!
June 13, 2017
it was amazing!!!
May 27, 2017
Staff is very friendly and helpful. They are caring and made sure we received a unit that fit our needs.
May 18, 2017
Very helpful
April 20, 2017
good feeling
April 17, 2017
Not too cute nor upscale, but the price is right & that's why I'm here.
March 28, 2017
Good experience
March 28, 2017
So far only had the storage for less than a week. Like the size and price.
March 4, 2017
Very friendly folks and the price is right
January 10, 2017
Very Likely
January 6, 2017
Rep was courteous and professional
January 6, 2017
Did a great job. Julian did a very very good job 2 thumbs up!!!!!
December 30, 2016
Good combination of Location and Price. The two staff members who assisted us were very professional and helpful.
December 12, 2016
Everything is great nice customer service nothing to really complain about
December 10, 2016
That you all are do a nice job with all your co worker.thank you much . ..