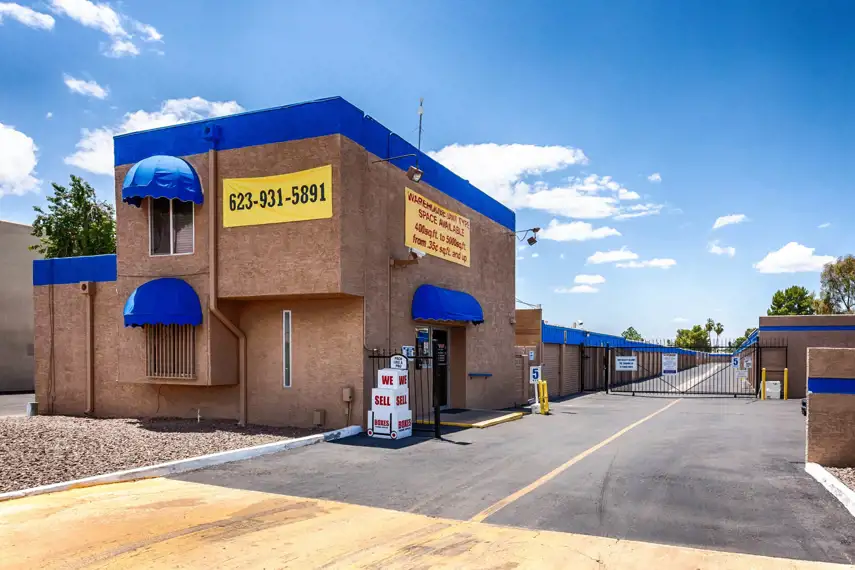 Rent or Hold Your Storage Unit in Minutes. Easy, Contact-Free Rentals.
Location Details
ACCESS HOURS
Mon

6:00am - 9:00pm

Tue

6:00am - 9:00pm

Wed

6:00am - 9:00pm

Thu

6:00am - 9:00pm

Fri

6:00am - 9:00pm

Sat

6:00am - 9:00pm

Sun

6:00am - 9:00pm
OFFICE HOURS
Mon

9:00am - 6:00pm

Tue

9:00am - 6:00pm

Wed

9:00am - 6:00pm

Thu

9:00am - 6:00pm

Fri

9:00am - 6:00pm

Sat

8:00am - 5:00pm

Sun

9:00am - 2:00pm
FEATURES AND AMENITIES
Drive Up Access
RV Parking
Electronic Gated Access
Video Recording
Employee(s) Speak Spanish
Kure It Certified Location
ABOUT THIS LOCATION
Glendale, AZ Self Storage Unit
Read More
Photos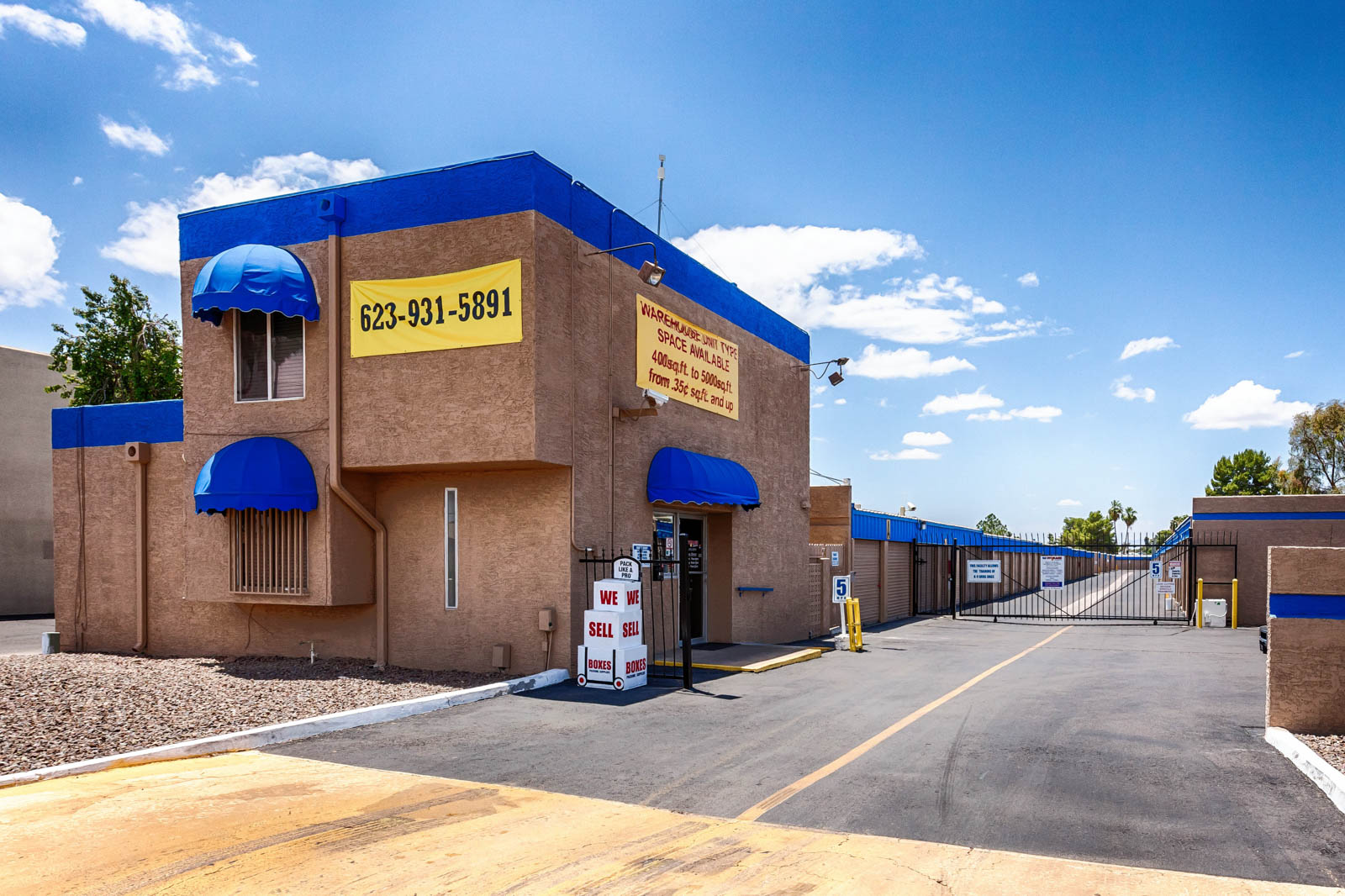 About this Location
Self Storage Facility Features
Our Glendale storage facility provides safe, affordable self storage suitable for all needs. Whether you are in search of a personal or business related storage solution, we have you covered. This location features drive-up access and extra wide aisles that make accessing your storage unit quick and hassle-free. All our units are located on the ground floor, helping you avoid the hassle of dealing with stairs or elevators.
Storage for RVs, Boats, and Trucks
We also offer storage solutions for those who are in search of RV, boat, or auto storage.  Our outdoor spots are easily accessible for parking and backing out. Additionally, you will have 24 hour access your storage space RV parking. Parking Space width may vary from spot to spot. Please call the property manager for more details on Parking Space sizes. 
Secure Storage Units

We provide top-of-the-line security with coded gate access and video surveillance at all times. Plus, our property manager lives right there on site, so you'll never have to worry about an accident or an emergency. The facility is also clean and well lit to keep your items safe.
Contact-Free Rentals – Easy Online and Phone Rental Options 
 Online Rental
 Select your unit and enter your info and payment
 Sign the lease online
 A manager will reach out to you with your access code, a map of the property, and they'll have you email a copy of your valid government picture ID
 Once these steps are complete, the manager will prepare your unit so it's ready when you arrive
 Phone Rental
Simply call the number listed at the top of this page, and a member of our staff will work with you over the phone to complete a rental
The manager will email a lease to sign
Once the lease is signed, a manager will reach out to you with your access code, a map of the property, and they'll have you email a copy of your valid government picture ID
Once these steps are complete, the manager will prepare your unit so it's ready when you arrive
Conveniently Located
Our facility sits between the i-17 and Highway 60 in Glendale Arizona. Located less than a block from the Olive Village Shopping Center, you can find our self storage facility along North 43rd Avenue, right next door to Anaya's Restaurant and Chase Bank. Our location enables the surrounding neighborhoods of Alhambra, North Mountain Village, Maryvale Village, Encanto Village, and Deer Valley near Arizona State University West Campus and Glendale Community College to easily access their stored property at any time.

Languages Spoken by Managers

Fluent in English and Spanish

Convenient Office and Access Hours

Access Hours

Mon – Sun: 06:00am - 9:00pm

Office Hours

Mon – Fri: 09:00am - 06:00pm

Sat: 8:00 am – 5:00pm

Sun: 9:00am – 2:00pm

Forms of Payment

It's easy to pay your bill! We accept cash, checks, money orders, Visa, and MasterCard. You can also pay online through our secure client login.

Professionally Managed

US Storage Centers focuses on creating a great self storage experience for you in Glendale, and the key to that is excellent customer service. Visiting our office will feel like visiting a friend's house; we get to know you by name and face. The better we know you, the better we can provide you with the best storage options to fit your needs.

The Community

Being only nine miles from downtown Phoenix, residents of Glendale enjoy the hustle and bustle of a larger city without any of the stress. Our city is considered "Arizona's Antique Capital" because of the numerous historic homes and buildings registered in the Historical District. We are proud of our history.

You can't live in Glendale without becoming an Arizona Cardinals fan. The football team plays at the University of Phoenix Stadium in the heart of Glendale. And the stadium isn't famous for its football games alone; it was also featured on the History Channel's "Modern Marvels" because of its revolutionary roll-out natural grass field.

Whether you are a pensive history buff or a rowdy football fan—or a little of both—you'll find something to love about Glendale. Visit us today and see for yourself.

Facility Products

We offer boxes (sized small - x-large). We also have wardrobe boxes, packing tape, tape dispensers, mattress covers, bubble wrap, picture moving kits, disc locks, and brass padlocks.
Customer Reviews
overall rating, 373 total testimonials
October 21, 2021
Great and friendly people
October 19, 2021
Someone answered the phone right away. The representative gave me prices and availability over the phone without a hassle. Went to location and had an even better experience. Gina was great, friendly and professional. She made great suggestions and made the entire process quick and easy.
September 28, 2021
My experience was excellent and I would highly recommend this business to anyone and everyone needing to rent a storage facility. They took their time to explain all parts of the process and drive me over to the unit in a golf cart to show me the size and location of it. My situation is unique, as I'm selling my home to move overseas to live with my husband, who is a government Contracting officer and a former military member. The closing of our home will occur way before the govt-contracted movers can pick up our house hold goods. Your US Storage employees worked with me to ensure that our sons could access the unit to allow the movers to pick up our belongings for shipping, after I would be leaving the state. All of these logistics had to happen in a certain sequence, in order for our home sale & move to be a success, and Sucely Ortiz and her assistant, Linda made sure all my issues were addressed, didn't rush me and were extremely helpful and gracious.
September 21, 2021
It was a great experience especially first time renting a storage unit. Gina was so helpful and was a pleasure to have her assist us in the process.
September 17, 2021
Pleased
September 9, 2021
Sucely the manager is absolutely amazing! Friendly and professional. The facility is very clean, Storage is great but the employees are what makes this place worth the money. Very happy for my storage it was easy. Stress free. Keep up the amazing work Sucely. Safety protocol COVID-19 Highly recomended
September 2, 2021
I had a great experience! Gina is awesome! She went above and beyond to help me find a unit within the company. I tried to get a unit at the location on 23rd and indian school only they didn't have unit the size that I needed. She found me a unit at a different location and that unit held all my stuff. I truly appreciate her help with finding me a unit within the time frame that I needed...She took the time to explain paperwork, her vibe was sensational. She was real easy to speak with. I was very comfortable dealing with her. My rental experience was smooth, no hassles or hiccups.
August 29, 2021
Very welcoming with great staff. Gina took care of us better than any other storage facility we've used. Would highly recommend this company.
August 23, 2021
Please stop calling me Victor Jose. I go by Victor or Lobo. Other then that the staff has been great. But the place is clean and I would suggest to someone else. I even made a new friend of another tenant. Btw you should provide free soft drinks to the employees. Like Dr. Pepper and Coke.
August 21, 2021
Very easy and pleasant to talk to the people in the office she's very nice and I have two units there and I have no problem telling somebody else that's where they should go
August 15, 2021
The staff person I worked with was terrific. The facility was okay.
July 20, 2021
Fast and friendly service
July 11, 2021
Gina was great, she went above and beyond to rectify the mistakes made by the call center folks who initially gave me a unit that was already rented.
July 11, 2021
Great service
July 10, 2021
Great, Gina was knowledgeable and did a good job. She represented your company very well and she was easy to work with
June 17, 2021
Quick and easy clean and ready
May 23, 2021
easy to sign up on line, and easy to finish at the store
May 18, 2021
Very impressed! I arrived 10 minutes before the office closed to complete paperwork to rent storage space and received impeccable service from Gina! She was very informative, helpful and took her time to ensure that my needs were taken care of!!
May 18, 2021
On staff manager, not very friendly.
May 4, 2021
Associate helping was very nice and made sure I was set up. Thanks for your help
May 4, 2021
Fast, friendly, and convenient
April 27, 2021
Gina was great! I'm glad I'm at this storage.
April 27, 2021
I really liked the experience. I was happy I could reserve my unit online and the person on site, Gina, was very helpful for our first move in date.
April 20, 2021
Very easy process and knowledgable.
April 9, 2021
It was a very pleasant experience from my first contact to viewing the space and getting the storage. The lady (who's name escapes me) was very very helpful. She directed me to what I really needed in size, she was very friendly also.
March 31, 2021
So far, good. The staff are friendly and helpful.
March 27, 2021
Easy to use. Communication excellent.
March 13, 2021
Happy, helpful, friendly people. Great rates!
March 13, 2021
No complaints other than dislike being bugged to fill out surveys in phone and on email. Just let me be satisfied for now and stop sending me surveys!
March 6, 2021
I was very pleased with the fast and friendly service that Sucely gave me.
March 6, 2021
It was very well taken care off
March 4, 2021
Customer service was great grill at front desk took good care of me. But the angle in your driveway cause my antique refrigerator to fall over onto the ground. So I was unable to use the storage unit because I cannot unload my stuff when I had to use a wheel dolly.
March 3, 2021
Gina was excellent in showing us around the facility. She made renting a very easy experience
February 27, 2021
I had great experience at US storages, the lady's in the office are great & answered all my questions with professionalism Thank you
February 26, 2021
They are very accommodating my first initial experience is the lady at the front desk is great very friendly it was very helpful to show me the different units available and when I needed to upgrade they helped right away the units were cleanAnd I would definitely rent from them again
February 25, 2021
Friendly staff, clean property,
February 2, 2021
Great friendly staff and fair prices.
February 1, 2021
I had a very pleasant experience after my house had caught fire I needed to get what was still good out of the house and the people I dealt with took real good care of me I would reccomend this storage facility to anyone needing storage
January 23, 2021
it was very easy to rent, however, when I got contract in email later in the day, it had wrong price.
January 21, 2021
Overall the sign up process was pretty streamlined. I happened to catch a lunch break and had to wait. No big deal, but hey if I had to complain there it is. Otherwise office and staff I spoke to on phone was very helpful and got me back to loading and unloading my belongings.
January 19, 2021
The staff was exceptional! We are currently moving to a different country and need to keep our things in storage for a year and we were very happy to find that you need a passcode to enter and exit the premises. We've had bad experiences with other companies where the security was minimal and if someone stole something there was nothing they could do. Will definitely recommend to our friends and family!
January 19, 2021
I did a review. Like I said I like the experience with Gina she was very nice and kind and kept everything running smooth even with system issues.
January 7, 2021
It was a pleasant experience all done online no hassle just a few minutes to fill out application
January 5, 2021
Renting the storage unit was easy thanks to your website information and the two representatives who helped. All of my questions and concerns were answered.
December 25, 2020
Luis was totally amazing, from his genuine care to get me in the correct unit to his professionalism in handling the transaction. I greatly appreciated him confirming that I had found the right location for my business storage. Cicily (I am sure it is spelled wrong) was so helpful on the phone when I had questions from my home office and needed answers. I would highly recommend your location to others!
December 14, 2020
Great Personal. Specially Luis who was very courteous and helpful. Took his time to Show us a couple of storage units and gave us a good deal that we moved in right away. We are very pleased with the service.
December 3, 2020
My first experience was excellent, there was an issue with my reserved unit not being ready for me on my arrival, the management team went above and beyond to make things right and to compensate me for the inconvenience, I didn't need anything but team insisted, after which I graciously accepted their kind offer to put me in a larger unit at a discounted rate. Would recommend to anyone needing safe and economical long or short term storage.
November 22, 2020
My experience here was great, the girl in the front was very friendly and helpful 😊
November 4, 2020
It was good didn't take very long to get me all set and the lady who assisted me was very nice and answered all my questions. Thank you
October 25, 2020
I had a great experience with US Storage. The staff were friendly and very helpful.
October 23, 2020
Couldn't be better..AAA+
October 21, 2020
It was very pleasant. Gina and Luis are great people and so polite. They made getting the storage unit so easy.
October 13, 2020
I think its great. Customer service was wonderful.
October 6, 2020
Very good, I am so glad to have any storage, because I need space
September 19, 2020
The 2 women who help us were great I think its shayla and a manager
September 12, 2020
Super simple, lady at front counter very nice. Good customer service.
September 9, 2020
When I arrived the unit I was supposed to rent still had items in it so Gina took control of the situation and ended up getting me a bigger unit at the cost of the smaller unit. Gina was quick to resolve the issue and I couldn't have ask for better service.
September 3, 2020
Confident
September 1, 2020
Very friendly, professional customer service employee.
August 28, 2020
I was a prior renter. Last year. I was treated very good. But I tried to rent storage the day before and the girl in office said I can only take payments. I am very very sick. I went to U-haul and to another business. I ended coming back and was very glad to see Sucely Ortiz.
August 27, 2020
It was fine your counter person is verey stright forward and lets you know that there os no leway to the rules and she sticks to them (at the same time she was pleasent to talk with )
August 11, 2020
100% security
August 10, 2020
My experience was very outstanding and team was professional and very welcomed the moment I walked through the door. I'm a very satisfied customer and well be sharing my experience with my family and friends.
July 24, 2020
Passing by the location
July 17, 2020
It's was friendly and helpful.
July 1, 2020
Very positive experience. Office staff is friendly, recognizes me when I arrive. Billing always to me in plenty of time to get payment out. Facility always clean, no access problems.
June 21, 2020
Enjoyed having a real conversation and not feel like I was there for a transaction.
June 20, 2020
Very happy and pleased. Great customer service
June 9, 2020
Friendly worker.
May 31, 2020
It was great & Gina is AWESOME. Very knowledgeable & helpful throughout the whole leasing process & the truck rental. Thank you Gina you're a lifesaver.
May 27, 2020
I transfered here from another storage location. The customer service here is great. The assistant manager Gina is awesome. I would highly recommend this location.
May 21, 2020
Gina was great helping me switch to a larger unit
May 13, 2020
Gina was very friendly and easy to work with. The only issue is that the facility doesn't keep good records of open parking spots. The spot given to me when I signed up was taken. At arrival, the 2 spots to choose from.were also taken. We finally got directed to an open spot. The location is close to our house which is a plus.
May 13, 2020
Very kind and patient. Nice people.we got in and out in no time. Real good
March 31, 2020
Great experience overall. Could modernize the sign up process, however. Maybe send a link to the person in advance so they don't have to spend so much time doing sign up on move in day
March 31, 2020
Very good.
March 19, 2020
It was good
March 15, 2020
Good. So far everyone has been helpful and the unit is fine
March 7, 2020
Great customer service
February 28, 2020
So good and professional working staff on the location on 51Ave and Glendale Phoenix AZ..
February 28, 2020
I had a good experience. Great service!
February 23, 2020
It seems positive so far, though I feel having to put my password in in order to be able to get out if the gates already open is a little ridiculous you either have your password on your way out or you don't.
February 20, 2020
Every thing went very smooth
February 18, 2020
Everybody was friendly and knowledgeable.
February 11, 2020
I walked in and the most pleasant greetings. I called earlier and received everything I needed the young lady helped me out a lot and I will be recommending this facility
February 11, 2020
Great. Alan and Gina were very helpful.
February 7, 2020
No problems, reserved a unit after doing a visual with the attendant. Now my stuff's in storage.
February 5, 2020
Excellent customer service,
January 29, 2020
Really quick didn't give me a hard time and the price I was quoted didn't change
January 28, 2020
It was great i can't remember the ladys name but she was wonderful
January 26, 2020
I like the price
January 15, 2020
Stuff is Friendly easy to access overall good. Units are just a bit smaller than average
January 5, 2020
Nice people to work with in the office.
December 29, 2019
It's Business, the deal went good! Representative was very friendly!
December 11, 2019
I found your prices so much better than others and the free one day use of a moving truck is awesome!
December 8, 2019
It was great very impressed
November 30, 2019
I'm happy
November 26, 2019
Good service
November 20, 2019
Great experience, great price.
November 10, 2019
Very helpful + professionally nice !
October 26, 2019
The experiance was very good. The manager was very helpfull and pleasant to deal with
October 22, 2019
Pleasant. Second time renting from this facility. Reasonable prices and clean place.
October 17, 2019
Feel fine. Sucely Ortiz is always kind, friendly and knowledgeable about the property.
October 5, 2019
Very comfortable and pleasant to deal with
October 1, 2019
Very personalble
September 28, 2019
The customer service was very good.
September 26, 2019
Really good costumer service
September 18, 2019
I feel Awesome about this place keep up the good work..I got my daughter to switch her storage to over there...
September 13, 2019
The facility is close to home and convenient, the price beats competitors, and the grounds are well kept and secure.
September 6, 2019
It was a great and painless experience. The gentleman Alan was a wonderful help. The fact that you also had a truck to use also saved me a bundle of money and it was appreciated greatly.
September 6, 2019
Love the service with Mayra at the fron desk and the help with the Unit
August 27, 2019
My experience was pretty relaxed. I was shown a unit, the various plans were discussed, and some joking around was done. Documents were signed, and procedures explained, then I started putting stuff in the unit.
August 23, 2019
I was treated with respect and kindness. The facility is pretty much always clean. The price is fair.
August 21, 2019
It was great. You had exactly what I was looking for, and the gentleman that helped me knew what he was doing.
August 21, 2019
Experience good, concerned about Rat waste in space. Please put traps or exterminator to prevent pests. Thanks
August 6, 2019
The place is very clean
July 31, 2019
5 stars all the way. I was serviced by Gina and I was totally thankful. Very professional. Gets down to the basics quick. Very respectful. And would send anyone to this business for storage space.Thxs
July 31, 2019
It was an enjoyable experience to have Gina help us out getting a storage unit. She was fun and we had lots of good conversation!
July 12, 2019
It was great, manager of this place is very nice, helpful and lovely.
June 25, 2019
I had great customer service and storage unit looks very clean!
June 22, 2019
Was treated with kindness & respect from the time I checked in.Love how I was able to reserve my unit online it was fast,easy & convenient! Thank you.
June 21, 2019
The guy was a real professional and took care of me and I was happy
June 13, 2019
Service was excellent I'm very happy customer
June 13, 2019
Honestly no joke the fastest storage to rent from ,hands down...very happy with the start up....
June 11, 2019
very helpful and polite.
June 2, 2019
Excellent customer service
June 1, 2019
Outstanding from the beginning to the end. Very helpful! Definitely would recommend to family and friends!!
April 30, 2019
It was a simple process to set-up and be able to move in right away. I was referred to this location by a friend and in turn U.S. Storage Center immediately showed us some love. Thanks U.S. Storage
April 10, 2019
The service that I've received from Sucilly was incredibly wonderful! She's very good at her job and I really appreciate her kindness and helpfulness. I would use this location again just because of her! Thank you!
March 25, 2019
The unit was the perfect size, the reservation was very easy and the gentlemen I worked with was nice and professional. The free moving truck was the cherry on top! Thank you!
March 24, 2019
Exemplary all around service.
March 24, 2019
Very attentive
March 21, 2019
I visited your location and was greeted by Gina. She was amazing and quickly helped me figure out the best option for me. She was polite and very knowledgeable. She is a asset to your company.
March 7, 2019
It was good
March 5, 2019
I love the way they treat people. I recommend us storage to all the people around the world!
February 27, 2019
Really good, really nice person help me. He got me the right size storage that I needed.
January 4, 2019
Very Friendly
November 3, 2018
Your Agent helped me get a second storage locker. It went very quickly. It is also fairly close to my first locker.
October 31, 2018
Awesome!
October 25, 2018
Jay was very helpful and friendly. Very great experience
October 24, 2018
Never once tried to sell me, rather tried to save me money by showing me the units to give me an idea of which one will fit my furniture. Great staff and facility!
October 22, 2018
My experience has been great! I would recommend your service to people. Keep up the good work!
October 16, 2018
Very helpful,clean units.
September 11, 2018
Very pleasant!
August 15, 2018
Much better than other storage facilities I've used.
August 11, 2018
Your employee was very friendly and helpful in helping me get the right size storage unit.
August 8, 2018
Alan was awesome! Kind and very helpful. He had the paper work done quickly. Gr8 job!!
July 8, 2018
Just like o give a shout out to Jay for going above and beyond on a Sunday after hours. Much appreciated. You ROCK BRO! 7/8/18
June 30, 2018
Very happy!
June 6, 2018
Quick and easy
May 26, 2018
Very good front desk was extremely nice and informative
May 25, 2018
I was treated very well and very quickly. The new paint looks very good also and your center looks very new and clean. I am very proud to say I have a storage unit with your company. Marlys L Smith
April 21, 2018
Very satisfied.
April 18, 2018
Eric, was great to work with. He made picking a storage unit easy. Just wish there was a light inside the unit
April 18, 2018
Quick, efficient and readily available.
April 9, 2018
Good customer service. and property look very secured and very clean
April 8, 2018
Great prices and convenient location.
April 7, 2018
For the most part am satisfied with your facilities, but a recent infestation of roof rats has dampened my opinion
April 7, 2018
I feel very well about experience with you. I used your service in 2015, 2016. In 2018 I also use your service and I will yse it in future. Thank you!
April 5, 2018
very good experience. Mr. Mendoza was very friendly, excellent service thanks.
March 23, 2018
Great experience. Everything was as promised, and fit our needs very well for the 3 months we needed your services. Thank you
March 21, 2018
The person that helped was very nice. Explained everything about the units. Showed us the unit we wanted and was very polite.
March 19, 2018
I'm still in a unit with you
March 12, 2018
I had a good experience with your company. It was easy to call and make payments. The only problem I had in that year was that my amount owed went up and no one could ever tell me why. Otherwise a great experience
March 9, 2018
It was good.
March 7, 2018
Storage area was clean and nicely kept but sometimes it was narrow to drive in or out because street was small and a little narrow
March 5, 2018
The location I used for the storage was very helpful to me in setting up the unit. They continued this kind of service though out my needs. Thank You
March 2, 2018
I was treated very well, assisted me with all questions and requests. overall, 10/10
February 25, 2018
They took good care of me with no hassle, I would definitely recommend to friends & family.
February 15, 2018
Great except didn't get to use moving truck due to mis communication.
February 15, 2018
The lady in thr front office was very nice. I forgot my gate code and came back the next day and I loved how she remember who I was. I didnt have to tell anything she immediately pull out my info.
February 14, 2018
Smooth, cordial, effortless ...
February 9, 2018
No issue we guy did good by me
February 4, 2018
Moving into US Storage was very simple and affordable. The employee who set me up in my unit was knowledgable and was able to find me a unit that best suited my needs. All the employees are very friendly and helpful.
January 20, 2018
Jay is great. Helped with all my questions and concerns. Gave me great info.
January 17, 2018
I had an excellent experience with us storage the receptionist was very important formative and professional I was given all the information I needed to pay my storage fees either in person or online great experience thank you very much us storage
January 12, 2018
It was great. Everyone was kind and very helpful at the facility.
January 11, 2018
They worked with me to get the right unit to fit our needs.
January 11, 2018
The customer service is fablous. Being able to use the truck has been a big savings and convient.
January 8, 2018
Very convienient and friendly. Staff helped me with my changes and took care of my needs.
January 1, 2018
This good save for me it cheap greats good storage comfort of us storage is great
December 30, 2017
Very polite and friendly staff, easy to get along with. Very professional but yet relaxed environment.
December 29, 2017
The storage center is clean. The lady was courteous and helpful. I was the first customer in the morning. It took nearly 15 minutes after the start time for the lady to show up after being called by someone. So, don't show up at start time.
December 18, 2017
This place had what we needed. Helpful staff.
December 12, 2017
Manager was friendly and efficient. He took the time to show me several available units in my requested size and price range. Did not try to push me towards a specific space with a special deal.
December 4, 2017
Fast and efficient. Very friendly and willing to answer all questions
December 1, 2017
I came into the office to get another unit, and Jay was so fast and helpful. He made the process quick and easy.
November 30, 2017
So far, so good.
November 23, 2017
Very good people help you get the best services
November 20, 2017
Always accessible great Atencion and always taken care of the costumers one night I lock my unit with out placing latch correctly and their detected immediately and their call me to let me know! So I'm. Thank full and I highly recommended to you !.
November 14, 2017
no comment
November 9, 2017
It was very easy,and very helpful.
November 7, 2017
Hi there, I am still waiting for my electronic copy of the rental agreement. Thanks
November 6, 2017
Smooth and efficient transaction, couldn't be happier.
November 2, 2017
Everything went smoothly. No problems renting the unit, or getting in or out of the property. So far so good!!!
October 31, 2017
Great service and very helpful. Very clean too!
October 29, 2017
Great service
October 24, 2017
The gentleman that helped me was very thorough making sure that I got every benefit that your company had to offer for me and even double check that we wasn't sure
October 10, 2017
The man on duty rapidly and accurately processed the paperwork and gave me the promotion deals I was promised.
October 9, 2017
Jay was very friendly and made renting a unit extremely quick and efficient. I feel he went above and beyond by taking the extra time to show me (twice) how to get to my unit. He had me moved in and ready to go in less than 30 minutes and on a Sunday.! He explained the pro's and con's and was just a very nice person and a pleasure to do business with.
October 6, 2017
The staff member was very friendly, he gave me exactly what I needed when I had pick one and it was too small I'm happy with the service.
October 4, 2017
Great experience! Very kind and was able to help efficiently
October 3, 2017
Our experience has been fairly positive. The hours are a little rough, because my husband has to take everything with us the night before. If we forget something that we might need that day, it has to wait until he gets off at 4:00, then we can go pick it up.
September 26, 2017
Jay was great. Clean and well taken care of. Could have used a 2nd person as poor Jay had a difficult customer that made getting going take twice as long. Other than that everything was wonderful. Thanks.
September 13, 2017
Jay was very courteous and helpful
August 31, 2017
Great! The service rep Vivi was excellent!
August 22, 2017
It was fast and easy to setup my account and get the unit rented. I liked that there wasn't an excess of paperwork. I'm very busy and appreciate the expediency.
August 7, 2017
The gal at the front office very friendly, informative and courteous.
August 3, 2017
Friendly and professional.
August 3, 2017
It was quick and easy
July 30, 2017
it was ok has good prices
July 28, 2017
I feel that I received excellent customer service & was very surprised on how easy & convenient it was to rent a unit by your staff. Overall a great experience.
July 25, 2017
Everything is great except that the lights in the storage don't work during the night time only day time and of course they are not needed during the day because they have sky lighting. Only time we can go is after work during night so it's been a very big inconvenience. I have called to report it and no action has been taken. Other then that, staff is friendly and helpful,place is clean and start up price was a good deal.
July 1, 2017
Very Good!!1
July 1, 2017
I had a great experience
July 1, 2017
Great experience , this is the second time I used US storage. The second time was just as good as the 1st .Great costumer services.keep up the good work.
June 21, 2017
it was great! young lady who set me up with unit was awesome and showed amazing customer service
June 20, 2017
I had a wonderful visit at US Storage. Felt very safe and comfortable about leaving my precious belongings with them. I will surely refer my friends to Sucely.
June 13, 2017
overall a good experience--in one year there as been 3 managers so had to start over acquainting myssel with the new mgr each time
June 13, 2017
It was great. No issues. In and out.
June 7, 2017
So far so good. I have only had the unit for about 3 weeks.
May 27, 2017
Jay was great. He took his time showing me around and made sure I was able to get into a unit that would work for me.
May 24, 2017
Warm and helpful staff. Clean facilities.
April 29, 2017
The service person a the desk was very helpful and nice to me, and answer all my question, that to me was a wonderful, and glad to have came to this storage site, charlie jacksin.
April 18, 2017
Miss Ortiz was very professional and friendly.
April 6, 2017
Both ladies that have helped me on the two times I have visited have been very nice.
March 31, 2017
staff is very friendly, knowledgeable and helpfull
March 19, 2017
It was a smooth process. The staff was very helpful and friendly.
March 14, 2017
Sofia was super friendly and helped me out. Glad I decided to stop and rent my storage with US Storage.
March 14, 2017
after an inadequate first-time experience at another location, the gal at the call center was friendly, professional, and gave me a compensatory rate, which made the stress of moving a bit more pleasant..then the gal in the office was very friendly and showed me the available units in the size I was needing and honored the agreed-upon rate, although for a shorter period..this was almost immediately rectified after a brief call to the same gal at the call center and a quick email to the office..Sofia saw me a short time later and said the additional month would also fall under the compensatory rate..she apologized for any trouble and thanked me for being polite in the situation and not yelling at her, which I'm gathering has happened before (!)..the facility is very clean and quiet; the units are in really good shape..I would definitely recommend this facility to others..thank you, ladies, for your great service and commitment to excellence during a difficult and wearisome time! ☺ 🌟🌟🌟🌟🌟
March 12, 2017
The person who helped me was very nice and did well. However,your company used to give 13 month if I paid 12 months in advance and you apparently stopped doing so. Please reinstate this policy.
March 12, 2017
Very happy with my experience.
March 6, 2017
The staff was fabulous, very nice and helpful!
March 6, 2017
Sofia is an excellent representative...
March 4, 2017
Experience was very good. Rental fee was very reasonable and attendant very helpful and nice.
March 1, 2017
My experience at this facility was beyond excellent. Thanks to your representative that's always so helpful. Sofia.
March 1, 2017
Great service!
March 1, 2017
A good place to store my stuff.
February 24, 2017
My experience with US Storage was impressive, their customer service was fabulous. They were professional, courteous, respectful and down down to Earth. They described everything to me in detail and the process was simple. Prices are very affordable, and better than competitors in the area. Facility is clean and safe! i would recommend this business to anyone that needs a safe, dependable and easy access storage for their belongings. Sincerely, JXR
February 18, 2017
The staff is friendly and helpful. Getting a unit rented was fast and easy!
February 18, 2017
It was amazing.
February 16, 2017
the servics was great, only the reciept that I was suppoes to get via email did't c ome through. the sight was there but paperclips.
February 16, 2017
The office young lady that helped me was awesome, and very intelligent with the knowledge of the busisness that she is responsible for.. very friendly and family atmosphere at your location and look forward to staying for a long time. Thank you unit 690
February 8, 2017
Jay was phenomenal ! He helped me and even cleaned out the storage when he really didn't have time to ! It just needed swept out From the last tenants .. although he was late for his mothers birthday ..he went the extra mile , making sure I was in and satisfied with what I was renting.he even had to stay late for a couple other newcomers ..and it was already after five ! I was impressed by his loyalty to this company !! He is a real good hard worker ,and an honest man ! I appreciate his friendliness & Professional service , I really appreciated everything he did to make it an easy move , plus I inquired about if this company was hiring ..and he gave me George's phone number so that I might be able to get a part-time job !! that's pretty cool isn't it ? Wow what a guy !
February 5, 2017
Jay was friendly and helpful
February 4, 2017
It was a great experience. Ray was the person who helped me and he did a great job!
February 3, 2017
GREAT.... Sofie, the lady I talked to did a fantastic job of taking care of my needs for Storage
January 31, 2017
The folks at this US Storage Center are fantastic. They are over the top helpful not only when we signed on, but when we stop in to use the facility. Thank you for your great service!
January 26, 2017
Sofia was very welcoming and helpful. I felt appreciated and respected. I would definitely recommend this facility.
January 25, 2017
So far the place is great! The staff is happy and helpful. There is a free truck to reserve at a first come first serve basis. The company even honors online reservations that don't show up in there computer (as long as you have a confirmation number)! As of now I highly recommend this moving company! The reason I gave less then a 10 star rating, is only because of the truck not being cleaned prior to use and it's broken tail/top mirror.
January 21, 2017
Sophia treated me like I was family. I couldn't of asked for better service. thank you she deserves an award. She really is that good.
January 21, 2017
Everyone was very nice...
January 20, 2017
Sophia is AWESOME! Great Manager
January 11, 2017
Sofia was very professional,understanding friendly and helpful Thanks Lynne
January 8, 2017
On site experience was easy and efficient. Rates were explained and the right size unit was found. The only problem I had was that I had called 2 days prior and reserved the truck. That was lost. My son was flying in to help so not much selection left. We ended up doing the day 10 people were coming for dinner. I could not change dinner as 4 of the guests were leaving the next day back to Germany. Not fun!
January 4, 2017
No complaints.
January 4, 2017
This is a great place to rent a storage unit. All the staff were very helpful with my moving needs.
January 4, 2017
sofia helped us out and did a great job!
January 3, 2017
Good service. Took care of us when the office was closed very friendly and helpful. Even tried to help us look for a place to move to
December 29, 2016
It was all good.
December 13, 2016
Great. Polite and responsive to customer needs. It would be nice, however, to have a few units with power to keep batteries charged for stored vehicles.
December 13, 2016
Good service
December 13, 2016
Helpful and pleasant
December 12, 2016
The New lady was great, my storage experience was short and I have already moved out this past weekend and had no issues. Thanks
December 11, 2016
They went above and beyond helping me out! I will highly recommend them.