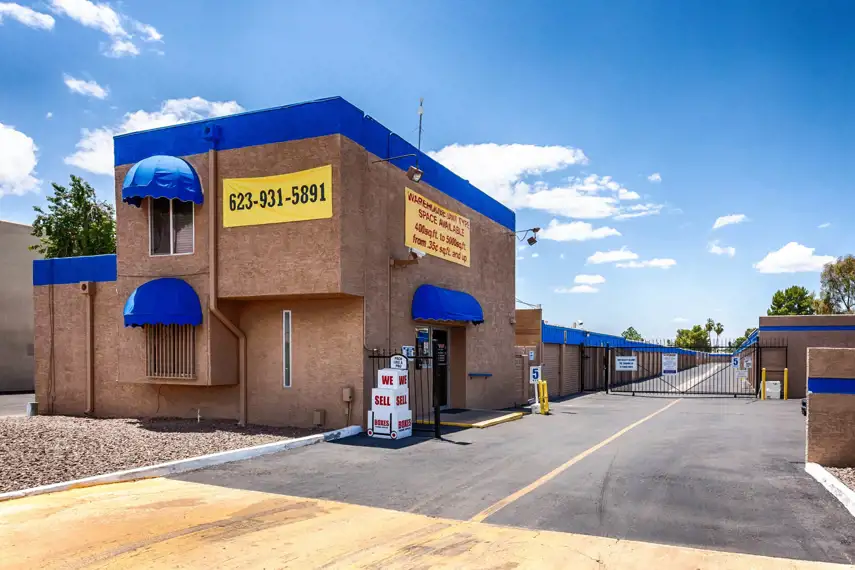 Rent or Hold Your Storage Unit in Minutes. Easy, Contact-Free Rentals.
Location Details
ACCESS HOURS
Mon

6:00am - 9:00pm

Tue

6:00am - 9:00pm

Wed

6:00am - 9:00pm

Thu

6:00am - 9:00pm

Fri

6:00am - 9:00pm

Sat

6:00am - 9:00pm

Sun

6:00am - 9:00pm
OFFICE HOURS
Mon

9:00am - 6:00pm

Tue

9:00am - 6:00pm

Wed

9:00am - 6:00pm

Thu

9:00am - 6:00pm

Fri

9:00am - 6:00pm

Sat

8:00am - 5:00pm

Sun

9:00am - 2:00pm
FEATURES AND AMENITIES
Drive Up Access
RV Parking
Electronic Gated Access
Video Recording
Employee(s) Speak Spanish
Kure It Certified Location
ABOUT THIS LOCATION
Glendale, AZ Self Storage Unit
Read More
Photos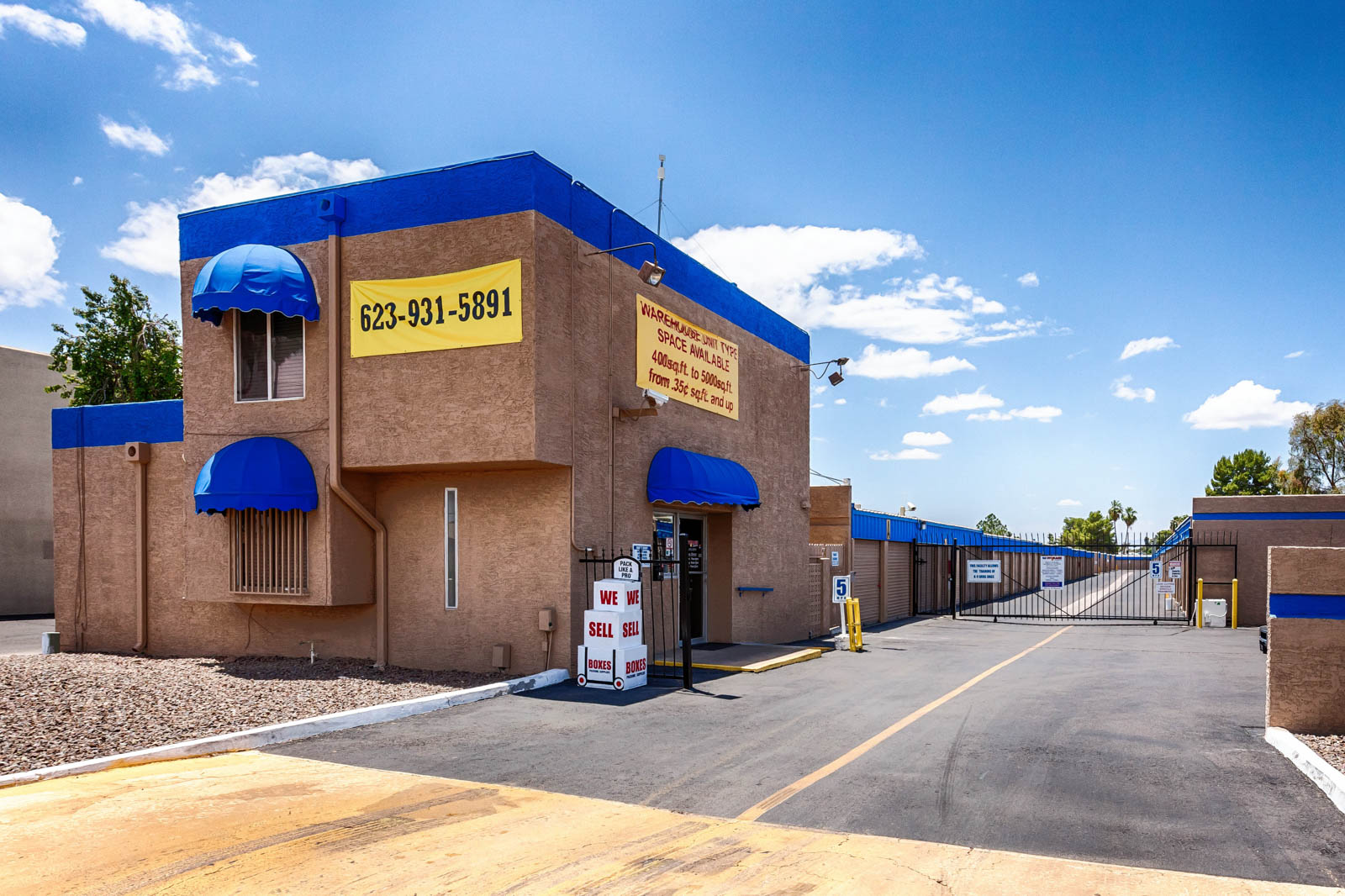 About this Location
Self Storage Facility Features
Our Glendale storage facility provides safe, affordable self storage suitable for all needs. Whether you are in search of a personal or business related storage solution, we have you covered. This location features drive-up access and extra wide aisles that make accessing your storage unit quick and hassle-free. All our units are located on the ground floor, helping you avoid the hassle of dealing with stairs or elevators.
Storage for RVs, Boats, and Trucks
We also offer storage solutions for those who are in search of RV, boat, or auto storage.  Our outdoor spots are easily accessible for parking and backing out. Additionally, you will have 24 hour access your storage space RV parking. Parking Space width may vary from spot to spot. Please call the property manager for more details on Parking Space sizes. 
Secure Storage Units

We provide top-of-the-line security with coded gate access and video surveillance at all times. Plus, our property manager lives right there on site, so you'll never have to worry about an accident or an emergency. The facility is also clean and well lit to keep your items safe.
Contact-Free Rentals – Easy Online and Phone Rental Options 
 Online Rental
 Select your unit and enter your info and payment
 Sign the lease online
 A manager will reach out to you with your access code, a map of the property, and they'll have you email a copy of your valid government picture ID
 Once these steps are complete, the manager will prepare your unit so it's ready when you arrive
 Phone Rental
Simply call the number listed at the top of this page, and a member of our staff will work with you over the phone to complete a rental
The manager will email a lease to sign
Once the lease is signed, a manager will reach out to you with your access code, a map of the property, and they'll have you email a copy of your valid government picture ID
Once these steps are complete, the manager will prepare your unit so it's ready when you arrive
Conveniently Located
Our facility sits between the i-17 and Highway 60 in Glendale Arizona. Located less than a block from the Olive Village Shopping Center, you can find our self storage facility along North 43rd Avenue, right next door to Anaya's Restaurant and Chase Bank. Our location enables the surrounding neighborhoods of Alhambra, North Mountain Village, Maryvale Village, Encanto Village, and Deer Valley near Arizona State University West Campus and Glendale Community College to easily access their stored property at any time.

Languages Spoken by Managers

Fluent in English and Spanish

Convenient Office and Access Hours

Access Hours

Mon – Sun: 06:00am - 9:00pm

Office Hours

Mon – Fri: 09:00am - 06:00pm

Sat: 8:00 am – 5:00pm

Sun: 9:00am – 2:00pm

Forms of Payment

It's easy to pay your bill! We accept cash, checks, money orders, Visa, and MasterCard. You can also pay online through our secure client login.

Professionally Managed

US Storage Centers focuses on creating a great self storage experience for you in Glendale, and the key to that is excellent customer service. Visiting our office will feel like visiting a friend's house; we get to know you by name and face. The better we know you, the better we can provide you with the best storage options to fit your needs.

The Community

Being only nine miles from downtown Phoenix, residents of Glendale enjoy the hustle and bustle of a larger city without any of the stress. Our city is considered "Arizona's Antique Capital" because of the numerous historic homes and buildings registered in the Historical District. We are proud of our history.

You can't live in Glendale without becoming an Arizona Cardinals fan. The football team plays at the University of Phoenix Stadium in the heart of Glendale. And the stadium isn't famous for its football games alone; it was also featured on the History Channel's "Modern Marvels" because of its revolutionary roll-out natural grass field.

Whether you are a pensive history buff or a rowdy football fan—or a little of both—you'll find something to love about Glendale. Visit us today and see for yourself.

Facility Products

We offer boxes (sized small - x-large). We also have wardrobe boxes, packing tape, tape dispensers, mattress covers, bubble wrap, picture moving kits, disc locks, and brass padlocks.
Customer Reviews
overall rating, 365 total testimonials
September 9, 2021
Sucely the manager is absolutely amazing! Friendly and professional. The facility is very clean, Storage is great but the employees are what makes this place worth the money. Very happy for my storage it was easy. Stress free. Keep up the amazing work Sucely. Safety protocol COVID-19 Highly recomended
September 2, 2021
I had a great experience! Gina is awesome! She went above and beyond to help me find a unit within the company. I tried to get a unit at the location on 23rd and indian school only they didn't have unit the size that I needed. She found me a unit at a different location and that unit held all my stuff. I truly appreciate her help with finding me a unit within the time frame that I needed...She took the time to explain paperwork, her vibe was sensational. She was real easy to speak with. I was very comfortable dealing with her. My rental experience was smooth, no hassles or hiccups.
August 29, 2021
Very welcoming with great staff. Gina took care of us better than any other storage facility we've used. Would highly recommend this company.
August 23, 2021
Please stop calling me Victor Jose. I go by Victor or Lobo. Other then that the staff has been great. But the place is clean and I would suggest to someone else. I even made a new friend of another tenant. Btw you should provide free soft drinks to the employees. Like Dr. Pepper and Coke.
August 21, 2021
Very easy and pleasant to talk to the people in the office she's very nice and I have two units there and I have no problem telling somebody else that's where they should go
August 15, 2021
The staff person I worked with was terrific. The facility was okay.
See All 365 Reviews
See All 365 Reviews