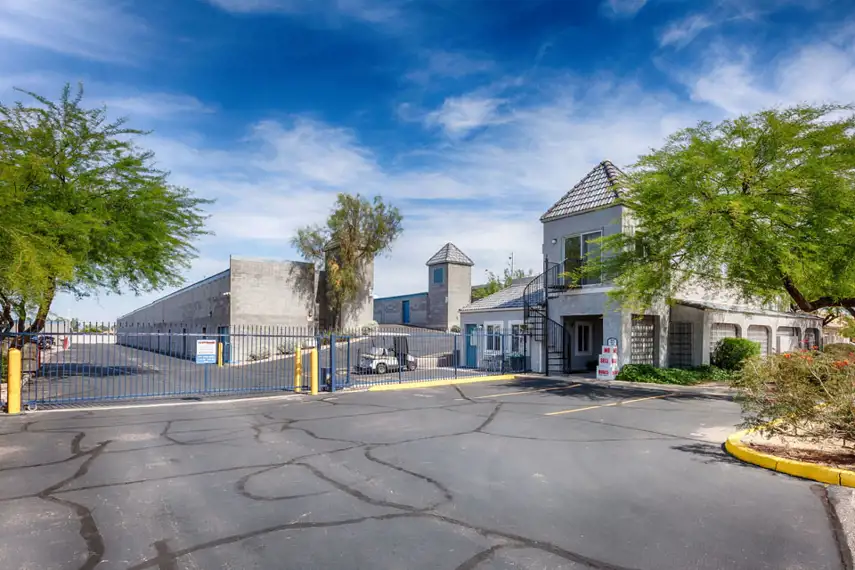 Rent or Hold Your Storage Unit in Minutes.
Location Details
ACCESS HOURS
Mon

5:00am - 9:00pm

Tue

5:00am - 9:00pm

Wed

5:00am - 9:00pm

Thu

5:00am - 9:00pm

Fri

5:00am - 9:00pm

Sat

5:00am - 9:00pm

Sun

5:00am - 9:00pm
OFFICE HOURS
Mon

9:00am - 6:00pm

Tue

9:00am - 6:00pm

Wed

9:00am - 6:00pm

Thu

9:00am - 6:00pm

Fri

9:00am - 6:00pm

Sat

9:00am - 6:00pm

Sun

9:00am - 2:00pm
FEATURES AND AMENITIES
Drive Up Access
Climate Control
RV Parking
Electronic Gated Access
Video Recording
Employee(s) Speak Spanish
Kure It Certified Location
ABOUT THIS LOCATION
Storage Units for Your Household
Read More
Photos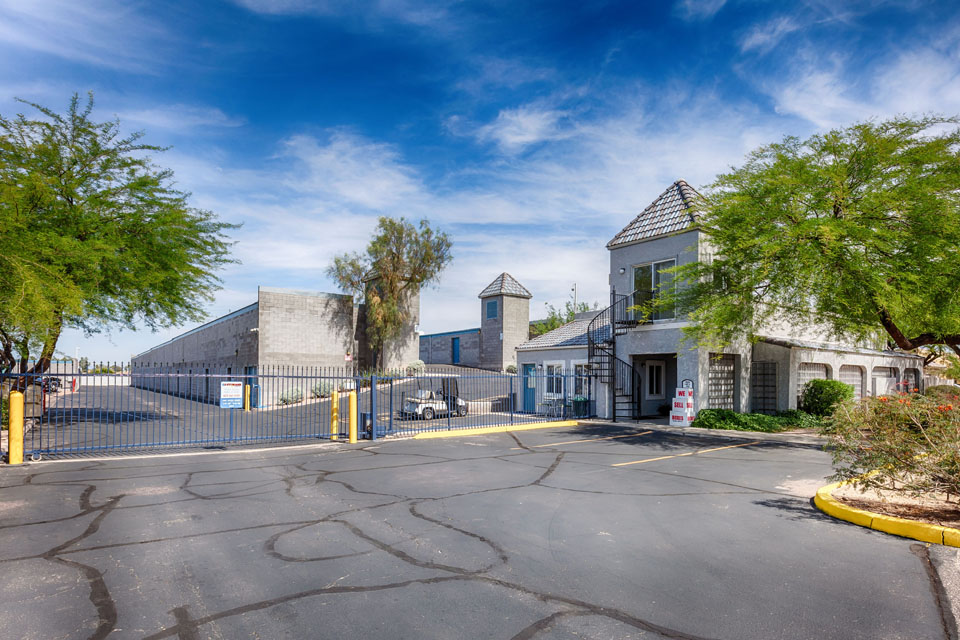 About this Location
About Our Storage Facility

For the perfect sized self storage unit in Peoria Arizona US Storage Centers is the place for you. Our storage units are drive up close, clean and convenient. Located at the intersection of N. 83rd Ave. & Union Hills, and near Highway 101, and Highway 60 (Grand Ave.), about half a mile from Arrowhead Mall, and two miles from Cardinal Stadium, close to Lake Pleasant. We are a professionally managed storage facility with the friendliest service in town.
Easy Rental Options
Rent your storage unit online or over the phone for a quick move in. 
Not ready to rent? No worries! Reserve your unit now to lock in today's special discount.
Month-to-month rentals
No credit card required for reservations
No deposit required
Moving Supplies and Boxes

To help with your move, we sell boxes (sized small - x-large). We also have wardrobe boxes, packing tape, tape dispensers, mattress covers, bubble wrap, picture moving kits, disc locks, and brass padlocks.

About Our Self Storage Units

The storage units at our Peoria location range in sizes from: 5'x5' - 10'x30'. So there is a very large selection to fit your specific storage needs.

All of our storage units are on the ground floor and we offer drive-up storage units, air-cooled units, and indoor units.

A semi-truck up to 40' is able to access our property, so you should have plenty of room when you move in.

Some of our security features include 24-hour video recording, a manager who lives on site, and we have a single gated entrance. All individuals entering and exiting the property are required to enter a PIN code.

You'll find that we have competitive rates, the friendliest staff—with the best sense of humor—and a professionally managed self-storage facility.

RV and Boat Storage

We offer convenient RV, boat and automobile storage. Our facility offers outdoor 12' x 30' RV and Boat spaces for rent. Parking space width may vary from spot to spot. Please call the property manager for more details on Parking Space sizes.  

Facility Features

With the best hours in the business, our tenants can access their units from 5am-9pm year-round using gate access. Our office is open Monday – Saturday from 9am to 6pm and Sunday from 9am to 2pm.

And to make your move easier, we have a dolly and complimentary bottled water. We also have a restroom conveniently located outside for tenants.

Forms of Payment

For your convenience, we accept cash, checks, money orders, Visa, and MasterCard.

The Community

Peoria, Arizona has many mountains and hills at the northern end of town with hiking and biking trails, and scenic views at Lake Pleasant Regional Park. Our beautiful city is also famous for the Peoria Sports Complex which is where the Arizona Cardinals, the San Diego Padres and the Seattle Mariners hold spring training.

The stadium draws many tourists, concerts, weddings, business events, and festivals. The Arrowhead area, the restaurant center of the West Valley, was estimated to have more restaurants in its quarter-mile radius than any other in the U.S.!

And because your life will be so organized because of your self storage unit you'll be able to do all of the fun things in Peoria.

Languages Spoken by Staff: Fluent in English and Spanish.


Customer Reviews
overall rating, 426 total testimonials
March 1, 2023
More help needed at the office. Most people coming there are dealing with a move and are tired..so not having to wait is crucial.
February 17, 2023
It was friendly and wonderful. The Clerk was very help and understanding.
February 14, 2023
Great service
February 13, 2023
Mo was very helpful when I rented my unit.
February 10, 2023
Quick and easy !!!
February 9, 2023
The customer service was outstanding and the level of knowledge was surprising to see that how everything went so smooth at the storage unit. All in all very satisfied with him experience.
February 7, 2023
Elijah was a great help. We purchased the unit online, and went to the facility when we were free. Elijah was very friendly and precessional and set us up with everything. He drove us to our unit and gave us the gate code. The unit itself was nice and clean. We picked an air-cooled unit, and it definitely is kept at a good temperature. The price point was the initial thing that drew us to this place. It's a great deal compared to other nearby storage facilities.
January 29, 2023
The storage unit is nice and spacious for what we need stored. Moe at the desk was very helpful and nice. My father has also rented a storage unit and would recommend it to others.
January 20, 2023
Moe was so friendly and fun to work with. She answered all my questions and took me through the whole process to make it an easy decision for me. Thank you so much Moe
December 19, 2022
Good. Gina is my favorite to work with. Good location, good size, good prices.
December 8, 2022
It was good.
November 6, 2022
As more companies seem to be scaling back, this company does more. Office personal were very helpful!!!
November 5, 2022
Site manager was very helpful in getting me situated with my unit. Very friendly.
October 21, 2022
Had a great experience they were fast and thorough. I had no issues and I have no complaints
September 15, 2022
The whole rental process was fast and staff was knowledgeable and friendly
September 12, 2022
It went as expected. I reserved a space online and when I showed up the young lady showed me where it was. The space was clean and ready to use.
September 7, 2022
Staff was very friendly
September 6, 2022
Still on going only wit in first month of rental!
September 3, 2022
It was a easy process and manager was great
August 31, 2022
Vivi made my process so easy, considering I in turn through a few answers her way. She explained my options with such ease that it made me choosing what suited me me way easy. The prices are good and customer service is great. I'm very pleased that I chose this location for my needs.
August 6, 2022
Vivi is great and we've had nothing but good experiences
July 19, 2022
Everything was very easy to take care of in terms of reserving the unit and getting moved in. Office staff is very friendly and helpful as well.
July 12, 2022
Jose was very friendly, helpful and informative. Unit was clean and ready for us to move in. Grounds clean and secure.
July 9, 2022
Gina was amazing during my checking into the storage unit. She went above and beyond her duties.
June 9, 2022
So far everything has been great.
June 8, 2022
Front desk lady very friendly and website easy to navigate
June 7, 2022
Very good thank you so much for the help and the great customer service 10/10
May 14, 2022
Vivi was very knowledgeable, professional and,made me feel at ease. She answered all my questions and took time with me throughout the process. I have been in customer in the 90's and am happy I came back again.
May 8, 2022
Really good so far
April 19, 2022
It was a problem. We rented a storage room and when we went to use it. They had moved us and rented it to someone else. I had to keep the rental truck over night at an added expense and I lost the helper to Un load
April 14, 2022
US storage has been a lifesaver for our family. We are moving from California and they have been wonderful helping us with the process.
April 12, 2022
No issues with you guys!
April 12, 2022
Very accommodating and efficient.
March 2, 2022
Very professional and helpful.
February 7, 2022
Friendly staff, clean easily accessible unit
January 26, 2022
Customer service was outstanding. Tiauna was very professional and personable. The facility is clean and well secured. Their pricing is really reasonable. We felt comfortable leaving our items in this storage space.
January 24, 2022
I had no issues at all. Very easy getting my storage unit
January 17, 2022
Experience with US Storage Centers was as expected.
November 19, 2021
Great! Very helpful and friendly
November 17, 2021
Very well taken care of - answered all questions and was very professional.
November 5, 2021
It was good. Jose was so helpful.
October 20, 2021
Jose provided great customer service by showing us around, explaining the rental process and how to cancel upon deciding to leave. He was very professional and friendly.
October 16, 2021
Linda was very helpful and friendly when getting me signed up and showing me to my storage unit.
October 6, 2021
Great staff, Linda and Ty went beyond with customer service.
October 2, 2021
It was great and Linda was very helpful and knowledgeable about what we needed to do to start our rent.l and find our u it.
September 16, 2021
It was easy and a very clean facility
September 14, 2021
Showed up at the end of the day, looking for a unit. Although they couldn't help me that day due to how late I showed up, the next morning I was walked to different sized units to ensure that I got what I needed. Great customer service!
September 13, 2021
The check in process took way to long. Jose wad off that day and another agent assisted. Jose is always very helpful and knowledgeable. Thanks!
September 3, 2021
friendly, helpful, courteous staff makes the whole process effortless. hours of business and accessibility are perfect.
August 30, 2021
Everyone was friendly and very helpful with choosing the right unit and getting everything set up
August 26, 2021
Very good.
August 24, 2021
Due to the age of my mom we had to move her from show low to Peoria, this location was very close to the proximity we're looking for a home and the wonderful lady in the office was a joy to work with so thank you for being there for us.
August 13, 2021
All good, thankful that the storage unit was available. The attendant was professional and courteous
August 7, 2021
Jose was great he explained everything to me and was Very efficient
August 5, 2021
Great! Friendly staff, clean units, good prices.
July 28, 2021
Easy and effortless great
July 24, 2021
We had a good experience
July 15, 2021
THEY WERE HELPFUL AND PROFESSIONAL
July 10, 2021
It was "painless " and we were treated with kindness and patience. We felt we were appreciated as customers.
June 28, 2021
Amazing, Jose is super professional, helpful and knowledgeable.
June 3, 2021
Courteous, quick transaction
May 29, 2021
Jose was very friendly, informative, and professional. He took his time to explain rates, policies, and even showed me my options.
May 27, 2021
Jose is very approachable, kind, professional. He took his time to help me understand everything and answered all my questions. Makes a huge difference when you have someone who cares. Also I like the location, location of my storage. It's the right size.
May 11, 2021
Excellent experience! I already referred a friend who rented a unit!
May 8, 2021
I ordered the container over the phone and finished in person. Unfortunately I do not remember the gentleman's name who assisted, but he was awesome in every way, professionally and personally. His assistance was exceptional?
May 6, 2021
i had a great experience love the staff jose is awesome super nice guy and very helpful will refer everyone to you .. Thank you !!!!!
May 5, 2021
The manager, Jose, was super nice and helpful. He even used the golf cart to drive us to see a couple units. Excellent experience!
May 4, 2021
Great experience
May 3, 2021
Jose was great to work with!!
April 20, 2021
Good! Receptionist very friendly and helpful
April 15, 2021
Jose is a great person to deal with and great kind personality!!
April 12, 2021
I like like Jose treated me as his best friend or family.
April 2, 2021
Great Jose so helpful and always is very knowledgeable
March 16, 2021
Second time using this facility. Great staff, clean storage units, well maintained, reasonable rates. AgIn, friendly, courteous staff
March 6, 2021
Very impressed, nit a typical storage experience Jose was very professional and efficient and more than helpful. I will be recommending this facility to family and friends.
February 25, 2021
Awesome! Jose, the storage Manager has excellent customer service skills. I was very happy after I signed up. Thanks again
February 24, 2021
Nice people working @ this location. We lease 2 other storage units for our business & all services are positive. 😁
February 20, 2021
Great! Easy rental friendly service
February 3, 2021
Very happy. Easy to get to my space. Very clean.
February 2, 2021
Jose has great customer service. He was very professional and answered all my questions. Everything at the store to purchase was cheaper than any other that I had researched. It was also very clean.
January 29, 2021
Great Jose was awesome. He was very helpful with all my question. Put my mind at ease. Place it's close which was a plus for me.
January 26, 2021
I cant thank tyonna Smith for helping me with all the information I needed I cant thank her enough I'm a company owner and I rent storage everyday to store household goods for my clients and this is the best storage facility I have come across the office was clean the property was clean and so as the unit I rented everything went well i think I'm going to be a long term customer and once again thank you mrs Smith for all your help I hope you get a raise because you really deserve it because good customer service goes along way in business and again thanks alot.
January 22, 2021
Have nice experience with Jose. he know is location gave me good advice how to handle the keys for extra person and aloud me to use the dolies to move furniture thank you Jose
January 5, 2021
The manager (Jose Carrasco) was extremely helpful to me in managing my units from across the country during the pandemic. He responded quickly to my requests for information and assistance, explained everything clearly, offered to assist with donation items, and kept a lot of complex information straight regarding items and units with movers. I felt confident that my belongings were safe, that the management was on top of my activities, that I could depend on them to facilitate moves and changes, and that I had the correct information and everything I needed to make wise choices. I highly recommend this storage facility because of the excellent customer service at this location.
January 2, 2021
Very professional and easy process. Willing to work with you to get you into the unit you need.
December 31, 2020
Jose was wonderful to work with and assisted to get me the very best options he had available.he was courteous and professional and answered al of my questions and got back to me when needed .
December 25, 2020
Jose the gentleman who checked me into our unit, probably the property manager, was wonderful, explained everything very well and very personable people like Jose make these experiences so much better, thank you
December 22, 2020
Very easy process.
December 18, 2020
Jose and everyone I spoke w at USS have been so helpful, professional and personable! Jose kept in touch w me and has answered all questions and given great direction! It's a pleasure doing business w y'all!!
November 12, 2020
Great so far!
November 11, 2020
I like the facility but access in and out travel isn't as easy. But i do refer your storage facility.
November 10, 2020
My experience with US storage centers has been an awesome experience it has definitely maxed out my expectations they go above and beyond with the services I give 100 stars 🌟
November 6, 2020
Tiana was friendly, informative and professional. Jose also was . the price was the best around. Very pleased with my experience with US storage.
November 5, 2020
The man at the front office was courteous friendly and professional. The 10 x 10 unit is clean roomy and very convenient to access. The unit is just a short distance from my home and the hours of operation are very convenient. I was very pleased and glad to be a patron of your business.
November 1, 2020
Very positive and friendly
October 30, 2020
Positive!
October 2, 2020
Great! Jose Carrasco was incredibly helpful. Fantastic employee with the public and, no, I don't know him. He answered all my questions, made accommodations, helped me with the paperwork, and followed up with me the day before my contract began. Plus, he gave the referral discount to the person who referred me to US Storage Center.
September 24, 2020
Jose was great to deal with; he was very pleasant and made the whole process incredibly easy.
September 23, 2020
excellent customer care
September 18, 2020
Very efficient with our time. We were able to move in immediately
September 15, 2020
It was good. I did have a problem with the online rental agreement though. I picked the three month rental not the two month rental but when processed it gave me the two month. Not sure if we can change it now? But sure would like to do that.
September 9, 2020
Yes, you always treat me well. I now have 3 storage units with your company. Jose, your manager is always very professional and takes the utmost care to provide excellent service.
September 9, 2020
I have had a great experience with US Storage, throughout the process of renting and moving my personal belongings into the units. It started out with a move from out of state. I needed to secure storage units before the moving company arrived to pick up my things and deliver them to Arizona. I inquired about storage units in Peoria. That particular office didn't have any at the moment, but knew that some were coming available soon. I needed 2 of them. So they kept notes available for staff members to see and as soon as one unit became available, they called me right away and i was able to rent it over the phone. Because I still needed one more unit, they kept a watch for another unit, based on my size requirements to become available. As soon as it did, they called me and I rented that over the phone, as well. The moving company picked up my items and was able to drive up directly to my storage units and pack them. This made everything so easy and reduced my stress levels. I had so many items, I needed additional units to store my stuff and US Storage was quickly able to accommodate on the fly. The staff (Jose) is very friendly, personable and helpful. I recommend them highly.
August 11, 2020
You provided a solution when I needed the most. I will recommend you for sure
August 4, 2020
Very Happy with service.
August 1, 2020
Great, very easy and very resourceful
July 16, 2020
Excellent service jose was great and he took care of me asap. Very courteous and knowledgeable.
July 14, 2020
Friendly and very helpful.
July 7, 2020
Very efficient for sure. Easy process
July 7, 2020
Very satisfied. Excellent communication from first online inquiry and throughout rental process. Luis was cooperative, patient, friendly and prompt. So far, nothing but positive experience.
July 1, 2020
Great! Jose has been very professional! The facility is A#1 Jm
July 1, 2020
Very good and efficient
June 27, 2020
Jose and Tyonna are extremely helpful
June 16, 2020
The facility is very clean and with the contact I had with 2 employees, both were friendly and very helpful. I would most definitely recommend this facility in the future and would use them again myself if I am ever in the need.
June 12, 2020
Excellent, Jose was extremely helpful and efficient.
June 2, 2020
Person Tonya may not spell her name right was very professional & helpful.
May 28, 2020
Staff was very helpful and accommodating!
May 27, 2020
Very positive experience. Tianna (? spelling) was very helpful and patient with us.
May 11, 2020
Jose was very helpful
May 7, 2020
Jose, Property Manager, was exceptional to work with!
April 12, 2020
Jose was very friendly, knowledgeable and helpful
April 9, 2020
Very seamless and professional
March 31, 2020
Experience was great with Jose getting the first space. When I realized I needed a second space the process was also quick and easy. I did have one issue where I needed to return the rental truck and had to unload it later in the evening, I tried calling the center but no one answered or returned my call. I entered before the 9pm closing time but when we were done unloading we could not get the truck out of the gate and returned on time.Had to leave truck and return it the next day.
March 16, 2020
LOVE THIS PLACE
March 13, 2020
We were very impressed with the way Jose treated us and explained everything we needed.
March 5, 2020
All warm and fuzzy
March 5, 2020
Jose was extremely professional, courteous, and the process was very expedient!
February 15, 2020
Quick and easy process. Friendly representative.
February 9, 2020
Convenient, quick, good staff, complex feels secure.
February 9, 2020
So far so good!
February 8, 2020
Good price! Good service
February 2, 2020
Jose was great! Friendly, explained everything clearly, and
January 24, 2020
I feel that my belongings were in good hands, I am hoping to work for us storage someday
January 18, 2020
Very good.
January 12, 2020
Jose made it easy to sign up! Lots of unit size choices
January 9, 2020
I love the location, the monthly rent is very competitive. Waiting to see how effective th A/C is going to work......
January 7, 2020
We felt great. We had been looking around to see storage centers with the best cost and you guys blew everyone away. Plus it was nice and easy to get our unit.
January 2, 2020
Jose was extremely helpful
December 31, 2019
Customer service was great and the ability to rent out a unit was breezy, which I really liked. I would highly recommend this place.
December 24, 2019
It has been a good experience so far
December 19, 2019
Friendly service, easy and quick rental.
December 17, 2019
Your office person was polite and quite engaging. The new rental was convenient and clean.
December 9, 2019
Very welcoming
November 28, 2019
I was comfortable with Jose. This was his first day at this site.He was knowledgable which made me fill comfortable.
November 17, 2019
Great service security and clean place I recommended
November 1, 2019
Quick and easy as always.
October 22, 2019
Everything was as expected and I was very pleased with the service
October 12, 2019
It was very easy and inviting. It was also quick (which is great when you have kids with you)!
October 3, 2019
Good security, open til 9pm, person who got my paper work done was friendly and efficient. He provided good customer service.
September 26, 2019
Jason thoroughly explained the prices and setup process and ensured all our questions were answered. He represents his company well. I would highly recommend Jason and US Storage Center.
September 25, 2019
Staff was very knowledgeable and helpful
September 8, 2019
Was satisfied with the service.
September 7, 2019
Very positive!
September 5, 2019
Second time using you u guys have been great
September 3, 2019
Very good. Thank you
August 27, 2019
The rental process was very easy and the manager and assistant was very kind and helpful. I would highly recommend using US Storage at this location for your storage needs.
August 25, 2019
Lucas was great very professional handled everything extremely well . Answered every question and made sure understood everything before sending me on my way ! Thank you Lucas ! Keep it up !
August 22, 2019
Lucas was super kind and accommodating. Great experience. Easy location for west siders.
August 13, 2019
I am always treated professionally. The staff at U.S. Storage are always pleasant and helpful. I am very pleased I with my treatment. I rent multiple units and I believe I made the right choice for my rentals.
August 7, 2019
Lucas was friendly and helpful.
August 7, 2019
I feel in good hands.... thank you. The attendant was very friendly
July 21, 2019
Very satisfactory
July 13, 2019
Very helpful during a stressful move.
July 7, 2019
They had climate controlled storage which I wanted. Very reasonable rates. Manager was very helpful.
June 22, 2019
Real good / easy / the fellow that helped me was great & everything was smooth
June 12, 2019
Very smooth.
June 9, 2019
Lucas was very friendly and helpful in getting us set up with the right size unit.
June 7, 2019
Tyonna was very friendly and knowledgeable. There was an issue with my online reservation that she promptly resolved. I had never rented a storage unit before; she was patient and answered all of my questions.
May 31, 2019
Very friendly. Nice location. Clean area. A little pricy compare to other storage companies.
May 14, 2019
Great experience, easy to order, and check in. Friendly service. Thank you.
May 13, 2019
The lady in the office was very friendly and helpful.
May 11, 2019
US STORAGE aided us with our move. Your agent was very professonal.
May 10, 2019
Great. Lucas is awesome!
May 9, 2019
Lucas is great. We got everything done quickly and I was able to get on to the actual moving of all my stuff. Not fun, but better than sitting in the rental office thinking about it.
May 9, 2019
Everyone at US Storage has been great! Would definitely recommend them
April 23, 2019
We had a great experience. The staff was friendly and helpful.
April 22, 2019
Lucas called me on the weekend to advise my unit was not locked properly (my mistake). Really appreciate his diligence and extra effort to contact me. Keep up the good work!
April 12, 2019
Exceptional customer service! Lucas was very thorough when reviewing our contract, and answering questions. The grounds and the storage unit that we rented were well kept. Would highly recommend 😊
March 12, 2019
It was a great experience. I put a storage unit on hold via your website and Lucas called me a short time later to confirm. I showed up later that afternoon to start my month to month rental.
March 9, 2019
Excellent Customer Service. The young lady was professional, helpful, sincere and most importantly friendly. Great experience.
March 3, 2019
Fantastic! Lucas was friendly, knowledgeable, and extremely helpful.
February 27, 2019
Everything was very easy to set up and access. The pricing structure is very fair. The employee that I interacted with was very helpful and accommodating.
February 22, 2019
Everything was handled very professionally.. we got a good unit to store our things... we are very happy.
February 9, 2019
Lucas is the best!!
November 6, 2018
I had an amazing experience. Lucas has been nothing but extremely helpful and I would seriously recommend this place to anyone and everyone. He deserves a raise for his amazing customer service!
November 1, 2018
Awesome service. Very clean. Would recommend u.s. storage to everyone.
October 28, 2018
Your staffs were very helpful and offered good service.
October 26, 2018
Great customer service. I have only dealt with Tyonna and she was extremely helpful every time. Easy to enter and exit the facility. Seems like it is in a good location too.
October 23, 2018
Great, very helpful staff
October 20, 2018
Very good
October 20, 2018
Excellent!
October 15, 2018
Great customer service. Lucas did a great job.
October 12, 2018
Good customer service from Lucas.
October 9, 2018
Lucas, your manager did a great job in taking care are of us. The unit was clean and what we were told it would be. Thanks, Sheldon
October 4, 2018
Very positive, friendly, and helpful. Would certainly recommend to friends and family.
October 3, 2018
The experience, professionalism of staff, and the explanation of "how it works" was impeccable.
October 3, 2018
You representive did a great job getting me into a storage unit. Thanks for your help
October 2, 2018
Things went very smoothly, as always.
September 21, 2018
Great value and good service. Would have liked to know about insurance requirements prior to coming in.
September 11, 2018
Fantastic customer service
September 3, 2018
The only reason it is not a 10 is that location is an important factor in the selection of a storage unit.
August 23, 2018
I am so satisfied with this company. Tyonna Gave me fantastic customer service and made receiving my storage unit easy and super convenient. I'll be referring US Storage Centers to friends and family and I'll definitely be back if I ever need another unit!
August 23, 2018
When I called your rental site on 83rd Ave, Lucas was very patient and friendly. He provided all of the information I requested regarding rates. At the first visit to the storage location, Lucas was very professional.
August 5, 2018
Treated very well. The young man who took care 0f me was very courteous, and considerate of an elderly lady. I was very pleased with the service when I left there.
July 20, 2018
It was excellent, very thorough and quick.
July 11, 2018
Quick and easy, Digital payments, quick responses to phone calls, happy people in the office!
July 6, 2018
The site Mgr was very knowledgeable and customer focused.
July 1, 2018
I moved from Kentucky and had driven 3 days to get here. You guys were amazing! The service and kindness was wonderful. It was a situation that could of turned very sour had it not been for your company. Thank you
June 12, 2018
Very pleasant experience with personnel and storage area condition.
June 7, 2018
My son-in-law moved my things into the unit and he said all went well. 😊
June 6, 2018
Very good! Very helpful! Easy access and affordable!
June 1, 2018
It was easy to get what we needed! Thanks!
June 1, 2018
Very positive !!
May 3, 2018
It was fast and friendly
April 18, 2018
Very good overall
April 7, 2018
Very nice and friendly staff
April 6, 2018
Lucas made the process of finding the right size storage unit very easy.
April 5, 2018
My experience was amazing. The staff helped me get into my unit when the slide was stuck, were always super friendly. Angelina and Iesha were so friendly and helpful.
March 31, 2018
Treated with respect and helpful
March 22, 2018
Lucas is the most professional , understanding person who was a absolute joy to work with during this stressful time if moving.
March 12, 2018
went very well.
March 12, 2018
Polite customer service Easy sign up
March 10, 2018
Empoyees are extremely helpful and pleasant.
March 7, 2018
Jon Soule and
March 6, 2018
When I was searching for storage, Todd was most accommodating and enthusiastic. Because of his high level of sincerity, I chose U S Storage, the third company visited that day. No need to go to another.
March 3, 2018
It was easy to rent a storage unit, and the property manager was very helpful. I am glad i stopped in before i actually needed the unit,however, because the property manager does NOT carry a phone with him when he isn't in the office during office hours.
March 2, 2018
Easy access, clean, friendly.
March 2, 2018
I had no issues with US storage. Customer service was always good & polite. The price increase did influence a sooner move out.
February 23, 2018
Good experience. I'm a returning customer.
February 23, 2018
Lovely conversation and recommendations!
February 23, 2018
Very organized, clean. Superior, personable front desk employee!
February 3, 2018
well managed. easy access. no complaints here.
February 2, 2018
I would recommend this US Storage to anyone. Lucas was great and helped us out when we needed an additional unit.
January 26, 2018
Thanks, nice job by the staff.
January 17, 2018
Excellent experience and customer service from start to finish. Very Clean units and property.
January 17, 2018
Very friendly, courteous staff. Nice rental area and convenient.
January 12, 2018
Nice clean secure facility. Staff is great.
January 9, 2018
Lucas and his staff are tremendous they go above and beyond to take care of the customer
January 5, 2018
You guys were very flexible and professional with us all the time. Todd did a great job and we appreciate everything. we just didnt need the storage unit anymore. Thx
January 5, 2018
Great customer service!!! Easy to use facility.
January 4, 2018
My storage unit was clean, accessible. I moved out because of price increase which made
December 25, 2017
you all rock
December 22, 2017
Very helpful this was my first time renting a storage unit and I was very happy with the process.
December 22, 2017
Lucas did a great job!
December 21, 2017
We were very pleased with our experience at US Storage Center. I would absolutely recommend them to anyone! Thank you Lucas
December 17, 2017
Helpful staff answered all questions and were very friendly and personable. Unit was best value for space, access, and climate controlled
December 17, 2017
Lucas was helpful and friendly. I felt comfortable knowing I would be leaving my items in a safe and clean facility.
December 14, 2017
Used them before and had no problems so I came back.
December 12, 2017
Great customer service @ fair price.
December 7, 2017
Awesome service: did everything quick and easy
December 2, 2017
My family has rented from you on and off over the last 10 years and always get best service
December 2, 2017
Excellent. No issues. I would use US Storage again and would happily recommend the company.
December 1, 2017
Great experience. Quick and easy to rent a space. Perfect for what I needed.
November 22, 2017
Our experience was very positive. We were able to rent a unit quickly for a fair price. The unit was clean and the service was excellent.
November 17, 2017
Lucas and the staff are just wonderful. Helpful in every aspect of my first time storage experience. Awesome Liz Dempsey
November 11, 2017
Lucas is a great person.. professional knowledgeable and kind...great storage facility
November 8, 2017
They have been very helpful every time I have gone in. They made it easy and quick to rent a storage unit. No issues or complaints.
November 7, 2017
It was great - the staff was always friendly and helpful, especially Tod, who went out of his way to help us. If we ever need another storage locker it will be at your 83rd Ave. location. Terry Kise
November 7, 2017
LUCAS has been very accommodating. Thank you
November 6, 2017
Dealing with the property manager was a joke, but your weekend person, who's name is Angelica, or something like that was amazing. Although we didn't want to stop using this storage center the PM did not do anything to prove he wanted our business. The weekend we were moving out we stopped and talked to Angelica and she was amazing. She hooked us up with another unit right next to our current unit and mentioned our homeowner's insurance, which saved us money, but more importantly is that she wanted us as customers and couldn't have been more providing. She saved our business with you hands down. Yes the PM called and tried to make things right after the fact and I was still upset that he said different things when he knew he messed up. He did also come by to apologize, but why could't it all have been done the first time? I worked out again thanks to Angleica. We like your center and want to continue to store our stuff there. The place is clean and very easy to access.
November 3, 2017
Friendly staff, safe/secure area.
November 3, 2017
We came in from out of town and found ourselves in a difficult situation that we did not anticipate and your staff did a wonderful job of getting us the proper size unit in a courteous, friendly, and efficient manner. Everything was very easy to take care of. Thank you again.
November 2, 2017
Great storage! Easy to access, safe & secure.
November 2, 2017
Awesome service!
October 10, 2017
was moving from out of state site manager Lucas Olivera was extremely helpful
October 9, 2017
Great experience, everyone was/is very friendly and accommodating! Please update my name from Christine to Christie, thanks!
October 4, 2017
I was very happy with the help I got getting a storage space.
September 27, 2017
Lucas is very helpful and professional..Great person
September 23, 2017
Knowledgeable and friendly staff - helped me decide the size I needed.
September 14, 2017
Friendly and informative staff. Clean facilities, fair pricing.
September 12, 2017
I came in with a friend of mine who had used the facility before. Lucas was very helpful and explained the rental process for me. The unit is exactly what we were looking for and I paid for the first two months and moved the items we wanted to store in that very day. My thanks again to Lucas for all of his help.
August 29, 2017
It was quick and uncomplicated! I was so pleased with how pleasant and simple he made the process!
August 23, 2017
Lucas always does a great job on answering my questions. He is a great asset to your business.
August 17, 2017
Lucas is very friendly and informative.
August 14, 2017
The staff was extremely helpful in getting exactly what we needed! Also, I found the grounds to be very clean and well cared for.
August 13, 2017
Everyone is so nice, and the units are clean and well maintained. They are the best!
August 11, 2017
nice job by all involved.. good follow up. professional
August 4, 2017
lucas is dedicated employee and helps the customer when possible
August 4, 2017
Very helpful, and nice
August 1, 2017
The gentleman at counter was very nice and professional.
July 28, 2017
Great customer service from Lucas, clean unit, best price in the area for my size unit. I am a returning customer because this is what I have received with each rental.
July 26, 2017
The experience was very good. Lucas was knowledgeable and friendly. He answered all of our questions right away. The Center is very close to our home so it is convenient for us.
July 25, 2017
We were treated with respect and the manager was helpful and knowledgeable.
July 9, 2017
Very comfortable. Good customer service. Options.
July 3, 2017
I needed to get a storage unit quickly and they made it a very easy process!
June 29, 2017
Great service. Very polite.
June 20, 2017
it was very good. great information
June 18, 2017
Lucas was great
June 1, 2017
Lucas Olivera was very kind and professional. I appreciated his help.
May 31, 2017
Our experience was great, service was quick and we got exactly what we were looking for at a great price.
May 13, 2017
Was very nice andcfelt comfortable
May 11, 2017
the management was very friendly and helpful in all areas. It was a pleasure to do business with US-Storage.
May 9, 2017
very nice facility
May 5, 2017
Getting prices & a unit in just minutes. Our was simple at a good price.
May 1, 2017
Excellent service Jaime and ode were great customer service
April 29, 2017
Awesome, great service
April 29, 2017
Great service.
April 29, 2017
Todd is great to work with!!!
April 28, 2017
The experience was great and the manager at the front office was very helpful! Very clean and nice units!
April 28, 2017
Everyone that works there are very helpful.
April 10, 2017
Awesome friendly staff!
April 8, 2017
From the initial inquiry of renting a unit until the final renting of two units I was completely satisfied with the service provided. Todd is amazing and each and every time since renting he always has such a positive attitude and is always willing to help. I feel my units are very safe, especially with the 24/7 security camera. I had assistance from other employees in renting the units and found them to be very professional/helpful as well. I recommend US Storage to anybody looking for a clean, safe and secure storage company.
April 7, 2017
Amazing customer service and took care of our every need. Amazing place people and prices. Will be recommending to friends and family.
April 6, 2017
Staff were friendly and helpful.
March 1, 2017
Everyone was helpful and very nice.
February 20, 2017
Todd handled the arrangements very well.
February 19, 2017
Lucas was very friendly, helpful and courteous - positive experience
February 16, 2017
Extremely pleased with my experience at US Storage Center in Peoria, AZ. Clean facility, excellent staff and reasonable prices.
February 8, 2017
The experience was great with Todd Duncan. Very friendly courteous and I was happy
January 17, 2017
It's been a great experience. Employees are helpful and the facility is always clean.
January 10, 2017
Excellent Helpful Todd was especially helpful
December 29, 2016
Staff was very helpful and explained all items. Unit was clean and as described. Will use again in the future
December 22, 2016
Excellent experience. Aaron was great.
December 22, 2016
Excellent experience. Good Rates, good location and nice facilities.
December 21, 2016
Todd is the BEST! He has always looked out for me and made accommodations for my changing storage needs. Both for my business and personal storage units!
December 12, 2016
Wonderful experience. Great customer service.
December 12, 2016
Amazing service! 10/10 would do business again :)
December 11, 2016
I've had an excellent customer experience from the beginning including the courtesy of your representative, introduction to the facility and explanation of the operational process. Now that I am in the facility I have found the accessibility to be easy and the billing process very easy to manage. Thanks for your service!
December 6, 2016
Customer service was superb!!!