Rent or Hold Your Storage Unit in Minutes. Easy, Contact-Free Rentals.
Location Details
ACCESS HOURS
Mon

6:00am - 9:00pm

Tue

6:00am - 9:00pm

Wed

6:00am - 9:00pm

Thu

6:00am - 9:00pm

Fri

6:00am - 9:00pm

Sat

6:00am - 9:00pm

Sun

6:00am - 9:00pm
OFFICE HOURS
Mon

9:00am - 6:00pm

Tue

9:00am - 6:00pm

Wed

9:00am - 6:00pm

Thu

9:00am - 6:00pm

Fri

9:00am - 6:00pm

Sat

9:00am - 6:00pm

Sun

Closed
FEATURES AND AMENITIES
Drive Up Access
RV Parking
Electronic Gated Access
Video Recording
Employee(s) Speak Spanish
Kure It Certified Location
ABOUT THIS LOCATION
Keep Your Memories Safe With a Carson Storage Unit
Read More
Photos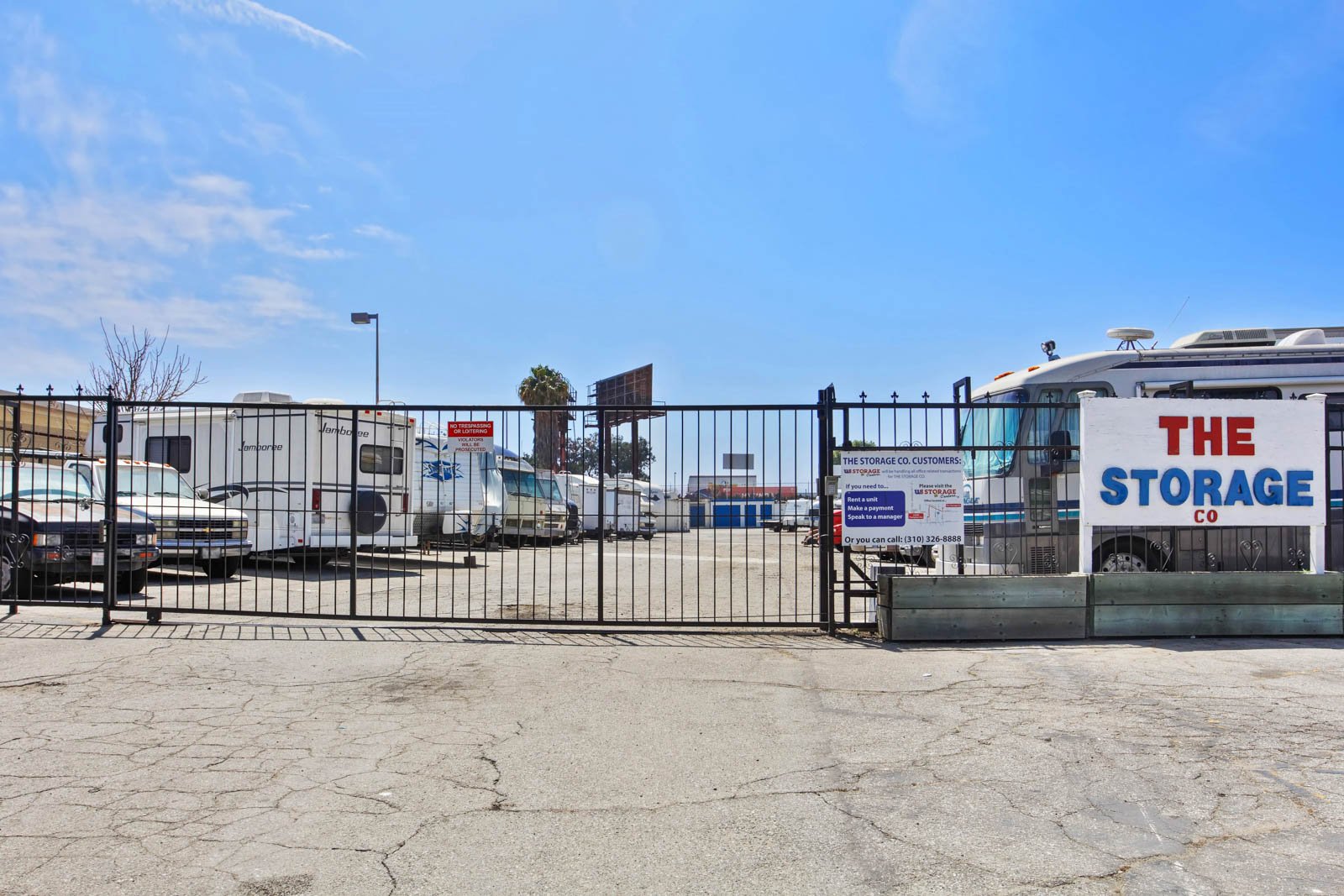 About this Location
Facility Description
The best self storage option in Carson, CA is located at The Storage Company, where we offer RV storage, boat storage, and storage units for household and business items. We offer both indoor and outdoor storage options for RV and boat parking. Our professional managers will be happy to assist you find the best park space for your recreational vehicle. Our self storage units in Carson come in a variety of sizes and include features and amenities like drive up access, electronic gated access, and 24/7 video recording. Our managers speak Spanish and are ready to answer all your storage questions.  
Contact-Free Rentals – Easy Online and Phone Rental Options 
 Online Rental
 Select your unit and enter your info and payment
 Sign the lease online
 A manager will reach out to you with your access code, a map of the property, and they'll have you email a copy of your valid government picture ID
 Once these steps are complete, the manager will prepare your unit so it's ready when you arrive
 Phone Rental
Simply call the number listed at the top of this page, and a member of our staff will work with you over the phone to complete a rental
The manager will email a lease to sign
Once the lease is signed, a manager will reach out to you with your access code, a map of the property, and they'll have you email a copy of your valid government picture ID
Once these steps are complete, the manager will prepare your unit so it's ready when you arrive
Your Neighborhood Facility
The major cross streets near us are Figueroa and Sepulveda. We're also conveniently located off the 110 freeway, just off the Sepulveda Boulevard exit. The Target on Figueroa Street is right next to us, and carriage Crest Park is also nearby.

Many of our customers reside in the communities of Carson, Torrance, San Pedro, Lomita, Palos Verdes Peninsula, Redondo Beach, Harbor City, and Rancho Palos Verdes, Palos Verdes Estates, Rolling Hills, and Hermosa Beach.

Storage Units

The storage units at this facility range in sizes from 5' x 5' to 20' x 30'. There are indoor and outdoor options, and some of the units are drive-ups.

There are also large storage containers available.

We have plenty of maneuvering room for large vehicles—especially RVs—and access to the facility is extremely convenient.

RV and Boat Storage

We have outdoor and indoor parking. These spots range in size from 10' x 10' to 10' x 55'. The indoor RV parking is located within a large building which provides complete coverage, a rare feature in our industry. There's also lots of room for maneuvering on the property and when entering and exiting. Parking space width may vary from spot to spot. Please call the property manager for more details on Parking Space sizes.  
Security

Individual gate codes are assigned for entry and exit. A special PIN is given to tenants renting space inside of the building as an added layer of security. Cameras around the property are recording 24 hours a day.

Languages Spoken by Our Managers Fluent in both English and Spanish.

Payment Options
Cash, personal checks, company checks, money orders, cashier's checks, Visa credit cards, Visa debit cards, MasterCard debit cards, and MasterCard credit cards.

The Community
When residents have free time, they enjoy recreating at some of the local parks. The sunny beaches are only six miles west of Carson, and we're located right between Los Angeles International Airport (LAX) and Long Beach airport. We also aren't far from California State University, Dominguez Hills, and the Stub Hub Center (home of the Los Angeles Galaxy and C.D. Chivas USA professional soccer teams). There's also lots of fun shopping at places like SouthBay Pavilion.
Customer Reviews
overall rating, 62 total testimonials
August 20, 2021
Great Diane was very nice very patient she answered all our questions and help us a lot
May 25, 2021
The company was very prompt at getting back with me with my storage need. Diana was very nice and informative. I highly recommend this company.
April 16, 2021
The property manager Diana was extremely helpful. She made the experience quick and easy.
March 31, 2021
Nice personal..very informative and professionals.They took the time to meet me there and reserved my spot.
November 7, 2020
I like the truck yard because it is very sefe with cameras and code gate.
October 13, 2020
Very positive
October 3, 2020
You're staff was engaging, accommodating and glad that I was using your services. I met Megan at the facility and she was a real trooper and a credit to your organization.
August 29, 2020
Diana was the best I really appreciate the professionalism. Great experience to work with her
August 16, 2020
The Storage Co has been very responsive to my needs.
August 12, 2020
It was great customer service very good contact options and responses were awesome thank you very happy and satisfy.
July 18, 2020
The staff is always top notch...
July 14, 2020
My experience was very pleasant. It was cordial, over and beyond my expectations. I will recommend prospective renters in a heartbeat. The manager Diana was very helpful in explaining my concerns in details. That made my decision really easy.
June 27, 2020
Excelente buen servicio rápido Estoy satisfecho
June 6, 2020
It's very good. Esta muy bien .
February 28, 2020
Excellent customer service , everything was explained and understood thanks
February 17, 2020
Staff very friendly and helpful 👍
November 13, 2019
The main thing I like about like about The Storage Company is they are very professional and organized in a way I had no problems dealing with them and I appreciate their communication skills.
September 27, 2019
Muy bien
September 24, 2019
Great service!
September 16, 2019
Se necesita más asfalto. Mucho polvo en la yarda, por lo demás todo bien gracias a Dios..
August 7, 2019
I was real appreciative of the services of this company. Even though there was an issue with my gate code, Diana diligently worked on my behalf to get it fixed so that I could have access. I am happy with my choice to store my items here.
January 30, 2019
GREAT CUSTOMER SERVICE! Diana is very kind, efficient, friendly and professional. Our space is perfect for our needs. Thank you for a wonderful experience!
November 6, 2018
Diana C provides excellent customer service! This is the first time I have ever given feedback about my experience as a customer with any business. Well deserved... Thanks Diana Castaneda
October 18, 2018
GREAT SERVICE. BOTH dIANA'S WERE SO NICE AND INFORMATIVE. BETS MANAGED FACILITY i HAVE EVER WENT TO.
October 18, 2018
I WAS VERY PLEASED WITH THE EXCELLENT JOB PERFORMED BY DIANA THE MANAGER ABD I WILL RECOMMEND U.S. STORAGE TO EVERYONE I KNOW!THANKS,ANDY ORLICKI
September 30, 2018
I was very pleased by the service and courtesy. Good prices, not low but reasonable. An excellent experience
September 21, 2018
Awesome price, easy and great customer service!
September 11, 2018
Very good staff... Any problems are taken care of immediately.. They are knowledgeable and friendly... Always enjoy seeing them..
July 6, 2018
My experience with the agent was very pleasant. Thanks.
February 25, 2018
I'm feel very good. I like that professional service.
December 17, 2017
I love the experience. The staff is very helpful and worked with my situation. And they smile....
December 2, 2017
Wonderful
November 13, 2017
Diana helped me from begining to the end. This is my first time to rent a strage in my life. She was so nice and helpful. They rent us free mvong track, it saved a lot of money. So happy to find this place.
November 8, 2017
Your employee Dianna has great exceptional customer service totally knowledgeable of her surroundings and company goals she follows company policy with the utmost care for the customer at the same time it was a pleasure to find your company in my time of need thank you for having such an amazing person working for you
September 1, 2017
Diana was very professional, helpful & nice. Hope their were more people like her..
May 22, 2017
very helpful, courteous and professional
May 19, 2017
The staff is super.. If you have any questions or requests.. They respond very fast.. Maintaining security is a top priority..
April 15, 2017
The staff are super.. Very helpfull.. When i needed a vehicle space.. They were full up.. I was on vacation when they contacted me that they had an available space.. They secured it for me.. And i signed the paper work when i got in town.. They take your security very seriously...
February 6, 2017
Wonderful, wonderful
January 31, 2017
extremely helpful and courteous .
January 20, 2017
The staff was friendly, professional and accommodating to all customers who came into the store. My experience was very pleasant.
December 31, 2016
Great ....
December 11, 2016
very good, staff is professional, place is clean. Easy accessibility. I like it here.
December 6, 2016
Courteous and professional service from all the staff. Excellent job