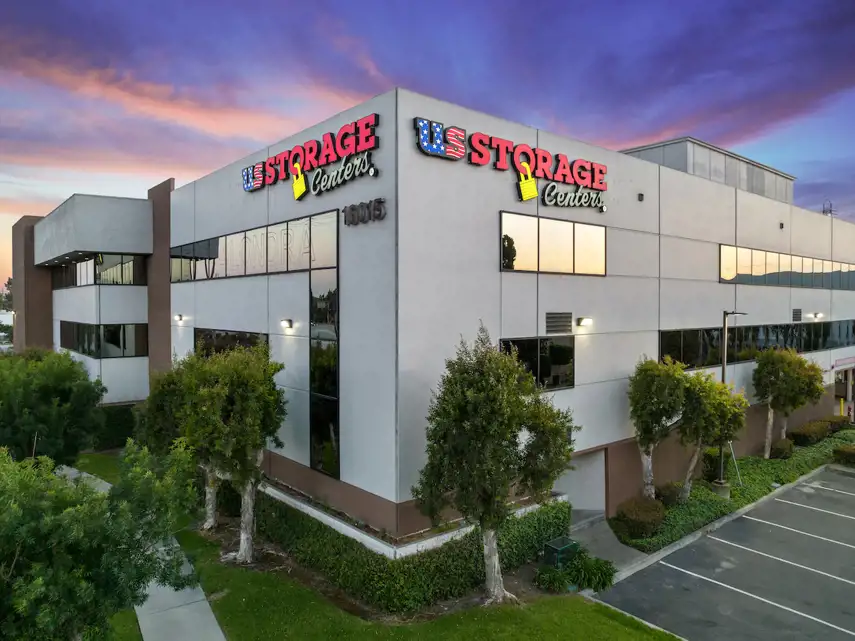 Rent or Hold Your Storage Unit in Minutes.
Location Details
ACCESS HOURS
Mon

6:00am - 9:00pm

Tue

6:00am - 9:00pm

Wed

6:00am - 9:00pm

Thu

6:00am - 9:00pm

Fri

6:00am - 9:00pm

Sat

6:00am - 9:00pm

Sun

6:00am - 9:00pm
OFFICE HOURS
Mon

9:00am - 6:00pm

Tue

9:00am - 6:00pm

Wed

9:00am - 6:00pm

Thu

9:00am - 6:00pm

Fri

9:00am - 6:00pm

Sat

9:00am - 6:00pm

Sun

10:00am - 4:00pm
FEATURES AND AMENITIES
Passenger Elevators
Electronic Gated Access
Video Recording
Employee(s) Speak Spanish
Moving Carts
Kure It Certified Location
Photos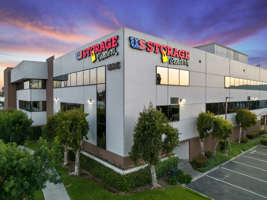 About this Location
Facility Description
You won't find many self storage facilities like ours here in Cerritos. We can offer you the unique advantage of storing your items in an indoor unit. All of our spaces are indoors, preventing much of the dust build-up you'll find in outdoor units. That means every time you come back for a piece of furniture or memorabilia, you won't have to spend hours cleaning it before you take it back home. Also, with indoor units, you can enjoy greater moisture and temperature control without paying through the nose for such features.

Our entire Cerritos self storage facility is designed for your convenience. To make the moving process smooth, we have carts and dollies ready for you to use for free. Just ask our friendly, professional property manager for help. You also have easy access to elevators, and our parking lot allows for a large 26 foot truck to back up to a loading dock. Upon request, we can even make room for larger vehicles like a semi-truck. Anything we can do to help you, we will.
This location features electronic gate access and 24 hour video recording. The property is also equipped with a unique keypad system allows each customer to access only the level on which his or her unit is located. After closing, an alarm is activated for the entire building. 
Easy Rental Options
Rent your storage unit online or over the phone for a quick move in. 
Not ready to rent? No worries! Reserve your unit now to lock in today's special discount.
Month-to-month rentals
No credit card required for reservations
No deposit required
Conveniently Located
You can find us off the 605 Freeway just south of Alondra Boulevard. Keep your eyes out for the Del Taco and Shell station on the corner of Alondra and Piuma, and you'll know you're in the right area. For our golf fans, we are located north of the Iron-Wood Nine Golf Course. After you're finished moving, you can drive over to the Cerritos Mall or even the beach, as we're pretty close to both. 
Many of our customers also live in the nearby Bellflower and Norwalk areas. Our location is convenient for all three neighborhoods and many others. 
For your convenience we are a few minutes from Cerritos Mall and about 15 minutes from the Beach. 
Languages Spoken by Managers

English & Spanish

Forms of Payment

It's easy to pay your bill! We accept cash, checks, money orders, Visa, and MasterCard. You can also pay online through our tenant account portal.

The Community

Cerritos, California used to be called Dairy Valley thanks to the numerous dairy farms scattered around the area. In fact, upon the city's incorporation in 1956, the cows outnumbered the people 29 to 1. While the modern day Cerritos is more urban than the former Dairy Valley, citizens can still enjoy farm-fresh eggs, milk, and other products at the Jersey Gold Dairy. The dairy takes convenient grocery shopping to the next level with their drive-thru. Talk about a quick trip to the store!

A background in dairy isn't this city's only high point; Cerritos also supports the fine arts of their community. The city government commissions artists to create sculptures and fountains in many places around the city. You can find a piece of art at nearly every entry point or cultural site in the city. With such a blend of beauty and tradition, people have been flocking to Cerritos for years.

Facility Products

We offer boxes (sized small - x-large). We also have wardrobe boxes, packing tape, tape dispensers, mattress covers, bubble wrap, picture moving kits, disc locks, and brass padlocks.
Customer Reviews
overall rating, 232 total testimonials
June 12, 2023
The associates are nice.
April 19, 2023
Great- Daisy was perfect with my brother who originally went down to see which unit would be a perfect fit. I came down afterwards and it was smooth sailing from there. Dy did a great job getting it completed. Also want to mention that the place is spotless- and smells so clean. Thank you guys for doing such a perfect job keeping the place in top-top shape.
April 9, 2023
Great experience, very helpful and kind staff.
April 2, 2023
VERY HELPFUL & UNDERSTANDING; THE PROPERTY MANAGER EXPLAINED EVERYTHING CLEARLY
March 13, 2023
Zero here i rented a unit and paid at least the first two months in advance for my fiancee why because ive been with this facility for quite awhile and i would not listen to her and i went with your facility and even though its been paid for Daisy would not let my fiancee take ow er ship because her picture id had expired and my girl was told i codnt get my money back well i went to go check tbe unit and there was a lock put on it not my lock and its not a red lock i demand a full refund of $263.63 paid on 2/15/2023 im very unhappy with your facility and get this even though i paid for it myself daisy denied me entrance ive been with you guys since 2008 thats all i have to say oh yeah now my gf left me also thanks
February 25, 2023
Very upsetting. Interaction with the will be helping me was great but you still haven't refunded the money you took from my account. I never finish the paperwork and I was charged and then sent a bill and I believe you're watching prices are some deceptive us to be illegal My phone number is wrong which may have been part of the problem – but you can't just charge people, and you can't just double their rate or try to that's why I didn't finish the paperwork. I would never ever recommend you except I would recommend you to the state to see if what you do is illegal
February 8, 2023
Awful 1st of all I am a disabled veteran on a fixed income. I did not take possession nor have I even set foot on the Cerritos property I called to cancel my unit they told me I would not qualify for a refund that is unacceptable . The manager at the Cerritos location was quite Frank and rude "you will not get a refund" I would like a full refund...
February 3, 2023
Tatiana helped us at the Cerritos location. She was very friendly & helpful. I appreciate how easy it was to get all the paperwork completed & the facility was very clean! Thank you very much. Tatiana and Daisy were great. I will definitely recommend your company to friends and family.
January 7, 2023
Nice place, clean and safe.
December 12, 2022
After a few years I came back to rent and little room and was a little bothered by a female individual at the front desk who just kept staring at me as I offloaded my items to store. I later proceeded and respectfully asked the female if I can use the restroom which is located right in front of where you load your items to go up on the elevator and she seems to have a bit of a power trip and a bit aggressive if you ask me she stated that she would let me borrow 'her' restroom this one time. If she wasn't allowed or customers weren't allowed to use the restroom respectfully tell me that customers aren't allowed to use the restroom and that's it. I might consider relocating at the same time notify my friends and family about this business.
December 10, 2022
The process to sign up was very quick and easy, staff was also very friendly.
December 1, 2022
I'm pretty happy with the communication
November 30, 2022
Place is always clean and well managed
November 8, 2022
very good
November 5, 2022
Excellent reception from the associate that greeted us. This made our decision to rent the storage. Very pleased!
September 9, 2022
The Cerritos location has very helpful & friendly workers. A special thank you to Daisy who has helped me with two different storage spaces.
September 8, 2022
Really has been a great help..I am moving to a smaller unit by the elevator, kinda in a straight line to the other unit I will bring a helper and by Sunday. Thanks for your help Dian price
August 18, 2022
It was so easy, that I will recomend to friends..
August 12, 2022
great front desk was super helpful with great and positive attitude. Made my choice of renting a storage unit there easier.
July 10, 2022
Great storage, clean
June 23, 2022
Our experience with your business was great. Daisy and Angie were very helpful and a delite to work with.
June 9, 2022
excellent services and friendly customer management skills. I enjoyed working with your staff.
May 3, 2022
Really like that you can do everything online. Your facilities are very clean and accessible.
April 28, 2022
Everything was great. Angie Magana was extremely helpful and courteous getting us set up and showing us how the facility operates. She made sure we had everything we needed to get started. She is a blessing!
April 12, 2022
Space is clean and suitable
April 11, 2022
Everything worked out well thank you us storage
January 20, 2022
Great experience. Very helpful
December 13, 2021
Very clean and friendly
December 3, 2021
Service is excellent and the office attendant were so helpful and friendly. We're definitely satisfied.
December 3, 2021
wonderful
November 8, 2021
Very helpful with and questions I may have had. Have used this facility for many many years.
November 8, 2021
We have had nothing but great experiences at your facility. Every time we go there to take our stuff the attendant ( I think her name is Daisy..She has braces) has been very professional, knowledgeable, helpful and pleasant. The facility is clean and easy to access.
October 30, 2021
Friendly, nice, and helpful.
October 25, 2021
It really has been great!!! Very easy, fast and customer service is excellent!!! Thank you for making the whole experience easy as possible.
October 14, 2021
The cleanliness and good condition of the storage units are great. The willingness of the clerk in helping by explaining all the details was great.
October 12, 2021
Great satisfied with staff
September 2, 2021
The experience was nice and simple. Daisy was very friendly,helpful, and patient when answering all of my questions. I will definitely recommend this storage facility due to the customer service I received.
August 17, 2021
I've never had a better experience at a storage facility than I've had at this location.
August 3, 2021
Daisy was professional and efficient. She was friendly and helpful. My interaction with her was pleasant, during these stressful times, she has a calm and assuring demeanor.
July 22, 2021
Feeling confidence in knowing my storage items are safe and secure is the best experience one could have while having to store items. I feel this confidence here.
July 20, 2021
I was very happy with how things went. Fil assisted us and he was so helpful, he made sure we knew the office hours and how to access our unit when the office is closed, he also went over the contract so we had no questions. The facility is cooled and very clean and I was very happy to see that it was so well lit. It was a great experience.
July 20, 2021
I like the people around there they are very helpful I will tell all my friends you guys are excellent
July 7, 2021
It was nice I had the pleasure of working with Daisy who was very nice to us. Just after opening the unit and when we were about to fillet we noticed that there was either a water leak or some oily substance on the ground Daisy quickly offered us another storage unit I wish we decline because she then offered a box that we could just place down to protect our items it wasn't water it seemed like or what Daisy said was that the previous renters tried to clean up the floor and ended up leaving a mark. So we appreciate the customer service given to us
June 24, 2021
Great. The customer service was great and the units are clean.
June 5, 2021
Awesome service ! The lady up front is friendly and accommodating. The unit is very clean !
May 30, 2021
Amazing service, extremely clean. Very helpful and friendly. Recommend highly.
May 18, 2021
Daisy was great and made the process easy
May 6, 2021
I thought it was a bit pricey but overall the facility was clean and well organized.
April 8, 2021
Amazing. Daisy was so sweet and helpful. A true customer service hero. She explained everything clearly, and was very patient with all my questions. You are lucky to have her on your team. Thanks again Daisy!!
March 16, 2021
Daisy was great
March 13, 2021
Very Satisfied
March 4, 2021
She was very helpful answering all my questions.
February 19, 2021
Great Craig was very helpful, and friendly, everything was ready and easy, didn't take long.
January 31, 2021
Once I learned how the elevators worked things went well. The movers liked it also and they were able to go fast. I am very impressed with the security and you have the ability to text me and tell me my lock WAS NOT LOCKED!!! SHORTER dollys would help getting around the corners easier!! D price
January 22, 2021
Daisy was a pleasure to work with. She was very informative, helpful and friendly.
January 6, 2021
Daisy was very helpful will recommend to anyone Thanks for the friendly suggestions.
December 20, 2020
Excelente!
November 17, 2020
Great customer service
October 20, 2020
Staf is vere helpfull.
October 3, 2020
It was good. Very clean
October 2, 2020
Very helpful for a first time customer, made me feel comfortable with the hole thing 😊
September 16, 2020
Very informative..rep was great
September 2, 2020
Quick, efficient, affordable. The team was quick to answer our questions and show us spaces available. We leased same day. Experience so far has been great.
August 23, 2020
Very professional great made me feel a home thank you to Daisy on getting me set up as well :)
August 20, 2020
Daisy was very kind and helpful.
August 14, 2020
Great Customer Service!
August 13, 2020
Good daisy is a awesome person to who makes it a awesome experience just nice person all around
August 10, 2020
Daisy was knowledgeable and helpful making the experience very pleasant.
August 5, 2020
Everything went great!! Daisy was just wondrrful and she explained what I need to do and transaction was so easy.
August 5, 2020
It was nice and I was stressed but was taken care of and handled with care.
August 4, 2020
We needed to move some equipment and store it for several months. Daisy gave us a very good deal and she even helped save some on a special rate on a 4-month deal they were offering.
July 25, 2020
The rep on the phone was very professional and answered all the questions I had and explained the different options, pricing, and promotions.
July 14, 2020
Very helpful and informative. The custom service was on point and employees were friendly and respectful.
June 25, 2020
Good customer service
June 18, 2020
Great, Craig was very helpful He showed me two different storage units that were available.
May 12, 2020
Excellent customer service. Daisy your on site manager is very friendly and helpful.
April 2, 2020
Clean and safe
March 29, 2020
Very helpful and friendly staff!
March 17, 2020
I felt comfortable that I was with the right company to meet my needs.
March 13, 2020
It was an easy and fast well informed experience highly recommended to friends and family
March 11, 2020
Staff was very helpful and went out of his way to answer all of our questions. The entire office was recently cleaned and looked and smelled great!
February 5, 2020
Very professional and friendly
February 4, 2020
It was fine
February 3, 2020
Very pleasant experience. Helpful and courteous reception staff who answered all the queries to our satisfaction.
January 18, 2020
I knew what I wanted and it was taken care of.
November 28, 2019
Always pleasant and very nice employees there to help
November 14, 2019
Excellent and intelligent service. Friendly, courteous and helped me right away.
September 30, 2019
Friendly staff and helpful. Thank you.
September 25, 2019
My experience with renting a storage unit through your facility was top notch very pleased with Internet access via your online web portal as well as person to person interfacing on site
September 24, 2019
Daisy and Filibert are a great team working together meeting customers needs, awesome!!
September 20, 2019
You're Team and I worked well together in finding the right size unit I need at the right price.
September 6, 2019
The staff at US Storage Centers was professional and very patient with me at the time of my enrollment.
September 5, 2019
Very professional, Daisy explained well.
August 28, 2019
Very good. The service representative who assisted me in person walked me through the entire process. She was extremely helpful and kind.
August 24, 2019
Great! Daisy was very helpful and the units were very nice. Facility is very clean.
August 23, 2019
Daisy was great and answered all my questions and explained everything to me. The prices are affordable.
August 10, 2019
Great experience. Lady at the front desk was nice and very helpful.
July 22, 2019
Doing transaction with Mr. Filibert-property manager was easy to understand. He treat me well by giving me choices by showing the unit actual before closing the deal then gave me the best deal.
July 8, 2019
I'm very pleased with my storage experience. Customer service was excellent and very thorough
June 26, 2019
Excellent customer service, Daisy knows how is the process and she helped us to find the best option for us.
June 8, 2019
Daisy is AWESOME!!! She goes beyond the call of duty!! The facility is extremely clean!!! Love to store my stuff here . . .
June 7, 2019
Great service so far
June 5, 2019
Super friendly staff!
May 29, 2019
Very simple to set up and staff was awesome
April 30, 2019
Daisy was amazing super helpful and very nice the whole team is wonderful and the entire property so clean from outside to inside the units
April 2, 2019
They are a nice people
March 12, 2019
Daisy and everyone there is amazing would highly recommend this storage place:)
March 12, 2019
Very clean like the security I dont have to worry about my things. Management is very kind and helpful.
December 20, 2018
The staff is super friendly and nice. They are willing to help if needed. Plus the locations are always so neat and tidy.
October 11, 2018
Staff very friendly and helpful
October 9, 2018
Daisy was helpful
October 3, 2018
Very comfortable
September 28, 2018
I have had a unit for about five years and needed another. I can't say enough about Daisy... she knew i needed one, called me and helped with the process. I am not in the best health and she went out of her way to make sure i sat and rested and safe to drive. She always looks up when i go in and smiles and waves. All the emplyees in the past have always been nice, polite, and helpful. I have never had a problem, in fact that is why i choose to stay and get a second unit when the first was almost empty. I couldnt decide to go elsewhere but decided to stay. Place always clean, employees knowledgable and great to work with. Again... Daisy is great, i didnt realize i looked so bad (sick) but she did... thanks for her care and concern, she went above her call of duty.
August 12, 2018
the Manager of the store was the most helpfull person you could have hire more like that.great Job
August 6, 2018
Very helpful
July 2, 2018
My wife and I moved from Virginia and had to return the uhaul the day after we got here. Daisy had us in a unit within minutes of us telling her how much stuff we had. Daisy has excellent customer service skills and knows her job.
July 1, 2018
Had a unit a few years ago and when my mother needed a unit I knew right where to go...US Storage! Great serive and facility back then, Great service and facility now!
June 11, 2018
Great, Daisy did everything to make us knowledgeable about how to enter the complex. Also she explained our contract very clearly. Nice experienced.
May 26, 2018
Every aspect of renting the storage unit went good, I didn't expect the high cost.
April 30, 2018
The staff was always very friendly and helpful. The facility is always kept very clean.
April 23, 2018
it's been a great experience so far.
April 18, 2018
Ours was a positive experience. The facility was always clean. Staff always helpful. We never had any issues here.
April 18, 2018
Friendly and professional staff. Storage was nice a perfect for what I needed. Thanks and God bless.
April 11, 2018
I would highly recommed them. Daisey was great. She made it easy.
April 10, 2018
Daisy is a great person that help me in the moment í most need help. Amazing manager. Thank you Daisy
April 10, 2018
Daisy was always very friendly and helpful Thanks!!!
April 5, 2018
I was impressed with Daisy who waited on me. The facility was extremely clean and neat.
March 16, 2018
Staff members were very pleasant to work with. Very friendly and approachable. I also liked that the carts were always available to use at all times, even after office hours. The facility was very clean and felt safe. The only negative feedback I would have to give is that, I've been a customer for almost 2 years, and during that time I've had the price increase on me 3 times. The last price increase was the last draw and therefore decided to move out of the storage unit.
February 8, 2018
Customer service was great! Where's your 'senior discount'?? 🤔
December 28, 2017
I felt good. My questions were answered & Everything was explained to me clearly. The property was very clean
December 27, 2017
The service that I received from the assistant manager there was amazing. I have no co.plains so far, very clean facility and amazing overall service.
December 18, 2017
Kevin made the experience fun and also understandable.
December 18, 2017
Respectful and cleared
December 14, 2017
Excelent service
November 14, 2017
The facility was nice and the staff was friendly. The only thing I did not like was that they raised my rent almost $30 a month after a couple of months.
November 13, 2017
Solid. Nice, responsive staff. Building security is really good and the facility is really well maintained.
November 3, 2017
Very satisfying with the service and your employees are great people and I thank for the service.
October 26, 2017
Staff was very helpful ,Daisy was very informative
September 30, 2017
Very clean well managed people are very nice polite and helpfull made it alot easier for me
September 15, 2017
Had a good experience...Craig the managers schedule the day I came was very helpful.
August 18, 2017
Courteous, helpful, clean facility.
August 15, 2017
good service specially the guy who works on sundays.
August 13, 2017
I was very please with the young lady that helped me with my storage needs. She was very professional, knowledgeable and made sure I throughly understood all the information she explained to me.
August 6, 2017
Very nice and friendly.most helpful😀
July 28, 2017
Very good location. Unit renting fee is also reasonable. Mr. Filibert Loyola gave me good offer. Building is clean and convenient to use compared to other dark and dirty storage buildings. I will recommend to other people. May I suggest one thing? Would you check and clean bathroom frequently? Sometimes, it is dirty. Can we use bathroom even after office hours? It is inconvenient to use bathroom in early morning or at night. Please consider. Thank you.
July 27, 2017
Daisy was awesome! The facility is very clean.
July 1, 2017
Amazing staff. I would def. Go back if I need storage
June 29, 2017
My experience you guys is great so far
June 17, 2017
I love my experience at US Storage. Helpful and committed to giving you the best deal and the storage space that fits what you need.
June 1, 2017
I have been hesitant to get a storage for months but once I called US Storage Centers I received the best costumer service from Craig. I went that same day to look at the storages and Craig made sure I left there happy. I received the best price and I felt very comfortable having my property stored here.
May 26, 2017
My experience with us storage was very positive Filibert was extremely kind, and welcoming. Great customer service making customer feel like they matter. Great rates. I was referred by my niece, and she told me how nice everyone was, sometimes people may have a different experience but it was confirmed customer service very good. I would be glad to recommend us storage centers to others.
May 21, 2017
Oscar was great! Explained everything in detail and was very friendly and approachable !!! Would definitely recommend this company!
May 15, 2017
Like the personality of Gilbert and Oscar cool dudes professional and they seem like they care they care about taking care of you the best of the king there is one thing I would say the negative time to get busy and it's only one person and so one person is already going to have to wait or somebody waiting to leave and that's what this I would think about having two people there so I couldn't tell you if there is two people there at the same time I'm happy about the way I was treated 0
April 4, 2017
The customer service at US Storage is highly rated. They are respectful, helpful and give good customer service, something very rare today.
March 2, 2017
The employees at the 605 freeway storage place are the Best. They are polite, nice and helpful. From the 1st day that I did a storage unit auction at that location, Jonathan (then was there) I was very impressed. One can get a storage unit anywhere, but your service tops them all and most of any businesses that I deal with on a daily basis. (I own a mortgage and property management company) Would not think of going anywhere else !!!!
February 24, 2017
Daisy's positive attitude was the reason why I went back to this storage. I was actually with another storage but canceled my contract to use this one instead. The atmosphere was much better and so were the choices given to transport my items back and forth. Great customer service, Great prices, Variety of choices.
February 24, 2017
Very corteous staff
February 22, 2017
Daisy was very helpful. The facility was clean. I am happy with this place.
January 5, 2017
Great experience! Friendly and helpful staff, good prices and use of a moving truck. What else can you ask for?
December 26, 2016
I'm very satisfied customer service, the prices,and the facilities hour's,make it quite convenient. Thank you US STORAGE! - Derek Elias