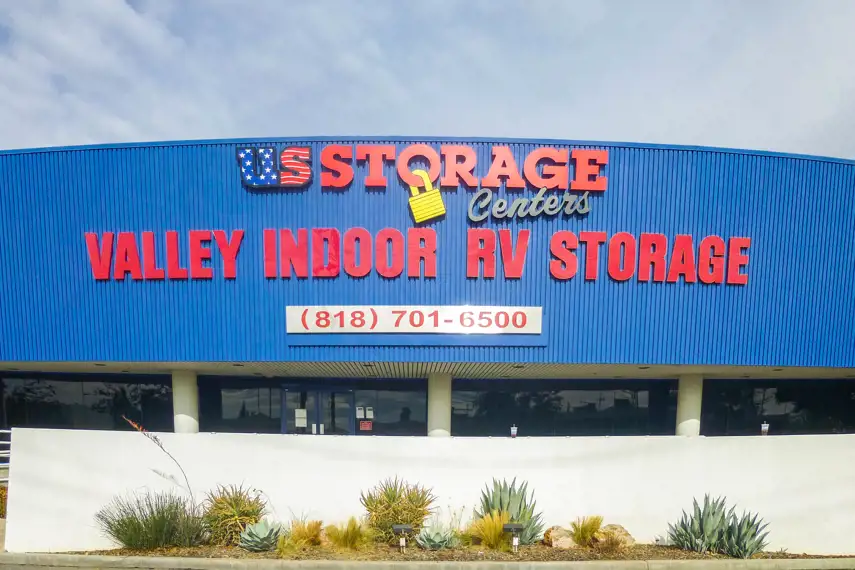 Rent or Hold Your Storage Unit in Minutes. Easy, Contact-Free Rentals.
Location Details
ACCESS HOURS
Mon

6:00am - 9:00pm

Tue

6:00am - 9:00pm

Wed

6:00am - 9:00pm

Thu

6:00am - 9:00pm

Fri

6:00am - 9:00pm

Sat

6:00am - 9:00pm

Sun

6:00am - 9:00pm
OFFICE HOURS
Mon

8:00am - 5:00pm

Tue

8:00am - 5:00pm

Wed

8:00am - 5:00pm

Thu

8:00am - 5:00pm

Fri

8:00am - 5:00pm

Sat

8:00am - 5:00pm

Sun

8:00am - 5:00pm
FEATURES AND AMENITIES
RV Parking
Electronic Gated Access
Video Recording
Employee(s) Speak Spanish
Kure It Certified Location
ABOUT THIS LOCATION
Self Storage RV'S * Boats * Autos * Trailers * 5th Wheels * Jet Skis * Toys
Read More
Photos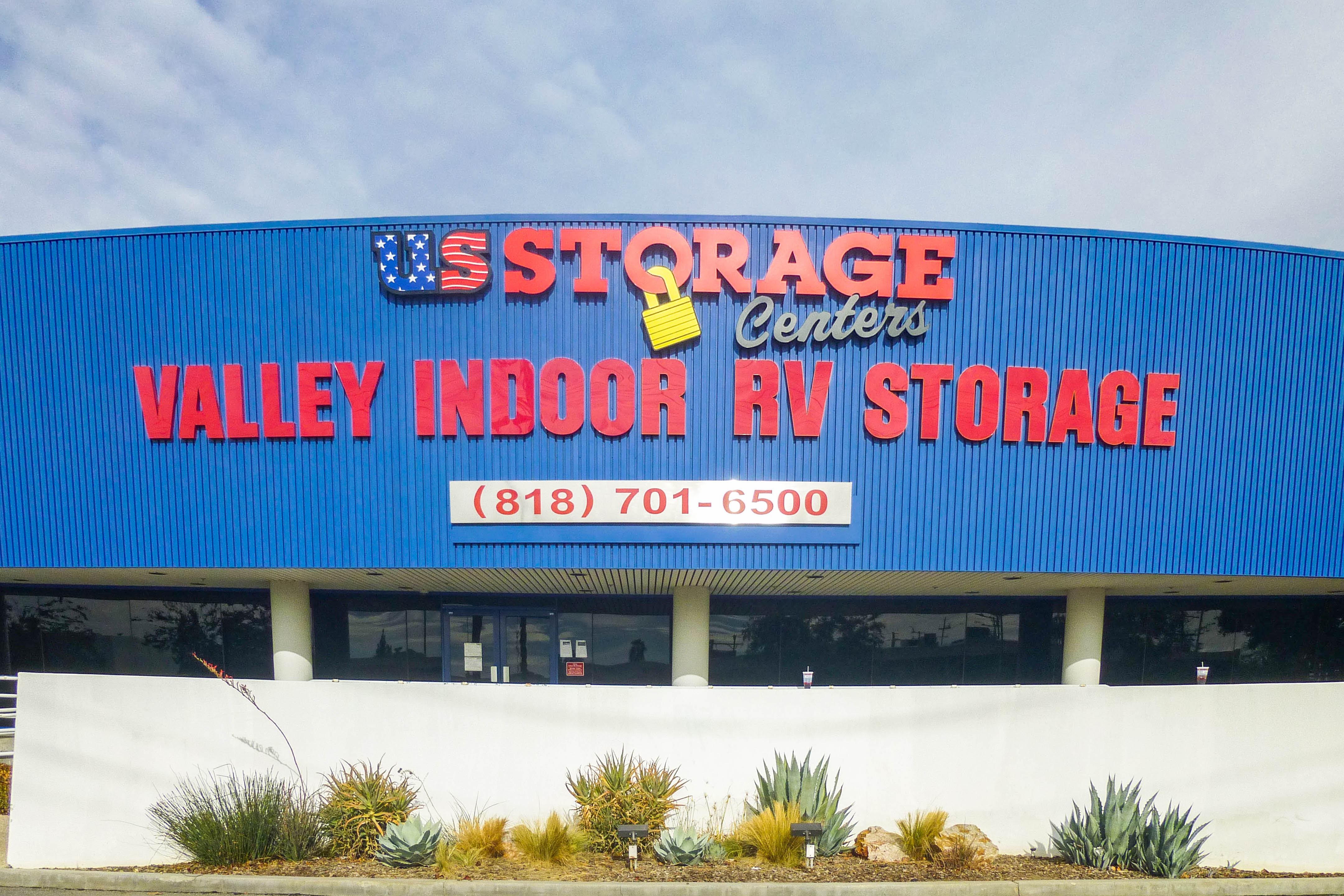 About this Location
Facility Description

US Storage Centers of Chatsworth, CA offers indoor storage units in a variety of sizes to meet your personal and business storage needs. All our storage units in Chatsworth are individually alarmed, include roll-up doors, and extra-wide aisles to make for an easy and convenient move. Our storage facility is protected by 24/7 video recording and the electronic gate can only be accessed by currents tenants who have a unique PIN code.
Contact-Free Rentals – Easy Online and Phone Rental Options 
 Online Rental
 Select your unit and enter your info and payment
 Sign the lease online
 A manager will reach out to you with your access code, a map of the property, and they'll have you email a copy of your valid government picture ID
 Once these steps are complete, the manager will prepare your unit so it's ready when you arrive
 Phone Rental
Simply call the number listed at the top of this page, and a member of our staff will work with you over the phone to complete a rental
The manager will email a lease to sign
Once the lease is signed, a manager will reach out to you with your access code, a map of the property, and they'll have you email a copy of your valid government picture ID
Once these steps are complete, the manager will prepare your unit so it's ready when you arrive
Convenient Location

Located in the heart of the San Fernando Valley, our facility is on Plummer Street. The two cross streets bordering our property are Irondale Avenue and Lurline Avenue. Major cross streets near us include De Soto Avenue and Mason Avenue. West Valley Animal Shelter, Fit One Fitness, and Cozycroft Pet Hospital are directly east of us. The California Conservatory of Performing Arts, Wheels in Motion (Yamaha Dealer) and the ARCO gas station are to our west. We're also just south of Ernest Lawrence Middle School and Chatsworth High School.
State-Of-The-Art Indoor & Outdoor RV, Boat & Vehicle Storage

US Storage Centers of Chatsworth, California, has over 200,000 square feet of space for storing your RVs, boats, trailers, and other recreational vehicles. We've also built brand new storage units to fit your storage needs. We're one of the largest storage facilities in Southern California, and we will be able to identify a storage solution that works best for you. Our team of professional managers has years of experience in storage and we'll be able to address any questions you may have about RV storage. Parking space width may vary from spot to spot. Please call the property manager for more details on Parking Space sizes. 

Many RV and Boat owners choose to store with us because our facility helps protect their vehicles and watercraft from the harsh rays of the sun that lead to deterioration and premature aging of tires, rubber, and paint. The reduction of temperatures while stored indoors also helps protect and preserve vehicles.

Our facility has onsite professional managers and the property is gated and enclosed to keep the facility secure.

Easy Access

Accessing and storing your vehicle is simple:

1. Contact us 24 hours prior to your departure and we'll move your RV or boat to a secure staging area so it's ready to go when you arrive.

2. Pick up or drop off your vehicle during our convenient business hours

3. After your adventure, just return your vehicle to our facility and our professional staff will return it to its reserved space—our team will also take care of any additional maintenance services you've requested.

Facility Services

When you rent with us, we fill your fresh water tank (filtered water is available for an additional charge).

Premier Services (additional charge applies)

• Exterior Wash and Wax

• Exterior Detailing

• Carpet Vacuum and Shampoo

• Stove/oven and countertop cleaning

• Bathroom Cleaning

• Complete Interior Detailing

• Black Water System Recharge

• Re-provisioning of toilet chemicals and toilet paper

Additional Products/Services

• Dump facility

• Propane tank(s) filling

• Ice

• Firewood

• Bottled Water

RV Concierge

• Vehicle Provisioning

• Event Catering

• Other Services per request

Languages: Fluent in English and Spanish

Security Features

Making sure your items are secure is one of our top priorities. At our well-lit facility, we have 24-hour video recording, gated access, and onsite managers.

Payment Options

Taking care of your payment is easy. We offer several payment options including MasterCard, Visa, Cash, Check, and Money Order. Online and Automatic payments are also available for your convenience.

Our Community

One of our favorite aspects of Chatsworth is all of the open space. Our community has tons of parks with jogging paths, hiking trails, children's play areas, rock climbing, fields, baseball diamonds, basketball courts, and volleyball courts. Adventurers also go rock climbing and bouldering at Stoney Point Park.

There are also many trails for horseback riding and mountain biking. There's also a historic original homestead house called the Minnie Hill Palmer House located at Chatsworth Park South. Residents also recreate in the Santa Susana Mountains.
Customer Reviews
overall rating, 452 total testimonials
September 17, 2021
It was absolutely fantastic! From the moment we walked in the door we were treated almost like family. We had been trying for months to get an indoor space at this facility for our brand new teardrop trailer but they were always full. We've called every month since February to see if anything came available. We ended up having to store our teardrop all the way down in Corona even though we reside in the SFV, but we stayed diligent and it finally paid off! The staff went out of their way to set everything up. We were also extremely happy with the facility itself as a whole. We were taken on a golf cart tour of the facility and were amazed by the size, cleanliness, and security of the premises. The place was like Fort Knox, and I'm not kidding! We felt very satisfied with leaving our new baby here. The added plus is that we can keep her plugged in so that we will always have a full battery when we take her out on a trip. If you're looking for a secure place to store your vehicle or trailer, this is definitely the place to be; If you can get a spot of course! We definitely want to thank the staff for your hospitality and hope to store our teardrop here for many years!
August 15, 2021
I feel very satisfied.
August 9, 2021
Great experience
July 27, 2021
The entire staff was courteous and informative. I was very happy with my experience.
July 11, 2021
Very friendly and accomodating
July 11, 2021
All the staff members were helpful and I felt good about leaving my RV in their hands for safekeeping.
June 22, 2021
I am so happy that we found this storage to store or trailer when we are not using it. I have already recommended to many friends and family and hopefully they will use you also !! everyone there is so friendly and helpful!!
June 18, 2021
Amazing staff, clean and organized storage. Everyone was so kind and helpful. The best storage facility I've found!
June 17, 2021
Great storage unit, nice and clean and affordable and very helpful staff
May 15, 2021
Very cool place to be
May 12, 2021
Everything has gone very smoothe and efficient thank you
May 1, 2021
Has been great. Kind and professional!!
April 27, 2021
Great , friendly and clean facilities
April 15, 2021
Awesome 👏🏼.. great attitude and smile 😊.. I am glad the other storage near by gave me bad customer. Great place nice and clean also really organized.. Good Job !
April 9, 2021
I felt welcome and that they love cars as much as I do. Good customer service and I would recommend.
April 8, 2021
Very good and secured place. Clean and neat. Good Costomers reception. Highly recommended.
April 3, 2021
Everybody is very helpful and the service was great. Very clean and nice easy accessible to units.
March 29, 2021
We now have used your facility two times and we won't think twice in the future, you are AWESOME, you look after our cars as if they are your own and we have no worries leaving our cars there when we travel. You even charge my Tesla for me. Thank you!
March 23, 2021
Very, very good
March 23, 2021
It was great . Everyone was very professional and helpful . I really appreciate you making this so easy .
March 21, 2021
We like your business !
March 18, 2021
Top rating!
March 17, 2021
Super easy to arrange storage and access vehicles.
March 3, 2021
Your staff is very customer oriented and professional. Dave went above and beyond to ensure that I got the storage space I wanted. It's very convenient and accessible. Thank you for making my experience easy and satisfying! I go by Sudie Tinson not Chamblee for future reference.
February 28, 2021
Great customer service. Made me feel appreciated. I have my boat and new motor home there.
February 23, 2021
Great! Friendly! Very clean. Easy to access. Love it!
February 23, 2021
Incredible, caring , clean and beautiful facilities
February 15, 2021
Internet search and also have auto stored there
February 6, 2021
I have had a good experience with the storage facility. The employees are nice, helpful and courteous.
January 29, 2021
Nice , easy and get to the point.
January 24, 2021
Staff very nice, knowledgeable and efficient.
January 21, 2021
The staff is extremely welcoming and courteous.
January 18, 2021
Employees could not have been more helpful or friendlier.
January 14, 2021
I was extremely impressed. I have not had this level of service from a storage facility ever. The staff is professional, knowledgeable, and very helpful. I also would like to comment on how clean and organized I found the facility. Could not be more happy to have made the decision to partner with US Storage.
January 14, 2021
Excellent customer service, employees are very helpful and take the time to show you the unit and facilities
January 7, 2021
I felt it was a great experience. I was informed about everything. The facility is extremely clean and very easy to access.
December 25, 2020
terrific, the staff is amazing. thoughtful and responsive
December 8, 2020
So far I like the place it is very nice clean and the people are very nice and helpful
December 3, 2020
Everyone was great, appreciate the smooth process!
November 5, 2020
great customer service.
November 5, 2020
Good so far
October 31, 2020
Excellent there staff stayed a Little late just to make sure myself and my lady were able to open a storage unit with them which completely took a nightmare of a last minute move and relieved us of the overwhelming feelings of not having anywhere to put our stuff that night. Friendly motivated people work here not once have I ever felt disrespected, yelled at etc each employee seems to love their job hands down best place in the valley
October 20, 2020
The employees were very friendly and helping. I love to be a part of this family.
October 16, 2020
We are very happy with the help that we received in order to find a storage space that best fit our needs. Bob and Frank worked hard to make that happen. We appreciated all the help and we are happy with storage area that we are renting.
October 13, 2020
Very nice staff facility is clean
October 6, 2020
Very great
October 5, 2020
Everyone was very professional and helpful and we feel like we can store more vehicles at this location!
September 30, 2020
Better than expected. Very kind and helpful staff
September 20, 2020
Best team out there! I love this place and the awesome service. Gal
September 10, 2020
Excellent
September 8, 2020
Excellent service, happy I found this location.
September 4, 2020
Excellent service by Dave and Patty, Facility is excellent, secure, clean and well maintained. If allowed you can live there LOL. Thank you coco
September 3, 2020
No complaints at all! all very friendly helpful people
September 2, 2020
It was awesome felt very welcomed and everyone was very kind and helpful, would definitely recommend to others
August 30, 2020
always has been great
August 25, 2020
Experience and staff are great. Facility is top notch. Highly recommend.
August 13, 2020
A great place
August 13, 2020
Excellent management.
August 11, 2020
Very great customer service. They was very accommodating and helpful. they keep the facility clean and the environment pleasant in the warehouse. Patty was amazing.
August 11, 2020
One of the best storage I've ever been.. Staffs were nice and very helpful.
August 9, 2020
Very helpful and understanding in regards to customer needs.
August 4, 2020
Amazing service I was honestly not expecting much because of previous experience with other places. But walking in there was tons of courtesy and provided information. I was planning of shopping a few places to find the best places but after five minutes, I knew this was the best location for me. Dave was a huge help in explaining things and walking through the security pad. Happy I became a customer here of two units. Thanks
August 4, 2020
I felt like maybe your prices could be a little more reasonable or match each others prices or do special promotions for people who artist have units. Like a unit lottery. To where we get 50 % off a month or loyality gift card every 6 months of just 10 dollars to statbucks or target or walmart ( dont tell em its 10 buck's bc youre trying to gain interest. I found that you were higher than the other us storages but i needed my kids things put away until we can find a home. So with that being said i can say tho is you made up for something When you guys said you close at 845 not 6pm that was a deal breaker for me. The unit is far though and I'm disabled so that made it little harder. But over all in good really.
August 4, 2020
Was a very pleasant experience even with Covid19 these days. Dave was the associate that assisted me. He was very professional and through, and answered any questions I had. The facilities are very clean also.
July 29, 2020
I highly enjoyed my experience with the US Storage Centers (Plummer). The staff was friendly and helpful. And the facility was well-kept and clean.
July 29, 2020
Only place that offered a space with an outlet so we could keep our battery charged, and the storage cost was a good value. Staff was friendly and helpful
July 29, 2020
The experience with this so far, was relatively good.
July 28, 2020
Incredible experience! Professional, clean and very safe during covid times.
July 22, 2020
Wonderful! Excellent, professional and friendly staff who are always willing to provide top-notch customer service, ensures that everyone's storage needs are properly taken care of by recommending appropriate space and cost-saving ways to the existing and prospective tenants, and both the Manager and the rest of the team have been very helpful and go above and beyond the call of duties. The facility is well-maintained - always kept clean and safe. I highly recommend this facility to everyone. It has always been a pleasant experience to see the friendly staff and such a comfort to know that they have your best interests by providing you with the most cost and space effective recommendations for your storage needs.
July 21, 2020
Staff was knowledgeable and helpful!
July 15, 2020
Great. Very professional, explained everything clearly. Thank you !
July 7, 2020
Very professional Friendly Answers all questions Very clean space
July 1, 2020
It was easy. Not sure why there was an additional .50 cent charge on my card the day after I rented and I wasn't notified.
July 1, 2020
The Plummer team works really hard to keep me happy. Always available, always ready to help.... Keep up the good work
June 30, 2020
very satisfied
June 27, 2020
Amazing, very professional, organized, very nice people an a great facility.
June 24, 2020
My experience was great!
June 24, 2020
Wonderful service from friendly, competent staff. Storage facility is immaculate. Great security. We are totally confident that our RV will stay in good shape while being stored here!
June 18, 2020
Patty and team at the Chatsworth location are the absolute best. Thanks!
June 18, 2020
Patti is very nice and accommodating. Very helpful. She made everything smooth and easy. The whole facility is very clean and easy access.
June 9, 2020
I like it, very good customer service. Efficient and clean. Thank you for your service.
June 8, 2020
Working with Patty, the manager was a joy. We've already told a dozen friends and work friends directly and through our various blogs and business webinars. In fact, you were used as an example of how business should be conducted in one of our marketing webinars. The gist of the message was that you can spend all kinds of time, money and resources to get people to your business, but you can't do much if you can't give them the service that you promised in the first place. Patty, you and your team do it right!. Thank you!
June 2, 2020
I booked this location in error, and feel it was the a Best mistake I've ever made!! I feel welcomed Sam was Amazing! Took me by the hand and walked methru the process with a great attitudes!! Then introduced me to Sam and Patti of whom I've read many Great reviews.
June 2, 2020
Your staff at this location is super great. Much like a family of people that care about my prized possessions.
May 27, 2020
Great customer service, I was able to drop three cars off before I flew across country. The stayed after closing to make sure I was taken care of. They are the Best!!!
May 27, 2020
The experience was great and the transition was smooth, I was greeted with professionalism and because of that I would recommend your facility to others.
May 24, 2020
It was fast and easy! Great customer service!!! Very welcoming
April 30, 2020
Very nice and helpful staff
April 29, 2020
Patty is fantastic. Great customer service. Facility is clean and comfortable. Definitely would recommend a friend.
April 21, 2020
Great. Everyone employed here treated me with respect and made me feel like family.
April 21, 2020
We first met Sam when he gave us a tour. When we signed up we met with Patty and Chris. All interactions were first class!
April 14, 2020
Difficult circumstances, but everything seems to have been handled well.
April 14, 2020
Perfect. Everyone is exceptionally helpful and makes everything from signing up to picking up super easy. Was planning on only one storage space but now using two. Had a problem when dropping off a new RV purchase and they helped read instructions and troubleshoot to get unhitched; well above and beyond what's required. THANKS.
March 17, 2020
Excellent customer service!!!
March 16, 2020
Great staff! Very helpful and kind. Never a hesitation to try and help!
March 10, 2020
We always like to store our vintage cars with this group. We feel they really care and appreciate our business. They take excellent care of our property and their facilities are clean and well cared for. Every person who works there are always helpful and friendly. This is the best place in LA to store vehicles.
March 3, 2020
I had a great experience with the staff at US STORAGE The staff was great, the facility is very well maintained and very secureI have recommended the facility to my friends that are looking for a storage facility.
February 27, 2020
My name is not David
February 27, 2020
Easy and very professional very secure which was an issue with many other storage facilities great staff
February 19, 2020
Customer service was amazing! I was nervous as a 1st time renter but I walked out of there feeling confident I choose US storage to rent from. Price is great & I love the extended access hours
February 16, 2020
Great and easy
February 16, 2020
Hi Im an actress and used to getting paid for blogs and advertisements .. But US Storage center needs non of that at , as, just visit the site yourself. It is hands down the best storage Ive ever had so far..I just booked with them 1 month ago. Best Pricing for what they offer which is state of the art locks> u have to pay 12 bucks OK... no one can cut it or hack it... makes me feel safe, and DAVE ... Thank you! Dave is very specific on how ur lock works and how to get in and leave the facility. Usually storage etc... places.. ( No Pun Intended) treat You Like a number$$$ too good to be true pricing.. then only 6 months later raise pricing til u had to move out! For Long term or short, not the vibe I got here.. seems like family pricing thats in other words FAIR.... hoping for the best at US Storage!!! Q xoxo
February 14, 2020
Wonderful, great 👍
February 14, 2020
Sammy was extremely helpful .A Trouble free experience
February 5, 2020
Excellent...staff attentive and helpful
February 4, 2020
They were professional, thank you
January 23, 2020
Very friendly staff.
January 21, 2020
Great storage facility
January 14, 2020
Great experience very professional employees and very clean storage facility.thank you.philippe
January 11, 2020
Amazing Staff and So Impressive Of Team You All Have , So Appreciate The Professionalism and Management Staff Qualities Of Patti , David and Sam Respectfully , Mark J. Avila MJA Consulting MGMT.
January 10, 2020
Very friendly staff!! Unit was reasonably priced and even got 2 month 1/2 off!! Clean easy access.. very satisfied!
January 7, 2020
The staff at the Chatsworth - Plummer, CA location were friendly, thorough, and made the experience quick and easy.
January 5, 2020
Very helpful staff. I feel my RV is in good hands for the next four months while I return to rainy Portland and my RV gets to sit in the sun in Southern California.
January 2, 2020
It was great
December 30, 2019
Everyone I came in contact with with extremely helpful and each of them went out of their way to assist me. Patty, Dave, Bob and Chris. I would highly recommend them to anyone with a storage need, but especially a unique one like an RV, classic car or boat.
December 26, 2019
Great experience.
December 22, 2019
First time we had to store our 30 foot motor home. We met with Dave who gave us a tour of the facility. We were very impressed with the clean well organized appearance of both the inside and outside storage areas. Later on we met with Chris and Sam who proved to be knowledgeable and professional. Bottom line I was just impressed with the place and comfortable having our RV stored here.
December 21, 2019
Perfect. patti was great
December 20, 2019
Friendly, felt personalized. I like that is clean and good lighting as well.
December 19, 2019
Getting storage was a Quick process, great deals and pricing, friendly staff, and very clean place.
December 12, 2019
Dealing with Patty is always a pleasure and the guys in the back take pride in their work.
December 6, 2019
Great customer service!
December 3, 2019
Very good service but still beleive that the price is a bit to high versus competition. 16$ vas 13$ create a good %. For the balance every thing is ok
November 26, 2019
So good! Everyone has been so incredibly nice and helpful. I felt really good about choosing this storage space because of the people working there.
November 14, 2019
Great, You were referred to us by Mike Feinstein who has used you and he contacted Paddy who in turn contacted us. we checked out your facility and Sam & Bob where very helpful. Very happy. Thanks. Martin - New Zealand.
November 13, 2019
Very friendly and was able to take care of all my needs last minute would definitely recommend
November 6, 2019
Excellent. Great facility and very friendly people.
November 5, 2019
Excellent, Patty, Bob, Sam & Dave were all extremely helpful! Facility is also excellent, clean & professional. Would highly recommend.
November 5, 2019
Very professional.
November 1, 2019
Since day 1 of walking in and touring the facility, everyone has been extremely welcoming and professional. Security is top notch, the warehouse and office is clean and inviting. Overall experience for me is A+. Keep it up!! Thank you. Sean
October 29, 2019
Fantastic customer service! Every single person that works there is just so friendly and helpful!
October 28, 2019
staff is courteous, facilities are very clean and professionally kept.
October 26, 2019
This is my second time renting here. I enjoy the cleanliness of the facility. I feel like my stuff accumulated less dust on it in storage for a year than it would have after one year in a house. No bugs. Amazing, super helpful staff. Patty is amazing. Love this place. Just wish when the rent went up, it wasn't such a steep increase.
October 25, 2019
So happy the doors of the unit is what I looking for, very easy to open and put big things in.
October 22, 2019
It was wonderful! David had my paperwork ready. He was extremely thorough in his explanation of policies and procedures of the facility. David was friendly and professional, he went over things people generally miss in the fine print while I was signing the application. Regarding the actual facility; clean, easy to access from the two different gates, aurospacious location. David even explained the procedure for upgrading and the deadlines for doing so without forfeiting any days of paid usage of the unit currently occupied. Giving notice prior to the end of the month and so forth. The promotion extended to new renters is excellent. I was able to move in with a minimal payment upfront. I was advised that payment would be due on the first of each month and what it would be. I plan to be a long-term tenant and would most definitely refer friends, colleagues, and family to US
October 22, 2019
Fast and easy
October 15, 2019
Great service and the facility is top notch..sam is especially helpful and got me everything I needed with no headache!
October 8, 2019
Excellent
October 3, 2019
Very good people and great service. Staff did a great job.
October 2, 2019
Overall amazing the best.
October 1, 2019
Fantastic! Patty and her team sold it.
September 26, 2019
Excellent job. Everything was explained and got a tour.
September 18, 2019
Valley Indoor Storage is the best. The staff is very friendly and professional. I feel like my cars are in good hands and appreciate the professionalism. I am also impressed that they all know me by name. I will definitely recommend this facility to friends.
September 18, 2019
Staff was very helpful and took great care of me. Thank you I will definitely recommend
September 17, 2019
The staff was friendly, professional and knowledgable. They made me feel comfortable about storing my car at their facility. The facility itself is secure, clean and well organized.
September 12, 2019
Great people working there. Very helpful.
September 12, 2019
What makes this place so special is the staff that you have working there always willing to go the extra mile to help you.👍
September 10, 2019
You folks were amazing. So helpful and sensitive to the natural stresses of moving. We came away with such good feelings. And your ability to choose the right size room for us was shocking. It was perfect. Thank you.
September 10, 2019
Very clean place. Staff are great, the inside is perfect not hot. Perfect temperature.
September 6, 2019
Fabulous Experience !!!!! Nuff Said BMatias
September 5, 2019
Great staff
September 5, 2019
Great cowrie car overall! 😊👍🏻
August 31, 2019
Helpful, understanding and compassionate. Being from out of state and handling a family crisis we needed a storage solution immediately. Patty listened to our problems and gave us a perfect solution with at a great price. Thankyou!
August 29, 2019
Easy initial sign up process, nice professional services offered.
August 27, 2019
The Employees at the Chatsworth facility are fantastic!
August 21, 2019
It really feels "family" like. I don't think this will be my first or last RV and now that I'm here, I am not as worried about the distance from Toluca Lake. I thought that would annoy me but the trade off of personal touches and kindness makes a difference.
August 19, 2019
The facility meets my needs as it is close to home and has a skylight. There is one negative, however. There is broken glass near my unit and it has been there for at least two weeks without anyone cleaning it.
August 15, 2019
Everyone there was extremely knowledgeable and helpful. would highly recommend using US Storage.
July 28, 2019
Clean facility great customer service.
July 12, 2019
You guys very good and professional,great business model and I wish that other people would learn from you handling customers with smile and full satisfaction.
July 6, 2019
The staff is amazing with a focus on customer service. I cannot thank them enough for making me feel at home and treating my property (RV) as if it were their own. They take pride in everything they do and the facility is in pristine condition. If you are looking for safe, clean, professional and trustworthy storage look no further. They are the best! The cost of my enclosed RV storage is a value if you understand that they are a full-service facility. Their prices are very fair considering you get top-notch service. Sure you might be able to find less expensive options but I would never consider anybody else for my storage needs.
July 6, 2019
I had a great experience setting up storage for my vintage car. Everyone I met there was friendly and professional and I feel confident leaving my car in their hands. They made me feel like a VIP. Thanks!
June 27, 2019
how do i pay?
June 23, 2019
really good
June 21, 2019
Staff is very friendly, services are great and they know how to help you. Would recomend to anyone
June 17, 2019
Everyone has been great! Cheerful staff and prompt responses to my questions and inquiries.
June 13, 2019
We worked with sales person named Patty. She was very friendly, helpful, knowledgeable, and professional. Our experience with her contributed to our choosing your company.
June 9, 2019
Everything is amazing the staff are friendly
June 5, 2019
Customer service is KING here! The team here, led by Patty, is super courteous and made themselves available to answer all of my questions and show me the units until we found the perfect one to fit my needs! The facility is immaculate and I feel at ease that my belongings are safely stored.
May 23, 2019
They are really friendly,nices and super fast
May 23, 2019
US STORAGE Chatsworth was all around a very pleasant surprise. It is climate controlled, great security, clean great 6 to 9 hours and the professional staff....just nice people.
May 17, 2019
great location
May 1, 2019
The storage facility looks like a showroom floor of vehicles. VIP all the way. Very clean and safe and well maintained.
April 23, 2019
Great experience with helpfulness and friendliness shown by all representatives and employee.
April 22, 2019
First time I had to rent storage space. The place is great, it's clean, the staff is helpful and cordial. I would definitely recommend this place.!
April 22, 2019
Great Experience!!
April 20, 2019
Was easy and quick!! Lots of selections and price ranges! Thanks!!
April 12, 2019
I already recommend you to all the people I know needs storage because us storage is the best in all aspects: security, cleanliness, service, availability and if I compare you with other companies, on top of everything you are the cheapest!!!
April 10, 2019
made to feel at home and secure about the storage and operation of the facility, everyone I meet seemed happy and willing to help with any and all concerns.
April 1, 2019
Excellent people to work with. Great facility.
April 1, 2019
Everyone is friendly and knowledgeable. Personal storage and RV garage are clean and spacious. I feel I will enjoy my experience here for many years to come.
April 1, 2019
Very professional and warm folks at the yard
March 30, 2019
Patti was very helpful and friendly and made the whole process is very simple
March 22, 2019
Patty is a gem! I always feel well taken care of at my location. There is always a friendly face that is so helpful. I feel my life's belongings are safe. I would like some of the pricing to be better but that does not reflect the fabulous employees at the Chatsworth location.
March 18, 2019
Five stars all the way!!! Great place and great management!!!!
March 14, 2019
Great and the service is more than I expected. Thank you for the professional service
March 12, 2019
Very easy going
March 12, 2019
I like the place very much. friendly people
March 3, 2019
I had such a great experience getting a storage at this location. Lovely staff & are willing to accommodate. I only have good things to say about getting a storage with US storage.
February 27, 2019
Patti and Sam are 2 contacts i always communicated with, they alwways wwent out of their way to help me out. I reccomend US Storage on plummer street to everyone.
February 24, 2019
This place is great . Just started to store my classic car here. Found out my friend uses this facility also. Love it!! The staff is great also, it feels like home .
December 13, 2018
Great, paatti the Manager is always so very helpful. I got a bigger unit and move my smaller units into new unit. This is Best facility i have ever been with, and i have been with all of them over the years. Todd Swick
October 10, 2018
Great staff, and very clean facility!
October 3, 2018
Pattie and the guys are all the best !!! Great Customer Service I would highly recommend They go the extra mile to take very good care care of my 31' Ford Roadster thati it is always covered after I take ride Thanks US Storage you're worth a million to me !!!
September 23, 2018
Great, there's never a problem
September 21, 2018
All contact went smoothly and I'm glad I made the choice to use your services.
September 19, 2018
Sam was very professional and helpful. Site was immaculate and secure.
August 24, 2018
I love the surrounding, it is clean, and I feel safe and secured with all the camera around.
August 11, 2018
Evelyn from US Storage Centers was very friendly and accommodating to my storage needs.
July 25, 2018
great and helpful every one of the guys
July 17, 2018
It was the place I was looking for... safe, clean, friendly staff, and easy access
July 4, 2018
Great staff and clean facility. Access to my rig is easy.
July 1, 2018
The staff was very helpful and quick on completing the paper works. Awesome staff. Thank you guys
June 21, 2018
It was great! I found this place on yelp and it definitely lived up to its rating! Evelyn was the one who attended me and was so informative and helpful. This was my first time getting a storage unit and she took the time to explain every detail to me. Its a great storage facility; their clean, organized, and safe. I'd highly recommend this place!
June 21, 2018
I experience was absolutely IMPECCABLE!
June 12, 2018
I was very happy and satisfied with the help and service I received from Evelyn Saravia, she was great!
June 12, 2018
I got the paperwork started before I checked inn so I was in and out both visits in less than 35min, who doesn't like speedy service. 👍🏽
June 10, 2018
Great customer service, good/fair prices when compared to other companies. Had what we needed.
June 10, 2018
Great service, high quality, excellent management and employees.
June 2, 2018
Very positive. The facility is incredibly clean and organized, and the staff were very friendly and helpful. Thank you!
May 26, 2018
It was a great experience. we were overwhelmed with the cleanliness and overall great organization of the facility. The security made us feel very good about our belongings and the staff was A plus!!!!
May 21, 2018
Friendly and professional
April 30, 2018
Service was excellent.
April 21, 2018
Such a great experience after I met Patti, Bob and Chris. Chris took us on a tour of the facility mainly to show us the size and security of it all. I know my car is in good hands and feel this is a great spot to store my classic car!
April 19, 2018
Good stuff
April 18, 2018
very positive patty was very helpful positive and went above and beyond i like everthing there clean and very accessable and very secure
April 18, 2018
Good friendly
April 18, 2018
Very courteous, everyone was very helpful and nice.
April 18, 2018
Very accommodating, thank you. Everybody was very nice and professional
April 10, 2018
Really good costumer services friendly people and good prices and location
April 7, 2018
They were very helpful and answered all the questions I had. I will use them again.
April 7, 2018
My experience was perfect. The employees were great. They are very concerned with your needs.
April 6, 2018
Great customer service, fair pricing, and very clean building.
April 5, 2018
Pleasant people, reasonably priced, and clean facility. Who could ask for anything more?
April 5, 2018
The storage facility in Chatsworth is clean, well staffed and always courteous. I placed 2 classic cars there for 7 months. They kept them running and I could not have had a better experience. The facility itself is fantastic with great security. Very little dust, well ventilated and knowledgeable "car people". Thank you Patti for taking care of my toys !
March 24, 2018
Beyond the best storage facilities I've seen and I've seen many. Reasons : immaculate spaces. personal and professional service, I don't ever feel like a number. Secure, no thefts, Very reasonable rates and I've been using this company for 2 years..also knowledgeable staff, they seem like they have stock in the company..
March 21, 2018
Excellent helpful good services very clean place
March 15, 2018
Great price and friendly service
March 12, 2018
very helpful and friendly customer service Thank you
March 11, 2018
The people are the most friendly, helpful and competent. Great facility!
March 10, 2018
Friendly, helpful people; beautiful facility (all ground floor and indoors); good prices; plenty of parking; open good hours
March 7, 2018
The facility was clean and well maintained and the staff was very accommodating. The only suggestion I would make is to have containers for trash.
March 7, 2018
Everybody there was helpful and professional patty was a sweetheart thnx for taking good care of my home
March 7, 2018
I had a wonderful experience with US storage and their set-up was painless in the process.
March 3, 2018
I have already told all my friends.
March 2, 2018
I had a great experience with US Storage starting in the La Crescenta location in 2013 and moving to the Chatsworth location. I would recommend for short term use (less than a year). Unfortunately with the amount of years I ended up needing storage the frequent increase in rates was unfortunate. I wish they would try to retain and offer better rates to long term clients.
March 1, 2018
Great, the paperwork was done pretty well and the cleaning of installations and stores are great. Evelyn is a great manager assistant.
February 28, 2018
Very accomodating
February 28, 2018
Chris and other employees were helpful in my time there Chris was good about filling my RV with water
February 28, 2018
so far so good
February 27, 2018
Very friendly and helpful staff. Well secured space and very clean. They understand the definition of service; top the customers expectations. A five star. I certainly recommend this place.
February 25, 2018
Service and facility is fine, just feel the interactions have become less appreciative of the customers that have been loyal for years. I understand the need to maximize revenues, but there is a fine line of that and nickle and diming. Team in the RV facility is outstanding.
February 23, 2018
it was great and safe environment. I know my stuff is safe. I will be back soon. thanks so much.
February 22, 2018
I have stored my stuff in every storage facility in the San Fernando Valley before coming to US Storage. This location is inside with lights and plenty of security, and they have a dozen carts your able to use to move your furniture and stuff in. My furniture is dust and dirt free, all the other places my furniture would get filthy dirty from the dirt blowing under my outside shed and wohld ruin brand new furniture. UU Storage has the nicest staff and they alwways interact and adk you if you need help, i love that. They also have in door storage for RV's Boats, and cars too. I would reccomend US Storage to everyone who cares about the stuff they are storing, aalso the price is the same as outside storage facilities, its a no brainer for me. Also Evelyn who checked me in is part of the staff, what a sweet lady she was very friendly and helpful. US Storage ROCKS! Todd S.
February 22, 2018
Nice customer service clean place
February 19, 2018
Very pleasant experience with employees and appreciate the very clean and efficient complex. Just suggest having carts available at rear of building as well as the front office area.
February 9, 2018
Evelyn and Bob were very nice. And I can see take pride in being of service.
February 4, 2018
It was informative, quick and efficient.
February 1, 2018
Everyone was great
January 26, 2018
My experience with ur company was "EXCELLENT"!! Everyone especially "PATTY" are awesome! Place is very clean, and the security set up is a very good one. I have no worries on my belongings being safe and sound. I 100% "recommend US Storage to anyone and everyone who needs a storage unit.
January 24, 2018
That our property was sale and well looked after at your storage yard.
January 24, 2018
Friendly staff, clean facility, and competitive pricing. From another satisfied customer.
January 22, 2018
It's always been first rate, I've enjoyed my interactions with all the associates at the facility.
January 10, 2018
Very friendly customer service. Patty was very helpful. The facility is very clean.
January 9, 2018
Peggy bob and Cris were the best they all three made sure I was takin care of like a special person
January 8, 2018
Patty was great and both yard guys were very professional and seemed to care about my rv
January 1, 2018
Large, clean facility & fantastic customer service!
December 30, 2017
Ok for the most part. I loved having the price raised after six months. They were incessant upon me sweeping my 3x3 unit before I got my receipt which seemed a little over the top.
December 27, 2017
it was the best i ever had customer service satisfied all my need and wants took care of my things I had stored with them i could not ask for a better place to keep my things wow is all I cab say please us them for any storage needs I gave them a A+ in service I'm a satisfied customer thanks us storage
December 24, 2017
Professional courteous awesome service from the beginning to the drop off. It took me a while to bring my watercrafts here and I am happy I did.
December 19, 2017
All is great. Good company and good team.
December 16, 2017
Pricey but nice staff.
December 5, 2017
I think it is hands down the best storage facility in the San Fernando valley by far.
December 3, 2017
Great experience totally feel my baby in good hands..👍🏼
December 3, 2017
An absolute pleasure from the first contact with the office to tour the facility to the time I brought the motorhome and trailer in for storage. Thank you Patty, Bob et al.
December 1, 2017
The best experience....the people were friendly, professional and very accommodating. We stored our old car there and they made us feel like it was special to them, too, and would take good care of it...which I feel they did! They were always friendly, polite and efficient. I would totally recommend this facility to others and be a return customer as well.
November 30, 2017
Everyone there is so wonderful, friendly, and ready to help you. Made move in easy
November 20, 2017
Your team did an excellence job in serving our requests for storage. I really appreciated the gentleman in the warehouse. I think his name is Bob or Bill. He was great. Thank you.
November 16, 2017
Excellent
November 16, 2017
Very professional staff. I was met with much kindness.
November 12, 2017
Our experience signing up with Patty Bittle was great. She was very helpful. Looking forward to bringing in our RV. Nice indoor facility. Great to have access to power and fabulous benefit for crew to turn on refrigerator ahead of a trip. Thanks!
November 10, 2017
Everyone at this facility are the BEST! I felt very comfortable storing my boat in this amazing warehouse. If you haven't visited this place you should, as it's the best indoor storage facility in the Valley.
November 7, 2017
Love the staff and beautiful facilities
November 5, 2017
The property manager is so amazing and very professional.
November 4, 2017
I truly love the way your business is set up. Paula.i believe her name is. Was very helpful and attentive. She knows customer service and that is a rare gift these days. Thank you for welcoming me to your family.
November 3, 2017
My experience was great. Friendly staff and storage were clean and easily accessible, which I like a lot. Price was decent at the beginning. Did not like the price increase, which is part of the reason I left.
October 31, 2017
Great secure place. Great people. Very nice program they run.
October 31, 2017
Absolutely loved it. No issue. Great customer service
October 31, 2017
Excellent customer service!!!
October 29, 2017
Nice people to do business with. I feel confident that our motorhome will be looked after. I am a returning customer for this reason.
October 28, 2017
Great service very professional. HAPPY TO BE A PART OF IT.
October 27, 2017
YOU ARE THE BEST STORAGE PROVIDER IN CALIFORNIA YOUR TEAM WORKERS AND YOUR SERVICE ARE MORE THAN 10. THANK YOU MORRIS ADARI
October 10, 2017
I made a reservation on Sunday and was able to store my belongings within a hour. The staff was EXTREMELY helpful, fast and courteous. The answered my questions and let me see the facilities when requested with no hesitation.
October 1, 2017
Excellent
September 23, 2017
awesome
September 22, 2017
Everyone is so nice and knowledgeable about your services. I signed up the next day.
September 21, 2017
Excellent! Very professional staff, and great customer focus. I was impressed from the very first phone call. I love that team is proud of their facility, and this is evident in the way they address their clientele.
September 16, 2017
Very friendly and professional
August 23, 2017
Great service and extremely helpful and friendly staff. The storage area is immaculate and easily accessible. Highly recommended!!
August 21, 2017
Everyone was awesome! So happy and helpful!
August 21, 2017
Great.. Patty and Tyson did a great job. It was a really hot day and they gave me Ice cold water.. I cut myself and they gave me a band-aid.. Good employees..You are lucky to have them.
August 18, 2017
Very professional
August 18, 2017
While it has only been less than a week, so far my experience with this facility has been excellent. The facility is in excellent condition, staff is welcoming and very attentive and kind. I wish more businesses would emulate this type of excellence.
August 10, 2017
Absolutely top notch!!!
August 7, 2017
all exellant and perfect
August 6, 2017
I had last minute storage needs and Patty came to my rescue. She helped me find the right size unit. The entire staff was very friendly and helpful. The property is very clean. I am so happy I found them!
August 5, 2017
Patty was wonderful and very helpful. Thankyou
July 26, 2017
I compared storage facilities throughout the San Fernando valley and none compare to the level of service and price that your facility provides! Thank you!!
July 19, 2017
Fair prices, great service, nice facility, well protected and convenient knowledgeble staff. I can't say anything was wrong. The people who manage the car storage are especially great.
June 29, 2017
Quick and easy process. Patty and Cody are really helpful and answer any concerns. I would recommend this place to my friends for sure
June 19, 2017
Wonderful and helpful
June 19, 2017
extremely clean ,and professional
June 15, 2017
Amazing staff
June 15, 2017
Excellent, professional, organized, and secure!
June 14, 2017
Me hiso pensar que me conocian de mucho tiempo atras,habló muy buen español la persona que me atendio.gracias Nesecitan.mas personas bilingues.muy buen trabajo.
June 14, 2017
Everyone is very helpful and friendly
June 3, 2017
Excellent!! Great customer service 👍
May 28, 2017
I am so grateful to be here! Thank you for the warm personalities, clean and safe environment. Toya
May 27, 2017
Sherry was really nice and took her time to find the right unit.
May 21, 2017
Friendly staff at the front desk. Good explanations and options given. Clean site. Easy access.
May 20, 2017
The staff is professional, Best prices after extensive search. Facility is only one year old sop all new and clean
May 11, 2017
Great Service
May 11, 2017
Very satisfied with your costumer service agent. She was very friendly and helpful.
May 11, 2017
Cody and Sam were so kind and helpful. We are so happy to have found them!
April 21, 2017
My first experience with your Chatsworth crew was terrific. The facility is first rate - clean, dry, well-organized and well-laid out for the various types of vehicles stored. Your staff was outstanding, especially Patty - who conducted the important but involved initial check-in of my vehicle quickly and efficiently while simultaneously handling incoming calls from other customers either about to return vehicles or about to pick up vehicles, and communicating with the warehouse staff to keep them up to date on those arrivals and departures (excellent multitasking). Chris, in the warehouse, was equally efficient, asking all the right questions relevant to storage of my precious car. I left your facility with the feeling that she is now in good hands.
April 20, 2017
Efficient, polite, friendly staff...clean, well-priced storage....facility feels safe, well located.
April 12, 2017
People were great. Very personable and prices are reasonable. I could not have had a better experience
April 8, 2017
Great experience. Everything is kept extremely clean, well organized, and Dexter was very thorough going over the details, showing the unit, explaining the security. Well done, I would definitely recommend US Storage Centers.
April 4, 2017
Very professional and accommodating.
April 4, 2017
Great Experience. Employees are great and helpful. The facility is secure and easy to access even with pallets.
March 30, 2017
Very helpful, fast and l got the information that needed. Dexter the serial killer was cordial. All goog
March 28, 2017
I have been using storage facilities fir 35 years here in the San Fernando Valley. Other then this facility being an indoors storage facility, which is a huge plus. All the employee's are so helpful and nice, they also keep the place clean. I feel very safe with my belongings in this facility. Best place ever. Todd Swick
March 22, 2017
It was very easy and the gentleman who helped me was very professional and explained everything very well.
March 20, 2017
Dexter and the team are great - very helpful. Excellent facility.
March 17, 2017
Excellent communication and follow through.
March 14, 2017
Professional, courteous service, clean facility, well managed, temperature controlled, reasonable fees, yes I would recommend it highly.
March 12, 2017
Sam and Cody were very helpful and accommodating. They answered all my questions and made my move and transition as easy as possible.
March 6, 2017
So far everything has been pretty smooth and a great experience
March 4, 2017
Excellent. Everyone there is friendly, knowledgeable and make us feel like family...
March 4, 2017
Sam is very friendly and accommodating. Storage is very clean and convenient to get to. Fast and easy sign-up. Nice size units and price is one of the cheapest I found in the area.
February 25, 2017
Great, very helpful
February 16, 2017
Fantastic doesn't even cover it. After having to move and get things done as soon as possible and shopping all over town to those who boasted as to having the lowest prices in all of SFV, I came across this place which is incredibly easy to find, do not boast BUT in fact, DO have the best and most reasonable prices in the SFV. They have great spaces, great storage, clean and even the people who I bumped into who were arriving to store their things were all saying the same thing. Professional customer service, people who are willing to work with you, and an amazing and friendly department and staff. Ask for Candi, she is THE BEST! ... not to dismiss the rest of the staff of course. i rarely get to say this, but five stars isn't enough for them. In a situation where most companies try and take advantage, this place is honest, candid and incredibly professional.
February 15, 2017
The whole experience was great from initial contact via the web portal to being handed the keys, it was a fantastic experience. Everybody I dealt with were super professional, and the facility was clean and very secure. I especially appreciated Candy's help. She went over everything with me and answered all of my questions. She was the best and provided the highest possible level of customer service.
February 10, 2017
Dexter helped me set everything up and was so patient when I was deciding between units. I couldn't have received better assistance. Thank you!
February 9, 2017
It was great!! starting from the phone call to arrange rental up until I put my stuff in the storage unit. And the unit, the whole area is very clean and secure. Thank you US Storage Centers.
February 8, 2017
Sam was awesome helping us. We are very happy.
February 7, 2017
I had a very good experience with you all. Sam was a tremendous help. Very friendly and very helpful. I would definitely recommend your place. FYI... I also rated you all a 5 star on Yelp.
February 6, 2017
Candy was very knowledgeable and helpful. Customer service from everyone was wonderful.
January 31, 2017
I was one of the first to use this place when it opened for personal storage in May 2016. People were very nice and friendly. Started with one unit then added another. Costs were very reasonable but now are increasing. There were some hiccups in getting my two accounts charged to the same credit card initially then again recently since I moved from one unit to another. I am waiting to see if it has been straightened out.
January 27, 2017
Excellent
January 26, 2017
The interaction was very professional and I was very impressed with the service I have received so far
January 20, 2017
Awesome staff. Super friendly and helpful.
January 1, 2017
Lucky to find you and your great facility.
December 29, 2016
We had a wonderful experience here! I searched a LONG time for the best unit in the valley, and US Storage was #1 in price, security, quality of service, and convenience of the unit. Thank you to Dexter and Candy who were great to work with and very knowledgeable. I would absolutely recommend this facility to other people.
December 28, 2016
The employees are more than happy to help with any thing you might need or want to know. Very good customer care. Affordable pricing and secure storage. Neat and complete. I am very pleased with everything mostly the staff as in a moment of chaos they provided a solution and made the whole transition smooth as a babies bottom. I recommend it witb an A+
December 24, 2016
overall pleased.
December 18, 2016
was a nice experience,very friendly,knowledgeable person
December 17, 2016
Great... Cody is a great manager there and Cherry too... The best price and neaty premises. Definitively I recommend your business.
December 16, 2016
They were very accommodating and friendly and were very helpful