Rent or Hold Your Storage Unit in Minutes. Easy, Contact-Free Rentals.
Location Details
ACCESS HOURS
Mon

6:00am - 9:00pm

Tue

6:00am - 9:00pm

Wed

6:00am - 9:00pm

Thu

6:00am - 9:00pm

Fri

6:00am - 9:00pm

Sat

6:00am - 9:00pm

Sun

6:00am - 9:00pm
OFFICE HOURS
Mon

9:00am - 6:00pm

Tue

9:00am - 6:00pm

Wed

9:00am - 6:00pm

Thu

9:00am - 6:00pm

Fri

9:00am - 6:00pm

Sat

9:00am - 6:00pm

Sun

9:00am - 2:00pm
FEATURES AND AMENITIES
Drive Up Access
Electronic Gated Access
Video Recording
Employee(s) Speak Spanish
Kure It Certified Location
ABOUT THIS LOCATION
Keep Your Items Safe With A Self Storage Unit in Chatsworth
Read More
Photos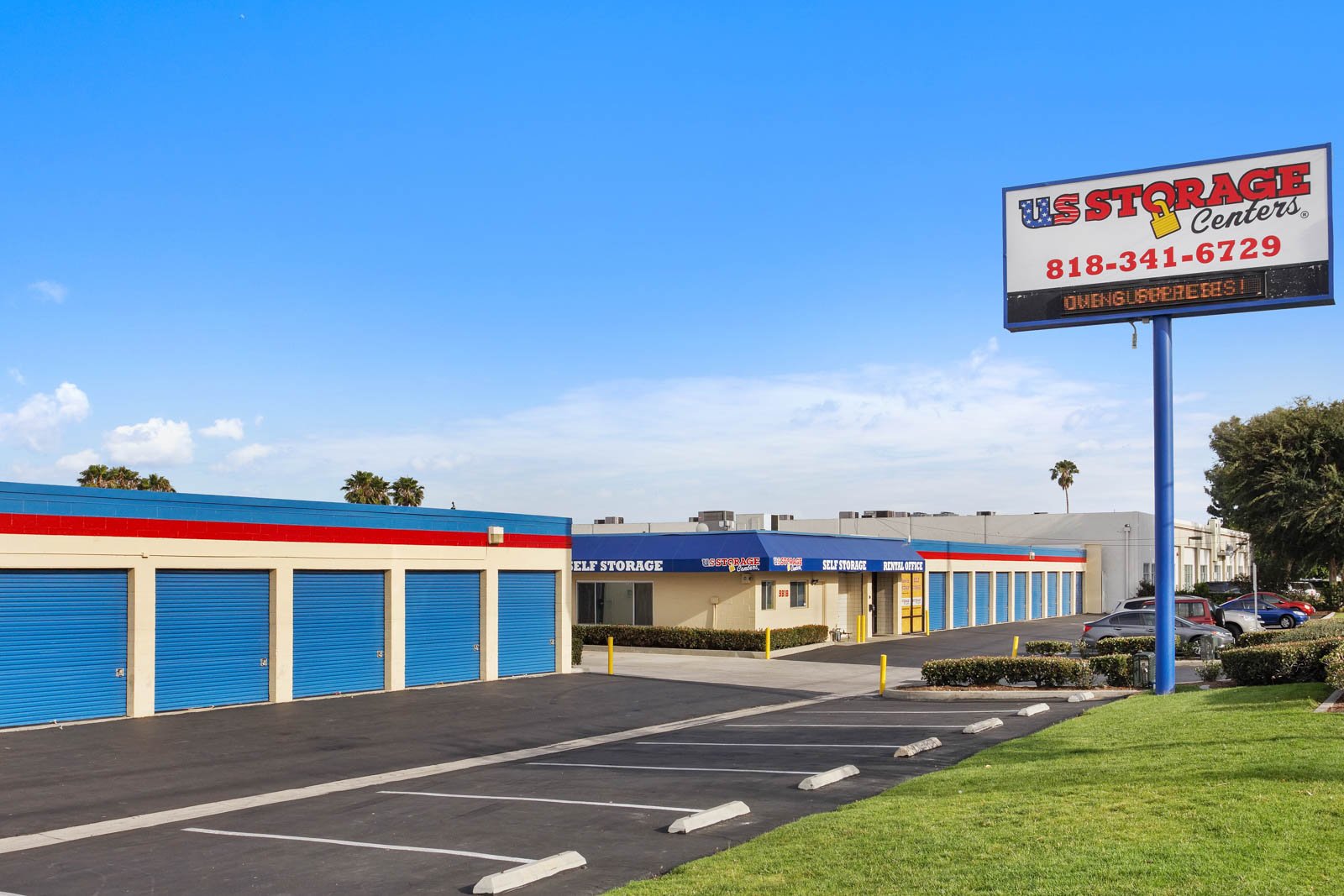 About this Location
Facility Description
US Storage Centers of Chatsworth, California offers secure and clean self-storage units. The storage units here at our Chatsworth location range in size from: 5'x 5' - 30' x 30', and they're all on the ground level, allowing for easy drive up access. All of our storage units are located on the ground floor and are drive-up. The aisles at our property are extra wide, allowing for lots of space when you move into your storage unit.
Contact-Free Rentals – Easy Online and Phone Rental Options 
 Online Rental
 Select your unit and enter your info and payment
 Sign the lease online
 A manager will reach out to you with your access code, a map of the property, and they'll have you email a copy of your valid government picture ID
 Once these steps are complete, the manager will prepare your unit so it's ready when you arrive
 Phone Rental
Simply call the number listed at the top of this page, and a member of our staff will work with you over the phone to complete a rental
The manager will email a lease to sign
Once the lease is signed, a manager will reach out to you with your access code, a map of the property, and they'll have you email a copy of your valid government picture ID
Once these steps are complete, the manager will prepare your unit so it's ready when you arrive
Conveniently Located

We're located on De Soto Avenue, Near Chatsworth High School. The major cross streets near us are Lassen Street and Mason Avenue. The intersection of Superior Street and De Soto Avenue is also nearby. The Carl's Jr on the corner of De Soto Avenue and Lassen St is just across the street from our storage facility.
Secure Storage Units
This storage facility has 24-hour video recording and electronic gated access. There are storage units located inside our secured gate and units with unlimited access hours are available next to our office. Tenants entering and exiting the property are required to enter a PIN code. An on-site resident manager keeps a close eye on the property.

You'll find that we have competitive rates, a friendly staff, and professional management at our self-storage facility.
Forms of Payment

Taking care of your payment is simple! We accept cash, checks, money orders, Visa, and MasterCard. You can also pay online through our secure client login.

Languages Spoken By Managers: Fluent in English and Spanish

The Community

Chatsworth, California is where you go to live if you love the excitement of the city but long for wide-open spaces. In and around Chatsworth you will find several open-space parks; hundreds of acres available for you to walk, hike, and climb while you enjoy the undeveloped surroundings of natural California.

The Santa Susana Pass State Historic Park offers a historic peek into the late 19th century, nearly unchanged from the days when Joaquin Murrieta and his bandits roamed the area except for the crumbling remnants of villages and the old stagecoach road.

You don't have to worry about your belongings crumbling to dust however, when you have a storage unit from US Storage Centers. We are even safe from bandits.

Kure It Participating Facility

US Storage Centers actively participates in philanthropic efforts to better the lives of those in the communities we serve. Our Chatsworth facility is a proud member of Kure It Round up for Research. Kure It, founded by US Storage Centers chairman Barry Hoeven, raises money for innovative research into many types of cancer that receive little or no funding.

Facility Products

To help with your move, we sell boxes (sized small - x-large). We also have wardrobe boxes, packing tape, tape dispensers, mattress covers, bubble wrap, picture moving kits, disc locks, and brass padlocks.


Customer Reviews
overall rating, 264 total testimonials
May 21, 2022
So far so good!!
May 11, 2022
Great experience, the gentleman on site has been very helpful throughout the process! Thanks again
April 11, 2022
The staff was extremely professional,with a please t nature I have sent two friends there whom are now US STORAGE CUSTOMERS I think the girl in the office needs a pay increase .very professional you need to keep her . Thank you . Christopher hoyer
March 12, 2022
Liz is great. Very professional and quite friendly. The only comment I must make is the the door to the unit I rented is hard to open. A little oil would certainly be appreciated.
February 14, 2022
Great courteous staff!!
February 8, 2022
Liz is terrific. I've had years of good experience with you. And this latest unit was rented to move from Public Storage, where I have been very dissatisfied. I especially like the donation unit and my ability to make a small monthly donation to cure-it.
February 4, 2022
Jose was pleasant and professional. The process was quick and painless. Thank you
November 10, 2021
Perfect service !
October 1, 2021
Great I have to say the onsite manager was extremely professional polite helpful he was a pleasure to deal with he listened to me about my needs as i wasnt sure what exactly what size or the process i would say you have a great manager there im very satisfied
September 27, 2021
My in store experience was very good. However, the day I came to sign the paperwork for my unit, I called ahead of time to confirm. The person on the line said my unit was already rented out, even though I had it held for a week. Then she said her manager would call me back. They never did, so I called back again and go another remote employee who now told me I can't have the unit because the door is broken? The remote employees have no idea what is going on at the actual locations. Finally, I spoke with the actual location and they told me all the information I was given over the phone was incorrect and to please come and the unit is ready. The miscommunication from the remote employees caused me a lot of anxiety because I had scheduled movers for that day. Luckily everything worked out but it began as a very chaotic day. Please tighten up the remote employee protocols. The onsite staff I give a 10.
August 10, 2021
Representative was extremely patient and kind and helpful
July 27, 2021
It was okay
July 26, 2021
It was good so far... the whole process of finding the right unit to rent went very smoothly. The prices are good to. I'd definitely recommend this facility if you need a storage unit big or small. My favorite part is that most of the units are all drive up units which makes things 10x easier since I'm handicapped.
July 24, 2021
Outstanding service for a first time Customer. Elizabeth was so helpful, knowledgeable and personable. The storage facility was clean and provided camera security. The fees were reasonable for the size of units they provide. Something great the facility does it gives back to charities.
July 13, 2021
Liz was super friendly and helpful. I had a great experience getting my unit leased and set up. Very satisfied.
July 4, 2021
Great experience, but the price for a unit is really expensive.
July 4, 2021
Very nice and professional had me in in minutes. Everything was everything I was looking for
June 18, 2021
Staff was very helpful and attentive
June 3, 2021
nice employee
May 27, 2021
Great. Fast and easy.
May 25, 2021
Very helpful clerk. I was happy to be choose you place.
May 24, 2021
Nice plays On clean
May 24, 2021
I rented from you years ago and I used the service for more than a year.
May 23, 2021
Courteous and helpful
May 20, 2021
Great! Easy to reserve online.
May 6, 2021
Very professional and curious
April 27, 2021
The lady that helped us - She was very helpful - On time - Enthused - Very responsive & pleasant to work with,
April 22, 2021
My girlfriend has storage there, She introduced Me to the prospect of trying U.S. Storage, I have never been so surprised about the helpfulness and genuine care from any Business before , I Your Manager Jose Is the flagship of The Business, and He represents everything that instills trust and confidence that My things would be in Good Hands ! And if He is not in line for promotion to Area Manager Someone else will poach Him from You! You should be very proud of Him and the exceptional Job He does, as a New Customer His Genuine Care towards Me felt like We had been friends fir Years! Kelvin Moore storage #144
April 12, 2021
Excellent friendly staff great prices 👍 👌 👏
April 1, 2021
Associate was friendly, courteous, knowledgeable, and helpful!
March 29, 2021
Very good customer service and awesome place for storage very good location close to the free way Very good customer service and awesome place for storage very good location close to the free way
March 26, 2021
It was a wonderful experience. The gentleman at the front desk was extremely helpful and made me feel like it was a very safe and secure location.
March 2, 2021
Fantastic. The gentleman that helped me was informative, courteous, and efficient.
February 26, 2021
Very well! The person who help me was very friendly. I truly recommend it.
February 19, 2021
I like ground level of storage.. !! I like manager live at same place.. !!
February 16, 2021
the experience was good..
February 6, 2021
My initial impression was very good. However, I had a reservation for a 10 x 10, and was shown a specific unit. When I went to sign the lease and pay, a different unit has been substituted that had a heavy corner oil stain and damaged drywall. My car was loaded and I had no choice but to accept the unit and unload.
February 5, 2021
The guy who checked me in was lovely. The process was smooth; prices were reasonable/on par with other storage facilities, but I did get 50% for the first two months. Thrilled with getting a 10x10 drive up storage space. So convenient!
February 1, 2021
Top notch. Until it became time to pay the monthly bill on the telephone. A enormous waste of time trying to pay a simple bill. There must be a better system, on my fifth call. absolutely annoying
January 29, 2021
The door to my unit is hard to open . Other then that great service and I'm happy
January 17, 2021
Great! The person helping me (Liz) was fantastic! Super-helpful. Thanks so much!
January 8, 2021
*😎...good place to storage, accessible n clean... *😎......👋🏼
December 31, 2020
I was treated well and professional.
December 15, 2020
The lady that help me. Made feel very welcome, she's very professional , is very efficient, and friendly. High thumbs for her.
December 10, 2020
I was so welcome to this place. People very friendly and polite and GREAT PRICES
December 5, 2020
I was very happy with the service that I received from Jose, the associated in this company. He provided all information, was able to answer all my questions.,
November 17, 2020
Jose was so helpful and accommodating. The facility is nice and large. Also feels really secure! The access hours are great and I like the individualized gate codes. Everything being accessed from drive up was so amazing too. Also high rulings are fantastic! 10/10
November 16, 2020
So far everything has gone very well and I would recommend US Storage.
November 16, 2020
It has been a very smooth process, with the online booking and broad hours for bill paying as well as accessing the dumpster.
November 12, 2020
It was great. Everyone was very friendly and helpful..
November 10, 2020
awsome!
September 27, 2020
Very good. Everything was clean and well maintained. The staff was professional and friendly. In particular, Liz was very helpful in showing me around
September 11, 2020
love it
August 22, 2020
yo lleve a una persona y rento un espacio y tengo entendido que me dan credito de la renta de mi espacio gracias
August 21, 2020
Jose was amazing, very helpful.
August 21, 2020
Google & yelp search led me to your facility. Easy and quick process.
August 12, 2020
Staff was very accomodating. Good conflict resolution technique. Kudos to Elisabeth and Jose.
August 9, 2020
Good ,& friendly
August 1, 2020
Great place great people
July 21, 2020
Excellent. The person who assisted us was friendly and answered all our questions. He explained everything we needed to know.
July 1, 2020
Great experience. Very professional.
June 25, 2020
Elizabeth was very helpful, polite and personable. I was impressed by the cleanliness of the property.
June 20, 2020
Extremely comfortable
April 1, 2020
As always great.
March 17, 2020
Absolutely amazing! Candy Rodriguez assisted me. She was very helpful and knowledgeable An extreme joy!
March 13, 2020
Everything went very smoothly.
March 5, 2020
Great customer service
February 17, 2020
The experience was the best of 7 different storage facilities I physically toured in the area. Candace is an awesome employee, and really solidified my choice at your facility. She really knows the ins and outs of the job, and laid out all the information I needed immediately, without me having to ask several questions.
February 4, 2020
great experience great service. best location best price
February 4, 2020
Great staff, Awesome customer service , top notch and best customer service in LA .
January 17, 2020
Love this storage place!!! I recommend all the time!! Liz and her team are phenomenal!!
January 17, 2020
Excellent. Very quick and easy .
January 17, 2020
Service was very professional yet also very friendly. The storage units are exceptionally clean and well maintained. I'm happy to be storing my things here.
January 14, 2020
Candy made the rental process very easy.
January 12, 2020
Service was excellent but must say that a 10x10 unit measures 10' wide x 8'9" deep.
January 12, 2020
Very positive experience everything was fully explained
January 7, 2020
Candy was a pleasure to work with. Spent the time to come up with and go over some options that would meet my needs. She was very friendly and helpful. Made things very easy for me.
December 29, 2019
I had a good experience with Luz. She was very nice and accommodating. I would definitely recommend your branch.
December 19, 2019
very easy and helpful, both the automated UI and the in person support
December 6, 2019
It was a friendly atmosphere. A pleasure to have done business with. It would have been nice to have a truck ramp available at the time of loading my stuff on the truck, though.
November 25, 2019
Great experience Staff is very helpful and courteous I recommend this facility
November 13, 2019
Very professional and courteous, reasonable rates, clean environment.
November 1, 2019
the staff is very helpful and shes very knowlegeble and shes very nice and easy to deal
October 30, 2019
Very good
October 29, 2019
It was very easy to find a storage space at Us Storage. Very close to my house. An very good and fast service. JL
October 20, 2019
It was quick and easy, and at a good price!The staff was knowledgeable and curtious!
October 15, 2019
Had a great experience working with Candy. She was very helpful and quick to take care of us. She is a good employee and a good person and you are lucky to have such a wonderful person working there.
October 4, 2019
Very helpful when I ask questions.
September 7, 2019
The manager helped me out
August 30, 2019
Candy was very helpful and knowledgeable. Thank you for all your help, Candy!
August 29, 2019
Nice eviroment,Good Attention,Thank You Great Storage..
August 16, 2019
Veery nice ,and polite loved !!
July 17, 2019
Great service very friendly and good deals. Recommend to anyone looking for a good storage space.
June 30, 2019
They work onset & frenly
June 6, 2019
This is my first storage unit adventure. Liz and Candy are very friendly & extremely helpful. Liz and Candy provided excellent customer service and was a pleasure to work with. Eddie.
May 31, 2019
Very helpful. Made my moving a whole lot stress free
May 30, 2019
Very thorough and professional.
May 28, 2019
Absolutely best customer service and deal in town. Both reps who helped us were very accomdating and our move was smooth thanks to them. The free rental truck is a bargain! Thank you!
May 26, 2019
First time getting a storage and it was easy and fast with U.S. storage. Having all drive up access made my move even easier.
May 13, 2019
Very good and good service
April 27, 2019
Liz was friendly and professional. She's a clear asset to the company.
April 18, 2019
Liz Gomez and Candy were both very courteous and helpful on determining my needs.
April 13, 2019
Sam and Liz were extremely warm and helpful!
April 10, 2019
I found getting a storage unit with your company to be an excellent experience from start to finish, far superior to Public Storage. Your pricing was excellent. Your customer service on the phone, by live messaging on your website, and in person were stellar. Candy at the Chatsworth De Soto site in particular was knowledgeable, accommodating and friendly. The free move-in truck sealed the deal for us. I wouldn't hesitate to recommend your company, especially the Chatsworth De Soto location. Overall, you guys are incredible!
March 21, 2019
great experience, fast service
March 7, 2019
The gals were great...facility good..a little pricy..
March 6, 2019
Very satisfied service and unit itself clean big and price best I found in this area. I didn't have a copy of the insurance so I didn't use their truck but I couldn't believe I could of used it from nine am till five pm free I wasn't good at my paperwork my fault but I should of saved me two hundred if I would of
March 5, 2019
Great customer service.
March 1, 2019
The staff is friendly and helpful. Great location and price.
October 25, 2018
very good services
October 11, 2018
The service specialists was very accommodating and an excellent listener on October 2nd around 2 She deserves a promotion!!
October 11, 2018
Everything went well. Professional staff explained everything to use and walked us through the process. Facility looks clean and safe.
September 25, 2018
Good experience. Employees very helpful
September 13, 2018
Liz was incredible. She was very nice and knowledgeable. She made the experience a delight. She provided the ideal customer service and is the reason I would recommend this place to friends and family.
September 11, 2018
Very friendly and cooperative and change the truck schedule 3 times in one week and they were very cooperative with me thank you to manager and the worker .
July 6, 2018
It was great and super easy. He showed us the space and got us settled in pretty quickly. He also made sure we were informed of all the rules.
June 12, 2018
Easy set up and quick service
April 18, 2018
It was a good experience , she was very professional kind and very helpful
April 10, 2018
The complex was very clean , well maintained and the staff was extremely friendly and polite. Their gate hours of being open late, 7 days week allows me freedom I need to access my unit. I highly recommend this specific storage center compare to the bargin priced competition.
April 5, 2018
I was very satisfied with the costumer service. Sam was very helpful
March 19, 2018
I selected 10 on the scale but I'm not sure it went through. It was a good experience with our unit being safe and the property is well taken care of.
March 11, 2018
The associate in the office went above and beyond to find a storage unit within the facility that fit our budget. Made me feel good about having a unit at the facility
March 8, 2018
There are no words to explain how wonderful and helpful the staff is. Sam and Liz are amazing (in Canoga Park). They helped in any way they could and nowadays that is hard to find in people. I already have referred a friend and he got a unit and is happy as much as I am with your services. Mauricio L.
March 3, 2018
Convenient, easy access and reasonably priced
February 28, 2018
Both Sam and Liz are really great and accommodating , They made it very easy for us to get great affordable storage quickly ! Highly recommend!
February 14, 2018
It was smooth and easy... staff were always helpful and honest! I love the all street access which may explain the high price... I had intended on only renting the unit for 1 month, 2 at the most. It ended up taking a bit longer for my house to be ready so I ended up keeping it for 3 till my house was finally ready. I would surely use you guys again in a pinch or if I ever needed a storage long term... thank you guys! ML, Jeff
February 1, 2018
Good people Service is great i will use this storage soon thanks
January 30, 2018
Service at the Desoto and Lassen location in Chatsworth CA was very good. I was a novice at using storage units and the young lady who helped me was very willing to explain the process to me and give me the gate code again after I lost it. I was also notified that my lock was not locked properly. A very good experience.
January 27, 2018
Great experience.
January 19, 2018
Good staff and support!
January 17, 2018
I was extremely impressed by how Sam at the Chatsworth store, helped me to decide about renting, he was very patient with my decisions and even offered the use of a truck. I was able to get everything moved in, the process was swift and efficient and I feel like I have a new friend!
January 17, 2018
The staff are amazing , friendly and beyond accommodating . The pricing is great and the units are all first floor and easy to get to !
January 4, 2018
Liz did a great job when I first arrived to look. She also made sure I understood all of the rules and fees when I rented. She is personable and friendly.
January 4, 2018
Well was using this unit for a very long time. The staff there was very considerate to me for years. Liz was really the greatest , she always let me know stuff about the changes and correlated with people who took care of my payments while i was out of country, are out of state. Great management and crew there. Very clean and secure facility. Thank you for keeping my belongings safe for 9 years.
December 27, 2017
Very kind and very helpful staff who helped us get a storage space we need quick and affordably!
December 22, 2017
I have very positive experience.
December 18, 2017
Neutral no complaints
December 1, 2017
Great Service - Professional and friendly. I would highly recommend.
November 5, 2017
I had a very good experience with US storage. Staff is helpful and professional and facility is clean and accessible. I would definitely recommend.
October 31, 2017
The representative was very friendly and patient enough to answer my queries.over all was satisfied with their serivce
October 24, 2017
It was a pleasure doing business with US Storage. I got a great move in deal and the unit was very clean.
October 4, 2017
I am very happy with friendly service and facility is nice and clean will recommend to all my friends
September 27, 2017
Excelente atención
September 22, 2017
Everybody was very friendly, and helpful. They try hard to get the best price for you. Very satisfied with my storage unit. The place is very clean, and also the bathroom.
September 12, 2017
very clean and nice people
September 1, 2017
Very satisfied with service and friendliness
September 1, 2017
the staff working all the shifts is a very patient lady
August 24, 2017
they helped me a lot
August 13, 2017
Sam was very friendry and very helpful. Would recommend our friends and very reasonable priced.
August 5, 2017
Liz really explained the basics very thoroughly and was very kind,especially since I walked in 3 mins before her lunch break . I offered to return, she helped me anyways got me in and out without rushing at all. Very professional.
August 4, 2017
Best service
July 28, 2017
Very smooth process. Liz did her job well.
July 25, 2017
Great! The site was clean and the office was comfortable, air confitioned and calm. The man who checked me in was very friendly knowledgable and made the whole process easy! I used to hate moving and storing things. Now I am greatful to have storage!
July 8, 2017
Liz was awesome, the whole experience was so easy.
July 5, 2017
I couldn't be more happier with experience with renting a storage for the first time.Liz was an amazing help and so patient with our needs. I really do appreciate the truck offered to your customers. Thank U.S. Storage for all the help.
July 5, 2017
Felt very professional when in office. Attenitive and answered all questions.
July 1, 2017
Very good experience...Liz in the front office is great. Only complaint is a lot of dirt and dust was in our storage unit when we left...should be more air tight.
June 29, 2017
Great! Courteous and knowledgeable employees. Clean facilities.
June 29, 2017
Customer service is always top notch. Your company has saved us many times when we have needed extra storage. Thank you. Anthony Bertolino, Bertolino Industries.
June 29, 2017
Excellent service and professional courtesy from both Sam and Liz, would highly recommend you guys
June 27, 2017
I haven't really moved my furniture in yet, but the young woman who signed me up was very helpful and informative. She was also very gracious in helping me remove the green tag from the storage door. Thanks.
June 2, 2017
You folks rock. Candy is very helpful and knows the property well. The morning person is also super nice. The facility is clean and seems to be very secure. Love the use of the free truck. We are moving (haven't done that in 25 LONG years) and the entire process is super annoying. The employees at Chatsworth US Storage Centers made our difficult week less stressful.
May 24, 2017
Candy was the one that helped us she is very professional an kind we were really satisfied with the storage we got thank you.
May 18, 2017
Very professional and courteous.
May 15, 2017
Very pleasant and they were professionals
May 7, 2017
Great,Liz Gomez is the best.Liz is the reason i came back to rent again.She is very professional. Bill
May 5, 2017
My experience with your personnel was exemplary. They were courteous, knowledgeable and efficient. It was a pleasure to do business with your compamny.
April 28, 2017
All of you there are always so helpful and straight to the point unlike other places. Keep it up..
April 28, 2017
Pleasant and easy
April 8, 2017
I felt very comfortable with Candy in giving me all the information and prices. I also felt very secure of the facilities security system.
April 8, 2017
Great service. Very helpful. Good experience so far.
March 29, 2017
Hidden charges are not pleasant, made arrangements to find out there are hidden charges that bothered me, but was forced to pay but would not pay if time permitted me to make other arrangements, I will be out of the facility asa soon as my time permits me , will not stay any extra time more than necessary.
March 29, 2017
Everybody was professional and VERY friendly..
March 14, 2017
Candy is the best - informative, sweet, with clear communication skills, could be a manager some day!
March 9, 2017
It was very pleasant. No hassles. A little understaffed, but the young lady behind the counter did an excellant job accomodating everyone. Moving is usually a major headache, but i actually felt much better after i left.
March 5, 2017
Very, very friendly staff who really took the time to answer all questions and made everything incredibly smooth and easy. Everyone at the Chatsworth branch are fantastic😀
March 3, 2017
Awesome! Liz and Candy made everything easy....
March 3, 2017
Your staff is amazingly polite and made me feel at ease
February 25, 2017
great!!!!
February 15, 2017
Friendly, helpful, Easy, convenient service.
February 15, 2017
I felt Candy was professional and friendly. She explained the process and answered any questions I had. A couple days before I was to come in to sign the contract, she called me to make sure she'd be there at the time I came in. That way, I didn't have to explain everything to a different employee. Most places wouldn't bother with this, and I found it went a step above and beyond.
February 6, 2017
Very nice place and the management very professional and helpful,
January 21, 2017
Sign up was fast and efficient. Received email communications quickly. Very good. Keep up the good work.
January 12, 2017
I will recommend out to friends and family because your rental rates are much much more reasonable than other storage places..And I hope you will keep that feature because of the economy for families today. Thank you
January 11, 2017
It was exellent,supervisor Liz was very helpful and courteous.
December 9, 2016
This is the best storage center around. The Staff at this location has always been professional and pleasant. I have never experienced any issues and they do there best to provide a clean environment and provide decent rates. I cannot say enough about the staff and Elizabeth especially!
December 6, 2016
Good. Prices are a bit high, but everything seems well organized as to getting contract set up and automatic billing and payment system, email reminders, and the in person service is adequate.
December 4, 2016
The facility is well maintained and clean. Access is easy and convenient. And the staff is friendly and helpful. I think these three statements are essential to a well run business.