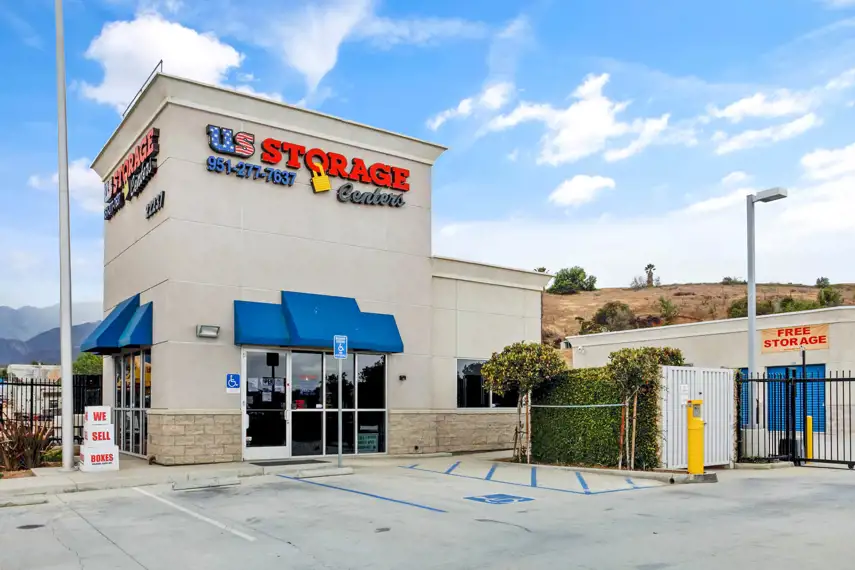 Rent or Hold Your Storage Unit in Minutes.
Location Details
ACCESS HOURS
Mon

6:00am - 10:00pm

Tue

6:00am - 10:00pm

Wed

6:00am - 10:00pm

Thu

6:00am - 10:00pm

Fri

6:00am - 10:00pm

Sat

6:00am - 10:00pm

Sun

6:00am - 10:00pm
OFFICE HOURS
Mon

9:00am - 6:00pm

Tue

9:00am - 6:00pm

Wed

9:00am - 6:00pm

Thu

9:00am - 6:00pm

Fri

9:00am - 6:00pm

Sat

9:00am - 6:00pm

Sun

10:00am - 5:00pm
FEATURES AND AMENITIES
Free Move-In Truck
Drive Up Access
Electronic Gated Access
Video Recording
Employee(s) Speak Spanish
Moving Carts
Kure It Certified Location
ABOUT THIS LOCATION
Corona Self Storage Units.
Read More
Photos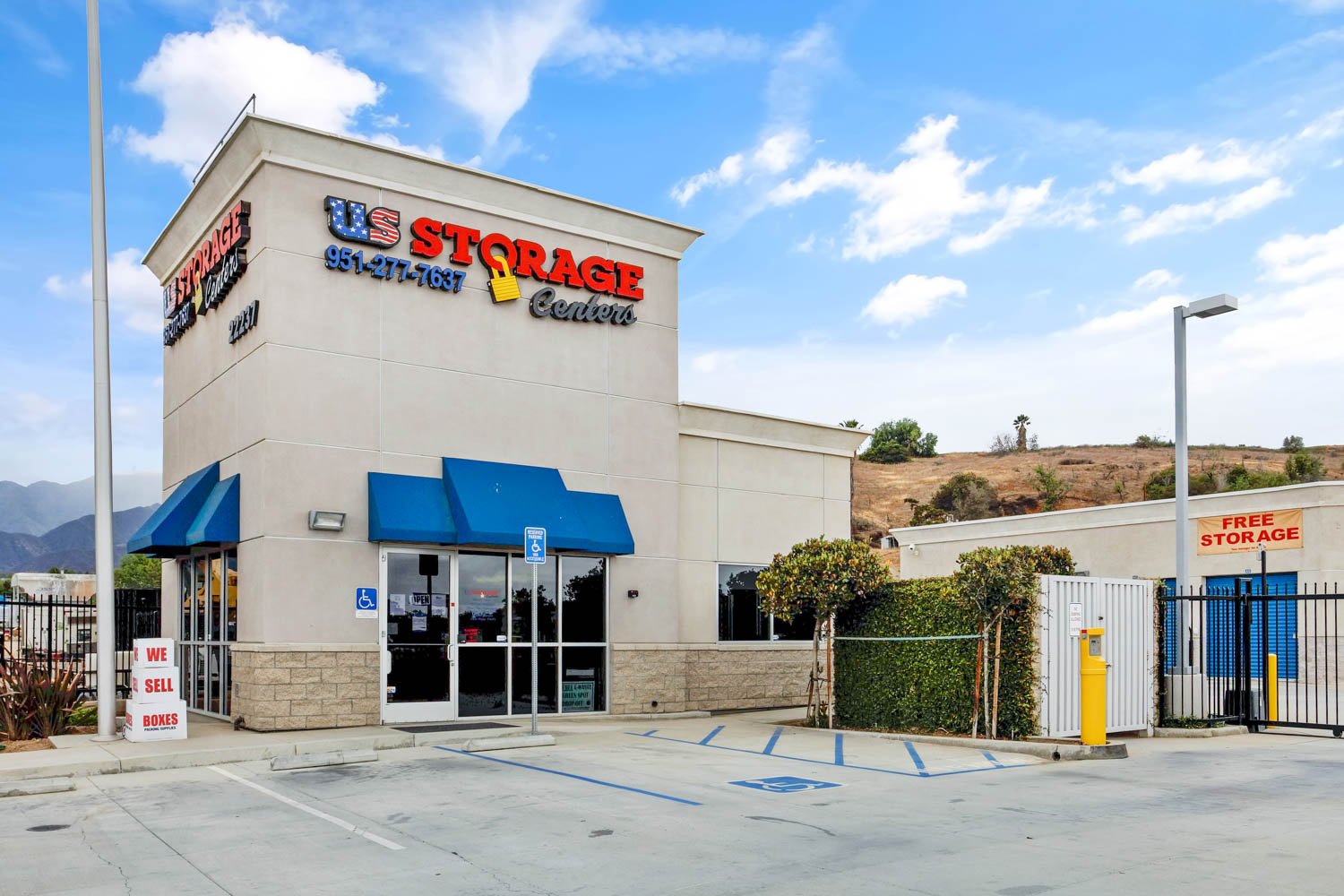 About this Location
Facility Description
US Storage Centers in Corona, CA offers storage units that are drive up accessible, making it quick and convenient to get to your belongings. Our drive ways are wide, allowing a semi-truck to be able to maneuver through the storage facility easily. We have moving carts on site to assist with moving your belongings to the right place within your storage unit. We have a free move-in truck available to first time customers who can use the truck for 50 miles for free. The truck includes a dolly and ramp to make loading and unloading items easy.
Easy Rental Options
Rent your storage unit online or over the phone for a quick move in. 
Not ready to rent? No worries! Reserve your unit now to lock in today's special discount.
Month-to-month rentals
No credit card required for reservations
No deposit required
Security Features
We have electronic gated access, so you can get to your property anytime you want without letting the general public in. We also have 24-hour video recording and our facility is incredibly well-lit, so you can clearly see what's going on around you. We also have cylinder locks as an added security measure.

Conveniently Located
You can clearly see our facility from the Corona Freeway. We're just down from the Volvo construction equipment company. You can follow the red brick fence right to our entrance. The fastest way to get to our facility is to take the Corona Freeway exit 90 onto Dos Lagos Drive. Head left and turn left onto Knabe Road.
Forms of Payment

It's easy to pay your bill! We accept cash, checks, money orders, Visa, and MasterCard. You can also pay online through our secure client login.

Languages Spoken by Managers

Fluent in English and Spanish

The Community
Corona has a nickname for every stage of its history. Originally known as the "Lemon Capital of the World," it later became known as "Circle City" in reference to Grand Boulevard, a nearly 3 mile circular street encompassing the historic center of the city. In recent years, in consequence of major land development in Corona and neighboring communities it has been referred to as the "Gateway to the Inland Empire."

No matter what you call Corona today, it is still a great place to live. Jump on the Riverside or Chino Valley Freeways and you are halfway to everything in Southern California. As a bedroom community for Los Angeles and Orange County, traffic is either coming or going around the clock.

Grand Boulevard was once home to international auto races in 1913, 1914, and 1916. Today Corona is home to exotic car companies Saleen and West Coast Customs, examples of Corona's past creating its future.

Corona is also a center of industry. The Fender Musical Instruments Corporation manufactures their finest guitars in their Corona Factory. They also have a music center, museum, and a performing arts center. Several global corporations have facilities and manufacturing plants in Corona transforming the area from merely a bedroom community to a bustling center of industry.

Facility Products
We offer boxes (sized small - x-large). We also have wardrobe boxes, packing tape, tape dispensers, mattress covers, bubble wrap, picture moving kits, and locks.
Customer Reviews
overall rating, 315 total testimonials
January 10, 2023
So far its been some of the best service I've ever had! Thank you for making it so easy and to everyone for being so helpful to my family!
December 22, 2022
Easy to rent online. Friendly staff and clean facility
December 20, 2022
Carlos was very professional and kind. We would definitely come back and use you a storage center again.
December 12, 2022
Very good
December 9, 2022
Great experience No pressure and proximity to my home is awesome! Thank you
December 8, 2022
Carlos was amazing and very accommodating. Best customer service I have experienced in years. Very informative and helpful, thank you Carlos!
December 6, 2022
Good, Carlos was not high pressure. Friendly and knowledgeable about the operation.
December 5, 2022
Very friendly and efficient sign up. Carlos made it very easy to get a unit.
November 25, 2022
I had a fantastic experience with US storage centers. Carlos and Erik made our move easy and helped us get into the right units. The Corona location is extremely clean and the units are accessible. Thank you !!
November 2, 2022
Absolutely awesome! Although, with so much new development around. I would figure some flexibility to use your moving truck would be nice. I bought a home at the terramor community just down the way and my home will not be ready until feb/march. So I'm slowly moving things over to the storage unit so that my belongings will be closer when my home is ready. I was disappointed to hear that your moving truck is only free to use once within the 30-days of contract. It would be nice if we can use the truck once during the life of our lease.
November 2, 2022
It was a good experience
October 28, 2022
The gentleman who is the ONLY employee at the US Storage in Corona is a gem! Carlos is representing the company at such a high level of service it is unique in the industry. He is truly a pleasure to deal with and makes the process so much easier than any representative we've encountered in over 30 years of needing storage facilities in whatever town were were living in. He treats each customer with respect but also and so important, he treats each situation as unique. he listens and understands that many customers are arriving frazzled and concerned after many mishaps in their move. The facility is spotless and we are super happy with the results. Carlos goes the extra distance to make it so. Without him it would be just another storage place. We would give him 10 stars.
October 4, 2022
No problems and Carlos is so helpful and nice.
October 4, 2022
Very convenient and the Manager Carlos was excellent
September 1, 2022
Very professional and helpful! Great experience!
August 27, 2022
Excellent. Explained everything that I needed to know. Only problem is using the cylinder lock on the door.
August 25, 2022
Was easy to set up and wonderful experience walking in
June 5, 2022
It's a great experience
May 13, 2022
It started with Mia at another location. She was very pleasant and helpful, telling me of a sister location closer to home. I was told the manager's name was Carlos. I stopped and spoke to Eric at the closer location, who was just as pleasant and helpful as Mia from the first location. Eric helped process me as a new tenant at the closer location. The closer Location seems very secure and clean. If I ever need to rent a space again in the future, this will be the first place I come to.
May 3, 2022
Everything was explained thoroughly by Ashley and was made easy to rent the storage unit I needed
April 21, 2022
Easy process to sign up. Carlos was great!!
April 12, 2022
clean facility open late which is very convenient, Ashley at the front desk extremely helpful.
February 17, 2022
Everything went very well. Agent was extremely informative and helpful.
February 10, 2022
Very friendly, clean, helpful. I would recommend!!
February 6, 2022
I like that the employee was up forward and upfront and very friendly and very nice and professional.
January 22, 2022
I was very pleased with my experience with US STORAGE. The help received from the staff Ashley and Patti was very important to me in making my decision to use US STORAGE. I felt trust in the staff knowing that if I had concerns it would be handled with respect to all.
January 6, 2022
Extremely happy
December 23, 2021
excellent
December 14, 2021
Everyone is very helpful and nice.
December 4, 2021
Carlos was very friendly went out of his way to get me a storage and loan me to Truck and they were very very considerate people I would tell all my friends to rent from there
November 20, 2021
It was easy, location is convenient. Very efficient employee helped us
November 12, 2021
It is great with US Storage in Corona. The manger is so helpful. Customer service is excellent.
November 10, 2021
Great service:)))
October 21, 2021
Friendly and informative. Pleasure working with Carlos.
September 30, 2021
It was an easy transaction I did reserve online my space and they hold it for me then Carlos call me next day to chat with me and answer all my questions so, I decide to get space then he was very profesional and at the time of my arrival he went through the process with me and I did really like the experience with you guys. I really recommend very say and fast. Thank you Carlos
September 28, 2021
Great experience. Carlos was very friendly and helpful! I will recommend you guys!
September 27, 2021
Great service
September 23, 2021
Excellent customer service. The staff is amazing and very helpful and prompt. I enjoy doing business with them.
September 13, 2021
great customer service
September 2, 2021
Great stuff very very very helpful.
September 1, 2021
I am extremely pleased with the service I received setting up my account and storage
August 21, 2021
Very friendly and polite, really informative
August 19, 2021
The gentleman at facility was very kind.
August 10, 2021
Great and friendly. The staff very helpful.
July 23, 2021
Carlos made the process very easy and he was very welcoming
July 21, 2021
I felt valued as a customer and the rep who helped me really explained in detail how big each unit was, she gave me a visual understanding by using the office to demonstrate how far and wide each unit would be. That helped me tremendously in being able to visual all the stuff I have and be able to make an more accurate decision.
July 3, 2021
Carlos was very professional and helpful. Unit was suitable for my needs just a little pricy.
June 16, 2021
Excellent service
June 10, 2021
Very professional and well done.
May 23, 2021
Carlos very kind.helpful.professional
May 13, 2021
Great experience, Lee and Mia were very helpful. Units are clean and safe.
May 1, 2021
Wonderful great place vey nice Thank you so much
April 26, 2021
Easy to set up online. Very competetive pricing. Location works for us. Great customer service.
April 23, 2021
Friendly atmosphere, good storage units.
April 9, 2021
Opening an account and renting a storage space was very simple.
March 26, 2021
Good. The staff was very helpful.
March 21, 2021
The manager Carlos was very helpful and so was Andrea Sanchez two very outstanding folks that took care of me and took took a look at it all my considerations and they even help me in every way they could I would recommend them for a little bonus or promotion whenever it's possible in your eyes
February 26, 2021
Carlos has been great at answering my questions. He even gave me a tour of the facilities. So far so good!
February 6, 2021
Great experience. Helpful staff
February 5, 2021
My experience was amazing, Carlos went above and beyond for me. He was truly great andbeyond helpful!
February 3, 2021
Our experience has been wonderful so far. Carlos the manager is extremely helpful and informative, he made sure to walk us through the entire process and answer any questions we had. I would absolutely recommend this company if you are in need of storage! This place is in a convenient location will multiple storage units and sizes available.
January 22, 2021
Very friendly people to deal with - easy and fast
January 12, 2021
GOOD! Carlos at the South Corona location was very helpful, very good guy, overall good experience ✅👌
December 24, 2020
It was great very helpful staff
December 17, 2020
Had a great experience, carlos was of great help.👍
December 3, 2020
I had a great experience!
November 30, 2020
It was the best storage I have ever experienced. Staff are great people and they are on top of their jobs and very serving to my well-being and I would say it's more like that ma and pa type place where they care about the customer, most other places now are just cooperations that want your money and don't care about anything else. Not this place they really do care and serve
November 16, 2020
Carlos Figueroa was very polite and courteous. He worked with us to accommodate our needs. We would certainly recommend him and your company.
November 13, 2020
This place is so clean n was easy to do paper work on computer, Carlos is very complete explaining the ropes.
November 12, 2020
Clean environment. Easy transaction. Carlos in front off was very nice, knowledgable, and accomadating. Thank you, have already recommended to neighbors.
November 8, 2020
It was a good experience. Carlos is very helpful in explaining every detail I needed to know.
October 15, 2020
fantastic! I met with Carlos who explained all procedures and paperwork. us storage is quite fortunate to have such a personable and professional gentleman working for you.
October 14, 2020
Carlos is very helpful
October 7, 2020
Very good
October 3, 2020
Carlos was very helpful & I loved working with him!!!
September 28, 2020
Great customer service.
September 22, 2020
Carlos was great,very knowledgeable
September 18, 2020
I've trusted and appreciated Carlos several times over the years for storage space...So .pay him more
August 30, 2020
The over the phone enrollment process was very easy and within 1/2 hour I received a call from Carlos in the front office at the facility to finalize my sign up. He also made me aware of the loaner truck that was available for use the next day. When I went to the front office to get my space assignment and the keys to the truck, Carlos was again very friendly and helpful He also showed me the space we would be renting and gave me an insert to use with our lock. We needed to do this all last minute and I can't thank Carlos enough for his help
August 18, 2020
Excellent!
August 12, 2020
Awesome. Carlos was very accommodating and pleasant to work with
August 8, 2020
I have nothing bad to say. Carlos the facility manager is great. The best customer service was provided to me. Very happy with my 2 storage units.
July 31, 2020
Always a good experience. Carlos is always very helpful and professional
July 28, 2020
It was great and Carlos was super helpful he got back to me and even called me to check on my unit. He found us the perfect unit we needed as well. The process was seamless.
July 23, 2020
Excellent service, friendly staff, great job helping me with storage problem. Grateful, thank you. Wonderful that I didn't even have to rent a truck from outside service.
July 22, 2020
Clean facility Mia was fantastic ambassador for your business
July 21, 2020
I am very pleased with how things went. Carlos was friendly and helpful. He even worked into his lunch break to accommodate us. The rental process was quick and easy. Everything was explained to us clearly and we were unloading our UHaul into our new unit in what seemed like a matter of minutes. I would definitely recommend this US Storage Center to others. Thank you!
July 18, 2020
Experience was great and Carlos made it easy and he was so helpful.
July 12, 2020
Great so far.
July 6, 2020
Great customer service , friendly associates unfortunately didn't have a large enough unit so we are storing in our garage as well
July 4, 2020
Easy and convenient to get moved in
July 3, 2020
I love Carlos
June 18, 2020
Very good experience! Everything was explained well. The facility is so clean and easy to get in and out.
June 13, 2020
This is the second time I have used your company. I found the people I dealt with ( Carlos and Mia) to be friendly and professional. The facility is always clean and neat.
June 1, 2020
Worked with Carlos, very helpful! Happy to do business with him!!
May 18, 2020
Great customer service.
May 9, 2020
Mario was professionally helpful and efficient. Everything went smoothly and quickly. We couldn't have expected any better service than what was provided.
April 30, 2020
Great. The team in Corona provided exceptional service and support. They answered every question that I had and made the process in renting a storage unit very easy.
April 30, 2020
Mia was very informative & patient during the process by showing me several size units to determine the right side for my needs. Great customer service!
April 27, 2020
Customer service is great. Associates are always helpful, courteous and makes me feel valued.
April 23, 2020
Pleasant and helpful
April 17, 2020
Your employees are very helpful
April 3, 2020
Carlos was very helpful very patient and just side good guy
March 24, 2020
Administrative function is pretty good so far. Customer service is great, your staff is courteous, helpful and friendly.
March 19, 2020
Very well had a good experience
March 10, 2020
It was painless!
February 24, 2020
Experience was good. Staff is friendly and very helpful. Thank you, AnnaLissa
February 13, 2020
It was great.
January 20, 2020
Great place and the manager Carlos is amazing helped me and my family get everything squared away and with no issues. Also very accommodating and making our whole experience great through out the whole process!! Added plus is the free moving truck! Reccomend US Storage Centers especially Carlos and his team on knabe Rd. to anyone looking to store anything!
January 2, 2020
We were welcomed and treated very professionally. The yard was very clean and the unit was clean and ready for our use! Thank you Carlos.
December 31, 2019
Yes, very clean storage center, with experience staff that are helpful getting what want you need, I give them a 10!
December 29, 2019
Nice and helpful.
December 13, 2019
Great, quick, easy
December 12, 2019
it was great. quick. easy. friendly
December 5, 2019
Friendly service. Recommend to anyone who is looking for a clean storage unit.
December 4, 2019
Great and professional help. He was friendly and answered my questions. I'm a satisfied customer
November 19, 2019
Property Manager Carlos was pleasant and professional. The office, property grounds and the storage unit were clean.
November 5, 2019
So far, this is a great place to do business with
October 19, 2019
Carlos Figueroa was very helpful
October 15, 2019
tThe sale person was very nice and helpful, I am glad he was there to help me. thx
October 1, 2019
Carlos Figueroa was very responsive & nice to work with.
September 20, 2019
I had a great experience moving into the storage unit. The staff is always very helpful and supportive. I even thanked them for listening to my moving issues. I am very pleased and will recommend US Storage Centers to my friends.
September 12, 2019
Great! Worked with me and flexible on dates
September 12, 2019
Was very impressed with the Manager, Carlos, and his responsiveness to my questions. He showed me the space and helped meet the financial goals I had set fro the rental. Facility is exceptionally clean and well maintained - better than any other storage facilities I visited in the area.
September 3, 2019
So far everything was great
August 23, 2019
Very good experience, all questions answered and was able to get just the unit we needed.
August 23, 2019
Overall it was an excellent! Thank you to Carlos for providing such a GREAT experience. We are very happy with the location, convenience and cost.
August 17, 2019
Very clean units and great customer service!
July 25, 2019
You are very professional with excellent service.Yourpeople were very curious to us and much appreciated.Thank you very much.
July 19, 2019
Carlos was Very prompt and professional. Sense of security and cleanliness found within this particular facility. Highly recommended
June 29, 2019
The experience was great Carlos was always such a big help whenever I called in or came in to the storage office. Very helpful very thorough with this information.
June 17, 2019
Great sales staff. Very friendly
June 9, 2019
Fast and efficient with clear communications
June 8, 2019
The facility is clean and easy to navigate throughout. We were in need a a quick storage garage and Carlos was great. On very short notice Carlo explained all the details in a professional and courteous manner, he did not make a long production. The customer service was outstanding.
June 7, 2019
Very professional and inviting Carlos was great i definitely would recommend this storage center to others!
June 5, 2019
Manager is very helpful
May 23, 2019
It was a pleasure to have met Carlos at the front counter, he is a professional and a gentleman.
May 14, 2019
Carlos and Zandra were great. Both were professional and very eager to help find the right storage spot for me. I would definitely recommend this location to anyone who is looking for help in locating a company like yours.
May 3, 2019
Carlos was awesome. Very helpful, very helpful in helping me decide what size storage I needed. Very helpful with my lock. These storage units are clean and well kept up.i like t BT e fact that they are indoors.
April 20, 2019
Very friendly and professional staff.
April 18, 2019
A+ 5 Stars! Very convenient, and the price was right! Thank you very much!
April 13, 2019
Awesome service and good deal
April 1, 2019
Great. Very friendly and helpful
March 12, 2019
Great ! From the minute I walked through the door I was treated with genuine care by the Manager Carlos. He took time to explain all options then walked me through the different units to ensure my satisfaction. We were looking for a long term solution and he went above and beyond to meet our needs. This turned out to be a great find both price and hours of entry. Thank you Carlos The Gonzales family
March 6, 2019
Carlos and his staff did all possibilities to get a unit for me when i needed it most
March 3, 2019
Craig has been very helpful and courteous! Thanks
February 28, 2019
I have been with you for several years and I am very happy with the storage unit and especially with Carlos and manages the front desk
October 23, 2018
Great Prices and Awesome Customer Service!!!
October 18, 2018
Carlos the manager is the greatest. He made everything very easy.
October 18, 2018
Always a 10, especially Carlos
October 7, 2018
Carlos was very helpful and professional throughout the process. This experience exceeded our expectations and we would highly recommend the facility.Everything was clean and secure.
October 5, 2018
Great experience very professional and courteous
October 2, 2018
Very positive, prompt customer service by Carlos, the Manager.
September 26, 2018
Great customer service
August 16, 2018
Carlos is absolutely great. Whoever the genius was finally discovered swing in the entry doors out and they will LA ST and discovered light sensors turn the hall lights automatically And the place is cleaner great
August 15, 2018
Quick, courteous, helpful, polite, and efficient!
August 8, 2018
Very good customer service
August 6, 2018
I was able to promptly get a unit in the size range that I thought would work, but when I needed another unit I was able to get one quickly and promptly again.
July 14, 2018
Great location close to home. Supervisor was very helpful and professional.
July 12, 2018
courteous, and clean facility.
July 12, 2018
Amazing service! Thank you Carlos!!
July 9, 2018
Very thing been good
May 20, 2018
Great service!
April 19, 2018
professional talk with customer I like conversation with that man
April 12, 2018
The facility is very clean and Carlos was very helpful. I would recommend this storage center.
April 12, 2018
Both guys that run the facility are great people .very polite and helpful .
April 8, 2018
Your Corona facility is very well managed by Carlos. He is friendly, helpful and professional. I had a positive experience during the almost two years of renting space.
April 7, 2018
Carlos and i believe Mike or one of the managers did an amazing job 100% satisfied. Not only did they meet of exceed by expectations by a long shot
April 5, 2018
Your staff, Joey and Carlos, were very professional and took their time explaining everything to me, down to how to insert the lock. When I had to utilize the truck, Carlos went over everything with me and was very helpful. I would definitely recommend US Storage over another company to anyone I know. Thank you so much for your assistance during a stressful time of moving. Caryn
March 28, 2018
Very professional employees and very clean storage facility. I would highly recommend this facility.
March 19, 2018
Very friendly. Nice clean facility,
March 12, 2018
Great location and customer service.
February 27, 2018
I always felt that my property was safe and secure. only reason for leaving is that property was donated to charity.
February 19, 2018
Easy signing, manager took me around to decide on size. Clean quiet feel my property is safe.
February 11, 2018
everything went very well.
February 8, 2018
The people were genuine and helpful. Understanding that sometimes you need a long term storage solution or a short term. No judgement. Did I say they were helpful and friendly? Oh, and they are helpful too.
February 1, 2018
MAnager was great helpful and courteous
January 26, 2018
Fantastic service and clean units.
January 26, 2018
Rick was awesome. He is very knowledgeable, helpful and polite. The prices were great and the premises are exceptionally clean. I would recommend this facility to anyone that is looking for storage. Absolutely five stars. Barbara S.
December 30, 2017
I originally chose US Storage for the great price, but everyone I come in contact with has AMAZING customer service which is THE MOST important thing to me.
December 27, 2017
met my expectations
December 14, 2017
Great service, personable and straightforward.
December 14, 2017
Very fast and convenience
December 9, 2017
This was the most pleasant and professional storage center I have ever been to. Staff was very helpful and nice. Definitely would recommend.
December 7, 2017
Carlos is an excellent US Storage representative. He is detail oriented, friendly and professional. He is a real asset to your Company. You are very fortunate to have an employee like Carlos. The property is so clean and neat. We love it!
December 7, 2017
Smooth transaction and all paperwork went smoothly. Manager was very helpful and explained clearly showed the space.
December 6, 2017
Very nice & clean and GOOD price. AND the staff is very nice
December 1, 2017
I have always found my experience with the storage center on Knabe Rd to be a great one. I have had several units for a few years now and highly recommend this place to anyone in need of extra storage. The staff do a great job and the units are clean and well taken care of.
December 1, 2017
Very helpful and got my storage for a great price.
November 23, 2017
Carlos was very helpful and answered all our questions. He made it so easy through the whole process.
November 20, 2017
Carlos was very accommodating and his customer service was superior, I will be referring us storage to my friends.
November 14, 2017
Great. The office gentleman who helped me was informative, patient and kind. Very nice young man. No pressure
November 14, 2017
It was simple and easy to get the storage unit me and my family needed for our things. The service was outstanding as is the facility itself. Quick, convenient and secure.
November 9, 2017
Great my customer service attendant on Sat was very helpful and even recommended the larger unit which I did need. Thanks! Mary
October 29, 2017
Very quick professional and Great service and pricing I really like to special 50 % off for the first two months Great Deal Thank you very much MW
October 9, 2017
Wonderful
October 2, 2017
Super pleased with my experience. Carlos went above and beyond to make sure all my questions and concerns were answered. Easy transaction.
September 20, 2017
Very helpful staff. Went above and beyond even though I did not know exactly what I needed and was even very helpful when I realized I underestimated what I needed and helped me into what I needed. They also contacted me to let me know that I did not lock my unit properly
September 16, 2017
The agent was very helpful and cared about my needs.
September 16, 2017
I had a pleasant experience getting my storage unit. I found the storage center to be very clean. Carlos was friendly and helpful as well.
September 13, 2017
Fantastic! Angelica was amazing. She took her time to explain everything and was very friendly and patient!
September 6, 2017
I'm impressed with the staff's professionalism. They're attentive to details and was able to give me the spot unit I want and the rate that fits within my budget. I would like to thank Carlos & Angelica ( Knabe, Corona branch ) for their assistance .
August 7, 2017
t was quick and easy, the staff was professional and very friendly. All my questions were answered. Also, being able to use the truck for move in was such a great perk! I would definitely recommend this facility.
August 4, 2017
Everyone has been friendly and helpful.
July 28, 2017
My experience was very good. Angelica was very professional,helpful& friendly.
July 25, 2017
Very positive. Carlos your manager was very accommodating and I experienced positive feedback with all my questions. The facility appears to be very secure and I have no worries with storing my things at US Storage.
July 25, 2017
Very helpful and friendly. We worked out an agreement that fit my needs. They were the easiest part of my move.
July 25, 2017
Moving my stuff in and subsequent access has been easy. My only difficulty was with the weather; my inner unit was like an oven.
July 11, 2017
I had a terrible experience at the US Storage center across the street (Corona Self Storage at Dos Lagos) but was well taken care of when I expressed my dissatisfaction at the next US Storage Center on Knabe Road.
July 9, 2017
Fantastic. Carlos get a thumbs up, high five, gold stars and kudos!!! He couldn't have been better. The entire experience was professional, smooth, pleasant. Being able to use the moving truck was such a relief as we only had to drive three miles to get the items, saved us so much trouble. I think I already have a friend interested in renting there as well!
July 6, 2017
I felt as if my business mattered. Daniel was very professional and helpful.
June 22, 2017
Very polite and informative employee
June 14, 2017
The manager made process simple and quick. Very satisfied with the storage unit. Would us you again if the need arose
June 11, 2017
Store manager was outstanding!!
June 8, 2017
My husband and I worked with Carlos very friendly and very helpful. I would recommend everyone to him , thanks for all your help.
June 5, 2017
Very good service and convinance location!
May 5, 2017
Great customer service.
April 21, 2017
It was good I really like
April 19, 2017
Everyone was friendly and polite! Would definitely recommend
April 17, 2017
Everything has been good. Everyone is very nice. I would recommend that when u have one person on duty, and they take a lunch, that they post their cell phone on the door when they leave. The last time we were at our unit the code machine went down and we couldn't get out. The manager was at lunch and we were stuck. Thank u.
April 6, 2017
Great customer service. Friendly & professional.
March 24, 2017
Very happy. Great service great location. And nice units
March 5, 2017
Excellent service; The manager was friendly and very personable. His experience and suggestions was very helpful in making my decision in renting a unit and deciding on what size unit I needed. Thanks to Carlos for the great service!
March 2, 2017
Great experience! In and out fairly quick, and the site had a unit available for rent immediately that fit my needs.
March 1, 2017
Great customer service. Maggie was so helpful and friendly. Property was clean and easy to access
February 24, 2017
We were extremely happy with US Storage Centers! Craig and Carlos were both extremely helpful and very professional. Both made the process very simple and fast. There are so many things to do when you are moving and them making this process so simple was key! We can't thank you enough! They bent over backwards to make sure that we were taken care of! We even got to use their moving truck for free which was an unexpected savings! And the unit was easy to get to, clean and plenty of space. We will definitely use them again and will always recommend them to others. If you need any type of storage services- don't hesitate- call Craig or Carlos!
February 22, 2017
Both Carlos and Maggie could not have been more accommodating. A fair price and immediate access to the best locations for my specific needs. I would highly recommend their facility!
February 20, 2017
Great...easy process very helpful
February 15, 2017
Great experience friendly employees and easy process
February 9, 2017
The sales rep.carlos was extreamly knowledgeable and was extreamly helpful. I would always come back if I needed another unit.he was happy.polite and gave me all the info I needed...he made experience so smooth and easy it was in believeable. I ve told all my friends about my experience as well.if and when they need storage they will be coming straight to carlos.
February 5, 2017
Everything good Cllean and Safe
February 4, 2017
Carlos Figueroa is excellent he went out of his way to meet our needs for two large storage areas!
January 28, 2017
Carlos was extremly helpfull
January 15, 2017
Carlos is great! Always helpful, friendly and does his best to find a way to help me. Thank you!!
January 6, 2017
The manager Carlos Figueroa could not have been more helpful, personable, and a better representative for your company. He deserves a promotion!
December 21, 2016
FAST AND EFFICIENT
December 12, 2016
CARLOS & THE STAFF ARE VERY FRIENDLY & PROFESSIONAL. THE UNITS ARE WELL LIT & CLEAN, WHICH IS VERY IMPORTANT TO ME.
December 11, 2016
The manager, Carlos, is the best. He is so efficient and knowledgeable. I have no complaints.