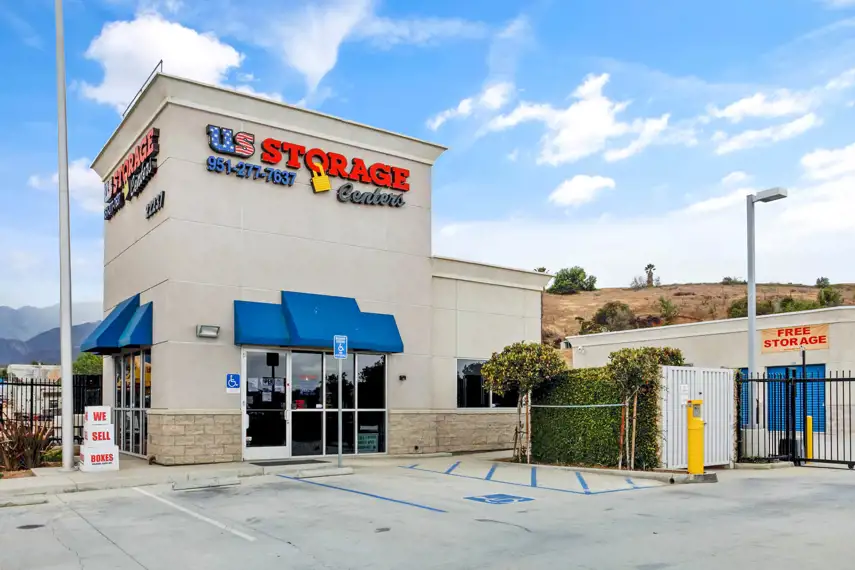 Rent or Hold Your Storage Unit in Minutes.
Location Details
ACCESS HOURS
Mon

6:00am - 10:00pm

Tue

6:00am - 10:00pm

Wed

6:00am - 10:00pm

Thu

6:00am - 10:00pm

Fri

6:00am - 10:00pm

Sat

6:00am - 10:00pm

Sun

6:00am - 10:00pm
OFFICE HOURS
Mon

9:00am - 6:00pm

Tue

9:00am - 6:00pm

Wed

9:00am - 6:00pm

Thu

9:00am - 6:00pm

Fri

9:00am - 6:00pm

Sat

9:00am - 6:00pm

Sun

10:00am - 5:00pm
FEATURES AND AMENITIES
Free Move-In Truck
Drive Up Access
Electronic Gated Access
Video Recording
Employee(s) Speak Spanish
Moving Carts
Kure It Certified Location
ABOUT THIS LOCATION
Corona Self Storage Units.
Read More
Photos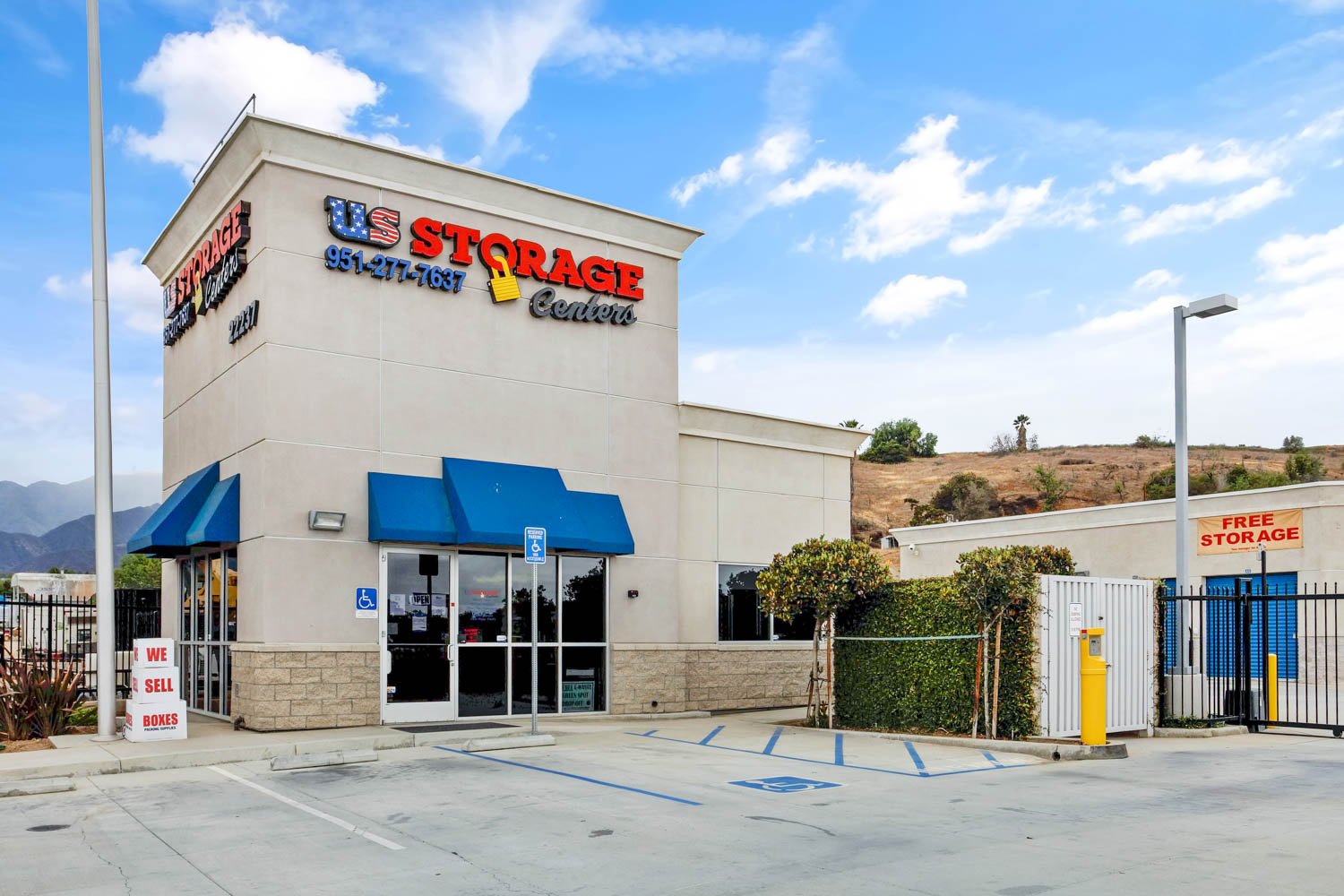 About this Location
Facility Description
US Storage Centers in Corona, CA offers storage units that are drive up accessible, making it quick and convenient to get to your belongings. Our drive ways are wide, allowing a semi-truck to be able to maneuver through the storage facility easily. We have moving carts on site to assist with moving your belongings to the right place within your storage unit. We have a free move-in truck available to first time customers who can use the truck for 50 miles for free. The truck includes a dolly and ramp to make loading and unloading items easy.
Easy Rental Options
Rent your storage unit online or over the phone for a quick move in. 
Not ready to rent? No worries! Reserve your unit now to lock in today's special discount.
Month-to-month rentals
No credit card required for reservations
No deposit required
Security Features
We have electronic gated access, so you can get to your property anytime you want without letting the general public in. We also have 24-hour video recording and our facility is incredibly well-lit, so you can clearly see what's going on around you. We also have cylinder locks as an added security measure.

Conveniently Located
You can clearly see our facility from the Corona Freeway. We're just down from the Volvo construction equipment company. You can follow the red brick fence right to our entrance. The fastest way to get to our facility is to take the Corona Freeway exit 90 onto Dos Lagos Drive. Head left and turn left onto Knabe Road.
Forms of Payment

It's easy to pay your bill! We accept cash, checks, money orders, Visa, and MasterCard. You can also pay online through our secure client login.

Languages Spoken by Managers

Fluent in English and Spanish

The Community
Corona has a nickname for every stage of its history. Originally known as the "Lemon Capital of the World," it later became known as "Circle City" in reference to Grand Boulevard, a nearly 3 mile circular street encompassing the historic center of the city. In recent years, in consequence of major land development in Corona and neighboring communities it has been referred to as the "Gateway to the Inland Empire."

No matter what you call Corona today, it is still a great place to live. Jump on the Riverside or Chino Valley Freeways and you are halfway to everything in Southern California. As a bedroom community for Los Angeles and Orange County, traffic is either coming or going around the clock.

Grand Boulevard was once home to international auto races in 1913, 1914, and 1916. Today Corona is home to exotic car companies Saleen and West Coast Customs, examples of Corona's past creating its future.

Corona is also a center of industry. The Fender Musical Instruments Corporation manufactures their finest guitars in their Corona Factory. They also have a music center, museum, and a performing arts center. Several global corporations have facilities and manufacturing plants in Corona transforming the area from merely a bedroom community to a bustling center of industry.

Facility Products
We offer boxes (sized small - x-large). We also have wardrobe boxes, packing tape, tape dispensers, mattress covers, bubble wrap, picture moving kits, and locks.
Customer Reviews
overall rating, 305 total testimonials
November 25, 2022
I had a fantastic experience with US storage centers. Carlos and Erik made our move easy and helped us get into the right units. The Corona location is extremely clean and the units are accessible. Thank you !!
November 2, 2022
Absolutely awesome! Although, with so much new development around. I would figure some flexibility to use your moving truck would be nice. I bought a home at the terramor community just down the way and my home will not be ready until feb/march. So I'm slowly moving things over to the storage unit so that my belongings will be closer when my home is ready. I was disappointed to hear that your moving truck is only free to use once within the 30-days of contract. It would be nice if we can use the truck once during the life of our lease.
November 2, 2022
It was a good experience
October 28, 2022
The gentleman who is the ONLY employee at the US Storage in Corona is a gem! Carlos is representing the company at such a high level of service it is unique in the industry. He is truly a pleasure to deal with and makes the process so much easier than any representative we've encountered in over 30 years of needing storage facilities in whatever town were were living in. He treats each customer with respect but also and so important, he treats each situation as unique. he listens and understands that many customers are arriving frazzled and concerned after many mishaps in their move. The facility is spotless and we are super happy with the results. Carlos goes the extra distance to make it so. Without him it would be just another storage place. We would give him 10 stars.
October 4, 2022
No problems and Carlos is so helpful and nice.
October 4, 2022
Very convenient and the Manager Carlos was excellent
September 1, 2022
Very professional and helpful! Great experience!
August 27, 2022
Excellent. Explained everything that I needed to know. Only problem is using the cylinder lock on the door.
August 25, 2022
Was easy to set up and wonderful experience walking in
See All 305 Reviews
See All 305 Reviews