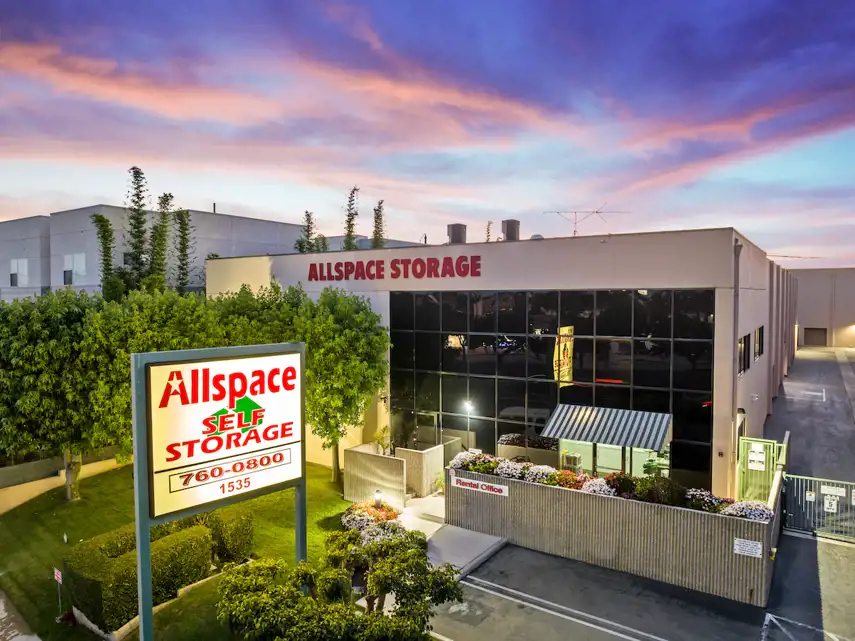 Rent or Hold Your Storage Unit in Minutes.
Location Details
ACCESS HOURS
Mon

7:00am - 7:00pm

Tue

7:00am - 7:00pm

Wed

7:00am - 7:00pm

Thu

7:00am - 7:00pm

Fri

7:00am - 7:00pm

Sat

7:00am - 7:00pm

Sun

7:00am - 7:00pm
OFFICE HOURS
Mon

8:00am - 5:00pm

Tue

8:00am - 5:00pm

Wed

8:00am - 5:00pm

Thu

8:00am - 5:00pm

Fri

8:00am - 5:00pm

Sat

8:00am - 5:00pm

Sun

9:00am - 12:00pm
FEATURES AND AMENITIES
Drive Up Access
Passenger Elevators
Electronic Gated Access
Video Recording
Boxes & Moving Supplies
Moving Carts
Kure It Certified Location
ABOUT THIS LOCATION
Get Organized Today With Allspace Self Storage
Read More
Photos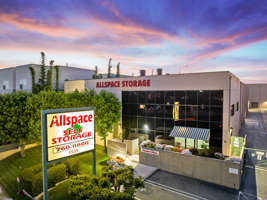 About this Location
Storage Units in Costa Mesa
Allspace Self Storage has storage options designed to work for you, accommodating your needs and budget. At our facility, we have storage units that come in a variety of sizes. Some of the features we offer includes drive up access, elevators, and boxes and moving supplies for purchase at our office. To access the facility, tenants will be given a unique pin code to enter at our electronic access gate during access hours. We also have 24/7 video recording throughout our facility. Come visit our office, we'd be happy assist you with any questions you may have. 
Easy Rental Options
Rent your storage unit online or over the phone for a quick move in. 
Not ready to rent? No worries! Reserve your unit now to lock in today's special discount.
Month-to-month rentals
No credit card required for reservations
No deposit required
Kure It Cancer Research 
We care about giving back to our community. Tenants at this facility have the opportunity to join us by working with our in-hour charity, Kure It, to make a difference. Kure It is a striding Cancer Research program dedicated to supporting underfunded cancer centers. With that, Round Up For Cancer Research program is where current tenants can choose to add $0.50 to their monthly rent and Allspace Self Storage will match that donation 100%.
Costa Mesa Storage Near You
Located in Orange County, the city of Costa Mesa is an urban area with a semi-rural farming community. Many of the locals in the area enjoy shopping at South Coast Plaza and incredible live performances at Segerstrom Center for the Arts. During the summer, family and friends gravitate towards Newport Beach to beat the hot summer heat. With that being said, Allspace Self Storage is a great option for those living in the nearby neighborhoods such as Irvine, Corona Del Mar, and Santa Ana.
Customer Reviews
overall rating, 38 total testimonials
November 24, 2023
The staff is great and works hard to assist customers anyway they can.
November 23, 2023
Jason is a very kind and professional person, he made me feel very comfortable and explained the entire process to me very clearly!! excellent service
November 16, 2023
Very easy sign up and friendly staff. The carts need breaks though. The only negative.
November 8, 2023
JOAN and JASON are amazing incredible customer service and extremely helpful and our prior rentals and in setting up new space rental. I haven't found a better place to rent storage anywhere in Southern California and I've been doing it for years. Thank you Allspace Storage.
October 29, 2023
Fantastic!
October 24, 2023
Awesome!!! Everything was so smooth 🙌
October 14, 2023
The staff, Joan and Adam were great- very helpful and pleasant, but the Units smelled badly and one Unit even had an oil- like substance on the floor!!! I was desperate, but decided against taking these Units(even though I paid)
October 11, 2023
I really liked Joan! The gal who took me through the process of getting a storage unit with allspace. A lovely person and woman. Thank you Joan. Look fwd to seeing you.
October 3, 2023
Good customer service.
September 2, 2023
I had a great experience with the office staff at a AllSpace in Costa Mesa. The staff was very helpful and knowledgeable about the facility, and I appreciated their professionalism.
August 21, 2023
Extremely happy! Joan went above and beyond. My appointment was for a Wednesday but I came in on a Tuesday to see if the 5 × 5 was going to be big enough for me, and it was not. Joan was kind enough to set me a day early and she showed me a 5 × 6 unit which was a little bit bigger and it was closer to the elevator and was only $6 more a month. I am extremely happy.
July 28, 2023
Very good sign up procedure - very thorough
July 28, 2023
Great service
July 14, 2023
Everything was easy and smooth
July 11, 2023
I like the friendly staff, easy acces to unit
June 26, 2023
Very Good Help and Quality Service from Joan&Adam at AllSpace in CostaMesa. I'm a HappyCustomer! ThankYou!!!
June 26, 2023
Great customer service.! Very attentive to any of my needs even tho she was kinda older n a little bit of a struggle for her ralk walk all that way!
June 21, 2023
I love Joan! She does such a great job making me feel welcome and appreciated as a client.
June 9, 2023
Jon had my unit ready all that was left to do was move in. She was so kind and explained all the fees and how they and when they could be charged. The unit itself is perfect for me because it's not too big or too small.
May 31, 2023
Absolutely delightful. Joan and her team have been very kind and helpful during the entire process. I was very hesitant about getting a storage unit after my big move but Joan assured me it was a great investment.
May 31, 2023
Very good service by Adam and a well run facility managed by Joan.
May 24, 2023
This storage facility has a great location and good prices. The staff is also very helpful and they make moving in very easy. Thanks Joan!
May 18, 2023
Joan at desk showed me 2/3 units, the unit i rented is perfect, my marine needs for are boat! The fit was great, with space for more equipment, thank you Joan, Mike (221)
May 12, 2023
It was super smooth Joan held the perfect unit for me and Adam got me signed up easily thanks y'all!
April 20, 2023
Joan and Adam are both just so helpful and lovely each time! Thank you !
April 16, 2023
Joan was very thorough and nice.
April 13, 2023
Everything went well and seamless. The agent who helped me was very attentive to my needs.
April 10, 2023
I appreciated the follow up, follow through, courteous approach, and cleanliness of the facility. Josh was outstanding!
March 26, 2023
The experience was completely positive. Joan was the best she understood the business , shewas professional and personal!! Moving your storage units is tough work and stressful but your staff made it a pleasure to do business with all-space!! Hold on to her she is one in a million!! Heidi and Tom
February 21, 2023
Great place. Excellent staff. Very reasonable price.
February 15, 2023
Good job 👍
February 11, 2023
Friendly and professional
February 7, 2023
Great! Busy place but staff is courteous and helpful!
January 9, 2023
There was pee on the floor
December 26, 2022
Everyone at AllSpace has been friendly, helpful and kind. We needed a storage unit last minute and it was quick and easy.
December 25, 2022
Did and still do feel pleased, if not totally stoked and delighted