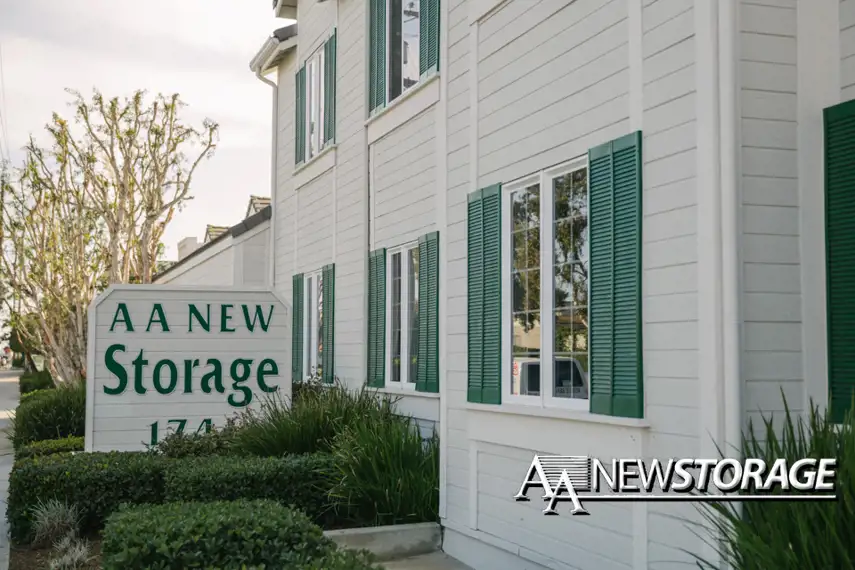 Rent or Hold Your Storage Unit in Minutes. Easy, Contact-Free Rentals.
Location Details
ACCESS HOURS
Mon

7:00am - 8:00pm

Tue

7:00am - 8:00pm

Wed

7:00am - 8:00pm

Thu

7:00am - 8:00pm

Fri

7:00am - 8:00pm

Sat

7:00am - 8:00pm

Sun

7:00am - 8:00pm
OFFICE HOURS
Mon

9:00am - 5:30pm

Tue

9:00am - 5:30pm

Wed

9:00am - 5:30pm

Thu

9:00am - 5:30pm

Fri

9:00am - 5:30pm

Sat

8:00am - 4:30pm

Sun

Closed
FEATURES AND AMENITIES
Free Move-In Truck
Drive Up Access
RV Parking
Electronic Gated Access
Video Recording
Moving Carts
Alarmed Unit
Kure It Certified Location
Photos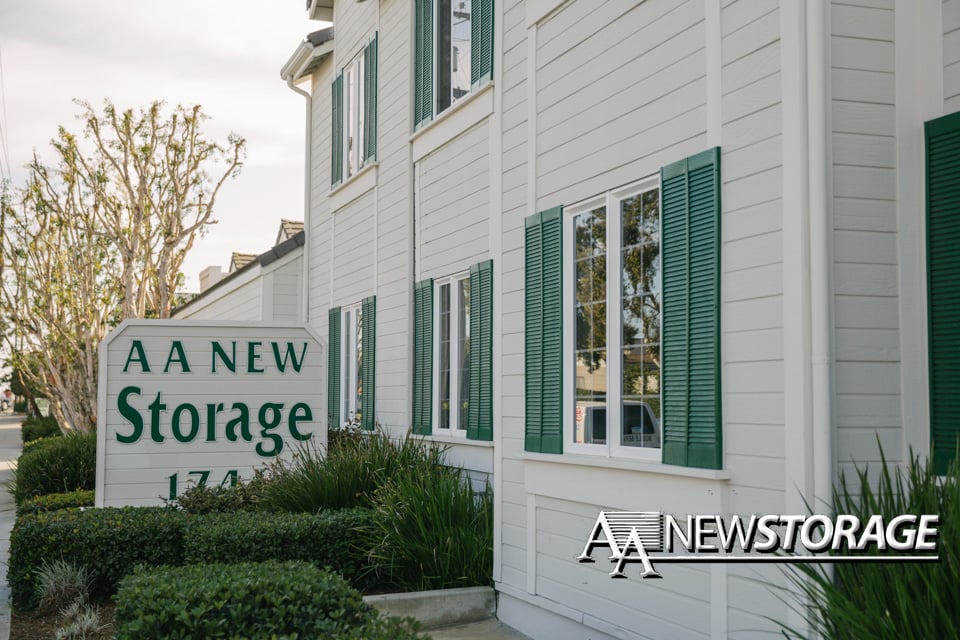 About this Location
Facility Description
Located just off of Whittier Ave. in Costa Mesa, California, AA New Storage is easy to find and conveniently located. Our modern facility makes storage for you easy and secure, as we provide both indoor and outdoor units. Our spacious reception area is warm and welcoming, and you will enjoy the standards of cleanliness to which we hold our facility. Our facility is surrounded by reputable neighborhoods but is secluded enough keep your storage private and secure.

We are just blocks away from other known businesses, including Raging Bull Performance, the 17th Street Recording Studio, and Burns Stainless Steel, LLC. We are also located just south of Canyon Park, and east of the Santa Ana River. We serve clients located throughout Costa Mesa, but many of those who use our services also live in Westside Costa Mesa or are students at Orange Coast College.
Contact-Free Rentals – Easy Online and Phone Rental Options 
 Online Rental
 Select your unit and enter your info and payment
 Sign the lease online
 A manager will reach out to you with your access code, a map of the property, and they'll have you email a copy of your valid government picture ID
 Once these steps are complete, the manager will prepare your unit so it's ready when you arrive
 Phone Rental
Simply call the number listed at the top of this page, and a member of our staff will work with you over the phone to complete a rental
The manager will email a lease to sign
Once the lease is signed, a manager will reach out to you with your access code, a map of the property, and they'll have you email a copy of your valid government picture ID
Once these steps are complete, the manager will prepare your unit so it's ready when you arrive
Storage Units
We have the best storage units in Costa Mesa! Not only do we have four buildings, comprising 123,377 square feet of rentable space (across 772 units), but our storage units also come equipped with amazing features. For example, our storage units are available in a variety of sizes, ranging from as small as 5'x5' to as large as 10'x30'. There is drive up access provided, moving carts available, and even a free move-in truck for your convenience! We also have boxes and moving supplies available.

RV & Boat Storage
In addition to traditional storage units, we also have space for boats, automobiles, and RVs too! Our parking and access is wide and open, which makes storing any of your recreational vehicles very simple. We have eliminated tight and sharp corners so you will be able to access your vehicles easily and quickly anytime you need them. Parking space width may vary from spot to spot. Please call the property manager for more details on Parking Space sizes. 
Security
Security is one of our most important features at AA New Storage. We protect our facility with electronic gated access which can only be used by those who have a unique pincode. We also have interior units which come equipped with individually alarmed units and locks, whereupon you are also encouraged to place your own lock. We also provide 24/7 video recording of our facility to make sure your belongings are always guarded.

Professionally Managed
We want to make sure that you are comfortable when you store your belongings in our facility. If you ever have any questions or concerns, you will feel at ease asking our competent and helpful staff to assist you. We work hard to make sure that you get exactly what you are looking for in a storage unit, ranging from the right size of unit to a unit location that works for you.
Forms of Payment
We accept all major forms of payment, including debit card, credit card, cash, check, and money order. You can make your payments in the manner that is most convenient for you, including over the phone, in person, or online.

The Community
We serve a diverse group of people in the Costa Mesa area! This includes many students of Orange Coast College, as well as families and many working professionals. Due to our proximity to the beach, many outdoor enthusiasts use our facility as a place for sports and beach equipment storage.
Customer Reviews
overall rating, 185 total testimonials
December 7, 2021
It was excellent. Everything and everyone was great. Highly recommend the use of this facility.
December 3, 2021
Thorough and timely process.
October 28, 2021
Was the simplest thing i have done in a long time the facility is very clean and seems to be pretty secure . I looked at somd places that gave me a bad feeling not AA storage very professional!!
August 2, 2021
Very comfortable and secure
July 31, 2021
Helpful and kind
July 31, 2021
Very efficient, provided answers to all my questions and help me set up a new unit within a few minutes
July 13, 2021
The team at AA New Storage are the best. Great place to store your belongings.
July 10, 2021
Beautifully maintained, great staff.
June 15, 2021
It was fast friendly.. Security is great.. And it's open later than most.
June 14, 2021
Very professional and helpful.
May 21, 2021
Great well kept location, friendly knowledgeable staff.
May 14, 2021
So responsive and friendly and accessible! Could not be better.
May 12, 2021
Our experience with AA New Storage has always been stellar. Professional staff, always helpful and efficient. We couldn't be happier!
May 11, 2021
Went great. Great team
May 10, 2021
I've been with AA New Storage for years now and and wouldn't go anywhere else! The facility is very clean and safe and the customer service is absolutely amazing. Also, the complex has an actual 'ocean view' which is a huge perk. The manager, Victor, is such a wonderful person is always very friendly and helpful. Overall, I give them a full ten stars!!
April 25, 2021
Very good.
April 14, 2021
Fantastic! Best storage Highly reccommend
April 12, 2021
We felt very welcoming.
March 31, 2021
I'm bothered by the fact that you asked this question in the past tense, when you said how did you feel. Because I feel fine not only in the past tense but in the present tense and, I expect to feel fine in the future tense.
March 16, 2021
Great experience and customer service!!
March 12, 2021
professional
March 12, 2021
The office staff is very friendly and helpful. The use of the truck was a big plus
March 10, 2021
Easy rental and checkout. Great lighting, easy access, good hours. Very clean facility.
March 6, 2021
This is by FAR, the best storage facility I have ever dealt with !!!! Victor and Anna are very nice, down to earth people. And the cleanest facility, to top it all off!!!management / overall gets an A +😃😃😛😃😃😃😃😃😃😃😛😃😃😃😃😃😃😃😃😃😃😃😃😃😃😃😃😃😃😃😃😃😃😃😃😃😃😃😛
October 15, 2020
My experience went very well with Victor the manager I experienced renting space 7 years ago which also went well with Victor. I would recommend your company every chance I get.
October 6, 2020
Have had storage at AA for 20 plus years, always clean, always great service especially from Victor! A few recommendations are, wish it was air conditioned and had a little better lighting. Otherwise I would give AA a 10!
September 24, 2020
love victor and ana
September 2, 2020
AA Storage in Costa Mesa is very professional and provides excellent customer service.
August 26, 2020
Victor and Anna were both extremely friendly, thorough and helpful! We looked at several storage and AA New Storage stood out from everyone else.
August 21, 2020
Victor made the process go very smoothly.
August 19, 2020
Front desk person was incredibly helpful and friendly. The place feels safe and clean
August 10, 2020
very friendly and professional
July 25, 2020
Very friendly , informative and aware of my needs. Definitely the best storage experience I have had! Even though the last one had cookies, candy and bottled water😁
July 17, 2020
You guys are great!
July 2, 2020
Everyone at AA New Storage is very help and great to work with. I have had multiple units over the past 10 years and would highly recommend them.
June 14, 2020
victor was very proactive about letting me know when additional units are available. well maintained, clean and safe.
May 5, 2020
Victor is amazing. Great customer service and very friendly
April 16, 2020
The best storage experience one could have. Clean, ocean view and most importantly, the staff. Victor, Anna and Rose are wonderful.
April 15, 2020
It was nice I can't remember the gals name that helped me. She was really friendly. And professional. She explained how it all works. Showed me around the property. Which is berry clean. Showed me the unit how the key pad works to get access onto the property. I was in and out in under thirty minutes. Thanks again for all your help.
April 15, 2020
Everyone at AA New Storage is always so friendly and helpful. Moving can be a stressful time, but renting storage from AA makes the process simple.
March 25, 2020
Great Service
March 11, 2020
Anna has been super professional and made the process of renting a storage unit very easy. The facilities are clean and easy to access.
March 3, 2020
It was perfect. No complaints. Everything was handled quickly and professionally. Great experience.
February 10, 2020
There's no one that can match Victor's customer service. He is outstanding and goes the extra mile. I have known him for many years and he is consistently professional and goes the extra 120%.
February 4, 2020
Recomiendo este lugar las personas son muy amables y los storage están limpios buenas condiciones👍🏻
February 2, 2020
Very friendly staff and easy access to the facility.. Very clean and well lit. I will definitely recommend your storage to my neighbors. Thank you again..
February 2, 2020
Excellent
January 30, 2020
It was great! I have personally complimented both Anna and Vincent for their great service, pleasant demeanor, and ability to make the process as painless and efficient as possible. I have already recommended to several friends. AAA+ Best, Tara Johnson
January 28, 2020
We are very happy with the service and professionalism of the staff at your Costa Mesa Office. We look forward to our time with you.
January 27, 2020
It was a good experience
January 10, 2020
Clean, safe site Victor, Rose and Anna are very helpful and nice.
January 8, 2020
We were on a waiting list due to our needs. Once our name came up we were called right away and moved in the same day. Excellent customer service.
December 31, 2019
Very efficient and friendly
December 26, 2019
Victor is great about keeping the property up and keeping me aware of availablity on additional units.
December 18, 2019
Excellent. Victor is amazing and a true representative of service excellence.
December 12, 2019
Good. I have had a unit there for years.
December 6, 2019
Great Team of people working here!
November 19, 2019
It was super easy! Rose is great and very professional.
November 15, 2019
It is always a great experience. I just wish you'd prices weren't so high.
October 20, 2019
Everything was fine
September 28, 2019
Very happy with the people working behind the desk. Very accommodating .
September 27, 2019
Good,Victor was a great help! With all his experience and knowledge
September 27, 2019
Victor is Great Thanks
September 21, 2019
excellent
September 21, 2019
The help was excellent and the place is clean and well managed. Victor and Ross was extremely helpful. Keep up the good work. Jerry V.
September 19, 2019
I love your storage place the gentleman that handles the front desk is great!
September 18, 2019
Victor the manager is always extremely helpful! He is the reason I have rented 2 more addtl units over there! I do wish it wasn't so hot inside though!
September 16, 2019
Very easy! Victor was very informative! Great location for us.
September 12, 2019
Great, rose was awesome, and everything is clean and secure. the free usage of the box truck is a huge us as well. thanks!
September 9, 2019
Great. So helpful, great facility, safe, competitive price. Love the use of the truck.
September 8, 2019
Thorough, friendly, and all needs were met.
September 5, 2019
It was great!
August 21, 2019
My experience with AA storage was one I could never forget. The staff was super friendly and provided me with all the material I need to have a easy move.
August 13, 2019
It was amazing. We were helped and answered all of our questions and concerns. Lady on front desk, the best... she is an amazing, polite person. Love her. Thank you and definitely would be a customer for a long time.
August 8, 2019
Outstanding Customer Service.
July 19, 2019
Victor (onsite manager) was very attentive and helpful by providing information and suggestions so that we were able to choose the right size storage unit.
July 5, 2019
All happy here! S
June 29, 2019
Always pleasant, Victor awesome.
June 28, 2019
Helpful, professional staff, clean and convenient storage!
June 14, 2019
It was so easy to get my space reserved online and then even easier when I got into the office. Rose helped me get everything situated. She was so awesome.
June 13, 2019
Professional Clean Kind
June 3, 2019
The manager went above and beyond to work with me and make it a good experience I would highly recommend this storage facility.
May 23, 2019
The staff is so kind & helpful
May 17, 2019
wonderful!Victor and Rose are so incredibly helpful and both showed great care and concern to meet my storage needs. Highly recommend these folks! Blessings!
May 17, 2019
Sorry for taking so long to give feedback. ..my computer was packed away. The lady who helped us when we rented our unit was the nicest person and so helpful! The world needs more people like her!
April 26, 2019
Clean facility. Courteous service.
April 3, 2019
You guys are great thanks
April 2, 2019
Wonderful manager up front! Clean spaces with wide walkways and carts to use, which made moving things much easier.
March 18, 2019
Easy to get the unit leased. Great people to work with.
March 12, 2019
Amazing customer relations from Victor and Rosa
March 9, 2019
Rodajas great Custer services skills ,very happy doing business with you
January 24, 2019
Victor is awesome, and the reason I came back to this facility.
September 14, 2018
Great! Went to multiple storage units in the area...by far the best, in my opinion. Thank you
August 7, 2018
victor & Rose are very positive, helpful & a pleasure to work with. I really appreciate their understanding in a very stressful time for me. they set me up with the movers who did everything in a very timely manner. thank you all again, kathy
June 25, 2018
Great service, knowledgeable and able to assist expeditiously
June 24, 2018
Office staff extremely kind and helpful.
June 18, 2018
I have had a couple of storage units over the years at other places. This is by far the cleanest, best run one. I think your staff is extraordinarily helpful and nice. I love the piped in music that makes it feel friendly. I wanted an interior unit to avoid dust and it is very clean.
June 17, 2018
Great location and friendly employees....
June 12, 2018
Very nice and easy to work with
June 7, 2018
Great service very helpful
May 26, 2018
Very good! Great customer service.
May 15, 2018
Very nice experience. Great customer service. The facility is really clean and the staff is very helpful. They even provided a truck to move my belongings from my other storage unit.
May 7, 2018
It was great..
April 23, 2018
Very easy to rent a unit here. Thank you for making it simple and stress free.
April 19, 2018
The manager was very helpful and very nice. I have used them several times and I would recommend them to anyone . The storage units are extremely clean.
April 19, 2018
I appreciate that it is clean inside and outside Even the piped in music is nice. When I approach the gate, either on entrance or exit, often the "see me" from the office and open the gate for me !!
April 14, 2018
Victor is great I know AA storage Is very secure with my storage space
April 10, 2018
They were great
March 14, 2018
very professional
March 14, 2018
The staff is really friendly and helpful. The storage units, driveways, and hallways are always immaculate. Great job.
March 11, 2018
Great staff who really care. They made a stressful move go a lot easier for my family. I would not go anywhere else. We have been using AA Storage for many years with total satisfaction!
March 3, 2018
Great complex and good staff. Victor and Rosa are always helpful.
March 1, 2018
Rose and Victor were always outstanding in offering sincere helpful service. This is by far the Mini storage complex from a easy to access desing
February 26, 2018
Victor is extremely helpful and friendly.
February 24, 2018
Victor and Rose are great! The place is always secure, clean, well maintained and there are no problems.
February 24, 2018
The staff at AA Storage are friendly, professional and helpful. The storage units and the entire grounds are always clean. I feel very safe each and every time I go to my storage unit. Highly recommend AA Storage!
February 3, 2018
You guys are great and very helpful and try to help me. Bill. Warmington
January 30, 2018
We had previously rented from you before, so we knew where we wanted to store our belongings again.We are happy with location, staff and overall facility.
January 26, 2018
I have been a long time tenet here at AAnew storage. I have to tell you that I have had storage units in the past and this is by far the best high-quality storage units around. The staff Including Victor, Rose and Anna always there with a smile courteous service director has been a manager for as long as I can remember probably 10 years since I've got here, Rose has been with the property for several years and comes from a very experience background she has added a lot of value to this experience. I highly recommend this company to anyone who is looking for discriminating high-quality and high-class storage rental. Thank you Bruce Schoenberger
January 22, 2018
I feel comfortable
January 12, 2018
I loved my experience. Victor is amazing and a true gem - recommend you give him a raise if this type of thing is in order, as he is such a great asset to the success of the customer experience. Also, just to coment further the units are always clean, facilities free from any trash, dust, rodents, etc and they are always felt like safe premises. I would definitely recommend and have already recommended my friend Tawny to your location. Kind regards, Cathy Moon
January 3, 2018
The service & storage space provided has been great. Thank you
December 31, 2017
Clean, friendly.
December 24, 2017
Great manager!
December 14, 2017
Facility is always kept clean, well lite and secure. Staff is always helpful and professional.
November 28, 2017
Very good company excellent service very clean area 100% satisfied with the service I have received.
November 19, 2017
All the ladies are pleasant and helpfull
November 15, 2017
We like the facility, however I don't like that the price has increased so frequently. If I continued to increase my prices on customers, I'd start loosing their business...
November 5, 2017
Great! Victor is extremely helpful! We started out with one unit and now have two!
October 26, 2017
very positive!