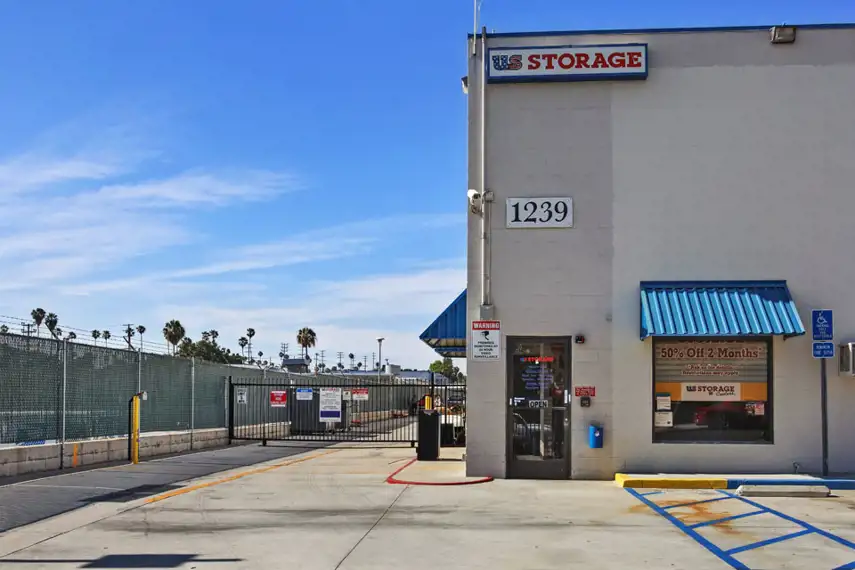 Rent or Hold Your Storage Unit in Minutes.
Location Details
ACCESS HOURS
Mon

7:00am - 7:00pm

Tue

7:00am - 7:00pm

Wed

7:00am - 7:00pm

Thu

7:00am - 7:00pm

Fri

7:00am - 7:00pm

Sat

7:00am - 7:00pm

Sun

7:00am - 7:00pm
OFFICE HOURS
Mon

9:00am - 6:00pm

Tue

9:00am - 6:00pm

Wed

9:00am - 6:00pm

Thu

9:00am - 6:00pm

Fri

9:00am - 6:00pm

Sat

9:00am - 6:00pm

Sun

10:00am - 5:00pm
FEATURES AND AMENITIES
Drive Up Access
RV Parking
Passenger Elevators
Electronic Gated Access
Video Recording
Employee(s) Speak Spanish
Moving Carts
ABOUT THIS LOCATION
No Room for College Stuff? Get a Harbor City Storage Unit.
Read More
Photos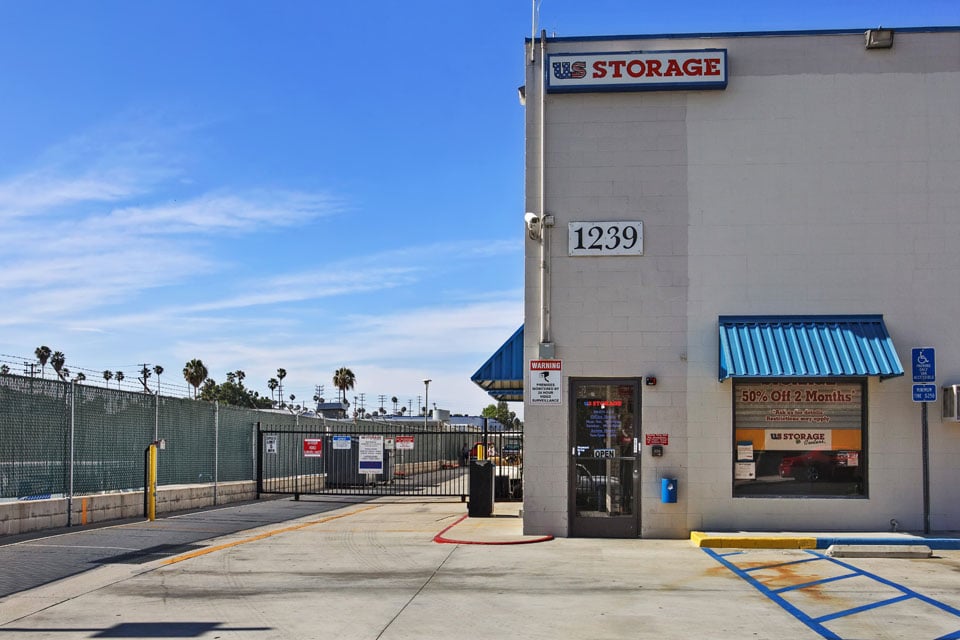 About this Location
Facility Description

Our storage units in Harbor City, CA come in all different sizes to accommodate everyone's distinct needs. This property offers sizes from 3' x 3' locker sized units to large 10' x 36' drive-up units. The ceiling height on non-locker units is at least 8' to 10' high. The wide hallways include motion-detected lighting for your convenience and security. 

All the units have an easy roll-up door with a mix of drive-up style and indoor storage units. There are freight elevators and flatbed carts available to make your move as smooth and easy as possible. 
Easy Rental Options
Rent your storage unit online or over the phone for a quick move in. 
Not ready to rent? No worries! Reserve your unit now to lock in today's special discount.
Month-to-month rentals
No credit card required for reservations
No deposit required
Your Local Neighborhood Facility

Our storage facility is located behind the Harbor City Post Office and across from Pep Boys. You can spot our four block long building when driving down Normandie Avenue. Our major cross streets are Normandie Avenue and 255th Street (right before Pacific Coast Highway).

Many of our customers live in the surrounding areas of Harbor City, Torrance, San Pedro, Lomita, Wilmington, and Carson.

Boat & RV Storage

Boats and RVs can be stored in either 25' or 34' parking spaces available at the facility. Parking space width may vary from spot to spot. Please call the property manager for more details on Parking Space sizes. 

Security

The Harbor City, CA property is double gated and tenants gain entry with a unique access code. We use special heavy-duty disc locks and perform three lock checks a day for your protection. Fencing surrounds the entire property, 24-hour digital video recorders are in place, and after-hours motion detecting perimeter beams are additional features of our storage facility.

Languages Spoken by Managers: English and Spanish.

Forms of Payment

Paying your bill is easy. Payment options include: cash, checks, credit/debit cards or money orders. You can process your transactions either in the office, by mail, online, or by calling our automated telephone payment system.

The Community

Our Harbor City, CA self-storage facility is in the middle of a classic family community with parks and shops encompassing the area. A couple of blocks away you can find the Harbor Park Golf Course, which is a 9-hole par 36 regulation course surrounded by large, beautiful trees. We also have the Ken Malloy Harbor Regional Park where you can spend your day barbequing, hitting balls on the baseball diamond, riding your bike, or playing soccer on their beautiful field. If you are looking for a scenic spot, South Coast Botanical Garden has gorgeous California native flowers and plants you can admire.

Harbor City is also not too far from the world famous San Pedro's Ports O' Call Village. In this 15 acre, New England-style seaside town, you can enjoy the assorted selection of specialty shops and eat freshly caught seafood while overlooking the harbor. As the ocean breeze runs through your hair, you can admire the ocean life and watch cruise ships pass. This marketplace holds annual events celebrating the community's culture, and attracts people from all over Los Angeles. It's a perfect spot for a family outing or a romantic date night.

Moving Supplies

• Storage Bags • File Boxes • Mirror Boxes • Wardrobe Boxes • Small-XLarge Sized Boxes • Dish Pack Kit • Bubble Pouches • Bubble Wrap • Carton Cutter • Mattress Covers • Sofa Covers • Chair Covers • Foam Wrap • Cylinder Locks • Moisture Absorbers • Packing Noodles • Packing Paper • Paper Pads • Picture Moving Kits • Stretch Wrap • Tape • Tape Dispensers
Customer Reviews
overall rating, 238 total testimonials
March 2, 2023
Hello, I rented a storage unit and Jackie was so wonderful and helpful Everything is easily accessible and clean Thanks for a great service
January 12, 2023
Great experience.
December 9, 2022
Very good for service. The price is too high!
December 9, 2022
I was sold a lock that didn't fit on my unit.
November 22, 2022
Hi I was treated with respect and goes along way with me I recommend us all the way
November 12, 2022
I dident really have a problem with the storage was the dead mice I found in my storage and found my stuff chewed through.I would like to put it all past me if I'm able to move to the facility on Carson and Wilmington if that is possible and possibly be compensated for the first month.I really do enjoy us storage I just would like a different location Thankyou.
July 21, 2022
She answered all my concerns
July 19, 2022
Jackie the on-site Manager was great! Very personable and customer service oriented getting me set up with my storage unit.
June 19, 2022
I have an inside storage, maybe have an motion lighting installed in the hallway.
April 5, 2022
Wonderful I was very pleased customer service was impeccable.
March 22, 2022
The manager was so friendly and helpful. Everything is really clean.
March 16, 2022
It was very Quick and easy. The staff was very friendly and helpful.
February 23, 2022
Very good! They guy helping me was great.
February 21, 2022
Good job!
January 21, 2022
So far everything is great very satisfied
December 16, 2021
Front office very nice and helpful.
November 26, 2021
Really good and welcoming...
October 14, 2021
Great staff, friendly, knowledgeable
October 12, 2021
It was Outstanding BUT the problem was that the Elevator was OUT for 2 days that I knew of, it was probably out longer than that...GET IT FIXED!!!!!
October 3, 2021
Amazing. Jackie and Joseph are both incredibly friendly, helpful, and hard working. They both deserve a huge raise for the amount of work that they put in and their awesome demeanor. Unit was clean, safe, and the facilities were well maintained.
September 8, 2021
Great! No complaints
August 23, 2021
My y bien
August 18, 2021
They were the best thanks a lot to all
July 11, 2021
Happy. Great customer service, nice friendly staff and management.
June 15, 2021
Greetings of peace and love Greatful i found U S Storage Very greatful you help me, Thank yo🤗po
June 10, 2021
Great experience, first time renting a unit. I must say Joseph was great and very informative. Helped me feel very safe and comfortable leaving my belongings in the unit. Thank you Joseph and US Storage!
May 21, 2021
Fast excellent customer service
May 17, 2021
Great they always accommodate my needs wether it's additional storage units or if I need RV parking. The staff are professional and courteous at all times. I would recommend this Storage facility 100%.
April 27, 2021
Easygoing and fair
April 21, 2021
Very good and secure
April 20, 2021
I felt really good about my experience...
April 11, 2021
This is my second time with this storage center. All is good. I just hope my rent doesn't go up as much as it did last time I rented from you.... it went up a number of times.... that's the thing I don't like.
April 7, 2021
It was a positive experience. I've been here before, and the high quality service and ease of accessibility made me return. The young woman who helped me was exceptional, I think her name might have been Jasmine.
March 22, 2021
It was good. Thanks.
March 20, 2021
Jackie was amazing! Very helpful
March 17, 2021
Very nice and helpful
March 10, 2021
Jackie was GREAT. She went beyond to help me. I was stressed with prices n location. Being only one n 76 to visit storage I was afraid to get tucked in to far into facility. She put close to a door n a short walk in. I just wished I was closer with same size nearer the office, the price was higher. I'm quite far down the road. But I'll manage.
March 7, 2021
Great Job well Done with excellence.
February 25, 2021
I had a great experience the girl at the front desk was very polite, she helped me with my needs she went above and beyond for me, Thanks US Storage for great customer service.
February 11, 2021
Joe helped me, and he did a very good job explaining the process and the policies. He was polite and helpful. I would recommend this facility to my friends based on my positive experience.
February 9, 2021
Jackie was very patient, kind and willing to go the extra mile. She gave me options and that was important for me!!!
February 7, 2021
it was good.
February 2, 2021
Friendly service. Clean facility.
January 16, 2021
good and happy with the serves
December 17, 2020
Very easy and fast to help and answer questions.
December 16, 2020
When I first signed up for my storage the first day,, the gentleman was very helpful, and the second time I went to take some stuff to storage,, the girl in office knew I didn't have a lock so I bought one there in the office, but didn't get up and go with me to take the old lock that was still on my unit off,, I was a little upset having to walk all the way up there then had to come back to tell her to take that one off so I could put mine lock on,, she didn't even apologize for the inconvenience,, maybe she was tired or having a bad day,, I don't know,,
December 15, 2020
Really great
December 14, 2020
Quick and painless
December 14, 2020
It was a good experience fast and easy
December 12, 2020
I have not heard of U S Storage Centers. I am familiar with Public Storage and very disappointed with them. I am so glad I came across a different, more professional and even a joy to visit business that I have used in the past. Thank you Jason for asking me what I think about U S STORAGE CENTERS.
October 28, 2020
It was a good experience
October 13, 2020
First time renter with us storage and it couldn't have been any easier. Your employee Joe was amazing and left me leaving with all question and concerns answered. He was very helpful in helping me choose the right storage for. It was the most simplest process and i was in and out in no time with keys to my storage. Thanks Joe
September 28, 2020
It was fast service
September 15, 2020
It was very nice and professional, Joe was very helpful thank you
September 10, 2020
Very courteous and knowledgeable staff they were attentive and handled my request promptly
September 2, 2020
Jackie was amazing. She went above and beyond to ensure my reservation was honored.
August 29, 2020
Jacqui has been really helpful at answering all of my questions. She made me feel comfortable paying for and hiring storage at this facility. I would definitely recommend family and friends to this location
August 12, 2020
Getting the storage was quick and easy. Took one day to actually be able to start using the storage
July 8, 2020
I signed up with a gentleman names Joe....he was WONDERFUL. I had never rented a storage unit before and he explained EVERYTHING very clearly and was very nice....THANK YOU JOE Lisa Sweet
July 1, 2020
Good and cofortable with the staff ..we wen to a tour round the yard and make a decision to rent the unit I need
May 21, 2020
Estoy contento con el servicio! Gracias!
May 5, 2020
The process of renting a storage place was quick, pleasant, and affordable.
February 27, 2020
Reservation by phone was finally not done and not confirmed Crew in Harbor City was Nice and helpfull
February 19, 2020
great customer service. helped us and found what we needed.
February 10, 2020
Very good. Excellent customer service. Clean environment. Will tell others.
January 22, 2020
Had a great experience and gladly would have gone through this again. Miss Jackie was helpful and curious.
January 8, 2020
Very friendly like great service
December 21, 2019
Everyone was extremely helpful and kind during the renting process of a unit at the Harbor City location.
December 14, 2019
awesome sweet staff
December 13, 2019
Friendly and professional.
December 3, 2019
Great helpfull service. Diana was very helpfull and answered all my questions.
November 13, 2019
Itbwas quick and easy and Diana was a pleasure to have help me. Very knowledgeable and extremely informative and very pleasant
October 31, 2019
Good service
October 7, 2019
Great employees
September 16, 2019
Had a wonderful experience renting a storage unit from the Harbor City location.
August 28, 2019
Muy buen servicio y todos muy amables lugares muy seguros
August 25, 2019
The aides were awesome! I can't remember her name but she,lol make an awesome manager!
August 6, 2019
First interaction was fine. A new employee was being trained. That slowed things a little, but it wasn't an issue
August 4, 2019
Perfect. Easy to understand. Fast and good service. I would definitely recommend the company.
July 24, 2019
Easy and great customer service
June 26, 2019
Very helpful Very informative Thank you
June 12, 2019
Curtious,frendly, and efficant service,the best around ! very pleased !
June 11, 2019
The employees are absolutely GREAT!!!!! I've used numerous storage facilities and these ladies by far exceed ALL THE others. Can't say enough good things
June 3, 2019
Staff at this facility were very nice and very helpful. The rates were pretty reasonable I highly recommend it.
May 30, 2019
The associate manager who assisted me was very courteous, patient, and helpful. She went out of her way to make my experience a pleasant one. Thank you, Sandra!
May 26, 2019
Manager was great! There should be always one person in the office to assist customers when the manager is away.
May 23, 2019
Manager Diane (if I remember the name correctly?) was super nice and helpful! Doing a great job!
May 21, 2019
Best price in the area for the size. I didn't know about a promotion and the manager voluntarily applied the promotion. That's how you do business. I will be staying for at least two years.
May 20, 2019
Diana was professional and lovely! And the price was competitive. Thank you for a smooth transaction!
May 18, 2019
Your employee was very nice friendly and helpful
May 11, 2019
Diana is awesome, very knowledgeable and helpful. I immediately felt comfortable and the prices are the best I've seen. Both ladies there are very nice.
May 11, 2019
The lady that checked us in, I've forgotten her name, was very friendly and efficient. She explained everything clearly. It was a pleasure doing business with such and employee.
May 2, 2019
So far, very good.
April 18, 2019
Excellent staff very friendly professionally, truthfully 100% satisfaction.
April 11, 2019
Customer service is great facility is kept clean would reccomend this storage area to anyone in need and prices are reasonable no complaints here.
April 3, 2019
Very nice facility and the representative was super helpful.
April 2, 2019
Easy signing in friendly helpful staff
March 18, 2019
Great & smooth experience ! Sandy is great at explaining everything and was a huge help
March 7, 2019
After a long period of time with Public Storage we decided to find a new place to store all of our excess items. We were very impressed with the lady in the office, she actually seemed to care about our problems and offered and took the time to actually show us the best deal for us particularly with an 84 year old who can't handle steps. We now have twice the storage, with drive up privilage and a lower cost. Thank you U S Storage
October 24, 2018
The best! Sandy was totally understanding and accommodating of our urgent needs. Sweet, fast, and extremely informative!
October 23, 2018
Your team on site was really great. They were really helpful and made it easy to get signed up. The facility is very clean and organized as well.
October 11, 2018
Excellent in every aspect.
October 5, 2018
Your sale person Neal was very helpful and generous to what we needed
October 4, 2018
The Lady whom derive me was so friendly and very helpful showed me around so that I got the storage space that I needed.
October 1, 2018
Very good
September 29, 2018
Very good
September 27, 2018
I am 110% satisfied with my experience with US storage centers. I would recommend this facility to anyone looking for clean, cost efficient units and friendly service. Neil was professional and direct and yet friendly and made me feel at ease immediately. Sandy was all smiles, bubbly and happy as well as totally efficient in her job. She showed me the unit I was interested in, but because it had a loose part on the door mechanism said it had to be fixed before they could rent it out (I like this, not shoddy, they make sure your unit is 100% correct and safe) yet she showed me another one that was even a better deal and best for my situation. I feel safe being there, there is 24 hour surveillance, it has wide lanes-easy to park on the side while you unload, there are dolly's available(both kinds) as well as an industrial lift-efficient and clean. Plus, I do like the way there is music played all the time, it just makes dealing with storage so much easier. the times I was there they played the WAVE, which can appeal to anyone. Again, Thanks for the great help, and friendly service!!!
September 23, 2018
Helpful and friendly team. Answered all my questions as a first-time renter. Made me feel confident that my storage will be safe.
September 13, 2018
Neal was a great person to work with getting me a storage, thank you.
September 12, 2018
Friendly, helpful and awesome prices! Super happy with this location and the size of my unit.
July 19, 2018
Staff was very friendly
July 6, 2018
I am extremely happy. Neil and Sandy are awesome! The facility is clean and despite the hallways being a little scary I felt safe. I am grateful to Neil and Sandy for their excellent customer service, professionalism, and willingness to assist me. Thanks again.
June 30, 2018
I'm pleased to say the office attendant was very nice. She was very informative. She answered my questions.
June 9, 2018
Well organized
May 25, 2018
The facility manager was extremely helpful.
April 20, 2018
Great customer service
April 18, 2018
Excellent service. However I was told I might get a refund since I closed my account early but it never happened.
April 9, 2018
great and good price.
April 8, 2018
I have had a different storage units at this location for several year and Neal is always so helpful. He has walked all over the property to find me the unit that was best for me. Always so helpful.
April 6, 2018
My experience with US Storage was very pleasant. Employees were helpful, and caring for my needs. The facility is easy accessible, clean, and secure. I highly recommend US Storage if you ever need a place for your extra stuff.
April 5, 2018
The representative was the best. She answered all my questions and got me the perfect spot that I needed for my RV. I will be recommending friends and family.
April 5, 2018
I've never had to store things I thought it would be difficult. My experience was the exact opposite! Everyone was warm and friendly. I felt comfortable talking to anyone in the office when I needed any thing. Anna was great! The place is bright secure and very clean. I loved it
March 13, 2018
The facility was clean and secure. I could not ask for more.
March 10, 2018
They have really help me out a lot I'm really greatful better yet it's near my home so it's very convenient
March 7, 2018
Very good and clean place nice personel well explained about the property and fees
February 25, 2018
Great customer service
February 12, 2018
Neal in your Harbor City store was very efficient, so nice and a pleasure to work with. He went way out of his way showing us what was best for us. Reserving, changing reservations more than once. Never an attitude. Cant say the same for your Redondo Beach store. While Stephanie was a pleasure and so nice and helpful, some girl names Emily (I think) she worked on a Sunday was pretty rude on the phone.
February 12, 2018
Excellent service, Except I forgot my driver license with the gentleman who rented me the unit and he did not call me to inform me about it!
February 10, 2018
Very good experience.The associate that helped me was great.I wasn going to do it that day, but he gave such a good deal i decided to get it.
February 3, 2018
Very professional and yet very friendly. Clean facility. Manager Neil was always walking around with broom in hand. Priced right. I had a great experience for the seven months I had my 2 units here, and I know you will too. Linda S.
January 24, 2018
Ana was very helpful in showing the units and describing the the rental process. Looking forward to storing my goods with you. Jim
January 22, 2018
From the first time I entered the site to the end of my stay the staff were all very helpful and friendly.
January 8, 2018
It was a pleasure, Neal was such a big help and also friendly salesperson I would recommend people to see Neal if you want a storage place
January 4, 2018
Very helpful I was happy with the service
January 3, 2018
Neil was very helpful and kind. He found the right unit to fit our needs.
December 16, 2017
Mostly flawless, but don't understand why access stops at 7pm. Also, after we sold our Motorhome and no longer needed to rent a space, we were told we had to go to the property to finalize everything. Upon arrival, we were told this could have been done over the phone. A wasted 2 hours! Better communication from sales center. Merry Christmas !🙏
November 19, 2017
It's clean and easy to access. When one worker gave me the wrong information the manager stepped up and called me to fixed it. That was nice as it saved me some money.
November 2, 2017
Your staff is great! I would love it if you had insurance available for the spaces.
October 28, 2017
Staff was very helpful and friendly on the phone and in person.
September 27, 2017
It is a very nice place, people are friendly and it's not too complicated there. I like the easy-going nature of the employee working there and I'm thankful for that.
September 20, 2017
Good place. Good hours. Units pretty good.
September 10, 2017
Very good service and great feeling of security at Harbor City facility!
September 8, 2017
Fast and friendly staff
July 28, 2017
Excellent experience. Excellent customer service. Very friendly and informative.
July 26, 2017
Good. Great greeting
July 11, 2017
I felt very comfortable regarding my experience with USStorage.All the employees were very welcoming especially the property mgr;Neil. I have recommended this facility to my friends and I even went back and rented a second unit. You always want to feel your belongs are in a safe, clean environment and that's how I felt at this US Storage establishment. Linda S.
June 23, 2017
Service is very professional and I'm very happy to be with you guys
June 17, 2017
Always helpful and friendly staff.
June 6, 2017
everything perfect thanks for asking
June 4, 2017
Great customer service skills. everything explained well plus :-) :-) Smily faces do make a better day
June 4, 2017
Neil is doing an AWESOME job. :D
May 31, 2017
the manager at this location was very friendly and so helpful, answer all my questions, show us to the storage. I would recommend this place to everyone
May 19, 2017
Neil is Unbelievable.... He has all the answers to my questions, and make us feel very comfortable. We are very happy to have found you guys!!!!!! Thanks
May 17, 2017
The person that helped me was Neal, he was very helpful and respectful he took the time to explain the procedure and everything a very friendly environment
May 11, 2017
Very thorough! In completing our reservation we had made with Neil Gillette 😇
April 8, 2017
GREAT PLACE. NO COMPLAINTS
April 6, 2017
Neal is been exceptional with his service. He's receptive and attentive to needs, and helpful with recommendations. He was flexible when I didn't have my lock ready in hand (I've had issues with other rental places), but he made the process painless. I appreciated his efforts as I have had many storage units with difficult or bad experiences. Thank you!!
March 17, 2017
Staff very friendly and they make you feel welcome
March 11, 2017
Jim and Neal are Super! Men. We could use a few more Handcarts.
March 7, 2017
Neal at the Harbor city location was awesome! very efficient!
March 7, 2017
It was very easy and quick.
March 2, 2017
Neil was above accommodating unit was clean facility with clean overall excellent experience
March 1, 2017
Very good. Neal and Randy were both very accommodating.
February 14, 2017
Great customer service. Only concern is that the area for RV parking wasn't showing any cameras. Other than that great staff
February 2, 2017
Good, friendly staff, good prices for storage units.
January 29, 2017
The staff is always friendly and helpful!
January 19, 2017
Neal made my experience simple and exjoyable. Who wouldve thought that could happen!!
January 11, 2017
The service there was great! Also, the cost on it is less expensive compared to other storages.
December 21, 2016
Very helpful and competent staff, made the entire process from start to finish easy.
December 19, 2016
Employees are very respectable, helpful and are well mannered... Thank You