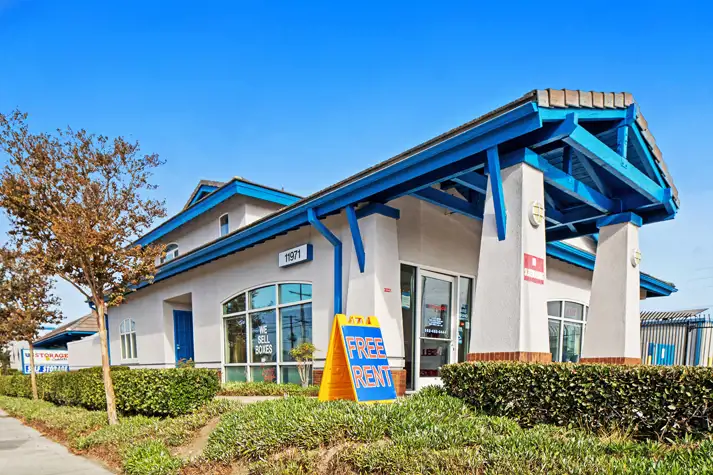 Rent or Hold Your Storage Unit in Minutes.
Location Details
ACCESS HOURS
Mon

6:00am - 9:00pm

Tue

6:00am - 9:00pm

Wed

6:00am - 9:00pm

Thu

6:00am - 9:00pm

Fri

6:00am - 9:00pm

Sat

6:00am - 9:00pm

Sun

6:00am - 9:00pm
OFFICE HOURS
Mon

9:00am - 6:00pm

Tue

9:00am - 6:00pm

Wed

9:00am - 6:00pm

Thu

9:00am - 6:00pm

Fri

9:00am - 6:00pm

Sat

9:00am - 6:00pm

Sun

9:00am - 6:00pm
FEATURES AND AMENITIES
Drive Up Access
RV Parking
Electronic Gated Access
Video Recording
Employee(s) Speak Spanish
Moving Carts
Alarmed Unit
Kure It Certified Location
ABOUT THIS LOCATION
Don't Trip Over Your Boxes of Sentiment. Get a Norwalk Self Storage Unit.
Read More
Photos
About this Location
Self Storage Facility Features

When you visit our Norwalk self storage facility, our manager will greet you with a smile and handshake right away. They have been doing this for over 15 years, so they know how to treat their customers. You can go on a free tour of our site any time during the business day. But we warn you—if you come see it, you won't want to go anywhere else.
The entrance and exit gates are controlled separately on an electronic system. Site-wide, we have 24 hour video recording and perimeter sensors. On an individual level, each unit comes equipped with an alarm system. And in the event of a problem or emergency, our managers live on the property so they can quickly respond.

You can choose an indoor or outdoor unit; every space is drive-up accessible to make the move easier. The aisles and driveways are wide enough for up to a 45 foot truck or trailer. We also have flat beds, dollies, and moving carts that you can use any time for free—just ask. Walking around on your tour, you'll see that our facility is clean and up-to-date; there's no better self storage facility anywhere in Norwalk.
Easy Rental Options
Rent your storage unit online or over the phone for a quick move in. 
Not ready to rent? No worries! Reserve your unit now to lock in today's special discount.
Month-to-month rentals
No credit card required for reservations
No deposit required
RV and Boat Storage
We have plenty of outdoor parking storage that will comfortably fit RV's, Boats, cars, and trucks. Parking space width may vary from spot to spot. Please call the property manager for more details on Parking Space sizes. 

Conveniently Located

Our self storage facility sits conveniently in the middle of Norwalk. You'll find us just a block away from City Hall and across from City Bank on San Antonio Drive. We are easy to find the first time, and easy to come back to when you need access to your unit.

Languages Spoken by Managers

English, Tagolog, and Spanish

Convenient Office and Access Hours

Access Hours

Mon – Sun: 06:00am - 9:00pm

Office Hours

Mon – Sun: 9:00am - 6:00pm

Forms of Payment

It's easy to pay your bill in person or online! We accept cash, checks, money orders, Visa, and MasterCard.

The Community

Norwalk, California is a suburban city of Los Angeles and famous in its own right. The city has played host to many big movies and television shows. Walking the streets of Norwalk, you could find yourself in the same place where the Karate Kid fought, or where they danced in Grease 2, or perhaps where your favorite character from Heroes stood.

If you need to recover from that star-struck feeling, head over to the Luxor Music Studio where you can be the headliner of your own karaoke party. No one will judge your singing voice, we promise.

Facility Products

We offer boxes (sized small - x-large). We also have wardrobe boxes, packing tape, tape dispensers, mattress covers, bubble wrap, picture moving kits, disc locks, and brass padlocks.


Customer Reviews
overall rating, 463 total testimonials
November 28, 2023
We are very comfortable with US storage they are always great to help with our needs and appreciate the patience and kindness. Sincerely Deleon family.
November 23, 2023
Great good customer service
November 14, 2023
It was pretty easy.
November 7, 2023
It was great The people at the storage are great they they showed us around the unites they explain every thing we needed to know and so friendly I'm very happy I recommend to my people getting a storage there
November 7, 2023
Good service good price
November 1, 2023
nice and friendly people...
October 28, 2023
Amazing people very frendly
October 25, 2023
Yvette was awesome, definitely coming back if I need more storage.
October 23, 2023
Good Servises thank you.
October 20, 2023
I liked it, thank you
October 5, 2023
Very accommodating your colleague esp. Yvette n Filibert. For sure I will recommend this facility to my friends n relatives. Very clean and organized
September 19, 2023
Excellent service and manage by a kind and trusted employees.
September 12, 2023
Great owners !
September 11, 2023
Good, very nice & welcoming staff.always there to answer my questions & provide any info.
September 6, 2023
My experience with your facility is very good.
September 5, 2023
Stupendous display of professionalism! Awesome experience..
August 22, 2023
Experience was great. Worked with Fill who is the super nice guy and easy to work with. Storage unit is clean, secure and all good.
August 22, 2023
Friendly environment, easy to rent , affordable, secure and very clean. Yvette explained everything to detail and easy to understand directions and instructions, I didn't get the gentleman he did the final to explain where to enter the codes and how to open and close the storage. Very thankful for their amazing customer service
August 16, 2023
I love the team at this location! I had a storage here for years. And recently needed to get one again, I didnt even shop around. I came straight to the US storage in Norwalk. I live 25 mins away in downtown long beach! & It's worth the drive for me- knowing my stuff is safe and in a super sparkly clean space. I don't have to worry about bugs or rats! The family who runs this place is top notch, their customer servic is supreme 👌 thanks you guys!
August 12, 2023
I really appreciate Filiberto, he is always there to assist me when I need help.
August 2, 2023
You have the best customer service ever. Thanks for everything
July 26, 2023
The customer service lady was professional. She answered all the questions I had. And made me feel that I mattered. She explained the security system and how closely everything is been monitored. I have never rented a storage unit and from this experience I will definitely refer my friends.
July 26, 2023
Smooth, transparent, easy!!! This app here is wonderful.
July 19, 2023
Very simple process to get a unit. Friendly staff.
July 15, 2023
Filip was great from the beginning of my visit and he met my expectations on my needs in storage rental and pricing :)
July 12, 2023
It was a good experience coming to your facility and everyone was very friendly.
July 11, 2023
Very good they are nice people answer all of my questions I had. They show me all of the option that I could go with. At the end of the day I was very happy
June 28, 2023
Very pleasant, staff are courteous,friendly and very accommodating. An overall pleasant experience.
June 27, 2023
So far I am very pleased, very friendly customer services, clean
June 15, 2023
Great employees and great customer service I believe his name was Filimont he was amazing at helping me and so was the receptionist!
June 12, 2023
Great customer service
June 7, 2023
It was easy, besides a couple of misunderstandings on the promotional rates.
May 15, 2023
Professional and excellent service.
April 20, 2023
it was very helpful they were very nice they answered all my questions
April 13, 2023
Simple and efficient Filibert and Yvette are awesome
March 30, 2023
I loved this place ...clean secured and friendly ❤️ thank you .
March 24, 2023
Horrible. Worse customer service. I paid for a unit I never even used or set foot on the property. I should have received a refund for canceling the reservation. It had only been 2 days.
March 4, 2023
Good, couple was very nice and informative
February 26, 2023
Estoy contento felis con mi estorens grasias por rentarmelo grasias por su ayuda
February 22, 2023
Very satisfied. Yvette and Filibert are both professional. Fir sure I will refer your company to my friends and relatives
February 22, 2023
It was great. Very helpful staff.
February 17, 2023
This is the third time we have rented a unit from US STORAGE. We have recommended family members to your facility. They were also satisfied. If we weren't satisfied, we would not keep coming back!
February 17, 2023
Filbert and his wife good team, great experience. If you need long or short term storage the Norwalk location is great place.
February 7, 2023
Filbert was a very kind person to us he gave us great service, the storage is great and the timings are very good because it was very flexible. Thank you for your service i definitely will recommend!
February 2, 2023
They showed me the size, they talked about the prices of different sizes and what fits my things. They were very nice. Amenda...
January 20, 2023
Wonderful staff and helpful.
January 10, 2023
Angie the lady that did my contract was very helpful and knowledgeable and also very upfront with the information that we needed and she Very thorough with all the information that me and my son asked about the storage units the availability and the prices thank you
December 31, 2022
Your exactly what i wanted: 1. Locations excellent 2. Lights in storage great 👍 3. Never closes as Contractor it's the best 4. clean clean area/ security/ Great prices 👍✅ keep it up James
December 13, 2022
I love the experience
December 5, 2022
Really great and really cared for the place was safe and clean and the people were nice
December 3, 2022
Good attitude, very friendly, took me out to check out my storage, explained to me in some details about it, & she offered me a nice cold water bottle. The place was clean as well
December 2, 2022
My experience was very pleasant and I was very happy with the service Ivette and Phill provided me.
December 1, 2022
I had a great experience US Storage very friendly and helpful. Will definitely recommend to family and friends.
November 29, 2022
Young lady in the front very cordial she did a very good job Got good info used the garage Tues. Without a hitch.
November 14, 2022
Staff was very courteous and helpful with my needs in mind.
October 22, 2022
Very good!
October 21, 2022
Wonderful experience, your facility offered excellent customer service and feels exceptionally safe
September 26, 2022
They were very helpful, made me feel comfortable and welcome, thank you
September 24, 2022
Great! The facility is clean, well taken cared of, secure and most of all those people in the front desk are accordingly brilliant of what they do!
September 24, 2022
-storage is clean -staffs are very friendly and helpful -very recommendable to others
August 31, 2022
They are absolutely wonderful and I would never store my stuff with anyone else… Everyone is so nice and helpful and they make you feel at home… Over the years of storing my stuff from time to time I honestly feel like they are family… They are amazing, affordable, and accommodating to all your needs… You will not be disappointed and happy that you choose them to store your most valuable possessions in confidence knowing that it is safe and secure… They are the BEST!!
August 29, 2022
Everyone was real nice. My only concern was the cost of the monthly rate.
August 25, 2022
My experience at US Storage in Norwalk was great. The manager on sight is very informative and also quite welcoming.
August 22, 2022
Very satisfied Filibert and Yvette are always helpful, customer service is exceptional. Facility is always clean. Tiffani is good also, helpful and always smiling.
August 16, 2022
Great customer service. Kind, friendly helpful and patient staff.
August 12, 2022
Fil and how wife was great!
August 11, 2022
Very good
August 9, 2022
Very helpful
August 8, 2022
Very professional, great customer service. Fil was very helpful and patient. Facility is very clean and well lit.
July 31, 2022
I'm really very satisfied, the staff is very friendly and always ready to help.
July 29, 2022
It's always the best experience with Evette and Filbert… They are amazing and always so helpful… I won't store my stuff anywhere else..,
July 5, 2022
The constant requests for a rating made me chose an 8 instead of a 10. Nice people and clean facilities rate 10
June 13, 2022
I won't store anywhere else regardless of the location because Norwalk US Storage is the best... Philibert and Evette are excellent employees.
May 20, 2022
Feels good about staff treated us
May 17, 2022
Very satisfied with the staff, they are so helpful and accommodating
May 5, 2022
The staff was very helpful and friendly. We have more than one unit with US Storage.
April 26, 2022
I feel calm knowing that l can trust my furniture in such a safe and clean storage thank you US storage Center .
April 26, 2022
The workers were very friendly and had all the perfect information I needed to know. Thank you
April 18, 2022
It was easy and fast. They were knowledgeable and helpful in picking out my unit.
April 10, 2022
Clear and friendly assistance. Met my needs in a clean safe place
April 9, 2022
Great customer service.
April 5, 2022
We had a great experience with Tiffani. She was super sweet, and the process went smooth. She was thorough at explaining all the details of our storage rental. I was also amazed at the level of quality of the storage units and the level of security of the facility. thanks
March 30, 2022
Staff was easy to work with, knowledgeable, and helpful in answering questions for a first time storage unit rental customer. I would recommend this facility. It is clean, well kept, well lit, and secure.
March 28, 2022
Good customer service.
March 18, 2022
Yvette & Filbert was very helpful. We were given good deals. The location is very ideal for us.
March 17, 2022
Both Tiffany and other other worker who gave us a tour helped give process really smoothly and gave warm welcome.
March 15, 2022
I rent a storage here and everything went smooth and easy. The personnel are very friendly , helpful and they even gave me some distant. I would positively recommend this place.
March 1, 2022
Staff was very friendly and professional. They were very helpful.
February 20, 2022
The whole staff was phenomenal! Evett, filbert, Alex and tiff all worked with professionalism and all treated me and my husband with respect and kindness. We will DEFINITELY be recommending this storage location to all of our friends and family. Thank you Norwalk staff!!!!! Great Job!
February 15, 2022
The young lady that helped me was very knowledgeable explained all I needed to know about the storage space. Nice experience.
February 8, 2022
excellent service.. answered all my questions
January 21, 2022
Good is a place clean , safe and the employees friendly
January 9, 2022
The staff was excellent in meeting my needs and expectations.
December 31, 2021
It was awesome! The Loyolas were so helpful and kind. I will definitely recommend US Storage to anyone with storage needs.
December 29, 2021
Great prices, easy to load and unload and Alex was great in teaching me how it all works.
December 28, 2021
The person that helped me was very nice and answered all my questions.
December 22, 2021
Very good customer service was very professional and made the decision to choose the storage.
December 2, 2021
Great experience as far customer service. Most other storage places offered one month free. I came here out of convenience. Close to my house.
December 1, 2021
Alexandria was outstanding.
November 30, 2021
Alexandra provided all the info I needed and was super helpful. The facilities are very clean and I feel safe leaving my belongings there. Will definitely be choosing this facility again if I need storage in the future.
November 25, 2021
Very satisfied! The team who helped me were amazing!
November 21, 2021
It was great experience.
November 3, 2021
Super nice workers very helpful and kind and took the time to go thew all the information answer all my questions
October 22, 2021
It was a very nice and easy process thank you
September 24, 2021
Very good, Alexandra did a very good job, she explained me all the important issues, I'm very satisfied.
September 10, 2021
Amazing and hassle free
September 6, 2021
I'm very pleased with US Storage Center in Norwalk. I give them a 10.
August 22, 2021
I feel extremely grateful that this storage is so close to where I'm going to move in into and the price is good!!! I will be recommending this storage company to my relatives!
August 18, 2021
Very nice people work there! Always nice and helpful. All units have perfect access. I do recommend!!!
August 17, 2021
The service bus great and I will recommend to Family and friends
August 13, 2021
I felt so much welcome and treated like a family by the associate. He gave me a tour and oriented me to how things work. He made things easier for me which I appreciated a lot.
August 11, 2021
Great Service!
August 5, 2021
Great service by Yvette of US Storage, Norwalk!
August 2, 2021
It was great. Phillbert and his wife were very accommodating, professional and friendly.
August 2, 2021
It's a great experienced honest and helpful workers and good price
July 26, 2021
I am very satisfied with my service at US Storage
July 13, 2021
Very friendly Very helpful They went out of there way to show us exactly where my storage was.
July 8, 2021
Very nice persinal
June 26, 2021
Very good ,thank you
June 21, 2021
Went smooth and gentlemen was very courteous and helpful. I would recommend anyone looking for storage.
June 20, 2021
Great service
June 12, 2021
People at the front desk are very kind and helpful. Installations are clean and safe.
June 11, 2021
Great service
June 11, 2021
Yvette was very helpful and accommodating, showing us units as we requested . Everything was done safely and promptly
May 21, 2021
It was a great experience everyone there is helpful friendly and explains everything perfectly I love this place also clean they take care of which shows class
May 13, 2021
Employees are always professional, thorough, welcoming, and friendly. Facility is always clean and in order with plenty of supplies available for purchase.
May 11, 2021
My experience has been pleasant so far. Customer service at this location has been very helpful. They walk you through their expectations very clearly and also guide you on how to use the lock and keys they provide there.
April 7, 2021
They were very helpful in explaining every thing.
March 31, 2021
Staff Very Helpful Gilbert is very Polite Nd Great Employee always Attentive to Clients
March 18, 2021
Was really nice and easy! Made m feel really comfortable!
March 17, 2021
The staff are very helpful and courteous
March 6, 2021
Very helpful! Affordable Great customer service ⭐️⭐️⭐️⭐️⭐️
March 3, 2021
Yvette and her husband are fantastic on managing this establishment I'm a repeat customer and very happy. These people are wonderful
March 2, 2021
Very helpful and friendly staff. Quick registration and explanation of services.
February 24, 2021
They are very friendly and it's really clean. Love it 😊
February 23, 2021
The staff is great and always helpful.
February 12, 2021
Clean,secure, fast. Good.
February 9, 2021
Clear and easy to understand..
February 9, 2021
Simplemente amables, profecionales y exelente seguridad....
February 4, 2021
Filibert was the nost helpful amd generous person i have met. I like that u play music also. Very calming. I wish i could hang out there all day lol.
January 30, 2021
Great experience with front desk staff and phone reservations
January 14, 2021
Very nice customer service
January 13, 2021
The place is clean and all you guys are very nice people
January 6, 2021
Staff was very friendly and helpful.
December 30, 2020
Excellent customer service!
December 24, 2020
I felt welcome and friendliness service. I was shown politnes and ethics. I was explained the rules and hours of service. I felt comfortable making business with US Storage. And I would recommend it to people.
December 21, 2020
I didn't know that you can move stuff with a trolly. But thanks for the info..
December 16, 2020
Very kind and nice staffs
November 22, 2020
I like how they explain it all to you so the customer can know everything Excellent service
November 17, 2020
Very Helpful and great assistance from your Employees that is why I always come to you to get a storage am Very Satisfied
November 13, 2020
Very good, very nice person and helpful
November 11, 2020
Near my home. Explained to storage contact staff my request for another storage space, this time for 3 months & with outdoor opening. Also with a light inside. There was one available. Within an hour I had rented. Thank you
November 8, 2020
Great service and fast. Very clean and organization.
November 5, 2020
Good price on-line. Good Customer service. Clean facility
October 31, 2020
Excellent and friendly customer service!
October 18, 2020
Feel great and thankful I choose US Storage
October 15, 2020
Very pleasant.
October 14, 2020
It was a good experience. Filbert was knowledgeable, kind, and friendly.
October 14, 2020
I have a great services and an excelente experience iam so glad with us storage and the employes that provide a good servicei.i recomend this company 100% to anyone.
October 11, 2020
Great customer service I'll recommend my friends and family to this storage building so close to my house
October 10, 2020
Very helpful , Great customer service
October 9, 2020
It was fast and very friendly and professional.
October 9, 2020
Its was a very pleasant experience would recommend this place to anyone.
October 2, 2020
Very friendly & easy to work with staff
September 30, 2020
Yvette and Filbert are amazing. We love this facility. It's clean, convenient, safe and they have most everything you need in terms of moving/packing supplies on site for you. Great job Filbert!!
September 2, 2020
Outstanding! I have been a longtime client and tenant. This is my second unit with this location and the reason I chose to have Another here is because Yvette and Filbert really take the time to take care of their customers. They are fair, professional, and keep the property clean and secure! They are the main reason I stay.
September 1, 2020
It was a good experience.
September 1, 2020
Friendly customer service
August 29, 2020
It was a good things
August 22, 2020
I felt very comfortable and at ease. I know my things will be safe here! The office staff was very very welcoming and friendly. Me and my husband felt right at home. We left knowing that with all the security measures they take our stuff is left in well hands. Thank you US Storage!
August 18, 2020
It was great! quick and easy , friendly customer service.
August 8, 2020
Filbert gave great customer service & prices. Very helpful & thorough
August 8, 2020
Great so far! Customer service could not get any better. Mr Filbert is Awesome.
August 8, 2020
It was great. Friendly, informative. Evelyn was helpful
August 4, 2020
I was made to feel welcomed. The staff at the time I went were Courteous and professional
July 28, 2020
I felt taken care of. The associate was very respectful and explained how the faculty works
July 24, 2020
Awesome, did not have to wait, everything was explained easily, paperwork was quick, staff is friendly .
July 14, 2020
It was very professional.
July 14, 2020
IT WAS GOOD
July 9, 2020
Great help and good facility
July 2, 2020
It was very Plesent. Yes we would recommend u.s. storage to friends
July 2, 2020
It was really nice and very satisfying.
June 22, 2020
Very professional and helpful staff
June 9, 2020
Extremely pleasant
June 5, 2020
The experience was simple and quick, but it was very helpful and informed us of all we needed to know in a matter of minutes. The storage system is simple and has easy access with a key that's easy to use
June 4, 2020
It was very fast and easy and great service.
June 3, 2020
Nice & clean
June 2, 2020
It was surprizingly wonderful experience!!
June 2, 2020
Great customer service
June 2, 2020
The service is great. The place feels very secure and you can be very confident that all your belongings are on the right place.
May 28, 2020
Good. Everything was explained clearly and felt ok asking all kinds of questions.
May 27, 2020
The experience is great! The storage space is clean and the staff is awesome. They are always ready to help when you need them. Everything is well kept. I love it!
May 22, 2020
Welcoming and friendly customer service, easy process, and clean facilities.
May 21, 2020
Extraordinary. Staff is always polite and genuinely helpful. During times like these, they absolutely provided the type of customer service that is becoming non existant. Much appreciated.
May 14, 2020
Bery friendly and helpful.
May 5, 2020
fast and easy
April 25, 2020
It was a positive experience.
April 18, 2020
Everything was great, great communication and friendly
April 17, 2020
So far so good.
April 10, 2020
It says great a pleasure to rent a space there is my second one the first one is under my fiance name Tina Montoya she referred me to you guys
April 8, 2020
Great staff is very helpful and very friendly !!!
April 7, 2020
Always a pleasure working with you guys. Even in pandemic, it was a professional experience. Safe and thorough. Thank you
March 25, 2020
I felt very confident about the excellent service and attention they gave us as clients.
March 5, 2020
The staff were very helpful and informative.
February 28, 2020
Very nice place and customer service
February 13, 2020
good friendly staff:
February 6, 2020
Nice, friendly and helpful
February 4, 2020
Pleasant experience. Filbert followed up with me and gave me a dood price and Yvette was very profesional and kind! I am very happy :)
January 23, 2020
I feel great about coming to US Storage
January 15, 2020
It was a great experience. All of questions were answered and we received all the information we needed
January 12, 2020
Good atention
January 5, 2020
It was great!!!! Awesome costumer service.very helpful in explaining what size I need it to store my belongings. Thank you!!!
December 27, 2019
I'm a returning customer and very satisfied overall.
December 17, 2019
Customer service was great and very helpful and friendly.
December 16, 2019
I'm beyond satisfy with the service that they provide. The staff is very knowledgeable, friendly and helpful. I feel very safe to go into my unit regardless of the time and I know that all my belongings are safe too.
December 12, 2019
Full explanation re the storage and appliciate the kindness.
December 9, 2019
Very honest
December 7, 2019
good. The people were friendly and helpful. Explained everything and answered all my questions.
December 4, 2019
Matthew was really friendly and helpful getting me checked in. The prices and promotions were not the best, but the facility is super clean and I am happy with the two units I received.
November 28, 2019
Very courteous and helpful
November 28, 2019
Pretty clean facility Really friendly Good prices High security Really nice access hours
November 22, 2019
Great experience. I'm glad that I chose US Storage. Very nice and friendly staff.
November 22, 2019
The service is excellent . Ms. Loyola was very accommodating and answered my questions and concerns. The transaction went well . I would gladly recommend to friends who needs storage service .
November 1, 2019
Excellent
October 31, 2019
Excellent
October 29, 2019
They where awesome. They explained everything I needed to know gave me options to help my need for storage. They explained the promotion they were having gave me a tour of the facility and explained the options for making a payment.
October 29, 2019
friendly staff, clean and secure facility. I like the location as well, very easy to got to.
October 23, 2019
Well satisfied for services
October 4, 2019
Very good
October 3, 2019
I had a great experience from the first call to getting the unit Ivette and Filburt are great people and wonderful to work with I would definitely rent hear again
October 1, 2019
The US storage in Norwalk was very friendly very helpful they showed me the stories I was gonna get very clean very safe I would really recommend this to anybody looking for storage for a A while
October 1, 2019
Friendly, fast and accessible.
September 18, 2019
Great place to go! Filibert was so nice and professional he showed us the storage unit and explained everything in detailed. Great service!
September 13, 2019
I love the way they helped us .very nice person working as a team
September 12, 2019
The US storage representative that helped me was Yvette. It was close to closing time when I arrived. She stayed over to show me available space and do the paperwork to get the rental secured. So far i am pleased with my experience.
September 5, 2019
Very friendly and nice ppl. They provide me with a lock n very clean. Would recommend to family and friends 😊
September 2, 2019
Very good
August 28, 2019
the people at the storage on foster rd in Norwalk ca. are very courteous and helpful,they helped me find a storage that fills my needs and worked to get the best deal.
August 27, 2019
Hi. Very good. Second storage. Unfortunately my escrow didn't close on 8 / 26 /2019 as expected and I'm being forced to delay my rental. I'm waiting on refunds now. Hope I get my refund soon. As soon as escrow closes I should be in need of unit. Hopefully I have my money back soon I'm going to call the facility in Norwalk now to find out if everything is going ok. Thanks.
August 24, 2019
Very courteous and helpful. Filiberto and Yvette will go out of their way to help you with your needs.
August 13, 2019
Yvette and her husband Filiberto are always available and helpful.
August 7, 2019
My experience with US Storage is reliable, trustworthy, & predictable. The workers are thoughtful & kind. Place is always clean & quiet.
August 7, 2019
Great service
July 23, 2019
Very helpful and very thorough with the whole process and information provided.
July 6, 2019
You guys are awesome you worked with me no hassle and very affordable
June 28, 2019
I'm pleased and have no complains and feel that my items in Storage are Safe. And i like rhe Location and like the Staff
June 28, 2019
Fantastic staff.
June 22, 2019
Yvette and Filibert are very professional and very accommodating. They welcomed us in a manner that we felt comfortable and assured that they met our needs. On the day that we moved our stuff, we were able to use the company's truck on same day notification. Every now and then, they asked if there's anything we need! Very friendly as well and good workers. The building is nice and parking is good!
June 21, 2019
I felt that it was very easy and affordable to sign up. Yvette and Filibert were very helpful from the minute I called the facility to the showing of my new storage container. I am very glad so far.
June 15, 2019
Very nice people.
June 12, 2019
Loved us.storage ..
June 12, 2019
very helpful and informative
June 7, 2019
Good service
May 27, 2019
Clean and good customer service.
May 23, 2019
VERY FRIENDLY, AND HELFUL, CLEAN
May 13, 2019
Very good all way around. Kevin Morales was excellent.
May 13, 2019
the lady who helped us was very helpful, it was because of her that I stayes with your storage facility
April 26, 2019
Very well handle by the assistance.Very knowledgeable & polite
April 12, 2019
Awesome customer service and really friendly, we got a really good price and the place is clean and secure
April 11, 2019
Great experience, employees were very kind.
April 10, 2019
Very good. Great customer service. Nice clean facility.
April 3, 2019
Excellent, attentive service. Clean establishment. Competitive pricing
March 22, 2019
Very clean, Yvette was very courteous and Professional I highly reccomend this location to all!
March 19, 2019
Excellent service. Keep up the best customer service and relationship.
March 18, 2019
I will always come here!
March 17, 2019
Very nice and gave detailed information
March 15, 2019
Great customer service very helpful friendly staff... but I am very concerned with the security of my recreational vehicle!! I've heard of past break ins..
March 14, 2019
Professional staff, friendly and helpful.
March 13, 2019
Always polite and friendly service they always look forward to help you oit with the best decision. Thanks for everything
March 7, 2019
Very knowlageble And helpful Line ir a lot
September 25, 2018
Very friendly service.
September 24, 2018
This storage room has the best cleaning area respectful customer service I ever been too flibur and Yvette smiles grieves there customer they both make us feel at home if I could give them a raise I would they are very very nice people to any one this is storage place I'd the best the cleanest storage o have seen in California good job you too Yvette and fluibur.