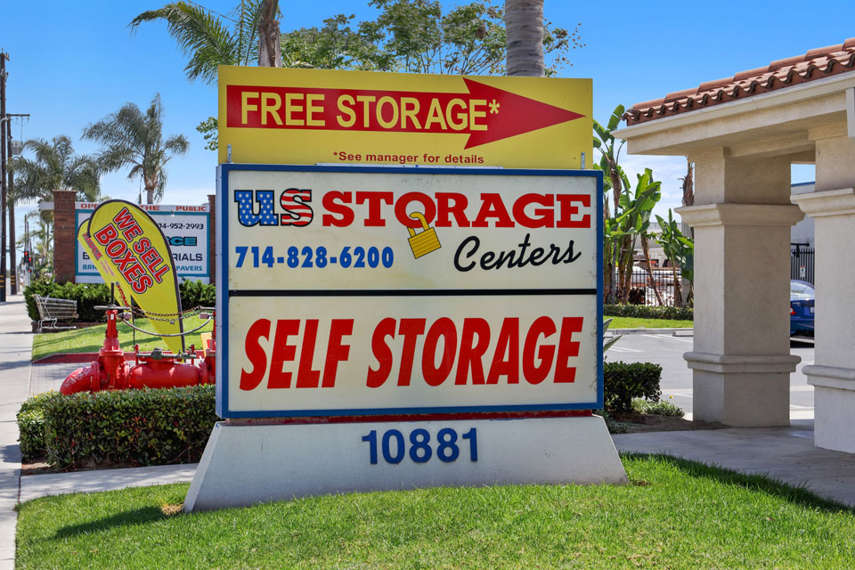 Storage Units in Stanton CA
Logout
We're Open During Normal Hours. Easy, Contact-Free Rentals
Location Details
ACCESS HOURS
Mon

6:00am - 9:00pm

Tue

6:00am - 9:00pm

Wed

6:00am - 9:00pm

Thu

6:00am - 9:00pm

Fri

6:00am - 9:00pm

Sat

6:00am - 9:00pm

Sun

6:00am - 9:00pm
OFFICE HOURS
Mon

9:00am - 6:00pm

Tue

9:00am - 6:00pm

Wed

9:00am - 6:00pm

Thu

9:00am - 6:00pm

Fri

9:00am - 6:00pm

Sat

9:00am - 6:00pm

Sun

10:00am - 5:00pm
FEATURES AND AMENITIES
Free Move-In Truck
Drive Up Access
Climate Control
Passenger Elevators
Electronic Gated Access
Video Recording
Moving Carts
Alarmed Unit
Kure It Certified Location
ABOUT THIS LOCATION
Stanton Self Storage Units: Because Your Stuff is Not Junk.
Read More
Photos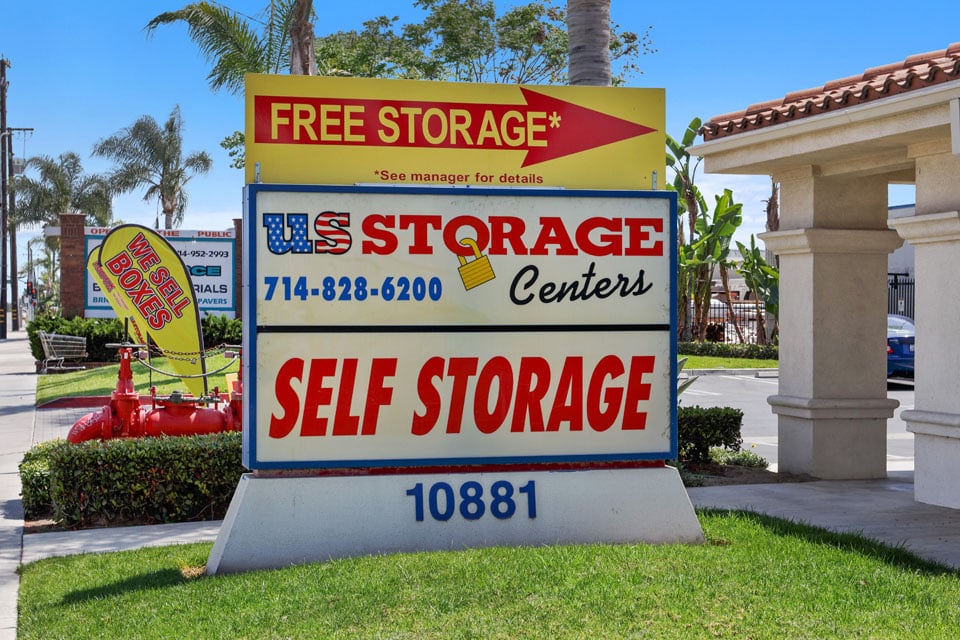 About this Location
Facility Description 

We have everything you want from a self-storage facility in Stanton. That means your choice of sizes, a variety of features, and amenities to make your move easier. We offer units from 5x5 to 10x30 on both the ground floor and second floor. Many of our spaces are also equipped with climate control technology to keep your fragile items in perfect condition. On site, you are welcome to use our free move-in truck and moving carts. Rent with the storage company that makes your life simpler—at least when it comes to the big move.
Contact-Free Rentals – Easy Online and Phone Rental Options 
 Online Rental
 Select your unit and enter your info and payment
 Sign the lease online
 A manager will reach out to you with your access code, a map of the property, and they'll have you email a copy of your valid government picture ID
 Once these steps are complete, the manager will prepare your unit so it's ready when you arrive
 Phone Rental
Simply call the number listed at the top of this page, and a member of our staff will work with you over the phone to complete a rental
The manager will email a lease to sign
Once the lease is signed, a manager will reach out to you with your access code, a map of the property, and they'll have you email a copy of your valid government picture ID
Once these steps are complete, the manager will prepare your unit so it's ready when you arrive
Secure Storage Units

You can count on us to keep your valuables safe at all times. Across the facility, we use 24-hour video surveillance and electronic gate access. Each of our units is equipped with a cylinder lock and an individual alarm—that means they are virtually tamper-proof. Never worry about your items for a minute with U.S. Storage.

Conveniently Located

We are in a great location just north of Katella Avenue. You can find us between Beach Boulevard and Dale Avenue, just a few doors down from Harry's Café. For residents of Stanton, we are the perfect local self-storage option.

Forms of Payment

It's easy to pay your bill! We accept cash, checks, money orders, Visa, and MasterCard. You can also pay online through our secure client login.

Professionally Managed

While we are proud of our high quality facility, customer service is really our priority. We treat each of our clients with individual respect and attention. Come into our office, and we'll greet you with a smile and a handshake; we'll get to know your specific needs for self-storage in Stanton, then offer you the best options. Start out as a client—end up as a friend.

The Community

Stanton, California is all about fun that the whole can enjoy. You can visit countless parks across the city for hiking, biking, picnicking, and other outdoor activities. And don't forget about Adventure City, the "little them park that is BIG on family fun." There you'll find a petting zoo, rock climbing walls, a children's theater, and thrilling rides for every age group.

If more extreme fun is what you crave, the Stanton Airfield is the place for you. Glider and biplane rides are available for a small fee, and you'll never forget that rush of riding thousands of feet in the air.

Whether you're splashing around in the new Harry Dotson park water feature or enjoying a night out at the R3 Social Lounge, Stanton is the perfect place for everyone.

Facility Products

We offer boxes (sized small - x-large). We also have wardrobe boxes, packing tape, tape dispensers, mattress covers, bubble wrap, picture moving kits, and locks.


Customer Reviews
overall rating, 240 total testimonials
February 25, 2021
Very Very good !!!
February 23, 2021
It was excellent customer service.Jhenny was so very nice and informative about all the rules & regulations.I would definitely referral other people to rent a storage space here.aplus it is clean and they have the flatbed trolley's available,and the big truck for use.👍👍
February 22, 2021
Nice staff. Clean building.
February 22, 2021
Everything went fine.
February 9, 2021
Very nice. Clean facility; presentable, competent and thorough staff.
February 9, 2021
Jhenny was great. I came in close to 5pm on Super Bowl Sunday and she stayed to make sure I was able to get in and operate my unit. She was polite and patient with me the whole time.
January 19, 2021
Jenny was super friendly and helpful. She made the whole experience stress free.
January 14, 2021
Well so far it's been good your employees are great people very helpful and straight out that's really refreshing
December 29, 2020
The Rep was very nice and helpful. Assisted us at late notice and close to closing
December 24, 2020
It was great. Everything I needed, and friendly, helpful staff.
December 10, 2020
It was very enjoyable and pleasant
November 30, 2020
Friendly and very accommodating and it's very clean surrounding.
November 19, 2020
Great, Jenny and Raul were very accommodating and very helpful with providing me with all the information and help I needed to move in.
November 14, 2020
Perfect service! Highly recommendable for anyone!
November 10, 2020
VERY PLEASENT REPRESENTATIVE
October 20, 2020
It was great
October 7, 2020
Very good. First contact I had with Rain was very helpful, information given, options, flexibility, prompt to show me the spaces, and Jenny has been kind and helpful.
September 24, 2020
excellent service
September 22, 2020
Employees we're very nice & knowledgeable! He was very nice & new skull the answers.
September 5, 2020
Excellent staff, welcoming and professional! Very accommodating!
September 5, 2020
The lady that helped me was very knowledgeable and we've been to you guys before return customers thank you
August 29, 2020
The staff was very helpful and knowledgeable and answered all my questions and the prices were competitive compared to other storage in the area.
August 19, 2020
Was really satisfied with service they answered all my questions
August 19, 2020
The staff onsite was extremely helpful and attentive to questions we had. We were able to get things done within the span of a lunch.
August 13, 2020
Nice, clean and good customer service 👌 Very helpful, thanks
August 8, 2020
The person who helped me was great, very friendly and knowledgeable about the service and recommended the right unit for my needs
August 7, 2020
Your very nice
August 4, 2020
The staff there are super nice
July 29, 2020
Very comfortable. Jennie was very professional and made me feel welcome. She explained everything with such ease.
July 16, 2020
Everything went smooth no problems
July 14, 2020
Great! This is my second time renting a unit with you and it went just as smooth as the first time!
July 9, 2020
My experience was great.. Debbie is the best and very friendly and helpful also very clean. Dale and katella us storage
July 3, 2020
It was awesome Debbie is great . awesome facility.
July 3, 2020
Very helpful and friendly staff. Lobe that the units all have alarms and live on-site managers.
June 20, 2020
VERY CLEAN PROPERTY GREAT MANAGEMENT GOOD CHOICE FOR STORAGE
June 14, 2020
Very good and they are friendly and helpful so I'm glad that I have my stop there thanks again
June 7, 2020
I've used the facility before, and was satisfied with Customer Service, cleanliness, and support. The support provided by Debbie was superb. I will use, and refer to friends.
May 27, 2020
Debbie was so nice and helpful thank you debbie
May 21, 2020
Yes, it's very kind and helpful.
May 14, 2020
Its clean and quite front desk member was very helpful and kind. Price is resonable
May 12, 2020
It was smooth and easy even in these unusual times i believe Jason ?? Was completely professional from start to when we parted ways maybe half an hour so ya excellent customer service!
May 5, 2020
Quick and easy
April 26, 2020
The Lady was very nice she explained everything clearly.
April 25, 2020
Good - Customer service was great. Very knowledgeable & friendly
March 12, 2020
Awesome. Service
March 4, 2020
Was a great experience meeting Debby. Loved the fact she took so much time explaining all the rules.
March 4, 2020
Great experience customer service is very professional Debbie is very helpful and kind
March 1, 2020
Manager Debbie was great! Fast and excellent customer service. Location is secure and very accommodating.
February 25, 2020
me siento muy contento las personas son muy amables es un lugar muy limpio
February 11, 2020
Debbie was terrific, she helped me to find the correct size unit. Great service.
January 30, 2020
The office here at u.s. storage is ran professionally. The staff members help as much as possible. They will call to let you know if they have any suspicious activity. What more can you ask for so I give them my respect and I get the respect. Thank you very much
January 12, 2020
The site I visited was rather pleasant; from the staffing to the appearance of the office made am impression on me. I didn't bother visiting any other storage facility for my needs.
January 4, 2020
Great! Jacob Fielden was nice and help me what I needed.
December 30, 2019
it was great
December 24, 2019
It was great, no complaints
December 8, 2019
Manager was very polite and professional and had a great overall experience renting a storage unit for the first time.
December 4, 2019
Hi this is for everyone I just rent a storage units in the City ofStanton and the guys in the office had the best possible attitude that I have ever C in any private business they went out of their way to help me to find the right storage it was the day before Thanksgiving five minutes before closing they don't get paid overtime in this day to help me for about 25 minutes and I was happy I would like to recommend anybody to this storage and see for you sealf I don't get paid for this but thati feel like I need to make a review about it thank you for everyone
November 28, 2019
Great service!!
November 26, 2019
Absolutely wonderful customer service. I will recommend this place to anyone who needs a storage locker. Thank you.
November 17, 2019
Very good
November 13, 2019
Debbie, the manager, is wonderful. The place is always clean and she and her crew are so helpful.
November 4, 2019
I like it besides having to get off every time to put in the code on gate other than that I like it.
November 1, 2019
Outstanding customer service. Jacob, the Asst. Manager was very helpful and responsive to my needs, and is a great back up to Debbie, the Manager who sets a good example.
October 11, 2019
Everyone was very nice. The only thing I wasn't so happy with is the unit was a little dusty and dirt along with black dust. There was some time of insect in the unit which we killed but for my peace of mind I hope it doesn't appear again.
October 10, 2019
You guys are awesome! You let me use your truck for free and the people are friendly!
October 7, 2019
Jason was very pleasant to deal with. He was very patient too. I kept him there for at least half an hour over.
September 26, 2019
Good place to rent
September 18, 2019
They are very friendly specially Debbie and prices are decent .its my first time renting a storage Debbie gives the best costumer service ..
August 25, 2019
Ea muy bueno el servicio
August 24, 2019
Excellent, I was surprised how clean the entire are was. The service is great, all our questions answered. Debbie at the Stanton, CA location is the BEST!
August 12, 2019
Debbie is a superb employee
August 8, 2019
Debby and Jacob were very friendly and helpful. Answered all my questions
July 31, 2019
Employee Work very hard and friendly
July 24, 2019
Debbie and Jacob were so helpful. Great facility and very clean.
July 23, 2019
Debbie was very professional, she made the process seem simple. I would recommend this facility in Stanton, California to anyone needing storage. The use of the free truck saved me $100. Nothing but great vibes from this experience! B.Nicola
July 17, 2019
Lovely people. Just a nice feeling about the place. Prices good.I'm happy
July 12, 2019
wonderful experience with Jacob, Gabby and Debbie
July 4, 2019
really nice workers really clean and nice that every respects the rules
July 4, 2019
Debbie was very helpful & a pleasure to work with. Very courteous & made the move a breeze.
June 26, 2019
You were all excellent in customer service. I am a very very pleased customer!
June 15, 2019
Very very well nice place great staff very friendly people and good service, thanks
June 7, 2019
Jacob was so helpful in answering all our questions. He made the process seamless and easy. Will definitely use these services long term
May 21, 2019
This seems to be a well run organized storage facility with a friendly and helpful management team.
May 17, 2019
Great that's why I came back
May 1, 2019
staff is always nice, friendly and helpful.
April 26, 2019
The staff are very attentive
April 26, 2019
We had wonderful service from gabby. I felt she went out of her way to make sure everything ran smoothly for us....tho, that just may be the person she is. The free truck rental is certainly a plus. The property and the units are very clean and love the access hours, because we cant always get there during the day.
April 26, 2019
We are return customers we had a really good experience with Debbie U.S. Storage And she is the reason we came back and Gabby was very knowledgeable and helpful Towards our experience we would like to send both of them very much for the thoughtfulness
April 20, 2019
My daughter and I were 100 percent happy with every aspect of our visit So impressed with the cleanliness and everyone was so wonderful to us. Thank You!
March 24, 2019
Great work
March 14, 2019
We are a returning customer we were please the first time that's why we came back thank you
December 12, 2018
Debbie has always been the best!! I have had a storage room with you for a long time, and she is always so helpful. I have moved to smaller rooms and had to move into a larger room. Now I just needed another small temporary unit until I can clean out things in the bigger one.
October 27, 2018
you've had the best the cleanest and the well-organized storage around in this town I appreciate your very much and thank you
October 17, 2018
All the employees were very nice
September 28, 2018
Debbie and Lydia were very helpful. I was able to post a positive Yelp Review! Thank you.
September 23, 2018
Debbie has been a real jewel! She is always very helpful and is able to find me what I need. The store rooms are clean and neat and I like the locks that you use. I feel safer with these than with tradition locks.
September 1, 2018
Service is good.
August 5, 2018
Very good cervice
August 5, 2018
I felt very good about it and totally enjoyed chatting with your representative, Debbie, who showed sincere concern when my friend left to find a parking space next door and was gone for a long time.(he went home to get his wife-my best friend-instead! Also I am very pleased with the location of my space as well as the type of lock you provide. I will surely recommend your facility to others. Elaine Roggers
July 19, 2018
It went well and they were really helpful and we able to get our storage unit the day we went and we got what we needed and they had everything that was needed
July 15, 2018
Everything has been easy, no problem with the movers coming in and putting stuff in the unit. I haven not been back lately. All is well
July 3, 2018
Very polite and helpful.
July 3, 2018
The process was very smooth and easy. Debbie was great to work with.
June 11, 2018
The manager is always polite. She makes sure we know all the rules and information needed to use the space. We always use US Storage when we need to store furniture.
May 26, 2018
This is a very professional Business Gabby and, Debbie are the finest...It has been a pleasure just like the last two times Thank You U.S. Storage. Sincerely, Charles Wicks
May 21, 2018
Everything went smooth other than when I needed to speak to a manager. That is probably in your notes. Overall...I was pleased
May 17, 2018
Debbie was a great help with picking out a proper unit and helping us move in. We greatly appreciate the availability of a moving truck though US Storage Centers. We had a smooth move in and appreciate the great security system.
April 21, 2018
The Young Man was very knowledgeable, explain things to me very well and most of all he was very kind and well spoken. Forgive me for not remembering his name. I'm sure that you can find out his name for that day. Once again many thanks for your great prices and very kind employees. your customer nathanna Godfree.
April 18, 2018
Renting a unit here has been a very easy and pleasant experience. Never felt pressured, and legitimately felt that the staff of this storage center were interested in helping me figure out the best solution for my storage needs. The use of the truck was a huge bonus especially as we were moving in a lot of stuff with last minute preparation.
April 18, 2018
I really liked the storage facility, the quality of storage, i like that it had ac and i feeled my belongings was safe
March 23, 2018
Good management specially Debbie the manager and the security cameras and the alarm system
March 19, 2018
The thing that sold me was how when you enter your gate code it disarms the alarm, then as you leave your code arms the alarm
March 2, 2018
Debbie and Glenn have been perfect. they always help us when needed and give quick and friendly service.
February 15, 2018
Debbie is wonderful she is an asset to your company
February 7, 2018
Very satisfied never had an issue, Debbie was very friendly and always available when i called that was awesome never waited that was excellent customer service.
January 27, 2018
Like Family!
January 24, 2018
The owner was very helpful. We are a non-profit that helps homeless families find housing and we needed a lot of storage space so the owner put together 2 units for us and was very fair on the price. We were set up in minutes!
January 11, 2018
It was very good. Chris was the original person I spoke with, when I asked about units. He followed up to see if I was coming in to rent a unit & let me know that Debbie would be the person helping on the weekend. Debbie was pleasant & helpful. I'm pleased with the unit that I rented.
January 11, 2018
US Storage of Stanton saved us by being a place we can store our belongings safely and in a well kept unit for many years. A special thank you to the Stanton staff especially Debbie. She is very professional, helpful, and there to answer any questions or concerns. We appreciate the business of 10+ years... Thank you very much.
January 3, 2018
everything was great, would come back again if my storage needs change, management was very friendly
December 30, 2017
I would highly recommend US Storage to any one searching for a clean, safe, and cost effective way of storing their personal items. Marold Studesville
December 19, 2017
It was great
December 17, 2017
Very good. Very easy. Deborah was very helpful.
December 9, 2017
Great amazing staff helpful kind
December 8, 2017
Clean and helpful
December 1, 2017
it was great!
December 1, 2017
The units were in good condition and the staff was always very helpful and courteous. If we need to in the future we will choose US Storage.
November 27, 2017
Very courteous, and understanding of my needs. My only storage choice will always be US Storage.
November 20, 2017
Always willing to be helpful. Always friendly and courteous.
November 9, 2017
Great customer service!
November 9, 2017
It was great knowing that all my stuff was safe and secure. Debbie is great to work with. She is verey caring and lovely person. If I ever need storage I will use this company again.
November 8, 2017
My experience was pleasant. Upon entering the office, I was greeted with a smile and a friendly attitude. The available units were introduced and I was taken on a tour of the facility. The grounds were clean and the parking was strictly enforced.
November 2, 2017
The Manager was very nice, understanding and helpful.
October 28, 2017
The staff, I guess her name is Debby? is very nice and sweet. The best place in O.C. and strongly recommend
October 26, 2017
Very helpful...
October 25, 2017
Excellant !!!
October 3, 2017
I heard from a friend how Debbie was so I went to the stanton location and got a unit for myself. That lady Debbie made me feel very welcome and I like that. I will definitely tell other people about Debbie
September 27, 2017
Debbie is amazing! Even though it was such a hard day and move her attitude made me smile and I left feeling happier and accomplished. Thank you Debbie for your help and positivity.
September 6, 2017
im so happy with you guys
September 4, 2017
Staffing very accommodating and helpful. Excellent in responding to questions asked and process to be followed
August 15, 2017
Excelent.service
August 5, 2017
Very kind very helpful love it here
August 5, 2017
Debbie makes acquiring a storage unit as easy as possible...
July 31, 2017
Very knowledgeable, professional and helpful. I appreciated your service.
July 29, 2017
Actually , my experienced from my first phone call to moving in was excellent. Thank you!
July 28, 2017
100% satisfied. A++++ The lady whose name is Debby( I guess correct spelling) are the kindest person whom I ever spoken . I used to have 2 storages ( which are on Euclid St. and on Trask ave.) ) and their service were terrible.
July 25, 2017
Great prices and customer service.
July 11, 2017
I love us storage its always clean hours are good
July 9, 2017
Debbie was very friendly and helpful.
July 8, 2017
Debbie at the Stanton location has been great....I have rented storage 3 different times there and, always has been the best experience Thank You, Craig Wicks
June 16, 2017
Debbie was so helpful. She explained everything, and made us feel welcome.
June 12, 2017
so far, so good....
June 9, 2017
Very good attention... every thing its fine with me
June 5, 2017
Quick, simple transaction. Unit is in good condition with easy access.
May 24, 2017
Debbie was awesome!! Made everything so easy! Wonderful customer service !
May 22, 2017
Very good experience. Ana was very knowledgeable and professional.
May 19, 2017
Anna was very polite and treated me and my co-workers with the utmost respect. She explained all the rules to the facility.
May 12, 2017
Very friendly and informative.
April 6, 2017
It was learning and our first experience renting storage..My concern is moving things without a cart, especially if your space is at the 2nd floor...since only 1 is available...Suggest to get extra cart and user have to sign in and sign out for the cart..I understand cart get lost sometime. Other than that, the place is clean and secured ...
April 6, 2017
Verry good experience. Debby and her husband are super nice, and they make you feel comfortable and right at home!! I would recommend this place to all of my family and friends.
April 6, 2017
The staff helped us tremendously thank you
March 24, 2017
Your services I am well satisfied. Devie, your manager is very helpful & good and others too. I've been with you (your storage), for more than 5 years I have no com- complain. Thank you, keep the good work. God bless you.
March 14, 2017
I have the opportunity to do business with the Stanton, CA location recently and I have nothing to say but the best. The place is well kept clean and organize in and out from the office to the entire complex. The price is very competitive comparing to all other local storage. I always get the best service from the office personnel. Debbie is the best. She understands what I need and always looking out for my best interest. Best of all, all storage rental comes with a one time free truck rental. You cannot beat this from any where. I have searched around at many different locations but this is the place we will be doing business with from now on. Thank you very much!
March 13, 2017
Super exellent
February 23, 2017
Really excellent Customer Service. All the staff that I interacted with from Debbie, to all her relievers - Ana(?) can't recall their names, but they were all very helpful, efficient and friendly too.
February 22, 2017
The staff there are very friendly and helpful. I am always satisfied with this place. It is well maintained and very clean.
February 16, 2017
Great service! We've been at the Stanton site for a few years now and Debbie has been very professional and helpful.
February 8, 2017
I like it was, everything was ok
February 5, 2017
Best experience I have had with a storage facility. Staff was very welcoming and friendly. The process was quick, easy, and straight forward. I wold highly recommend to anyone looking for storage units.
February 3, 2017
Confortabl
February 3, 2017
it was so easy debbie is a blessing and a life saver all my storage needs were met thank you so much
January 20, 2017
Great customer service. Clean facilities
January 18, 2017
Very friendly helpful staff. Moving truck was a nice touch, I literally didn't pay a dime to use the truck all day. Excellent company.
January 10, 2017
All Good
December 22, 2016
It was great. The employees were friendly and knowledgable.
December 12, 2016
wonderful just like the first time thats why i came back again..
December 12, 2016
Debbie is Awesome !
December 11, 2016
I have enjoy dealing with the place for a long time.
December 6, 2016
The office staff was very helpful. This is the best storage unit place I've been to!