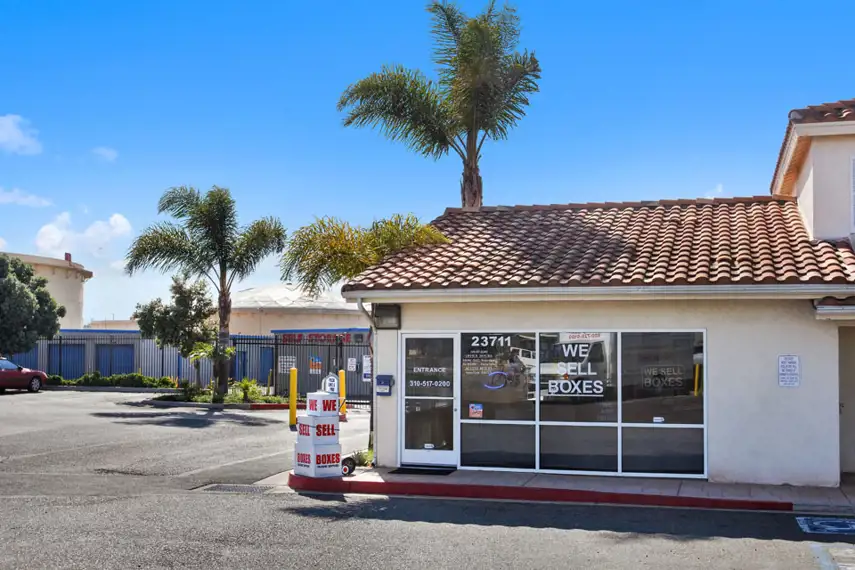 Rent or Hold Your Storage Unit in Minutes.
Location Details
ACCESS HOURS
Mon

6:00am - 9:00pm

Tue

6:00am - 9:00pm

Wed

6:00am - 9:00pm

Thu

6:00am - 9:00pm

Fri

6:00am - 9:00pm

Sat

6:00am - 9:00pm

Sun

6:00am - 9:00pm
OFFICE HOURS
Mon

9:00am - 6:00pm

Tue

9:00am - 6:00pm

Wed

9:00am - 6:00pm

Thu

9:00am - 6:00pm

Fri

9:00am - 6:00pm

Sat

9:00am - 6:00pm

Sun

10:00am - 5:00pm
FEATURES AND AMENITIES
Free Move-In Truck
Drive Up Access
RV Parking
Electronic Gated Access
Video Recording
Boxes & Moving Supplies
Moving Carts
Alarmed Unit
Kure It Certified Location
ABOUT THIS LOCATION
Don't Let Your Stuff Overcrowd Your House. Get a Torrance RV or Self Storage Unit.
Read More
Photos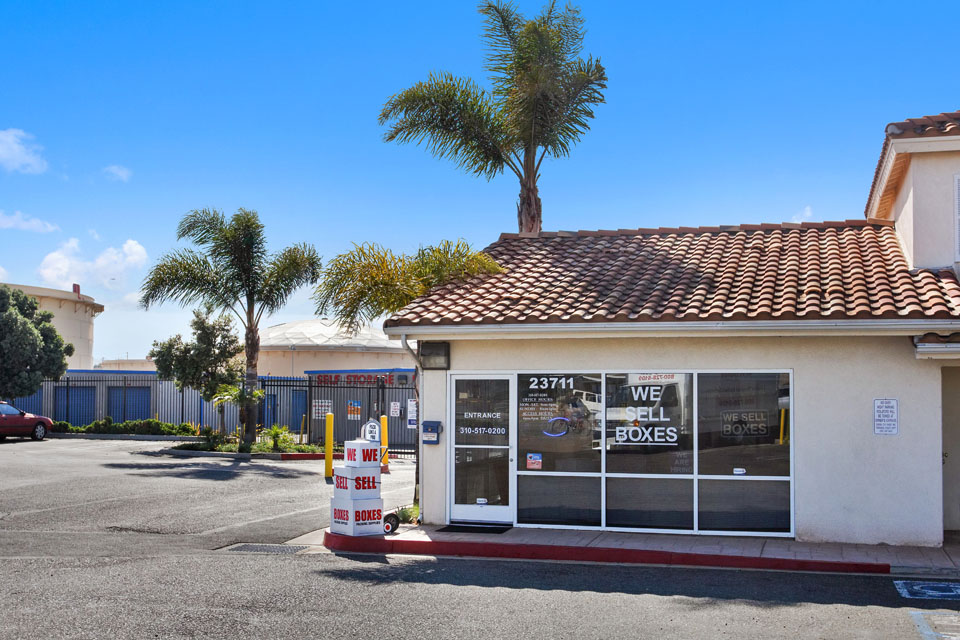 About this Location
Facility Description

As self storage facilities go in Torrance, our site has it all. We offer units in every size you might need from 4x5 all the way up to 20x30. All of our spaces are on the ground floor so you don't have to worry about lugging boxes into elevators or up stairs. That also means you can enjoy drive-up access to each unit. Feel free to use our complimentary 15-foot move-in truck, flat carts, and hand trucks to make your move fast and easy. If you need a place for your recreational vehicle during the off-season, we have parking spaces in a variety of sizes as well. We have everything you want in a Torrance self storage company.
Easy Rental Options
Rent your storage unit online or over the phone for a quick move in. 
Not ready to rent? No worries! Reserve your unit now to lock in today's special discount.
Month-to-month rentals
No credit card required for reservations
No deposit required
Security Features
Convenience isn't our only strong point. Our property is monitored 24/7 with video surveillance and individually alarmed units. Plus, the only entrance and exit is through our electronic gate system. You'll never have to worry about your items when they're stored with us.
RV & Boat Storage
We also offer storage solutions for those who want to store an RV, boat or extra automobile. Our outdoor spots are easily accessible for parking and backing out. Parking Space width may vary from spot to spot. Please call the property manager for more details on Parking Space sizes.

Conveniently Located

You can find us right on Crenshaw Boulevard and Lomita Boulevard. Residents of Torrance can tell you we're in a great location for their self storage needs. PCH is just to the south and Sepulveda to the north. Look for Torrance Crossroads Shopping Center—we are a block away. Come pay us a visit today.

Forms of Payment

It's easy to pay your bill! We accept cash, checks, money orders, Visa, and MasterCard. You can also pay online through our secure client login.

Professionally Managed

U.S. Storage Centers is all about customer service. We know that sounds cliché, but it's true. Ask any of our clients past or present, and you'll likely hear about how our property managers got to know their individual storage needs and offered the ideal solution. We try to form a relationship with each of our clients because that's the only way we can better serve you. Whether you need a self storage unit for a few months or a few years, you will get the same smile and handshake that everyone who comes to our office gets. See for yourself today, and enjoy a self storage experience in Torrance unlike any other.

The Community

Torrance, California is known as "The city with a hometown feel," and for good reason. Our community has the excitement and vitality of a big city with a strong sense of family and friendship you can only find in smaller towns. We are among the safest places to live in Los Angeles County. Combine that with a wonderful Southern California climate, and you have yourself one great city.

On almost any given weekend, you're likely to find a soccer game you can watch. All you need is a lawn chair and a cooler full of orange slices. Torrance is the birthplace of AYSO, the American Youth Soccer Organization, which has since grown to over 630,000 participants. To say we are a soccer town might be an understatement.

As the city slogan claims, whether you have lived here all of your life or are visiting for the first time, Torrance will always feel like home.

Facility Products

We offer boxes (sized small - x-large). We also have wardrobe boxes, packing tape, tape dispensers, mattress covers, bubble wrap, picture moving kits, disc locks, and brass padlocks.


Customer Reviews
overall rating, 451 total testimonials
March 8, 2023
Marcia and Enrique are the best! They know what they are doing and care about their customers
March 8, 2023
Staff is very nice to deal with and facility is kept up
February 28, 2023
Enrique made the process of getting a storage so easy and quick! Glad to know my things are in a safe place with good people.
February 21, 2023
Location is very secure. A little pricey though.
February 21, 2023
Felt very comfortable & acknowledged Service was excellent & friendly It's becoming a 2nd little house Thanks
February 20, 2023
Nice,clean safe place but too realy expensive for the space $450 thinking on move as soon as can.
February 14, 2023
I think that it is ridiculous that I am not allowed to leave my truck connected to my trailer. I rented a spot that was large enough to accommodate both, since I always have the two connected. I've been told that it is not allowed to have two vehicles in one spot, but my insurance company treats the two vehicles as one when they are connected. I'm not sure why US storage has decided that this rule will not work for them. It is more dangerous to disconnect and reconnect a trailer every time it is parked than it is to simply leave it connected, not to mention quite a bit more effort. I wish you would reconsider this rule.
February 8, 2023
Horrible. Would not recommend. Shady business, had to get my money back from my bank because this establishment along with the manager, were unprofessional to say the least. Canceled reservation, raised the prices and charged for something I never used. Had to call multiple times until I went to my bank and got my money back. I never signed anything but they charged me. Never got the storage but they charged me, never got the insurance and they charged me. Run away
January 19, 2023
Wonderful customer service! Friendly manager and wife! Easy access in and out. Manager text me when I incorrectly locked my storage unit! Forgot to activate the latch before attaching lock! 😄👍🏼
January 4, 2023
satisified
December 31, 2022
It was great and the staff was friendly
December 21, 2022
Great. The gentleman was very helpful and your facility is very nice Please send me referral info as my sister referred me to you. Thank you! Kristi
December 12, 2022
Best US Storage ive ever been too!
December 7, 2022
so far everything has been going well, no complaints thus far. The place is clean and all my questions and concerns have been answered.
November 21, 2022
We were treated very well, both Nicolas and Enrique are quality people and helped with our needs. No issues, very clean storage yard. Very professional management, met our needs perfectlu. Thank you Enrique on letting me change spots one day later.
November 19, 2022
It was wonderful from beginning to end. Nick helped guide me through my new unit. He was very professional, knowledgeable, and very personable. It was a great experience!
November 16, 2022
You are very helpful
September 30, 2022
Great!
September 29, 2022
Staff are professional, and the unit was ready on time for an effortless move in.
September 29, 2022
EXCELLENT CUSTOMER SERVICE, VERY HELPFUL, AND KNOWLEDGEABLE
September 28, 2022
Extremely difficult to do business with. After 20 plus years of dealing with storage facilities, this was bar far the most difficult to get paperwork completed. We even had several phone conversations and had to amend the lease because I had a middle name. Preposterous. I am a lawyer and do million dollar deals without middle names.
September 27, 2022
Happy, tnks very much
September 26, 2022
As long as I can get in/out at reasonable times, and my stuff is secure, I'm fine.
September 13, 2022
Very informative and helpful. Also very friendly.
September 4, 2022
It was great
August 18, 2022
It was great with excellent costumer service Joan was kind and knowledgeable with all the info.Thank you!
August 12, 2022
The Torrance staff are very good!
August 6, 2022
I like this place very safety and clean and the workers very professional I recommend this place
August 3, 2022
This place is great Enrique and his wife run it so nice . Their customer service is impecable , and he explained all the security features of the facility . I am not a fun of storage facilities but from time to time I have to use one and this place blow my mind. It's run impecable , clean and the service was fenomenal.
August 3, 2022
Abigail was great! I felt very good about leasing a storage at this location.
July 21, 2022
Very helpful and kind
July 8, 2022
Really nice! Enrique & Marcia were of great help and made the process easy.
July 6, 2022
Very professional & organized. Knowledgeable about the process.
June 28, 2022
My initial impression of US Storage is that the facility appears secure, clean and well-run. The staff has been friendly and very cooperative.
June 27, 2022
It has been a pleasant and professional experience thus far.
June 23, 2022
Thorough, efficient. Good experience. Just wish it wasn't so expensive.
May 20, 2022
Second time user, hope that says it all. Fast, efficient, secure, with a reasonable price.
May 15, 2022
Great friendly staff. Clean and well kept grounds. Feels safe to keep our belongings there.
May 3, 2022
Very nice and helpful staff highly recommended
April 9, 2022
Enrique and Marcia are the absolute BEST!!! They are kind, and professional. They have great knowledge of the business. We needed a temporary storage and their expertise made it easy on us. This storage facility is really clean and safe. Thank you.
April 6, 2022
Mr. Enrique and his wife made it especially nice for us with what ever we needed. Very good customer service. Thanks 🙏 Yvette A
April 3, 2022
It has been wonderful from the start. The office managers make me feel cared for and welcome. I love the atmosphere here, compared to other storage facilities where I've rented space previously.
March 30, 2022
Our experience is wonderful, very good customer service at the Torrance Us Storage Center.
March 1, 2022
Outstanding both Nicholas and Enrique were great! Loved the service and the experience in answering questions and concerns, highly recommend
February 15, 2022
Good. But need to keep trucks behind the end of their spot. Had a hard time parking due to the truck next to me was sticking out in lane about 2 feet.
February 1, 2022
Great experience
January 31, 2022
Didn't solve the it issue still can't get online acct
January 21, 2022
Very Friendly and helpful. Super convenient for those people in S Redondo and in Palos Verdes.
January 6, 2022
Great Job, very friendly and thorough.
December 28, 2021
good service and fair pricing. Hours are convenient fo access.
December 24, 2021
Nock was very kind and professional. Very thorough in his explanations, prices, and overall conditions and expectations.
December 24, 2021
Comfortable and secure to have my truck inside the yard I can get in and out at anytime and there's no problems is good
December 24, 2021
Great. Very nice property manager
December 23, 2021
Excellent service! Enrique, the property manager, along with his staff, is very helpful, professional, and friendly. They really go above and beyond. The property is also kept really clean and secure. In every way, my experience with US Storage Center is so much better than any other storage facility I've used. Highly recommend!
December 21, 2021
Very professional
December 13, 2021
Positive experience. Friendly, helpful, and knowledgeable staff.
December 7, 2021
I loved my experience. The gentlemen thy helped me really shined and I was constantly impressed with his service.
November 28, 2021
It was smooth office staff was very nice the manager is hands on very accompanying
November 23, 2021
Excellent service and professional staff. They spend time, explaining me in detail, the available choices for my needs Above and beyond service I'll highly recommend this place, Thank you for the excellent service and patience
November 22, 2021
Great service and good deal on my space. Thanks for all the help.
November 16, 2021
Everything was fine Smooth transaction. Good facility.
November 10, 2021
The staff was very helpful and polite it was a pleasure doing business with them
November 10, 2021
Kind courteous and knowledgeable
November 3, 2021
After storing my Travel Trailer at Life Storage in Torrance and encountering sub-standard customer service, I expected the same everywhere else. But to my surprise I was blown away by the excellent and exceptional personalized customer service that I received from Enrique Hernandez, the property manager at the US Storage in Torrance. He saved me money, the facility has all of the necessities needed for RVs and Travel Trailers, the facility is always super clean, secure, and exceptional in every way! Life Storage in Torrance should be ashamed of there facility and sub-standard customer service that they offer to the public.
November 2, 2021
Everything was great. The person that help me did a great job.
October 29, 2021
It was efficient, easy. and friendly. The staff was very supportive .
October 28, 2021
Great experience and very thorough on what to do when coming in and out of the gate. Thought I set the alarm off one day, but it was next door. Either way, happy with the staff and good communication.
October 25, 2021
My first storage unit (Crenshaw location)- very friendly, professional, helpful; we feel extremely safe. My second storage unit (same location)- as expected, so helpful, and friendly and professional- even more happy than the first time! My third storage. unit (Harbor city location, 257 st)- professional, helpful, easy access; we JUST got this one... so far so good, I can update when we 've had to go back/ get our stuff out etc. ThaNks!
October 22, 2021
Facilities are in perfect condition and Enrique is both highly competent and friendly.
October 14, 2021
I'm am completely satisfied with my experience at US Storage in Torrance. Enrique and Marcia are exceptional. Your company is lucky to have them. Thank you
September 30, 2021
Maricia and Enrique were very friendly and helpful . Storage area are clean. He kept contact till a storage available then took care of paper work professionally. Over all I'm glad to find here to keep my belongings safe
September 22, 2021
Staff was very helpful and friendly. Got us into the right size unit and explained charges and all property rules. Very safe area and well monitored. Would definitely recommend this company and location for storage needs.
September 21, 2021
Satisfied with the service and facility. Friendly staff was quite helpful.
September 15, 2021
Everyone has been great. The inly problem i had was that it is posted the everyday hours that the office is open. I went there Saturday snd they were out for a lunch break. I have to travel 30 minutes to get there- i could not return home. I had to waste 1 hour before they reopened. They should post permanently when they will be closed, not when they leave for lunch!
August 27, 2021
Such a friendly and welcoming staff! A very clean and professional environment. I'm happy and satisfied with my decision in selecting US Storage.
August 26, 2021
Excellent service.
August 24, 2021
Very professional, organized, secure and polite.
August 17, 2021
Everyone was very helpful.
August 9, 2021
Great customer service and very flexible. Enrique was very helpful!
August 8, 2021
It was easy and friendly as always. I love this place. It's so clean and secure. It's a bit expensive but they give us a deal sometimes.
July 17, 2021
Enrique is very pleasant and knowledgeable. Upon entering I was greeted with a smile(behind his mask). He worked with me to understand what I needed and gave me a discount on next months rental after completing the balance of this months rental. The facility is nice with great security. I would recommend this facility to anyone needing a storage building. Jeff Robinson
July 6, 2021
Enrique was so helpful and nice. Highly recommend working with him,
June 14, 2021
Location is very clean and convenient. Staff is very friendly and efficient.
June 11, 2021
Your services made our move convenient- even pleasant.
June 8, 2021
Very happy with the service
June 6, 2021
Good. Helpful pleasant staff
June 5, 2021
I was impressed by the help and kindness of Enrique, and the Security and cleanliness of my space is very good.
June 3, 2021
I would highly recommend US Storage Center! Their prices are reasonable but the thing that really made the decision for me is the fact that you can drive right up to each unit. That makes it so much easier to unload and load my car and for someone like myself who needs regular access to my unit, that makes the world of difference. The facility is also very clean and the staff in the office are extremely friendly and helpful. 5 out of 5 stars!
May 27, 2021
My internet name is different then my real name. I just sent a reply. Thanks
May 19, 2021
Nicholas was wonderful! He explained everything in detail. He was a great hire by your company.
May 18, 2021
Service was awesome. Nicholas was extremely courteous and helpful. I would definitely recommend.
May 17, 2021
I love it. Super clean
May 9, 2021
I was really pleased with the service
May 7, 2021
The folks at US Storage were awesome! So kind and helpful
May 7, 2021
I did my my research on storage facilities in the Torrance area and came across US storage. I read all the great reviews and even got to look at the property. Enrique helped me find a storage and got me all set up really fast. He even offered their free truck to help me move in! I've never heard of a storage company who does this! The property was clean and very secure. Thank you so much for making me feel welcome.
May 5, 2021
They were helpful,polite and professional. The place was clean and organized.
May 4, 2021
I was very pleased with Enrique and Marcia They were very accommodating and helped and worked around with my needs. I've known this place when I helped a friend move out from her apt maybe 10 years ago n again when she had to moved out her stuffs from the storage to go out of state too
May 4, 2021
Friendly staff and clean units! I hope to be doing business with you for a long time
May 1, 2021
Everybody was great
April 30, 2021
Enrique is great.
April 23, 2021
Enrique was awesome! Simple, fast & very clean.
April 13, 2021
The interaction with Enrique and his wife Marcia help facilitate my decision in renting with this particular US Storage facility. They are combined experience and professionalism was above and beyond the norm. It was refreshing to see that " "customer service" does still exist.
March 29, 2021
I was completely satisfied !!!
March 29, 2021
Very professional and pleasant.
March 28, 2021
Renting a unit was quick and easy.
March 23, 2021
Very good experience over all and good customer service. Very happy 😃
March 20, 2021
Very helpful
March 18, 2021
Manager took care of me promptly
March 3, 2021
Very professional and organized also it great that you offer us to use your moving truck
February 25, 2021
Friendly and very efficient also very reasonable priced
February 19, 2021
A great experience.
February 15, 2021
Very pleasant, everyone was nice.
February 11, 2021
On site team is very friendly and helpful. This is the second time I use this storage location and have always had a pleasant experience
February 6, 2021
Enrique & Maria were the best very professional, kept me in the loop on availability of the unit I wanted. Contract went as easy as going through a drive through, two thumbs up 👍 👍
January 28, 2021
Could not have asked or dreamed of a better employee - Enrique - to help me!
January 19, 2021
Team was extremely helpful and professional.
January 17, 2021
very good, I was treated with dignity and respect and not indifference
January 15, 2021
US Storage has, the Greatest, Most Efficient, Most Ethical, Warmest and Kind Staff! My sister Referred us to US Storage - She has been Extremely Satisfied and happy for 25 Years We chose to get Storage for Our Office and Personal Storage. The owners are Extremely Professional.
January 14, 2021
Great staff! They are all very nice and accommodating. I've already referred a friend.
January 13, 2021
The experience from setting up the account to completing the paperwork was made quite easy. I would recommend for sure.
January 8, 2021
Extremely helpful. Really felt like a family business.
January 6, 2021
Excellent
December 29, 2020
Stuff was super friendly and nice. helpful . Thank you so much.
December 23, 2020
The entire experience was very pleasant and professional. Well done!
December 17, 2020
Very kind friendly and accommodating. Super clean and secure facility. I am a returning customer. Prices are competitive. So glad they are close and convenient.
December 15, 2020
Very professional.
December 8, 2020
Friendly and efficient!! Only took minutes to get set up with our unit.
November 9, 2020
Our experience was great! They got us right in and settled. The staff was very friendly and knowledgeable.
November 3, 2020
Good experience
October 23, 2020
I was very satisfied with the service, the answers and the kindness shown.
October 15, 2020
Nice guys, nice service!!!
October 15, 2020
Excellent! Enrique was super nice and helpful!
October 7, 2020
I am very happy with this location and the family that manages it. They are very friendly and helpful.
October 6, 2020
Very satisfied with the service!
September 30, 2020
Joan was very efficient and helpful. Very pleasant to work with
September 30, 2020
Very nice and friendly people
September 27, 2020
The office staff were friendly, helpful and explained the contract with my insurance options. I had an excellent experience; purchased a storage room right on the spot. The storage room was close to the main access door and the exact size I wanted.
September 25, 2020
Great customer service and very clean.
September 23, 2020
I had a very lovely experience with your staff and facilities. I called your central call station and had a very informative and helpful conversation with the dispatcher. When I arrived at the location, the assistant manager was there to greet me and provide a very nice experience. He was informed, empathetic, and friendly. I am very happy that this location had an availability I was able to grab. your team made me feel very safe and welcome.
September 22, 2020
Great experience! Joan was very helpful and informative
September 15, 2020
Great Experience
September 9, 2020
I felt really good about it
September 2, 2020
Enrique there the manager was very helpful and very accommodating
September 2, 2020
I had a positive experience renting a secure spot for my boat.
August 31, 2020
It was awesome
August 27, 2020
Prompt and efficient assistance, I appreciate it
August 21, 2020
very good
August 19, 2020
Enrique and his wife are a great team. Got my boat space handled, and will be helping me with the transfer of my old unit to a new, smaller unit later this week.
August 19, 2020
I was really pleased with both the personnel and the appearance of your facility. What you don't know is I compiled a spreadsheet for 5 different storage facilities. I am storing things that women who are 80 may have to work with. Your facility was the most comfortable for me to make that decision for them to be around. Joan first took the time to help me understand the rates and the discounts. Enrique spent careful time when i actually contracted with you. Everyone was conscious of being safe and concerned about the customers. Courtesy was shown to each person entering, even when th e process might take a bit of time to complete. When I had completed the contracting, I had purchased a marker and a lock. The woman (I am sorry I don't remember her name) carefully cut the plastic of the casing for each of these, without my asking or thinking about it needing to be done. The place is clean and relatively easy to access.
August 15, 2020
I had an easy time reserving my unit online. Everyone was helpful when I came to the storage facility. Using the Complimentary moving truck was very helpful!
August 13, 2020
I love all your online features and the facility is great. I like the double gate feature separating the RV/parking spots from the rest of the facility.
August 9, 2020
It's been real good and close
August 8, 2020
Awesome staff always helpful and friendly 🤪
August 8, 2020
Friendly and efficient people working in the office.
August 5, 2020
GREAT !!!!!!
August 4, 2020
SO FAR SO GOOD, NO COMPLAINTS!
July 28, 2020
Joan provides great customer support.
July 28, 2020
Wonderful experience to open and get started with my account with US Storage. I liked that its family owned and operated. Enrique and his wife and son were very kind and helped get everything setup very quickly. I was moved in within hours of opening and all was well. The unit I have has plenty of room for my needs.
July 23, 2020
So far so good
July 15, 2020
HELLO I GO BY LESLIE SHAW NOT LESLIE JANE ON IT OK THANK YOU It was good on it and I had some 1 too help me out hear because IAM a very hard of a hearing person on that RIGHT know I have lost my hearing aids on it because of putting on the mask and talking them off also on it on it on by it so they did the best that they can do on it for my hearing on it and my friend help me too out on it also on it too so the both of them we got Thur on it together on it ok on that
July 8, 2020
The person who helped me on Monday, Joan according to the name tag he wore, was great. Very patient, efficient and courteous even though he was greeted upon arrival with two people waiting and an internet service team also showed up at the same time. The phone numbers given on the website however, yielded no help at all, as no one ever answered. There is no point in giving 800 numbers if no one answers. I could not get the help I needed without going in to the office.
July 7, 2020
Great experience from start to finish. Staff was excellent knowledgeable and informative
July 7, 2020
Great! the people where very nice and easy to deal with!
July 7, 2020
Very pleasant and friendly, very easy transaction, would highly recommend to other people.
July 2, 2020
good and professional. nice people and responsive to what we need.
July 1, 2020
Super friendly and informative.
June 23, 2020
awesome help, assisted me in every direction of moving thank you
June 21, 2020
Nice, courteous staff.
June 20, 2020
Enrique was hugely helpful when I needed a storage solution... thanks Enrique!
June 18, 2020
I loved everything about my experience with US Storage in Torrance, CA. The manager, Enrique, was very pleasant and professional. I would definitely recommend US Storage.
June 9, 2020
Great easy and helpful staff
June 4, 2020
The service was spectacular. I have dealt with other storages and the level of professionalism presented here is above and beyond. Thank you guys for being so friendly and professional.
June 4, 2020
Very good experience with Enrique. Was very appreciative that the office was open and I could get in-person help
June 3, 2020
Enrique was welcoming, informative and super helpful in getting my storage lined up during the pandemic! Felt very supported. Thank you!
May 29, 2020
Great customer service!
May 28, 2020
Very quick and straightforward. They were very helpful and good at explaining every aspect of the storage unit and it's lease.
May 27, 2020
Went through leasing a space at the Torrance location and Enrique made it a very seamless transaction over the phone & emailing docs. I've leased at several other storage locations but this is by far the best customer service experience I've had. Highly recommend.
May 27, 2020
Very satisfied with your service.
May 27, 2020
I had a great experience. Staff was very helpful.
May 27, 2020
Enriqiue, was professional & personal. This is our first time using a storage & he made us feel comfortable & safe there.
May 25, 2020
All good. Easy.
May 22, 2020
Mr. Hernandez It is very kind of of They were kind to me because I couldn't speak English. Thank you 😊
May 21, 2020
So far, managers were helpful and supportive.
May 17, 2020
Good. Service was prompt and efficient
May 10, 2020
Great! Everything went smoothly in terms of getting my code and my storage unit.
May 1, 2020
Enrique was the one who took care of us and he was exceptional in handling the process. Fantastic customer service!
May 1, 2020
Nice and smooth
April 29, 2020
It was my first time renting a storage unit so I didn't know what to expect. The entire process was easy! Easier than I anticipated. Good website! Clear prices and availability. Called to get a few questions answered and made final arrangements over the phone. Actually called twice before making the final decision and both people I spoke with on the phone were very helpful. I'm happy to be able to rent month to month. No long term lease. The unit was clean and ready to move things into. I feel good about the security and lighting at night. Overall a very nice facility. I would recommend it to anyone in need of a storage unit.
April 29, 2020
It was really difficult for me to trust a storage to place my belongings, but US storage made it so easy for me to have peace of mind. The place is clean, easy, and customer service was phenomenal!
April 26, 2020
Great, love this place. Emlloyees are nice. I like the access hours too.
April 26, 2020
Enrique is very helpful and very professional and loves helping others he's a great manager I still have a storage unit there and I look forward to seeing the staff as we are there thanks again
April 25, 2020
We have used a few storage places in the past, given the circumstances with the whole Covid-19 this place is just great quick service answered all our questions thank you so much.
April 8, 2020
I like the storage location and condition it's bright and clean and conveniently located. The manager was able to accommodate my request To move to higher unit since I needed more space. The communication with the office was a little challenging due to coronavirus pandemic.
March 23, 2020
It was exactly what I was needing and staff was very friendly.
March 22, 2020
The team at my location was knowledgeable and friendly. I had rented there several years ago, so I already knew the facility was top-notch.
March 22, 2020
Great experience from initial quote to obtaining the storage. Thank you!
March 10, 2020
I did recommend the storage facility to my adult son and rented a small one for him. He's impressed and eager to use the unit. He feels there is very adequate security, cleanliness, and likes the helpful managers. It's the only storage facility I would recommend.
March 5, 2020
All staff is friendly, kind, nice smile... That's perfect! Of course the storage is good.
March 4, 2020
It was a great experience the staff were amazing and very patient.
March 2, 2020
Staff was friendly & helpful.
February 29, 2020
So far excellent
February 22, 2020
We were met by Enrique and his wife Mariana at your Torrance facility. They were very nice and very helpful a pleasure to do business with them.
February 16, 2020
Very helpful and patient.
February 15, 2020
Was treated with respect and he was very helpful in explaining and answering my questions
February 5, 2020
Kind, understanding and compassionate people. My second time here as I knew the quality and safety of this facility.
February 2, 2020
Other than the fact I was quoted 237 for a 25 foot spot and was charged 267 when checking in other than that the experience was great
January 31, 2020
Enrique is wonderful! We love him! It was one of the best experiences we've ever had with renting storage space. Thank you Enrique!
January 29, 2020
Ana did a great job in helping me with the rv storage.
January 28, 2020
We left another storage facility and came here because of prices posted online being cheaper. They weren't only cheaper but cleaner, nicer, and provided a truck for us to move in. 10/10 would recommend
January 18, 2020
I used the online to book the storage unit. It was easy. It made the visit to the sales office quick. The staff was friendly.
January 16, 2020
Muy accesible el lugar y buena seguridad y el personal muy amables
January 15, 2020
Very positive experience. Staff were friendly and helpful they followed up with phone calls and emails
January 11, 2020
The staff was extremely helpful from the time I walked through the door and every time I have returned since.
January 9, 2020
If you are looking for the best storage facility in the South Bay/Torrance, CA you need to go see Enrique Hernandez at US Storage on Crenshaw Bl. In Torrance. The facility is safe, clean, secure, the staff provides great customer service is very attentive to our needs. Marcia helps us very quickly when we need any help. Additionally, they are very friendly to small business owners.
January 9, 2020
Very nice, just wish they wouldn't raise the price after being such a loyal customer
January 7, 2020
Amazing new couple that manages the Center - good pick - you're lucky to have them
January 5, 2020
Very curtios
December 30, 2019
Great. The gentleman that helped me was awesome.
December 28, 2019
All of my needs were met with friendly professionalism. The on site managers Enrique and Marcia are top notch. All questions were answered and facility rules and regulations explained... I am very pleased with everything.
December 26, 2019
Good Sevice, Reasonable Rates
December 20, 2019
All good
December 20, 2019
Great service
November 19, 2019
Very accommodating.
November 15, 2019
Very good
October 30, 2019
Very good. Everything was as advertised. Nice facility, nice staff.
October 3, 2019
Great staff, courteous and helpful. Very easy process.
September 25, 2019
Very helpful employees, fair pricing.
September 18, 2019
Staff was very helpful and knowledgeable. They did a great job. Loved the experience
September 6, 2019
Excellent Service. Current employees are well trained to guide and feel welcome at the US Storage. I am very happy with the service. Great Job!!
August 31, 2019
Ana was extremely helpful and informative. I really appreciated her friendliness, help, and attention to detail.
August 29, 2019
I think Felix was the young man who took care of us. He was very professional, answered all questions and so very pleasant.
August 24, 2019
felix is the best we miss robin but felix is great
August 22, 2019
I was very satisfied with the service I received!!0
August 21, 2019
Great location & services!
July 29, 2019
Staff were incredibly friendly and helpful. Aaron was great to work with.
July 23, 2019
Excellent customer service
July 21, 2019
The manager did a good job presenting the property.
July 18, 2019
Good experience with reservation and setting up rental. Great having use of truck to move into unit. However, not being able to use truck to move out of unit is a MAJOR NEGATIVE.
July 18, 2019
US Storage, Aaron was very helpful in working with us to find the right spot for our RV. Great service and attitude.
July 17, 2019
From the first phone call to this email it has been a super professional service the kind they call old fashioned. Too bad I can give this kind of a feedback very rarely these days. Thank you! Peter Svaby
July 15, 2019
Good. Aaron was very helpful with packing supplies and then with eventually procuring a storage unit. Received excellent service.
July 7, 2019
Check in was smooth as was the use of the truck
June 29, 2019
Great staff. Very helpful
June 21, 2019
great customer service rep. he was excellent
June 8, 2019
Great customer service very clear with all the fees and rules
May 27, 2019
Very nice thanks
May 24, 2019
The young kid you had working was great. It was busy but he took care of business with a smile. Nice kid.
May 20, 2019
Experience was very good. Customer service was excellent, courteous and professional.
May 3, 2019
I had an awesome experience with US storage. They were very accommodating and they care about their customers as well as the services they provide.
April 22, 2019
Good. Courteous, professional, knowledgeable,
April 21, 2019
The customer service was exceptional! Thank you.
April 11, 2019
Everything went very smoothly Staff was exceptionally helpful.
March 16, 2019
Great Matt was very helpful as we were in need of RV storage space asap. Very professional.
March 6, 2019
Awesome experience!
March 5, 2019
Ana was excellent
March 1, 2019
The last at the desk was amazing. Very friendly, extremely knowledgeable and helpful
January 10, 2019
Thought you were kind, helpful and efficient and met our needs
December 4, 2018
Lucie and Eric are very professional and extremely helpful. I enjoy working with them. Thank you
November 4, 2018
Great Customer Service! 👍
October 25, 2018
The staff were all very professional and courteous, answered all my questions and were very sensitive to my time, ensuring a smooth transaction. I really appreciate all they did to make the rental as easy as possible.
October 24, 2018
Clean professional facility with a great staff.
October 19, 2018
Great! I was treated really well and professionally by Eric and Lucie at the Crenshaw US Storage
October 10, 2018
Very friendly - good customer service.
October 5, 2018
So far so good everything is great
September 30, 2018
Very good.
September 24, 2018
The getting signed up and parking our RV at this storage facility was painless due to the help of Lucy and Eric
September 19, 2018
Friendly and helpful staff and clean premises....
September 13, 2018
Helpfulness of staff, cleanliness of facility - everything is GREAT!
August 12, 2018
Robyn was very helpful and understanding the needs of the space I need.
July 12, 2018
The staff is very helpful and went out of their way to make sure everything went smoothly.
June 25, 2018
Everyone was very nice. I especially appreciate Robbin she made our experience fun and delightful.
June 20, 2018
Dear US Storage Centers, Robyn(Torrance location)was amazing when helpping me out with my storage needs over the phone and with customer service as well. I personally have been super stressed and she eleviated that with her help. There needs to be more people like her in this world to help those when in need. You have trained this employee very well. -Mike
June 18, 2018
Very positive overall experience. Highly recommend this place
June 11, 2018
Robyn was helpful and friendly. Units are clean but not climate controlled. It was hot outside while we were moving in, making it very hot inside the building.
June 9, 2018
Jinny who helped us set up & walked us through the process for storing our RV did a fantantic job.
June 6, 2018
This is the second time using US Storage in Torrance and we wouldn't go anywhere else. The service is excellent and the storage is clean and secure.
June 1, 2018
Renting a space was very easy. Good experience.
May 30, 2018
I love the facility. Staff is great and Robin does an excellent job. The only thing I would like to see is a discount for loyal customers that have more then 1 unit. I have a 40' RV spot which I have had for over a year. Just this past weekend I also decided to rent a 10x15 unit. As a business owner I know the importance of loyal repeat customers. It would have been nice to be offered a better rate being I am a loyal customer.
May 27, 2018
Great customer services
May 10, 2018
I am sooo Impressed with you facility , it is clean and nice and the staff is top quality . Robyn is amazing and a big reason I even chose this site..yes I looked at quite a few..to begin with. Robyn is so nice, helpful, knowledgeable and professional, you are very lucky to have her!
May 1, 2018
It was easy and fun! Robyn made it an enjoyable experience. Her personality just made it great!
April 26, 2018
Transferred over from a nearby PS facility that was dirty, lacked adequate lighting and was difficult to access. So happy to be back at USSC! What a difference!
April 20, 2018
Robbin handled our change of storage location very well.
April 18, 2018
Very friendly and pofessional staff
April 18, 2018
Your employees are very friendly and helpful. The facility is very clean.
April 10, 2018
You guys are the greatest always there for me... friendly staff and great facilities
April 7, 2018
Very friendly helpful staff
April 5, 2018
Customer service is top notch! If I hadn't moved I would keep my unit. Clean and accessible with RV/boat parking to boot! Thank you Robyn for everything you did for me!
March 10, 2018
Robyn is so good to work with and does it with a sunny disposition.
March 8, 2018
Great. Robin is amazing.
March 3, 2018
I have always be very pleased with all customer service and interactions with employees. It was disconcerting and unfortunate that there seemed to be a water leak or seepage in one of my units, causing damage to some of my property. It also and exacerbated problems with my asthma and COPD as I was forced to repack and move items to another location.
March 2, 2018
Safe. Helpful.
March 2, 2018
Great. Such nice people working there. I believe the woman's name was Robin and she was extremely nice and helpful.
March 1, 2018
Wonderful! Robyn is an absolute pleasure to work with! The facility is well kept and very secure. We feel at ease knowing our RV is safe and secure here. Thanks for everything, Robyn! :)
February 28, 2018
Good job.we will use you soon again.
February 28, 2018
I've generally been happy over the years.. but i did not appreciate the prices being raised a huge amount once i was there for a few years without any warning. Not a good practice to foster loyalty!! And retain the customers you already have.
February 25, 2018
Great service
February 23, 2018
Great customer service. Friendly, well informed staff. A pleasure to work with.
February 19, 2018
Very good experience, Robbin was most helpful, I will be back.
February 16, 2018
Courteous, organized, and helpful US Storage has been my choice of storage for almost ten years. I give them a thumbs up! Alexandra & Keith
February 15, 2018
Props to the lady that helped me. But, she was new and working alone on a busy Sunday. She didn't have the keys to the golf cart. I would suggest at least two people work the weekends especially if one is new. Thanks
February 15, 2018
They are extremely efficient and helpful in both the initial rental process and the move in experience. Very nice employees working at this facility.
February 15, 2018
Very helpful
February 9, 2018
The property as a whole is emmaculate! Easy access every time upon entry and when leaving! Open layout and privacy! Never crowded or high tenant traffic! Awesome, personable and relatable on-site manager! Best storage facility I've ever used! And, I will use them from now on! I highly recommend US Storage Centers!