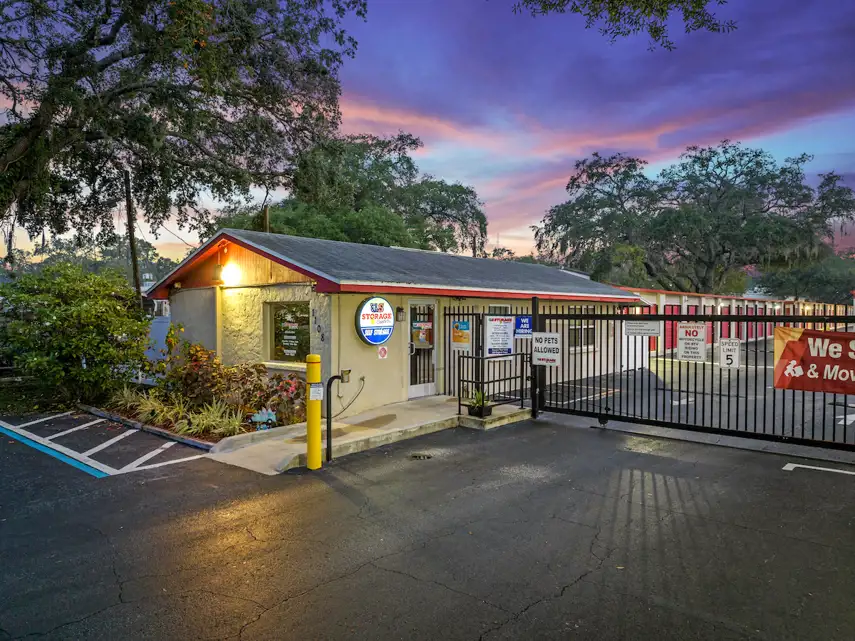 Rent or Hold Your Storage Unit in Minutes.
Location Details
ACCESS HOURS
Mon

6:00am - 10:00pm

Tue

6:00am - 10:00pm

Wed

6:00am - 10:00pm

Thu

6:00am - 10:00pm

Fri

6:00am - 10:00pm

Sat

6:00am - 10:00pm

Sun

6:00am - 10:00pm
OFFICE HOURS
Mon

9:30am - 6:00pm

Tue

9:30am - 6:00pm

Wed

9:30am - 6:00pm

Thu

9:30am - 6:00pm

Fri

9:30am - 6:00pm

Sat

8:00am - 4:00pm

Sun

Closed
FEATURES AND AMENITIES
Drive Up Access
Electronic Gated Access
Kure It Certified Location
ABOUT THIS LOCATION
Learn more about our storage units in Tampa, FL and how we can accommodate your storage needs!
Read More
Photos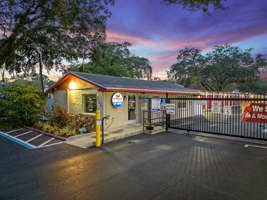 About this Location
Storage Units in Tampa

US Storage Centers in Tampa, FL offers convenient and affordable storage units near you. All our storage units are ground floor level and we offer both outdoor drive-up accessible and inside self storage units in Tampa. Our storage facility has an electronic access gate, which only current tenants are able to access with their unique PIN code. So whether you're looking for a small or extra large storage unit in Tampa, our professional and friendly staff is ready to help you find the storage solution that best fits your needs. 
Easy Rental Options
Rent your storage unit online or over the phone for a quick move in. 
Not ready to rent? No worries! Reserve your unit now to lock in today's special discount.
Month-to-month rentals
No credit card required for reservations
No deposit required
Self Storage in Tampa Located Near You
Our Tampa facility is conveniently located next to the I-275, off Skipper Road and North Nebraska Ave. Our facility sits right across the street from The Village of Tampa and next to the Cross Fletcher neighborhood. If you also live in the nearby neighborhoods of North Tampa, University Square, North Forest Hills, Lowry Park North, Lowry Park Central, Sulphur Springs, Temple Crest, Fern Cliff, or Old Seminole Heights, our Tampa storage facility is a local convenient option for residents and businesses.
Kure It Cancer Research 
Our in-house charity, Kure It, offers tenants the perfect opportunity to make a difference when it comes to cancer research. This facility participates in our Round Up For Cancer Research program, where current tenants can choose to add $0.50 to their monthly rent, and then US Storage Centers will match that 100%.
Customer Reviews
overall rating, 302 total testimonials
August 23, 2023
Good no problem.
July 25, 2023
Your manager was very nice, but there is stuff outside units and don't know whether it's trash or not.
July 6, 2023
Great service and I recommended to anyone. Customer is better than others. Love it here
July 5, 2023
Experienced excellent customer service, personnel are very attentive & informative. The storage facility is very well kept in clean conditions, I would most likely refer this place to others.
July 1, 2023
Good experience no problems so far
June 28, 2023
We had an issue at first getting in the gate which has been resolved
June 9, 2023
Todo muy bien los de la oficina muy amables el lugar muy limpio
May 31, 2023
My experience was super! Sandy took very good care of my daughter in law and then she recommended me.... also a couple of years before my sister in law also used your business to save her belongings.... thanks for your business..... thanks Sandy for taking good care of us
May 16, 2023
Sandy at US Storage on Skipper Rd. Tampa, Florida was very professional, courteous and over the top in explaining everything to me. 5 ⭐️⭐️⭐️⭐️⭐️!
May 16, 2023
Very nice employees and management. Very clean and nice area. I am so pleased with my decision. These people are true people. I really appreciate how they have given me great service and are family oriented.
May 10, 2023
It's been great
April 17, 2023
Felt very comfortable good vibes and courteous I would definitely recommend to anyone considering using this company
April 4, 2023
I thanks God for the help dat I receive. The 2 ladies are Nice and helpfull. I had told few ppl about how nice and helpfull yall are. Thank u so much God bless yall.
March 9, 2023
Good place to rent good people
February 28, 2023
Sally was very heplful and answered all of my questions. I appreciate her candor and her professionalism.
February 25, 2023
Sally was awesome everything went smooth thanks to her
February 15, 2023
Excellent customer service. Army Veteran
February 8, 2023
Everyone I dealt with was polite and helpful. Thank you again for everything.
February 1, 2023
I am in the process of moving my things in there. The manager there was very respectful and caring and explained everything very thoroughly. She assured and reassured me and made me feel at ease and comfortable. She was very friendly. God bless.
January 4, 2023
Sally is very good Representive,for your company class lady.
December 2, 2022
It was amazing Sally is so amazing I love her cheerful always smiling face she explained everything very well she made my experience very very stress free and got me the space I needed fast I'm very Thankful for what she did for me and my family THANK YOU SO MUCH MRS, SALLY AND US STORAGE ♥️😃 A VERY HAPPY CUSTOMER
December 1, 2022
Extremely professional the staff member very helpful.
November 29, 2022
First of all I feel so safe my storage place is so full nobody tell me anything like oh it's too full you can't put this or that no no it's so convenient is perfect actually
November 8, 2022
Friendly staff, clean units and facility. Great security!
November 2, 2022
sally is very awesome and accommodating
October 22, 2022
I have leased space there since July 2018. That was not a happy time for me given the turmoil I was in. Management understood and always offered a helping hand. How things change in 4 years we have a new manager Sally and she is the best ever.The center has never looked better and I just released the same spot I had during the bad days.Go figure writing a book about my life experiences at U.S. Storage and the culture of storage centers. It's called MY LIFE IN STORAGE. See Sally you won't be disapointed...Bryan M
October 21, 2022
Kind polite friendly respectfill and really helpfull
September 22, 2022
Sally was very,professional, and respectful. I would recommend the storage,to all friends
September 22, 2022
Professional
September 7, 2022
Excellent
September 2, 2022
Satisfied
August 23, 2022
So good so far 😄 I'm going to tell everyone about it, thanks for having my belonging secure.
August 22, 2022
I was very appreciative of the service I received from Sandy at US Storage Centers. She was very pleasant and provided the information needed for the storage rental process. I am very happy with my unit and the storage center's location.
August 20, 2022
It was good very helpful
August 19, 2022
Sandy was so sweet. She went the extra mile, stayed past 6 to help us (in the rain)!
August 17, 2022
Excellent
August 15, 2022
Such amazing service! They have a great emphasis on security of the property.
August 11, 2022
It was so quick and easy Sally took really good care of me and helped so much
July 26, 2022
The lady was very nice and friendly I really appreciated her help she showed me right where my unit was
July 18, 2022
I felt great great service
July 15, 2022
The service is excellent so I like everything is clean it's comfortable overall I loved it to come with the customer service was so good
July 14, 2022
Fantastic and the young lady that helped me was so energetic and enthusiastic. It was a real pleasure.
July 11, 2022
Amazing experience, sally is phenomenal had to find a storage last minute she was able to get me one at a reasonable price all my questions were answered effectively and she even honored the discount i was supposed to get they definitely look out for their customers. Very friendly and social people i enjoy the service i get every time I'm in the office.
July 9, 2022
Sandy was amazing she made me feel great and very accommodating. Thumbs up
July 7, 2022
Sally was "freaking awesome" (Napoleon dynamite voice) Friendly Polite Took care of all my requirements like "mastah"
June 13, 2022
I DOD FEEL VERY GOOD WITH THE SPACE AND THA EASY ACCESS TO IT. THANK YOU VERY MUCH.
May 17, 2022
The gentleman who signed me up was very professional and was way above the level of articulation I was expecting for renting a storage unit. He could teach some banks and insurance companies a few things
May 4, 2022
I was very happy with the experience. We will use your facility again when the need arises. The people and facilities were excellent.
April 25, 2022
My experience with US storage was extremely positive. Heather, the manager, is wonderful and makes renting a locker extremely easy
April 13, 2022
Location is great. Security is in place. Staff is very friendly, helpful and knowledgeable. The unit is easily accessible by car, which is very convenient. I would definitely recommend this location.
April 10, 2022
The owner was FABULOUS! Great service. I am one happy renter at US Storage
April 5, 2022
I was very pleased with my experience renting a storage unit. The staff member that helped me was very friendly and answered all my questions.
March 27, 2022
Amazing experience.
March 13, 2022
Its a good storage facility... I appreciate their help when I needed it... And its close to my house... Thanks a million
February 28, 2022
5 stars!!
February 14, 2022
Very good
February 8, 2022
It was good to have everything i needed to put their ok
February 3, 2022
Very good
February 3, 2022
Very clean. Great customer service along with great prices. The lady in the office is amazing explains everything from detail to detail, makes you feel very secure!
January 21, 2022
Very happy with the unit we were uncertain on the rules as far as when you can be on the property etc but ultimately very satisfying to know they don't just show people to be hanging around at anytime the over night security guy is a arrogant jerk but everyone else seems professional which we appreciate
January 19, 2022
My experience with us storage is great I have no complaints at all..I just want to say thank you for the help they provided.i will most definitely recommend.
December 21, 2021
the young lady at skipper st was professional Was very knowledgeable and helpful She keeps that place in good shape
December 12, 2021
Great people
December 4, 2021
Great service to me and my parents they told me about the storage place before we came therep
November 23, 2021
The Best I recommended come and visit here
November 21, 2021
Warm and Fuzzy!
October 29, 2021
Very good service
October 26, 2021
Sallie, is very professional and courteous as the manager of the Skipper Rd facility. Kept clean and well organized. Thanks Don
October 22, 2021
Very good excellent and Ms. Sally in location 1108 Skipper Tampa she very professional thanks you for great work
October 21, 2021
Very professional n great service all around. Thanks.
September 22, 2021
I am very pleased with the service at US storage of Skipper Rd. Tampa. Sally took her time to help me find the right storage for my specific needs. The many safety protocols puts my mind at ease knowing that my property will be safe. The price of the units were very reasonable. I am extremely pleased
September 17, 2021
Very good, professional
September 1, 2021
Everything went smooth.
August 14, 2021
I love that the people interact with you and smile. There aleays happy and helpful. Theses people love there job and keep everyones stuff saff
August 1, 2021
It was great
June 27, 2021
Good experience
June 11, 2021
It was awesome! I worked with Rodney at your location on Skipper. He showed me MANY units and was patient, informative and understanding that this was my go rat time renting. He was able to give me a unit up front where I felt safe coming and going until 10pm. I am excited to clean out my house and start using my storage unit! I don't think I would have done it if Rodney hadn't explained the whole process so well to me. And showing me the units REALLY helped me decide what size I needed. Thank you! Colleen Shanahan Tampa Fl
June 2, 2021
Very nice , great guy and has excellent customer service
May 29, 2021
Very nice great customer Service
May 23, 2021
Very reliable.great attention with customers.very good communication.
April 19, 2021
It was a very good experience. Rod rocks. We need many more like him. He takes care of his clients and make them feel good. Thanks
April 16, 2021
The whole process was very smooth and easy. I rented online and they were practically waiting for me. Rodney was very helpful as well and went out of his way to assure the unit was perfect.
April 9, 2021
The staff was all very friendly and the place was clean. Prices were fantastic! Super helpful and love the ease it was to transition our move. Thank you all!
March 16, 2021
Very nice and professional
February 24, 2021
Patrick in the office is very good with rental agreements. He communicated promptly with me. I was offered different options and I am very happy with my purchase and rental.
February 16, 2021
It was easy and simple.
February 2, 2021
You guys helped me and took car of me perfect thank you... Great customer service
January 20, 2021
Your staff make me feel like a member of the family. This my 4th time doing business with u, love your prices and the facility. Keep up the good work
January 13, 2021
I feel it was very easy and worry free. Your prices were much lower than other units I had previously checked I plan on using your facility for a while very neat and clean facility.
November 14, 2020
I was extremely pleased with the professionalism you guys offered.
October 19, 2020
We had to find a storage place for all of our stuff at the last minute and Rodney was very help and accommodating. He has great customer service and is very nice. He thinks outside the box and was able to help us get what we needed at a great price. The storage was gated and had cameras and you could only access it from 6 am to 10 am which makes us feel more safe with our stuff in there.
October 15, 2020
At first i was scared . but then this young man and i had a moemnt of pure eye contact . then he wispered to me " i have the storage you been needed" . I softly replied . how much is a month ?? He then looked down at his screen. I can tell hes been working those musles lately With a soft touch click of the mouse i can see his vein moving as he strolls He says to me " i have a 5x5 for around $37 . He caught me by suprise and i responded "Lets do it " lets do it right here right now "
October 9, 2020
Very easy
October 6, 2020
I had a nice time easy to get set up but it be nice had the manager told me that I needed to put my own lock on before the office closed because after renting a uhaul truck for one day it was loaded and after we got to our storage unit it had a yellow lock on it and no one was able to come open it so we were forced to pay for another rental day plus more mileage on the uhaul truck so yeah we were not so happy.
October 2, 2020
Very nice guy.Very professional and
September 6, 2020
I'm very satisfied! I'm able to keep my belongings at a affordable rate for now. Thanks for all the help provided!
August 18, 2020
My experience with Rodney was perfect, he went above and beyond to make sure I had what I wanted. I would highly recommend us storage
July 10, 2020
Easy and convenient, move in was a breeze and lock situation is the best I'm glad you can bring your own lock
June 23, 2020
It was straight forward and very easy. Patrick (on site) could not have been better or more accommodating. I phoned into the main number twice and each representative was just a delight. Things don't happen in three's like this by accident......obviously there is a good culture at US Storage.
June 21, 2020
Super bien. Gracias
June 9, 2020
It was awesome and the guys are so sweet and nice !!😊💯.I hope its just as awesome now and forever!! Thanks 😊
May 24, 2020
Very good. It was quick and painless to get set up with the unit. And the price was very reasonable.
May 18, 2020
Great, very pleased with storage , clean and secured , friendly staff
April 29, 2020
Patrick was so very helpful and totally understanding of my situation. I love how he was able to answer any & all of my questions and was able to fully assist me!
April 6, 2020
Great service. Quick and easy move in
March 24, 2020
Very polite and helping with my selection based on my budget that was affordable
March 22, 2020
It was overall a good experience. Patrick was helpful and courteous. My biggest complaint would be that the slide bolt is somewhat rusty and difficult to slide.
March 13, 2020
He was very courteous and helped me out with what I needed.
March 12, 2020
My experience was great with Patrick. I love how easy it is to find my storage unit and the prices are great!
March 11, 2020
Loved his professional approach to work and customer needs
March 7, 2020
Very satisfied.
March 4, 2020
The prices are fair, the employee was polite and helpful, and the policies were communicated clearly.
February 10, 2020
Friendly and helpful
December 9, 2019
First impressions are meaningful. My first contact on phone was excellent and encouraged me to store my RV at this location. Second impression : once I arrived , I was greeted by a team of professionals who respected my time and were very kind and helpful. I would not consider going anywhere else for storage. Peter Barry , Montreal
December 3, 2019
Easy to do business with and pleasant.
November 30, 2019
Price is good and location
November 24, 2019
The staff is very nice and helpful. The units were clean an available when I needed it at the last minute and.
November 24, 2019
Patrick is an Excellent property manager! Glad that I rented from this property over the other storage facilities in the area.
November 19, 2019
It was wonderful
November 12, 2019
So far great.
October 22, 2019
Patrick did a great job!
October 3, 2019
Patrick is great to work with.
October 3, 2019
Professional, Smooth, Reasonable, and Quick
October 2, 2019
Very nice professional and helpful
September 3, 2019
Was very informative and showed concern
August 21, 2019
I appreciate the help I received when I went to their very professional offices the staff they have in their offices
August 8, 2019
I like it.
July 30, 2019
My experience was great! I can quite temper the guy name who helped but he had black hair and wore a nice smile.
July 13, 2019
great service
June 9, 2019
Patrick was very helpful and addessed my needs promptly. Great customer service.
May 9, 2019
Manager was very nice and friendly
May 5, 2019
Patrick was most helpful. H explained things very clearly in a friendly manner.
April 13, 2019
Super happy with the service.
March 14, 2019
My electric is not working but I am happy with my Until
March 13, 2019
Clean cool workers quite place :)
October 18, 2018
Rita answered all questions. Was in and out fast. Felt secure about leaving my belonging there.
October 13, 2018
Perfect! Everything was well appreciated and the price and time was everything I needed it to be.
August 17, 2018
Super simple renting and great storage unit for a good price! She was very friendly
August 8, 2018
The young woman was well trained, professional, pleasant to work with and renting took only a very few minutes. Small glitch on move-in day, but Shawn was able to help work things out quickly. The space is clean and just the right size. The property seems well maintained and can't beat the price with a stick. By far the best I've seen in Tampa - Kudo's.
August 6, 2018
It was good.
August 5, 2018
See was terrific
July 13, 2018
All I basically can say is they are way better than last people. Very organized, professional. If u have any questions call them and ask. Love them both.
July 9, 2018
I feel great working in this park. I really appreciate how the staff take care of every detail. I'm already recommending this place to all my friends.
June 30, 2018
Zee was great! So far so good!!!
June 11, 2018
very nice very professinal
May 24, 2018
Great service! Clean storage.
May 4, 2018
Very Professional and friendly.
April 30, 2018
I inquired under the old management but purchased with the new manager. Very pleased with the professionalism and customer satisfaction.
April 26, 2018
My experience was amazing! The staff was extremely friendly and helpful and made sure I got the best deal!
April 26, 2018
Awesome very friendly answer my questions place looks clean. This is my 2nd time with them
April 7, 2018
Wonderful service by staff on location. Just don't have the need for the service and longer.
April 7, 2018
Always great service and Prices
April 7, 2018
It was great the employees were very friendly and helpful
April 5, 2018
My one year rental unit was perfect for my needs. The staff members were very friendly and helpful.
March 19, 2018
I love it the people were very friendly
March 4, 2018
The office staff was always kind and professional. How ever, I was very not pleased and frustrated about how dust always managed to make a way into my unit even when I attempted to dust off my items. My items got saverely dusty and started to look bad. Not to mention that I caught an allergy and sneeze attack each time I went into my unit. That's why I had to get out of there.
February 17, 2018
Terry and Sue was very easy to get along with. Enjoyable experience.
February 11, 2018
Overall the experience was good great. I really think the renovations made the facility look 100 times better and the cleanliness was also very satisfying. Management was very pleasing to talk to.
February 11, 2018
It was great , staff was friendly and worked out situations . They were understanding and helped out as much as possible
February 11, 2018
the staff friendly and welcoming and location is great. its a very clean and well maintained facility. its located a few miles from a major freeway I-275 which makes it convenient if you don't live in the neighborhood near the business site like i did.
January 27, 2018
They where very friendly and nice people and they made me feel like I was home.
January 21, 2018
It was great thank you
January 17, 2018
Very good
January 13, 2018
The storage facility was just fine, no complaints. I do have a problem with some of your tenants, who want to block the driveway, and not let other people pass.
January 3, 2018
Great, very price friendly when your on a budget. Staff very helpful when situations pops up.
January 3, 2018
it was a very good experience. Terry and Suzie were wonderful
December 30, 2017
Excelente servicio al cliente, muy amable, paciente e incluso te explican todo muy bien y lo más que me gusta es que son creyentes... Bendiciones y éxitos. gracias
December 19, 2017
For now good service
December 12, 2017
Both Suzi and Theresa were very helpful and accommodating, friendly and courteous, thanks
December 8, 2017
Outstanding. Awesome
December 3, 2017
Customer service is very good. Terry help me alot! Thanks for going above and beyond.
December 2, 2017
Good value No issues during Irma.
November 2, 2017
Super wonderful. Very courteous and nice people.
November 2, 2017
Loved it staff was very helpful, this is third time there.
October 26, 2017
I'm happy with us it a good place for stores I recommend to my friends to. God bless you
October 21, 2017
i felt welcomed and treated with the utmost professionalism. Susie and Tlesha was great!
September 30, 2017
Very polite I thought it was awesome doing this with you guys I love doing business with you guys and I Look to be a long-term
September 29, 2017
the setup and usage of the storage space went smoothly. No complaints.
September 28, 2017
THE REPRESENTATIVE WAS VRRY HELPFUL AT YOUR SKIPPER RD TAMPA.SHE WAS VERY PARIENT AND HAD A LOT OF INFORMATIVE INFORMATION ABOUT THE COMPANY AND THE SERVICES THAT YOU PROVIDE
September 26, 2017
I find Susie very personable and helpful. Great personality. Always smiling.
September 23, 2017
Service was excellent!
August 10, 2017
I've had a great experience here. I went to the one in Tampa on Skipper road, and Terry (the person I interacted with) was great. One of those people you wish everyone was like, that just makes everything easy and is super nice as well. And on top of that, very professional and fast. I can't recommend her enough. Thanks! I'll probably be sticking with you guys for a while, even if I have to downgrade in size when I get rid of a lot of my storage stuff.
August 9, 2017
Service has been very prompt, reliable, and efficient.
July 26, 2017
Awesome. Terry is very friendly, knowledgeable and courteous. I had other choices for storage and possibly closer and a litle less than here, but still chose Terry,s place. She gives you the feeling of being almost family, not a storage manager.
July 5, 2017
I had a great experience I got treated with kindness and respect, Terri is an amazing person she treats everyone With respect and explains Every thing you need to know About the usstoragecenter
June 29, 2017
Terry is the best I would like to give you guys a 10 on review reasonable prices good clean property good customer service thank you for your service
June 27, 2017
I was very pleased with the service
June 4, 2017
It Was Great THE Mgr is sweet lady that threats you with the upmost respect place is always clean and the staff is top rate
June 2, 2017
Great the office worker Terry is very nice and kind very good people thank you guys for all your services
May 29, 2017
The manager, Theresa, is great. She goes above and beyond to make sure her customers are well taken care of. She's so friendly and accommodating. It's ovbious she takes pride in doing a great job. She has cleaned up the property tremendously.
May 27, 2017
Best customer service ever! Terry is the bomb!
May 21, 2017
Great! We were treated with utmost courtesy.
May 18, 2017
Special place and service
May 11, 2017
It was good customer service , I was in and out . Help settled and satisfied
May 7, 2017
Nice people at work who plays a very secure
May 5, 2017
It was a great experience
May 2, 2017
The staff was very helpful and friendly.
April 24, 2017
I felt very happy and well taken care of by both Terry and Christina at the Tampa/ Skipper Rd. location! Thanks so much! Gary
April 17, 2017
Excellent, professinal, awsome experience!
April 11, 2017
I'm very satisfied with Y'ALL
April 6, 2017
Great, confortable. Love it
April 6, 2017
The manager Teresa, has been instrumental with my continued stay at the storage.
March 15, 2017
Terry was wonderful signing our lease
March 5, 2017
Great experience.
February 26, 2017
Great Customer service! Genuinely nice ladies! My first unit just didn't work for what I needed.. two days in, there was no issue with switching units!!
February 24, 2017
it was excelente service
February 22, 2017
Everything was great. Ms. TERESA WAS FABULOUS, VERY KNOWLEDGEABLE AND PROFESSIONAL. GREAT SERVICE!
February 8, 2017
The lady was very courteous and very helpful in explaining everything to me very nice disposition showing use the u Te and I had an all around good morning will I was there.Thank You
February 6, 2017
SUPER GENUINE
February 5, 2017
Very nice
February 4, 2017
The head manager Teresa has been an amazing employee to your company and is the reason I have stayed so long with 4 units.
February 4, 2017
The ladies on the Skipper Rd storage in Tampa were great!
January 27, 2017
the manager is very kind and knowledgeable If I ever need a storage I will back to her
January 22, 2017
I felt great customer service was exceptional. Manager awesome
January 19, 2017
The services was great customer service was phenomenal. Thank You for help greatly appreciated. God bless
January 18, 2017
Tops. 100%
January 18, 2017
Staff was extremely helpful and friendly,I would recommend!!😊
January 10, 2017
It was great!
January 2, 2017
It was very easy friendly staff but no nonsense approach. I like that
December 24, 2016
Very simple and worked well to accommodate my needs for storage of a car. Terry, the manager, worked with me to find the right size unit after discovering it wasn't large enough. The price of the larger unit was still cheaper than anyone else within 30 miles and she confirmed that prices would not go up for the foreseeable future. After looking at the payment options online, it's going to be simple to stay up to speed with the payments using their page. After talking to Terry about the step up into the unit, she informed me the entire lot is being repaved in January which will reduce the drop from the unit floor to the pavement. This makes me feel more at ease when it comes to my retirement gift to myself.
December 21, 2016
I very much liked it will definitely do business there again
December 21, 2016
it's great, the workers there are awesome and sweet definitely worth the price
December 11, 2016
Terry is fantastic not only did she make renting storage space easy Moving in was a breeze. Highly recommend her as very good site manger Greg
December 11, 2016
Employees are very friendly and happy to answer any questions
December 11, 2016
Excellent.l will always recommend people to check u guys out.
December 9, 2016
I have been to a lot of storage places in my life all of them but this one about the same but this one on Skipper Road with Terry and her little friend ( sorry I didn't take time to learn her name ) make the difference they are the only thing that makes that place stand out above and beyond any other storage place they are professional friendly and extremely helpful they are the reason I will continue using US storage. the owners of US storage should cherish employees like these
December 9, 2016
Very friendly and helpful. Made you feel as if what you were saying was important and that you were important! Staff has very good customer service!
December 6, 2016
A wonderful experience your management team has met all my needs when I had concerns and help me out and reassure me things will be OK and my things are in a safe place Terry was very helpful I gave excellent customer service I give her a 10+