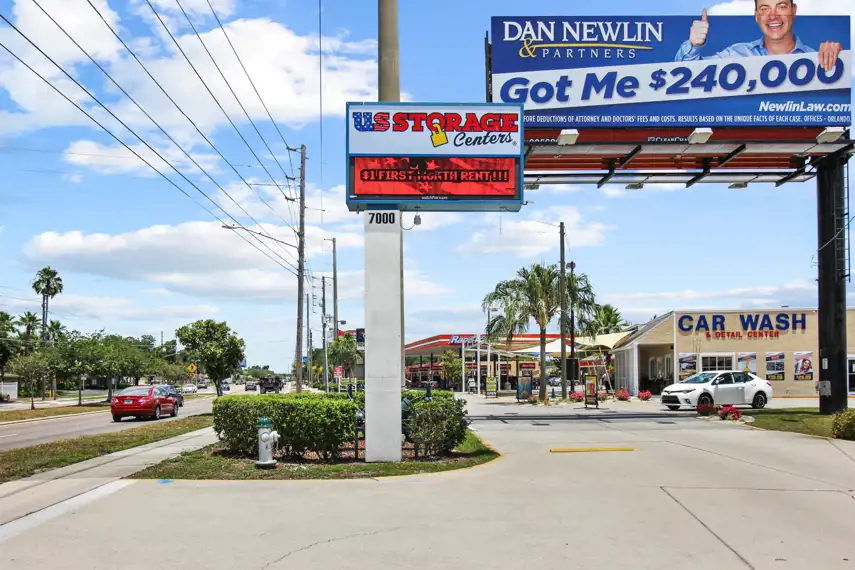 Rent or Hold Your Storage Unit in Minutes. Easy, Contact-Free Rentals.
Location Details
ACCESS HOURS
Mon

6:00am - 10:00pm

Tue

6:00am - 10:00pm

Wed

6:00am - 10:00pm

Thu

6:00am - 10:00pm

Fri

6:00am - 10:00pm

Sat

6:00am - 10:00pm

Sun

6:00am - 10:00pm
OFFICE HOURS
Mon

9:30am - 6:00pm

Tue

9:30am - 6:00pm

Wed

9:30am - 6:00pm

Thu

9:30am - 6:00pm

Fri

9:30am - 6:00pm

Sat

8:00am - 5:00pm

Sun

10:00am - 3:00pm
FEATURES AND AMENITIES
Drive Up Access
RV Parking
Passenger Elevators
Electronic Gated Access
Video Recording
Employee(s) Speak Spanish
Moving Carts
Kure It Certified Location
ABOUT THIS LOCATION
Winter Park Self Storage Units Help You Beat The Weather
Read More
Photos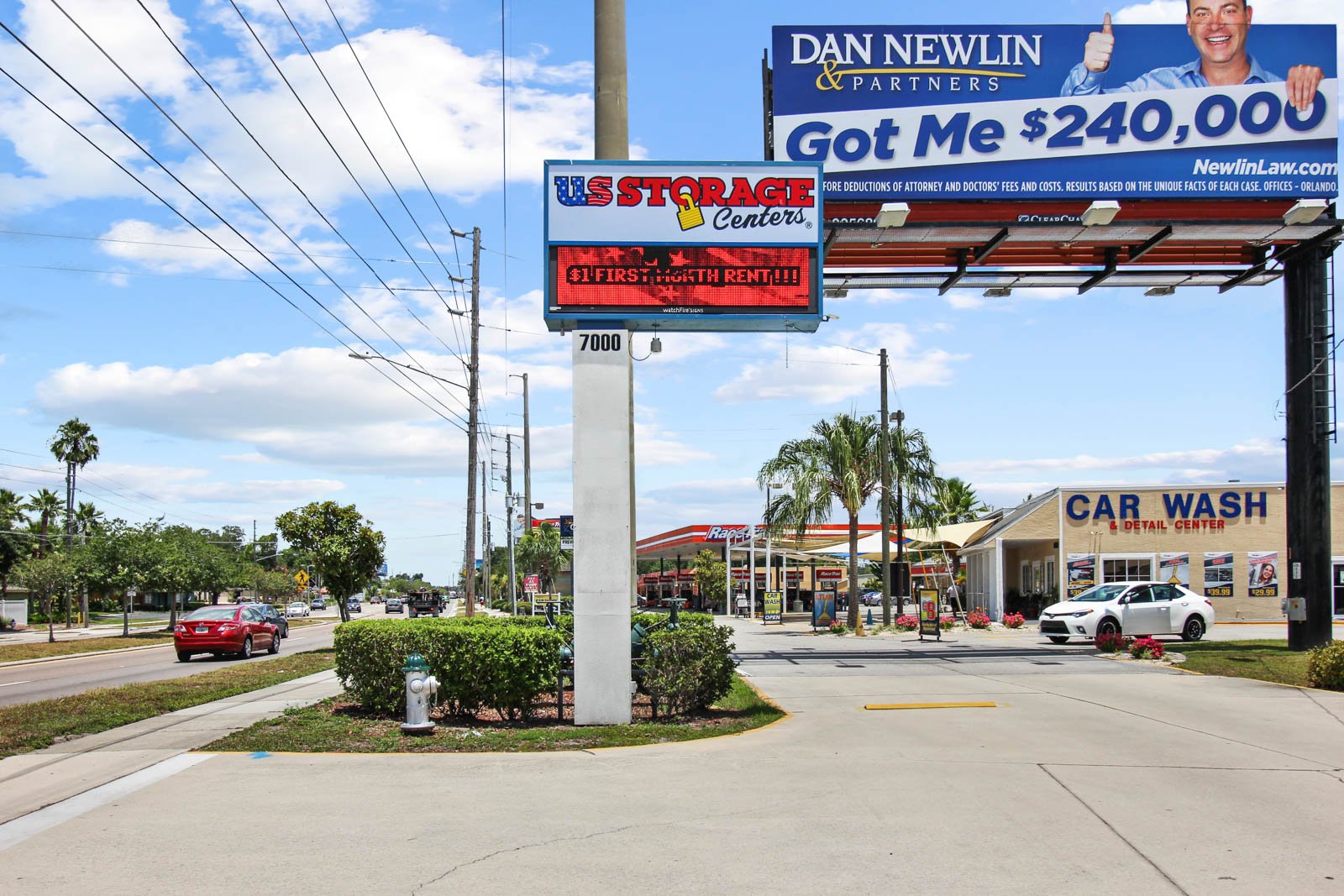 About this Location
Self Storage Facility Features

US Storage Centers of Winter Park, Florida offers clean and secure self-storage units. The storage units here range in size from: 5' x 5' - 30' x 30'. All of our Winter Park storage units are located on the ground floor and are drive-up. The aisles at our property are extra wide, allowing for lots of space when you move into your storage unit. Climate control storage units are also available to rent in various sizes. Our Winter Park managers are here to help with all your self storage needs! 
Contact-Free Rentals – Easy Online and Phone Rental Options 
 Online Rental
 Select your unit and enter your info and payment
 Sign the lease online
 A manager will reach out to you with your access code, a map of the property, and they'll have you email a copy of your valid government picture ID
 Once these steps are complete, the manager will prepare your unit so it's ready when you arrive
 Phone Rental
Simply call the number listed at the top of this page, and a member of our staff will work with you over the phone to complete a rental
The manager will email a lease to sign
Once the lease is signed, a manager will reach out to you with your access code, a map of the property, and they'll have you email a copy of your valid government picture ID
Once these steps are complete, the manager will prepare your unit so it's ready when you arrive
Secure Storage Units
Some of our security features include 24-hour video recording and electronic gated access. All of our storage units are located inside our secured gate. Tenants entering and exiting the property are required to enter a PIN code. We also have an on-site manager to keep a close eye on the property.

You'll find that we have competitive rates, a friendly staff, and professional management at our self-storage facility.
Conveniently Located
We're located on Aloma Avenue, a major thoroughfare here in Winter Park. Two of the big cross streets near us are North Semoran Boulevard and Aloma Avenue; and North Palmetto Avenue. This location is easy to get to and you'll be able to see our blue storage unit doors from the street. We're located next to Magic Suds Car Wash & Detail, and Racetrac Petroleum gas station.

The Costco on Forsyth Road and University Boulevard is just south east of our location. Perch Lake is a couple of blocks east of us. Lexus of Orlando and Full Sail University are also nearby. Lake Nan and Lake Waunatta are also a few blocks east of our storage facility.
RV and Boat Storage
RVs and Boats can be stored in either 25' or 34' parking spaces available at the facility. Parking space width may vary from spot to spot. Please call the property manager for more details on Parking Space sizes.  
Forms of Payment
It's easy to pay your bill! We accept cash, checks, money orders, Visa, and MasterCard. You can also pay online through our secure client login.
The Community
Winter Park, Florida has spent the last 100 plus years being beautiful, inviting, and a great place to relax. As a destination for presidents from Chester A. Arthur to Barack Obama, Winter Park is a logical choice to retreat from the harsh winters in the Northeast. Despite being next to the famous resorts in Orlando, this resort area likes being famous for a more laid back pace; a respite from excitement.

There was, though, the big sinkhole of 1981, when the earth swallowed Mae Rose Williams' home, parts of Denning Street, and five Porsches. It made national news and people came from all over to see the phenomenon. Today, Lake Rose (named for Ms. Williams) is a serene pond (of course).

Thank goodness everything has calmed down since then. Now you can relax when your home starts to burst at the seams with your belongings. US Storage Centers in Winter Park is here with the space you need.
Kure It Participating Facility
Philanthropy is a big part of the US Storage Centers family. Our facility is a proud member of Kure It Round up for Research. Kure It, founded by US Storage Centers chairman Barry Hoeven, raises money for innovative research into many types of cancer that receive little or no funding.
Facility Products
Your time is limited, so to make your transition easier we sell boxes (sized small - x-large). We also have wardrobe boxes, packing tape, tape dispensers, mattress covers, bubble wrap, picture moving kits, disc locks, and brass padlocks.
Customer Reviews
overall rating, 371 total testimonials
August 8, 2022
Wonderful. Very helpful and smooth transaction
August 5, 2022
Very good and very professional
August 3, 2022
Excelent !!
July 20, 2022
Renting a storage unit at US Storage was very easy & pleasant- Manager Neil & Martavius we're both extremely professional & helpful with the process from start to end 👍
July 19, 2022
It was great. Neil was very professional and very helpful.
July 12, 2022
I spoke with Neil at the Aloma location and was comforted by the fact that someone like him is in charge of the facility. He was very informative and considerate during our interaction!
July 8, 2022
The guy who signed up my unit was professional, offered suggestions, explained what to expect. It was fast and easy to get my storage signed up. Glad I chose US Storage over the competition.
June 13, 2022
simple. straight forward. very easy to work with. moving from one unit to another was a breeze. and thank you for the great rate
June 5, 2022
Neil was so helpful and assisted with every step in getting me settled. Thank you for such kind and helpful service!
June 5, 2022
Very good. Great customer service. Personable and great at explaining everything. The facilities were nice. I like how the fate and codes function and how I can easily access with my app. The only difficulty I had was the app didn't seem to work for exiting. I also like the automatic payments and how you'll notify when payment is late before charging late fees. I appreciate that and feel my stuff is safe there.
May 24, 2022
I'm sure you've heard but Neil is the best!!!
May 12, 2022
The service is friendly but I wish there was an extra security to enter storage building.
May 6, 2022
Very good service focus throughout my entire experience. Friendly and attentive staff.
May 5, 2022
Martavius West was amazing. He showed me several units until we found the right one for me. He explained everything in detail and was easy to work with! So far so good with unit. Check back in a few months! Thanks, Mack McDermit
May 3, 2022
The experience dealing with Martavius in the office was very good. A problem came up later whenI tried to get in for the first time, and it was after hours. I don't believe it was anything Martavius did incorrectly. The gate code generated by the computer did not work when I tried to enter. WhenI called the number on the gate, I was just left on hold. When I then called the non-emergency phone number on the gate, the answering service told me a gate code would cost me $50 on the spot. I refused to pay for one, so she gave me a 4-digit code to try, which also was not recognized. She took my phone number and said a manager would call me back. I thought she meant I would be called back shortly, but the callback was not until Monday morning. Wow. I know in the future not to leave the grounds until I check to make sure the code works.
April 8, 2022
Professional a good experience
April 6, 2022
The front desk person was super helpful everything is clean and neat
March 8, 2022
Takes some time to get things done. ie cameras. I have been here a long long time. Prices are getting so I may have to sell my RV and forget future travels.
March 1, 2022
What a great find! This place is so professional and clean. Neil and martavious were so helpful and explained the whole process to me. The price is very reasonable and they even have climate control units. I will definitely be back for future storage use. Give them a call if you like quality service.
March 1, 2022
I had a great experience,great deals.employees were very help and respectful and made sure we got everything we needed to ensure safety for our things.100% would recommend.
February 14, 2022
Okay so far
January 15, 2022
Everything was made super simple for us! Definitely a great experience!
January 15, 2022
Great! Easy, seamless process. Thanks!
January 11, 2022
The setup experience was smooth. Faculty is clean
December 21, 2021
Staff was awesome and it was a simple process
December 19, 2021
Amazing experience. Neil made everything very easy
December 19, 2021
My move was pretty much last minute, but the young man that rented the storage unit to me, made the move easier for me and my family.
December 8, 2021
Neil is a professional and his customer service is excellent. The facility is clean organized and well lit. Thanks U.S. STORAGE
November 9, 2021
The people at the office are very friendly and helpful I recommend
November 6, 2021
Neil and the whole staff is excellent and work diligently to take care of my needs. Plus the storage facilities are better maintained then those in the surrounding areas. Keep up the good work you guys!
October 26, 2021
Professional and helpful
October 17, 2021
Great customer service. Easy access.
September 30, 2021
Very easy and friendly
September 20, 2021
It was easy and the customer service was great! Thank you!
September 8, 2021
Great! Neil , a manager, could not have been more courteous and efficient. Very impressed with cleanliness of units and property.
August 31, 2021
From 1-10, 10...In the perfect location, price Exceptional, storage unit & size in perfect spot with easy access. Front desk guy treated me like a queen....what more can I say.
August 29, 2021
Chris was so nice and showed me around the property as well as my unit and made sure my lock worked.
August 24, 2021
Awesome job
August 7, 2021
Neil was great at explaining everything. Place was clean and neat.
August 6, 2021
Very Good, a special thank you to Mr. Neil Pizzo at Winter Park location and to Mrs. Skyy at Sligh Blvd location. They were great and very helpful with all the process. Thanks to their help I was able to make happens on time.
August 5, 2021
Chris is the one who helped me when I first went to two stores he was so helpful great personality sense of humor customer contact
August 4, 2021
Bien gracias muy bueno todo
August 3, 2021
Neil is very nice & professional! 5+ stars to Neil!
August 3, 2021
From the first time I booked my storage online a few minutes later Neil call me introducing himself and the day of me getting my storage he help me very well I will definitely recommend anyone to use the storage area Sam Q
July 31, 2021
I was very happy with the facility and the service.
July 31, 2021
You have great costumer service and friendly employees. The units are reasonably priced.
July 28, 2021
Neil was Awesome and explained everything very thoroughly. If I had a question then He had the answer. He was extremely knowledgeable and Professional.
July 15, 2021
Great. Mgr took the time to explain everything very clearly and was a pleasure to work with.
July 4, 2021
The manager was very easy to understand. He accommodated everything I could think of, and gave me a great tour of the facility with options. He wasn't pushy, and had lots of patience. I'm glad that I made the choice of coming to this facility, as it had the best prices in the area with climate control.
July 3, 2021
I had an amazing experience with you guys. I believe his name was Neil helped me with my storage unit and was super helpful and friendly.
June 23, 2021
Very confortable, well service! Thank you guys, you're doing awesome!!!
May 28, 2021
Location is great and the people are amazing also.
May 25, 2021
It was warm, friendly nice I would recommend
April 29, 2021
It was great. The customer service was awesome really loved how they showed me around. Definitely would recommend.
April 23, 2021
Ron was a great help and person. He was also very funny and made my experience fun.
April 15, 2021
Great service...All the employees are very helpful. They go above and beyond to help you. I have looked at other storages and this is by far the best.
March 31, 2021
Excellent the representatives Jean and Nicole are very professional and servicial. We are very glad to have our personal belongings storages at US Storage.
March 27, 2021
Nicole at our local storage facility was very professional and helpful. The prices are very reasonable as well.
March 26, 2021
Was very good already have a space I have p21 13 and I just got another story The End 1064 I'm very pleased with the service thank you
March 24, 2021
Great. Very clear communication and speedy process when securing unit.
February 28, 2021
Easy system
February 26, 2021
Awesome service Jean DesRocher! Clean and safe location!
February 25, 2021
Very friendly. Took care of my needs when it came picking out my storage room needs.
February 23, 2021
Muy bien
January 24, 2021
John was very helpful. The place was clean. But ramp getting in door was raised and made it very difficult getting carts over that hump. That could be smoothed out so easy with some concrete.
January 15, 2021
Nice units
January 14, 2021
Great experience by Jean
December 25, 2020
The lady who helped me did a great efficient job...However, way to many digits to enter and exit the gate, as there are some 600 million combinations you can make with nine different digits/characters...thanks
December 24, 2020
Nicole was very helpful an kind
December 17, 2020
So far very helpful and considerate
November 10, 2020
It was very good! Service was excellent and my transaction was processed quickly.
November 7, 2020
Easy procedures, good location, clean units. A huge thanks to Jean Desroches, property manager of the center, who has been extremely helpful and very kind every time I have interacted with him.
October 20, 2020
Awesome. I've used this storage unit before when I first moved to orlando,and now that I'm moving it's only right they use there services again while I get the next apartment ready. There one of the best places to use in my opinion as there cheap and easily accessible and the manager or owner is awesome, he always gets me a great deal which in a low budge move is the best and very appreciated.
October 5, 2020
I felt confident and well treated and they explained very good .Nicely welcome.
September 29, 2020
No problems at all and good costumer service
September 27, 2020
customer service was good, better than expected. facility is clean, but a man came in without a mask and the customer service attendant did not ask him to put on a mask.
September 26, 2020
Great service
September 26, 2020
Very knowledgeable staff,friendly!
September 17, 2020
The office staff was extremely helpful in matching the right unit with my needs. They went above and beyond to coordinate with the movers and to make the transition smooth. Thank you Jean and Nicole!
September 15, 2020
Very helpful guy in office did everything to get me a unit he went clean for me before rent and the price excellent
September 7, 2020
Very professional at everything, just to expensive.
September 7, 2020
Everything went well, the facility was clean and staff very helpful
August 20, 2020
The customer service at start of the rental process was outstanding! I hope to continue to receive the same support during my rental time there.
August 18, 2020
It was smooth.
August 5, 2020
Everything was fine, the price, the space, the staff. We are very pleased.
July 16, 2020
Friendly, fast service. Clean, well kept facility. Pleasure.
July 7, 2020
Very confident and a great experience with this process of getting the storage.
June 23, 2020
Very pleasant and easy. All the units that were shown were clean and well kept. The costumer service and the willingness to hear out what I was storing and recommended what would be best was very helpful.
June 6, 2020
I'm a Handyman and didn't have space at the house.. I walk in and the nice lady Nicole help with the process of getting me a proper space for my needs.. I recommend this facility.. Sam Quinones Thanks
June 4, 2020
People were very friendly and helpful but outside storage is very crowded and very difficult to get into and out of.
May 27, 2020
So great. Friendly service. I would like to recommend you, for sure!
May 23, 2020
It was great.
May 13, 2020
Courteous and helpful. Easy
May 6, 2020
Very good staff friendly fast service and very helpful
March 31, 2020
Great much better than Public storage.
March 31, 2020
It was positive and if my pricing holds true very affordable and convenient for my plans
March 18, 2020
John and Nicole were the most professional and nicest people during this process. The place is great and offers the best price of the area.
March 17, 2020
It was easy and pleasant.
March 17, 2020
The staff at this location is friendly and helpful.
March 14, 2020
Very nice and friendly I moved to a bigger unit
March 5, 2020
Jean went out of his way to help me during his lunch hour. Thank you very much.
February 22, 2020
I'm sure that was a mistake I had awesome service and everything was clean the only problem was the ac on the building that I got the storage room. That is not a complain is just a a request. It's a climate control building and it was warm. That's all. Everything else was on point.
February 13, 2020
A warm welcome and good customer service and friendly people to talk too and clean Storage thanks
February 11, 2020
I am really pleased.
February 8, 2020
I found that the people I spoke to and the service was (as we say in the UK) top notch ,all friendly and helpful, thank you
January 21, 2020
The in-store experience was great. Jean the manager was very friendly and helpful. Great Customer service.
January 21, 2020
Very good!
January 13, 2020
Excellent Customerservice.
December 11, 2019
Excellent
November 30, 2019
I love the facility, the people are nice and helpful. Easy to navigate and unbeatable pricing! I would recommend this storage facility above all others!
November 25, 2019
Very good service
November 23, 2019
Nice staff and very clean place they have me a very good deal for 2 month 50%off 😁
November 1, 2019
Very friendly, very knowledgeable , very considerate and helpful
October 27, 2019
Quick and easy to rent a storage
October 26, 2019
Jean was knowledgeable, professional, and pleasant. The facility was clean.
October 22, 2019
Jean and Nicole are great, kind and very helpful.
October 22, 2019
Very professional and pleasant
October 21, 2019
John was very knowledgeable fast and courteous.
October 20, 2019
Hi folks, I had a great professional reception by John and Nicole. I appreciate it. I can refer this place to my friends. I strongly advise to install more surveillance cameras. I think it has few cameras installed, bringing more responsibility for the company. This is a point that deserves a lot of attention! As well as access control, some people do not identify with the system at the gate and use remote controls that do not provide check-in and check-out. Please fix these issues which can pose major problems for users as well as the company. Thank you so much.
October 18, 2019
Awesome staff and answered Every possible question . Thank you for your Awesome customer service -Manuel Santiago Property manager- Jean
September 26, 2019
excellent
September 20, 2019
My experience was excellent
September 19, 2019
Friendly and accommodating .
September 18, 2019
Friendly, honest, helpful staff. Easy access. Clean units. Would recommend to anyone. Prices a very competitive.
September 4, 2019
Great service
August 28, 2019
The rep there was courteous, friendly and extremely helpful. With more employees like him, US Storage should be in business a long time! I look forward to recommending the site on 7000 Aloma to anyone in the Orlando area.
August 21, 2019
Well have been a customer before. My last experiense was great hopefully it will be the same this time around.
August 21, 2019
The convenience of your location is the reason I would recommend.
August 5, 2019
Very positive. Staff very helpful.
July 17, 2019
The manager, Jean, was extremely friendly and helpful. He found me an excellent deal that worked with our budget and schedule. The only complaints we have are that our unit is accessed through a door (both sides of the building, turns out) that have a slight "step" into the building, rather than a ramp. Because of this, when you have 300lbs of tubs on a cart, you can't get over that little step (means we had to take half the tubs off then lift one end of the cart, which resulted in my husband hurting his back). A ramp is necessary, and is present on ALL other access points except the two that we would use. Also, the doors can't be kept open with a door stop, supposedly per the fire marshall? All other storage places we've been to have this. We had to find and use a concrete block to keep the door open. These two things need to be rectified immediately.
June 30, 2019
Very nice and healthful staff
June 22, 2019
Fast, easy, and courteous customer service. Thanks.
June 1, 2019
Very professional fast service. Jean was awesome! Units very clean!
May 18, 2019
The staff was friendly and willing to help out. The prices were great!
May 13, 2019
From the online renting to the check-in process, everything was great!
May 2, 2019
Fantastic - all aspects great !
April 26, 2019
Great 2nd unit Jean is the best!
April 18, 2019
excelent customer service from Jean helping me to get storage for my belongings and also for his advice.
April 11, 2019
Great both of the property managers were very helpful!
March 23, 2019
Excellent - Staff very helpful
February 27, 2019
We were very Impressed ! Jean is amazing , kind and very very helpful.
January 23, 2019
Great.. I think Jean is a great asset to your company..
December 13, 2018
Jean is great to work with. Your late fees are ridiculous especially for a long time renter like me
November 30, 2018
Great front office staff, would recommend to anyone with Storage needs.
October 26, 2018
Desk Agent was very helpful and friendly.
October 25, 2018
exellent
October 24, 2018
I could not be happier!! The Staff was so professional, answered all my questions to help me with my storage needs. I would highly recommend them
October 24, 2018
Both men I met with were very knowledgeable & very professional. I would recommend this facility to anyone.
October 11, 2018
Excellent Jean and his assistant went out of there way to accommodate us. It was greatly appreciated.
September 29, 2018
Jean D. was wonderful
September 29, 2018
Patrick was very helpful as we decided the size we needed and the location
September 24, 2018
When I called no one told me that I needed my own lock, nor did they say I needed a cash deposit in order to use to truck and they didn't tell me I needed my insurance card for the truck as well. I was unprepared for this as no one told me. This was a huge setback in my plans. Had your staff been better at communicating, this wouldn't have happened.
September 13, 2018
Easy no complications
September 5, 2018
It was wonderful, he make it so easy for me in a time that a lot was going on Thank you for your smile.
August 25, 2018
wonderful
August 23, 2018
Very helpful.
August 18, 2018
Very friendly good price good deals
August 6, 2018
I love everything about them. ... always ready to serve you.
July 17, 2018
I enjoyed this experience immensely. I will recommend this to friends and family who are moving and I had such a good time with Theresa. She helped me with all my questions and concerns. Overall I give this place a 10/10 for customer service. The units are all in good condition and no problems getting into the secured area,which is gated and locked of course. You take privacy very seriously which I appreciate and admire so thank you. If you can tell Theresa that Dylan Anderson thanks her for all the help and advice, she was wonderful.
June 16, 2018
John was great!!!
June 11, 2018
Everything went smoothly.
May 31, 2018
Awesome customer service! Great price! Very happy to be storing with US Storage Center
May 26, 2018
The office people were terrific and the space was clean.
May 20, 2018
The facility is good. Employees are helpful, friendly. My only problem is the company website.. Had problems every time I needed to make payment. We only used short term but every month I had to call because of online problems.
April 18, 2018
It's was very good! John made it easy! Was very commutative and explained everything very clearly!
April 5, 2018
Excellent service, friendly people. Thank you.
April 5, 2018
Friendly staff, well kept premise.
March 25, 2018
My experience was very positive. Both over the phone and at your Winter Park location. Everyone there was very nice and helpful.
March 23, 2018
All aspects were professional and efficient of the US Storage Center experience.
March 21, 2018
Great! Jean was fantastic!
March 14, 2018
Very professional and helpful staff
March 10, 2018
Been renting storage units a couple years now very Happy
March 7, 2018
Good customer services.
March 5, 2018
Extremely nice staff to work with and competitively priced units..
March 5, 2018
Manager was helpful at checkin. Rate was reasonable. Unit floor not as clean as I'd expected.
March 4, 2018
It was a very satisfying and easy experience. They were very helpful and made the move delightful.
February 18, 2018
Very good
February 5, 2018
Both Amber and Jean have been very helpful with the renting of two storage units and providing receipts and copies for insurance purposes. Yes, would recommend to others.
February 4, 2018
Jean is a great Guy..
February 4, 2018
Very helpfull staff
February 1, 2018
Thank you !!
February 1, 2018
No concerns. Met expectations.
January 28, 2018
Kept it clean and always kept the gate functioning. Seems to be very secure and I had no issues storing my job trailer there For a year and a half.
January 26, 2018
We had no issues. I wish the units had lights
January 21, 2018
I felt safe a d secure storing my items at the unit and facility. The staff are always friendly and helpful. I have recommended a few of my neighbors and they like their experience. I work nights so putting my motorcycle in my unit after 10pm became problematic for me. Most times i work late or leave school late at night so i was unable to access my unit after 10pm. During the day or inclamate weather was helpful. Overall great
January 17, 2018
Very good experience checking out of the facility. Even got balance of payment back. Thank you!
January 16, 2018
There shouldn't be a 10 day notice rule for move out.
January 1, 2018
I can only speak on the Winter Park, Aloma Road location as a company reference. For this particular location I would refer it to a friend. Jean was very helpful in our initial visit. He showed us 3 different sizes based on information we (my daughter and myself) told him, explained pricing and process, and was patient with any questions we had!
December 19, 2017
I loved being able to pay for rent over phone using the automated service and the monthly email reminders. Anytime I had questions it was easy to get a hold of someone and the facilities were always clean and felt safe.
December 7, 2017
John is SO helpful, kind, respectful. Great customer service is rare these days, and he is very good at it!
December 7, 2017
Great customer service
December 4, 2017
I have been using commercial storages since UHaul was the only game in town. The folks at this US storage facility really care about folks. No BS, no wishy washy, just superior honest service. They really show they desire to serve. What else can you ask for? I am impressed.
December 1, 2017
Bery good
November 30, 2017
Great service, appreciate the efficiency and wholesome service overall. Amber was definitely helpful.
November 30, 2017
I was very happy with my experience here. I already was stressed enough trying to move and with the great coustmer derive I received it took so much stress off my plate. Thank you.
November 26, 2017
Fast, easy and courteous service!
November 22, 2017
They were great! They gave me great passes and fast access for my storage!!
November 15, 2017
Great experience overall
November 14, 2017
great customer service, facility always clean
November 14, 2017
Nice, clean space, helpful staff
November 8, 2017
US Storage Centers made everything quick and easy.
October 31, 2017
Everything went very well - was offered fantastic customer service - I would definitely recommend!
October 29, 2017
Agent shoes concerns for my needs. Units are super clean, no oder or spider webs. Easy to access while very secure.
October 25, 2017
Feel like the Storage fees were being raised at too frequent intervals.
October 5, 2017
Very friendly and very helpful
September 30, 2017
Staff was great, very helpful and answered all my questions. Facility very clean and the security made me feel good about renting the storage unit.
September 16, 2017
Jean was very helpful and pleasent to deal with I would highly recommend anyone in the area who needs storage to check with him
September 4, 2017
Had a good time and alot of jokes when i went to get my storage unit situated. Almost forgot what I was there for. The staff had me in tears the whole time. You guys are awesome!!!
August 17, 2017
excellent
August 14, 2017
I was very happy with the staff there and Amber Lee was terrific and so was John. I was treated fairly and with respect and great customer service, which is very hard to find these days, as a business owner I thank them and US storage. Thank you. Sincerely, Will
August 13, 2017
Great people and great costumer service Congrats!
August 10, 2017
I had a very good experience with you guys. The attendant was really nice and helpful.
August 10, 2017
Excellent service, the lady on the front desk explained everything, she gave me a ride around the place and took me to the storage unit I was getting, she went over the options in a very nice way, I'm very sorry that I forgot her name!!
August 4, 2017
The customer service was great and they very helpful.
August 3, 2017
Excellent! I called numerous other storage companies prior to US storage and I immediately felt comfortable. When someone is moving its already stressful...having a peace of mind where your items will be helps tremendously.
July 28, 2017
The folks at US Storage Center on Aloma were very helpful. Setting up an account and getting access was easy. They looked to help us save money where possible and were prompt in alerting us when we had something due. The facility was secure and well monitored. A good place to keep our stuff during renovations and moving.
July 17, 2017
Jean initially, and Amber thereafter were professional, knowledgeable, friendly and helpful with my sister and my storage rentals with US Storage.
July 8, 2017
Excellent customer service
July 2, 2017
Very good customer services. Great location.
June 30, 2017
very nice and accomadating to us in every way
June 22, 2017
The staff were courteous and efficient. They allowed us to borrow the hand truck and trusted us to bring it back the next day.
June 20, 2017
Jean paid great attention to little things like handing over a clean storage unit. My wife and i were very pleased with his courteous and professional attitude. Its nice to see someone enjoy what theyre doing.
May 18, 2017
Amber was exceptionally friendly and expeditious. It was a pleasure dealing with such a professional.
May 10, 2017
easy to work with and nice move in deals
May 7, 2017
great service and good deal.. I definitely recommend it
May 6, 2017
Great customer service!
May 5, 2017
Welcome and safe. Great job US Storage!
May 1, 2017
Was a very good experience Process was fast and easy.
April 28, 2017
The manager was very nice and helpful, he gave us all the information we needed and helped us save money with discounts
April 28, 2017
Love working with all of you! Kind, professional, friendly, did a great job! Hope to see same team on 5/24/17 for our move to DeLand!!!! xoxo
April 26, 2017
It was quick, easy and John was very customer oriented. All of my questions were answered. Anytime I have called everyone has been so pleasant.
April 26, 2017
Great customer service. Amber Lee was outstanding very knowlogeble and great attitude. She is a great asset to the company. Her personality was outstanding, she went above and beyond with the customer interaction.
April 26, 2017
Great people. Amber was super in getting me setup with everything I needed. I highly recommend US Storage in Winter Park to all my friends and colleagues.
April 23, 2017
Knowledgable staff members, really secure facility. Its really convenient the office sells high quality locks. I live across the street so the location amd price are convenient and perfect
March 6, 2017
Edwin was fantastic in helping me get a great deal on my storage unit, and was very friendly and knowledgable!
March 1, 2017
The manager was really good!
February 25, 2017
Excellent service!
February 23, 2017
I felt very warm and welcomed here, will tell any and all where to go if they need storage
February 16, 2017
excellent experience! Polite, and quick!
February 11, 2017
I love the security the place n courtesy of the Staff member
February 4, 2017
Very good and most helpfull
January 5, 2017
Good/ Staff friendly and helpful.
January 3, 2017
The staff was Friendly personable accommodating pleasant .. Both of the ladies I interacted with provided excellent service.
December 21, 2016
Amber was awesome. The day she checked me in, she had about 5 customers at the same time (2 of which were just plain angry) and worked the crowd like a pro. She was literally running around to accommodate the people who needed her assistance. The facility was clean and as advertised. Thank you!
December 21, 2016
Very nice, helpful, and accommodating staff. Clean appearance and nice units. I have a large 20 x 10 air conditioned unit. The use of the truck during moving day is really what swung me to select your company/location for my needs.
December 12, 2016
I dont have any complain.
December 11, 2016
Could not ask for more...great service.