Rent or Hold Your Storage Unit in Minutes.
Location Details
ACCESS HOURS
Mon

Open All Day

Tue

Open All Day

Wed

Open All Day

Thu

Open All Day

Fri

Open All Day

Sat

Open All Day

Sun

Open All Day
OFFICE HOURS
Mon

9:00am - 6:00pm

Tue

9:00am - 6:00pm

Wed

9:00am - 6:00pm

Thu

9:00am - 6:00pm

Fri

9:00am - 6:00pm

Sat

9:00am - 6:00pm

Sun

10:00am - 4:00pm
FEATURES AND AMENITIES
Drive Up Access
24 Hour Access
RV Parking
Electronic Gated Access
Video Recording
Kure It Certified Location
Photos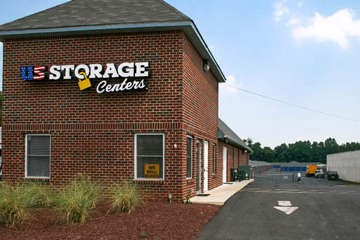 About this Location
Features for Storage Units in Baltimore
Renting Baltimore storage units has never been easier than from US Storage Centers. We offer storage units near you that fit every need and we provide the friendliest service in town! All of our units are on the ground level, and many are drive-up accessible, making your move fast and easy. We'll never lock you into a long-term contract; every unit is month-to-month for your convenience. Visit Baltimore's storage facility and our managers will help fulfill all your storage needs!
This location features 24-hour video recording and plenty of lighting. Our gates operate on an electronic access system, and each storage unit has an individual door alarm. You can also purchase one of our tamper-proof and bolt cutter-resistant disc locks.
Easy Rental Options
Rent your storage unit online or over the phone for a quick move in. 
Not ready to rent? No worries! Reserve your unit now to lock in today's special discount.
Month-to-month rentals
No credit card required for reservations
No deposit required
RV, Boat, and Vehicle Storage

You can choose from a variety of parking spaces and garages to fit your RVs, boats, trailers, or vehicles. Ranging from 18ft, 20ft, or 30 ft long, our Baltimore storage facility has something for all vehicle owners! Parking space width may vary from spot to spot. Please call the property manager for more details on Parking Space sizes.  

Conveniently Located
We want your storage unit to be easily accessible whenever you want to stop by. You can find us near the intersection of Belair Road and Parkwood Avenue, by Frankford Avenue. For local residents in Frankford, Lauraville, Gardenville, and surrounding neighborhoods, we are in a great location. A quick drive along Routes 95 or 695, just one and half miles from Herring Run Park, we are ready to help with your self storage needs in Baltimore.
Professional Managers
We have the friendliest and most professional managers in the area. They know how stressful moving and storing can be, and they want to make the process as smooth as possible. Our staff will work with you to create your ideal self storage plan in the Baltimore area. Whether you need a short-term space for the season, or a large unit for your family's valuables, we will find the best solution. There's no such thing as one-size-fits-all with U.S. Storage.
Forms of Payment
It's easy to pay your bill! We accept cash, checks, money orders, Visa, and MasterCard. You can also pay online through our tenant account portal.
The Community
Formerly one of the busiest ports of the early 20th century, Baltimore, Maryland now enjoys a mix of cultures. It is a melting pot of a community. You can enjoy excellent food, history, and fun from all origins.

We are also famous in the baseball world as the birthplace of Babe Ruth—the Great Bambino, the Sultan of Swat, the Caliph of Clout, the Big Bam. Enjoy an Orioles game at Camden Yards, or a Ravens football game at the M&T Bank Stadium. Everyone's a sports fan of some kind in Baltimore.

In our northeast corner of Baltimore, you can enjoy shopping around the Harford Rd and Belair Rd shopping districts. We also have a host of golfing, biking, and other outdoor activities nearby. You'll never run out of things to do in our city.
Facility Products
We offer boxes (sized small - x-large). We also have wardrobe boxes, packing tape, tape dispensers, mattress covers, bubble wrap, picture moving kits, disc locks, and brass padlocks. =
Customer Reviews
overall rating, 320 total testimonials
August 8, 2023
Decent storage and price
August 8, 2023
It was great
July 25, 2023
fast service, clean environment close to our business
July 19, 2023
It was good
June 12, 2023
This is the prefect location for my needs, but the gate is broken at least once a month leaving access for anyone.
June 1, 2023
Your billing is a bit confusing but the customer service rep was helpful.
May 26, 2023
Kudos to staff that I met on phone and in person.
May 20, 2023
Fast friendly service. They answered all my questions and were patient and helpful.
May 19, 2023
My experience was super great and Robert was very helpful.
May 19, 2023
Friendly service, Robert was extreme helpful, convenient location. easy access. fast process
May 12, 2023
Everything is good, but the most important thing is to control mice. I rented 5 storage racks and was surprised by the large number of mice inside storage. I store sponges, and this thing is very dangerous. You must control mice, as they will destroy my stock.
March 21, 2023
It was easy.
March 4, 2023
Everyone was very friendly and accommodating given the circumstances, the power was out at the location I visited so our time to access the gate was cut short which did present a huge inconvenience in extending the days we originally were moving. Keith and Karen were very nice and flexible. Keith even stayed an additional hour to allow us to be able to unload more things which was greatly appreciated.
February 23, 2023
Excellent experience, great service. Hassle free,.
February 14, 2023
I was told there is no electricity the weekend so I would havevm6 access code emailed to me and here we are Tuesday 3 days after my move in and I still haven't been given access to my unit. Still no code. I will be calling today.
February 4, 2023
Love my experience Manger was very knowledgeable and made my experience easy.
February 4, 2023
Horrible y'all are u professional and inconveniencing people on a daily basis 443-803-9888
January 23, 2023
It was a great experience
January 7, 2023
Everyone I dealt with was very helpful! They answered all questions to the best of their ability. All issues were resolved in a professional manner.
November 12, 2022
It was good
November 12, 2022
Great experience. Took care of business on a short notice
October 28, 2022
Good customer service
October 21, 2022
Trash..... never again
October 14, 2022
friendly enough but book keeping poor . Opened account with credit card and said I would pay each month in cash on third each month . Manager said got one month free so 1st & 2nd month were 1/2 price all well good. Then this is where the wheels fell off the cart. I came in on 5 /26 to pay for June $172.50 and was told I would receive an E mail. no cash receipt. In July I came in on the 6th due to holiday with $172.50 and was told Email is receipt. In August I paid $172.50 on 3rd or 4th and was told Email would be sent but I got a cash receipt also. In Sept. I paid once again $172.50 and given a receipt for cash . I went to unload the unit on saturday and was denied entry and informed that over $200. was due and that my stored Items were being auctioned. I have been unable to get management response except the rote quote that money is owed . HOW is money owed when payment was made promptly each month???????My phone is 410 -254 -0588 a land line with recorder . Today is 10/14/22 @ 17:00 hrs. Expect a response immediately.
September 14, 2022
Great experience
September 13, 2022
I didn't receive the right size storage my complaint went on death ears so I'll have to contact my credit card because I didn't receive what I paid for
September 11, 2022
Good 👍
August 30, 2022
The best customer service!!!! Very helpful and generous I promise u they will treat you like family. They will do their best to accommodate u. I wouldn't choose any other place besides this us storage on belair road💯 So I'm telling you if anyone I know needs a storage unit I would definitely recommend them to bring their stuff there
August 17, 2022
I love both of my storages
August 9, 2022
My experience was great the working where very nice and very productive. Good Service all around the board keep up the good work because you always have my business as long as you guys are Open.
July 22, 2022
It was great
July 21, 2022
Very helpful and efficient. Both young men in the front office were very professional. I was able to get a unit to store everything i needed as well as a lock. I will look no further for any future storage needs.
July 15, 2022
Love the store keep Rob. He is very helpful in assigning you a storage unit.
July 14, 2022
It was great very helpful good customer service and very quick with my check in process
July 7, 2022
I had a wonderful experience when I went there to inquire about renting a space. Robert addressed all my concerns that I had so that's what helped with my decision to rent from us storage.
June 23, 2022
So far, it has been great! Very helpful manager and staff. They had exactly what I needed. Security gate has not been closed in any of my (limited) experience with this location. Maybe they lock it after hours?
June 15, 2022
It was amazing! Robert was very informative and insightful. His pleasant demeanor made me feel very welcomed. I'm grateful I chose your storage facility.
May 23, 2022
People at the location I rented at have been extremely helpful. I would recommend this location in the future
May 16, 2022
I have been very pleased. I am happy with a corner unit that I can easily access (1104).
May 7, 2022
Is was a wonderful time
May 3, 2022
Customer service was very professional and friendly. Unit was perfect size and convenient just back in.
April 24, 2022
It was great
April 21, 2022
Good felt comfortable 👌 😌 👍
April 21, 2022
The process was quick and the employee was very knowledgeable in answering my questions the storage space was clean so I am satisfied with everything.
April 10, 2022
You will feel very comfortable w/ this company.
April 5, 2022
Good place to rent a us storage they suppose to give me my money back okay can someone called me on 443 680 9675 this the head office
March 15, 2022
The guy named Rob was very friendly and helpful. His professionalism was impressive.
February 26, 2022
Other than the man's computer being slow the sign up went quickly.
February 24, 2022
I feel good knowing this Company was there when I needed a space to place my things & it's affordable.
February 21, 2022
So far so good!
January 24, 2022
I had a great experience with you guy's.
January 21, 2022
Greeted and taken Care of quickly. Rep is very knowledgeable and courteous. He understood my needs and took care of me. I would recommend anyone local to use this company..
December 30, 2021
Excellent mr rob is one of a kind
December 22, 2021
They where very professional and polite.
December 17, 2021
Great 👍..excellent service and clean facility..
November 7, 2021
I had a good experience.
November 1, 2021
Excellent! From the initial sign up to the actual move in. Kudos to Rob! He provided great customer service and I appreciated his assistance when I arrived.
November 1, 2021
Quick and easy. No complaints!
October 16, 2021
Great thanks appreciate your service
September 26, 2021
It was awesome and the staff was very wonderful
September 2, 2021
The guy Rob was very helpful and professional, he mad sure I was a satisfied customer
August 3, 2021
The associate Rob was very nice and knowledgeable about the space sizing of the units. He was able to quickly tell me what size I would need once I told him how much stuff I had
July 13, 2021
Great experience
July 3, 2021
Excellent service. Rob was more than amazing with his customer service skills. The unit was very clean when I received, I would definitely recommend this facility!
June 29, 2021
The service was great and the rep was very helpful.
June 11, 2021
I would use us storage again , and again for its friendly way it use to conduct business.
May 7, 2021
Great experience.
April 29, 2021
They were very professional when I first got there. The locker was very nice and clean. And I like the position of my locker I can pull right up to it. I will tell my friends about this because this is a very nice place to vent from thank you so kindly.
April 16, 2021
Excellent service!
April 11, 2021
It pleasant experience
March 23, 2021
Satisfying
March 11, 2021
I was concerned when I needed to get myself a unit. I thought omg where am I going to go what am I going to do? I didn't want the hassle I've experienced in the past with other facilities. I wanted to know my belongings would be safe & secure. I proceeded to google the closet location near me and take the leap of faith. Boy am I glad I did. I came into your store and had the best experience. Rob took care of me from the moment I drove in. He made me feel welcomed & assured my security. I had amazing customer service, and would highly recommend anyone to rent a unit from US Storage. Great prices, no over excessive paperwork, or any inconveniences. I was offered not only a seat to sit but water from their mini fridge. Don't hesitate, because I ALMOST did. I'm glad I changed my mind.
February 14, 2021
It was good. The associate was polite.
February 7, 2021
It been fair so far
February 2, 2021
Love it the guy that help us was very nice in helpful
January 21, 2021
Mr Robert is a very pleasure employee he answer all question in very helpful
January 13, 2021
Being the first time I've used this storage facility, I was unsure of what to expect. The property manager, Robert Prentice, made me feel comfortable and confident from the very first step. His exemplary customer service was greatly appreciated. I highly recommend this facility. Thank you again Rob.
January 5, 2021
It was a great experience. I was treated professionally and courteously.
December 29, 2020
VERY NICE HELPFUL ANSWERED ANY QUESTIONS I HAD THE PRICE WAS GOOD AND IT WAS VERY CLEAN
December 25, 2020
So far,.....it's extremely good for me, my needs.....couldn't b more pleased! Thanks..Keith White
December 22, 2020
They have the kindest staff here. Had the privilege of working with Robert on renting a small unit. He was very accommodating and answered all my questions with such professionalism. The unit that I was renting needed a new lock installed which he took care of the issue immediately. I would definitely recommend this facility to anyone in need of storage.
December 15, 2020
Customer service is great
December 8, 2020
It was great i like how y'all took your time and work with us the hospitality was very respectful
December 1, 2020
Excellent!
October 27, 2020
Agent was extremely knowledgeable..very professional delivery.
October 26, 2020
The guy in the office is really cool we talked for a while awesome place friendly people.
October 9, 2020
Very satisfied with my experience.
October 8, 2020
Great experience a was treated with the up most respect
October 4, 2020
We walked in to apply...customer service was very nice....pleased with the availability of a unit.....however, going at night to enter facility, I feel should have more lights....wasn't able to see inside unit without a flashlight.....hard to hold flashlight with one hand and get to what was needed with the other
September 10, 2020
I asked the rep could he put C Rebecca Perkins on my paperwork it was not done explained my social security is written that way. I didnt get my request. Have not been with your company that you are sending me thi
September 8, 2020
Its was easy going nice discounts
August 29, 2020
10 out of 10
July 29, 2020
I really appreciate 🙏 the way I was offered 💧 when I was over heated. And made sure I got exactly what I wanted. And for a reasonable price. I would recommend 👌 my friends and family 👪.
July 28, 2020
BEAUTIFUL, WONDERFUL CUSTOMER SERVICE ON THE PHONE AND AT THE OFFICE , THEY ARE THE BEST LOVE THEM , THEY ARE GOOD AND WONDERFUL PEOPLE THANK YOU FOR EVERYTHING
July 21, 2020
MY EXPERIENCE WITH US STORAGE WAS GREAT I FORGOT THE GUY NAME WHO HELPED ME OUT BUT EVERTHING WENT NICE AND SMOOTH ON GETTING MY STORAGE SPACE. Thanks
July 17, 2020
My experience was very fast and enjoying. Your salesperson named Rob was very nice and informative.
July 14, 2020
I had a great experience. Robert was very professional and knowledgeable. I was able to get a storage and move right in the same day within minutes
July 10, 2020
Great experience met all my expectations
July 3, 2020
I felt it was wonderful.
July 1, 2020
He seemed a bit overwhelmed at first but then he quickly began to readjust. He was patient and extremely helpful.
June 25, 2020
Very good excellent service
June 21, 2020
I have great experiences with this company.
June 20, 2020
It was awesome! Very pleasant. I left a google review
June 2, 2020
Great customer service and great price for a parking space in a gated area. Ron and Rob in baltimore. Md 21206 location are true assets to the company.
May 12, 2020
Great!. Attendant was quick and friendly! Unit was very clean.
May 11, 2020
I like it the god nobody doing and nobody told me about
May 5, 2020
Robert was very helpful and polite I truly enjoyed the experience
April 29, 2020
The experience was very good however the clock inside seems like a very lonely person
April 7, 2020
It's great no problems at all.
March 9, 2020
Everything was great. The representative was awesome
March 1, 2020
Very friendly and helpful. Went out of their way to find what I needed.
February 11, 2020
Great!! Your company is much more inexpensive than your competitors and locations are in all areas
February 11, 2020
The manager there is pretty amazing. He was extremely helpful, and attentive to our needs.
February 4, 2020
I love it very much thank u
January 31, 2020
Very nice. People have been very helpful and friendly.
January 31, 2020
I'm beyond happy with your service
January 28, 2020
Really helpful and polite..thank you!!
January 15, 2020
Robert Prentice was a great help with getting me the right size for my household items and made sure it was cleaned out and ready for me to move my stuff in
December 31, 2019
Originally, I was extremely dissatisfied due to unmet expectations. But, I was pleasantly surprised to receive an apology in person (unexpected) from the employee. We were able to understand each other's concerns after much discussion and understanding. It takes a big person to apologize and it made all the difference. We're not all perfect so we should strive to understand each other by communicating fairly.
December 24, 2019
I booked online, but went through incorrectly. The counter person seemed to have gone above and beyond to straighten it all out.
December 10, 2019
Robert was very professional
December 5, 2019
I was very pleased with the service I received with you U storage centers, I'm particularly pleased with the options to access my unit, 24 hrs, as well as the safety measures being offered, thanks so much
November 19, 2019
Maximum service sales representative was great highly experienced and very well mannered and friendly and very knowledgeable of the business.
November 11, 2019
It was great .. customer service and all
September 18, 2019
I was an ok experience. I believe that the guy at the front desk was new and was being trained
September 17, 2019
It has been great
September 14, 2019
It was very awesome. Your rep was very nice, pleasant and patient,
September 12, 2019
It was professional, warm, friendly and a job well done. I am so appreciative of your establishment. Your staff is great. Thank you
September 6, 2019
I don't like that I can't talk with the live employee in my location while I'm there on the premises. It could have been a life or death situation. Call me a moron but I still had a problem finding my storage I saw 76 next to my one digit address. Otherwise very pleasant.
September 5, 2019
Great close to my home and easy access .
August 23, 2019
I received great customer service.
August 14, 2019
It was great as before,
July 29, 2019
I am very please with experience and customer service
July 24, 2019
Love the experience staff was very knowledgeable and service was fast and quick.
July 23, 2019
I'm very pleased
July 18, 2019
I have rented storage units often on within your facility. This management team is the best. Very accommodating, very attentive, very personable and professional. As long as they're there I am there
July 4, 2019
Office personnel are very friendly and helpful in any matter that you present
July 3, 2019
It was great. The Young Men who assisted me was wonderful.
June 26, 2019
The experience was good. Even with the hiccups, you rep was courteous and very helpful. The facility was clean. I will have no problem referring this facility to other people.
June 21, 2019
My experience was a positive one. The agent that helped me was very pleasant and personable. The facility is nice and the price was wonderful compared to other places that I checked out. The only issue that I had was with the time that it took to get things settled.
June 21, 2019
Very convenient for me and anybody who loves privacy.
June 13, 2019
Definitely was a better and easier experience than any other place I've used
May 30, 2019
The two gentlemen in the center was very professional and very pleasant.
May 4, 2019
GREAT MANAGEMENT TEAM RON AND BARRY. WOULD LOVE TO INVEST IN THE COMPANY.
May 2, 2019
I had a great experience.
April 28, 2019
Good Customer service
March 19, 2019
Nothing was complicated all easy and fast processing
October 23, 2018
The Service was great and the Deals are Perfect
October 16, 2018
Customer service was great and they were very knowledgeable about their job and very helpful in getting you set up for your storge journey.
October 9, 2018
It was a very pleasant experience, the guy Carlos was a big help, an my service was quick an easy
September 29, 2018
I felt very welcomed the gentleman was very nice and very helpful he just did one thing wrong he spelled my name Parker my last name and my last name is spelled Palmer so can y'all please make that correction but otherwise he was very nice and very helpful thank you
September 24, 2018
So far my friends have been excellent
September 22, 2018
The staff is always pleasant. Carlos always go above and beyond to make sure my needs are met.
September 22, 2018
It was fast, informative, and just what I needed for my storage needs.
August 23, 2018
Nice and e z storage associat was very nice and helpful
August 17, 2018
My experience with US Storage was OUTSTANDING! The younger lady (Lizze Salas) was so friendly, courteous, knowledgeable and a joy to talk too. I have been having a rough time and have many burdens at this time, and speaking to her was very smoothing. I had a several other storage rental facilities on my list to go check out that day, after talking to Mrs. Salas, I booked and paid for the storage unit on the spot. I loved that you allow the renter to use your truck for their move-in, for free, never heard of such a thing. :-) I have other storage units across town, but did and do not receive the same customer care that I receive from both Mr. and Mrs. Salas, when I come to your Baltimore City, Bel Air Rd. facility. Your hours are great, very convenient. Your facility is always clean when I drop by to drop off items. Regina M. Ewing
August 15, 2018
The beautiful lady Ms Lizzy was wonderful and very professional.She cleaned up the space ready for me in a few minutes. That is called a five star service period. Thanks Stephen.
August 8, 2018
I was extremely tired and had no sleep from packing and hauling. I get to this location...OMG! I was greeted with the door held open for me and a young lady with a truly blessing personality greeted me and my daughter listened to my mailing about my aches and pains heard me say I was so thirsty and gave me water. It really is the little things that count. I love my experience with this company and so far it has not changed from that day to this one. I even got turned around and she pointed me in the right direction yet again to my unit. THANK YOU VERY MUCH!!! 💜💜💜
August 8, 2018
Very helpful! Great Customer Service!
August 8, 2018
Very good and I will recommend it to anyone needs for storage anytime any day
August 5, 2018
Excellent customer service , friendly and patient . Answered questions with ease and expertise . Pleasant to the child that was present ..
July 24, 2018
Great customer service, Clean units, great lighting, secure location
June 12, 2018
Great nice environment and friendly staff
May 29, 2018
Good service
May 24, 2018
Well this will be my second time using this company. An I felt right at home
April 23, 2018
Very helpful
April 20, 2018
Pleasant, staff are helpful and friendly
April 10, 2018
I felt well treated, nice and will recomend someone else to you. I will come again. Thank's.
April 7, 2018
Very pleased, the lady in front office (Lizzie) was very nice and helpful. This was my first time using storage, I would recommend U.S. Storage to my friends/family for all there storage needs
April 6, 2018
My experience was very good. Even though I didn't use the moving truck, it was good to know that it was available. My unit was very accessible.
April 5, 2018
Great experience. I enjoyed my lively conversation I had with Lizze. She was detailed and helpful in every way. She answered all my questions.
March 19, 2018
I really appreciate that the matter was resolve thank you again
March 7, 2018
Lizzie was amazing. After three hours and a horrible experience at the U-Haul up the street, I spent 20 minutes and walked away with a better and perfect storage space for me and my husband.
March 2, 2018
Very clean and great customer service. I would recommend this storage facility worldwide.
March 2, 2018
Very good experience, the customer service was excellent. I discontinued by unit with US Storage because I wanted to move my location to a different area in Baltimore and needed a loading dock for deliveries.
February 18, 2018
My experience with y'all was ok but I would recommend a friend it's very safe in their
February 15, 2018
Since I work with you I feel good, the people are nice and environment is good.the conditions are good too.
February 9, 2018
Recently, I️ came to check on my storage and I️ found a maximum amount of mice terds plus a mouse inside my storage. This Had to come from a tenant next To me....I️ feel is though that horrible situation could've been better handled with you guys differently. The manager said he didn't know what to do... that was the first thing he said to me...I've been a customer for 1 and a half years I️ never had any of these problems dealing with mice until that very day I️ checked on my storage . No other time me checking it did I️ go through a mice infestation ... also, I️ notice I️Be been paying a protective plan . How is me paying that going to get back the many items I️ lost. Called to speak on the behalf of that nobody answer but the customer service people sent the message over to belair is storage manager and I️ never got a call .
February 1, 2018
Very good customer service, Friendly and helpful.
January 28, 2018
Very pleasant, helpful knowledgeable,and caring
January 9, 2018
Customer service was excellent and service was fast discount came in handy
December 28, 2017
I was very impressed with the help of staff
December 7, 2017
very helpful staff
December 7, 2017
The staff was very friendly and courtesy. I have no complaints of vandalism.
November 16, 2017
My experience was great.
November 13, 2017
I been a tenet for over 7 yr haven't had any problems , staff friendly , you can pay your bill fast an easy, if you need a truck thy have one you can even rent . 24 hr security camera,gate on the property and if you have a referral you get a discount on ur monthly bill ... stop by an check them out
November 8, 2017
Staff is knowledgeable,courteous and represent the standard of customer service.
October 31, 2017
I like it
September 29, 2017
I am very pleased with this storage place the people there are so polite
September 3, 2017
Pleasant initial experience and great customer service from attendant on day of obtaining rental storage locker.
August 10, 2017
My experience has been good so far. Love that there is 24 hour access
August 3, 2017
Carlos was knowledgeable and a pleasure to deal with.
July 30, 2017
I felt VIP! Lizze is great! Sh has the best personality! Great people skills. I went back to the office to look for her for another question and she wasn't there😩. The manager was there at the time and turned out to be super great as well.
July 4, 2017
I found everyone to be very courteous and helpful. They support the mission of the company to provide good service to all customers.
June 28, 2017
It is nice to store my things in a place that is close to home. Teachers should be given an incentive to store their things during the summer months.
June 20, 2017
It was great the worker are very freindly and a pleasure to work with
June 4, 2017
Had good experience, no problems noted, fast, courteous service, clean storage area. very satisfied.
May 24, 2017
Fue una buena experiencia. Carlos y Lizzie Salas son tremendos seres humanos. Me resolvieron muy agradablemente en una sutuacion que confronte. Dios los guarde chicos y gracias por todo. Thanks !!!
May 5, 2017
Fast friendly service.
April 7, 2017
The associate was vert knowldgeable a helpful to accommodate my needs
April 1, 2017
So far, the experience has been good. The staff have been very professional. My only concern is that when asked specific questions they are not forthcoming with all the necessary details. Example: They have a truck that customers can use free of charge, however, when inquiring about the availability of the truck and the procedures for reserving it, they failed to explain that they need the insurance and drivers license information for the person who will be driving the truck because they don't carry their own insurance for the truck.
March 15, 2017
The staff is always pleasant. Ron serviced me over the phone wirh price quotes. Carlos serviced me in store with final arrangements. US storage will always be my choice.
March 10, 2017
Great. Like you were actually concerned
March 1, 2017
Polite, friendly and courteous greeting from Mr. Carlos made me feel at eaze and very comfortable. Leased a 10'x15' and loved the discounts that he'd applied as well as,the "FREE" moving truck. 5117 Belair rd BALTIMORE.... kutos..😆 I'm Tom Coleman and I endorse this message... "US STORAGE STRONG"...
February 24, 2017
The guy who rented the unit to us was great! He was funny and made the experience easy & one of a kind. The unit was the size I requested online and it was perfectly clean. We forgot that a padlock was needed, and they had great ones at the office, the kind that's almost impossible to break in to. I'm very happy with my experience at US Storage Units on Belair Rd.
February 24, 2017
Great everything
January 13, 2017
Good experience. Great vibe. Good staff
January 2, 2017
I love the fact that this place has 24 hours access but for the price I think the storage spaces are on the smaller side. I received great customer service from Carlos and that alone is awesome because you can't find that everywhere these days. Aside from the truck passenger door not working and the driver seat belt being broken, I really loved the fact that you are able to use the truck for free to assist with your move. All and all it is a great place and worth the money!!
December 20, 2016
Professional, safe, courtesy based establishment.
December 19, 2016
Staff is very nice and helpful.
December 9, 2016
One word " Perfect " Pleasant customers service