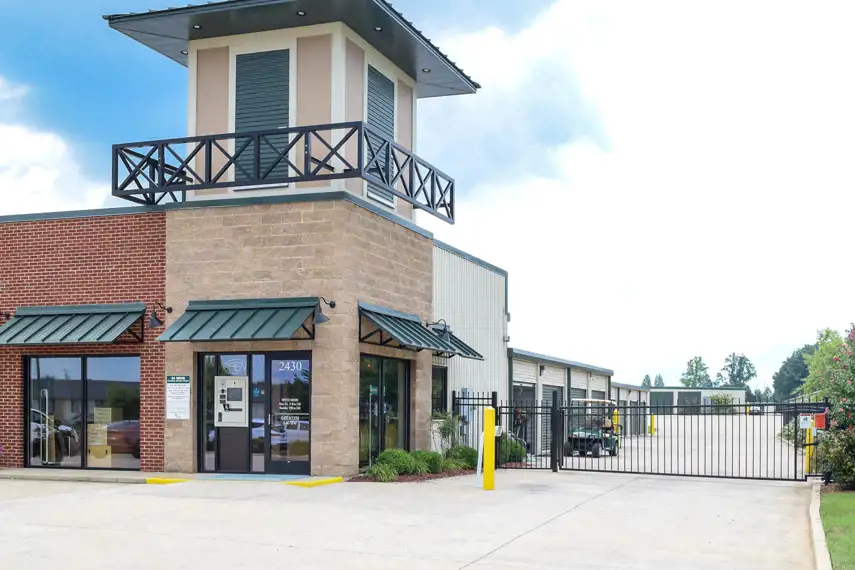 Rent or Hold Your Storage Unit in Minutes.
Location Details
ACCESS HOURS
Mon

6:00am - 10:00pm

Tue

6:00am - 10:00pm

Wed

6:00am - 10:00pm

Thu

6:00am - 10:00pm

Fri

6:00am - 10:00pm

Sat

6:00am - 10:00pm

Sun

6:00am - 10:00pm
OFFICE HOURS
Mon

9:30am - 6:00pm

Tue

9:30am - 6:00pm

Wed

9:30am - 6:00pm

Thu

9:30am - 6:00pm

Fri

9:30am - 6:00pm

Sat

8:00am - 4:00pm

Sun

Closed
FEATURES AND AMENITIES
Drive Up Access
Climate Control
RV Parking
Electronic Gated Access
Video Recording
Moving Carts
Kure It Certified Location
ABOUT THIS LOCATION
Clarksville Boat and RV Storage
Read More
Photos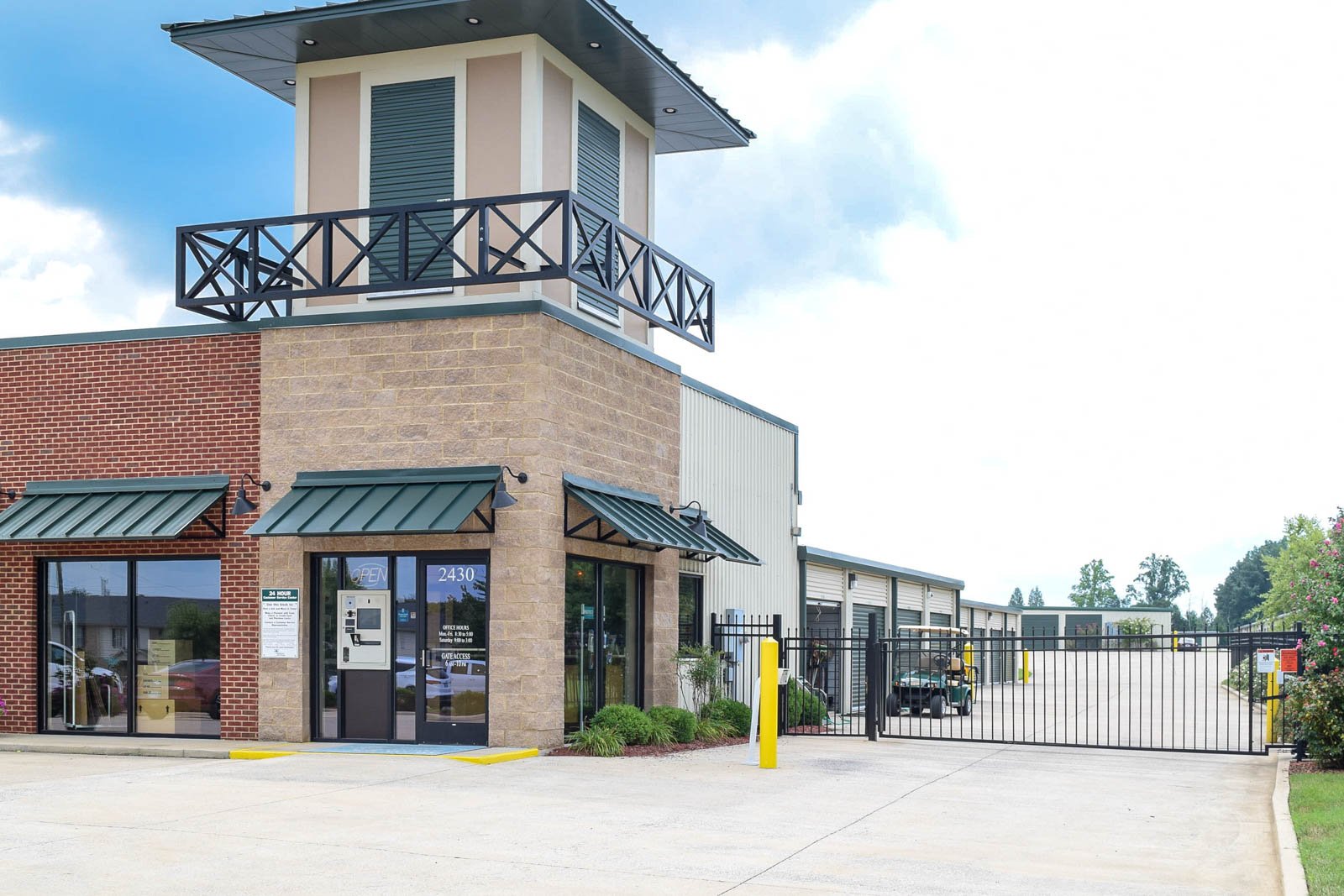 About this Location
Storage Units in Clarksville
Our Clarksville storage facility offers a number of different sized units in order to accommodate those who need room for their belongings. In every unit, renters will find it easy to stack boxes and store a home's worth of contents and furniture. Our largest unit is 10'x30', which can hold up to a 7-bedroom house's contents. Our smallest unit is 5'x5' and has the capacity to store about 1 bedroom's worth of items. All of our units provide drive-up access, and we also offer indoor, climate-controlled units.

Security
Our property is completely fenced, and can only be entered with a user-specific electronic gated access code. We also have video monitoring in place for our facility.
Easy Rental Options
Rent your storage unit online or over the phone for a quick move in. 
Not ready to rent? No worries! Reserve your unit now to lock in today's special discount.
Month-to-month rentals
No credit card required for reservations
No deposit required
Conveniently Located
Our Clarksville, Tennessee personal storage facility is easy to find. Located less than an hour's drive from downtown Nashville, we provide personal storage solutions for customers throughout the metro area as well as those living in the Woodridge Estates, Sango, and Hickory Point neighborhoods. We are also situated near a number of other businesses in the area, including Dollar General, Food Lion, Woody's Pizza, Sango Veterinary Hospital, and Walmart Supercenter.

Best and Most Convenient Hours in the Industry
Many storage units limit the hours that customers are able to access their personal storage items. At our Clarksville location, you will have access to your storage unit from 6:00 a.m. to 10:00 p.m. seven days a week throughout the entire year. Our office is open Monday through Friday from 9:30 a.m. to 6:00 p.m., and Saturday from 8:00 a.m. to 4:00 p.m. to answer any questions you may have or to assist in any way we can. We are closed on Sundays.

Professionally Managed
At US Storage Centers, the one thing that really sets our storage facilities apart is the fact that our employees care about customer service. Our on-site team will be ready to answer any questions that you may have, and will happily handle all of your needs and concerns, from questions about payment and contracts to a tour of the facility and more. If you encounter an issue, we will explore all possible avenues to make sure it is resolved quickly and completely.

RV and Boat Storage
For those with RVs and boats, or for those who would love to purchase an RV or a boat but are not sure where to park it, we provide parking spaces at our Clarksville, TN facility. Parking space width may vary from spot to spot. Please call the property manager for more details on Parking Space sizes.

Forms of Payment
We want to make sure that making a payment is convenient for you. We accept all major credit cards. Feel free to ask us about payments and your options if you have any questions.

Moving Supplies
We have dozens of moving supplies to help make your transition in or out of a storage unit as easy as possible. From bubble wrap to packing tape, visit our offices to find out how we can help.

The Community
There are several things to do in Clarksville and in nearby Nashville, making the area very popular for those who love city life, as well as those who love exploration and adventure. In Clarksville, you can check out the popular Dunbar Caves and Fort Defiance, an old Civil War historical site. Nashville is famous for the Country Music Hall of Fame and Museum, or you can head over to the Grand Ole Opry for a relatively inexpensive night of entertainment. For a solution to all of your gear, moving, or other personal storage needs, check out our Clarksville location today!
Customer Reviews
overall rating, 390 total testimonials
March 10, 2023
It was good. Andrew was very professional, thorough, kind and treated us with respect.
March 2, 2023
ANDREW MURPHY WENT ABOVE AND BEYOND TO TAKE CAR EOF MY EMERGENCY SITUATION. HE IS VERY PROFESSIONAL, UNDERSTANDING AND COURTEOUS! WHAT A VALUBLE ASSET TO YOUR COMPANY! THANK YOU ANDREW!
February 28, 2023
Awesome service
February 22, 2023
Good so far.
February 1, 2023
I don't like it that we went there on Sunday to transfer from the 10x10 to a 5x10 , but we couldn't do it for the new one we rented had their blue business lock on it so there was a wasted rented day !
January 27, 2023
I found it a very pleasant experience. Andrew was most helpful and professional. He wears many hats well. I am pleased with the location and security of my rental.
January 20, 2023
Easy! Great location and secure
January 10, 2023
Andrew made everything so easy and explained all aspects to have no worries about anything going forward. The unit and premises are immaculate.
January 10, 2023
It was a good experience Andrew was very helpful, I had a problem get my entry code to and he was able to fix it in a timely manner.
January 10, 2023
It was great he was very helpful
December 13, 2022
Everything was Amazing.Elizabeth made the entire experience pleasant and Easy . Very very Happy Thank You.
November 24, 2022
Ok, the gate key didn't work the first, lucky the place was open. Good location, clean unit.
November 22, 2022
Elizabeth was AMAZING and made the process so simple. I had a horrible week, and everything seemed to go wrong, except for renting a storage unit from her! She is incredible and I would highly recommend!
November 18, 2022
Great Elizabeth was extremely helpful and made me feel very comfortable with my choice of using US Storage. I feel that my items will be safe in one of your units. Thanks
November 12, 2022
The manager I dealt with was wonderful. Great personality and very helpful
November 7, 2022
Elizabeth was awesome to work with! She was very nice & answered all my questions.
November 6, 2022
It was a great experience. Super easy and clear. The person working the office was super helpful. I liked her!
November 5, 2022
Staff was extremely helpful in establishing my unit and providing useful information. Units were very clean and secure. The site has an excellent security protocol that they take very seriously. This is absolutely one of the top storage facilities in the Clarksville area.
October 31, 2022
Very eager to help and informative.
October 1, 2022
Great people to do Buisness with. Very affordable prices.
September 24, 2022
Great, simple, lots of reinforced trust thanks to Elizabeth explaining everything and keeping great communication with me so far. Great rates, highly recommend for secure storage.
September 22, 2022
Very satisfied with unit and staff, staff was very nice, respectful,and helpful. Thanks I really appreciate the great service.
September 21, 2022
Your employee's went out of their way to help me
September 15, 2022
Excellent customer service
September 9, 2022
Very professional staff at US Storage on Madison Street 41A very helpful.
August 22, 2022
The initial visit to execute a lease was great.
August 20, 2022
It was a great experience. Customer service was wonderful. And she was very helpful.
August 20, 2022
The facility is very well kept and conveniently located. The staff, especially Elizabeth, was both helpful & knowledgeable. Elizabeth went out of her way to make moving in as painless as possible.
August 12, 2022
Simple and pleasant
August 11, 2022
The experience was great very professional employee very informative and very helpful I will recommend US Storage
August 10, 2022
The lady at the Madison St Clarksville TN location was fanominal. She was patient and friendly! She worked past closing to ensure I had access to a storage unit. Would definitely recommend her for promotion!
July 28, 2022
All employees were very kind and helpful!
July 24, 2022
It was great! Simple, easy to set up.
July 22, 2022
It was a very short duration but a lynch-pin in the process of getting my goods from Texas. Excellent facility and management support in my time of need.
July 21, 2022
Very pleased with the service from property manager, Anastasia. Very helpful. Allowed the delivery company to come in wait as I was delayed. Easy process. Thank you.
July 20, 2022
Very, very helpful. We had a complicated situation and The representative helped in every way!
July 7, 2022
Gentleman who rented us the unit was outstanding!
June 30, 2022
Love how helpful the lady was. Very friendly and gave us all the information that we need.
June 19, 2022
The process was easy. Your Property Manager Anastasia Raymer was excellent. She listen to me describe my storage needs and found the right size unit for me. She was easy to deal with and very professional.
June 4, 2022
Awesome great customer service as well as very clean and spacious grounds and unit areas
June 1, 2022
Anastasia is the very best. 3rd time renting here. Cheaper elsewhere but she is why I chose this location.
May 26, 2022
Anastasia is the best! She always finds a solution for your needs.
May 22, 2022
It was great.😊
May 20, 2022
The young lady was very professional. Her personality was great.
May 17, 2022
Exactly what we were looking for in a storage facility!👍
May 12, 2022
Anastasia is wonderful Facility clean I like us storage
April 15, 2022
I feel very good about my experience. The staff was nice and informative, and the rented space was CLEAN! So far, I'm very happy.
April 15, 2022
Very good experience. Welcoming. I forgot the lady's name but she was super nice. The location is good for me and the place is clean. I was looking for storage on-line. This is the first and only place I went to.
April 7, 2022
It was great.
February 26, 2022
Very smooth and up front process.
January 28, 2022
It was great
January 27, 2022
We have had the best experience so far with US Storage Centers in Clarksville. Anastasia and Alexandra have both been wonderful to work with. They have been responsive, professional, and extremely helpful. There was some confusion on my end about a couple of things and they were so patient with me. We were looking for a very secure place not far from our house to store our new camper, and we are so thankful there was a spot at your location. We will definitely recommend US Storage Centers to neighbors and friends.
December 10, 2021
Anastasia was extremely helpful and answered all of our questions. She was very knowledgeable in the storage units she so kindly showed us.
December 3, 2021
Great! Employees are very friendly and able to answer all of my questions. I feel like my belongings are safely stored here.
November 4, 2021
So far so good, just wish you had more then one gate.
October 1, 2021
It was wonderful!!
October 1, 2021
Anastasia was wonderful! Professional, knowledgeable and super friendly. High$$$ though. $200+ is too much for a 10 x 20. Seriously too much.
September 18, 2021
My experience with US Storage has been great! The ease of purchasing a unit and access times has made my experience great!
September 15, 2021
Friendly and efficient service at office! Nice experience so far.
September 13, 2021
Quick and helpful service
September 2, 2021
Really great! Anastasia was so sweet and helpful even when I had to change to a different size unit requiring her to redo paperwork. Good ambassador.
August 17, 2021
Loved it! Anastasia was awesome and friendly when i spoke with her over the phone with our needs. I came to the office the following Monday to complete everything. She was just as friendly and knowledgeable as that Friday. I enjoy having my personal items being stored here while in transitioning state. Was glad that my husband EMS co worker suggested you guys.
August 15, 2021
I was treated well and the price was fair.
August 3, 2021
Your manager was wonderful. She was very prompt and proficient in explaining all aspects of of my rental process. She was also so friendly, which I really find endearing. She made this rental a breeze.
July 9, 2021
It was absolutely amazing! I would highly recommend coming here!
July 3, 2021
Easy online rental and very nice young woman at facility to check me in and show me the unit.
July 2, 2021
I forget her name but I loved the energy when I first walked in. It was great
June 16, 2021
Everything went smoothly. Nice friendly customer service.
May 12, 2021
Your email requests honesty. Anastasia is a wonderful ambassador for your company. She is knowledgeable, customer service driven and shows compassion for her work. It was pouring down rain the day I began my rental. Anastasia told where to park once on the grounds, then came and got me in a golf cart so I would stay dry. The unit I am in is what I was looking for, but the monthly cost is high compared to your competition. Availability at the time is why I rented the unit. The other concern is entry to the facility from a major highway, which is very difficult to navigate when trailering a boat due to it being narrow and having stone pillars on the corner of the entry driveway. I have to either drive past the place and turn around so I can enter it off the major highway from a turn lane and in a more straight on approach, or I have to drive out of my way and come at the facility from the direction just referred to. Aside from these later points, the grounds are well kept and are spacious, allowing maneuverability.
May 8, 2021
It was a wonderful experience.
May 4, 2021
The lady at the desk was great, answered questions and showed the space to us. Very pleasant and professional
May 3, 2021
Great! Very nice and accommodating.
April 27, 2021
Customer service is great! Facilities are clean and nicely kept. The folks at US Storage have gone above and beyond to make sure that I had what I needed!
April 17, 2021
Very streamlined and quick. The staff was very friendly.
April 11, 2021
10/10 would store stuff I dont want taking up space in my house at this facility again. As good as it gets for storage, look no further..
April 11, 2021
We walked in and were able to view an empty unit right then. We were able to get a unit we needed right then as well. The lady at the front desk was really nice and explained everything very thoroughly. Would completely recommend for anyone needing an extra space to store things!
April 10, 2021
Very good, the young lady was friendly and very helpful. I had to think about it and when I came back she had it waiting for me and I truly appreciated it. I've had to use storage centers before but have never been this satisfied with them. I really like the way they're laid out and, although I never go at night, due to concerns, we had to go, this evening, and I really like that the lights were all working and it felt safe enough for us to put some things in our unit. If I ever need to use a facility like this again, I WILL USE YOUR FACILITY!!
March 2, 2021
So friendly and accommodating! The girl at the front desk was so sweet!!!!
March 2, 2021
Everything went smoothly setting up the storage unit. Anastasia was amazing and super helpful.
February 20, 2021
It was awesome — Quick and Easy ... plus you had the perfect storage unit for my needs
January 25, 2021
It was very professional you're very quick to get a unit
January 22, 2021
Very happy with the service.
January 17, 2021
Very good so far
December 13, 2020
Quick and easy
October 29, 2020
The staff and service is excellent they nice and polite and very professional, the storage unit was clean and large, the cost is good for the area!
October 9, 2020
Excellent, I've done business several times in the past and will continue to be a repeat customer.
October 4, 2020
Always easy and super fast. The staff is wonderful.
September 30, 2020
Really clean that what I like about this place.
September 29, 2020
Wonderful experience and very accommodating
September 29, 2020
Excellent service.
September 28, 2020
Great.
September 4, 2020
Using your website to reserve my unit was very easy and the final process in person only took a few minutes.
September 2, 2020
Every staff member I have spoken with is extremely helpful and friendly. The sign up and move in was easy and stress free. Thank you!
August 30, 2020
Anastasia and Hannah are great!!! They are very helpful and attentive to my needs from setting up the account online to the time I moved my personal items into the unit. The premises and units are very clean and easily accessible. I recommend this facility and their services to anyone in need of storage space!
August 26, 2020
Thus far it has been good... I have not started using the storage yet. Very clean. Tom
August 18, 2020
It was good. I like being able to reserve a space and come in when I was ready to book. Even if it was several weeks after I thought I would need it.
August 15, 2020
Very easy and friendly.
August 14, 2020
The facility was inviting and the young lady working was knowledgeable and professional.
August 5, 2020
Very friendly Representatives, Its clean and it was one and done resolution
July 29, 2020
Lizzie and Omar were both helpful. Lizzie ensure I was on the waiting list for my unit and Omar was the one that assist me in the process at the storage facility. They both were courteous and knowledgeable of their jobs and made it a complete smooth process. I would be a great asset to any facility. Thanks for the smooth process. jlc
July 21, 2020
I applied on-line and received a call-back very quickly! Storage area clean. Courteous meeting. Happy customer!
July 20, 2020
Professional staff with quick results to obtaining a unit for my household items.
July 14, 2020
Very helpful and professional!
June 20, 2020
We had a great experience!!
June 18, 2020
The storage facility is clean and easily accessible and appears safe. Anastasia was very patient and answered all my questions. I am pleased with my decision to use US Storage for my storage needs.
June 8, 2020
Great experience
May 28, 2020
Very easy and good experience getting set up. Great staff service to feel comfortable about getting storage and answering ALL questions no problem. Definitely recommend.
May 26, 2020
Very easy and time efficient process. No issues whatsoever.
May 22, 2020
it was fine. Just got a storage unit and the sales girl was friendly.
May 5, 2020
Great Customer Service. More than I expected. Quick, fast, and accurate support upon my arrival.
May 3, 2020
It was great, all things considered in the virus environment
May 3, 2020
Great. Staff was very friendly and helpful. Facility is in great shape and prices were fair.
May 3, 2020
Y'all was very nice and down to detail with everything. Explained everything to where I didnt have any questions.
May 1, 2020
Great the online system didn't work so I went in and the manager was extremely helpful and got me up and going in a matter of minutes
April 29, 2020
Easy. Signed up via website and had no issues.
April 6, 2020
Great experience using this facility
March 31, 2020
Everything was easy and staff was nice.
March 24, 2020
happy so far :)
March 17, 2020
Amazing. Got everything I needed and the people were educated and professional. Price is reasonable for the storage space. I'm thankful for this place and the people running & working on it. Highly recommended!
March 10, 2020
So far, I have been very impressed. Staff is friendly and helpful.
March 5, 2020
It was a good experience
March 4, 2020
Good experience. The patience of the staff was much appreciated.
March 3, 2020
Great experience- quick & thorough info was given.
February 19, 2020
It was positive, helpful and economical.
February 12, 2020
It was definitely a great experience, friendly, fast, and informative. Plenty of options to fit my budget, highly recommend!!!
February 4, 2020
it was wonderful and very professional i am very happy with Yazmin
February 4, 2020
Customer service was fabulous. Check in time was a little lengthy but that is to be expected when filling out forms. Unit was clean and just as they said it would be.
February 4, 2020
Very friendly, helpful, and Professional.
December 31, 2019
Hannah was so helpful and we have been incredibly pleased and impressed! Thank you!
December 24, 2019
The lady was amazing. She was polite, respectful, professional, and so helpful. She made my experience absolutely wonderful.
December 23, 2019
The lady that helped me was very nice and professional. I ended up needed another unit and she helped get my units as close together as possible. Very grateful!
December 18, 2019
Very good and professional
December 17, 2019
Very hospitable. Answered all questions. Units are nice and clean, and security is paramount.
December 3, 2019
Site Mgr was very helpful and explained everything in detail she was extremely great at understanding my need and how best to help me! I experienced the Best customer service in a very long time
November 19, 2019
Employee was courteous
November 14, 2019
The young lady was very knowledgeable and helpful in showing us various size units.
November 12, 2019
Great! Hannah was very friendly and easy to work with. IT didn't take long to get signed up for a storage unit. I would highly recommend US Storage!!
October 21, 2019
Very satisfied. The front desk employee has been very helpful changing units as I am able to clear out some of the old stuff, and helpful in providing carts to move things. Very good employee! Very clean and nice units.
October 15, 2019
Good service
October 5, 2019
Already did , great place to work with. Fantastic staff, clean and neat facility
September 30, 2019
Great staff; friendly and fast service! Very clean property and the unit is fairly priced. Will be storing for a while based on these factors.
September 28, 2019
Yasmin was very professional and I had a great experience!!!
September 27, 2019
Clean storage units & very nice staff!
September 20, 2019
It was great. Everyone was very friendly.
September 18, 2019
Everything is great. Loved the experience when I came in. Staff was friendly.
September 5, 2019
Great ladies at this location!
August 27, 2019
Your staff is polite and helpful to answer any questions.
August 24, 2019
Very clean facility! Great customer service!
August 21, 2019
very polite staff, friendly and helpful
August 21, 2019
Customer Service was excellent. Representative was very accommodating to meet our needs.
August 6, 2019
Secure and clean
July 26, 2019
Very helpful and answered all of my questions.
July 26, 2019
Excellent and very helpful service. Clean facility that appears to be very well maintained
July 25, 2019
The ladies up front are super nice and friendly! I booked online and it was very user friendly.
July 12, 2019
Very easy and short process while being helped by the representative. And was accommodated.
July 10, 2019
Great staff, location and easy getting, choices to chose from, prices and in and out!
June 20, 2019
The young lady that helped me was very nice and helpfull. She explained everything to me and
June 18, 2019
Great service
June 5, 2019
The staff was friendly and amazing to work with.
June 4, 2019
Very knowledgeable, very helpful, very courteous went above and beyond answering all our questions. Hannah was awesome
June 1, 2019
Amazing.....very helpful
May 29, 2019
The service was fantastic.
May 23, 2019
Wonderful customer service, customer friendly and knowledgeable staff.. The property is Clean and well maintained... I would absolutely refer a friend or recommend this facility.
May 23, 2019
Very helpful and nice girls working at the desk. Easy to work with and quick
May 21, 2019
Very friendly staff. Very clean facility.
May 9, 2019
Very friendly and professional.
April 13, 2019
I think the staff was friendly, the prices fair, and the facilities clean. The boxes you have for sale in the office, however, are overpriced.
April 11, 2019
Fantastic service, all the ladies in the office are very professional and very knowledgeable. This place is so cleansed and organized, my family and I are very pleased with our decision. The biggest plus other than the service is that the facility is close by. I would recommend this storage facility to anyone.
April 2, 2019
U.S storage has been super easy to work with. I was able to pick and rent my unit online which made a huge difference. The process was fast and the front desk was pleasant to work with.
March 28, 2019
Great! Lovely staff and great rates. 👍🏼
March 25, 2019
Customer service was great
March 17, 2019
Great service
March 17, 2019
Jasmine was extremely helpful.
March 17, 2019
She is awesome!
March 17, 2019
No hassle, easy instructions, friendly.
March 13, 2019
Great customer service. Everything was explained in detail and questions were answered. Very friendly
March 12, 2019
Best experience I've ever had renting a storage unit!
March 7, 2019
Very easy to do business with. Friendly service!
March 2, 2019
USStorage is working to resolve broken door lock.
February 27, 2019
I was very pleased with everything about US Storage. The staff is very friendly and knowledgeable and they were able to answer all of my questions. The facility is well lit, clean, and safe. They held my reservation and even changed it for me when I realized I needed more space. I would recommend US Storage to anyone!
February 27, 2019
Easy, very helpful. Unit nice and clean.
February 24, 2019
Associates were very friendly and helpful.
December 13, 2018
They are always helpful and nice and seems they enjoy there jobs
December 1, 2018
Very good customer service.
November 6, 2018
They go out of their way to make things right
October 17, 2018
Very professional and helpful staff.
October 10, 2018
Awesome Experience. Hannah is a very personable representative for your company. She is a Jewel! Dr. Webb
October 9, 2018
it was a great welcome and it was 10 minutes before time to close and I was taken care of very well. THANKS
September 22, 2018
Everyone is spot-on and prices are very reasonable would recommend
September 12, 2018
Manager very professional and staff.
September 11, 2018
The time spent explaining and understanding my needs gave me a great piece of mind storing my property with US Storage..Thanks for all the help
September 5, 2018
Great help from people at front desk.
September 5, 2018
Friendly workers, great customer service
August 31, 2018
Customer service is really something I look for when making a decision on where my things will live... and the girls were awesome!! Thank you!
August 29, 2018
It was Quick, and the staff was very friendly
July 21, 2018
I moved back to TN from Ohio and called to set up a storage unit. The rep I spoke with was very knowledgable and reserved what I needed. Yasmin helped us when we arrived to get the acct started and move our stuff into the storage unit. She was very friendly and welcoming and I really do appreciate that!
July 13, 2018
Excellent experience
July 8, 2018
Hannah was very professional and accommodating.
July 6, 2018
Very Nice and Professional, very thoughtful and considerate
July 6, 2018
Very good experience. Hannah was a pleasure to work with; very professional and friendly. She followed up to make sure I had access on the date it was needed to start. Very clean site.
June 30, 2018
Awesome front desk staff! Made getting the unit and getting access easy.
June 15, 2018
Excellent service, convenient location, helpful staff and very clean.
June 10, 2018
Always pleasant, great help and dependable!
June 7, 2018
Excellent. Customer service was top notch along with the employees. They were quick to address issues and we're very accommodating.
May 30, 2018
Always friendly and helpful. Very clean and safe place to use. Keep up the good work
May 26, 2018
Great so far
May 24, 2018
Yasmin was awesome! She as very professional and knowledgeable. She put me at ease by answering all my questions. US Storage was a great choice for us!
May 24, 2018
I was on a long waiting list but always kept informed. The staff was great by explaining everything and answering questions.
May 19, 2018
I am very satisfied with the great customer service. Jake has been very helpful and informative regarding the many questions I had when he processed my units. I was referred to this storage facility by two separate family members who had previous rentals there. Word of mouth can be either the best form of advertising or the very worst kind of advertising and your facility gets an A+. Thank you!
April 27, 2018
Staff was very friendly and helpful
April 22, 2018
The young Lady at the desk is very awesome. She know know her stuff. When asking price and just the time time on the phone, she was really helpful and patient with me concidering all that I been through at that moment.
April 12, 2018
Courteous and professional staff! I will definitely use them again for my storage needs! Hannah and Jasmine are very genuine!
April 7, 2018
Lady at the front desk was very nice and professional. Showed me the facility and walk around I was more than happy with her professional courtesy and warm personality two thumbs up.
April 5, 2018
I had a great experience while using this business. The office staff were very friendly and knowledgeable. The security is very good I always felt that my belongings were safe as well as my family when we visited our unit.
April 5, 2018
THIS PLACE IS THE BIGGEST AND CLEANEST STORAGE CENTER I HAVE EVER SEEN! Hannah and Yasmin were incredibly sweet and helpful! I'm in the process of moving to Clarksville. Never towed a trailer in my life before now. With the good Lord's help, I made it all the way (7 hours) to Clarksville without incident. The people at Regions bank recommended this storage place. It was close by so I pulled into the little parking area in front not thinking about the trailer attached to my vehicle. Hannah assured me that she would help me back out when I was finished looking around and made up my mind about getting a unit with them. It is a new facility in a safe and easy to get to location. It smells clean and fresh inside where the units are located. They spray for pests and vermin monthly, which is a big plus in my book. And they made me a great deal on a 5X10 unit that is just the right size for my needs. Hannah and Yasmin were very friendly and patient with me while I asked them question after question after question about the Clarksville, recommendations for this and that, and directions to get to specific places. After taking care of my paperwork, I handed Hannah my keys and she back up my vehicle and trailer for me and even parked in just the right place for me to unload. Overall it was a great experience and made me feel very welcomed to my new place of residence. I am very grateful! Thanks again, Hannah and Yasmin
April 5, 2018
Very friendly and informative. Answered all questions, that I asked, clearly. Will recommend you to any of the people I know who are in need of storage.
April 5, 2018
Very very good. Everything was well explained, the place was clean as well as the storage unit itself. Looking forward to doing business with these people again. I would highly recommend them to all my friends needing a storage place! Thanks again for all your help! David & Becky Beigert
April 5, 2018
My experience with us storage was excellent. I had no problems at all with the personel. They were nice and kind! But very professional!
April 4, 2018
Excellent experience, exceeded expectations.
April 3, 2018
The experience was fine.
March 23, 2018
I liked the lady who helped me with the storage very friendly
March 15, 2018
They workers treated me with respect and I had no issues
March 13, 2018
it was AMAZING!!!!
March 12, 2018
No issues. Experience was great. Helpful and friendly staff
March 10, 2018
I was very pleased with the ease of getting a storage unit, when I walked in I was given attention immediately which is important to me since I was in a hurry. The staff was very friendly and guick to show me options in rental units. I came back a few days later after I rented a unit, realizing the unit was too small. I was able to switch to a larger unit without a hitch, was very fast and easy. Thanks ! It's all good so far.
March 2, 2018
Yasmin the girl working in Clarksville gave very friendly service! Ease of doing business without hassle! I will definitely be back, and recommend others !!!!
February 9, 2018
This is the second time I've used this storage facility. Each time has been an awesome experience. The facility is clean and secure. The staff is always friendly, and helpful. I just can't say enough good about this facility. If you're looking for a storage facility, look no more store here. Great prices, secure, clean, wonderful staff, what more could you want.
February 6, 2018
The girls working there were very friendly and helpful.
February 4, 2018
We were very pleased with the condition of the units. Also, the leasing agent was very helpful in helping us find the right size unit and answered all of our questions.
February 2, 2018
The staff was always nice and friendly,the storage facility was always neat and clean, and my items were in perfect condition from the time I moved in until the time I left. I'd definitely recommend this storage facility.
January 17, 2018
the service was great and very easy to get started. the associated was very professional and helpful.
January 17, 2018
Very good experience. Yasman was great. She is an asset to your company.
January 15, 2018
Easy, fast and friendly
January 4, 2018
Outstanding service!
December 31, 2017
A Very Calm, Safe and Peaceful Place To Store My Valuable Items. I Would Certainly Go Back.
December 21, 2017
It was a nice experience the representative was very nice and informative I would use this company for my storage needs again if necessary
December 14, 2017
Very good. I feel I was taken care of. Staff was very patient and understanding of my needs.
November 30, 2017
Everything went smoothly!
November 25, 2017
Great clean facility. Friendly, professional and helpful staff. Would highly recommend this facility to anyone.
November 23, 2017
Very good. Yazmin was very helpful.
November 20, 2017
I enjoyed my experience.
November 9, 2017
My experience with US Storage was fantastic. The level of customer service was truly exceptional. It is comforting to know my personal items are safe in such a secure facility. I will definitely recommend US Storage to my friends and family.
October 30, 2017
Easy, accomplished my mission. Yazmin was great, great customer service. The storage is inside which I love.
October 29, 2017
Everything went smoothly! Very pleased.
October 28, 2017
Extremely friendly and knowledgable staff. Impeccable grounds. Very safe and lots of good storage options with great prices!!!!
October 26, 2017
The young lady who helped me was very good. She was friendly and efficient.
October 26, 2017
The staff was so friendly and helpful!
October 25, 2017
Quick easy and professional
October 24, 2017
Great Customer Service
October 11, 2017
Yazmin had a lot going on in the office that day with painters and phone calls coming in. She still did a great job taking care of me and getting me started in my storage unit. She helpfully answered all my questions. She made it easy.
September 21, 2017
Excellent customer service. Prices are reasonable.
September 6, 2017
It was great. Hannah was very informative and helpful.
August 27, 2017
Facility is very clean, love the it is a secured area and Yasmine has been very kind each and everytime I've seen her. My daughter even loves her as she says she is soooo nice. My daughter is 10, lol
August 5, 2017
Very good and welcomed. I would definately recommend us storage to everyone!
July 9, 2017
Great service and a nice clean place!
July 8, 2017
I have enjoyed the experience thus far. I am currently still a customer and everything has been smooth and easy.
June 30, 2017
Convenient location, friendly/professional staff and unit area kept very clean
June 20, 2017
Hannah was wonderful. The whole experience was wonderful.
June 15, 2017
Excellent experience! Staff was very pleasant and easy to work with.
June 2, 2017
Excellent service.
May 24, 2017
Very nice staff and helpful
May 20, 2017
Very one was great. Would recommend US Storage to everyone.
May 9, 2017
So friendly and so very helpful! Thank you !!
April 26, 2017
Everything was great! Nice clean place!
April 24, 2017
I had an excellent experience. Your staff were friendly and helpful. They went out of their way to help me and answer all my questions. I still have an unit with you which I will be using for at least one year more.
April 15, 2017
Exact balance of professionalism and friendliness.
April 15, 2017
A Very Cool and Awesome Experience, Thank You :).
March 22, 2017
Very happy so far with everything
March 1, 2017
Katie was very helpful throughout the whole process
February 3, 2017
very nice lady helped me and the rental units are very nice
January 31, 2017
My experience was great but your prices are little high.
January 18, 2017
Staff very helpful , lots of space, truck could maneuver easily to my unit.
December 28, 2016
Outstanding customer service.