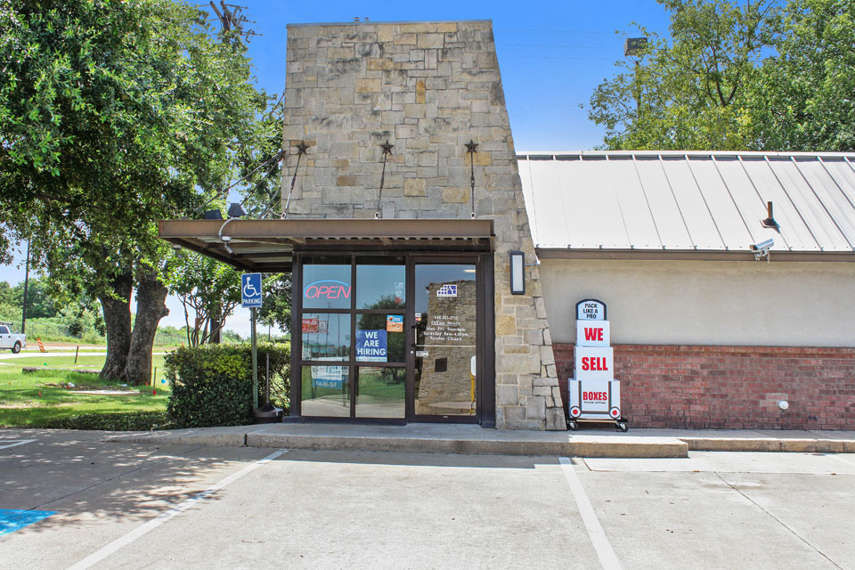 Corinth Self Storage Units
Logout
We're Open During Normal Hours. Easy, Contact-Free Rentals
Location Details
ACCESS HOURS
Mon

7:00am - 9:00pm

Tue

7:00am - 9:00pm

Wed

7:00am - 9:00pm

Thu

7:00am - 9:00pm

Fri

7:00am - 9:00pm

Sat

7:00am - 9:00pm

Sun

7:00am - 9:00pm
OFFICE HOURS
Mon

9:00am - 6:00pm

Tue

9:00am - 6:00pm

Wed

9:00am - 6:00pm

Thu

9:00am - 6:00pm

Fri

9:00am - 6:00pm

Sat

8:00am - 4:30pm

Sun

11:00am - 3:00pm
FEATURES AND AMENITIES
Drive Up Access
24 Hour Access
Climate Control
Passenger Elevators
Electronic Gated Access
Video Recording
Moving Carts
Kure It Certified Location
ABOUT THIS LOCATION
US Storage Centers, Corinth Self Storage Units: Think Big.
Read More
Photos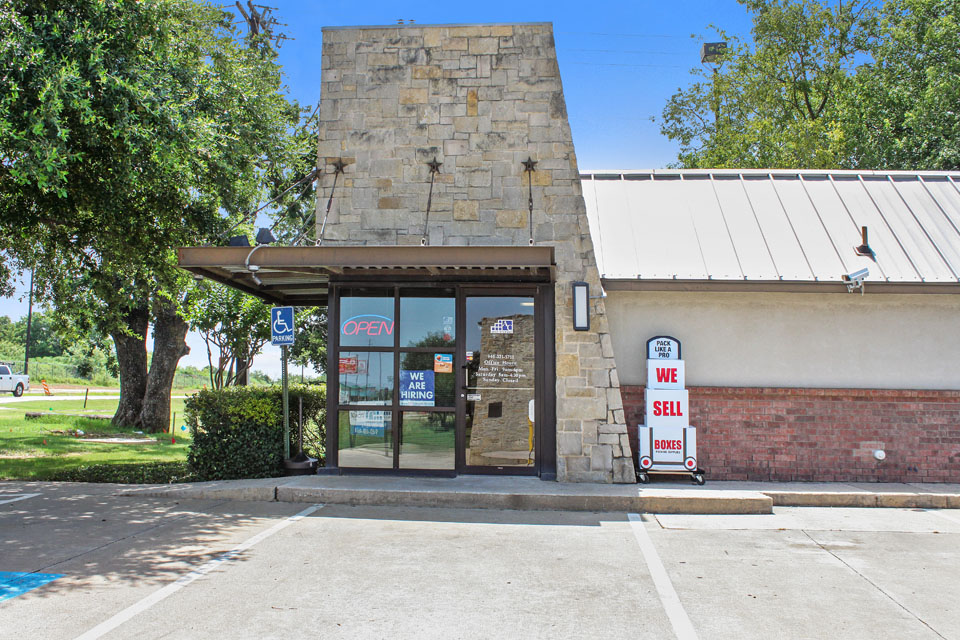 About this Location
Self Storage Facility Features

We have 780 units ranging in size from a small closet to a large warehouse space with a 12 foot high door, with drive-up access. Moving carts are also available to rent on this property. We are one of the few facilities in the area that offer climate controlled units.
Contact-Free Rentals – Easy Online and Phone Rental Options 
 Online Rental
 Select your unit and enter your info and payment
 Sign the lease online
 A manager will reach out to you with your access code, a map of the property, and they'll have you email a copy of your valid government picture ID
 Once these steps are complete, the manager will prepare your unit so it's ready when you arrive
 Phone Rental
Simply call the number listed at the top of this page, and a member of our staff will work with you over the phone to complete a rental
The manager will email a lease to sign
Once the lease is signed, a manager will reach out to you with your access code, a map of the property, and they'll have you email a copy of your valid government picture ID
Once these steps are complete, the manager will prepare your unit so it's ready when you arrive
Moving Carts

We have two gates on the property, one front entrance by the office, and a back entrance directly opposite of the office. Any size truck can fit on our property including semis. The front gate actually feeds out into Hickory Creek, TX while the back gate feeds out to Corinth, TX. People really seem to like that feature of the property.

Secure Storage Units

Keeping your unit secure is our top priority. We have electronic gated access and 24-hour video recording to make sure that the property is safe. We also have a resident property manager that lives onsite, giving our tenants the peace of mind that someone is always there to keep your belongings safe.
Conveniently Located

Located on Teasley Drive, and close to I-35E, we are in a great spot for residents of Corinth who are looking for a local self-storage option. We're also easy to find: we're half a block from Lake Dallas High School near the Walmart Supercenter. The fastest way to get to our facility is to take Interstate 35 exit 458 and then turn left onto Teasley drive. We are located past the first intersection with Garrison Street, just beyond the Chicken Express and across the street from the doughnut shop.

Forms of Payment

It's easy to pay your bill! We accept cash, checks, money orders, Visa, and MasterCard. You can also pay online through our secure client login.

The Community

Just north of Dallas, our city of Corinth, Texas is in the perfect place. We get all the benefits of living near a major metropolitan area, without the stress and fast pace of big city life.

Our city is located right next to Lewisville Lake. There are several marinas on the lakefront for those avid boaters. The lake also offers great fishing, and it hosts a couple of bass fishing tournaments during the year.

With all the fun things to do in and around Corinth, the last thing you'll have to worry about is your US Storage Centers self-storage unit.

Facility Products

We offer boxes (sized small - x-large). We also have wardrobe boxes, packing tape, tape dispensers, mattress covers, bubble wrap, picture moving kits, and locks.


Call our Corinth self storage facility at (940) 488-4381 or reserve a storage unit below.
Customer Reviews
overall rating, 358 total testimonials
October 16, 2020
Good well presented. Courteous
October 16, 2020
Agent was very helpful, polite and professional.
October 13, 2020
It was easy to get my unit.
October 11, 2020
Very friendly staff and reasonable prices
October 8, 2020
Went well
October 7, 2020
I was very satisfied. Applying online made the renting process simple. When I arrived to the location, Heather was very friendly and took me over to the unit and explained everything I needed to know. Clean establishment and friendly service! A great combination!
September 22, 2020
I stored items here back in 2002. What drew me this time was the web pricing. I arrived to sign. So far so good.
September 16, 2020
Good people
September 10, 2020
Positive experience. Will recommend to anyone needing storage. Staff helpful with what space I needed.
September 4, 2020
All the contact I have had is just paperwork which was smooth and friendly but not even moved in yet so have no further comments.
August 28, 2020
Brad was very helpful and he did a great job!
August 25, 2020
It was great!
August 19, 2020
Everything was great. Only thing I'm disappointed about is the gate is not 24 hours. I'm storing my outdoor equipment in there and it really sets limits to when we can come home from a trip. If it comes to be a problem you might lose me as a customer.
August 18, 2020
Very Friendly service. Great start up discount
August 16, 2020
Glad to find a reasonably priced storage facility.
August 16, 2020
Great! Good service
August 8, 2020
Heather was great to work with. Very knowledgeable and detailed in her explanations.
August 1, 2020
Great experience. the woman who help me in the office was amazing!
July 23, 2020
I have rented with this location twice before. The facilities are always decent and I have always been treated professionally and courteously by the associates. I would use them again if I needed to.
July 23, 2020
I'm very pleased with how everything turned out The staff in both instances were very informative and left me feeling I had chosen the right place
July 22, 2020
Overall good, thanks.
July 20, 2020
Repeat client
July 15, 2020
Very good. Very professional staff and management. Responsive to customer needs. Highly recommend.
July 13, 2020
I had a nice experience. The lady that assisted me was really helpful and polite.
July 8, 2020
Heather has been very helpful. She is courteous and professional.
July 7, 2020
Very professional; well maintained; safe & secure
July 2, 2020
It was pleasant and easy to apply and get moved in.
July 1, 2020
Love that i was able to take care of everything online great web experience
June 27, 2020
Heather was super helpful and very informative. Excited to have my storage unit!
June 26, 2020
Took care of me when elevator was broken and found lower unit at no additional cost Free move in truck was great!
June 23, 2020
It was great I was just telling my wife I was impressed with the person that assisted me as many more people walked in after me and she was able to juggle all of us. Those are the people I try and recruit for my company You have a winner there
June 11, 2020
Overall a great experience. The service was very friendly and very efficient. The facility is clean and secure. I would absolutely recommend this business.
June 8, 2020
I was comfortable with it
June 8, 2020
I felt informed and like I was treated with respect.
June 4, 2020
Very good service
June 4, 2020
Awesome customer service.
May 21, 2020
things are great.
May 11, 2020
Easy and fast
May 2, 2020
Good, Heather helped me out!
April 30, 2020
Really easy and the employee was very nice
April 29, 2020
Nice people, super clean area, very good customer service!!
April 29, 2020
Simple process and helpful staff would recommend
April 22, 2020
Very quick and simple to get my storage needs taken care of. The representative was very helpful and made the experience perfect.
April 18, 2020
Bradlee was very nice and helpful
April 13, 2020
Very good.
March 24, 2020
The online rental was easy. The employee on sight was very friendly and helpful.
March 18, 2020
Overall, this has been a stressful move, except for putting the last of my stuff in storage. The facility was clean, Brad was helpful in the office and the free use of the truck was awesome. Great experience!!
March 12, 2020
It was very easy process. I just needed a climate controlled unit while our home is on the market.
February 23, 2020
Very well & Heather was very friendly, helpful & knowledgeable
February 22, 2020
My experience to date has been great. Heather was very nice and helpful. She went over all the options regarding payment and the units. She knows her stuff. The unit was very clean an very accessible.
February 21, 2020
Great folks and great service! Good price for storage and was in and out in no time!
February 19, 2020
Rented here before a couple years ago. Came back because of my previous good experience, and I am happy to say I did.
February 15, 2020
Everything about the experience was phenomenal. Lady at location was tremendous. Caring, sociable, made this process simple for us.
February 4, 2020
Heather did a awesome job, very pleased with her attitude and work ethic.
January 30, 2020
awesome!
January 29, 2020
Heather is great, and the only reason I decided to rent with you guys. She's awesome!! However I am offended at your company's decision subvert my constitutional rights with your "no handguns" sign on the fence. Criminals will ignore this sign. Your infringement only serves to hinder me from protecting myself . It's Disappointing that companies in America operate this way. It's not very smart if you think that sign will stop criminals from getting in and committing crimes while being armed. If anything you should be encouraging your customers to carry so they can defend themselves. If it was not for how great Heather was with her customer service, I would not be renting from you. Guess it's a good thing I met your manager before I saw the sign or I would have turned around and gone somewhere that valued my constitutional rights. But there's something to be said for how one is treated by the employees, so for now I am a customer. Please consider removing the sign. It's not welcome here in Texas and I am sure you lose customers over this issue if they see that sign before going inside.
January 22, 2020
Welcoming, helpful, and remind you if coming late. High security same employees for long time.
January 21, 2020
Very good experience. Facilities were clean. Staff was friendly and the process was fast.
January 20, 2020
Heather was simply amazing! She was knowledgeable and very helpful! She went above and beyond! She knew measurements, and square footages off the top of her head! Also, the units are clean, organized and easily accessible! I highly recommend them!!
January 18, 2020
This is our second time to rent with you and have never had any dissatisfaction .
January 15, 2020
The guy was very helpful and Patient and went over everything with me even walked me down there in the cold snow to see the building
January 8, 2020
Good! Got what I needed and for an affordable price. And excellent customer service at the front office.
January 5, 2020
Great experience. The assistant showed me the unit before renting it out. She was a lot of help, and I would definitely use US Storage Centers again.
December 31, 2019
Very professional and friendly!
December 31, 2019
Heather Murphy is great. If the rest of the company had the same "OWN IT" mentality the overall rating would be 100%. So often corporations forget about Loyalty to long time customers. Offering reduced pricing to strangers while constantly increasing pricing for loyal long time customers. How about rewarding loyalty ever once in a while. Over the past 16 years I have had 1-6 units at the Corinth location. Heather is the ONLY reason I am still a customer.
December 27, 2019
Heather very helpful.
December 20, 2019
Brad Figart was the BEST!!! Great customer service.
December 11, 2019
Staff is very friendly is and secured the units I needed in short order. Thank you!
December 6, 2019
Heather in the office was so nice and made my initial experience very easy.
November 27, 2019
Friendly efficient staff
November 2, 2019
Great location and friendly staff!
October 29, 2019
Quick and easy. The lady who helped me was very nice & helpful.
October 27, 2019
Very nice
October 22, 2019
Overall good experience, friendly staff and good prices.
October 19, 2019
Very friendly and helpful staff
October 6, 2019
Staff was nice and friendly Love It
October 4, 2019
The staff at US Storage were quick to respond to my inquiries and made the transaction simple and quick. Thank you!
October 1, 2019
Experience was great. Brad was very helpful and quick. He immediately showed us the storage room so we can get an idea on size and then signed us up quickly and efficiently
September 18, 2019
It was easy and semi-quick to get a storage unit.
September 16, 2019
Very professional workers!!
August 15, 2019
Easy to use and friendly staff
August 13, 2019
Store Manager Heather was so nice and helpful, she showed us around and got us a great unit.
August 6, 2019
Very helpful. Good experience
June 15, 2019
Connie was very pleasant and helpful. I appreciate her patience!
June 13, 2019
The employees who work at the Corinth location are great. They are courteous and always helpful. I have been pleased with that experience. However, I am disappointed at upper management who have greatly increased prices within a few months without giving any advance notice.
June 12, 2019
Very helpful management, very kind, and professional. We just relocated from out of state,and were able to set up the unit with absolutely no issues on either end.
May 31, 2019
Awesome, Meranda was so professional and helpful. This was an emergency situation and it went rather quickly and smoothly.
May 22, 2019
Great experience!
April 30, 2019
Very easy and pleasant to deal with
April 30, 2019
Very easy to obtain a unit. Staff very helpful.
April 21, 2019
Jake was very, very helpful. He is a positive face behind the telephone and desk.
April 4, 2019
Easy seem less excellent
March 30, 2019
Very easy to rent the space online and move in. Way easier than trying to rent from uhaul.
March 22, 2019
Great very friendly and curtious
March 20, 2019
Everything was great. Easier than I expected
March 14, 2019
Very easy to get setup with the storage unit. Everything as expected.The onsite person was extremely helpful.
March 12, 2019
New manager...good customer service
March 12, 2019
Jake was entirely awesome when we went to take possession of our bay this pass sat. Explained things very well, was focused on making sure we were good. I feel very comfortable with the facility and Jake overseeing things.
March 12, 2019
Good, so far everything has gone well.
March 12, 2019
Service was great! Jake was super helpful and friendly! Made the set up very easy. He even showed me a couple empty units to help me decide what size I needed. Would definitely recommend to others.
March 5, 2019
Very good. Nice place with friendly people.
March 5, 2019
Always fast and friendly service. I've used this location 3 times and its always been good.
March 4, 2019
Awesome service
February 28, 2019
I was very satisfied with how Jake helped us with our needs. Answered all of our questions professionally, and took his time to show us what they had to offer. Definitely made our move go very smooth and even offered extended hours if needed.
February 27, 2019
Service was friendly and helped make the process go quickly. He was helpful to advise me of other ways he could be of assistance.
December 10, 2018
Jake is super friendly and helpful and helped meet all our storage needs. When we needed another storage for some last minute stuff he was quick to help. A+
November 5, 2018
Jake was extremely helpful and sharp. and the brunette that came to cover his shift every once in awhile was absolutely wonderful to look at.
October 13, 2018
Jake was very nice and helpful!
October 13, 2018
Jake was very helpful and informative. He showed us the unit that we would be getting and then swept it out before we moved anything in to it. Also, the facility is great at draining water. At the time of move in, Dallas was getting an unusual amount of rainfall. The drainage system worked just like it was supposed to.
September 30, 2018
Jake was always courteous and kind. We came by a few times to look at different sizes of units and he was always happy to help. Great customer service!
September 29, 2018
Helpful honest and courteous! What else could you ask for?
September 14, 2018
The office staff was friendly and knowledgeable. Getting everything setup was quick and hassle free!
September 13, 2018
The employees are very friendly and helpful and the price for this storage is great! We really love the clean facility and the ability to keep our options open now that we have some space at home!
September 6, 2018
Working with Jake and his staff made our rental experience flawless! Excellent price, Great selection of units, local location and quality customer service.
August 29, 2018
The lady was great. She got me set up and the price was great. Love everything but... you new there had to be a but. The unit was not swept out or cleaned in any way. I was told it would be so we had to put our belongings on piles of dirt. We did not have a broom with us.
August 16, 2018
Staff was very friendly and got me in and out quickly. Storage building was clean and ready for me to put my stiff in. I would recommend this place.
August 14, 2018
Great job well done quick service and process was quick an easy.
August 11, 2018
Fantastic service
August 7, 2018
staff well informed and great communication of policies and procedures
July 25, 2018
Obtaining a storage unit from this facility and the ease of use has been very satisfying to date.
July 17, 2018
The set up was quick and easy with all questions answered. Space was clean and I was able to move materials into the unit that same day. The price was very competitive and even though there are units closer to my home I picked US Storage for these reasons.
July 11, 2018
My experience was great. My set up was fast and Jake was very friendly and informative about my account. The place has been very clean and kept up with everytime I've been there. I would definitely recommend this place.
July 11, 2018
The staff is great!
June 18, 2018
Ok ok ok ok ok ok ok ok ok ok ok pay me for my time and I'll write more
June 11, 2018
He was friendly and helpful. He just didn't know which units were available.
June 11, 2018
Super friendly and clean facility. Lots of options for the units so you get the storage unit that is right for you!
June 9, 2018
The staff was always courteous.
June 6, 2018
I received great customer service!
May 21, 2018
It was helpful and the service was excellent. Erica was helpful and polite.
May 19, 2018
Very courteous very professional easy to deal with Thank you
May 19, 2018
God bless you
May 10, 2018
Very courteous and professional staff, very reasonable price and the whole process was done in about ten minutes.great business model!
April 28, 2018
The guy was not completely up front with all the opening fees when giving quote. He left out the admin fee. But the price was fair for the area.
April 22, 2018
I was a long term tenant starting with one of your largest (perhaps largest) units gradually downsizing to your very smallest. Over the years your staff was very helpful (especially Heather)and accommodating.
April 20, 2018
I very much enjoyed my experience. They worked with me on several issues and got me exactly what I wanted for a good price
April 17, 2018
Jake Jasent was wonderful! He was very helpful and informative. I appreciated that!
April 10, 2018
Staff is friendly and helpful. Managed to get me exactly what I needin a timely manner.
April 8, 2018
Very nice and fast service.
April 7, 2018
I determined that I needed storage immediately and US Storage Centers responded immediately. Within 60 minutes, I was loading up my storage unit before heading out of town.
April 5, 2018
Great unit. Clean and no issues. Great location too.
March 21, 2018
I've used your storage facility 3 times and it's always been a good experience. Thanks!
March 12, 2018
Jake was a big help and made our visit very worthwhile. East to get into and very secure. Nice place.
March 12, 2018
It went very smooth.. In a stressful time this transaction was very pleasant.
March 5, 2018
I am totally happy with US Storage. I would like to see your office open at least 1/2 day on Sunday though. I found I needed a larger unit and you were not open so I had to get a small temporary unit elsewhere. That unit will be change to you quickly for they were the worse experience I have ever had. I will be upgrading my unit today and I will tell everyone about US Storage and how pleasant you are to work with, along with your ease of access to your units. Thank You ever so much. A Very Satisfied Customer
February 28, 2018
Jake is a wonderful asset to this facility! Great service a clean storage unit, perfect for what we need!
February 27, 2018
Good experience overall -
February 16, 2018
It was good, we just were able to store our Holiday stuff at home.
February 14, 2018
Great! Jake was awesome in every way. Anytime there was an issue with anything, he was able to settle the problem efficiently! Highly recommend!
February 11, 2018
Very happy with the customer service, the facilities, and location.
February 9, 2018
Quick and easy
February 9, 2018
Very competent manager. Always smiling. Made the stress of moving easier for me. My unit and inside the building in general very clean. I will recommend to family and friends.
February 9, 2018
Awesome,Very helpful and attentive,would definitely recommend to other's, the pricing is fantastic also.
February 7, 2018
The manager was very helpful and willing to take the time to explain and meet all my syorage needs.
February 7, 2018
Great employee. Very knowledgeable and outgoing
February 4, 2018
Was just wonderful have no complaints about your facility or employees
February 2, 2018
Services provided were always excellent. The only reason we vacated was the rental increases.
February 1, 2018
The experience that I had with Jake when I walked in was awesome!! He did a great job with selling me friend an I the storage unit that we were looking for. He knew every answer to the questions we had asked him. So glad we came to Us Storage Center!!!
January 26, 2018
I had rented various spaces from you over the years, I noticed that the staff was always very helpful and accommodating. I also loved that the storage center was secure. There were a few things I would change - such as having a place to discard trash. But otherwise a good experience.
January 18, 2018
The sign up process was easy and relatively quick, the employees are exceedingly friendly and the property is nicely kept. I love the multiple cameras and two entrances/exits!
January 17, 2018
It was fine
January 12, 2018
My experience with Jake (mgr) at the Corinth location has always very pleasant, not to mention all my storage matters being hassle free. I would definitely recommend this company to whomever. Good Job
January 9, 2018
It was super easy! The guy who helped me was great!
January 8, 2018
Assistant was very helpful with our changing needs
January 8, 2018
Very secure facility that is well lit. The manager was extremely helpful. Would use this storage center again.
January 8, 2018
Everything was handled quickly and clearly. No Problems whatsoever. Thank you.
January 6, 2018
Jake was outstanding. It's obvious he cares about the facility and the customers.
January 6, 2018
Great service, very nice and was easy to rent
January 3, 2018
I just moved in, however I was given 24 hours access to be able to get my things in at a convenience that was needed. It really wasn't at a price I wanted or the size I wanted. But it was an accommodation I had to have immediately, and very clean. I would recommend to others. Thanks us storage!
January 2, 2018
All was good.
December 29, 2017
Great experience all around. Property manager was very helpful and it was a very easy process.
December 27, 2017
Fantastic! Jake Jasent is a solid guy. Incredibly helpful, throughout the entire process.
December 23, 2017
Jake rocks.Facility wrk's as needed. Nough said
December 13, 2017
Jake was very helpful.
December 5, 2017
I loved it never had an issue. Great customer service when ever I needed to speak to some one. Loved the convenience that it was down the street from my house. Had to leave cause I lost my job and couldn't afford it anymore but would rent again in the future.
December 2, 2017
Person I dealt with was great to deal; with and made the process very easy.
November 24, 2017
Jake was super courteous, friendly, helpful and quick! Highly recommend this facility for storage needs.
November 23, 2017
Very polite and courteous. I would recommend renting a storage facility from these folks.
November 21, 2017
Super friendly great service I will definitely do business there again
November 19, 2017
Ease of renting well done.
November 11, 2017
The new management is awesome! Jake was so helpful and considerate. He answered all my questions, went above and beyond to help us during a stressful time in my life. He made my day a little easier. Thank you!
November 10, 2017
Fantastic! Very professional group and customer centric.
November 9, 2017
Great. Always nice and available for ques
November 8, 2017
people very helpful and considerate of your needs
November 7, 2017
Very quick and easy. Provided exactly what we needed in a very timely manner.
November 7, 2017
Terrific service; terrific facility. Employee Jake could not have been nicer; he graciously stayed 30 minutes after closing because we were late arriving; he took care of all the paperwork quickly, cheerfully, and efficiently. The storage space was very clean as were all the grounds at this facility. Immaculate. The facility is well laid out which made it easy for us to get our rental truck in, around, and out of the area. We were impressed by the online pictures of this place, but more impressed by seeing it in person. It also is very accessible to Interstate 35.
November 6, 2017
Very positive and professional
October 29, 2017
Great service and price. 3 months at half price sold us.
October 28, 2017
Customer service has been great so far! Super helpful staff and the complex seems secure. My only complaint, how the cleanliness of the units. I would have preferred no leaves, spider webs, or mouse/rat poop the night we moved into the unit.
October 27, 2017
Very courteous and professional. Storage area was clean and maintained.
October 25, 2017
Very friendly office people. Thank You!
October 25, 2017
Friendly and helpful property manager and quick service
October 17, 2017
Not only is this the best priced storage in the area, we got 50% off the first two months, and a much bigger unit than expected.
October 6, 2017
Your staff is very helpful and polite.
October 5, 2017
No issues. Walked in got the size unit I needed at a good rate. Clean and secure facility ease of access was a big draw for me.
September 25, 2017
One of my Directors talked with the property manager Michael on a couple of occasions to ensure we had the space we were looking for. Made it pretty easy when we went in to rent the space.
September 21, 2017
Great customer service! The manager Michael explained everything perfectly and it was a fast and easy process. Would definitely recommend to people I know!
September 18, 2017
I purchased my unit on Sept 1. We did not look at actual unit just an empty one closer to office. When I went over to move in on Monday (Labor Day), there was a lock on the unit. A message was left but no one returned the call. I called again on the 6th and left message with no response. I stopped by in the evening and talked to the office and they unlocked that evening. So basically I paid for a unit that I couldn't use for 6 days.
September 9, 2017
excellent experience
September 6, 2017
Very professional
August 26, 2017
Awseome! Doyle was very polite and helpful. Best experience I've ever had renting a storage.
August 20, 2017
Great customer service, knowledgeable trained staff ready to help
August 16, 2017
The staff at the location is extremely friendly.
August 4, 2017
Your employees were considerate, helpful, and professional. They were also very personal and great people to know. They provided an enjoyable introduction to a new homeowner moving into the community. Thanks to them!
August 1, 2017
Jeff Rodriguez, Assistant Manager was very helpful. Overall good service.
July 28, 2017
This is my second time with the company and I am absolutely ecstatic that the customer service is still incredible. Great units that are kept clean and they have cameras for safety and security around the units. Highly recommended for anyone!
July 25, 2017
No problems
July 21, 2017
It was pretty easy process for renting the unit. I appreciate that the company priced matched a competitor, but giving a better deal is the way to show the customer they are valuable to the company.
July 7, 2017
I highly appreciate the work that CJ did to make sure we got settled in. Zelda price is about $20 more than the place I found in Lewisville, because it was closer I chose it. I am glad I did because of CJ's support, and also because of the 50% off next rent for referrals. Because of that I was able to help my landlady with her storage rental because she referred me to you guys.
July 5, 2017
Fantastic customer service!
July 3, 2017
Excellent team
July 2, 2017
It was wonderful. Staff is helpful, friendly and honest.
July 1, 2017
Convenient location and very friendly staff.
June 22, 2017
My experience was great! Easy online reservation and Jeff was so nice and helpful when I went in to sign the documents.
June 10, 2017
Outstanding service and extremely helpful staff.
June 9, 2017
The manager was very helpful and pleasant to work with.
June 7, 2017
Heather Murphy is the absolute best! She truly cares about her customers and is always available to help. It's customer service that drives this business and Heather surpasses all that I have dealt with in this regard. She is a keeper!
June 3, 2017
Jeff was friendly and funny all while being on top of things and informative. I actually enjoyed the whole experience very much. The storage is also very convenient and clean.
June 2, 2017
Very easy and Heather was super helpful and sweet.
June 2, 2017
The process of information took longer than we would have liked. But Jeff was learning and things were good.
May 31, 2017
I was taking care of.
May 27, 2017
The manager, Heather, was absolutely awesome, extremely friendly, and helpful with a personally stressful situation. The facility was very clean and secure and I feel comfortable having all my lifelong belongings at your storage center.
May 26, 2017
Very helpful friendly and efficient!
May 8, 2017
Heather was very friendly and helpful!
April 28, 2017
Heather was great. Helped us find the right unit. Great customer service.
April 28, 2017
Very helpful in assisting us in our storage needs
April 27, 2017
Great Customer Service, very friendly and response to customer requests.
April 27, 2017
Heather was awesome and the facility and storage unit were very clean.
April 17, 2017
The staff at the Corinth location have been extremely helpful with all my needs! The storage units are clean and in great working conditions.
April 17, 2017
Very friendly!!
April 12, 2017
Great experience and was very helpful.
April 10, 2017
Excellent; Heather Murphy is super straightforward, and a pleasure to work with!
April 6, 2017
Very professional and friendly
April 6, 2017
it was great. The manager was nice.
April 1, 2017
Extremely helpful and the manager was very knowledgeable. The units were extremely clean
March 28, 2017
the staff has always been a pleasure to deal with
March 28, 2017
Heather was so helpful with all of my question and the storage unit was very clean.
March 21, 2017
It was a very easy experience. Heather was so helpful and made the process so smooth.
March 21, 2017
Experience was very good. Manager was friendly, explained everything to us, and showed us around the property. Very clean well kept facility.
March 18, 2017
The ease of getting a storage unit was great and office personnel was very helpful.
March 8, 2017
Great experience at the Corinth Texas location. Management is very good.
March 4, 2017
Wonderful service. Property manager was very inviting and informative.
March 2, 2017
Excellent customer service. I really enjoyed the experience
February 12, 2017
Very nice
February 11, 2017
Awesome. Very nice folks and very helpful. The grounds are the cleanest I have seen in a storage facility. Would highly recommend this location to anyone that ask about storage places.
February 10, 2017
Great service !!! We got exactly what we needed.
February 5, 2017
Outstanding!
February 3, 2017
Great and welcoming staff,easy to setup storage. Thank you Heather!
January 31, 2017
It was okay
January 27, 2017
Great, staff was very helpful and extremely knowledgeable.
January 25, 2017
Your storage facility has taken care of all my needs
January 24, 2017
Friendly,helpful,informative. Everything very clean.
January 23, 2017
Great customer service!
January 19, 2017
It was convenient and not painful lol very good service i would recommend this store
January 18, 2017
Fell really happy, you guys have a really good costumer service at front desk
January 14, 2017
Good job
January 14, 2017
Very professional office personel Very helpful in selecting unit to fit my needs
January 13, 2017
Very easy to rent space. Easy pay! Great!
January 6, 2017
Heather was extremely helpful and kind !
January 6, 2017
Excellent service!
December 21, 2016
Had a very nice experience dealing with your people. She was friendly and answered all our questions.
December 21, 2016
It has been a pleasure. I have no complaints at all.
December 13, 2016
I am totally pleased with my experience with Heather Murphy. She is a professional and is a shining star in customer services. Thanks, Jimmy Crowell
December 12, 2016
Heather is great!! Always takes care of us
December 12, 2016
I think Heather is GREAT!!! She always goes above and beyond to help!!! She is a true asset.
December 9, 2016
Great people clean place.
December 9, 2016
Enjoyed talking with rep there. She was very professional and courteous and was able to accommodate my wishes expeditiously.