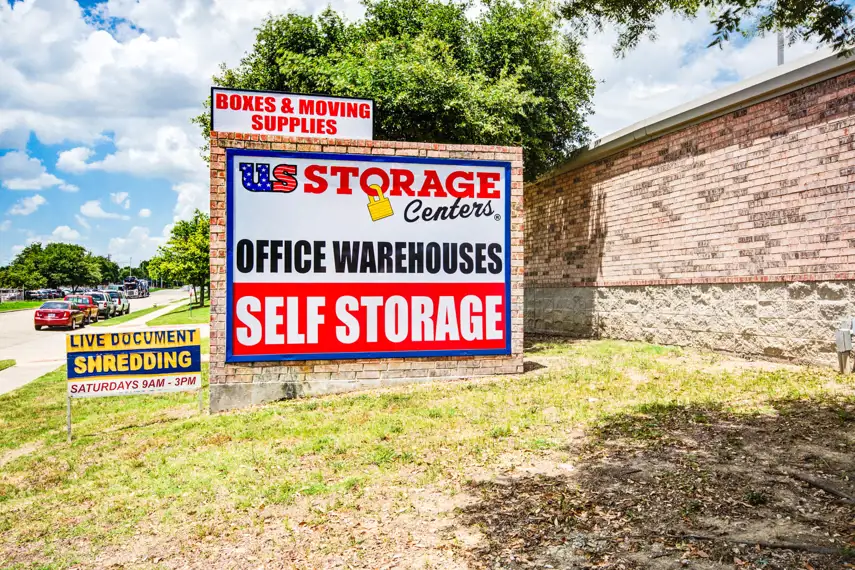 Rent or Hold Your Storage Unit in Minutes. Easy, Contact-Free Rentals.
Location Details
ACCESS HOURS
Mon

Open All Day

Tue

Open All Day

Wed

Open All Day

Thu

Open All Day

Fri

Open All Day

Sat

Open All Day

Sun

Open All Day
OFFICE HOURS
Mon

9:00am - 6:00pm

Tue

9:00am - 6:00pm

Wed

9:00am - 6:00pm

Thu

9:00am - 6:00pm

Fri

9:00am - 6:00pm

Sat

9:00am - 5:00pm

Sun

Closed
FEATURES AND AMENITIES
Drive Up Access
24 Hour Access
Climate Control
RV Parking
Electronic Gated Access
Video Recording
Moving Carts
Kure It Certified Location
ABOUT THIS LOCATION
Plano Self Storage Units and Office Warehouse Space: Mini Self Storage Rental
Read More
Photos
About this Location
Self Storage Facility Features

Our Plano, Texas self storage facility has 185 storage units comprising over 90,600 rentable square feet of storage space. The storage units come in a variety of sizes from 5x5 all the way up to 12x20. Easily accessible drive-up and indoor storage units are located on the ground level. A significant amount of office warehouse tenancy options are also available.

Garage-style roll-up doors, and wide concrete driveways provide plenty of room for moving into storage units.

The seven buildings at our property, located on approximately 4.8 acres of land, are constructed of steel framing, brick facades, exterior metal walls, and standing seam metal roofs.
Contact-Free Rentals – Easy Online and Phone Rental Options 
 Online Rental
 Select your unit and enter your info and payment
 Sign the lease online
 A manager will reach out to you with your access code, a map of the property, and they'll have you email a copy of your valid government picture ID
 Once these steps are complete, the manager will prepare your unit so it's ready when you arrive
 Phone Rental
Simply call the number listed at the top of this page, and a member of our staff will work with you over the phone to complete a rental
The manager will email a lease to sign
Once the lease is signed, a manager will reach out to you with your access code, a map of the property, and they'll have you email a copy of your valid government picture ID
Once these steps are complete, the manager will prepare your unit so it's ready when you arrive
Climate Control

Climate control storage units, in a variety of sizes, are also available to rent. Our climate controlled self storage options provide an added layer of protection from the elements. Customers using this type of unit are often pharmaceutical reps storing supplies that need to be stored in a temperature controlled environment. There are also customers storing antique furniture and other important and irreplaceable household items and heirlooms that are best stored in a climate controlled environment, along with other environmentally sensitive items. When summer hits and temperatures soar above 90 degrees Fahrenheit, our climate controlled storage units are an excellent option for storing your belongings in a protected environment. Storage customers looking to maintain comfortable conditions when they visit their unit also choose this option, especially if they plan on visiting it frequently.

Office Warehouse Space

Centrally located in Plano, our office warehouse space is the perfect option for small businesses. Short-term flexible gross leases are available, but we only have a few vacancies open each year – make sure you call us ASAP to claim your space.

These spaces have an office (approximately 209 sq. ft.) connected to a spacious warehouse (approximately 915 ½. sq. ft.) – flex expansion room is available. Each of these spaces also include dedicated parking, their own restroom, and a separate HVAC per space. Tall 15 ft. ceilings provide ample room for shelves and goods. The entrance doors to the warehouse are large grade level, and they're able to accommodate most trucks backing up into the warehouse.

Some of the additional features include:

• Business directory board with your business information displayed

• Dedicated high speed internet

• Additional gated parking to rent for your business vehicles

• No CAM charges

• Separately metered utilities allow you to control your monthly expenses

• Complimentary waste disposal service and trash compactor

• Onsite professional property management six days per week, and on-call management available seven days per week from 8:00 AM – 11:00 PM

Joining a fantastic community of business owners is another highlight of operating your business at our facility. Many of our tenants have complimentary businesses that lend themselves to great collaborations and networking. Many of them are operating successful companies specializing in distribution, logistics, landscaping, construction, elevators, online stores, and home staging.

These office warehouse spaces are extremely limited, so call us to reserve your flex space today.

Joining a fantastic community of business owners is another highlight of operating your business at our facility. Many of our tenants have complimentary businesses that lend themselves to great collaborations and networking. Many of them are operating successful companies specializing in distribution, logistics, landscaping, construction, elevators, online stores, and home staging.

These office warehouse spaces are extremely limited, so call us to reserve your flex space today.

Secure Storage Units

This secure self-storage facility has personalized keypad entry / exit gates and 24-hour video surveillance. Wrought iron perimeter fencing, excellent lighting, and an on-site manager are also in place to keep your belongings safe.

RV and Boat Storage

We offer space for those looking to store their RV or boat. Parking space width may vary from spot to spot. Please call the property manager for more details on Parking Space sizes.  

Conveniently Located

Located on 800 Fulgham Road in Plano, Texas, our facility is immediately south of West Plano Parkway and between the major intersections of Ohio Drive and Coit Road.

Preston Pointe, Preston Square, Turnberry Village, and Fairway Apartments are located north of us. John Paul II High School, Huffines Hyundai Plano and Huffines Chevrolet Plano are to the east. President George Bush Turnpike is immediately south of us, and The Heart Hospital Baylor Plano, Subaru of Plano, Huffines Chrystler Jeep Dodge Ram Plano, and Ewing Buick GMC Plano are east of our facility.

Community

Plano is a fun city. With the Balloon Festival every September and the six recreation centers, not to mention the multiple golf courses. We also have over 40 miles of trails and a large network of parks making Plano one of the most walking friendly cities in Texas. There is a tree in Bob Woodruff park that is over 500 years old!

Adding to the fun, is the fact that Plano was voted the nations "Most Affluent City" and "Best City to Create Wealth" in 2008. So not only can you have a good time, you can get rich doing it! We're also home to some large corporations like Dr. Pepper, JC Penny, and Frito-Lay. And our police and fire departments are internationally recognized for their superior service.

No matter how you slice it, Plano is the best city in Texas, if not the world.

Forms of Payment

It's easy to pay your bill! We accept cash, checks, money orders, Visa, and MasterCard. You can also pay online through our secure client login.

Facility Products

To help with your move, we sell boxes (sized small - x-large). Wardrobe boxes, packing tape, tape dispensers, mattress covers, bubble wrap, picture moving kits, and locks.
Customer Reviews
overall rating, 75 total testimonials
October 26, 2021
Gary is amazing, friendly and professional. He was happy to help me find exactly what I needed. I couldn't be happier. I will definitely be doing business with you in the future, I would highly recommend you to anybody who needs storage or office space. Awesome customer service, and a great staff. Thank you!
October 21, 2021
Very friendly , organized and helpful.
August 9, 2021
Great! Able to get the exact storage I needed and getting everything together was effortless. Would recommend.
May 4, 2021
Great experience! Pro- fessional and pleasant attitude.
April 7, 2021
The management was professional and courteous, the property was well kept and my needs were met. Would recommend to friends and family.
March 27, 2021
Great! Very helpful to us.
March 23, 2021
Very affordable, great access, and 24/7! Service was great at the front as well
March 18, 2021
Great place. Friendly and helpful service. Feel good about leaving our trailer there.
March 10, 2021
My name is Sebastian, and I had been looking for a storage unit for a long time. The moment I stepped into the office, I was greeted very politely and I met the assistant manager Hunter. She answered all my questions with enthusiasm. It is not common to find somebody that is happy to help. He even took the time to walk with me and showed me some of the units available. His professionalism gave me confidence to bring my business to you guys! Thank you Hunter for the great customer experience!
March 3, 2021
Hunter was fantastic. The day I wanted my unit he was not working, so it was taken. He worked extra hard to get the next one that opened. Thank you Hunter.
March 2, 2021
super fast amd easy to sign up, property is very clean
November 8, 2020
Work here
September 14, 2020
The property is well maintained and the staff is friendly and personable, Gary and Hunter go out of their way to make sure that you have everything you need to make the storage experience fit the customers needs to the highest of standards.
September 12, 2020
It was good
August 27, 2020
So far, so good
August 4, 2020
Excellent service and communication by all parties involved due to covid situation everything was done remotely and in a timely manner!
July 26, 2020
Staff member Hunter was very courteous and thorough with answering my questions and making sure I had ther right information. Nice to deal with someone who really seems to care about doing a good job.
June 29, 2020
US Storage has always been a pleasure to work with. They make the renting and storage process so easy for the customer side of it and always so professional and kind. I highly recommend US Storage if your looking for great storage rates and friendly customer service then this is the company to go to.
June 9, 2020
Really great customer service they have helped me get the perfect storage unit I'm very satisfied.
June 8, 2020
Very good, Gary was great and promptly helped us out with everything we needed. We are looking forward to our office suite.
May 27, 2020
Great, Gary was very helpful, courteous and professional. Would recommend to others and thanks for meeting my storage needs at a reasonable rate.
May 8, 2020
Great experience fast Service
May 5, 2020
Good, just a little overboard with the coronavirus rules. Also my unit was very nasty and dirty. Some type of chemicals were spilled all over the floor and never cleaned. As well as dirt and debris.
January 13, 2020
The manager, Gary, is very professional, personable and helpful. He keeps the facility very clean. I am a female and was alone at the location quite often. I always felt safe. I would recommend this location to anyone. Thanks.
January 11, 2020
Gary was very helpful with the space rental I needed.
November 13, 2019
Gary was very helpful. He answered all the questions we had and he explained with detail everything. We are so happy to make business with US Storage.
August 11, 2019
LOVE the service !!!
August 10, 2019
Gary was of great help as he showed me the premises and explained the details for the rental agreement
August 8, 2019
I love to work with you. I started with a storage unit and I just upgraded to am office warehouse. The manager at the Plano west Location is the best.
July 4, 2019
Gary is a great manager. He is very friendly, but a stickler for order and cleanliness. I have noticed quite a few changes since he has been there. It looks like he stays on top of things. Otherwise, I like the large unit. No one bothers me. I do wish there was more parking, but I guess you can't have everything.
June 12, 2019
Really clean facility with the most helpful staff. Getting set up took less time than I thought and I am generally happy about the experience
May 30, 2019
So far, everything has gone smoothly. Will update later
April 18, 2019
very friendly and helpful service.
March 4, 2019
Good experience
August 19, 2018
Managers Johnny and Brady were very helpful with renting one of the storage spaces. I like the limited access to the property.
July 26, 2018
great experience so far...
July 25, 2018
I had an AWESOME experience! Even though I came in less than 30 minutes to close, all my questions were answered and I didn't feel rushed! Customer service at its highest. I definitely will be telling my friends about this place!
April 10, 2018
I was there a few years and it was great always took care of every need clean safe great for small business that are growing will highly recommend
April 8, 2018
Tiffany Odom was very helpful and gave great service.
March 21, 2018
I don't like that you constantly press for google reviews, and was tired of being asked to fill one out. The staff is nice and helpful.
February 4, 2018
Nice place
January 11, 2018
Very nice gentleman in the front office, Mike. Very helpful and polite. The facility is in a great location.
January 3, 2018
Very happy with the service and location.
December 18, 2017
It was fine for many years but the new management raised the rents too fast
November 16, 2017
I rented this place for 2 year, unfortunate my auto sales is closing and I will not need the office werahouse any more. I will recomend this place to any body that needs a place for busunes or storage, secure, quiet, and easy to do business with. thanks to the new manager for the last few month of service he was very helpful. thank you Jeff!
November 5, 2017
These guys were so great when I was in a hurry to get everything moved!
October 24, 2017
The management has always been friendly and responsive to my needs. They have always been willing to work with me to attain my goals. I have never had any problems whatsoever. I have been very happy there. I only have good things to say.
September 26, 2017
Jeff was very helpful. Great location works perfect for our business. Thanks Jeff in Plano Tx
September 6, 2017
I changed units and the previous tennant didn't get their stuff out until the 5th of the month and I had to clean it up! My rent started on the 1st which delayed me from moving out of my old unit completely. I also had to pay the movers even though I couldn't move out, so that also cost me more money. I believe I should be reimbursed for my losses.
August 22, 2017
Jeff has been incredibly helpful and professional! He has been great to work with!
April 7, 2017
Cj is a great person to deal with definitely an asset to your company
March 1, 2017
US Storage feels like home. The staff is very professional and attentive to customer needs. I work in my warehouse office quite late and always feel safe. The facility is clean and well lit. I have been here for 2 years and plan on several more!
January 12, 2017
The onsite agent CJ was very friendly and professional. He helped me find the best storage unit for my purposes. Great experience.
December 1, 2016
John and C. J. ..... best team . Thank you