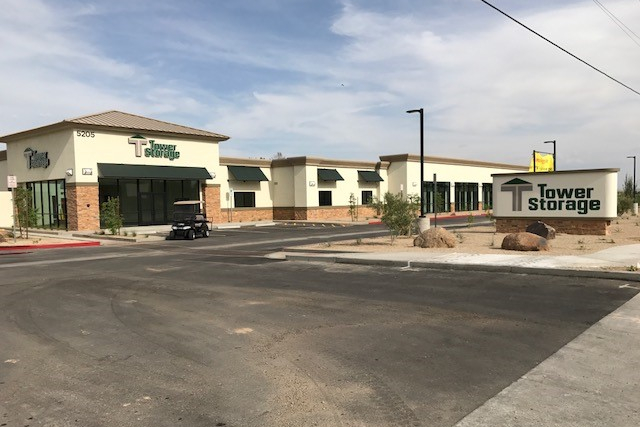 Self Storage Chandler, AZ
Logout
Location Details
ACCESS HOURS
Mon

6:00am - 10:00pm

Tue

6:00am - 10:00pm

Wed

6:00am - 10:00pm

Thu

6:00am - 10:00pm

Fri

6:00am - 10:00pm

Sat

6:00am - 10:00pm

Sun

6:00am - 10:00pm
OFFICE HOURS
Mon

9:00am - 6:00pm

Tue

9:00am - 6:00pm

Wed

9:00am - 6:00pm

Thu

9:00am - 6:00pm

Fri

9:00am - 6:00pm

Sat

9:00am - 6:00pm

Sun

10:00am - 2:00pm
FEATURES AND AMENITIES
Drive Up Access
Climate Control
RV Parking
Electronic Gated Access
Video Recording
Moving Carts
Kure It Certified Location
ABOUT THIS LOCATION
RV Storage * Boat Storage * Climate Control Storage
Read More
Photos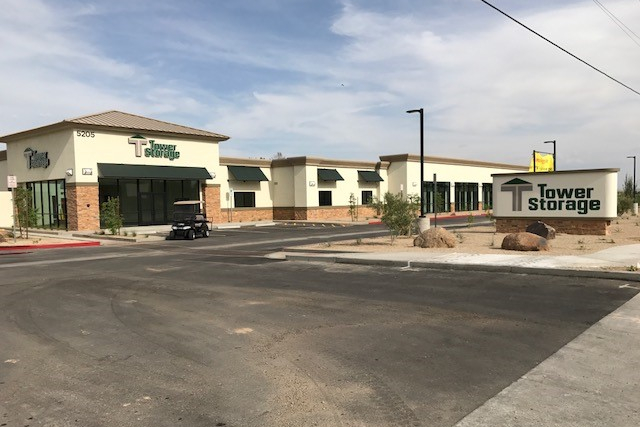 About this Location

RV, Boat, and Auto Parking Storage

Located at 5205 South Arizona Avenue, Chandler, AZ 85248, our brand new Tower Storage facility offers beautiful, new RV, boat, auto, and climate control self-storage units. Our recreational vehicle storage options provide ample space for even the largest RVs and other recreational vehicles. Our RV storage spaces make accessing your vehicle a breeze, as we have eliminated tight corners and awkward angles to ensure parking and backing out of your space is a seamless process.

RV Storage Features Include

* Propane
* Free Ice & Vacuum
* Sewer Dump
* Dog Park
* Business Center & Conference Room
* Detail and Wash
* Clean Showers
* Video Cameras

Storage Units & Facility
Our storage units vary in size and amenities to ensure your storage needs are met. The sizes of our available self-storage units range from 5' x 5' to 11' x 35'. Anyone who is moving to Chandler, getting married, or experiencing a death in the family knows that we are here to support them with storage units that will fit these individual situations.

Each storage unit is individually cleaned and inspected after a vacancy to ensure cleanliness and security, as we believe in setting the standard for the highest quality storage units available. Our brand new building in Chandler is clean, modern, and attractive, and you can choose between climate-controlled or non-climate controlled units in different sizes, which can accommodate anything from a few extra boxes to a full house-worth of belongings.

We also have an onsite conference room that can be rented out for different meetings and a picnic area and dog park on the outside of the premises for anyone to enjoy some leisure time with the family.

Security
One of the most important things our tenants, who are storing their RV, Boat, and household belongings, expect is security. They are concerned about their belongings and want reassurance that their possessions will be safe when they return. We alleviate any concerns about security as we provide 24 hour video monitoring of the premises, unique pin code access to enter the facility, and locks for individual units (though we encourage the use of your own lock). We also enforce strict opening and closing times to eliminate loiterers, and our storage facility has been strategically built in a location that alleviates the risk of damage or theft.

Professionally Managed
Our Tower Storage facility is managed by professionals with years of experience in the storage industry. The staff members that greet you are also hired based on their customer service qualifications and will always be kind and friendly when providing you with options, information, and answers to any of your questions. We believe that your needs come first, and our team is here to assist you in any way we are able.

Best and Most Convenient Hours in the Industry
We offer two sets of opening hours which include our office hours and our storage hours. Our office is open from 9am to 6pm every day, including weekends and holidays, and our storage facility is open from 6am to 9pm every day. These times are generally able to accommodate working individuals and offer flexibility for our customers who need to access their belongings, including their RVs and boats, for the weekend or during vacation.

Forms of Payment
We accept all forms of payment, including cash, credit card, check, and money orders.

The Community
Chandler is full of recreational things to do year round to have fun on the weekends. Chandler golfers enjoy hitting the range at several golf courses, including the Ocotillo golf club of the San Marcos golf course. The city, which is agrarian in history, also has a few farms and ranches that offer horseback riding and lessons, such as Kira's Dream Horses, or anyone can enjoy the artistic side of Chandler by taking a painting or pottery class at Burst of Butterflies. No matter your hobby or interests, when you need a place to store your golf clubs, animal care supplies or pieces of art you create in class, remember to get in touch with us for a place to keep them!


Customer Reviews
overall rating, 133 total testimonials
February 19, 2020
Front office os always super nice. I so far have been happy. Got a good rate and the place is very clean and I feel safe. The only negatives is the carts are never around when needed and you have to search for them, it would be nice if there were lights in the units themselves also.
February 14, 2020
Very helpful, pleasurable staff, I will recommend Tower Storage to my friends! Thank you!
February 12, 2020
Positively
January 26, 2020
Your manager Jasmine is great! Friendly and helpful. Area is clean and gated with constant video cameras. Easily accessible with generous hours of operation.
January 20, 2020
Great people, especially Jasmine!
January 19, 2020
Awesome staff. Clean units with good climate control.
January 5, 2020
Very nice storage unit
December 21, 2019
I loved Tower Storage. I like the music in the hallways, the Dog Park, the RV/Car Wash and the awesome staff. When I had a problem with the shower at my residence, I used the shower in the on-site bathroom. The waterfall at the front gate is very inviting and the other people renting units were friendly. I would come back here to rent a unit the next time I need one.
December 17, 2019
Easy and hassle free
December 16, 2019
The staff are always professional, welcoming and helpful. Storage units are clean and appropriately priced.
December 10, 2019
Good so far
December 4, 2019
Very satisfactory! All the benefits you receive are so worth the price.
November 14, 2019
Tower Storage was wonderful. The computer system needs upgrading & the staff needs more training & the ability to answer questions correctly.
October 20, 2019
I was one of your first customers when the Chandler facility opened and I sent or recommended others. I think the facility is better than the two that are close and I came back for another use of the service. With a different living arrangement I agree should not reflect on the service, but this particular time I missed my payment, went to the office and as a courtesy let the representative know that I had received the notice, the bal $189, took out $120 to pay and I said,' I do not need entry, I don't want this to get too out of hand!' I was told in a matter of fact type in passing mode, 'Oh, we don't take partial payments!' I said I don't want this to get out of control because I am on a fixed income, blah, blah, blah I guess is what she heard! For a fleeting I flared by turning from the counter and toward the wall, I yelled, I can not believe this (I may have added the slang for defication at the end). but I was definetely upset. Had I been able to pay that partial, I WOULD HAVE HAD THE MONEY FOR THE NEXT. I am scraping to catch up--and it is not easy.
October 18, 2019
First visit, person ignored customers waiting. She was on the phone speaking in Spanish, I think it was personal. All offoce visits after that were fine. I rented two units. The inside unit was clean. The other unit a 19x20 ouside was dirty. I had to sweep it out myself. I stored a car so fortunatley I did not have to place any items on the floor.
October 12, 2019
Very clean, spacious and easy access facility.
September 10, 2019
Excellent facility but priced a little high
September 9, 2019
Sometimes the amenities that we contracted for are not priority when a new customer comes in to the retail office.
September 8, 2019
Nice facility, security, reasonable and easy access.
September 1, 2019
Very pleased. Well managed. Facilty is clean, easy access/egress.
August 26, 2019
i was treated fairly and honestly. Good vibes from the get go
August 17, 2019
Everything is kept clean and office people are very nice and professional.
July 26, 2019
Only complaint I have is that I can't use my AMEX card on line to pay my bill. I have mentioned it to the office personnel and left a comment on your web site but, have never heard anything back from anyone. It appears that your credit card number input field is set to recognize 16 digits for the card and AMEX is only 15 so it won't accept the number.
July 13, 2019
As far as employee Gabby 5 stars!
June 25, 2019
Great location
June 20, 2019
Storage units were clean and doors in good working order. Employees were friendly and very helpful
June 16, 2019
Love the facility. Well maintained and well managed. Has all the amenities for my motorhome.
May 27, 2019
It was a great experience and the staff was awesome!!
May 23, 2019
The staff is very friendly and accommodating. I appreciate the RV wash and detail unit. the air compressor, toilet and R.V. dump are also very handy. All spaces are paved. The only negative is the price is a bit high. Thus the 9 rating instead of a 10.
May 20, 2019
Staff is outstanding.
May 12, 2019
Same great service every time. Gaby is a great employee. Make sure you treat her well.
April 17, 2019
Great security
March 29, 2019
The space was clean and the property was very well maintained. We were very happy with the space, price, and service. Thank you.
February 22, 2019
Good. Liked the car wash. Felt very secure and liked the interior storage space.
February 16, 2019
It has been fine so far. The facility is conveniently located near my home, the staff is always friendly and helpful when I meet them, and the facility has easy access when I go to add or remove things from my storage area. I am happy with the value of the arrangement.
February 9, 2019
I loved working with your staff, the facilities are nice and I enjoy having access to air up my tires and an area for my dog to run around.
January 27, 2019
Everything was great
January 14, 2019
helpful, polite, friendly.
January 13, 2019
Nice facility and professional staff.
January 8, 2019
Excellent service and support, thank you!
December 23, 2018
Clean units. Temperature controlled. Music plays. Cart available to assist with things. All good!
December 22, 2018
The staff at Tower Storage were very helpful.
December 10, 2018
Your attention to detail is amazing. The facilities are immaculate. When I was at my unit last week, it was at the end of a long day and it turned into more than I could handle on my own. Once I got everything I COULD handle into my truck, it was late, dark, I had to drive home to Tucson and I was dirty, especially my hands. Lo and behold, you had immaculate bathroom facilities. I washed my hands in soap and warm water. I could have showered if I had so desired (sometimes it helps to know you could if you wanted to). I know these things sound small, but i am a veteran of a foreign war where we regularly had to do more with less, so the little things mean a lot. Soap and warm water when you need it is a luxury and clean facilities feel like a little piece of heaven. You are the Four Seasons, the Biltmore of Storage Facilities. Robin
November 16, 2018
Been a very good experience. Staff has been helpful and friendly. Easy access to my RV and the place is always well kept
October 24, 2018
Very clean and great customer service!
October 16, 2018
So far everything has been very good
September 8, 2018
Love the location, cleanliness and facilities available for use (Car Wash, Vacuum, Air and ice). Easy access is great. Have had no issues since initial rental process.
September 7, 2018
Its great
September 5, 2018
Great place to rent from and all the staff is very friendly!!!!!!
August 31, 2018
Never a problem. Very nice, friendly, helpful management team.
August 24, 2018
The office staff is always friendly and helpful
July 16, 2018
Overall it has been great. I feel that my belongings are safe there.
June 28, 2018
Great customer service and a nice kept up property. Love the dog park.
June 21, 2018
It has been wonderful to have the storage Center close to our home, second time to rent, Excellent and efficient, caring staff. Of all the yrs we have used the storage company's, this one is the best.
June 18, 2018
The staff is extremely helpful and friendly. Really enjoy having a small air conditioned storage unit as well as covered RV storage.
June 10, 2018
Nice open clean space for our boat
June 6, 2018
Great place, great people to deal with.wish they had 50 amp.
May 22, 2018
very, very happy with everything.
May 21, 2018
It was very good.
May 18, 2018
I was very happy with the facility and the amenities of the area. Covered parking, air, propane service and a wash rack. The staff was excellent and friendly. I thought the competition in the Chandler area would bring down the price but you raised my rates after the first year. I left.
May 12, 2018
Gabby and the other guy are wonderful, so courteous and helpful. I love how New and clean the storage units are and the ease of access.
May 7, 2018
Every time I have visited the facility the gentleman has been friendly, informative and professional!
May 2, 2018
Very good service. Always available to get to our unit and with no problems. Thank you
April 15, 2018
Excellent customer service, state of the art facility. None better.
April 12, 2018
Everybody that I came in contract with where very professional. Your storage center is very very nice and clean, and has everything a person would need. I had only a 18 foot boat and could not afford the price increase. I would highly recommend this storage center to any person.
March 29, 2018
Very good....and prices are more reasonable. Keep them that way and we continue to be customers.
March 19, 2018
Clean, climate controlled storage with easy access when we needed it.
March 18, 2018
having temperature controlled storage is a plus. Access where you provide carts by the door was a major point. Now having payments set up online relieves any worry about missing one.
March 8, 2018
IT WENT WELL
March 6, 2018
Staff is friendly and helpful. Facilities are spotless and well maintained. Access hours are better than most.
March 2, 2018
Very nice, clean site.
February 13, 2018
the experience has been very good other than one very important issue. There are not enough carts to use. There is one cart for building B. That really does not make sense. The carts can not be that expensive where you have a great facility and then get the client upset because there are no carts to be found. Please fix this. At lest one cart per entrance.
February 8, 2018
The personnel were knowledgeable, friendly and helpful.
February 6, 2018
No problems with the locker of the staff. Price is higher than expected but reasonable.
February 4, 2018
My experience was great and the process was super quick & easy on move-in and move-out. The facility is amazing!! Thank you. :)
January 29, 2018
Very pleased with the service you provide.
January 24, 2018
it proved very easy to get a spot and to move in. I have found that they are on the ball when it comes to doing what has to be done. like them very much.
January 22, 2018
All personnel have been extremely helpful and professional. Storage facility is clean, well lit and conveniently provides push carts to aide moving large items. Couldn't be nicer.
January 17, 2018
Neat site and friendly staff
January 16, 2018
Excellent
January 15, 2018
I was happy to introduce my neighbor based on our positive experience. Love the extra amenities such as wash, vacuum , dump station and water.
January 13, 2018
Everything so far has been top notch! Lisa was very accommodating with our arrival time. Obviously the facility is new and that is a factor too.Enjoy the wide spacing and the cover. Have used the wash facility and it was great to have that on site.
January 5, 2018
The girls in the office are knowledgeable and have answered my questions with anything I needed! The storage unit I have is perfect as well
January 5, 2018
Nice facility. Management is always pleasant.
December 21, 2017
Your staff is professional and helpful. We are extremely satisfied and feel your service is top notch.
December 21, 2017
The representative was very thorough.
December 19, 2017
I have only been in my unit since October. However I do appreciate the on site wash facility, air available , Bathroom , shower ,picnic area. Clean facility. And most important for me, the enclosed space to store my 40ft motor home. Friendly staff also helps with good operating hours. Security a plus. the Google map shows the facility on the wrong side of Arizona Ave. Wrong location.
December 11, 2017
The staff was extremely efficient and friendly. The facility was very easy to access, and the facility was always properly clean.
November 12, 2017
The experience was wonderful, the receptionist was very helpful and knowledable. The unit was perfect
November 9, 2017
Very clean and safe place to store your stuff.i have already recommend your storage to others
November 1, 2017
very well, would use you again if needed
November 1, 2017
Staff is very helpful very friendly the place is very clean and it's affordable I love my spot
October 6, 2017
Your facility is great. Employees are friendly but not up to speed yet with regards to contract details and pricing. Different employees gave me different monthly pricing.
October 2, 2017
Very nice, climate controlled facility.
September 27, 2017
Staff friendly and helpful
September 27, 2017
Good, a little unorganized in the office but very polite!
September 27, 2017
IT was a good experience. There was some difficulty in programming the remote entry key fob, but this is a very good feature to offer. The lot is very clean and the wash bay and vacumn area is a nice addition.
August 12, 2017
Very pleasant!!