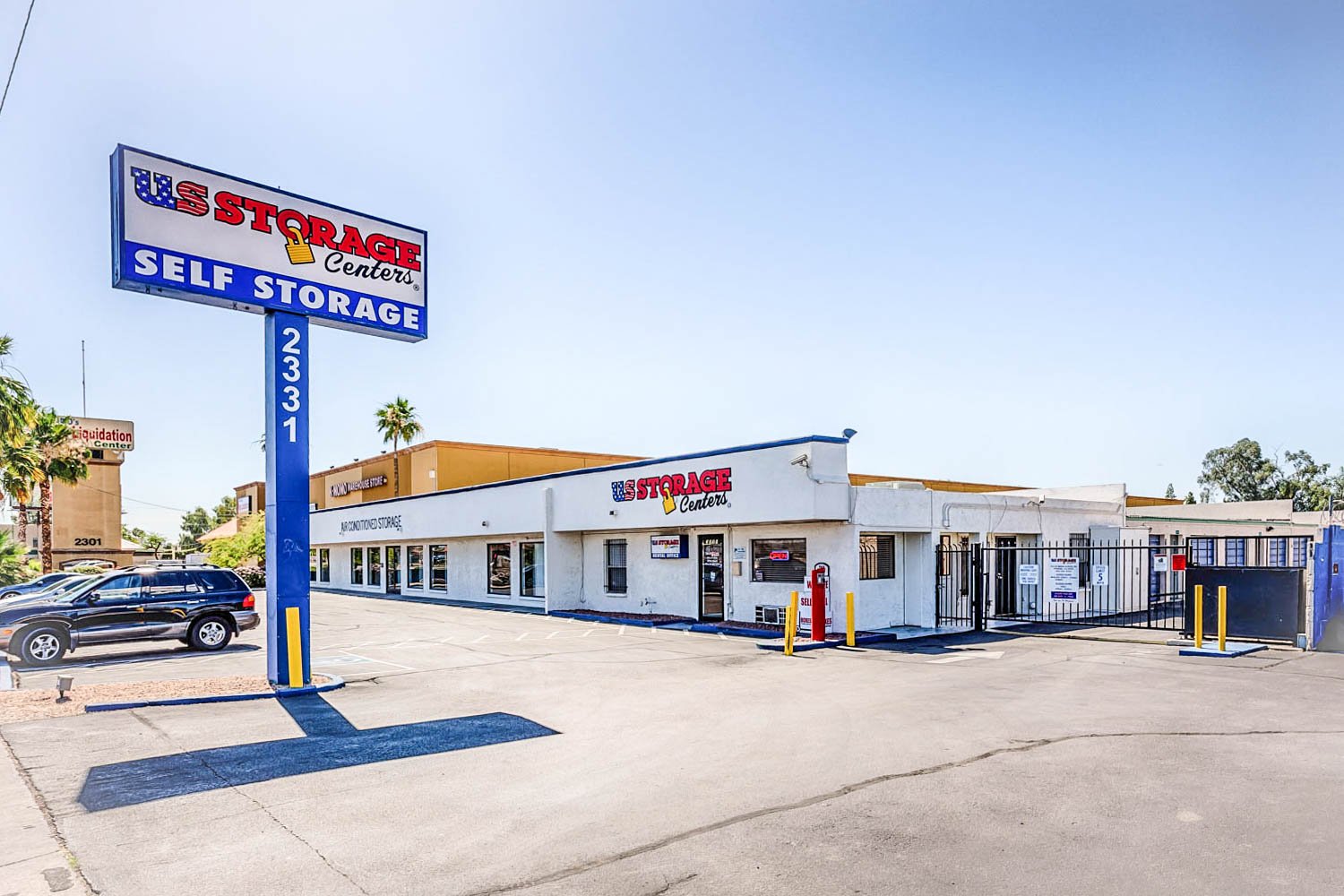 Self Storage Units in Phoenix, AZ
Logout
Free Move-In Truck Available Upon Request
Location Details
ACCESS HOURS
Mon

6:00am - 10:00pm

Tue

6:00am - 10:00pm

Wed

6:00am - 10:00pm

Thu

6:00am - 10:00pm

Fri

6:00am - 10:00pm

Sat

6:00am - 10:00pm

Sun

6:00am - 10:00pm
OFFICE HOURS
Mon

9:00am - 6:00pm

Tue

9:00am - 6:00pm

Wed

9:00am - 6:00pm

Thu

9:00am - 6:00pm

Fri

9:00am - 6:00pm

Sat

9:00am - 6:00pm

Sun

9:00am - 2:00pm
FEATURES AND AMENITIES
Drive Up Access
Climate Control
RV Parking
Electronic Gated Access
Video Recording
Employee(s) Speak Spanish
Kure It Certified Location
ABOUT THIS LOCATION
Phoenix Storage Units and RV Parking
Read More
Photos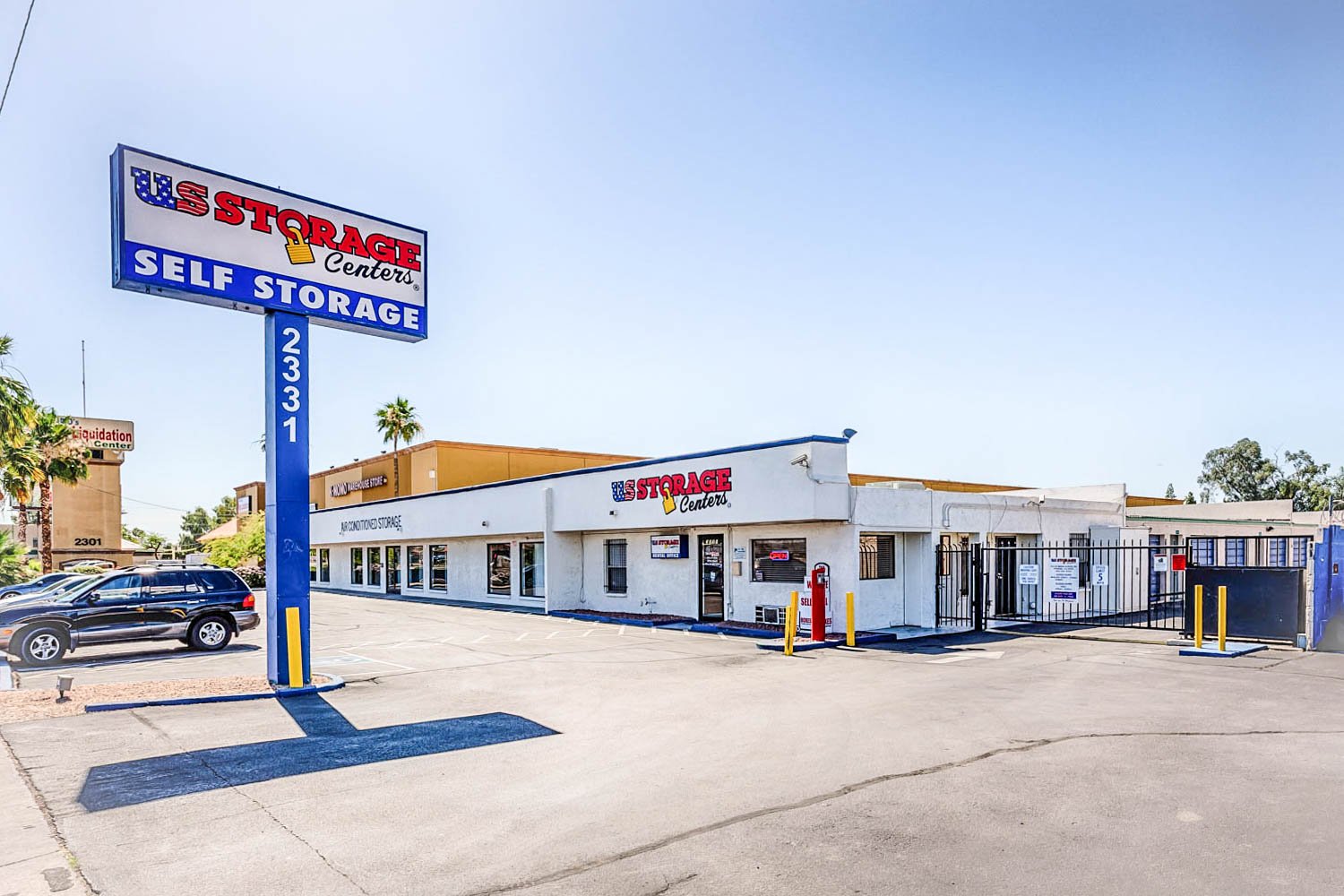 About this Location

Self Storage Facility Features

You will find exactly what you need in Phoenix self storage right here at our facility. We offer every unit size from personal 5x5 lockers to large 20x20 spaces. You can enjoy drive-up access to all of our outdoor units and climate control technology in all of our indoor units. We also offer 8x20 parking spaces where you can store your RV in the off-season.

Secure Storage Units

You can breathe easy knowing your items are stored here with us. We maintain high-level security at all times with keypad gated entry and exit, as well as 24-hour video surveillance. On top of that, our property manager also lives on site to monitor things after hours. You'll never have to worry about your self storage unit in Phoenix with US Storage Centers.


RV, Boat, & Auto Storage 


One of the additional amenities we can provide is RV, boat, and auto storage for those who are looking for a place to store them during the off-seasons. If you have questions about RV, boat, or auto storage, just call us today for answers. 
Conveniently Located


Being that we are one block east of the I-17 freeway, we are in a great location for all of our customers regardless of where they're coming from. You can't enjoy such convenient access with any other self storage facility in Phoenix, which is why so many residents choose to rent from us. Visit us off of North 24th Avenue, one mile west of Phoenix Christian Elementary and Phoenix Christian High School, you'll be glad you did.

Languages Spoken by Managers

Fluent in English and Spanish

Convenient Office and Access Hours

Access Hours

Mon - Sun: 6:00 am - 10:00 pm

Office Hours:

Mon - Sat: 09:00am - 06:00pm

Sun: 9:00am – 2:00pm

Forms of Payment

It's easy to pay your bill! We accept cash, checks, money orders, Visa, and MasterCard. You can also pay online through our secure client login.

The Community

Phoenix is the capital of Arizona, and its largest city. In fact, we are the most populous capital city in all of the United States—and for good reason. You can enjoy art, history, wildlife, and more in our community. Just pick your passion and you're sure to find it in Phoenix.

The nature-lovers in our city can see a lot of exotic and dangerous wildlife like Gila monsters, bobcats, jaguars, mountain lions and rattlesnakes in their natural habitats around Phoenix. For you artists, check out the ballet, opera, orchestra, and theatre venues; there's always something to watch. If you're interested in the history of our fine city, we boast a variety of museums, gardens, and buildings that are open for tours.

Between all the sites and activities in Phoenix, you'll never run out of things to do.

Facility Products

We offer boxes (sized small - x-large). We also have wardrobe boxes, packing tape, tape dispensers, mattress covers, bubble wrap, picture moving kits, disc locks, and brass padlocks.
Customer Reviews
overall rating, 92 total testimonials
January 14, 2020
The customer service Representatives was helpful
January 6, 2020
Excellent customer service!
December 29, 2019
We were in a bind and you helped us out quickly and reasonably. Thank you!
December 26, 2019
I feel bless
December 24, 2019
Great services
November 28, 2019
Have not moved stuff in but everyone very helpful
November 26, 2019
Well informed and very comfortable with my decision on renting a locker for my stuff.
November 23, 2019
Excellent
November 21, 2019
Friendly staff .storage unit size and price good
November 21, 2019
Even though there was an issues with my first payment method. You were kind enough to fix the issues. And I'm very pleased thank you
September 27, 2019
Your staff was great but they failed to mention that the truck is not available to use to move so I had to rent my own truck also the unit was extremely dirty probably half an inch of dust so much so that it was like powder on the floor so that slow me down in my move all in all it was a pleasant experience and I got a pretty good deal for the price I'm paying I got 3 months but that truck would have come in handy I would have had my work done not a week later I guess they're having problems with registration and perhaps the emissions that's what I was told. And I would not be available for at least a month just a perk I was kind of counting on.
September 7, 2019
Very professional and informative.
August 13, 2019
My experience with US Storage was very pleasant and easy move in process and the agent that help me was very nice and right to the point too.
August 6, 2019
The gentleman was very nice and helpful.
July 27, 2019
I felt great about my experience with this company. I needed a unit fast and timely and they were exceptional with providing the space I required and lock
July 8, 2019
Alan was great thanks fir all thr help.
June 14, 2019
My storage location mngr. Sergio Hernandez is great and very professional and personable!
June 13, 2019
I think it was great. I had a beautiful space. Everything is well organized. I feel my stuff will be in a safe place. The manager was kind and very helpful.
June 10, 2019
Good service
May 20, 2019
The staff at US Storage is helpful, knowledgeable, and friendly. The security is intelligent and the units are affordable.
April 20, 2019
All of my concerns were addressed in a pleasant manner. Very very courteous!
April 13, 2019
Very friendly and helpful!
March 30, 2019
It is acceptable
March 4, 2019
It started off Rocky but it ended up very well thanks to your attending
October 29, 2018
I felt great
October 19, 2018
We had a pleasant experience this past weeekend. Mary was very helpful and knowledgeable about the units and location. She was able to answer all of our questions and gave us a detailed tour to make sure we understood the unit. We would definitely recommend this storage company to others.
October 1, 2018
As always professional staff and very helpful, this is the 3rd time I have used this location
September 15, 2018
everything is good, however some of the outside units need lighting for after sunset hours.
July 29, 2018
Very helpful, but it's hard to get a direct answer to the price of a unit up front. I guess location makes a difference. We are very pleased with how it turned out. Thank you
May 31, 2018
He was extremely helpful and knowledgeable
May 26, 2018
Was very clean unit and gentlemen at desk was pleasant.
May 21, 2018
Sergio and Eric have been very helpful and professional. They are a huge plus for US Storage. The unit however had to be swept out as there was so much dust and dirt we could not see the actual floor. Before we could move anything into it. One of the doors is not aligned and difficult to open and close. And there was a large sticky spill. The property itself is almost immaculate. It's Arizona, everything is dusty. Overall because if the guys in the front office I would recommend this torage.
April 28, 2018
It was conviente to find. The manager was very helpful in regards to what size i needed for my things.
April 26, 2018
No issues , would use you for any storage needs. Thank you
April 23, 2018
Very good friendly and explained everything in a good manner
March 8, 2018
Eric helped me get the storage unit that would work the very best for my husband and I. Without US STORAGE, this move would have been a nightmare! Thanks so much!
February 19, 2018
I felt welcomed and the service was courteous.
February 6, 2018
I stored my car here while on a trip. It was such a relief to know that it was safe and didn't have to worry about my apartment complex towing it. I would definitely store here again.
February 2, 2018
The store manager, Sergio was extremely helpful and gave us a great deal!
January 15, 2018
Overall very positive. Sergio was super helpful and explained the whole process and even helped me pick out the right size unit for our home size!
January 3, 2018
LOVE THE ATTITUDE OF SERGIO...VERY PLEASANT AND CUSTOMER COMPLIANT...I WAS IN A BIG RUSH AND WAS IN AND OUT IN 20 MINUTES WITH A NEW STORAGE...KUDOS TO SERGIO
December 16, 2017
Great experience. Lisa was very informative and knowlegeable.
December 12, 2017
I have rented from us storge befor. They are very helpful. This is my secound time renting from them. There staff is Greater then anyother.
December 7, 2017
Very positive experience. The person who I dealt with was friendly, knowledgable, and helpful. I was able to rent a unit immediately.
December 6, 2017
Good experience.
November 27, 2017
Anita T is in hospital and her case manager needs to move her property is that ok
November 26, 2017
Everyone was real cool, would be a lot cooler if you worked with payment. If the bill is due Thursday and payment can't be made until payday Friday, that should be doable. Other then that I have no complaints. Thank you.
November 12, 2017
The experience I had with US Storage was great. The staff was always polite and helpful. I would highly recommend you to anyone that was looking for storage. Bonnie Ainsworth
November 5, 2017
I had a very good experience with us storage all the employees that I dealt with her very kind and I'm very thankful to Sergio for him helping out in the time of need so I did not lose my storage I would recommend you to everyone who needs a storage thank you Geri Coleman
November 3, 2017
Overall a good experience
November 1, 2017
Great company!
November 1, 2017
Si portadon muy amable, y profesional. Gracias
October 31, 2017
The employees were friendly and very helpful. Thanks for making my move easier
September 27, 2017
I never rented a storage b4 when I went there all good vibes helped me with what I needed I was in and out my time there was perfect definitely gonna remand ppl to go there 😁
September 19, 2017
Awesome.!!! Very friendly, great location,nice facility. I will recommend this place to family and friends...
August 31, 2017
I was very pleased. I had a very good experience, sorry I don't remember the gentleman that helped me but he was very helpful and courteous. Very efficient was in and out in less than an hour. Thank you for the good service. It helped that you are open on Sunday. I will recommend US Storage to anyone looking for a place to store their belongings.
August 30, 2017
They were very helpful and the place is very clean the person that helped me was very helpful by explaining everything to me was very helpful
July 31, 2017
Cool atmospher nice intro
July 29, 2017
The person who helped us was really excellent. She was very friendly and efficient. I believe her name was Nicole.
July 24, 2017
Satisfied with everything.
June 1, 2017
the manager was very helpful and very friendly, he went through the paper work and rules as thoroughly as he could.
June 1, 2017
very positive
April 30, 2017
The price is reasonable and the service is great!
March 17, 2017
Great service and clean,nice to deal with friendly people and got me exactly what I needed for my storage needs.thanks for a great experience.
February 16, 2017
Jose C. is top notch. He was very helpful and efficient the day that I rented my unit and has continued the excellent service since that day. I am very happy with my unit and would recommend this facility to my friends and family without hesitation. Thank you US Storage and Jose especially for making my move to Phoenix a little easier in such a stressful time!
February 9, 2017
Friendly and informative. For myself centrally located. The worker Jose was helpful in setting up my app.
February 6, 2017
I felt appreciated as a customer.
January 29, 2017
Very helpful explain everything
January 28, 2017
My experience was very good and price was very reasonable. Thank u Jose for helping us out and being very nice.
January 20, 2017
The manager was very helpful sensitive to my needs. My original locker had a spill from a previous client and even though it was cleaned it had a odor. I'm very sensitive to soap odors so the manager changed lockers for me with no questions. I really appreciate the service here!
December 28, 2016
Perfect
December 13, 2016
It was very pleasant and professional
December 12, 2016
Very comfortable and sociable. Lucas is a fine person.