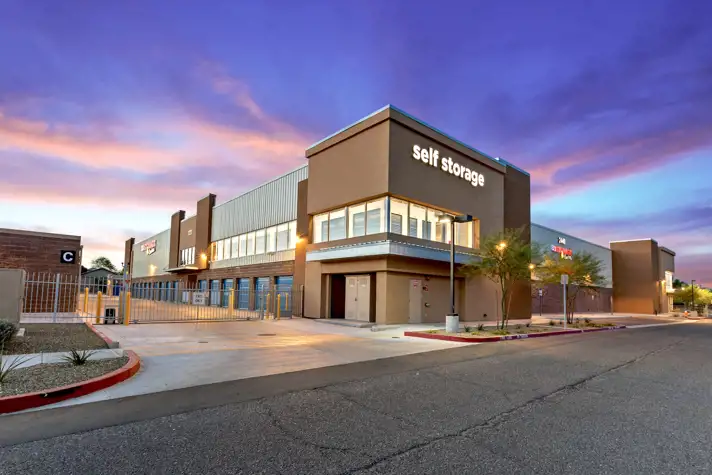 Rent or Hold Your Storage Unit in Minutes.
Location Details
ACCESS HOURS
Mon

6:00am - 9:00pm

Tue

6:00am - 9:00pm

Wed

6:00am - 9:00pm

Thu

6:00am - 9:00pm

Fri

6:00am - 9:00pm

Sat

6:00am - 9:00pm

Sun

6:00am - 9:00pm
OFFICE HOURS
Mon

9:00am - 6:00pm

Tue

9:00am - 6:00pm

Wed

9:00am - 6:00pm

Thu

9:00am - 6:00pm

Fri

9:00am - 6:00pm

Sat

9:00am - 6:00pm

Sun

10:00am - 2:00pm
FEATURES AND AMENITIES
Drive Up Access
Climate Control
RV Parking
Passenger Elevators
Electronic Gated Access
Video Recording
Boxes & Moving Supplies
Moving Carts
Alarmed Unit
ABOUT THIS LOCATION
The Best Storage Facility in Phoenix, AZ with Climate Control and a Three-Door Covered Loading Dock!
Read More
Photos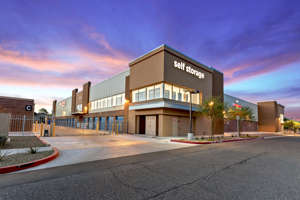 About this Location
The Perfect Self Storage Unit for All Your Needs
Our facility offers a variety of units that come in different sizes and a number of amenities you'll appreciate in a storage unit. Whether you're looking to store a few personal items or large pieces of furniture, we have units ranging from 5'x4' to 20'x29' that will comfortably fit all your belongings. Storage rentals and reservations can easily be made online, over the phone, or in-person. All our tenants receive a PIN code that grants them access through the electronic access gate. For additional safety measures, our property has 24-hour video recording and each storage unit is alarmed, giving you the peace of mind that your stuff is safe with us.
RV & Boat Storage
We also offer storage solutions for those who want to store an RV, boat or extra automobile. Our outdoor spots are easily accessible for parking and backing out. Parking Space width may vary from spot to spot. Please call the property manager for more details on Parking Space sizes.
Three Loading Docks
We have three loading docks on site that are climate controlled, covered, and can be electronically accessed. This unique feature allows three tenants to utilize the loading dock at once, making the process of moving into your unit quick, easy, and convenient.
Climate Control Storage
We know it can get extremely hot in Phoenix so we want to make sure we keep your belongings in top condition. We offer climate-controlled units that are kept at about 75 degrees all year, providing the perfect temperature and preventing any heat damage to your unit.
Easy Rental Options
Rent your storage unit online or over the phone for a quick move in. 
Not ready to rent? No worries! Reserve your unit now to lock in today's special discount.
Month-to-month rentals
No credit card required for reservations
No deposit required
Your Neighborhood Facility
You'll find our facility just north of E Union Hills Drive and located near the Albertsons, Walgreens, and QuikTrip. The neighboring communities of Arizona Heights, Union Hills Condominiums, Dave Brown Autumn Hills, Westcott Commons, and Pepper Ridge are where many of our customers live. If you live in zip codes 85032, 85028, 85012, 85024, or 85306, then our storage facility is conveniently located nearby! The Cave Creek community where our facility resides values many great things like art, culture, and the outdoors. Phoenix is full of natural beauty where many people enjoy boating, hiking, swimming, and so much more.
The Convenience of Online Rentals and Reservations
We've made reserving and renting units as easy as possible for you. You can conveniently go online, pick the unit that's best for your needs, and you can either place a hold or rent right away. When placing a hold, there's no credit card required, no obligations, and we'll even hold it for you for up to 14 days. As for renting online, it's fast, easy, and allows you to save time a lot of time on having to fill out paperwork in person. 
Forms of Payment
You are able to make your payments online, in person, or over the phone. We accept all major debit and credit cards and cash payments. If you have any questions about acceptable payment options and when payments are due, call or visit our facility.
Top Storage Tips From Our Manager
1. If you have furniture like dressers and sofas that are flat on all sides, instead of storing it upright, try laying it on its side to create more room. 
2. Always place heavy items at the bottom to avoid your items from being flattened. 
3. If you're storing items that fit in a box like clothes or books, place them in boxes of the same size/type so that everything is neatly organized and easy to stack. 
4. If you know you'll be visiting your unit frequently to retrieve certain belongings, place these items in the front of the unit so it's easily accessible.
 FAQs
Q. What size storage unit do I need?
A. If you aren't sure what unit is best for your needs, our size guide is a helpful tool containing descriptions and videos showing our different unit sizes. If you'd like to see these units in person, feel free to come in and ask for a tour of the different unit sizes we offer.  To help you get a better understanding of what can fit in the unit, see below for additional information. 
5x5
This is about the size of a small walk-in closet. It's perfect for storing a few boxes of clothes that you aren't wearing for the season.
5x10 
One of our most popular sizes that is perfect for storing outdoor gear like bikes, boogie boards, hiking sticks, kayaks, and scooters.
10x10 
This is great for those living in an apartment who are in need of extra space during a remodel. Small pieces of furniture like a coffee table and nightstand will comfortably fit.  
10x15 to 10x20
These units give those who are living in a two to three bedroom home enough space to store mattresses, dining room sets, and drawers.
10x25 
A large unit is a great option for those who are living in a three to four bedroom house who are doing a full bedroom or kitchen remodel. This is also a great option for businesses like restaurants who need to store equipment.
Q. Do I need a credit card to rent?
A. We accept cash, checks, Visa and Mastercard. 
Q. Is there a minimum amount of time I need to rent a storage unit?
A. We offer rental on a month-to-month basis. There is no long-term lease required.
Q. Are there discounts or promotions for new customers?
A. There sure is! We offer special discounts and promotions for first time customers such as "50% Off 1 Month." You can find these offers listed above and in between where it states the unit size and the price.
Q. Do I need to bring my own lock?
A. Customers are required to have a compatible lock if they choose to purchase their own. Locks are also available for purchase at our facility. 
Q. What times can I access my unit?
A. Our access hours are listed on our website, right above the office hours. You can also call our facility to ask about the hours.
Customer Reviews
overall rating, 333 total testimonials
November 19, 2023
I chose this facility as price was great. Now that I have all my items moved in, company has raised monthly rate 3 times, it is outrageous. The price per month is now double than when I initially moved in.
November 11, 2023
Great place for short term storage only. Prices are always bait and switch it seems like after a few months.
November 9, 2023
I had referred a handful of people and WAS pleased with my rate ana the facility. Then experienced the insane rate increase per month that happens every 6-9 months. Prior to moving my stuff there, and signing a contract, I asked how often rate increases happened and was told "not very often". I asked this because I felt my rate was too good to be true and sure enough, I was just being on BS. Just 6 months in and my rate went up 1/3 of what I was paying. I will be moving out, never referring another, and making my honest review wherever I can. US STORAGE is a BAIT AND SWITCH WITHOUT A DOUBT
October 12, 2023
Nice and safe facility. Very helpful front lady. Great experience moving in and moving out. The only thing one has to watch for - and that's more about the company policy rather than the facility itself- is how early one has to inform them that one is moving out in order not to get billed for another month. I find it complicated and easy to miss.
October 11, 2023
I wish it was a little cheaper because $77 is a lot to pay for a small unit.
See All 333 Reviews
See All 333 Reviews