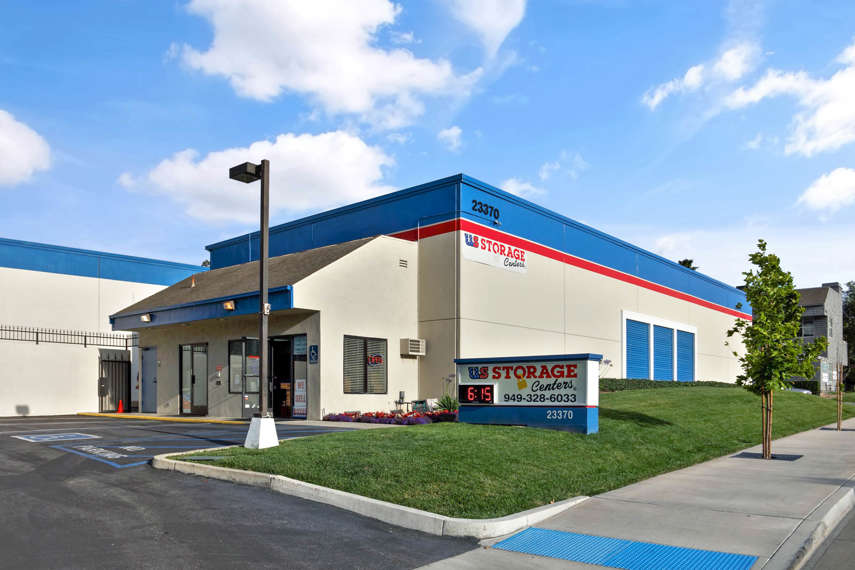 Laguna Hills RV and Self Storage Units
Logout
We're Open During Normal Hours. Easy, Contact-Free Rentals
Location Details
ACCESS HOURS
Mon

7:00am - 7:00pm

Tue

7:00am - 7:00pm

Wed

7:00am - 7:00pm

Thu

7:00am - 7:00pm

Fri

7:00am - 7:00pm

Sat

7:00am - 7:00pm

Sun

7:00am - 7:00pm
OFFICE HOURS
Mon

9:00am - 6:00pm

Tue

9:00am - 6:00pm

Wed

9:00am - 6:00pm

Thu

9:00am - 6:00pm

Fri

9:00am - 6:00pm

Sat

9:00am - 6:00pm

Sun

10:00am - 5:00pm
FEATURES AND AMENITIES
Free Move-In Truck
Drive Up Access
RV Parking
Electronic Gated Access
Video Recording
Moving Carts
Kure It Certified Location
ABOUT THIS LOCATION
Choosing a Laguna Hills Storage Unit.
Read More
Photos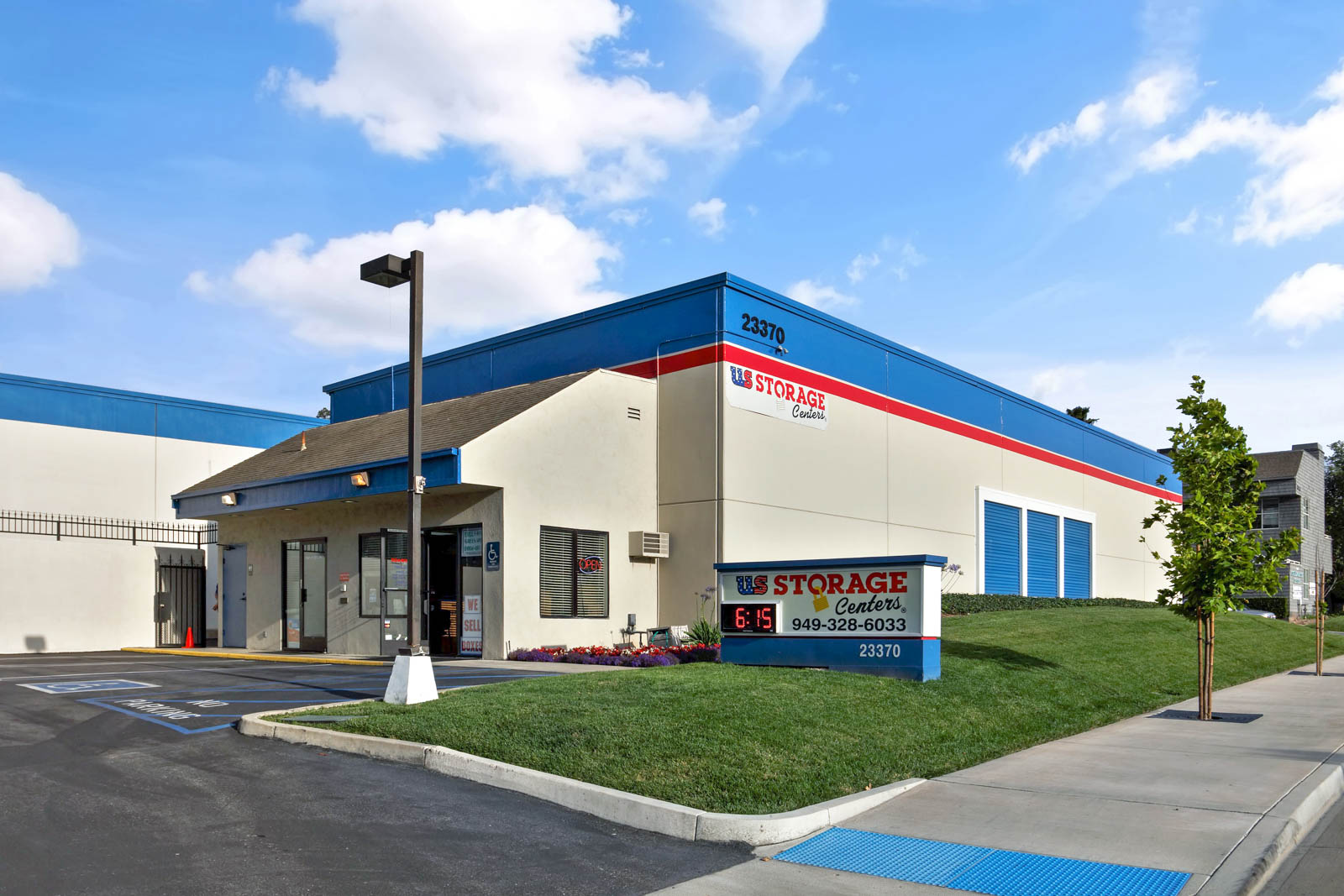 About this Location
Facility Description

US Storage Centers in Laguna Hills offers clean and secure storage units. We've received many customer comments and reviews about how much they enjoy storing their items with us for those very reasons. We offer unit sizes ranging from 4' x 5' to 20' x 20', everything from personal storage to 400 square feet of empty space just waiting for you to put to use.

All of our units are easily accessible and we offer a free move-in truck so you don't have to worry about how you are going transport your items to your new storage unit. We also have freight elevators for easy access to our second floor units.

All moving trucks including 18-wheelers fit on this property because we have wide drive aisles.


Contact-Free Rentals – Easy Online and Phone Rental Options 
 Online Rental
 Select your unit and enter your info and payment
 Sign the lease online
 A manager will reach out to you with your access code, a map of the property, and they'll have you email a copy of your valid government picture ID
 Once these steps are complete, the manager will prepare your unit so it's ready when you arrive
 Phone Rental
Simply call the number listed at the top of this page, and a member of our staff will work with you over the phone to complete a rental
The manager will email a lease to sign
Once the lease is signed, a manager will reach out to you with your access code, a map of the property, and they'll have you email a copy of your valid government picture ID
Once these steps are complete, the manager will prepare your unit so it's ready when you arrive
Secure Storage Units

Our facility is well lit and we have resident managers that keep an eye on the property, regularly making rounds to ensure the safety of the grounds. We also have an electronic gate and 24-hour video recording. Security is our priority and we work to ensure that your items are safe. With our friendly staff and competitive prices, our Laguna Hills facility provides the best value as well as the most solutions to your storage needs.

Conveniently Located

When going north on Moulton Pkwy, we are on the right side of the street. Our sign shows the current time and temperature, you can't miss it. We're located just north of the Ridge Route and Moulton Pkwy intersection.

We're kitty corner from the DMV and right next to the Social Service office. Across the street are Crossline Church and the Veeh Reservoir.

In addition to Laguna Hills, many or our tenants live in the neighboring communities of Mission Viejo, Aliso Viejo, and Laguna Woods.

RV and Boat Storage

RVs and Boats can be stored in our 10'x 20' uncovered parking units. Parking space width may vary from spot to spot. Please call the property manager for more details on Parking Space sizes. 

Convenient Office and Access Hours

Office Hours

Mon - Sat 09:00am - 06:00pm

Sun 10:00am - 05:00pm

Gate Hours

Mon - Sun 07:00am - 07:00pm

Forms of Payment

It's easy to pay your bill! We accept cash, checks, money orders, Visa, and MasterCard. You can also pay online through our secure client login.

The Community

Laguna Hills, California is an upscale urban community known for its high performing schools that rank among the top schools in California. Laguna Hills High School has been named National Blue Ribbon School and California Distinguished School on multiple occasions and the residents take great pride in this.

Laguna Hills strongly supports the sciences and art education. To demonstrate this, the city purchased four butterfly sculptures to be painted by elementary school children and then displayed. A design contest was initiated and after scores of submissions were reviewed, four winning young artists were chosen. The butterflies are proudly displayed at the Laguna Hills Community Center and Sports Complex.

Residents of Laguna Hills live well but they also work hard. Stress busting is imperative to maintaining a happy lifestyle and the many elegant spas and day retreats are an added bonus to life there. The Big Air Trampoline Park is another way to relax after a hard day of school, bouncing all your troubles away.

Laguna Hills is a beautiful place to live, where residents can enjoy the views and quiet, affluent neighborhoods.

Facility Products

We have boxes available in small, medium, large, and extra-large sizes. We also sell wardrobe boxes and moving kits that include boxes, tape, markers, and bubble wrap to help you pack your stuff the right way!

Locks, packing tape, picture moving kits, dust covers and mattress bags are all available to provide a super convenient one-stop-storage-shop experience to make your move as easy as possible.

Kure It Participating Facility

Philanthropy is a big part of the US Storage Centers family. Our facility is a proud member of Kure It Round up for Research. Kure It, founded by US Storage Centers chairman Barry Hoeven, raises money for innovative research into many types of cancer that receive little or no funding.

Professional Managers

Our storage facility is right in the heart of Laguna Woods. Most of our customers are using storage for the first time, and many of them are folks who just retired and moved into residences that don't have as much space as their previous homes.

With each customer, we ask a few questions to help determine which storage unit will work best for their needs. It's normal to have a lot of questions about storage and we're more than happy to help. Our team of managers have several years of experience and they'll be able to show you how easily and safely items can be stored and accessed with a storage unit.

Customers appreciate the extra time and attention we show, and they regularly compliment us on our friendly personalities. We've been part of the community of Laguna Hills for several years and it's incredibly satisfying when a returning customer walks through looking for storage.


Customer Reviews
overall rating, 384 total testimonials
September 23, 2020
It was great, very efficient, friendly and fair.. Will recommend to my friends
September 15, 2020
Very comfortable. Chris was extremely helpful over the phone when I was researching places and in person when we finalized the agreement.
September 11, 2020
It was very good
September 9, 2020
Good price value, easy process and very polite staff
September 5, 2020
We had a great experience. They are very accommodating to your needs and willing to work with you so you get what you need. I would highly recommend this place to a friend or family member.
September 5, 2020
I am very satisfied with the Service that I received.
September 3, 2020
Great! Karin is awesome!
September 1, 2020
We had a great experience! The entire staff was friendly and helpful and we feel that we got great service and value for our money!
August 29, 2020
Very helpful and friendly. Facility very clean
August 26, 2020
Karin is Amazing! Thank you!
August 18, 2020
Very helpful highly recommend
August 12, 2020
Very pleasant & satisfactory
August 11, 2020
Great communication, clean facilities, move-in was easy. The cost is a bit more than I expected, but sometimes you need to pay for convenience and location.
August 11, 2020
fantastic
August 5, 2020
Friendly, answered all our questions. Seems to meet our needs at this time
August 3, 2020
Excellent experience all around. I rented a unit at the Laguna Hills location and Karen couldn't have been more pleasant and accommodating. She even saw that the fancy lock I was trying to use wasn't working very well and she gave me a new one which I really appreciated. I would highly recommend U.S. Storage to anyone needing storage services!
August 1, 2020
Very pleasant! Karin was most kind and accommodating.
July 31, 2020
We are happy with Jason showing us around the property yesterday 07/30/2020
July 24, 2020
When I went in to inquire about renting a unit and the process, the staff was very knowledgeable and helpful. I would recommend US Storage to everyone!
July 23, 2020
Both associates were VERY nice, friendly, professional and helpful. One thing I don't like about US Storage are the NUMEROUS sales calls after I made the initial call.
July 23, 2020
Karen is a pleasure to work with, she is very accommodating, she has answers to all your questions and concerns. Karen goes out of her way to make sure that you have the right size unit, and it accommodates your needs. I like your hours, safety cameras. US Storage is clean and well maintained. Thank you, Chris
July 21, 2020
Easy and professional I needed a storage unit last minute, I was able to come in and get questions answered and able to pick out a unit the same day.
July 20, 2020
Great experience! Staff is very professional and courteous! Very accommodating even through COVID
July 17, 2020
super professional and friendly staff! great rate!
July 14, 2020
Everyone I dealt with was very friendly and courteous!
July 8, 2020
Karin was awesome and super helpful.
July 2, 2020
Very nice, direct, organized, responsive
July 1, 2020
Working with Karin to secure a unit has been an absolute pleasure. Several times I've given her incomplete information and she has been right there ready and fast with revisions. She hasn't even yelled at me yet, I love it. I'm confident that I made the right choice by choosing US Storage Centers. -Aaron Anderson Satisfied Customer
June 25, 2020
excellent, its my second time using the Laguna Hills location. Friendly, efficient and professional.
June 23, 2020
I was surprised we didn't have a roll up door in our space. It would have been nice to have seen a diagram of what our space looked like. The service we received was helpful.
June 5, 2020
Great service and friendly staff.
June 4, 2020
Great! Very easy process.
May 25, 2020
The staff was very responsive and professional. They answered my questions and resolved all the issues.
May 22, 2020
This is the second time I rent with US Storage both times were great Karim and Chris did a great job. Their customer service are great made the process simple and easy. Thank you both for your help!
April 20, 2020
Very positive. Professional and courteous staff and smooth process
April 19, 2020
When it comes to rent a storage and you are badly in needs of it, this is the place for your items but this place does it with heart and a smile. My home sold and time traveled so fast that I was in very awkward situation of having to move 5 bedroom house in one week!!. As usual Julie was there to help me out and give a place to my belongings. Listen you could rent any where storage but this place has some good energy into it which helps you beyond your satisfactions. Every thing comes together in no time!! it is amazing and all happens with the help of ''Julie''. She is an amazing lady as well her husband Tony and Karen they come to your rescue that no worry's, we got you.... "Julie is the best!" I explained my situation to her the rest was easy to handle. In two days I had her trucks and my home was moved to her storage. If you are in needs of storage don't miss this storage. No matter if I am 10 miles away I still go back to Julie because I know that she is there to help me out...I am so blessed to have them like a good family that they are always there to help. I highly recommend this place to anyone that's for sure.
April 16, 2020
Karen the manager is great, incredibly friendly and helpful
April 15, 2020
Very accommodating, with today issues going on the management team were fast and effective..
April 10, 2020
So far very good service
April 7, 2020
Very professional and efficient, great staff ..Julie was great ! I will refer a friend or come back again. Thank you
April 3, 2020
Great drive up storage and used your truck😀
March 31, 2020
Had an error in my application and the manager fixed it without complain - that was good. I am not delighted by the limited hours - don't quite understand why access end at 7PM wince there is a code entry. Also the storage room I was assigned is indoor in the corner has no lighting and it is pitch black in the back. Coming in from the sun I have to use a flashlight.
March 31, 2020
Karin and Chris are both great and really accommodated us when we had to move back to Boston and store out things a month ahead of our anticipated time. The laguna Hills team has always delivered for us!
March 31, 2020
I had a positive experience with you in the past and currently. The prices are also the most reasonable in the area. I have rented from US Storage twice now and both times the staff were helpful. I even was in the position where I need a storage unit the same day I called, and staff was not only able to get me a storage unit, but the correct size!
March 31, 2020
It was an excellent transaction with Cris. He was very professional, helpful and knowledgeable. Thank you!
March 26, 2020
Karen was incredible to work with! I'm so grateful for her help & generosity getting our unit secured for our nonprofit. She went above & beyond & I couldn't recommend US storage any more highly.
March 26, 2020
Very good Karen was really helpful. I needed a storage 7x10. Karen was helping me looking for one I know that is crazy right now with the coronavirus. She was able to help me out with care fallowing the guidance. Of precaution. Really appreciate it! She did good job.
March 23, 2020
Amazing customer service
March 17, 2020
Very friendly and helpful service.
March 12, 2020
Great service and rates
March 10, 2020
Terrific service, friendly, good pricing
March 8, 2020
Renting a storage and the later changes I needed to make was a pleasure. Your people are knowledgeable, friendly and helpful. Your prices are fair. My only complaint is that you do not have enough carts to carry stuff in. There should be one at each door. Trying to find one is time consuming and inconvenient.
March 5, 2020
Good, helpful and accommodating. Easy to work with.
February 24, 2020
It was efficient and had a personal touch via the onsite manager. She was friendly and helpful.
February 19, 2020
All positive. Treated with great respect and very accommodating !
February 15, 2020
We had a very satisfactory experience with both of your company's representatives. We called from Northern California well ahead to reserve a unit and the moving truck. We received immediate confirmation. There was even a follow-up phone call from US Storage to assure us that we were set. Gave us a real feeling of confidence that we would have a place when we arrived for the local move.
February 12, 2020
Great Customer Service!
February 2, 2020
Very good
February 1, 2020
Karen was awesome she helped me a lot . Thank you guys so much
January 30, 2020
very relieved that I found a storage that I wanted and the price that I could afford! Thank you so much!!
January 25, 2020
Very happy with us storage at laguna hills . Karin was very helpful and friendly.
January 17, 2020
Karen took excellent care of me at the property! She really made me feel like my precious belongings are safe and secure.
January 14, 2020
Very good service from Manager and nice, clean facility!
January 8, 2020
Friendly and helpful, fast process
January 7, 2020
These storage units are a great value. They give you more room and for less money. The staff was helpful and provided all I needed for an easy transition. I would definitely recommend them.
January 6, 2020
The experience was great. Both Karin and Chris are couple of the nicest people I've met. The are friendly and professional. I would not go anywhere else and definitely recommend you guys to all my family and friends. Great job
December 31, 2019
Immediately I feel at home. Crsig was so awesome giving me the proper and slow orientation of all what I need to know. Thank you US Storage
December 27, 2019
They were fantastic Karen and Craig were very helpful especially considering my move was under bad stressful times and they really helped out being professional/ custer service oriented and competitively priced thank you.
December 17, 2019
Everyone has been very helpful!
December 11, 2019
Karin, the Moulton Parkway manager, made us feel at home and made everything easy for us. Since she lives on premise we also feel secure.
December 10, 2019
Very satisfied!
November 22, 2019
Karin was over the top helpful, and very patient. A very great front office person.
November 19, 2019
The location is ideal for me. Cris was very accommodating when I realized I needed a bigger unit on the first floor. Cris and Karen are both very professional and kind.
November 12, 2019
Great service. Karen is awesome.
November 12, 2019
Karin was very pleasant and exceeded our expectations!
November 5, 2019
The team at this location are awsome , great work.
November 2, 2019
the gentleman was very professional and gave the move in rate.
October 29, 2019
Great service!! Very efficient and friendly.
October 24, 2019
I've rented from you several times Always work with Karen Mertz-McBride She always knows what I need & takes good care of me Excellent customer service!
October 23, 2019
Experience with the staff was wonderful. Super friendly and helpful! Only feedback is that I'm having trouble creating an account my gate code keeps saying it's invalid or could not find.
October 22, 2019
Karine, was great smooth transition property was ver well maintain and clean, unit was clean and was swept out. I would highly recommend anyone looking for storage to store with US Storage plus you get to use the moving truck for free
October 15, 2019
It was fine. Helpful and attentive
October 9, 2019
Love Karin the property manager, she went above & beyond to assist & accommodate my father & I.
October 8, 2019
Great service!
October 5, 2019
It went as well as it could have. Easy and clear
September 29, 2019
I could not be more pleased with the level of professionalism and courtesy I received from Craig on my initial visit and Karin the property manager on my subsequent visit. She is super thorough with the paperwork and just a wonderful person in general. The storage unit pricing is way more reasonable than other storage facilities and last but not least, I took advantage of the usage of the free truck they offer!
September 25, 2019
Karen is welcoming and knowledgeable. She is the reason I went back to US storage.
September 18, 2019
Always an awesome experience!
September 14, 2019
The staff was so helpful and kind. The unit is perfect for my needs and close to my home. This was a great choice!
September 13, 2019
I had a great experience with Karin, she was extremely helpful and made the entire process of getting a rental unit a breeze. It was quite convenient and simple.
September 12, 2019
Karen was the best. You should give her a raise. Best . SG
September 11, 2019
Great experience working with Karin. She's friendly and professional.
September 6, 2019
Every thing worked out fine. Thank you
September 5, 2019
Great very helpful
August 30, 2019
Karen and Chris are awesome! Very professional and very helpful regarding my needs and making a smooth transition of moving. Thank you so very much! Daley Moving guys were very professional and was amazed at their expertise at the details of packing, caring for my furniture and all the other items. I will ask for them again.
August 28, 2019
It was (and is) the best storage unit experience I have had. Staff is great. Nice, polite respectful and helpful. I sure hope it continues.
August 23, 2019
Very helpful in getting me setup with the unit that I needed.
August 22, 2019
Karen is an excellent Manager . She explained everything, and made the move to take a space a pleasure.
August 21, 2019
Karin is the best. Best service best everything. I would never go anywhere else. I will recommend you guys to all my friends. Karin is the best.
August 17, 2019
Great all went well. Nice and smooth.
August 17, 2019
Very reasonable rates and good deals. Staff is very helpful and friendly.
August 7, 2019
Excellent!
July 26, 2019
Nice polite and very professional manner to explain the contract of the lease to us simply and we appreciate all her consideration to be so patient. Thank you so much
July 23, 2019
I have been using this storage facility for more than 3 years now. I needed to upgrade my unit to a larger space. Karin in the front office was extremely helpful and made the process painless. They have secured my business for the foreseeable future.
July 19, 2019
Everyone was helpful and accommodating. I started at one location and they did not have what I needed. They phoned the other and located the space I needed and reserved it. When I arrived she honored the price from the other location. Great Service!
July 6, 2019
Friendly and professional service.
July 4, 2019
Very accommodating
July 1, 2019
Made it very easy nice people
June 28, 2019
So it has been very. Karen McBride was very helpful. I am in the facility until the end of July and hope all goes as well as it has so far.
June 28, 2019
Karen is my hero. Thank you 🙏
June 24, 2019
Excellent, everything was explained and I was put at ease. It was a very easy process.
June 13, 2019
Very nice and organized
June 13, 2019
Very friendly and nice service.
June 12, 2019
I felt really great after all was said and done! Karen was very helpful and I will definitely recommend my friends.
May 31, 2019
Staff was EXTREMELY nice and helpful! Facilities are clean and easy to get to! Would DEFINITELY USE AGAIN!
May 22, 2019
I have been treated with professionalism and today my helpers are filling the storage unit with our family belongings! We currently have 3 units under contract! Tom Burns
May 18, 2019
Professional, courteous, and helpful
May 14, 2019
Excellent customer service. Karin was very accommodating and helpful throughout our entire transaction. Will definitely recommend US Storage Laguna Hills to others.
May 5, 2019
Karen was terrific and made the process very simple. Would definitely recommend to others.
April 30, 2019
Great customer service from Karen
April 28, 2019
The service was top notch. This is an older property and the units can be quite dark, so bring a portable light. When checking in with my light, I discovered the unit was quite dirty, with cobwebs and debris in the corners and railings around the edges. The property manager was quite accommodating in locating another cleaner unit for me, but I recommend the company use a shop vac to clean the units when vacant. I think this offers a great value and alternative to the over priced newer facilities.
April 20, 2019
The initial process was smooth and fast. I was able to begin loading up my stuff quickly and the customer service was top level. Thank you!
April 19, 2019
Karin is great and easy to work with and Craig was really helpful in the process of picking a unit
April 18, 2019
Great professional service.top notch in every way.karin is an outstanding employee.
April 18, 2019
Very helpful and professional 👍
April 18, 2019
Very friendly and knowledgeable service from Karen.
April 12, 2019
Karin was very helpful and courteous.
April 11, 2019
Karin, the on-site manager is great - helpful and friendly. I can depend on her for a timely response. She always is willing to assist with whatever you need. Also, Chris, who sometimes works there is wonderful. Always has a good attitude & shows appreciation for your business.
April 10, 2019
Great. Karin is SO helpful and friendly and wonderful!! Everyone in my family has stored here because it's affordable and because Karin is the best.
April 2, 2019
Craig did an excellent job and was very knowledgeable.
April 1, 2019
Excellent customer service from Craig
March 28, 2019
Karen is great. constant rate hikes every 6 to 8 months on my other unit is kind of shady you quoted price then every 6 to 8 months later you say you have to raise it to meet comps for the area seems a little like baitand switch
March 24, 2019
Overall great experience! Highly recommend this location!
March 17, 2019
Excellent friendly service from Karin
March 15, 2019
Karen is sweet heart , very friendly Im very happy
March 14, 2019
Like at home;; Exelent customer service the lady was berry professional and nice
March 14, 2019
Great prices, easy to use.
March 7, 2019
Karin was awesome. I have stored with Public Storage quite a bit in the past but my experience so far with US Storage Centers has been much better. Thanks
March 6, 2019
Excellent, the lady who help me was very nice and helpful.
February 27, 2019
The people running the facility are great and very accommodating...along with the pricing and the free use of their truck it will be hard to find a better deal anywhere. Thanks, Mike C.
December 3, 2018
I loved the customer service. Very welcoming and friendly. it was great, I would definitely recommend it to my family and friends. thank you
November 5, 2018
so professional and supportive.
October 27, 2018
Great service, very fast and friendly, answered all are questions, gladly.
October 11, 2018
Karin is an awesome manager and makes the process of storage and transport relatively painless.
October 5, 2018
The manager of the facility was wonderful, she made sure we were set up with exactly chat we needed. Karen has followed up with me to confirm details.
October 3, 2018
Karin was very nice and helpful !
September 21, 2018
Mr. Cris and Ms. Karin were very profetional,kind and helful. On the day i got my unit, Karin provided me with a moving truck that i could use for free and also extended my access hours for my convenience. What a wonderful peoples and company. Thank you guys
September 21, 2018
Excellent!
September 19, 2018
Great no problem I love us storage
September 13, 2018
Great customer service, good job, friendly service,
September 11, 2018
Great prices and good customer service. very helpful.
September 10, 2018
What a nice change from my old storage place (Public Storage). Staff is so friendly and helpful. Easy to load boxes on cart, get them on elevator to 2nd floor. Very clean place.
August 31, 2018
Karen was very professional and made switch to another unit very simple. Great job, thank you.
August 25, 2018
Great service!
August 23, 2018
The check-in experience for the storage center was went very smooth and easy! Chuck was readily available to show me the storage unit and answer any questions I had. He was knowledgeable about the policies and did not leave any questions unanswered. Great service!!!
August 14, 2018
Phenomenal experience. Chuck and Karin were great. They helped to find me the best deal and made the process completely painless. I will recommend US Storage to anyone looking for a unit.
August 7, 2018
Karin and Chuck were extremely helpful and friendly. The location seems very secure and I feel that my belongings are well protected.
August 5, 2018
Karen was very kind and helpful. The facility is very clean and very well managed.
July 17, 2018
pleasant, helpful
July 9, 2018
Had a great experience, very helpful!
June 21, 2018
Office personnel is great. Prices are very reasonable.
June 21, 2018
Very friendly and helpful. Answered my needs immediately
June 19, 2018
Chuck, the manager, was very helpful and handled the paperwork swiftly. Although I don't believe in long term storage, sometimes a storage unit is necessary for a month or two.
June 19, 2018
The agents were very professional and did an excellent job getting me a great unit.
June 18, 2018
As a business analyst, I was very impressed with the US Storage website, the Laguna Hills services, facility and cleanliness, and especially the management and staff.
June 14, 2018
Very Friendly and welcoming!! : )
June 12, 2018
Went the extra mile to help me on a holiday weekend . I was under a lot of pressure and things went fast and smoothly.
June 12, 2018
Very good lady was super nice and efficient
June 11, 2018
Very friendly and accommodating.
June 11, 2018
Great service and nice deal on first months rent.
June 10, 2018
Karin is the best! Very accommodating and the facility is super clean and accessible.
June 6, 2018
It was easy to rent and the prices are good!!
June 5, 2018
Clean, safe, secure, great customer service, move in truck saved so much!! Thanks!!
May 30, 2018
I like their very reasonable price for the very well maintained facility. Manager is also very kind.
May 30, 2018
Karen was so friendly and helpful - so different from the storage place I left. A great price and a nice unit. Also like the fact manager lives on the premises
May 30, 2018
Karin was very sweet and helpful.
May 29, 2018
Very nice experience. Thank you
May 29, 2018
Awesome customer service and great staff. So happy I found this place! Great value too!
May 27, 2018
Very safe, clean and organized. Customer service A+ I really like it ! :)
May 27, 2018
YOU have done very well getting me just what I need ! All Good, No complaints Thank you ! Bob McClure
May 26, 2018
Amazing Customer service good attitude really friendly amazing price very clean place also I'm really happy
May 24, 2018
It was a very easy experience. Chris was very nice to work with and was very professional. Thank you!
May 24, 2018
Kevin did a great job. Very polite and experienced.
April 27, 2018
Our experience with US Storage has been excellent. Karin, the manager, was attentive to our needs... and provided us with a tour, a clear explanation of your services, and even pricing that fit our budget. Would certainly recommend to our friends.
April 26, 2018
It was a painless move - Karin at the Laguna Hills office is amazing. She is very helpful and always trying to make everything run smoothly for everyone.
April 20, 2018
I'm very satisfied with U S Storage Centers. Karin is helpful and friendly; she helped me to get the right size of the storage. Thank you Karin, you're the best.
April 20, 2018
people took care of me were nice.
April 19, 2018
Very clean and safe place to keep my belongings. The manager Karin is awesome.
April 19, 2018
Easy, clean, friendly and great customer service!!
April 18, 2018
Great customer service, informative and great follow through to make certain the unit was agreeable. When we had trouble opening the door, it was recommended changing to a different unit with a more manageable door system.
April 18, 2018
All good experience,
April 18, 2018
Customer service is great!
April 12, 2018
Karyn has been great and one of the reasons I stayed with you for so long. Would and do recommend when I can !
April 9, 2018
Amazing people running front desk.Much thanks. Karin wonderful
April 7, 2018
I had good experience. The manage Karin is very nice and helpful.
April 7, 2018
Karin, is Great. I used to have a storage unit with U.S. Storage for I believe 7 years previously. Facility is clean and management is friendly and professional. Good experience, I give them a 10 out of 10.
April 5, 2018
It was perfect. The lady is awesome
April 5, 2018
Karin is very sweet and helpful lady
April 5, 2018
Courteous staff, Clean and efficient storage facility. Competitively priced
April 3, 2018
Pleasant, helpful, and convienent
March 26, 2018
Everyone was super helpful and patient in explaining everything to me. It couldn't have gone smoother. Thank you!
March 23, 2018
The gentleman who helped us was very helpful. some of the units were very dark & I am a woman alone & would not feel comfortable storing in some of them. They were all clean but 2 of them he showed us still had shelves inside. They were sturdy but he wouldn't rent either of those to us.
March 22, 2018
Helpful, friendly, good old-fashioned customer service. Prices are very reasonable for the area.
March 21, 2018
Very friendly clean facility
March 15, 2018
My experience with you has been very pleasant. Never had any problems or issue's. The management staff is wonderful.
March 8, 2018
The manager is awesome! She was very helpful & made our moving process easy!
March 8, 2018
Everything went well, we are very satisfied.
March 7, 2018
Karin, the manager at this location, is absolutely excellent. We keep returning to this location for our storage needs because of the quality of Karin and her staff.
March 4, 2018
I was berry happy and satisfied with your service.i would recommend on any day any time thanks
March 4, 2018
It was great experience, Staff was friendly and efficient. Will keep going back when in need of storage.
March 3, 2018
From the moment I walked in I was treated so nice! The gal in the office was so friendly. I would highly recommend this storage facility!
March 1, 2018
Excellent service.
February 28, 2018
US Storage is very clean, well lit. the elevator and carts work well. The management is very helpful and unit is a great value.
February 28, 2018
wonderful service
February 26, 2018
Great overall experience
February 25, 2018
Excellent service. Very easy to arrange and we got a good rate.Karen was wonderful.
February 24, 2018
Very friendly and helpful.
February 23, 2018
Great experience. Friendly, fast, clean, professional. Would Recommend.
February 23, 2018
Excellent...Karin is so easy to work with...thanks again
February 18, 2018
Excellent
February 16, 2018
Karen was very nice and professional the experience was great no problems would recommend to everyone I felt my property was secure see ran a strict policy with rules and regulations was on top of everything thanks again mark
February 16, 2018
Good place to put ur things in ur storage, outstanding
February 14, 2018
The registration process was unnecessarily long. Should not take 20-30 minutes to registration in the store after already calling and reserving the unit. I was also told that I had to purchase insurance, even though I already have personal liability and insurance coverage for all items that I own. Very misleading. Also did not appreciate having to purchase a lock when I already had one because the facility uses a "special" kind of lock.
February 9, 2018
Karin was so welcoming and was very efficient in organizing the storage for me.This is my third time going to your storage as every several years I move.Wonderful!!!!!!
February 2, 2018
Good. The staff was respectful and helpful. The storage unit was dry and well ventilated. I felt secure in the area. Thank you very much.
January 27, 2018
Very very good
January 20, 2018
It was a very positive experience.
January 19, 2018
My experience was incredibly good. It is so rare these days to get such personal customer service. Karin took care of me, and was so personable, and helpful. She was concerned with getting just the right size and location I needed, and keeping all as cost effective as possible. She is very caring, and obviously takes great pride in her job. I am so thankful to know my keepsakes are at this storage and I'm in such good hands! Elizabeth Benz 949 632 5036
January 17, 2018
Quick and easy with a lot of help
January 10, 2018
It's been great! I love being notified of my payment date. Helps me stay on track, thank you for everything, your staff has always been so helpful. I would definitely use you again!
January 9, 2018
Overall experience wonderful! The Property Manager Karin Mertz was always available and superior customer service professionalism. She really cares about finding solutions to, in my case, space occupying dilemma's. I felt safe knowing people like her were on site.
January 6, 2018
Very accommodating and efficient know their stuff
January 3, 2018
Excellent ! Karin is the best !
December 30, 2017
I have been a customer of US Storage for several years. I have found them to be helpful and professional in all of my experience. Highly recommended.
December 30, 2017
Your staff is the best. Wonderful and outstandingly helpful.
December 27, 2017
Karyn, the manager was. Very cordial and helpful😊 she was very intuitive and sensitive tour needs😊
December 26, 2017
Super helpful and friendly. A pleasure to work with.
December 25, 2017
Great place to keep your "stuff"
December 22, 2017
This is my second time renting space from you and both times was a great experience. Friendly, fast and efficient staff. Karen is a great asset to your company.
December 18, 2017
Excellent experience from beginning to end. Manager, Karin at the El Toro location is professional, friendly and went out of her way to make our experience a top notch one. I have had many mediocre and substandard contacts in the storage facility business but my experience at US Storage with Karin has changed that. Thank you. If ever I or anyone I know need storage, I will direct them to Karin.
December 13, 2017
Very professional and I feel my properate is safe. Great!
December 12, 2017
We appreciate the service and attention to our needs even though our usage is short term. Thanks for being there.
December 9, 2017
Very good place to put your belongings
December 4, 2017
We have called upon Expert LB Movers twice this year. The entire process from scheduling through completion was so easy and professional. The communication, the care and professionalism of everyone ivolved, and the price were excellent. I could not have asked for a better experience. If we need to move again, there is only one company will consider calling. Expert Lomg Beach Movers.
December 3, 2017
Courteous , efficient , inexpensive, easy, very helpful staff, clean spaces, easy access , and overall a wonderful experience. I shall always return
November 30, 2017
Always good
November 29, 2017
We enjoyed our experience with this team
November 28, 2017
I had a very positive experience all the way around.
November 21, 2017
Christopher did a great job. Thanks for making it easy.
November 16, 2017
good service
November 6, 2017
Kevin was excellent to work with and was able to take care of getting me setup with a parking space, process all paperwork and provide a great deal for the short term storage of a work vehicle.
November 3, 2017
Kevin who helped me transfer from one unit to another was professional and as we say, on it! He handled everything seamlessly and quick. Very impressed!
November 2, 2017
Chris was just fantastic! He set me up with a unit efficiently and economically! Love You US Storage Centers!
November 2, 2017
I've stayed with this company because of the willingness to compromise and I highly value that. Everyone I have been in contact with is extremely kind and courteous and that makes great customer service to me.
November 1, 2017
Chris was extremely helpful and knowledgeable and genuinely pleasant and "joyful" which made our experience exceptional.
October 31, 2017
Feel welcome & respected, the young gentleman treat us very professional, thank you
October 31, 2017
I ❤️ US Storage Very friendly and helpful! Clean!!
October 27, 2017
You guys have always been great. But after storing stuff for 12 years, it was time to get rid of the storage. The price was getting to high.
October 26, 2017
I love that we picked this location to store my things because the price was reasonable and the managers are amazing people. So nice and helpful. :-)
October 26, 2017
Wonderful experience- Kevin was so helpful!!
September 28, 2017
The young man that check me in was really helpful and friendly.
September 26, 2017
Staff is courteous and helpful. Applied appropriate discounts if available. Easy transition or move in specials. Spacious units , clean, and accessible.
September 10, 2017
Great service!! Kevin was very kind and made us feel welcome. Easy to excess, very clean. We will definitely recommend this place to others.
August 31, 2017
The experience was great. Kevin was very helpful and I was able to get the storage within an hour without any kind of trouble. This company is very lucky to have an employee like Kevin. His personality and knowledge really a wonderful experience for me. It was my first time getting a storage and by the way the price was great too.
August 20, 2017
Karen is awesome!
August 14, 2017
Very good all went well. Manager was very helpful and I am glad I switched to this facility and like it better then Stor-it. You are much easier to get in and out of!
August 10, 2017
Staff was very friendly, personable and extremely helpful.
August 10, 2017
Everything was handled in a professional, friendly manner.
August 7, 2017
Karin is absolutely wonderful to work with. We've had storage units at her facility for a few years now and she has been so helpful and accommodating. I would gladly recommend this storage center to anyone I know. I've used other store centers in the past and the staff is usually grumpy and not very helpful. Karin is the exact opposite.
July 29, 2017
I had contact with Kevin and he was so personable and knowledgable. Things went very smoothly even the day of the move to storage. Also, I spoke to Karin and very pleasant.
July 28, 2017
Staff and manager Karin at US Storage in Laguna Hills are extremely professional. They listen and assisted me in selecting the best unit to accommodate my needs.
July 28, 2017
Karin and Kevin are very helpful and made sure I got the right size unit I needed
July 27, 2017
Karin was very professional, friendly and efficient!
July 25, 2017
Karin and Kevin were the best! Very helpful and went above and beyond the normal service - they are 10 stars!!!
July 25, 2017
Your staff are extremely caring , friendly & knowledgeable. Kevin and Karin made me feel real welcoming and I appreciate these two individuals very much.
July 25, 2017
When I called to find out about move out procedures, Steve told me about the 10 day notice and accepted my oral notice on July 24th for a move out date on or before August 5th to avoid having to pay for the entire month of August. Instead I can just pay a prorated rate for the five days in August upon move out. Great service.
July 11, 2017
Great overall. Karen was terrific at setting everything up and is a wonderful people person! She's perfect for the job.
July 8, 2017
Pleasant friendly staff
July 4, 2017
the site manager was polite, friendly and very professional.
June 30, 2017
Excellent customer service and great property. Karin goes above and beyond to make sure customer needs are met and is always a pleasure to deal with. I have had to utilize storage units numerous times over the past 3 years and she is the sole reason I continue to return to your property. Many locations are closer to me, but the cleanliness, security and amazing customer service keep me coming back here.
June 29, 2017
Special pricing and free use of moving truck was a no-brainer. So far I'm very happy with my decision.
June 26, 2017
We were very happy with the service, location, cleanliness and price.
June 24, 2017
Karin was very helpful, friendly and professional. I had a great experience.
June 7, 2017
Karen and Kevin in the Laguns Hills location were the greatest people ever!! They are so helpful, and I'm extremely happy with my experience! I would recommend US Storage to everyone I know!! Thank you Karen & Kevin so much for the best experience ever!!
June 7, 2017
Moving is not fun and my move this time was every unsual. I was renting a room from someone and I had to leave the resident quickly it was every stressful. Also I had no choice to put all of my belongs into a storage because I had no place to live. The employees at US storage had no idea of the pain I was going through. When I walked in the office of US storage Karin Mertz and her assistant Kevin showed me loving and kindness with my experience renting the storage unit. And through the day the manager asked me if everything going well. With the kindness and loved your employees showed me made my stressful moved pleasant. You have beautiful employees working for US storage in Laguna Hills.
June 3, 2017
Great customer service and fast storage rental
June 1, 2017
kevins awesome. karen is also very profesional, that there is one great crew
May 31, 2017
I filled good see mr Calvin nice good cervis friendly & kind I lake it
May 27, 2017
It was great.
May 26, 2017
I cannot speak for any other locations other than the one we are currently at. Excellent! we are returning for a second year in a row, simply because of the Staff, specifically Daisy & Karen. We've explored other cheaper and closer units but decided on returning to this location because we were treated So Well last year! Couldn't be happier with our experience at this location. Thank You Karen & Daisy
May 23, 2017
Kevin Morales was very nice and helpful
May 5, 2017
EXCELLANT, FRIENDLY CUSTOMER SERVICE
April 28, 2017
It was fast, friendly and efficient. Karen is the best!
April 14, 2017
It was a super example of great customer service !
April 14, 2017
A well run location. Karen is awesome!
April 12, 2017
Karin was direct about cost and service and presented herself in a courteous, professional manner. Seemed very organized and prompt with the necessary documents already prepared to be signed. She knew exactly when I would be there to initiate/make payment and there was no delay.
April 8, 2017
Professional, helpful& considerate.
March 21, 2017
A truly wonderful experience. Karin, the person who greeted us was professional and knowledgeable about the storage units. The units we saw were very very clean. Karin explained everything simply and made our experience so easy. The company is fortunate to have a great person like Karin representing them.
March 18, 2017
Karin was the manager on duty the day I signed up and she was efficient, polite and very helpful. I had rented a space there about 5 years ago and remembered her from that time also. she is a wonderful representative for your company
March 18, 2017
Great. The young man that helped me was friendly and thorough. Showed me my choices and drove me around in a cart since I'm disable right now.
March 5, 2017
The manager and her assistant were friendly, knowledgeable, and helpful. Excellent service.
February 26, 2017
From the minute I walked in, I was greeted with a "Good morning, please have a seat, I will be with you shortly. Behind the desk was Christin, he was attending to another customer. while I waited 2 other customers walked in and he greeted each one with a smile. I am a retired HR Rep. I know a good customer Service Rep. when I meet one. Christin is a good example of just that. You have a valuable employee
February 24, 2017
Karen was so helpful! She made the experiance an easy one. Very organised. Thank you!
February 9, 2017
I had a positive experience.
February 3, 2017
The staff Karin and daisy were very friendly and bent over backwards for my needs during this desperate time in my life. Very professional but just helpful.
January 31, 2017
Awesome. Karin provided amazing customer service.
January 27, 2017
The manager was very professional and on top of any and all questions or issues
January 27, 2017
Great. thanks for the help!
January 25, 2017
With all the stresses that moving can bring, US Storage Centers has been one shining bright spot! Easy to reserve online, friendly, helpful staff... NO COMPLAINTS!
January 19, 2017
Daisy was wonderful!!!
January 18, 2017
Both Karin and Daisy have been very supportive and helpful. I am glad I picked US Storage
January 18, 2017
Very helpful and convenient, the woman that helped me was very nice, helpful and made it easy and available.. also very clean and felt good storing my things there
January 12, 2017
GREAT PLACE. EVERYTHING IS CLEAN AND TIDY. STAFF VERY FRIENDLY AND HELPFUL.
January 11, 2017
I always enjoy my interactions with US Storage Centers. The facility is clean and well-maintained, while the staff is friendly and efficient. I would recommend US Storage for anyone needing a little extra space for storage.
January 11, 2017
Very friendly
December 22, 2016
Awesome as always!
December 21, 2016
The best
December 21, 2016
Very good and your employees are very kind. Thank you
December 16, 2016
Great facility. Highly recommended your facility to others. Karen has been a pleasure to work with
December 11, 2016
Very reasonable, convenience, great staffs. Just need inside camera to prevent thief from braking in to unit.
December 11, 2016
Karen was very good.