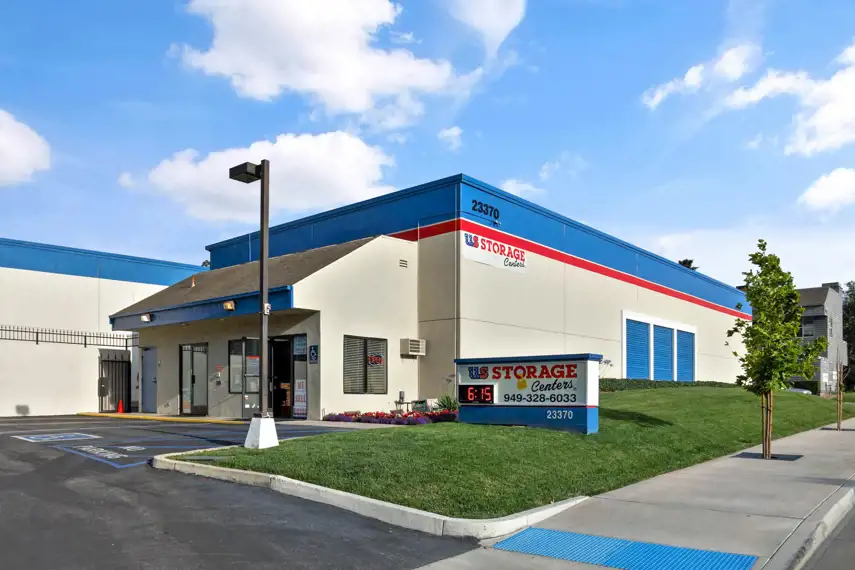 Rent or Hold Your Storage Unit in Minutes. Easy, Contact-Free Rentals.
Location Details
ACCESS HOURS
Mon

7:00am - 7:00pm

Tue

7:00am - 7:00pm

Wed

7:00am - 7:00pm

Thu

7:00am - 7:00pm

Fri

7:00am - 7:00pm

Sat

7:00am - 7:00pm

Sun

7:00am - 7:00pm
OFFICE HOURS
Mon

9:00am - 6:00pm

Tue

9:00am - 6:00pm

Wed

9:00am - 6:00pm

Thu

9:00am - 6:00pm

Fri

9:00am - 6:00pm

Sat

9:00am - 6:00pm

Sun

10:00am - 5:00pm
FEATURES AND AMENITIES
Free Move-In Truck
Drive Up Access
RV Parking
Electronic Gated Access
Video Recording
Moving Carts
Kure It Certified Location
ABOUT THIS LOCATION
Choosing a Laguna Hills Storage Unit.
Read More
Photos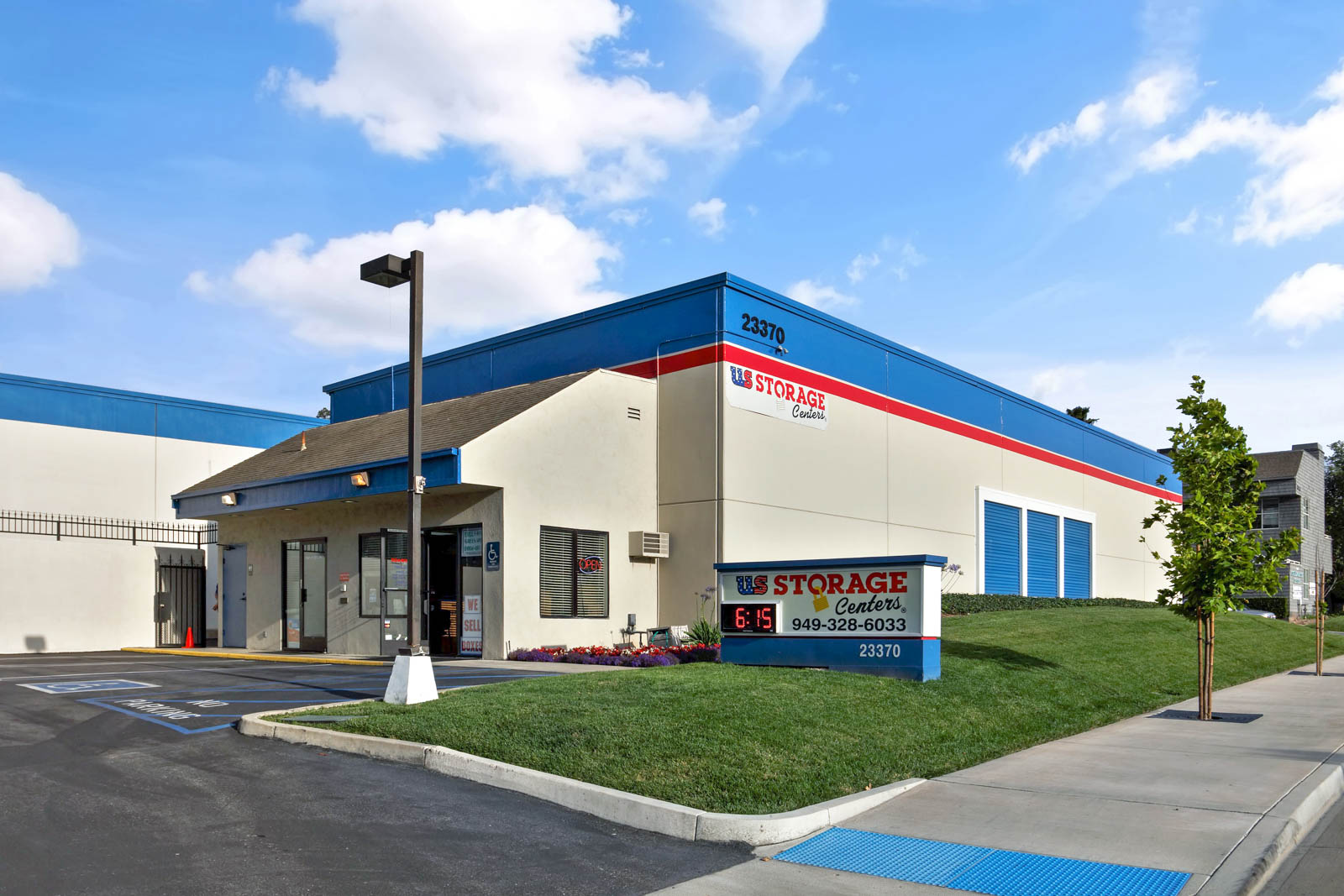 About this Location
Facility Description

US Storage Centers in Laguna Hills offers clean and secure storage units. We've received many customer comments and reviews about how much they enjoy storing their items with us for those very reasons. We offer unit sizes ranging from 4' x 5' to 20' x 20', everything from personal storage to 400 square feet of empty space just waiting for you to put to use.

All of our units are easily accessible and we offer a free move-in truck so you don't have to worry about how you are going transport your items to your new storage unit. We also have freight elevators for easy access to our second floor units.

All moving trucks including 18-wheelers fit on this property because we have wide drive aisles.


Contact-Free Rentals – Easy Online and Phone Rental Options 
 Online Rental
 Select your unit and enter your info and payment
 Sign the lease online
 A manager will reach out to you with your access code, a map of the property, and they'll have you email a copy of your valid government picture ID
 Once these steps are complete, the manager will prepare your unit so it's ready when you arrive
 Phone Rental
Simply call the number listed at the top of this page, and a member of our staff will work with you over the phone to complete a rental
The manager will email a lease to sign
Once the lease is signed, a manager will reach out to you with your access code, a map of the property, and they'll have you email a copy of your valid government picture ID
Once these steps are complete, the manager will prepare your unit so it's ready when you arrive
Secure Storage Units

Our facility is well lit and we have resident managers that keep an eye on the property, regularly making rounds to ensure the safety of the grounds. We also have an electronic gate and 24-hour video recording. Security is our priority and we work to ensure that your items are safe. With our friendly staff and competitive prices, our Laguna Hills facility provides the best value as well as the most solutions to your storage needs.

Conveniently Located

When going north on Moulton Pkwy, we are on the right side of the street. Our sign shows the current time and temperature, you can't miss it. We're located just north of the Ridge Route and Moulton Pkwy intersection.

We're kitty corner from the DMV and right next to the Social Service office. Across the street are Crossline Church and the Veeh Reservoir.

In addition to Laguna Hills, many or our tenants live in the neighboring communities of Mission Viejo, Aliso Viejo, and Laguna Woods.

RV and Boat Storage

RVs and Boats can be stored in our 10'x 20' uncovered parking units. Parking space width may vary from spot to spot. Please call the property manager for more details on Parking Space sizes. 

Convenient Office and Access Hours

Office Hours

Mon - Sat 09:00am - 06:00pm

Sun 10:00am - 05:00pm

Gate Hours

Mon - Sun 07:00am - 07:00pm

Forms of Payment

It's easy to pay your bill! We accept cash, checks, money orders, Visa, and MasterCard. You can also pay online through our secure client login.

The Community

Laguna Hills, California is an upscale urban community known for its high performing schools that rank among the top schools in California. Laguna Hills High School has been named National Blue Ribbon School and California Distinguished School on multiple occasions and the residents take great pride in this.

Laguna Hills strongly supports the sciences and art education. To demonstrate this, the city purchased four butterfly sculptures to be painted by elementary school children and then displayed. A design contest was initiated and after scores of submissions were reviewed, four winning young artists were chosen. The butterflies are proudly displayed at the Laguna Hills Community Center and Sports Complex.

Residents of Laguna Hills live well but they also work hard. Stress busting is imperative to maintaining a happy lifestyle and the many elegant spas and day retreats are an added bonus to life there. The Big Air Trampoline Park is another way to relax after a hard day of school, bouncing all your troubles away.

Laguna Hills is a beautiful place to live, where residents can enjoy the views and quiet, affluent neighborhoods.

Facility Products

We have boxes available in small, medium, large, and extra-large sizes. We also sell wardrobe boxes and moving kits that include boxes, tape, markers, and bubble wrap to help you pack your stuff the right way!

Locks, packing tape, picture moving kits, dust covers and mattress bags are all available to provide a super convenient one-stop-storage-shop experience to make your move as easy as possible.

Kure It Participating Facility

Philanthropy is a big part of the US Storage Centers family. Our facility is a proud member of Kure It Round up for Research. Kure It, founded by US Storage Centers chairman Barry Hoeven, raises money for innovative research into many types of cancer that receive little or no funding.

Professional Managers

Our storage facility is right in the heart of Laguna Woods. Most of our customers are using storage for the first time, and many of them are folks who just retired and moved into residences that don't have as much space as their previous homes.

With each customer, we ask a few questions to help determine which storage unit will work best for their needs. It's normal to have a lot of questions about storage and we're more than happy to help. Our team of managers have several years of experience and they'll be able to show you how easily and safely items can be stored and accessed with a storage unit.

Customers appreciate the extra time and attention we show, and they regularly compliment us on our friendly personalities. We've been part of the community of Laguna Hills for several years and it's incredibly satisfying when a returning customer walks through looking for storage.


Customer Reviews
overall rating, 472 total testimonials
September 27, 2022
Storage is good, lots of space. The lift is a really good plus. Only downfall is that the storage space is upstairs and there's no ventilation, so it is extremely hot.
September 9, 2022
Rain made it easy for me and first unit showed I took.
September 1, 2022
Very happy with the service and the location.
August 19, 2022
Very, very positive. Everyone we interacted with was extremely professional. We had to delay our setup due to COVID and the Laguna Hills team was very understanding and accommodating. Great experience.
August 18, 2022
Always a pleasant experience at US storage. Very accommodating and personal requests regarding location or preference of a unit is granted.
See All 472 Reviews
See All 472 Reviews